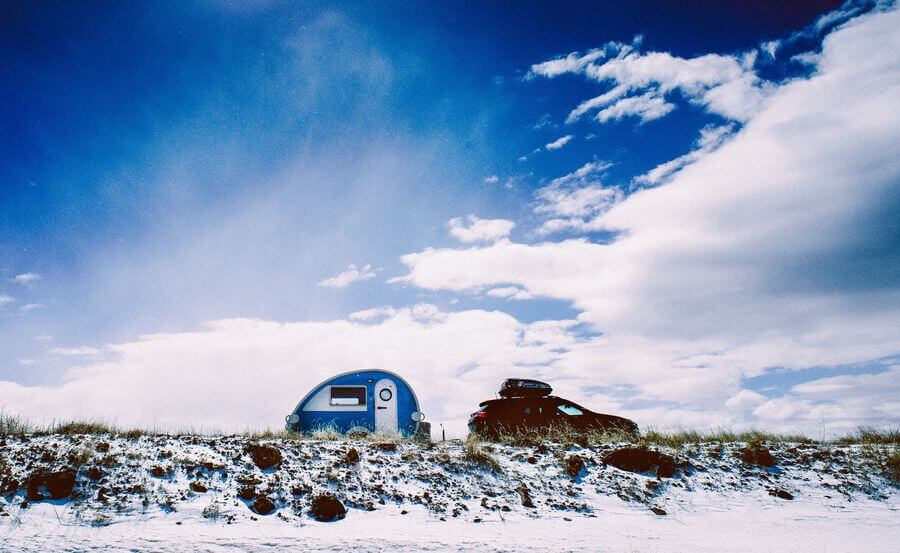 There are a number of cheap teardrop trailers out there that provide an incredible amount of functionality and reliability when camping. It's no wonder this class of campers has gotten so popular over the years!
This list of the cheapest teardrop trailers will give you plenty of options for picking an affordable option that fits your needs.
Cheap Teardrop Trailers To Consider
There are a surprising amount of cheap teardrop trailers out there, and the flexibility you have when it comes to customization is fantastic. Keep in mind that these are all the base "starting at" prices, so the cost will increase if you want to add more features.
Here's a list of the ones we recommend.
1. Highway Deluxe By Hiker Trailer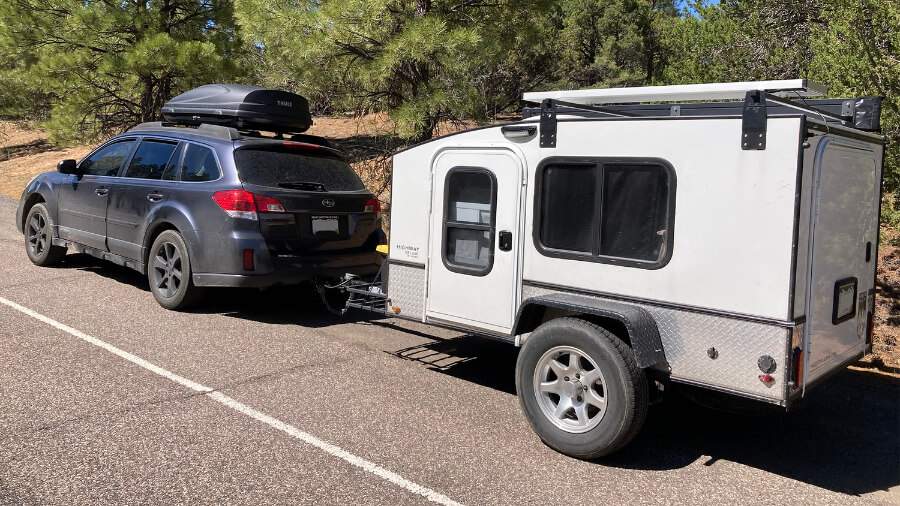 The Highway Deluxe has a GVWR of 1,900lbs and an average built weight of 1,100lbs. That means it will be easy on your tow vehicle yet robust enough to handle smooth dirt, gravel, and paved roads. The 14" Aluminum Alloy rims fitted with 205/75/R14 tires give it great ground clearance of about 9".
Measuring up at 70" in height, 156" in length, and 79" in width, there's plenty of room inside for whatever you need.
The base model has a solid passenger-side door for easy access, two side windows complete with screens to keep bugs out while letting fresh air in, and a manual roof vent to help regulate temperature inside.
You can add options like door bungees for securing loose items during travel, upgrade with practical additions like rear stabilizer jacks for added stability, or even install a Goal Zero Yeti Power Station for extra power while camping.
2. Oasis By TCTeardrops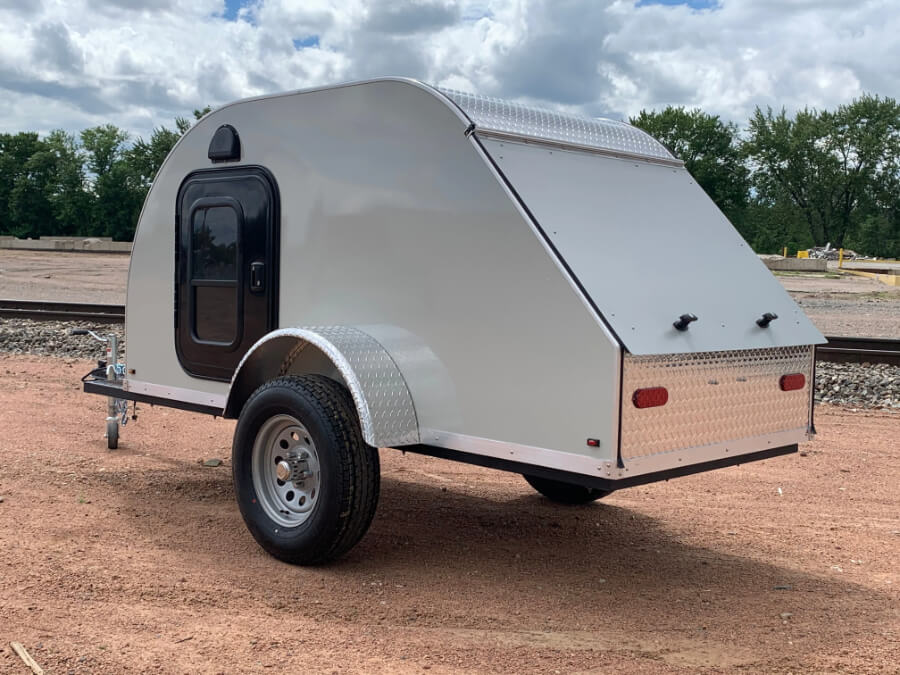 This cheap teardrop trailer ditches the extras, providing you with a blank canvas to personalize according to your camping needs. Whether it's adding cabinets to store food supplies or installing customized lighting, the choice is yours.
Its robust design, complete with 14′ steel wheels and radial tires, makes it a good choice if you plan on traveling through rougher terrain like unmaintained forest roads.
The Oasis also offers practical features like two locking doors on each side, each fitted with a screened window—these provide ample ventilation while keeping bugs out of the sleeping space.
You can choose from sizes ranging from 4×8 up to 5×10. If you want the cheapest option, go with the smaller trailer. But if you need more space for storage or family, the 5×10 should provide you with plenty of room.
3. 4×8 Classic Sleeper By Tiny Camper Company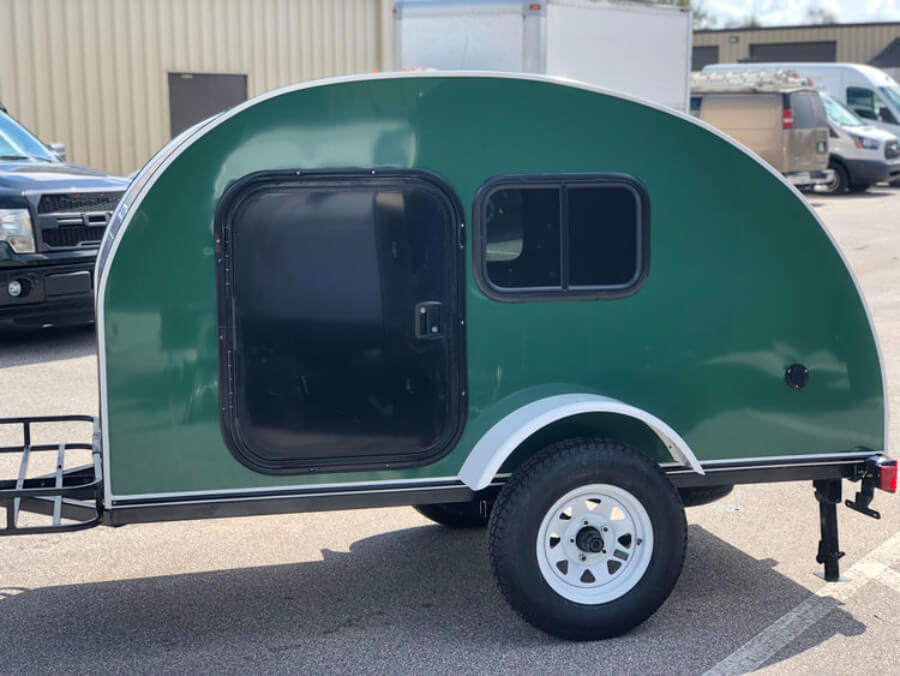 If you're after a blend of nostalgia and modernity, the 4×8 Classic Sleeper by Tiny Camper Company is a great option. It has some vintage charm, compact mobility, and all the essential amenities into an affordable teardrop trailer.
Weighing in at just 820 lbs with an easy-to-handle dry tongue weight of 80 lbs, this camper is a breeze to tow behind most vehicles. The dimensions are perfect for on-the-go adventures (it's only 12ft long, 5ft wide, and stands at a height of about 64").
Its structural integrity is also solid due to the .40 Aluminum exterior with HDPE Starboard and Danka Ribs. It comes standard in white if you want a classic feel (that's also cheaper), but if you're feeling adventurous you can upgrade the side coloring.
The interior features hardwood floors and includes practical amenities like a power outlet for charging devices or powering appliances, along with battery LED lighting. Two half-moon air vents ensure fresh air circulation while AC vents are pre-installed ready if you decide to purchase the Climate Right AC unit separately.
The outdoor locks have secure deadbolts while windows come equipped with locks and vents ensuring security without compromising on comfort. For additional convenience during travel or camping setup, there's even a hitch for your bike. There are also optional upgrades like roof racks and retro fenders.
4. Retro Ride Teardrops 4×8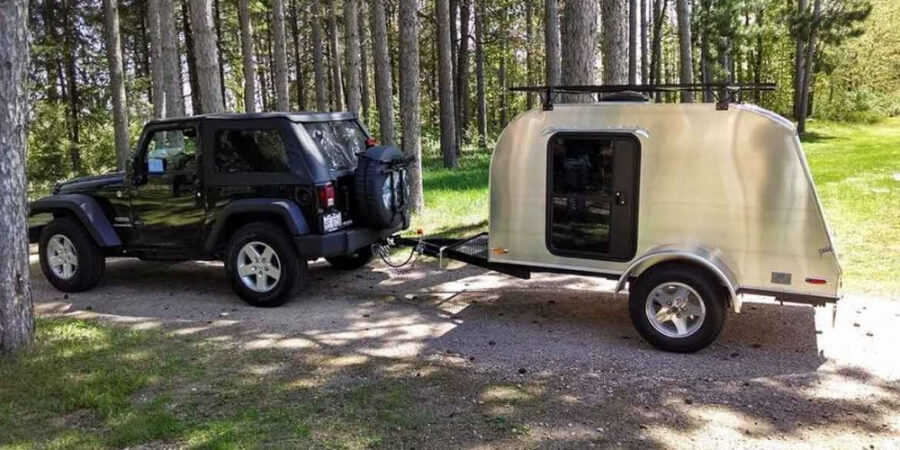 This affordable teardrop trailer is a manageable weight of 820 lbs and has a tongue weight of 120 lbs, making it easy to tow and handle.
The dimensions are practical with an overall length of 12.5 ft, width of 68 inches, and a cabin area measuring 78 x 46.5 inches. It also comes standard with a front rack, three-speed roof vent, and both 12 and 110 volt power.
There's ample storage space due to the shelving units inside the cabin and a battery box in the galley area.
The trailer has LED tail lights and running lights to ensure safety during night-time travel, plus mag wheels fitted on sturdy 13-inch radial tires for smooth rides over uneven terrains.
One nice thing about this cheap teardrop trailer is how customizable it is. Whether you need extra storage through a front tool box or rack, want extended battery life with a large battery group option, or desire enhanced comfort via a cotton mattress, there are plenty of ways to build it up to fit your needs.
5. Small Fry By PeeWee Campers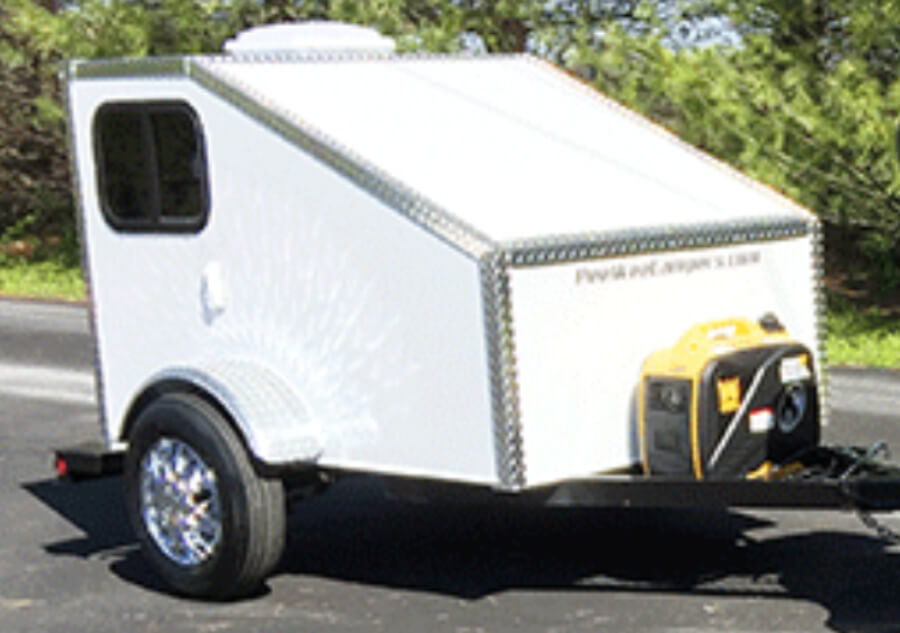 This teardrop trailer might be small in size, but it packs a punch when it comes to features and functionality.
It's outfitted with a robust Dexter axle that can take on loads up to 2,000 pounds which is far more than its own weight of less than 1,000 pounds. There are also plenty of practical elements like 120-volt interior outlets with an exterior waterproof hook-up, and a large A-frame tongue with shelf storage for extra storage. Plus, additions like the diamond plate aluminum edge trim and curved fenders offer additional protection.
The Small Fry has an adjustable stabilizer jack at the rear which makes setting up camp quick. The trailer comes equipped with a door that has both a keyed lock and deadbolt, as well as windows fitted with screens for ventilation without compromising on safety. To assist you even further, steps are welded behind each wheel to make it easier to load roof racks or hold storage boxes.
Even though this is one of the cheapest teardrop trailers you can find, it's sturdy due to a square tubular steel frame, vinyl-covered plywood floor, and half-inch thick walls. There are also additional upgrade options like a deep-cycle battery, AC unit, or even solar panels.
6. Koala By Rustic Trail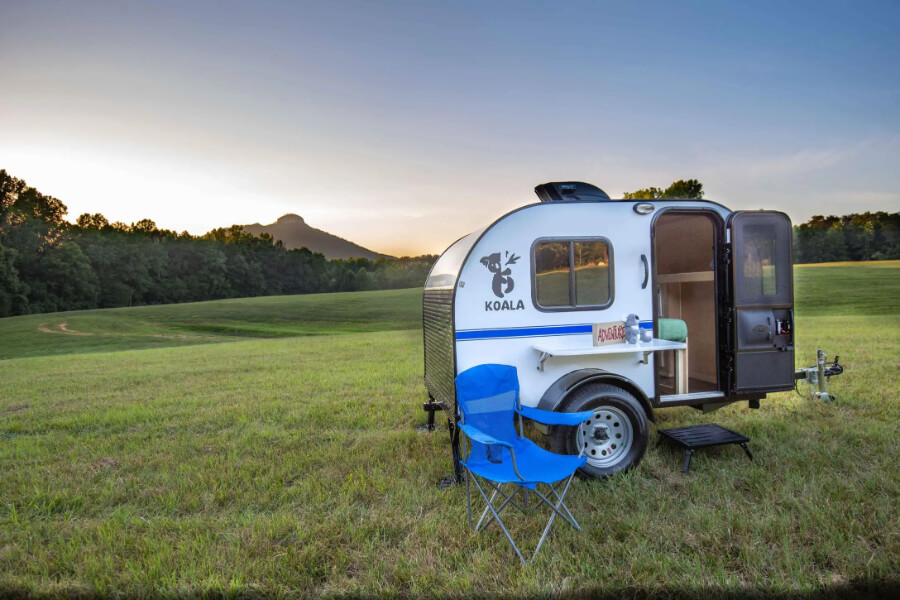 If you're on the hunt for a compact, lightweight, and cheap teardrop camper trailer, the Koala by Rustic Trail deserves a look. This trailer only weighs 1,110 lbs dry, so it's an easy tow even for smaller vehicles.
With an exterior height of 80.5 inches and interior dimensions of 5 feet in width, height, and 8 feet in length, there's enough room to stretch out without feeling cramped. It comes with a heavy-duty 3,500 lb. axle fitted with durable 15′ tires and a full-size spare, plus electric brakes are standard on this model as well as two folding rear stabilizer jacks.
The Koala doesn't skimp on the creature comforts either. Recently updated to include foam board insulation and radiant barrier in the roof, this is a good choice for campers who like to get outside during the cold months. Inside there are birch shelves with rustic routed edges.
For your power needs, there's a 15 amp shore connection along with interior LED lighting and USB ports to keep your devices charged. Ventilation is taken care of with two sliding windows complete with locks and screens for added security. You won't have to worry about summer heat either, there's a built-in 5,000 BTU air conditioner to keep things cool when temperatures rise outside.
7. "Original" By TCTeardrops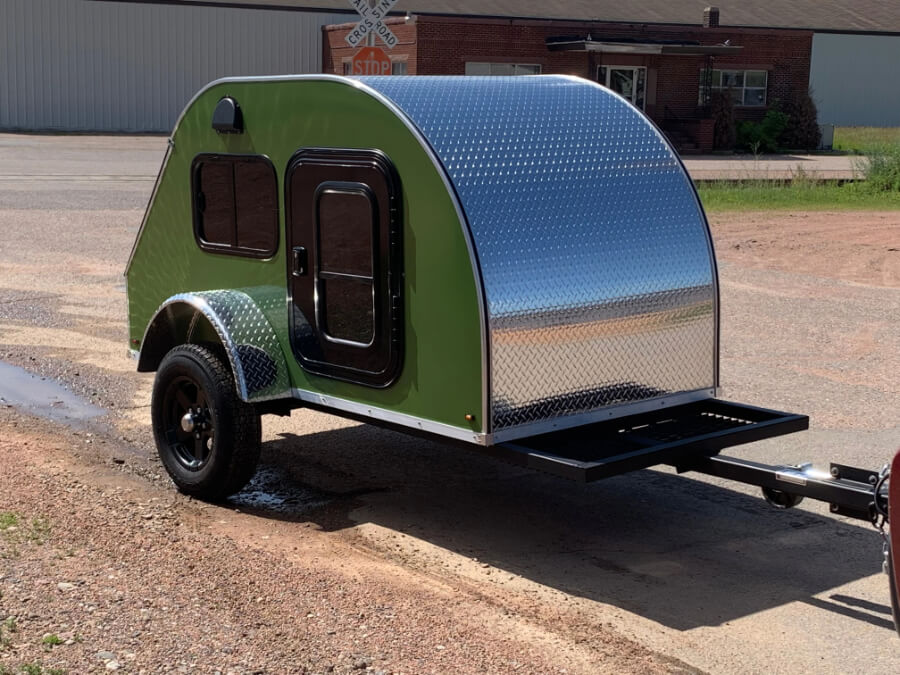 The "Original" by TCTeardrops is a cheap teardrop trailer that offers an impressive combination of customization and modern amenities. It's also very light, earning a spot on our list of the best campers under 2,000 lbs.
First off, this teardrop trailer comes with 14′ aluminum wheels coupled with robust radial tires and round diamond plate fenders for protection.
Inside the cabin, you'll find LED overhead lights providing ample illumination in both living areas. It features a 12V accessory outlet, volt meter, and dual USB ports as well.
There's a generously-sized storage cabinet with a slide-out table inside the cabin along with additional galley shelves and a detachable rear table in the galley section. For comfort and security, two doors and windows come equipped with screens and locks while half-moon air vents ensure proper ventilation.
The inclusion of a wheeled tongue jack simplifies movement when detached from your vehicle, while the flat front storage platform provides more room for stashing camping essentials.
You'll also get a wiring harness, tail lights, marker lights, and a handy 2′ rear receiver for added functionality.
8. DoDrop By Oregon Trail'R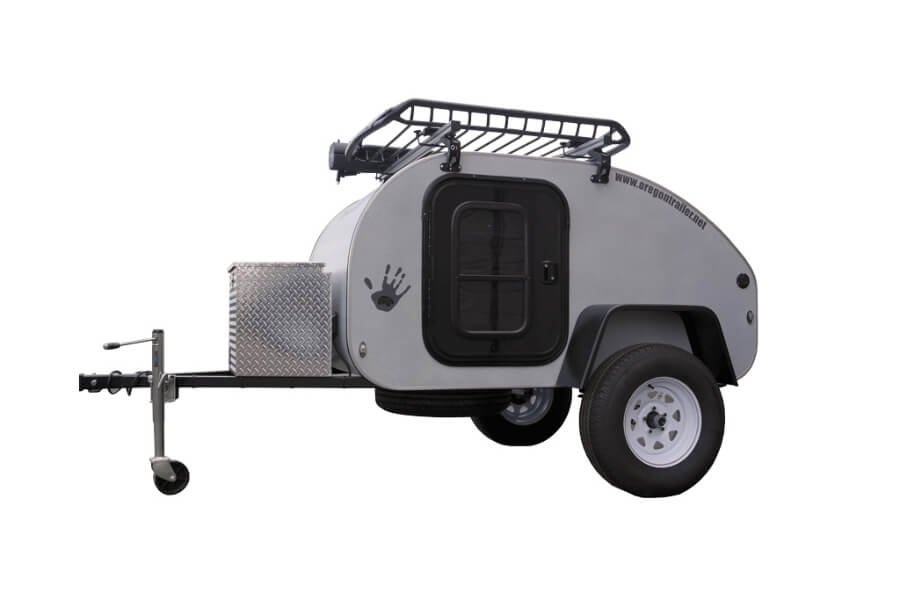 This cheap teardrop trailer is perfect for those who love the simplicity of camping, but may not have a large tow vehicle.
Encased in a powder-coated aluminum exterior, which comes in various color options, this trailer has a natural Baltic Birch interior and a custom tubular steel chassis. It includes a custom quilted pillow top mattress and with two 26′ x 32′ trailer doors for easy access.
The cabin has an integrated storage shelf for your belongings and an LED dome light powered by AA batteries for illumination during those dark nights out in the wilderness.
Proper ventilation isn't an issue thanks to the passive roof vent that works effectively with the screened opening windows to keep fresh air flowing. The chassis is built tough while still being lightweight due to the square-tube steel frame. There's a tongue-mounted stabilizer jack and rubber torsion axle for smooth towing as well.
9. The Kestrel By Timberleaf Trailers, Inc.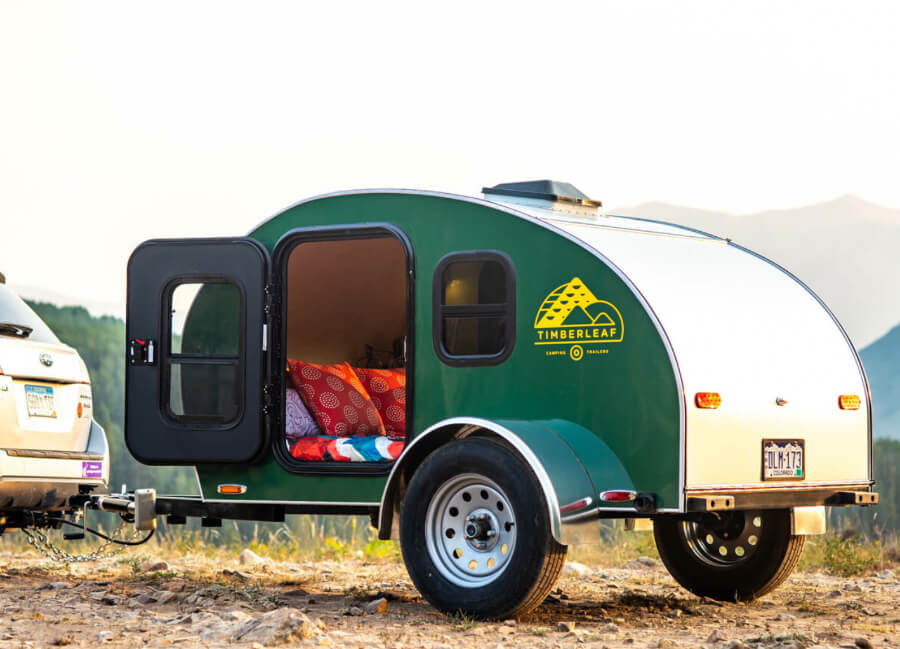 The Kestrel by Timberleaf Trailers, Inc. is a minimal yet comfortably teardrop trailer that's light on weight without compromising functionality. Its design is a marriage of elements from its predecessors, the Pika and the Classic, but with its own unique flair that sets it apart.
With just 860 pounds to pull around, this trailer is built on a sturdy 54-inch by 90-inch frame that can easily adapt to different terrains thanks to its three suspension packages. It may not have all the bells and whistles like a rear-access hatch, galley, power system, skylight or fan, but that's also what makes it such an affordable teardrop trailer.
Inside the cabin you'll find it spacious enough for two people. Designed around a double mattress, there's still plenty of storage space for all your camping essentials. The open layout prevents it from feeling too cramped, and three battery-operated LED lamps provide great lighting. If it's a rainy day out and you're stuck inside, it's not the end of the world!
Standard features include a robust 2,000lb torsion axle along with durable round smooth aluminum fenders while upgrade options are available for those who need more off-road functionality.
10. Bushwhacker By Braxton Creek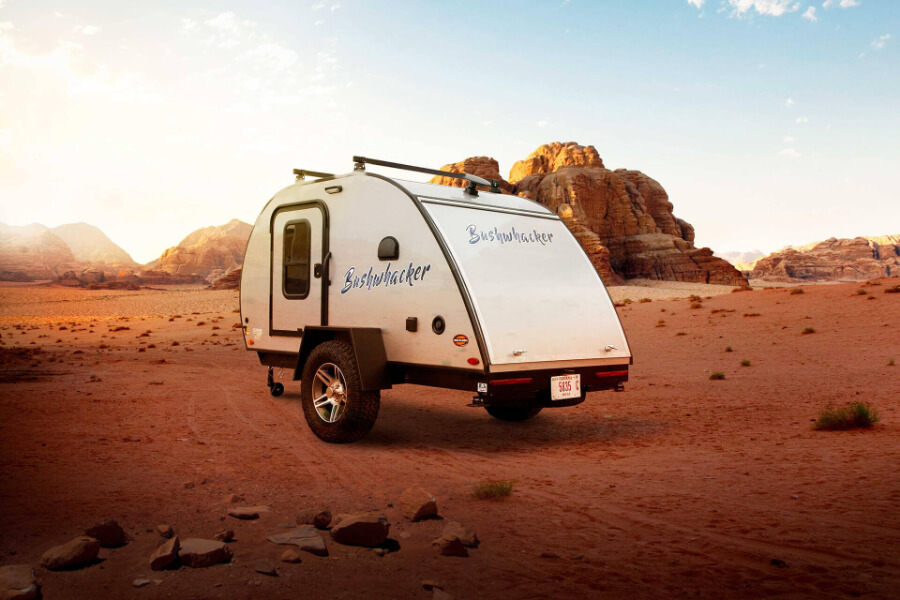 This cheap teardrop trailer is a comprehensive solution for anyone seeking to explore the great outdoors in comfort and style.
There's under-bed hidden storage boxes that are padded for extra protection, and a comfortable 4-inch deluxe quilted bed mattress. There are also plenty of power outlets (both 110V and 12V), along with USB ports scattered conveniently throughout. A robust 5,000-BTU wall-mounted A/C can keep you cool in the summer, and a powerful 12,000 BTU furnace keeps things cozy when temperatures drop.
On the outside, the Bushwhacker boasts impressive features like a Torsion-Flex independent suspension axle designed to handle up to 2,200 pounds, electric brakes for safety, and oversized all-terrain radial tires paired with rally-style wheels from Apex Gunmetal.
The main trailer body is constructed from welded aluminum which adds strength without unnecessary weight, which pairs nicely with the durable Filon fiberglass exterior skin. There's also a heavy-gauge platform ready to hold dual batteries or propane tanks plus space for mounting generators.
11. Clipper Express 9.0TD By Coachmen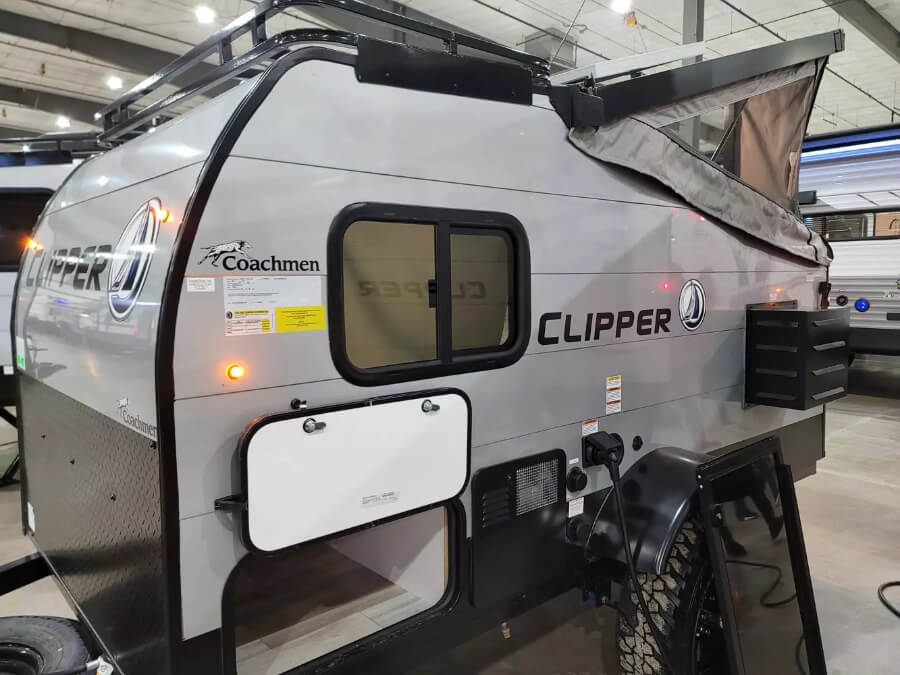 Stepping outside the Clipper Express 9.0TD, you'll notice its robust E-Coated tubular steel frame with 15′ tires, a heavy-duty tongue jack, and a wide Trac Ultra Lube spring axle for durability. The electric brake system provides added safety while the spare tire carrier ensures readiness for any unexpected incidents. With LED exterior lights for visibility during those late-night campfire stories or early morning hikes and Aqua-Shield tenting material to withstand any weather conditions, this trailer doesn't skimp on the essentials.
Inside the Clipper Express 9.0TD is where it truly shines. The residential grade linoleum lining and laminated countertops add an elegant touch while ensuring easy clean-up after cooking. There's also a portable fridge/freezer as well as a deep bowl acrylic sink.
This affordable teardrop trailer is also equipped with a 5,000 BTU air conditioner and a 20K BTU furnace. The Clipper Express also provides ample storage space so there's no need to worry about packing light, plus there's a USB charging port to keep your devices ready at all times!
12. Flyer Chase By inTech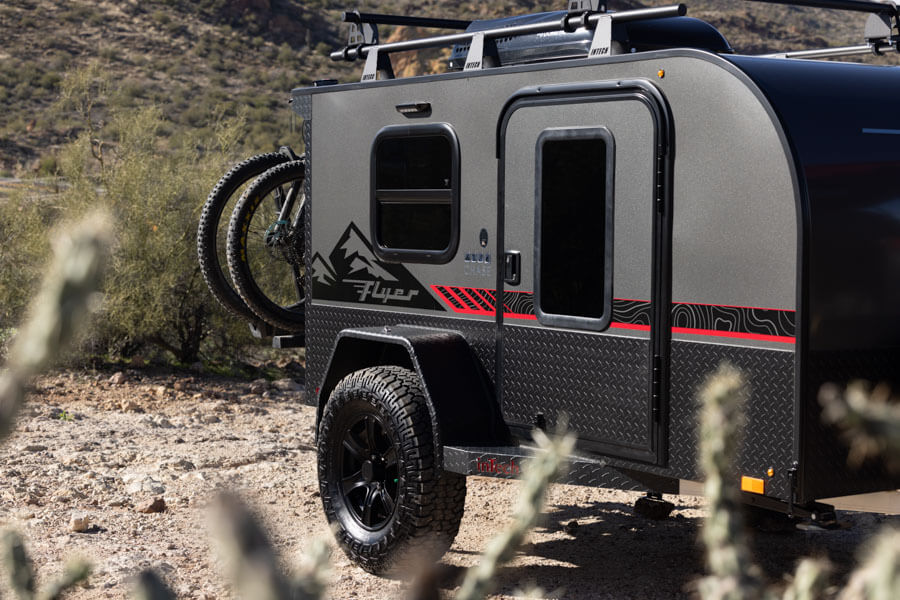 The Flyer Chase by inTech is a rugged and versatile option that won't break the bank. Crafted with an adventurous spirit in mind, this teardrop trailer is designed to take you off the grid while ensuring comfort and convenience.
The Flyer Chase stands out with its all-aluminum, fully welded cage frame. This ensures that the trailer stays light while protecting against rust, and promises long-lasting durability as well. The 2′ receiver for bike racks is rated at 175 lbs, so it's a great option for those who like to explore on two wheels.
A feature we love about the Flyer Chase is that it can accommodate up to five adults using an optional Add-A-Room tent. This makes it a great choice for family camping trips or outings with friends.
You can also choose from off-road tires, roof rack additions, or even air conditioning and heat units. If you'd like an awning you can choose between a standard straight or 270 degree design.
13. The Renegade AT By Wander Tears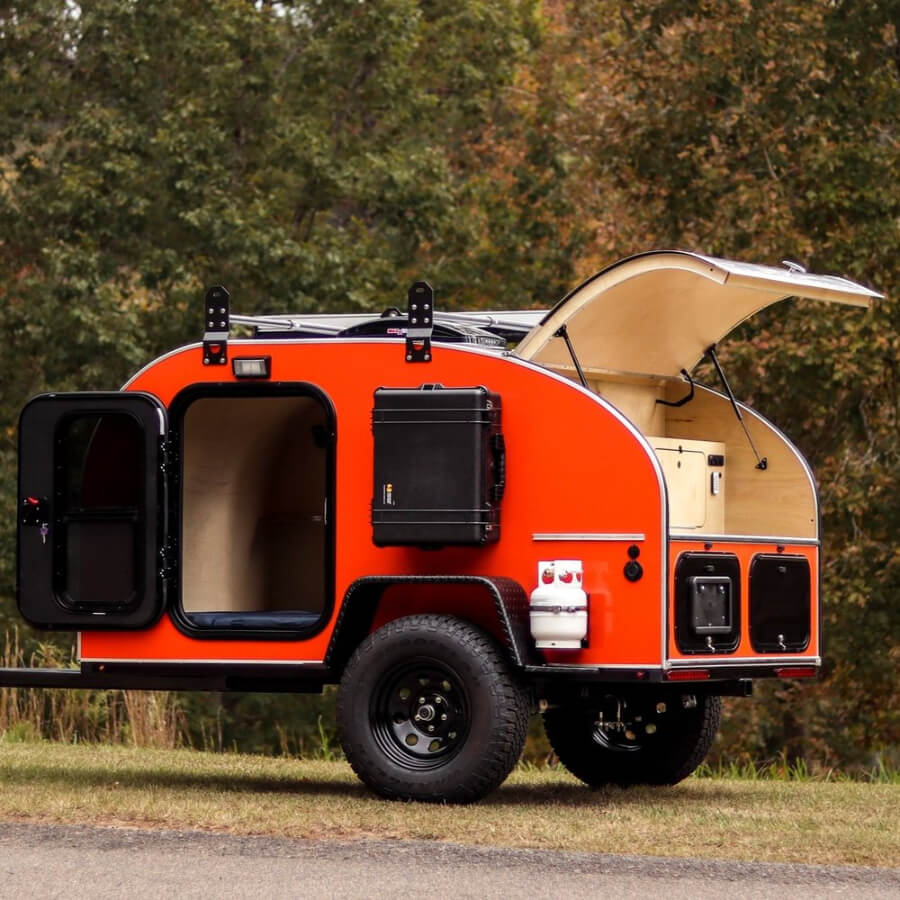 This teardrop trailer is built to endure off-road adventures and offers a variety of features that are essential to keep you comfortable and safe when in the wilderness.
Its heavy-duty 2×2 steel tubing trailer frame, 3500 lb axle, and 15" wheels with durable 205/75R15 tires means it can handle the rough terrain. Plus, it's fully wired with LEDs and charging ports in both cabin and galley.
Inside you'll find a tri-folding queen size mattress (78" x 58") nestled between two vented windows on doors measuring 26"x36". For those evenings when you're hunkered down inside, LED reading lights add comfort while side shelves and storage cubbies help keep your gear organized. The galley also houses cabinets and side tables for additional storage space.
Insulation throughout ensures warmth during colder nights while a four-speed MaxxFan vent fan provides ventilation when needed. Weighing in at approximately 1100 lbs dry weight, this aluminum-clad beauty is also customizable according to your color preference.
14. Sunray 109 By Sunset Park RV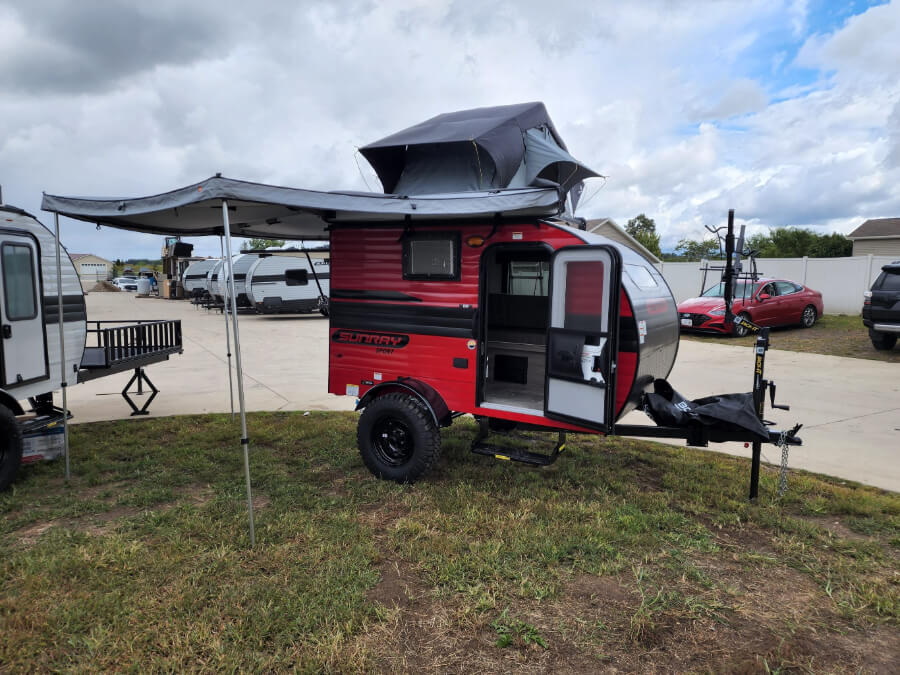 Despite its small size of only 12 feet long, 7.5 feet high, and 8.5 feet wide, this cheap teardrop trailer packs a punch with wood studs built for durability, one-piece floor decking for stability, and fully walkable roof decking for versatility.
The exterior features .024′ aluminum siding and a one-piece PVC roof membrane that provides excellent weather resistance while keeping weight down to a manageable 1,320 lbs. Plus, with residential insulated walls and a diamond plate rock guard on a powder-coated steel chassis, it's built like a tank.
There's also front and rear stabilizer jacks for easy setup, radial tires mounted on spring-leaf Dexter axles for smooth rides even over rough terrain, and an additional 6′ lift with off-road tires and black steel rims.
Inside you'll find an air conditioner to keep cool during summer and a furnace for those chilly autumn nights along. Practical appliances such as a stove top with a cover allows more counter space when not in use.
15. MyPod By Little Guy Trailers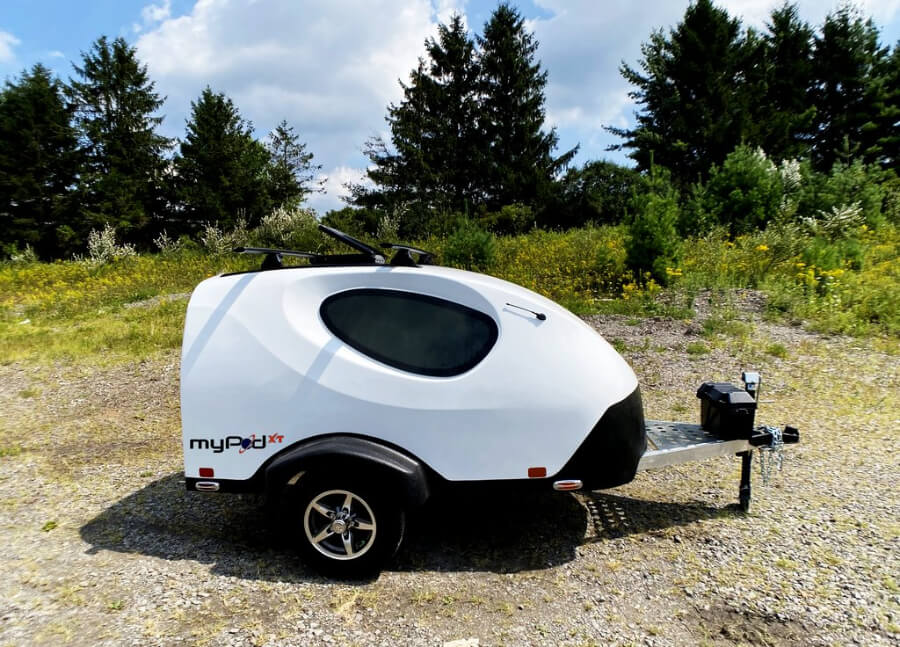 For those seeking a modern, lightweight travel experience, the MyPod by Little Guy Trailers will probably stand out. This compact and cheap teardrop trailer is a marvel of design and functionality, built with an ultra-lightweight frame and 100% molded fiberglass body.
Its convenient size makes it great for smaller towing vehicles. With a curb weight of just 840 lbs. and tongue weight of only 110 pounds, you'll hardly notice it's there when you're on the move.
Inside the cabin there's a full/double size bed that provides ample sleeping space, while window shades ensure privacy when needed.
For entertainment on rainy days or long nights under the stars, there's an onboard entertainment center hooked up to a versatile 12V/110 power source. The MyPod also has an installed air conditioner along with a three-speed Fantastic Fan for some additional cooling comfort.
There's even an available roof rack for extra storage should you need it during your camping trips.
What Makes Them So Cheap?
Sometimes it can be hard to determine why the cheapest teardrop trailers are priced lower than others, especially when you've just started the research process.
And to put it simply, the answer is that their minimalist and simple design is what keeps the price down.
Many of the teardrop trailers on this list are all about providing the bare bones at the starting price. You're essentially getting a place to sleep with some storage options in there. When you're buying the shell of a camper or a teardrop trailer with significantly reduced features, that's where the savings come from. The manufacturers simply don't have to spend as much money to build it!
Another advantage that teardrop trailers have that keeps them affordable is size, and this holds true across the board for this class of camper. It doesn't matter if you're getting something that's loaded with features or a stripped down shell to customize yourself, these will always cost less than a camper that's much larger.
Another factor that's worth considering when analyzing the cost of a cheap teardrop trailer is related to your tow vehicle. Even if you decide to get some of the more expensive options and add-ons (and each of the trailers on this list has a few), the weight is almost always going to be manageable for a modestly-sized car.
That means you don't need to invest in a larger tow vehicle or upgrades to accommodate the weight. In other words, you don't need a heavy-duty pickup truck to bring these around with you!
Is Getting One A Good Idea For You?
Deciding whether to invest in one of these cheap teardrop trailers comes down to what your needs and preferences are. If you're a camping enthusiast who values mobility, practicality, and simplicity over luxury, then they might be a good choice for you.
The nice thing about these is that you typically have the option to build them up as much as you want. If you want just the bare-bones, then you won't need to spend much at all and can customize things as you see fit. But if you're looking for something a bit more feature-rich, you'll have options there as well.
The main thing to consider is if you think this class of camper is good for you. Teardrop trailers can be insanely cheap, or rather expensive. So at the end of the day it's about envisioning yourself in a teardrop vs. another kind of camper. By taking your preferences and current tow vehicle into account, you should be able to make a decision you're happy with.
Closing Thoughts
We hope you found this list of the cheapest teardrop trailers useful, and have some ideas for what your next camper might be.
If you have any questions about the models listed above, we're more than happy to lend a hand. Just send over your questions!
* All images have been sourced from the company websites listed above and full image credit is attributed to them.