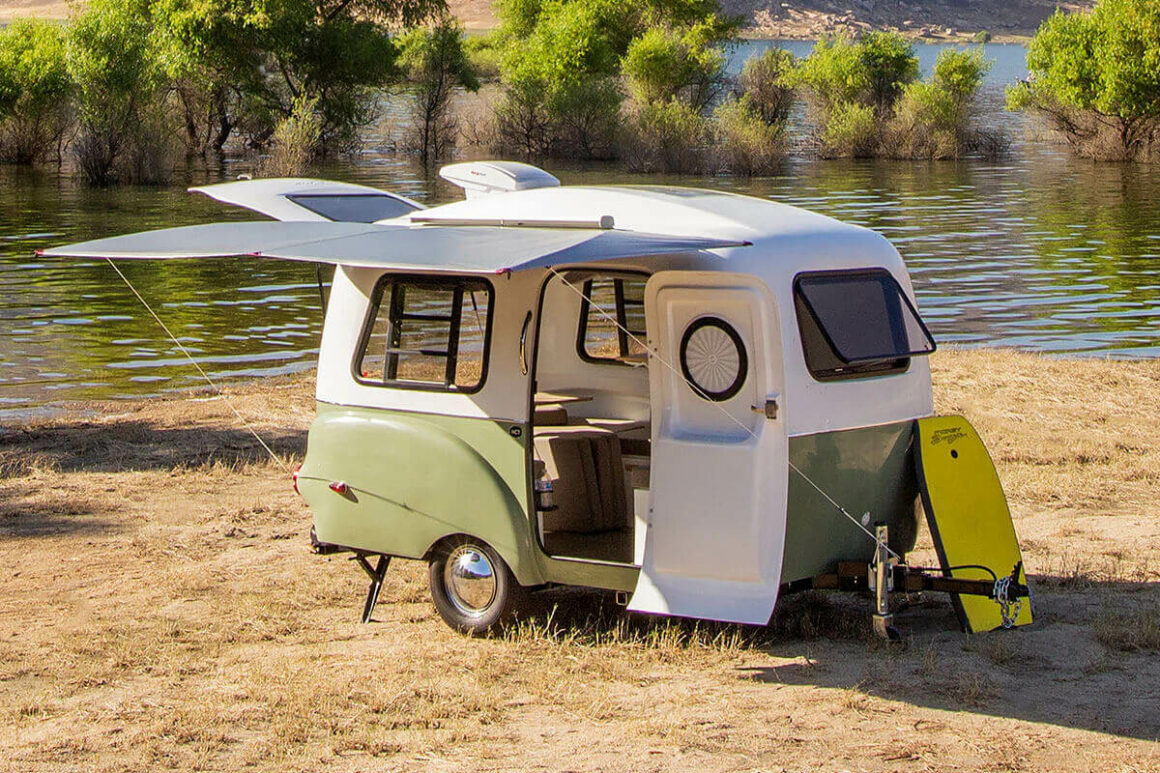 Finding campers under 2,000 lbs can seem hard at first. For many of us there are certain features that are non-negotiable, and it can seem like they're only found in the heaviest campers and travel trailers!
But fortunately, that's not actually the case.
This guide will show you some fantastic campers under 2,000 pounds that are well-made, feature-rich, and low-maintenance.
The Best Campers & Travel Trailers Under 2,000 Pounds
There are plenty of travel trailers and campers under 2,000 lbs, but not all of them are well-made and reliable. Here are our picks for the best of the best.
1. Taxa TigerMoth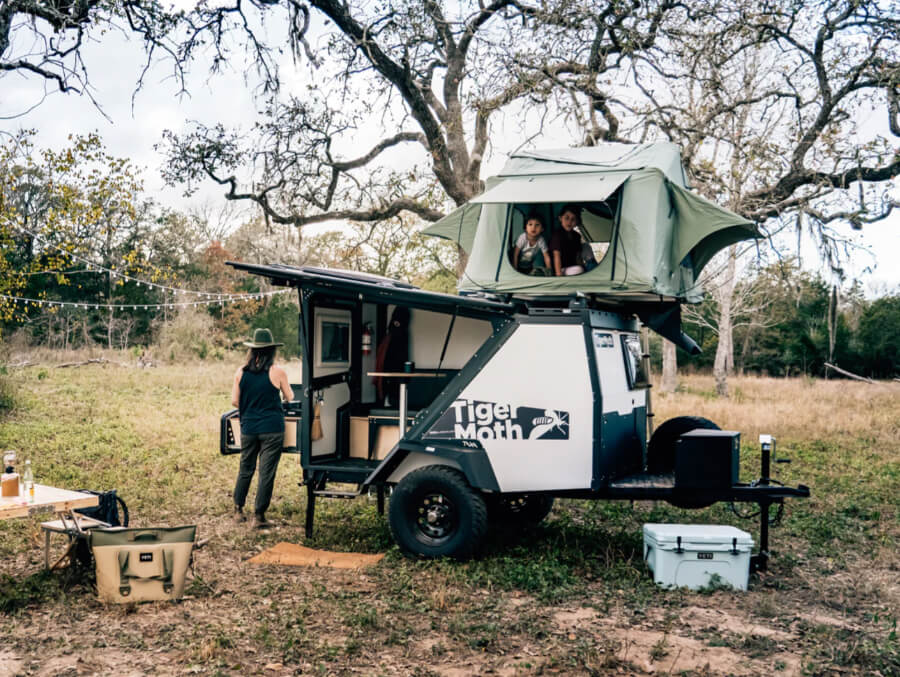 The Taxa TigerMoth stands out among the best campers under 2,000 pounds due to its lightweight design, sleeping capacity for up to five adults (with an optional rooftop tent), and unique features such as a slide-out camp kitchen and open design for optimal ventilation and expansive views.
With a dry weight of just 1,310 lbs, this camper is easily maneuverable on various terrains and conditions. The length comes in at 12'10', making it compact enough to be stored in most standard garages. This makes it an ideal choice for those seeking adventures in remote camping spots or under darker night skies.
Built specifically for adventuring, the TigerMoth camper's interior is designed with simplicity in mind but still doesn't compromise on functionality or comfort. It will easily sleep two adults, but it can be expanded to accommodate three more with the addition of an optional rooftop tent. This flexibility allows users to tailor their sleeping arrangements according to their needs without having to worry about space constraints.
One of its standout features is the slide-out camp kitchen equipped with a two-burner portable stove, which further enhances convenience during outdoor excursions.
The open design of the Taxa TigerMoth provides optimal ventilation along with expansive views that allow occupants to fully appreciate the surrounding views while ensuring comfort within the camper. This thoughtful design elevates the outdoor experiences and is perfect for campers who seek solace in remote areas, or simply wish to enjoy dark night skies from different perspectives.
2. Scamp 13' Standard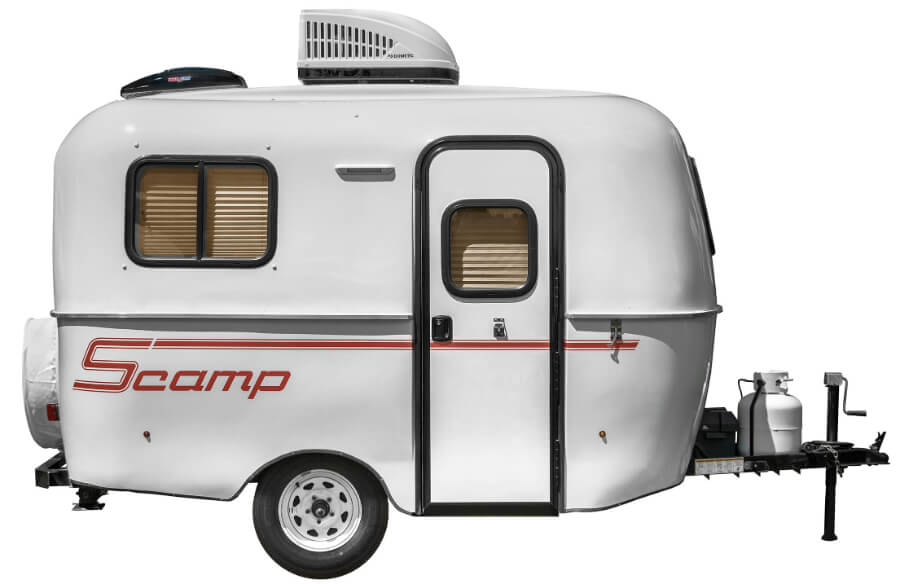 In terms of lightweight convenience and comprehensive features, the 13′ Standard by Scamp stands as a premier choice for those interested in campers under 2,000 lbs. This model is built to order, ensuring that each trailer precisely meets the owner's needs.
Despite its light weight of only 1,500 lbs (without the bathroom upgrade), it comes equipped with numerous standard features including a two-burner propane stove, kitchen sink, LED exterior lights, and a battery disconnect switch. You also get water tank monitors and an interior fitted with amenities such as room darkening blinds, rear overhead cabinets, and a single LP tank & gauge. The interior can be customized in deluxe hardwood finishes in either oak or birch as well.
The versatility and flexibility of the 13 foot Scamp is further highlighted by its wide range of optional upgrades. These include additions to enhance comfort such as a larger rear bed, an air conditioner with heatstrip option for climate control, or even TV packages for entertainment purposes. There are also options like dual propane tanks for extended trips or wireless brake control and an anti-sway bar for easier towing. You can also add solar panel kits for off-grid adventures.
These travel trailers from Scamp have been renowned since 1972 not just for their durability, but also their fuel efficiency due to their aerodynamic design. That makes them a great choice for anyone who has a smaller car, SUVs, van, or truck struggles with towing heavier loads.
3. Happier Camper HC1 Travel Trailer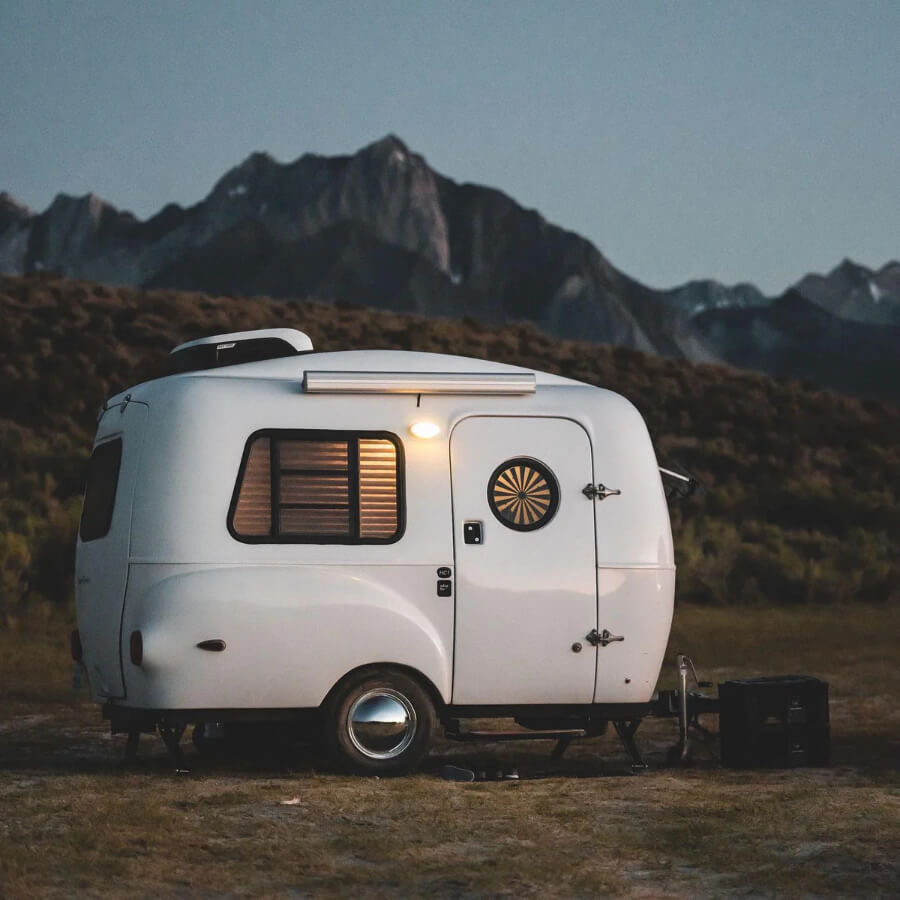 Showcasing a blend of retro-modern design and innovative features, the HC1 by Happier Camper introduces an entirely new dimension to lightweight and versatile recreational vehicles. With a dry weight of approximately 1100 lbs and an average weight of around 1500 lbs, it has no trouble making our list of the best travel trailers under 2,000 lbs. The compact size ensures easy towing by most small-medium sized vehicles without compromising on comfort or utility.
And the Happier Camper HC1 stands out not only due to its lightweight nature, but also because of its robust construction and high-quality materials. The double hull shells are handcrafted from 100% fiberglass which have a high strength-to-weight ratio to ensure longevity and resilience. Large panoramic windows along with a wide entry door provide ample ventilation while also giving you great exterior views from the inside. The interior also features premium fabrics and hardware fittings, plus the ability to seamlessly connect to solar panels.
Looking beyond the aesthetic appeal and functionality, this camper's reputation since its debut in 2015 has been built on the basis of its versatility. Its distinctive design incorporates flexibility through their Adaptiv® interior that allows customizable layouts, making it useful for all types of people. This characteristic gives you options and encourages creativity when planning trips or designing the ideal camping space for you and your family.
4. inTech Flyer Pursue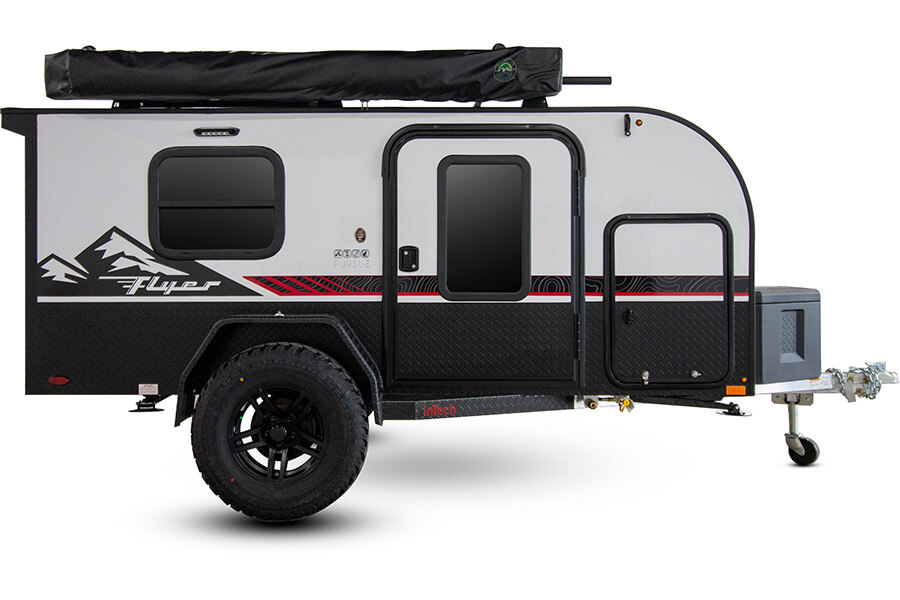 Perhaps one of the most striking qualities of the inTech Flyer Pursue is its ability to combine rugged durability with a sense of modern comfort and customization, all while maintaining an impressively light weight.
This off-the-beaten-path camper distinguishes itself with a fully welded cage frame made entirely of aluminum, offering strength and rust resistance for off-road adventures. Despite this robust construction, the unit manages to keep its dry weight within a range of 1,195-1,690 pounds, staying well under the 2,000-pound limit.
The interior features further enhance the appeal of this ultralight travel trailer. A comfortable bed size measuring 59'x78′ provides ample resting space after outdoor endeavors. Ventilation is ensured by a MaxxAir vent fan while bubble foil in walls and ceiling offers great insulation. Ample storage options are available via the front storage cabinet and three storage nets. Furthermore, infinity woven flooring adds an element of luxury without compromising on durability or weight.
Unique kitchen features really stand out as well. The kitchen is a slide-out that sets up quickly for convenient cooking even in remote locations. A two-burner stove accompanied by a large storage cabinet allows for easy meal preparation, while a 45-quart 12V refrigerator means you won't need to rely on ice to keep your food cold during your adventures.
5. Timberleaf Trailers, Inc. Kestrel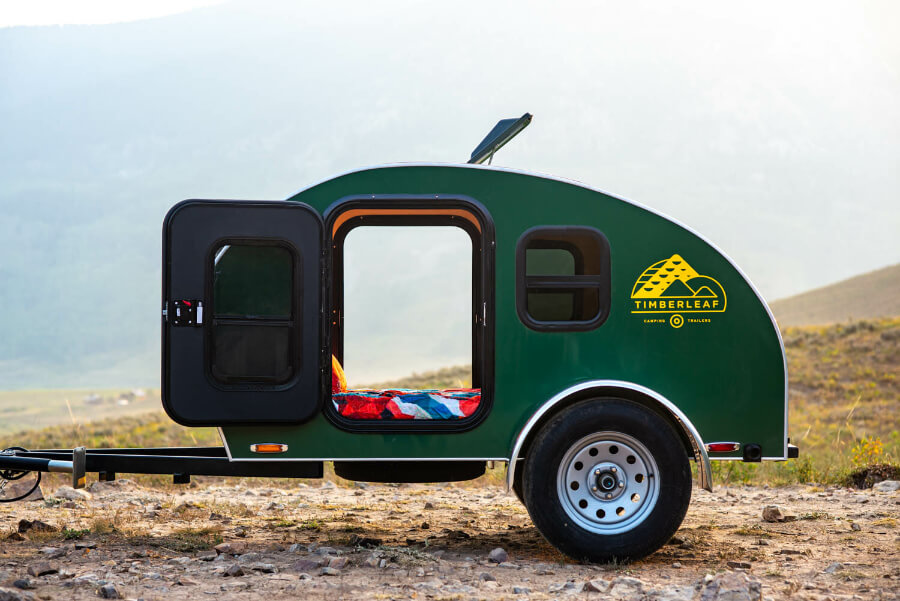 Boasting an ultra-lightweight design, the Kestrel model from Timberleaf Trailers demonstrates a minimalist aesthetic combined with comfort and quality, making it a compelling choice for those seeking a simple camping experience. With its total weight of just 860 pounds and frame measuring 54 by 90 inches, this trailer is ideally suited for travelers who prefer to stay agile on their journeys without need to compromise on essentials.
The Kestrel's construction inherits much of its design from predecessor models Pika and Classic. It features a fully welded and powder-coated steel frame along with enamel baked aluminum sides which ensures robustness alongside lightness. Additional specifications include a 2,000 pound torsion axle and a standard 2" ball coupler.
One thing we really like about the Kestrel is the amount of available customization depending on individual travel styles and needs. It comes with three different suspension packages (Standard, All-Road, and Off-Road) that offer flexibility across diverse terrains. And despite being one of the most minimalist designs in Timberleaf's lineup, it still provides an affordable luxury camping experience.
The interior cabin comfortably sleeps two people on a double size mattress (similar to the one found in the Pika) but offers more storage space. The ambience of the cabin is quite nice due to the three battery-operated LED lamps (two reading lamps and one dome lamp) that provide warm light for that extra cozy-factor after sundown.
6. Forest River Viking 1706XLS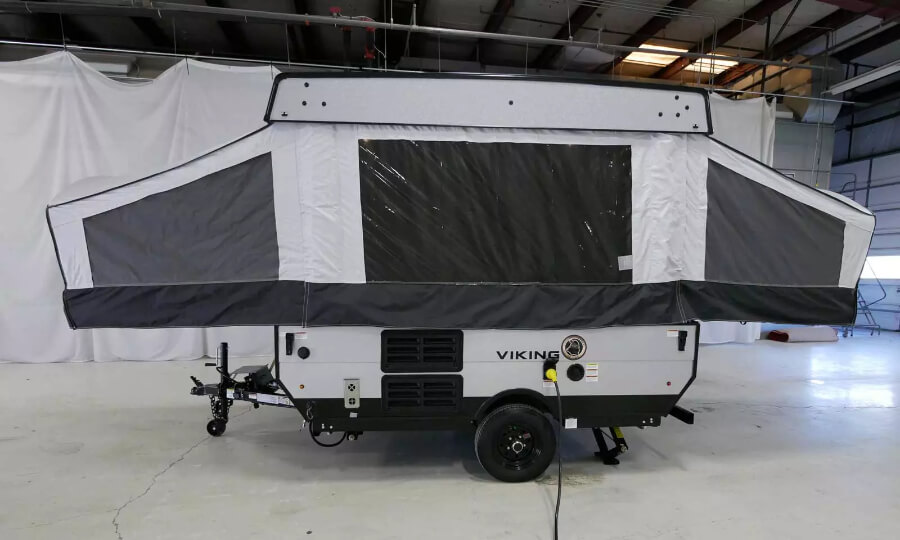 The Forest River Viking 1706XLS, with its weight of 1,642 lbs, provides an impressive array of amenities and spaciousness for a pop-up camper. It's designed to accommodate up to six sleepers which makes it ideal for family outings or group camping trips.
The generous headspace makes the inside feel a lot larger than you'd expect from a camper of this size. It also comes with two fold-out beds to give you additional options if you're camping with a larger group. In our opinion, this model is best suited for camping in pleasant weather conditions due to its design and features.
The kitchen amenities found in the 1706XLS are great, especially considering its size. The small kitchen includes a high-output range with two burners that make it easy to prepare meals outdoors. There's also a deep bowl sink that makes it easy to clean dishes (which makes a BIG difference), durable laminate countertops, and a reasonably-sized fridge. On top of that, the 12V on-demand water pump ensures continuous water supply while the ash cabinetry adds aesthetic appeal and functional storage space.
One of the reasons why this made our list of the best campers under 2,000 lbs is the E-Coated Tubular Steel Frame that ensures structural strength and longevity. You can also get electric brakes to make stopping easier, radial tires for enhanced driving dynamics, and four heavy-duty scissor-style jacks to stabilize the camper when parked. A Goshen Lift System makes the camper easy to pop up, while diamond plate front & rear walls provide additional durability and security.
Inside the camper the LED courtesy lights provide plenty of illumination within the camper at night, and their super comfortable cushions make it easy to doze off after a long day of adventuring.
7. Riverside RV Retro 511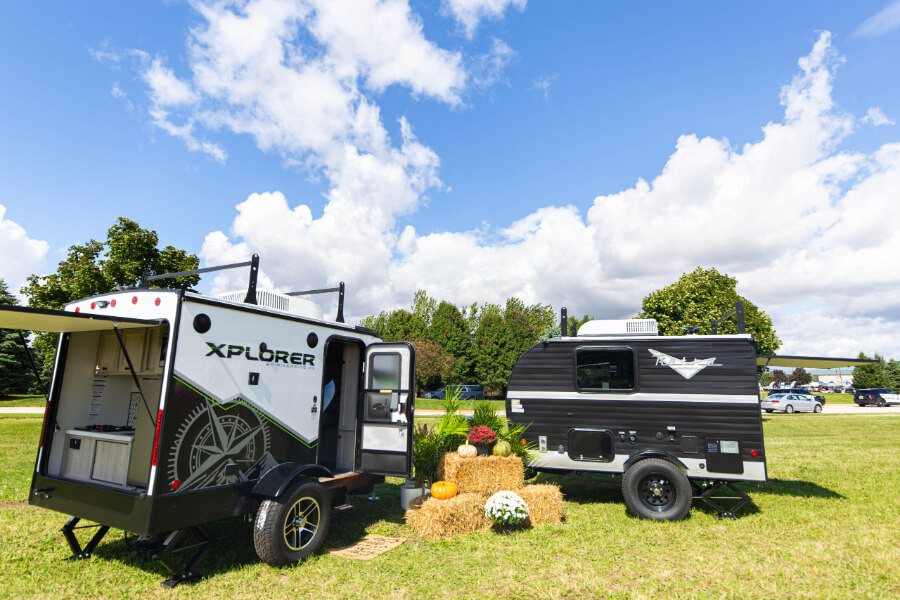 With a blend of vintage charm and modern convenience, the Riverside RV Retro 511 is a great choice for adventurers who value style, comfort, and efficient space utilization in their campers and travel trailers.
The unit's total dry weight of 1,780 lbs makes it easy to tow without requiring a heavy-duty vehicle, making it eligible to be on our list of travel trailers under 2,000 pounds.
The design features a retro exterior that's available in eight vibrant colors that exude personality while its interior offers unexpected spaciousness despite its compact size. On the outside, smooth curves make it aerodynamic while a double-welded aluminum cage contributes to durability.
The interior features ample room for outdoor gear and personal belongings with additional storage areas including a standard closet. A jiffy sofa that doubles as a bed during nighttime optimizes space usage inside the trailer, and there an entertainment center equipped with Bluetooth stereo as well as interior and exterior speakers.
For anyone who is a stickler about climate control while they camp, this model comes with heating and air conditioning systems so you can go on trips year-round.
Another noteworthy feature is the exterior kitchen complete with cooktops, fridge, sink, and a microwave. When you see the camper it's clear that the kitchen was designed to save space while maximizing livability within the unit.
8. Hiker Trailer Highway Deluxe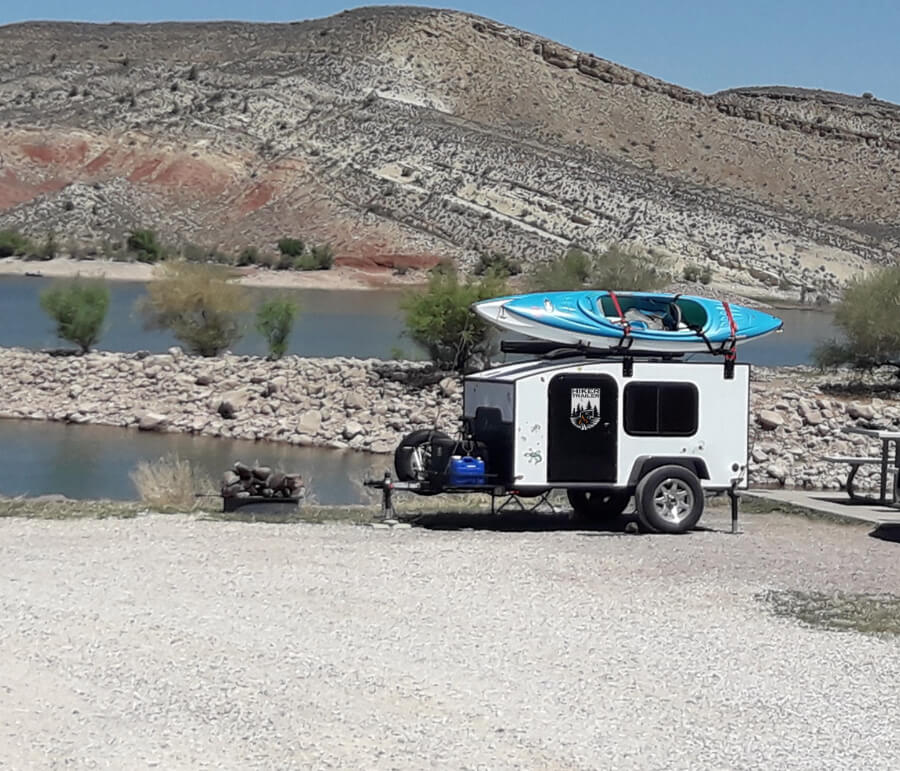 Lightweight and customizable, the Highway Deluxe camper by Hiker Trailer offers a unique blend of functionality and versatility that makes it a perfect option for those seeking adventure on both established paths and untamed terrains.
With its average build weight ranging from 1,100lbs to 1,400lbs, this trailer is designed for smooth dirt, gravel, and paved roads. Its ground clearance of nine inches and suspension system featuring a 2,000lb straight axle with leaf springs keeps things stable during travel as well.
Hiker Trailer has taken customization into account with this camper by offering four different models with varying off-road capabilities. Each unit can be further tailored from over 200 overall choices to craft the ultimate camper to fit your preferences.
For example, the premium package includes additional features like a choice of trailer color, Goal Zero Power Station (which you can upgrade if needed), a cabin ring light, and three exterior premium flood lights.
But what we really like about this camper is that the ability to customize doesn't compromise its affordability. That means it's still a great camper under 2,000 lbs for budget-conscious adventurers or those with some money to spend. In addition to this, its lightweight design makes towing easy so you can access pretty much any campsite.
9. nuCamp Tab CS-S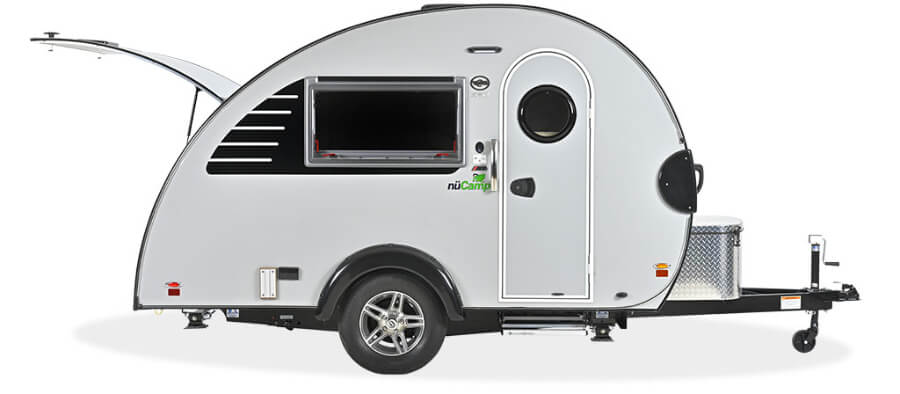 Combining innovation and functionality, nuCamp's Tab CS-S teardrop camper offers a dynamic space for outdoor enthusiasts who want some comfort while exploring both regular roads and rugged terrains. This camper comes in at just under 2,000 pounds, and it's loaded with features.
There's an external shower, exterior LP hook-up, exterior table mount, built-in Keder rail, aggressive off-road tires for traversing uneven landscapes, pitched axle for improved stability, and increased ground clearance if you get their boondock package. The rear hatch opens to reveal a versatile kitchen that includes appliances such as a microwave, 2-burner glass-top stove, and a 12v refrigerator.
It's clear that the interior of this camper has been thoughtfully planned to maximize space and comfort. You can convert the dinette into various sleeping arrangements including a full-sized bed, dual twin beds, even a twin bed with seating area. The water system ensures that hot showers are available in the wet bath that comes equipped with a cassette toilet and sink. For added comfort during varying climatic conditions, heating and cooling units are included along with a power roof fan and acrylic dual pane windows for some extra insulation.
If you want to beef things up a bit you can select add-ons like a lithium battery package for extended off-grid trips facilitated by solar power. Additional amenities include LED lights for energy-efficient illumination at night, electric brakes for added safety during towing on steep slopes, and even panoramic front windows.
10. Safari Condo Alto R1723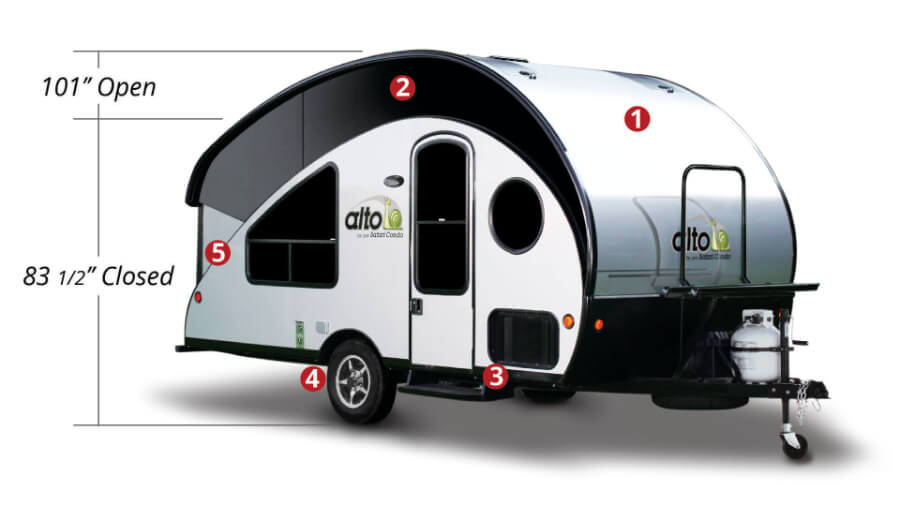 Another amazing camper under 2,000 pounds is the Safari Condo Alto R1723.
This travel trailer differentiates itself with an innovative design and an emphasis on adaptability, comfort, and efficiency. Weighing in at 1,867 lbs, it comfortably accommodates up to four people and is easily towable by most small-medium size cars.
But what really makes it stand out is the roof. The Alto R1723 exhibits a revolutionary design characterized by a single sheet aluminum skin without joints that lowers when not in use, contributing to a noticeable reduction in drag ratio by up to 75%. Its aerodynamic shape was developed in a virtual wind tunnel and is enhanced by streamlined holding tanks designed for optimized aerodynamics. When open, the roof design allows for tons of light and fantastic views in all directions.
The foundation of this camper also stands out. It's made from composite materials and aluminum with walls and roof that feature a honeycomb core design. Further adding to its durability are the use of water-resistant materials such as AluFiber, plastic, Formica, and glass.
This camper comes equipped with an electric roof featuring rigid side walls, 13-inch wheels with radial tires (you can upgrade to 15″ Michelin tires if needed), a two-burner LPG flush mount stove, and an interior shower among other amenities. For convenience during road trips or camping expeditions, there are multiple power outlets available both inside and outside the trailer. Additionally, safety measures have been duly considered; propane detectors alongside CO detectors ensure occupant safety at all times.
So while it's not cheap, you definitely get quite a lot for your money!
11. Little Guy Micro Max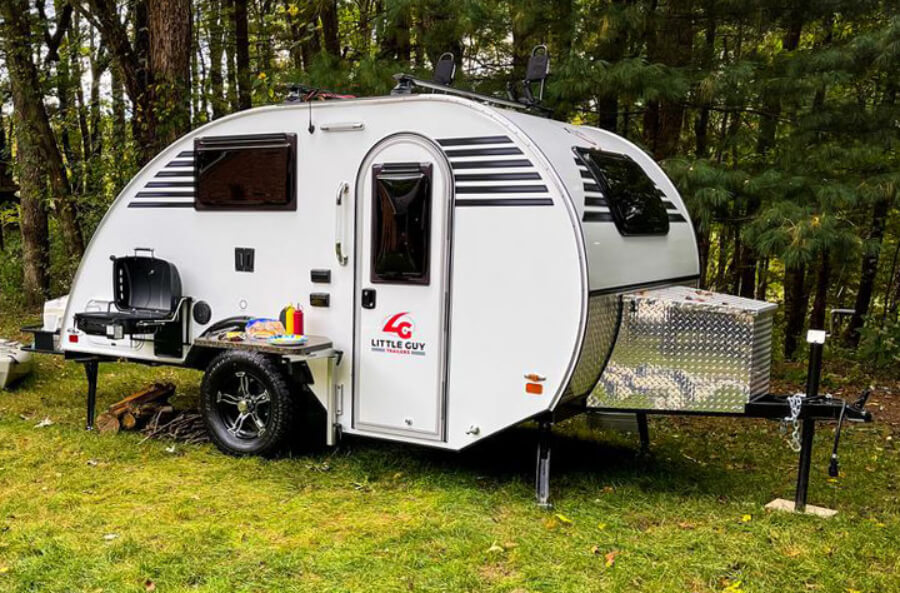 The Little Guy Micro Max, with its distinctive features and thoughtful design, is a compelling choice in the realm of compact recreational vehicles. Weighing only 1,860 lbs, this camper is light enough to be towed by SUVs or crossover vehicles, making it a solid option for people who prefer to travel without the added weight of larger trailers (or a beefy tow vehicle).
Despite its compact size and the standing room of 5' 9", you can sleep up to three adults and seat six. The benefit of this is that you can easily back this camper into a standard garage with a 7-foot door.
The interior of this camper has some nice features you'd find in a regular house like hardwood cabinetry made from maple with dovetail construction. The dining area contains two separate dinettes that can be converted into beds and are complemented by rotating tables. Essential utilities include a kitchen equipped with a stainless steel sink, a glass-top stove, an absorption refrigerator, and a nice faucet and microwave. There's also a powerful A/C unit and furnace as well as space for multiple propane tanks and batteries..
The exterior construction of the Micro Max is made from durable materials like gel-coated fiberglass walls and roof that are fortified with Azdel insulation. On top of that, there's also block foam insulation for a little extra protection against the elements. The subfloor has been constructed using a lightweight waterproof fused composite that keeps things durable without compromising in weight.
12. TCTeardrops "Original"
In the realm of lightweight recreational vehicles, The TCTeardrops "Original" is a trailblazer that offers an ideal blend of simplicity, efficiency, and modern amenities for a comfortable camping experience. In fact, it made our list of the cheapest teardrop trailers while still offering a lot of functionality and comfort.
And it looks good too! There are 200 different side color options and 14′ aluminum wheels with radial tires that enhance aesthetic appeal and provide durability.
For added functionality and safety during transit, the model also includes round diamond plate fenders, a wheeled tongue jack for easy maneuverability, and well-lit tail lights along with marker lights.
The interior lighting system consists of LED overhead lights in both the cabin and galley areas. You'll also get plenty of power outlets including a 12V accessory outlet, volt meter, and dual USB ports. Storage and space is thoroughly addressed as well with a number of storage cabinets, a slide-out table, and additional galley shelves.
It's also clear that attention has been given to ventilation within the camper. There are two windows accompanied by screens and locks that facilitate airflow while maintaining security when necessary. The same can be said for doors – two are present each with windows enhancing visibility while keeping insects at bay thanks to integrated screens. A pair of half-moon air vents further ensures free circulation of air within the camper and minimizes the chance of it becoming stuffy or unpleasant during the summer months.
13. Wander Tears Vaga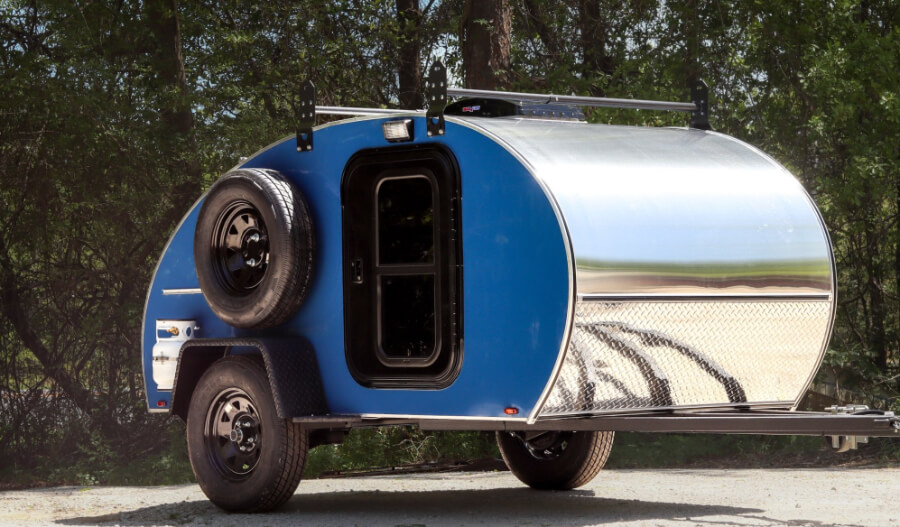 Another camper that offers an impressive balance between weight and comfort is the Vaga by Wander Tears. With a dry weight of approximately 1,300 pounds, this camper falls well within the category of campers under 2,000 pounds.
It features a classic teardrop shape which looks nice and sleek while also being practical for cross-country travels or weekend trips due to the aerodynamics. This compact design emphasizes lightweight camping without compromising on comfort.
The interior of the Wander Tears Vaga is well-organized and uses space efficiently. Its sleeping arrangements are centered around a 4-inch queen size mattress which is quite spacious compared to a lot of other camper mattress options. For storage needs, there are plenty of internal cabinets to keep things organized and clutter-free. Lighting and power requirements are taken care of by LED reading lights and multiple sockets including USB outlets in both cabin and galley areas. To keep things well-ventilated in the camper it features a ten speed MaxxFan Fan.
The exterior construction features a sturdy frame measuring 5′ x 8′ that supports all-terrain tires attached to a robust Dexter Axle. This keeps the ride smooth even on bumpy terrain. Fenders double up as steps while side-mounted tables offer additional cooking space when needed. The full galley comes complete with above and below counter storage options too.
14. Aliner Grand Ascape Plus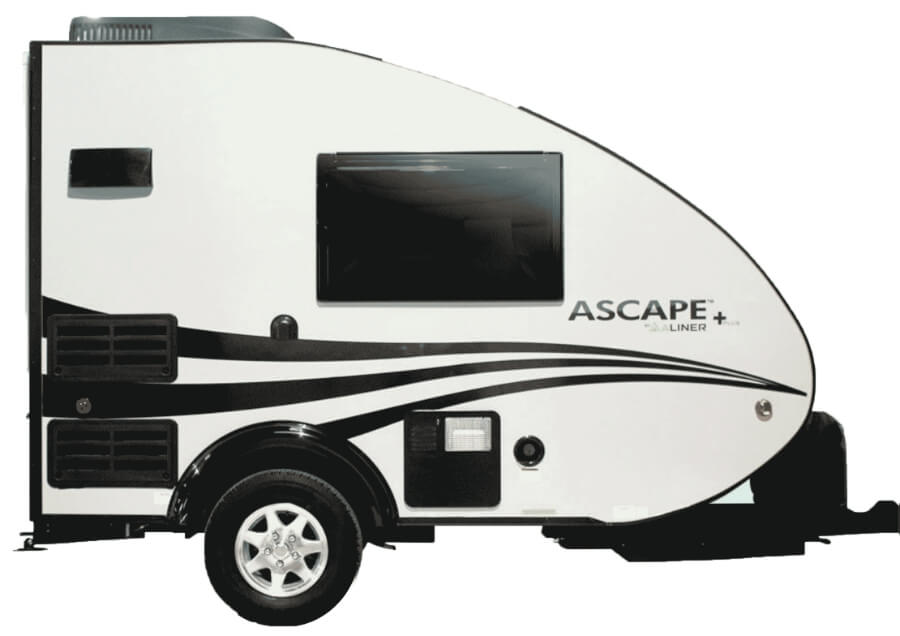 Weighing in at a mere 1,650 lbs when unloaded, the Aliner Grand Ascape Plus offers an exceptional blend of comfort and portability for those seeking a lightweight yet fully-equipped camper.
The interior boasts numerous features that make it one of the best travel trailers under 2,000 pounds. A large bed provides ample space for relaxation while dinette seating and a table offer dining arrangements within the compact space.
A modern galley equipped with a two-burner stove, microwave, and 3.0 cubic ft. refrigerator should be more than enough when it comes to your culinary needs during travel.
An optional interior toilet is a great added convenience while entertainment options include a 23-inch flat-screen TV. There's also the possibility for heating and cooling units to keep your adventures going no matter what time of the year you're on the road.
The outdoor shower and an optional rear awning are great additional amenities to consider, while LED lights help you keep things well-lit while still being energy-efficient.
There's also a 18,000 BTU Furnace, water heater, a 11-gallon freshwater tank, and a 13-gallon gray tank. Additionally, there's space for dual propane tanks so you can cook off the grid.
15. Rustic Trail Koala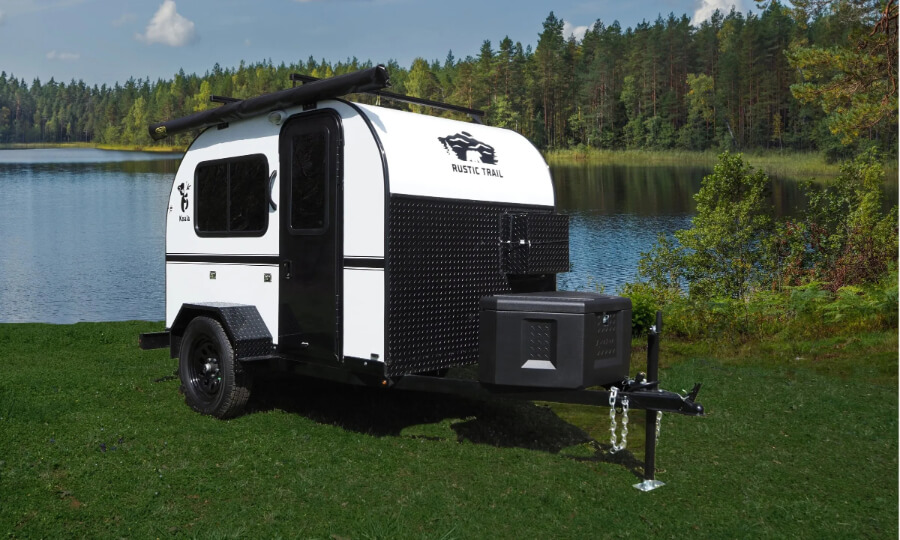 The Koala Bear camper by Rustic Trail stands out as a lightweight yet durable option that offers an impressive blend of features within its compact structure. Weighing just 1,100 lbs, it's designed to fit into most standard-sized garages in order to make storage and transport easy.
Its unique interior design combines functionality with aesthetic appeal: a 5-foot ceiling height provides room for a small walkway rather than simply having a bed space on wheels. The use of knotty pine birch lining on the interior ceiling and walls give it a nice rustic feel that we like as well.
In terms of construction quality and material selection, this is a camper under 2,000 pounds that does not compromise. High-quality materials are used throughout (you won't find any particle board here). The flooring consists of heavy-duty wood plank vinyl designed to last under rugged camping conditions.
The Koala Bear also comes equipped with several key standard features that cater to modern camping needs while ensuring safety and comfort. These include a heavy-duty axle that's rated at 3,500 lbs, standard electric brakes, a foam board insulated roof enhanced by radiant barrier, a MaxxAir fan, and two folding rear stabilizer jacks for added stability when parked.
You also have the expected electrical essentials like USB charging ports plus a 15 Amp shore power connection.
What It's Like To Own A Camper That's Under 2,000 lbs
Owning a camper under 2,000 lbs provides numerous advantages, including enhanced mobility, easy handling, and often significant cost savings.
The compact design of these campers enables owners to navigate easily through various terrains and reach remote camping areas that larger trailers might find inaccessible. This size also contributes to improved fuel efficiency and compatibility with many small-medium sized cars, meaning you don't need to fork over money for an expensive tow vehicle.
Another interesting aspect of owning these travel trailers is how efficient they are with space. Despite their small footprint, these campers are designed to accommodate essential amenities like sleeping quarters, galley kitchenettes, seating areas, and sometimes even bathrooms!
The economical nature of owning a camper or travel trailer under 2,000 lbs extends beyond initial purchase costs. Maintenance expenses associated with these models tend to be lower than those of larger campers due to fewer parts and less wear on tires and brakes from towing lighter loads. Additionally, it's often possible to store them at home.
Closing Thoughts
As you can see, there are a number of high-quality campers and travel trailers under 2,000 pounds. These models offer a perfect blend of comfort, utility, and ease of towing.
If you have any questions or need some help deciding what features you need, we're more than happy to lend a hand. We love connecting with our readers!
* All images have been sourced from the company websites listed above and full image credit is attributed to them.