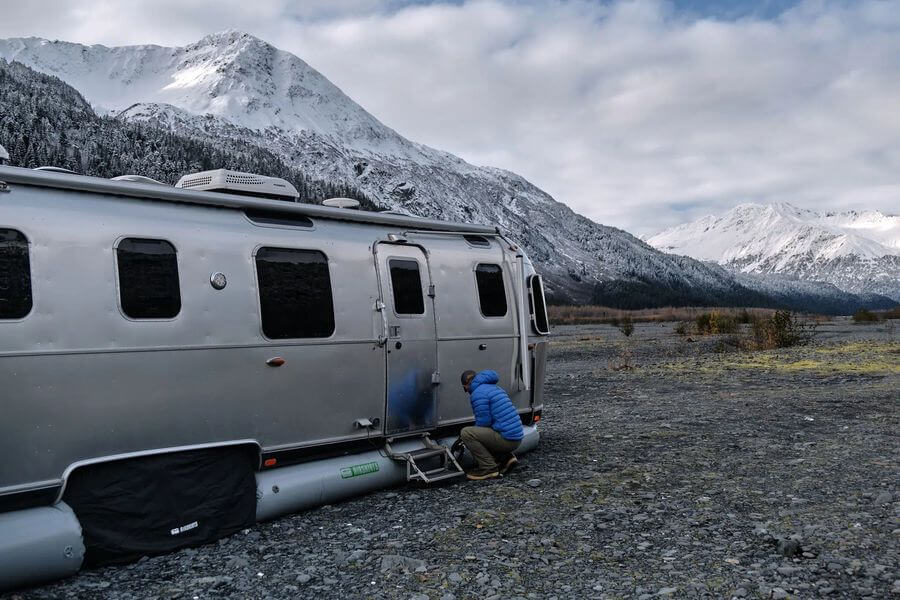 There are a wide variety of RV skirting ideas to choose from if you're planning on taking your rig out during the winter.
But which ones are the best?
This guide goes over the solutions that give you the most bang for your buck. Some are cheap and require some DIY work, and others are custom and hassle-free.
No matter who you are or what you're looking for, you'll be able to find an option that works for you.
What Is RV Skirting?
RV skirting is essentially a barrier that wraps around the base of your rig, blocking cold air from blowing underneath and helping to maintain a cozy internal temperature by stopping your camper from losing heat through its base.
This might not seem that important, but it definitely is. With most RVs lacking adequate insulation underneath for long-term winter camping, this added measure can make all the difference in chilling weather conditions.
Imagine you're winter camping in your RV and you're going to be parked for a while. The temperatures have dipped below freezing and there is nothing between your vehicle and the frigid elements. With the right RV skirting, you've got an additional layer of protection for your water lines, tanks, and other sensitive components that could otherwise freeze over.
Not only does this save you from potential damage or discomfort, but it also reduces the need for propane. If you've spent enough time camping in the winter you know how quickly this expense can add up!
So whether you're braving extreme winter weather or simply want to add an aesthetic touch to your rig while creating some extra gear storage space, RV skirting can be just what you're looking for.
There are a number of RV skirting ideas you can try out for the winter, and there are even solid DIY options if you'd like to keep things more budget-friendly.
Best RV Skirting Ideas For Winter
There are a number of great RV skirting ideas you can try for your next winter trip. Here are some of the best options we recommend.
1. Custom RV Skirting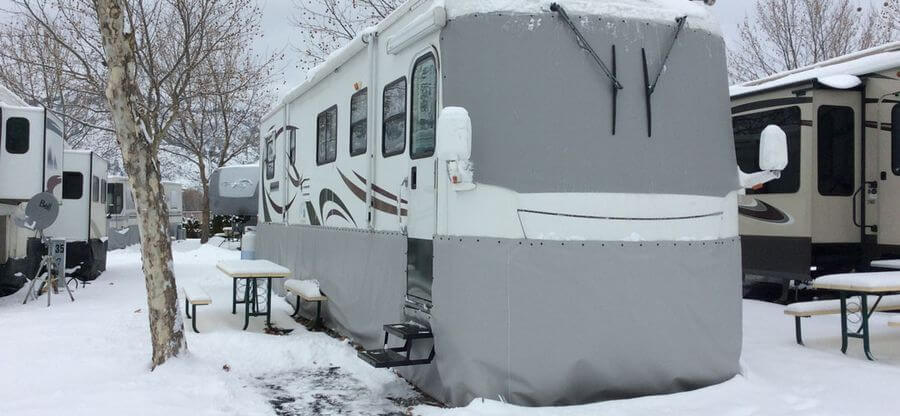 While it might seem like a big investment, getting custom RV skirting can provide a number of serious benefits. Custom solutions allow you to have skirting that not only fits your RV perfectly, but matches its appearance as well. Trust us, there's a big difference between this and DIY options.
Custom RV skirting offers durability and longevity that's pretty hard to find with temporary or DIY solutions. While expensive initially, you're investing in high-quality materials that are designed to withstand different weather conditions and last multiple seasons (with winter being the most important). Plus, most come with warranties that cover potential issues to provide some peace of mind.
Another benefit to custom skirting is the built-in storage functionality they provide. Most come with convenient zipper placement so you can quickly access the space below your RV when needed.
One thing that's also worth considering is that custom RV skirting tends to be more reusable and environmentally-friendly than the DIY options. This is because you'll be able to keep and use them over and over for many years instead of constantly needing to replace materials like plywood or vinyl.
At the end of the day, it's a matter of budget and preference to decide if this solution is right for you. If you have some money available for a long-term investment, it's hard to beat going custom. However, if you're on a strict budget and need something fast for the winter, DIY options might be more attractive.
2. Insulated Foam Board
While it might not be the most portable option, opting for insulated foam board as an RV skirting solution provides affordable and effective protection against freezing temperatures.
Sheets can come in a number of different dimensions and can be easily cut down to fit your RV's specific needs and sizing. The overall cost is quite budget-friendly as well. You can almost certainly get everything you need for less than a few hundred dollars.
But while the cost is certainly attractive, this RV skirting idea doesn't compromise on performance. Insulated foam board does an excellent job of holding up in sub-zero weather conditions, keeping your RV cozy despite the chill outside. And don't be discouraged about aesthetics, you can make this skirting look quite nice! Simply picking a foam board that matches the general color of your RV will go a long way, but you can certainly paint it if you want to go all-out.
The one clear downside of this skirting method is the lifespan of this material. Typically, these panels last through one winter season before needing to be replaced. That means it's usually ideal if your RV stays put for extended periods, but less so if you're frequently on the move. On top of that, they're often thrown out after each winter which isn't ideal if you're trying to minimize waste (since it's usually hard to recycle these due to the plastic layer on the outside of these boards).
3. Plywood
When it comes to RV skirting ideas, it's hard to beat the steadfast reliability of plywood. This ubiquitous material, found in any home improvement store, can be easily customized to fit your RV's unique specifications and will shield you from icy winds and frigid temperatures.
And it's not just about practicality, there's also room for creativity.
Plywood can be painted or decorated to match your RV's exterior or reflect your personal style. To ramp up its insulation properties, you can even line it with foam or reflective board.
Pro Tip: A neat trick to take this DIY RV skirting idea to the next level is to turn this area into storage. All it takes is a simple hinged door for you to maximize this space without compromising on insulation in the winter.
The main thing you need to be aware of when setting up plywood for RV skirting is sealing gaps. If this isn't done properly, the space between the boards will result in a significant amount of lost heat over time. Since plywood is a skirting solution that tends to be best for long-term stays, sealing things up with more heavy-duty measures shouldn't be a big deal.
While it can be a bit on the bulky side compared to some of the other options on this list, the benefit of that is how robust this material can be. You won't need to worry about it breaking down during your stay, and you should be able to keep using the same sheets for a number of years without any issues. Out of all the DIY RV skirting options, plywood is one of the most durable and long-lasting.
4. Inflatable RV Skirting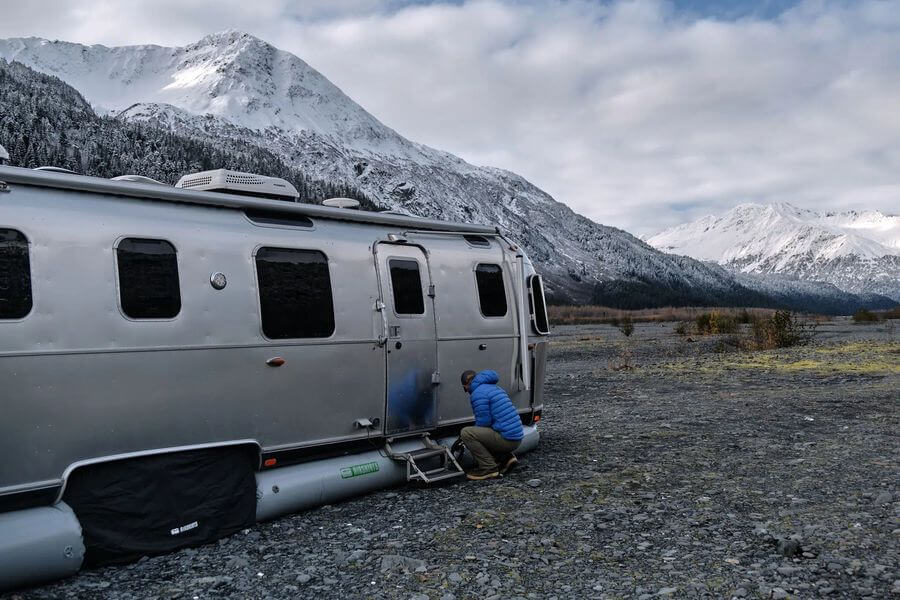 If you're looking for a hassle-free RV skirting idea to protect you from the harsh winter elements, then an inflatable undercarriage cover could be a game changer. These are great because they offer ease of installation, portability, and exceptional durability. In our opinion, this innovative skirting solution is perfect for RV users who dread the weight, storage hassles, and DIY setup associated with traditional methods.
Inflatable RV skirting fits almost all camper types and requires minimal effort to install. And what's even more appealing is that no attachments are necessary. It stays in place by pressure alone, which means you don't need to use any screws or mounts of any kind. So if you're an RVer who doesn't like to stay in one location throughout the winter season, this could be a good fit.
When you're not using this skirting you can simply deflate it and fold it away. That makes it an incredibly portable option that isn't a hassle when it comes to storage. It's made of long, narrow cushions fashioned from heavy-duty vinyl that's highly resistant to punctures. But on the off chance that a puncture does occur, you can usually deal with it with a simple patch kit.
When picking inflatable RV skirting, it's all about choosing the right-sized option for your camper. You'll need to have some basic measurements handy when shopping around, but we don't think it's anything too complicated.
The main downside of this winter RV skirting idea is cost. Unlike some of the DIY solutions on this list, you'll probably need to plunk down a couple thousand bucks if you want to get something high-quality.
5. Vinyl
If you're after a lightweight, aesthetically pleasing, and customizable RV skirting solution for, vinyl is another option worth considering. Not only is this material cost-effective, but it also offers long-lasting durability that provides real value for your money.
Thanks to its lightweight nature, vinyl skirting panels are easy to transport and store. They can provide a clean and tidy appearance for your RV, with colors that can be matched to your vehicle's decals (if that's a priority for you). Out of all the RV skirting ideas on this list, vinyl tends to be the best-looking when done right.
Vinyl also offers flexibility in terms of attachment methods. You can choose between slide-in grooves or snap-ons according to what suits your RV best. If you're environmentally conscious, there's even potential for using recycled billboard tarps if you're willing to spend a little extra DIY time on this project.
If you plan on using this for your RV skirting in the winter, you'll need to make sure that you double check all of your measurements. Depending on how you source the vinyl, it could become expensive if you need to redo or reorder certain pieces. It's also not uncommon for RVers to accidentally cause damage to their vinyl skirting by attaching or mounting it insufficiently, requiring them to repair or even start from scratch.
That's why it's a smart idea to measure more than once before cutting, or even invest in higher-quality pre-cut tarps complete with added grommets.
6. Insulated Tarp
Insulated tarps can be another reasonable RV skirting idea, especially if you're looking to minimize the amount of time you spend on setup. These tarps are simple to use and can considerably reduce the amount of lost heat you experience.
Interestingly enough, this solution often comes with a higher price tag than some other alternatives. Most people think that tarps are always cheap (and they're usually right), but the insulated variety is a different story.
Pro Tip: It's worth pointing out that this option tends to be best if you have a smaller RV. Individuals with motorhomes or large fifth wheels will usually end up needing so much tarp that it becomes overly expensive. While it's obviously still possible, the price tends to make owners want to consider other options.
7. A Hybrid RV Skirting Option For Those With Fifth Wheels
This RV skirting idea is specifically for fifth wheels, so we thought it deserved its own section. Unlike a lot of other RVs, the unique profile of fifth wheels makes DIY builds a bit more complicated (you don't need any special tools or skills to install them).
That's where a pre-made fifth wheel skirt comes in. By getting one of these, you'll be able to get a secure and well-insulated fit underneath the king pin area that can also double as storage.
Most pre-built options are made from durable materials that can withstand harsh conditions, so they'll last you through many camping trips. Pre-made fifth-wheel skirts often include features like zipper doors for convenient storage access. With these skirts, you won't have to worry about struggling with ill-fitting panels or makeshift sealing. The precision-fit ensures that every corner and curve of your camper is covered properly, offering maximum protection without compromising on aesthetics or functionality.
If you want to keep costs down, you can pair this with some DIY options around the rest of the camper (where the profile is more consistent). For example, you could have the fifth wheel skirting in the front and then plywood for the rest!
Do You Need To Worry About R-Value With Your Skirting?
While R-value is a useful measure of a material's resistance to heat transfer, it isn't a metric to live by when it comes to RV skirting. Remember, the R-value gives you an idea of insulation capabilities (higher values mean slower heat transfer) but it doesn't tell the whole story.
The primary function of RV skirting in the winter is not just insulation, it's about trapping air beneath your rig. This trapped air warms up through convection as it makes contact with your camper's underbelly and becomes an effective barrier against the chilly winds outside.
It's a common assumption that thicker material means better insulation because of its presumed higher R-value. And while there might be some truth to that in extreme climates where temperatures consistently dive below freezing, for most campers dealing with weather in the twenty degree Fahrenheit range, even thinner materials like plastic or vinyl can do the job when properly sealed.
Remember, preventing airflow by sealing all possible gaps is far more important than the thickness or R-value of your RV skirting ideas.
What About The Old-School Hay Bale Solution?
While this old-school solution might seem quaint and economical, we're not convinced that it still holds up as a good option (compared to the other solutions out there).
Hay bales have been an age-old choice for RV skirting thanks to their availability and ability to block wind effectively. But before you rush off to the nearest farm, remember there are significant risks and downsides associated with using hay bales.
First off, they're highly flammable which presents a potential fire hazard around your RV – not something you want when you're out camping and enjoying nature! Not only that, but damp hay bales can become dangerously hot inside and have been known to combust. To top it all off, these straw-filled blocks are fantastic nesting spots for rodents that will inevitably find their way into your RV.
The verdict from experienced campers is quite clear when it comes to this RV skirting idea; it's simply not worth it. Even though they're inexpensive and readily available, the potential downsides (and dangers) far outweigh the benefits.
Is RV Skirting Worth Your Time And Money?
As you prepare for your winter adventures, it's important to consider the time and financial investment needed to make sure that you're warm and cozy. And when it comes to this, RV skirting is definitely worth it (especially if you're planning on being parked in one spot during the colder seasons).
Not only does this addition help maintain a comfortable interior temperature, but it also provides vital protection for your RV's plumbing system and sensitive components against extreme cold. It shields your home-on-wheels from harsh winter elements while reducing heating costs by limiting propane use or the time you fire up electric heaters.
Your decision to invest in RV skirting should primarily revolve around factors like your ideal temperature inside your rig, potential plumbing concerns, and whether or not your model is designed for four-season use. If you're finding it tough to keep warmth in or if the floor feels constantly chilly, investing in quality skirting can effectively combat these issues without forcing you to crank up the heater.
On top of that, if you plan on using amenities such as showering or cooking where water usage is inevitable during freezing temperatures, skirting becomes indispensable by protecting your plumbing setup.
Even with an RV designed specifically for colder climates (some have protected water connections or heated storage bays), the insulation that skirting provides will still come in handy during long-term winter living.
Closing Thoughts
Now that you know all of the best RV skirting ideas for winter, it's time to think about what option is best for you. For some, DIY RV skirting is the clear choice. And for others, a custom-made solution is exactly what they're looking for.
No matter what you settle on, we highly recommend skirting if you're going to be in the same spot for extended periods of the time during the winter. The benefits are simply too good to pass up!
If you have any questions about RV skirting or simply want to share what setup you've had success with, send us a message! We love seeing what our readers are up to on their adventures.
* All images have been sourced from the airskirts and ezsnapdirect websites and full image credit is attributed to them.