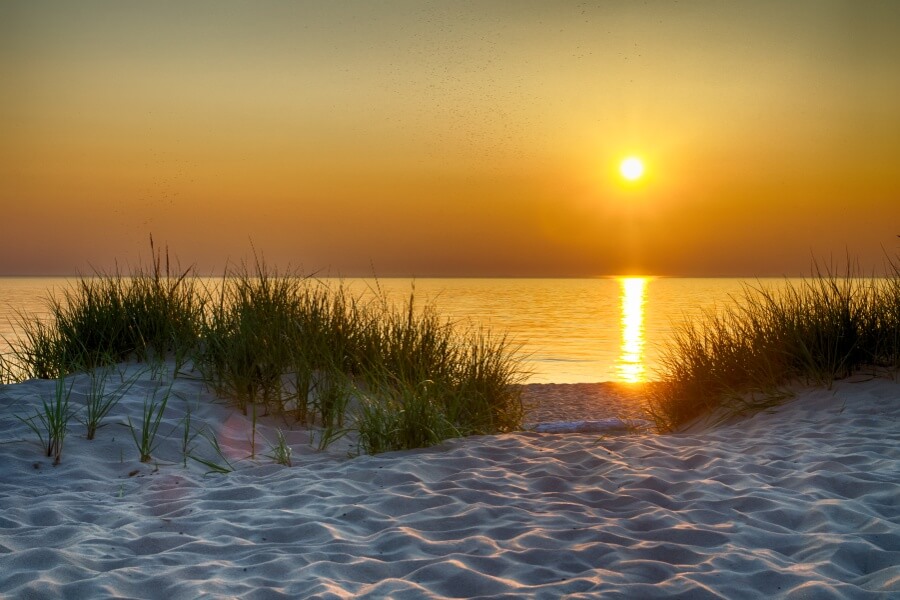 Michigan, also known as the Great Lakes State, boasts an impressive 3,288 miles of coastline along four of the five Great Lakes! This number puts Michigan's coastline at the top of the list of longest freshwater coastlines in the world. The formation and retreat of glaciers ten thousand years ago has led to some spectacular beaches that are now popular destinations not only for day trips as well as camping.
Here's a list of our favorite places to spend a long weekend (or a whole week!) beach camping in Michigan.
Why Michigan?
Camping on the beach in Michigan is highly underrated. But why is Michigan such a great place for beach camping in the first place? If the 3,288 miles of coastline doesn't answer it for you, maybe the following perks will.
The geography of Michigan beaches varies greatly depending on the location. Flat sandy beaches dominate the lower part of the lower peninsula while rockier shores mix with sand dunes as you head north. Three hundred foot sand dunes rise above Lake Michigan and colorful sandstone cliffs tower over the waters of Lake Superior. The waters of the Great Lakes are chilly most of the year but are warm, clear, and inviting in the summer months which makes them great for swimming.
Beach camping in Michigan puts you right at the heart of some of the state's most beautiful shorelines!
Things To Know Before You Go
Timing is key! The most popular time of year for Michigan beach camping is between Memorial Day and Labor Day.

If you're planning a camping trip during this time of year, it may be necessary to make reservations up to six months in advance. Of course different campgrounds have different levels of popularity, but it's highly suggested so you don't find yourself scrambling at the last minute.
Most of the beach campsites listed here are within state parks, forests or recreation areas and can be reserved through the state's Department of Natural Resources website. The Michigan DNR website allows (and suggests) reservations to be made up to six months in advance. Their search feature allows you to narrow your search down to a specific location and time frame.
Pro Tip: You have the option of choosing to be notified if/when a specific site becomes available during your specified time frame. Click the "Notify Me" button and follow the prompts! This is available through state owned land via the DNR website only.
In addition to campground fees, you must pay the entrance fee for every state park, forest, and recreation area. There are two different options for this.
The first is to buy a Recreation Passport. This tends to be the best choice (especially if you're a frequent visitor). This is available to residents and non-residents and is the key to easy access to any of the places listed above.
If you are a Michigan resident, you can purchase the Recreation Passport for $12 with your yearly license plate renewal. You may also choose to purchase the passport at any state park entrance for an additional $5 fee. For those coming from out of state, the latter option is available.
The second option is to buy day passes at the camp entrance. However, this is ultimately more expensive and time consuming!
Remember: Before arriving at any campground whether it be state owned or private, be sure that you are aware of all rules such as those pertaining to pets, fires, alcohol and check-in/out times.
Michigan has strict rules regarding firewood to stop the spread of invasive species. To be compliant, buy your firewood within ten miles of the campground from a certified vendor or gather downed, dead wood around your campsite!
The Best Places In Michigan For Beach Camping
This list summarizes some of our favorite places to visit if we're looking to go camping on the beach in Michigan. There are a variety of different campgrounds offering all levels of amenities. Each listing will offer you a brief description of each campground, its address, a link to booking, the number of campsites, amenities, and if it's pet friendly.
1. North and South Manitou Island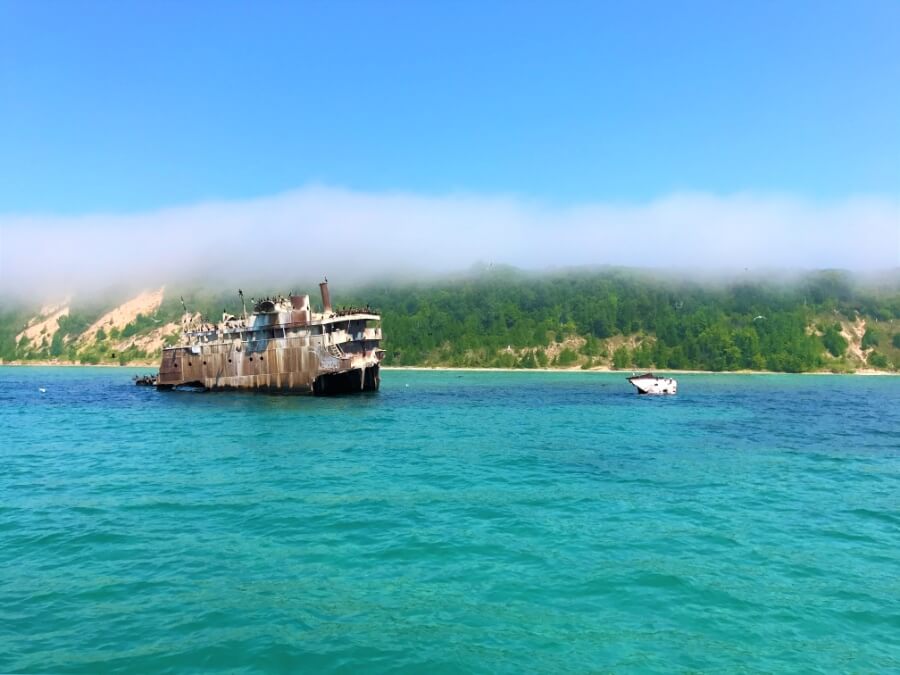 North and South Manitou Islands are the southernmost islands in a chain that extends north towards the Straits of Mackinac and feature an impressive history and geography. While not physically connected, both islands are considered a part of the Sleeping Dunes National Lakeshore. A ferry runs daily from June through August between Leland on the mainland and the Manitou islands.
Village Campground is the only campsite on North Manitou Island and fills up on a first-come first-serve basis. Because of the size, remoteness, and rustic nature of Village Campground, you can enjoy an intimate experience with nature.
South Manitou Island has three designated camping grounds. A park pass and backcountry use permit are required to camp on South Manitou Island, both of which can be purchased at the ferry dock in Leland. All sites are tent only and primitive.
2. Orchard Beach State Park
Sitting one hundred feet above the water on a bluff, Orchard Beach State Park is an ideal place to watch sunsets while camping on a Lake Michigan beach. Just north of the city of Manistee, Orchard Beach State Park is close to grocery stores and restaurants. Take time to enjoy the beach and the trails that surround the campground.
3. Holland State Park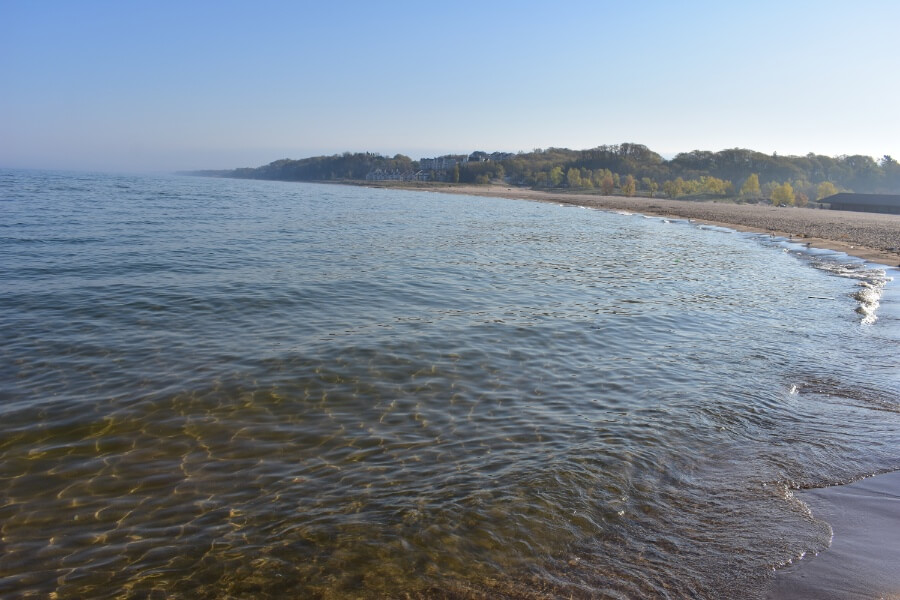 Known for its Dutch village, quaint downtown, sprawling beaches, and iconic lighthouse Holland, Michigan is a great place to visit. Beach camping at Holland State Park is situated between all of these things. Within the park itself enjoy hiking trails, bike paths, a boat launch, and beautiful water for swimming. This state park has two separate campgrounds in close proximity to each other.
4. Au Train Beach Campground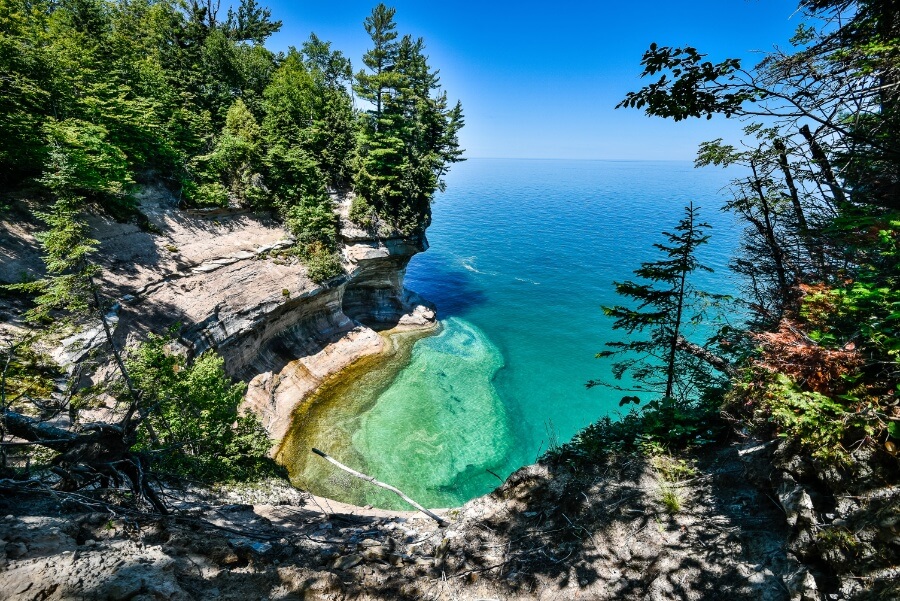 Just a forty five minute, scenic drive from Pictured Rocks National Lakeshore, Au Train Beach Campground is located in Munising, Michigan, along the shores of Lake Superior. This unique campground offers a mix of pitch-your-own-tent sites and established furnished tents, tipis, and yurts. If you want to add a little glamping to your summer, try out some Michigan beach camping up here!
5. D.H. Day Campground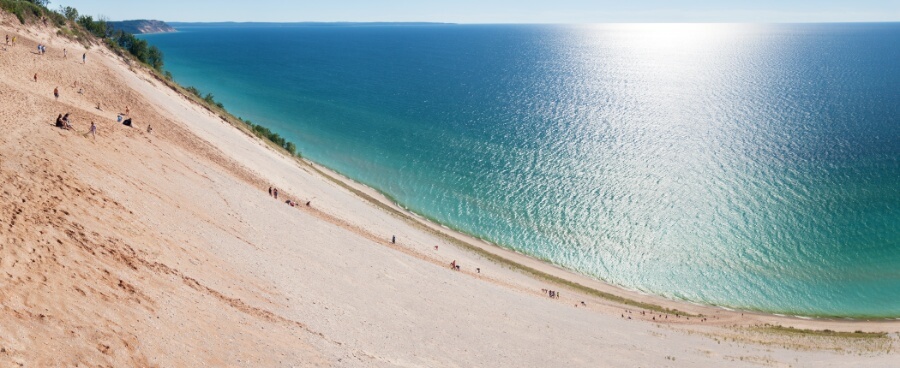 Located within Sleeping Bear Dunes National Lakeshore, D.H. Day Campground offers a rustic camping experience. This campground is a five minute walk to the gorgeous beaches along Lake Michigan where you can swim or climb the towering sand dunes to catch a breathtaking sunset. Reservations are required between May 1st and October 15th.
6. Grand Haven State Park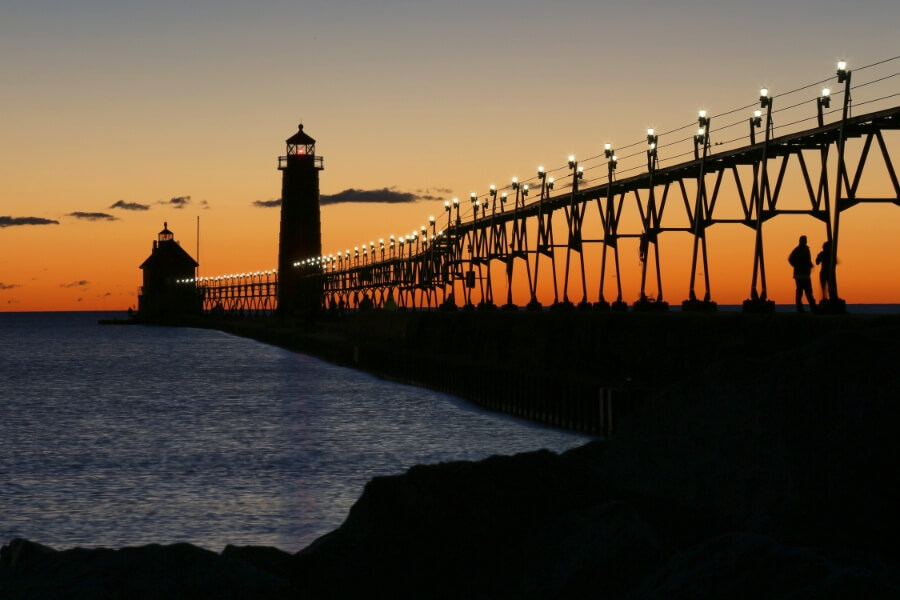 Grand Haven State Park is located in West Michigan, bordered on the west by Lake Michigan and on the north by the Grand River. The paved campground sites are surrounded by sand and are just a short walk away from the beach. Enjoy the pristine white sand, two beautiful lighthouses, and close proximity to restaurants that this Michigan beach campground has to offer. Try some delicious treats from Wanda's Frozen Yogurt and Mini Donuts!
7. Ludington State Park
Nestled between the sandy dunes along Lake Michigan and the expansive Hamlin Lake, Ludington State Park offers three separate, modern campgrounds and one rustic campground that puts you right at the heart of Michigan beach camping. You can also explore the miles of forest trails and marshlands and paved bike paths. Kayaks, SUPs, and canoes are readily available for rent if you don't bring your own. If you want to enjoy the solitude of Michigan beach campgrounds in the winter, select sites are open year-round. There are nearby stores where you can buy food and gear.
8. P.J. Hoffmaster State Park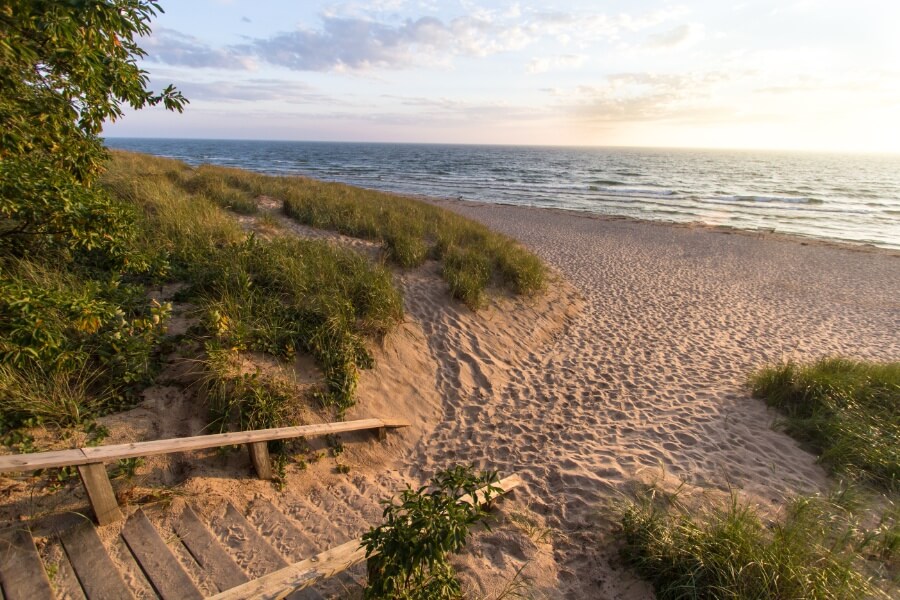 This Michigan state park is a unique combination of sandy beaches lined with grassy fields that lead into a dense area of trees. The campground is a short walk to the beach where you can enjoy the refreshing waters of Lake Michigan. There are over 10 miles of trails that range from easy to hard. If you want to work up a sweat, try the dune climb that offers a rewarding view from the top. Despite the popularity of this campground, it is very well maintained.
9. Petoskey State Park
Situated at the eastern end of Little Traverse Bay, Petoskey State Park houses two modern amenity campgrounds that are a quick walk to the clear blue waters of Lake Michigan, forested trails, and long paved bike paths. This is a great place in Michigan to go camping on the beach because it is one of the few places in the world where you can find Petoskey stones!
10. Young State Park
Just outside of Boyne City, Young State Park and its three campgrounds sit along the north eastern shores of Lake Charlevoix. Appreciate the sandy beach that extends into the water and the 6 ½ miles of trails that weave through forested wetlands. A popular place for boating, Young State Park has a boat launch but take note that there are very few parking spots!
11. Torch Grove Campground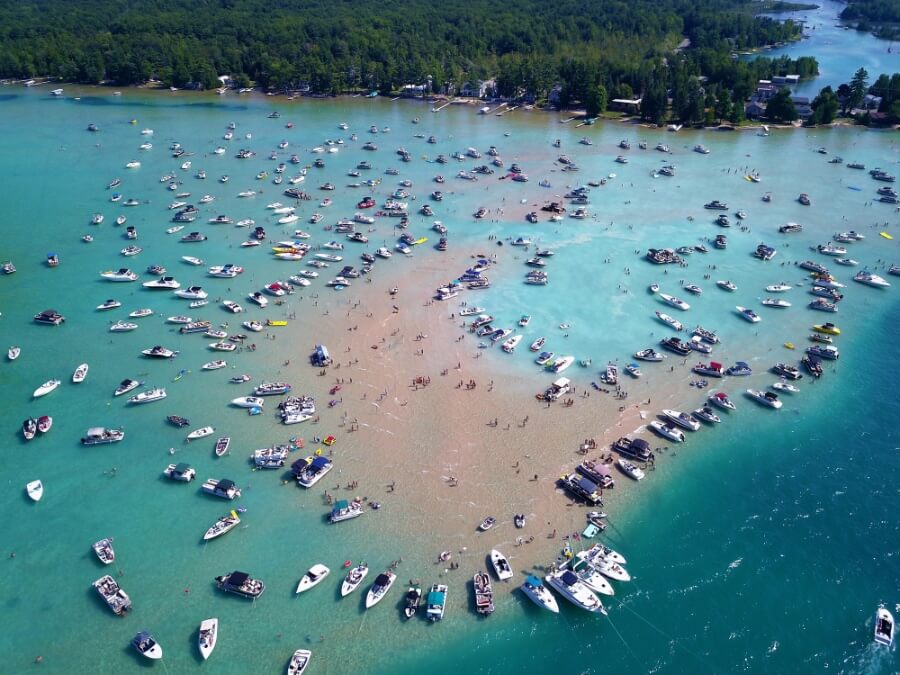 Who knew that Michigan boasted the third most beautiful lake in the entire world? Given this ranking by National Geographic, Torch Lake absolutely lives up to its title. You'll be stunned by its bright, clear blue waters that give the Caribbean a run for its money.
That makes this one of the best places to go beach camping in Michigan, and Torch Grove Campground gets you as close as possible! This private, exclusively RV-only campground is located just one mile from the popular sandbar area of the lake. If you're interested in camping here, you MUST plan ahead (we're talking one to three years) as many of the sites attract full time seasonal campers and there is a long waiting list!
12. Buttersville Campground
Open from May 15th through October 15th, Buttersville Campground is situated along the bluffs high above Lake Michigan providing you with a fantastic view of the sunset! This Michigan beach campground has both modern and rustic sites available. Due to its smaller size and the fact that some sites are reserved for seasonal campers, be sure to book far in advance online.
13. Muskegon State Park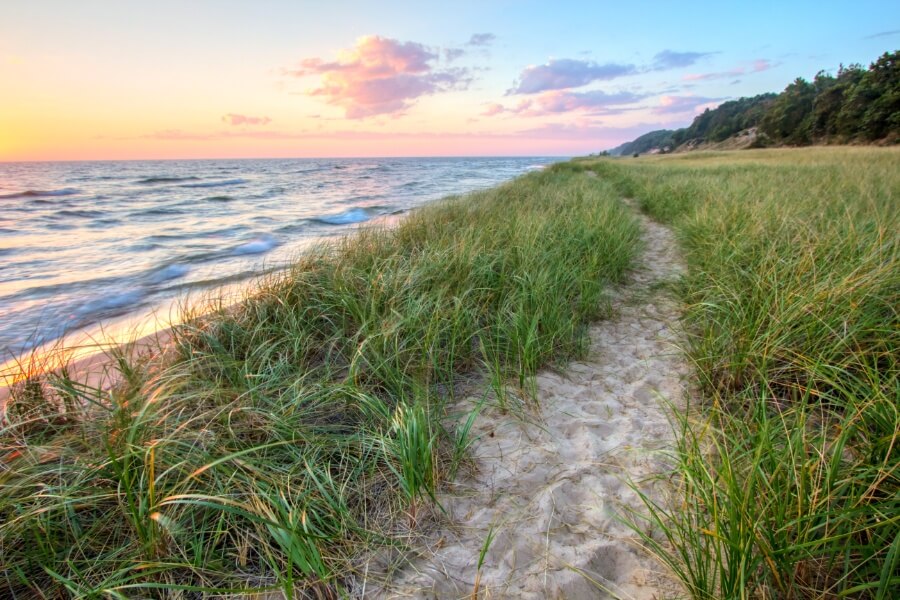 With two miles of pristine shoreline, Muskegon State Park's two campgrounds are a great choice for beach camping in Michigan. You have the choice of accessing Lake Michigan to the west and the calmer waters along Muskegon Lake to the east.
14. McLain State Park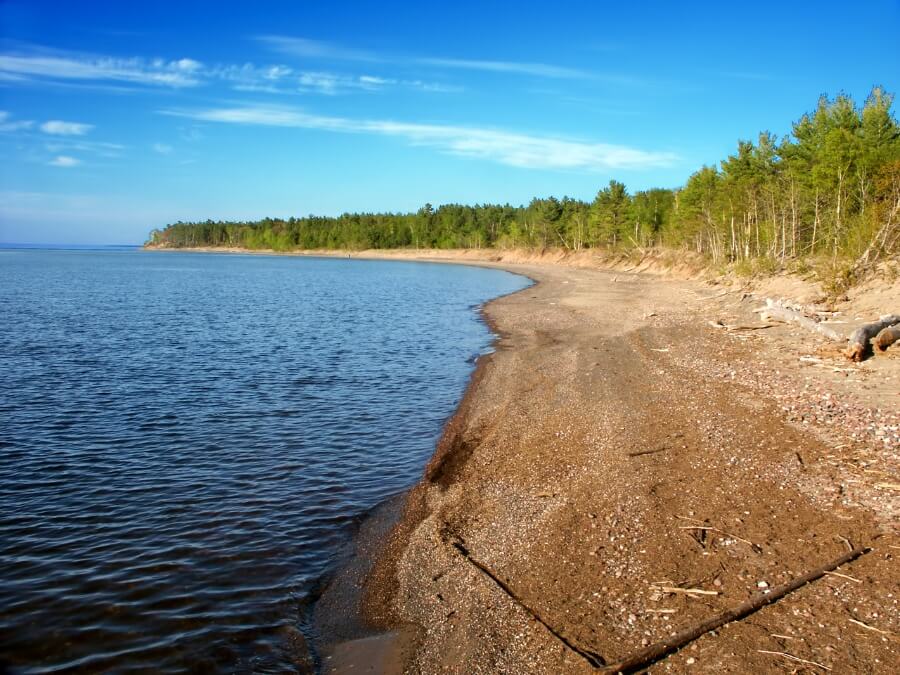 Located way up in the northern part of the Upper Peninsula, McLain State Park campsites sit right upon the beaches of Lake Superior. The mostly sandy beach is great for beachcombing or searching for unique rocks. Trails run through the state park. If you're up for a thrill, many people wind-surf just offshore.
Some campsites are more secluded than others so be sure to take a look at the reservation page reference photos if you are interested. Because this campground is right along the beach at a higher latitude, you may be lucky enough to catch a glimpse of the northern lights!
15. Platte River Campground
This year-round campground is located in the southern portion of Sleeping Bear Dunes National Lakeshore and is surrounded by water! The beaches of Lake Michigan are a short walk north. To the south are Platte Lake and Little Platte Lake. The Platte River runs along the western edge of the campground. This is a beautifully wooded campground with both modern and rustic campsites. While you aren't directly camping on a Lake Michigan beach, you sure are close!
16. Lakeport State Park
Lakeport State Park borders Lake Huron in southeast Michigan. Within this state park is a large campground that is split into two areas.
17. Oak Grove RV Resort and Campground
This is a family owned campground located close to both Lake Michigan and Lake Macatawa just north of Holland Michigan. Situated between large, old oak trees this campground is a full hookup resort for RVs with a handful of exceptional amenities. Both nightly and seasonal sites are available. Campsites are listed as either standard or premium. While both types offer full hookup, premium sites accommodate larger recreational vehicles with an asphalt site surrounded by grass white the standard sites sit on gravel.
18. Hancock Recreation Area
This Upper Peninsula recreation area provides a beautiful mixture of Michigan beach camping and rural seclusion. Campsites are situated in a dense forest of conifers and have direct access to Portage Lake.
19. Twelvemile Beach Campground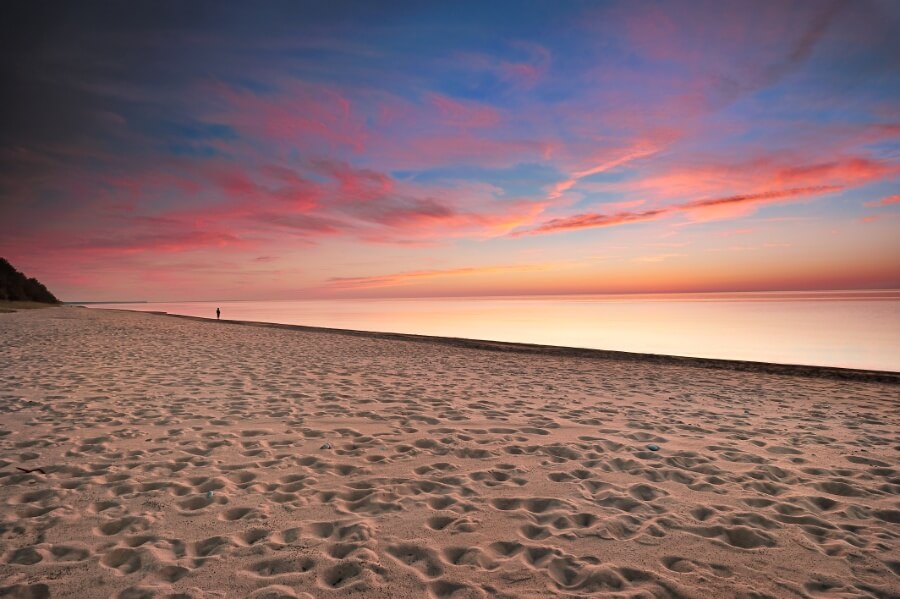 Located on top of a bluff overlooking Lake Superior, Twelvemile Beach Campground is a rustic campground located in Pictured Rocks National Lakeshore. Beach camping here gives you direct access to the lake; you truly are camping right on the beach here! The northern portion of the Lakeshore North Country Trail runs right through the campsites. Backpacking along the sandstone cliffs or enjoying the view from kayaks are two of the most popular activities within this national park. Cell service is minimal to none in this area.
Wrapping Up
As you can see, there are a number of spectacular sites to go beach camping in Michigan. This list has summarized our favorite campgrounds ranging from very rustic, to those with a glamping-type feel.
Doing some beach camping in Michigan is a great way to get direct access to all the shoreline nature this state has to offer, so go out there and enjoy it!