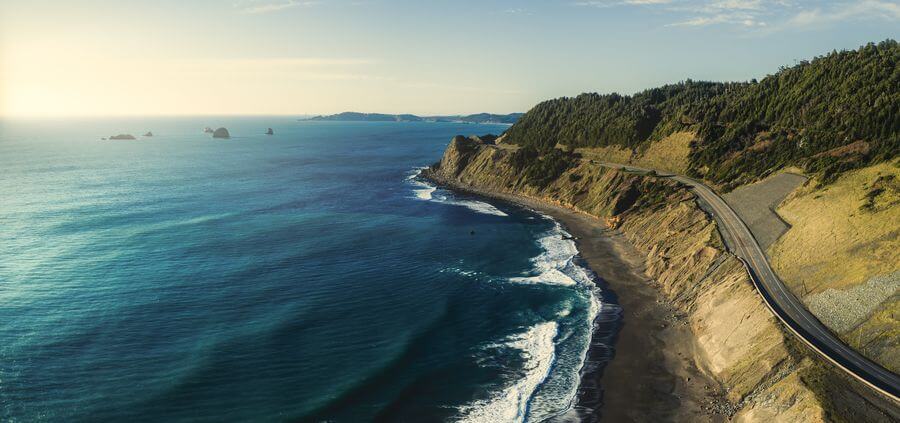 If you want to take in all of the beauty of the west coast, a road trip from Seattle to San Francisco is one of the best ways to experience the diverse Pacific Coast. The drive features pristine coastline and ocean views, towering mountains, big metropolitan cities and quiet beachside towns, and some of the most beautiful forests in the country.
This post details two different Seattle to San Francisco road trip itineraries. The first can be done in five days and takes you inland with stops at Mt. Rainier and Lake Tahoe. The second takes seven days and follows much of the famous Pacific Coast highway, US-101, with a couple of detours along the way!
How Far A Car Ride Is From Seattle To San Francisco
There really is no wrong way to road trip from Seattle to San Francisco, because any route you take will offer breathtaking views. More than anything, time will be your limiting factor.
Because of this, you'll want to ask yourself how long you want the drive to take Here is a breakdown of some of the options.
The shortest distance drive from Seattle to San Francisco is 808 miles. If traffic cooperates (which, given that you are going between two heavily populated cities, it may not) this distance takes about 12 and a half hours. The only highway you'll see on this route is I-5 South! The benefit of this is that it will be hard to get lost.
The first road trip route from Seattle to San Francisco that we'll outline takes you southeast out of Seattle. In the 18 hour drive, you will cross 1,155 miles of road and navigate through Mount Rainier, brush past Boise, then head through Reno and Lake Tahoe before ultimately ending up in San Francisco.
Our second suggested drive takes you south through Oregon, through two national parks and down the famous coastal California State Route 1. We split this up into two routes, one taking you through Portland, Oregon and the other continuing a bit farther south before driving to Bend. These routes take 24 hours (1,130 miles) and 22 and a half hours (1,102 miles) respectively.
Places To Stop During Your Road Trip From Seattle To San Francisco: 5 Day Road Trip
This five day, 1,155 mile road trip from Seattle to San Francisco will take you over the Cascades, down into Idaho, through Nevada, before ultimately finishing through California.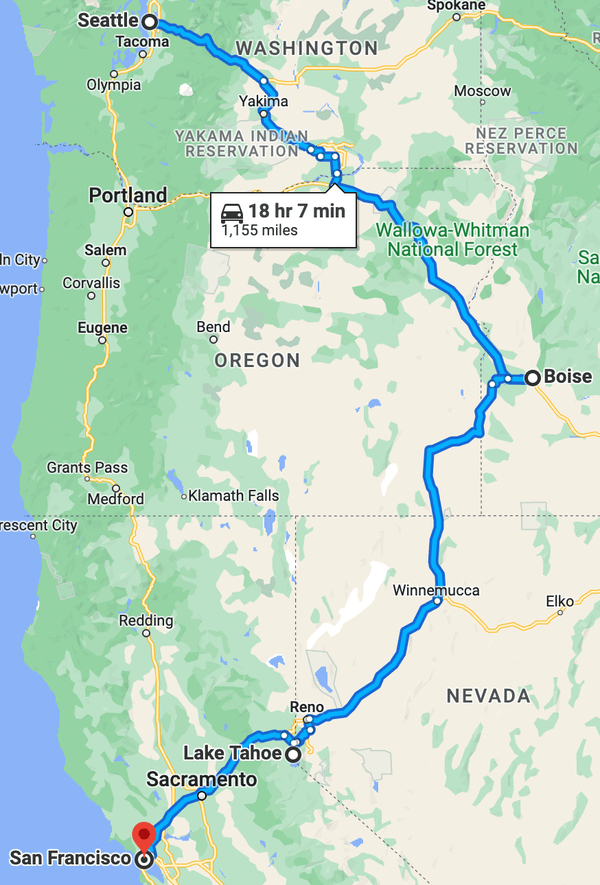 We think this drive is quite approachable, and has been broken up into reasonable days that never exceed seven hours in the car.
Day 1. Seattle To Mount Rainier National Park
This is an easy start to the road trip. It takes just under two hours to get from Seattle to the northeast entrance of Mount Rainier National Park. This route takes you to Sunrise, which is the highest point in the park accessible by car and gives you some of the closest possible views of the mountain.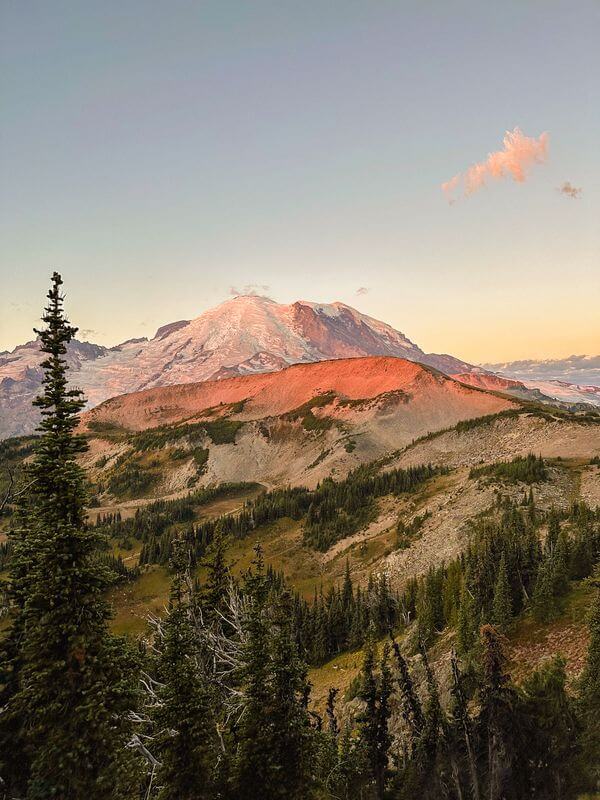 From here there are so many amazing trails, all with striking views of Mt. Rainier. If you want to hike, get here early to avoid the crowds and to give yourself enough time to actually enjoy the hike without rushing!
Camp Summerland and Lakes via Wonderland Trail is a 9.9 mile out-and-back trail with 2,555 feet of elevation gain. This is a hard trail so please know your limits before starting out. This hike takes you from dense forest up through alpine wildflower meadows as it follows a winding creek with impressive drops and cascades. There are views of Mt. Rainier, along with other mountain peaks like Cowlitz Chimneys and Little Tahoma.
Burroughs Mountain trail starts right from the Sunrise parking lot and offers one of the most impressive and unobstructed views of Mount Rainier. The full length of the hike is 9 miles out-and-back with a total of 2,500 feet of elevation gain. Because you get great views from the start, you don't need to hike to the very end to have a great time. The landscape of this hike is really different from the one above as it is mostly along extremely barren terrain with mostly full exposure the entire time.
Pro Tip: If you don't want to hike, we still highly suggest driving up to Sunrise because of the lovely views you get even from the parking lot and the Sunrise Visitor Center. The road on the way up from the White River Entrance to Sunrise has numerous pull off overlooks.
Camp Summerland Trailhead: 46°53'18.2"N 121°36'39.6"W
Burroughs Mountain Trailhead: 46°54'52.6"N 121°38'32.3"W
Day 2. Mount Rainier To Boise, Idaho
The drive from Mount Rainier to Boise, Idaho is the second leg of this Seattle to San Francisco road trip. It takes just over 6 and a half hours to drive 423 miles. We suggest getting up early and leaving by six or seven in the morning so you can enjoy the afternoon exploring downtown Boise and walking along the river.
Days 3 & 4. Boise, Idaho To Lake Tahoe, California
Driving from Boise to the northernmost edge of Lake Tahoe takes just over seven hours. We know this is a lot of driving, but we suggest spending two nights here, so you'll have time to relax out of the car!
Lake Tahoe is the largest alpine lake in North America and is the second deepest freshwater lake in the United States. It sits in the Tahoe Basin, nestled between the Sierra Nevada and Carson mountain ranges. Lake Tahoe is known for its blue waters that can be so clear in some places that objects up to 70 feet deep can be seen!
Because the Lake Tahoe region is so large and diverse, you can make the days you spend here as active or as relaxing as you like! If you want to get out and see nature, check out the following places:
Emerald Bay State Park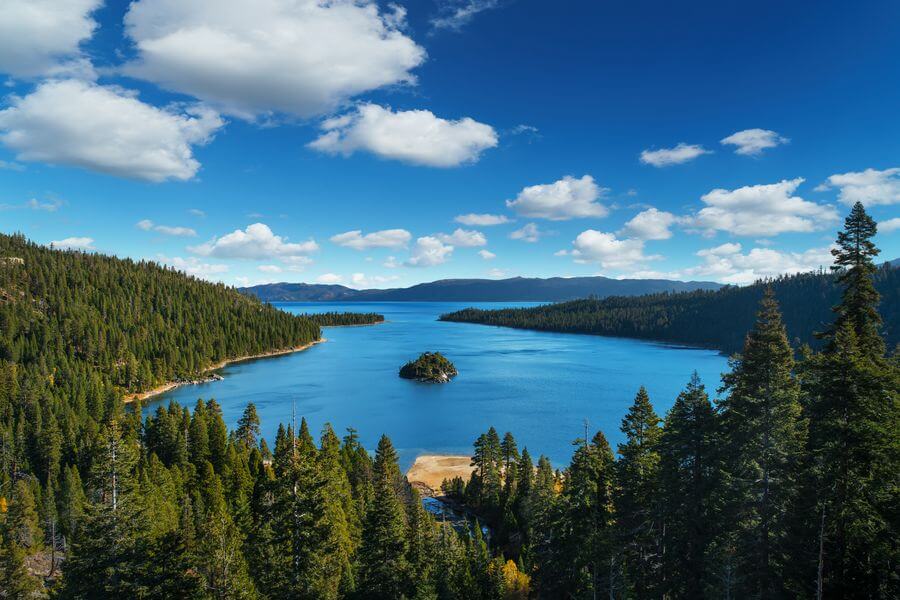 Emerald Bay State Park is located in the southwest corner of Lake Tahoe and contains the only island in the lake called Fannette Island. Within this area there are a handful of hiking trails and waterfalls, including Cascade Falls Trail and Eagle Falls to Eagle Lake.
Coordinates: 38°57'00.4"N 120°06'29.4"W
Sand Harbor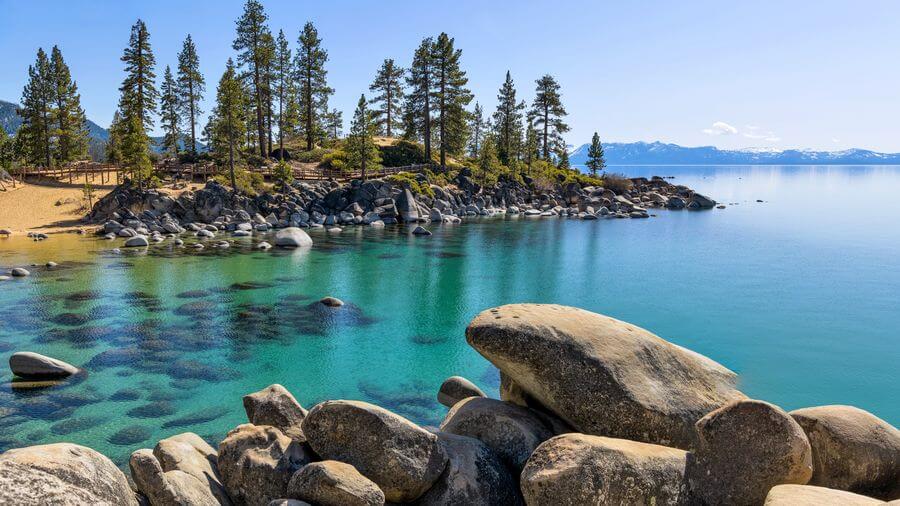 Sand Harbor offers a picturesque beach and lake experience on the east side of Lake Tahoe. It has beautiful sandy beaches that run into amazingly clear waters that contain really interesting rock and boulder formations. This is a perfect area for swimming/snorkeling/scuba, kayaking and boating, and picnicking. Shaded picnic sites have tables and barbecues.
If you don't have your own boat to bring, there are numerous places that offer rentals. Most companies offer clear bottom kayaks or SUPs for rental so you can really appreciate how crystal clear the waters are, especially in the Sand Harbor area. We think getting on the water is the best way to experience Lake Tahoe, so make reservations in advance as last minute availability can be hard to find.
Coordinates: 39°11'54.6"N 119°55'56.0"W
Whitewater Raft Down The Truckee River
The route between Boca reservoir and Floriston are designated as class 2-3+ rapids, which is ideal for beginners and those with intermediate experience. Check out the Whitewater Tours website to book half day trips!
Address: 10068 Hirschdale Road, Truckee, CA 96161
Heavenly Mountain Resort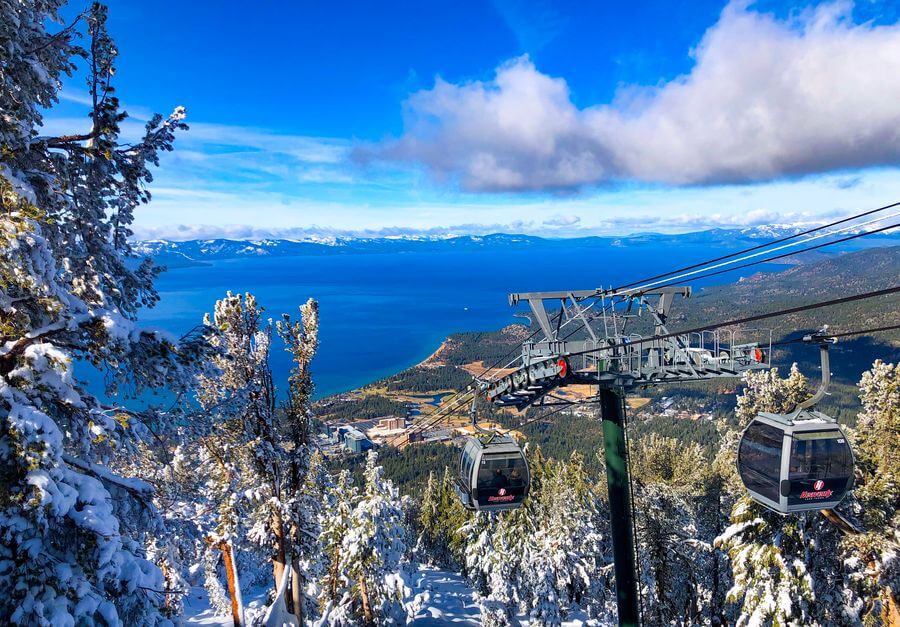 Heavenly Mountain Resort is one of the numerous resorts around the Lake Tahoe area. The mountains are known for their pristine skiing in winter (which is why it's a popular winter vacation destination in the US) but most of the resorts are open year round and offer great summer activities as well. During the summer months you can take a ride on the gondola up the mountain for great panoramic views and even go zip lining.
Walk Downtown
If you want to mix things up, walk around the downtowns of some of the cities surrounding the lake. South Lake Tahoe and Truckee are two of the more popular towns located on the California side. Stateline and Genoa are two towns located in Nevada.
Day 5. Lake Tahoe To San Francisco, California
Depending on your launching point, the quickest routes from Lake Tahoe to San Francisco are about 3 and a half hours, taking you through Sacramento and Berkeley before finally crossing the San Francisco-Oakland Bay Bridge. Walk around the UC Berkeley campus and into the surrounding downtown. Go slightly farther south and check out Oakland before crossing the bay.
Pro Tip: If you don't mind an extra hour of driving, consider driving through wine country and then south into San Francisco via the Golden Gate Bridge. Both Napa and Sonoma are beautiful small towns surrounded by thousands of acres of wineries. Two of our favorite wineries are Gundlach Bundschu Winery and Kivelstadt Cellars.
Places To Stop During Your Road Trip From Seattle To San Francisco: 7 Day Road Trip
Just a warning, the list of stops for this seven day road trip will be long. We narrowed things down as much as we could when brainstorming stops for this drive. However, a road trip from Seattle to San Francisco gives you the perfect opportunity to see so many amazing things!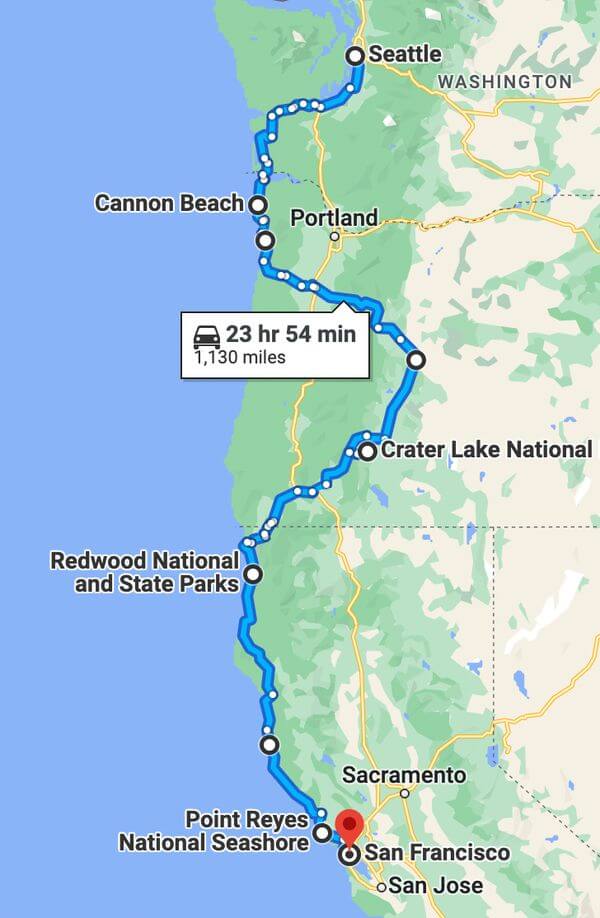 Day 1. Seattle To Cannon Beach
It is a four hour drive south along this coastal route from Seattle to Cannon Beach, Oregon where we suggest spending your first night. Enjoy a bit of Seattle in the morning and grab brunch before tackling this first leg of the trip.
Pike Place Market
Yes this is very touristy, but we really think you should experience Pike Place Market at least once in your life. Open since 1907, Pike Place is a historic staple in the downtown Seattle community. Inside, you'll find a very busy public farmers market and over 200 independently owned restaurants and shops
Check out the famous Pike Place Fish Market (you'll recognize it from plenty of films and television shows) and watch the staff toss the purchased fish behind the counter to be wrapped. Buy fresh pasta and eat homemade donuts. Browse the variety of artisan stalls and pick up a bouquet of stunning flowers.
Down the street from the famous Pike Place Market sign is one of our favorite French bakeries in the city, Le Panier. It's not uncommon to wait in a line, but it's totally worth it!
El Moose And Ballard Neighborhood
I want to preface this by saying I don't really like al pastor or any kind of pork but I LOVE the al pastor tacos from El Moose, so when I say go here…GO HERE! Located in the northwest waterfront neighborhood of Ballard, El Moose is a prime choice for modern mexican flare with a PNW influence.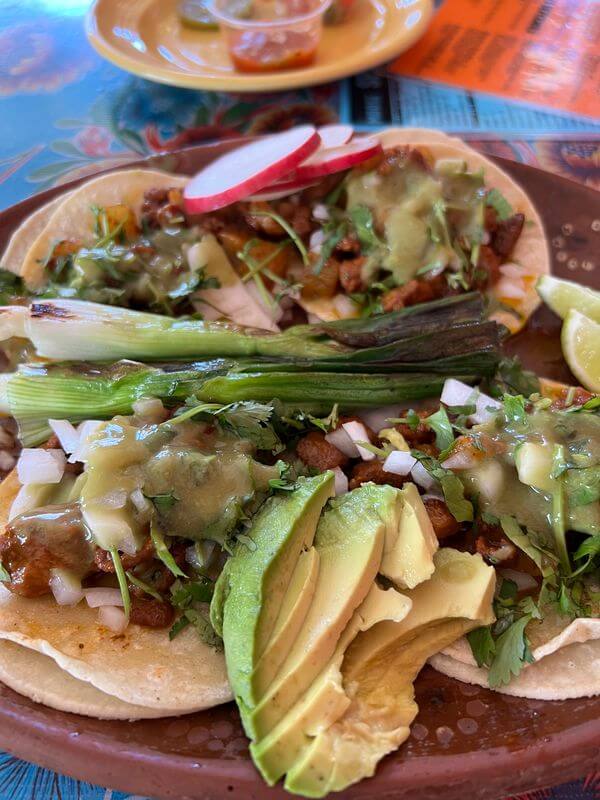 El Moose opened its doors in 2004 by a Seattle woman who had lived the previous thirty years in Mexico. With her, she brought a wealth of authentic recipes from which to build today's menu. It is a bright, lively place with indoor and outdoor seating. The restaurant is open every day from 8 am until 9 or 10 pm at night on the weekends!
After eating an amazing meal, walk around the Ballard neighborhood to check out the local shops. I love candles from Good and Well Supply Co.
Day 2. Explore Cannon Beach And Surrounding Area
Spend today soaking in all the beauty along the Northwest coast of Oregon. Towns in this area include Cannon Beach, Seaside, and Manzanita. They're known for great shopping, art galleries, and good restaurants. The sandy beaches are vast and incredible down the entire shoreline.
Ecola State Park
Stretching along nine miles of Pacific coastline, Ecola State Park is so full of diversity from its lush forests to its sandy beaches with lively tidepools. Hikes take you through these forests and along cliffside overlooks that give you the perfect perspective of the sea stacks towering out of the Pacific.
There are really nice sandy beaches that are accessible either by long hikes or more convenient parking lots. Here you can enjoy a picnic after a day of swimming and tide pooling. Surfing is popular in the secluded coves.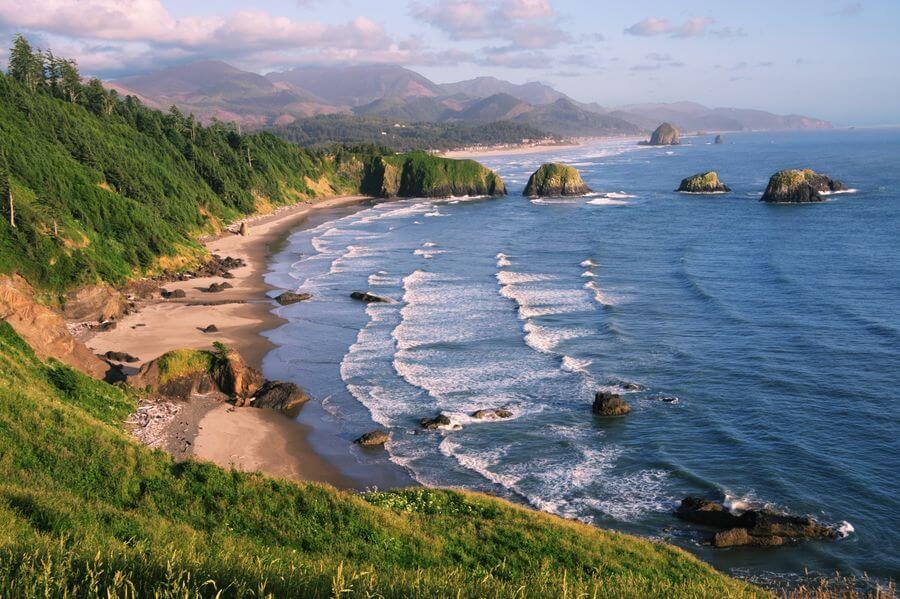 Pro Tip: Crescent Beach is located in the southern area of the park, about a mile and a quarter walk from the main Ecola State Park parking lot. We love this because it's much quieter than most other beaches in this area. We were able to enjoy the beach completely by ourselves for about forty five minutes when we visited in the late spring.
If you're here in the late winter through spring, you may be able to catch gray whales during their migration down and then back up the coast. It's estimated that around 18,000 gray whales partake in this migration. They swim within about five miles of the coastline so it is easy to watch them, especially with binoculars. What can be better than a secluded beach and whale watching?
Dogs are allowed but owners are asked to keep them on a six foot leash. Please pick up after your pet!
Coordinates: 45°55'12.1"N 123°58'12.8"W
The Haystack
The famous Haystack is a 235 foot basalt sea stack located directly off the shore of Cannon Beach. It is home to thousands of tufted puffins! A sandbar appears during low tide that grants access to the base of the Haystack.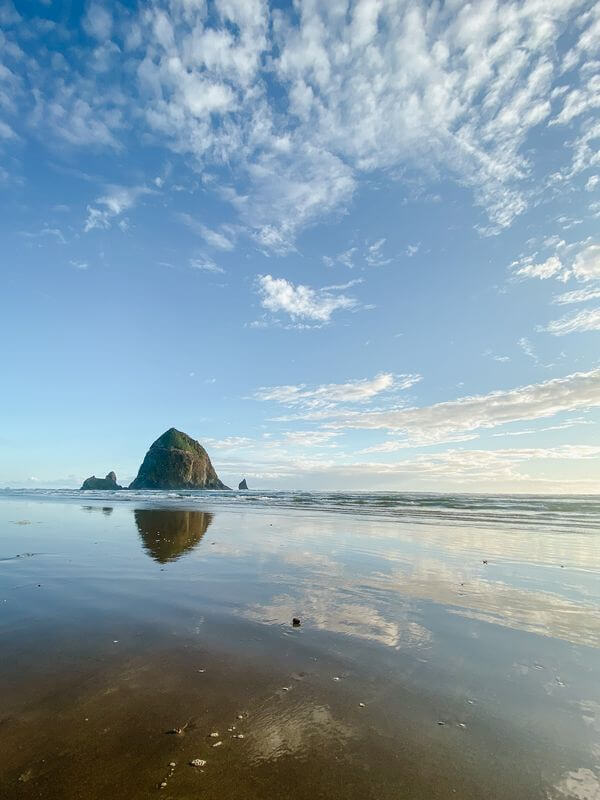 Take a look at the tidepools that are home to colorful sea stars, anemones, crabs, and nudibranchs.
Coordinates: 45°53'08.7"N 123°58'04.2"W
Oswald State Park
This state park encompasses a temperate rainforest filled with winding trails and four miles of shoreline. The views from the scenic overlooks offer some of the best in the whole area. Short Sand Beach is situated in a sheltered cove that is popular with surfers.
Coordinates: 45°46'27.9"N 123°56'54.1"W
Manzanita And Neahkahnie Mountain
Walk around the teeny tiny coastal town of Manzanita for what we think is the least touristy town in the area. The wide sandy beach gets pretty windy but offers picturesque views of the hazy horizon that the area is known for. In the backdrop of this town is Neahkahnie Mountain which offers some really approachable hikes. It's rumored that Spanish treasure was buried on the slopes!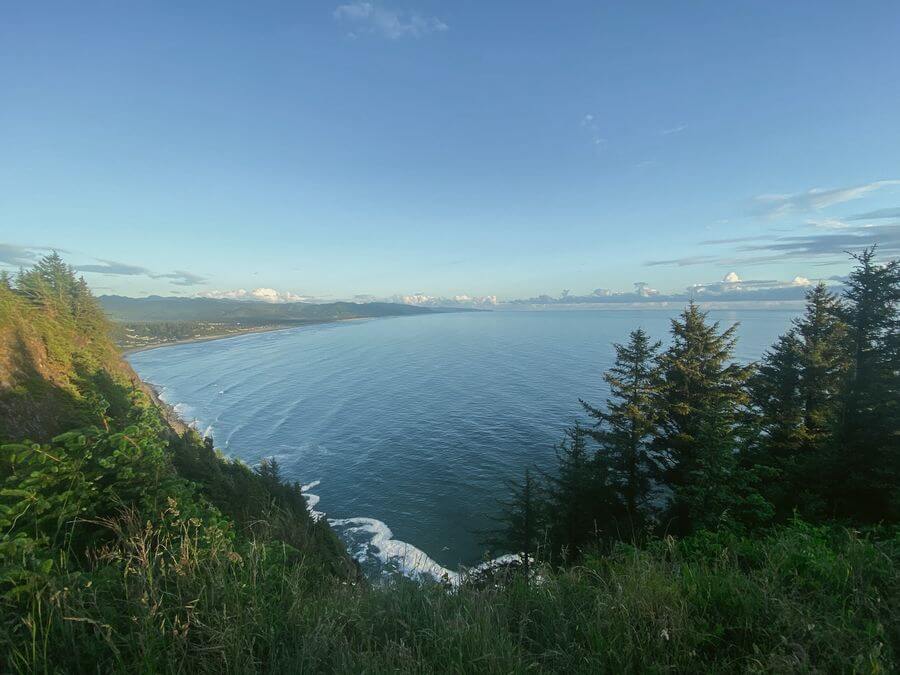 For food, we suggest grabbing some sandwiches from Wild Manzanita. This is a great little local grocery store that makes delicious treats. If you want to drive ten minutes inland, check out the riverside town Nehalem and eat at Wanda's Cafe and Bakery.
Day 3. Cannon Beach To Bend, Oregon
Day three of this Seattle to San Francisco road trip will have you heading south down the coast, before moving southeast through Salem towards Bend. The difference in the landscapes and climates between the two areas is staggering. The drive is just under 5 hours, but you see the scenery change from temperate rainforest to high desert.
Tillamook, Oregon
Tillamook is a town along the way that is known for its agriculture. It is home to Tillamook Creamery, famous for its cheeses, ice creams, yogurts, and other dairy products. You can visit the creamery to enjoy a bite to eat or take a tour of the cheese factory. We LOVE the sharp cheddar cheese and birthday cake ice cream!
Bend, Oregon
Bend is known for its love of and access to the outdoors, both in the mountains and in the river that runs through town! It also has a bustling downtown with a lot of great restaurants and a host of craft breweries. We suggest stopping here for two nights to give yourself enough time to explore.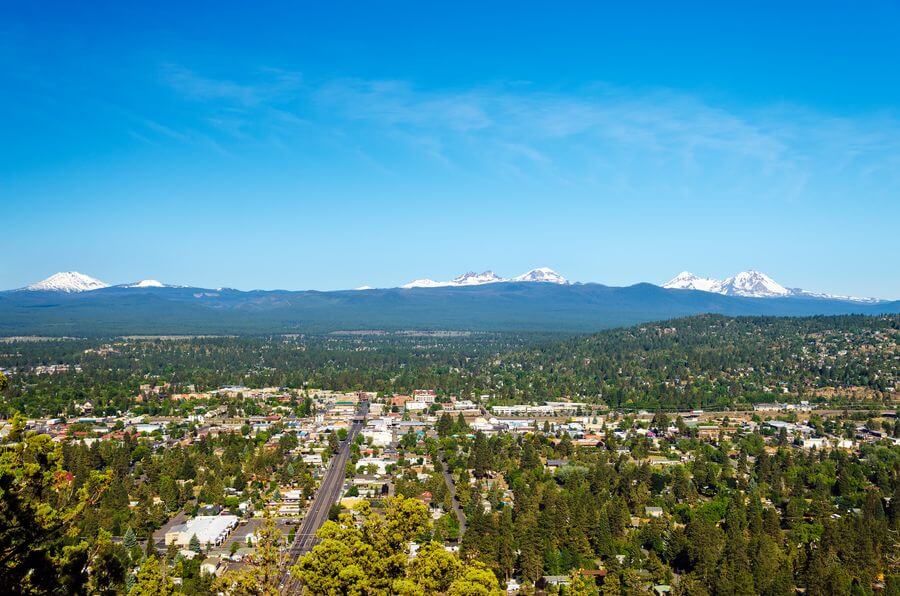 The Bend Ale Trail: Bend is a hub for world class craft beer, and The Bend Ale Trail is a literal and metaphorical atlas to all the breweries (and more!) in the area. Use their app or paper passport to work your way through all the stops. If you get a stamp at every place, you can get a prize. You can, of course, visit any of the places listed on the Ale Trail without the passport!
The whole trail includes 30 breweries, 17 non-beer stops (wine, cider, kombucha, etc.), and 12 adventure stops. Since you won't be in the Bend area long enough on this road trip to hit every single place, pick out a couple that sound best to you! It's a great way to taste unique beers and see the city along the way.
The Last Blockbuster: If you are the nostalgic type, check out the last standing Blockbuster in the world, located walking distance from the heart of downtown Bend. It is owned by a family who has lived in Bend for decades. Rent a DVD, grab some snacks, and go back to your hotel or Airbnb to chill for the night. Enjoy being transported back to the 90s!
Day 3 (Alternate). Cannon Beach To Bend Via Portland
Instead of driving south down the Oregon coast, this alternative route will take you east through Portland and past Mount Hood on the way to Bend. It takes a similar amount of time to get between the Cannon Beach area and Bend as the previous route, with a total drive time of 4 hours and 40 minutes.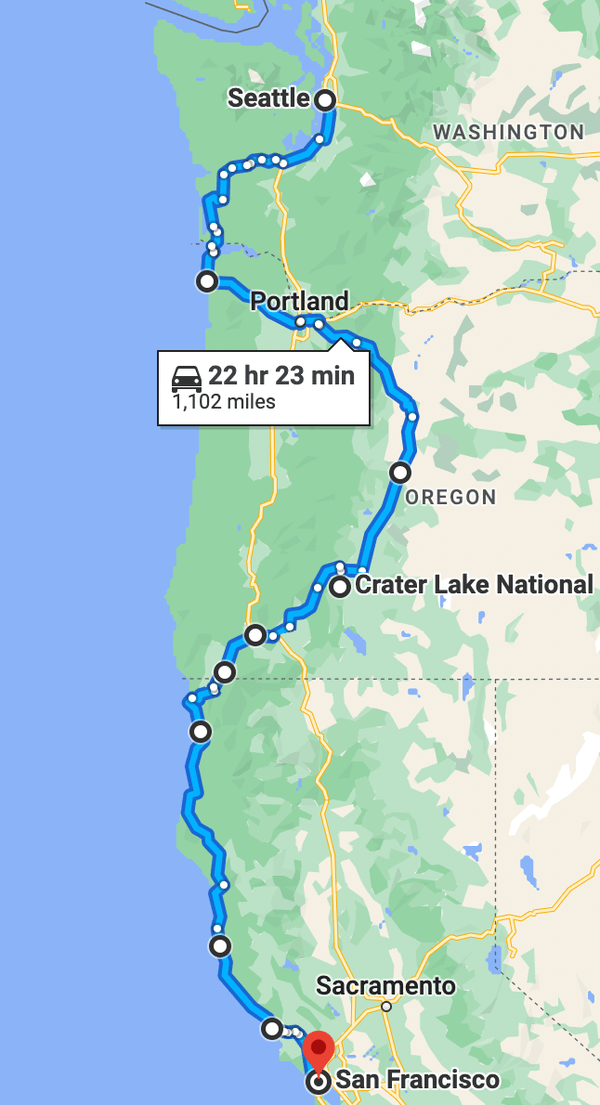 Walk around downtown to see what makes Portland weird and check out the following places to visit along the way.
International Rose Test Garden
The International Rose Test Garden is a beautiful (and free) park that features over 10,000 different rose bushes! Enjoy a relaxing walk that immerses you in the fragrant smell of roses. The best time to visit is between late May to October.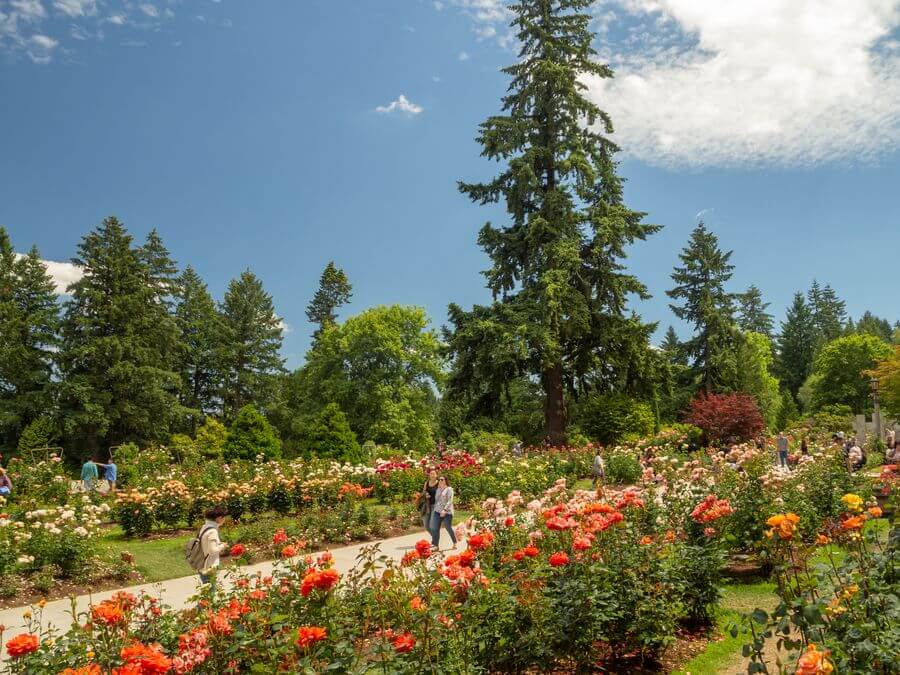 Dogs are allowed throughout the park as long as they are kept on a leash. This is a great place to grab lunch and let your furry friend stretch its legs.
Address: 400 SW Kingston Ave, Portland, OR 97205
Portland Japanese Garden
Since we're on the subject of gardens, we also suggest checking out the Portland Japanese Garden. The twelve acres that make up this garden contain eight distinct gardens, an authentic tea house, and babbling streams all connected by walkways.
Cartopia Food Carts & Hawthorne Asylum Food Cart Pod
Portland is known for its legendary food truck scene. Some of the best are located just outside of East Portland in these two food truck centers. They feature samples of international cuisine and new, innovative food concepts.
We suggest fueling up here for the remainder of the drive. Buy a handful of dishes from numerous food carts to get the best experience.
Day 4. Explore Bend And The Surrounding Area
Hopefully you got a good night's rest, because there is so much left to do. Obviously you can't do everything in one full day in Bend, so pick a few and make a plan to go back. Here are some additional activities when stopping here on your Seattle to San Francisco road trip.
Mount Bachelor
Mt. Bachelor has over 4,000 acres of skiable land and is the sixth largest ski resort in North America. It has one of the longest ski seasons in the country, opening in November and staying open through May. Depending on when you do this drive from Seattle to San Francisco, you may be able to get in a couple of runs.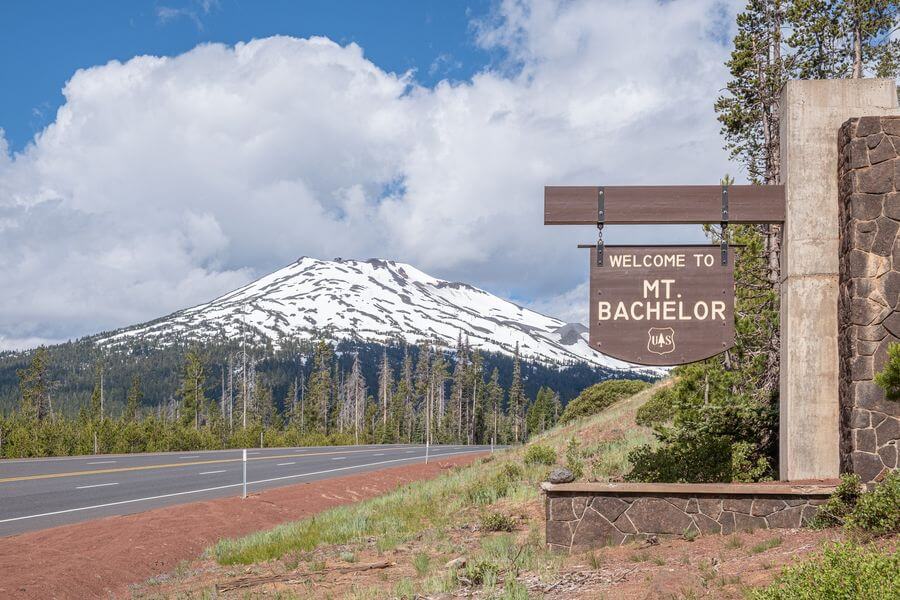 The mountain does offer recreation year round, so you can hike the trails on Mt. Bachelor and the surrounding peaks. Mt. Bachelor's neighbor, Mt. Tumalo offers wonderful views of Bachelor. Mt. Tumalo also has a handful of waterfalls including Tumalo Falls, which we think is definitely worth checking out.
There is a newly opened bike park on Mt. Bachelor with over thirteen miles of trails. Zip line tours take you through the alpine wilderness. One of the chair lifts stays open year round to offer a scenic ride up the mountain.
Waterfalls
There are some pretty fantastic and accessible waterfalls around Bend. If you're looking for the classic Pacific Northwest outdoor feel, this should be on your list.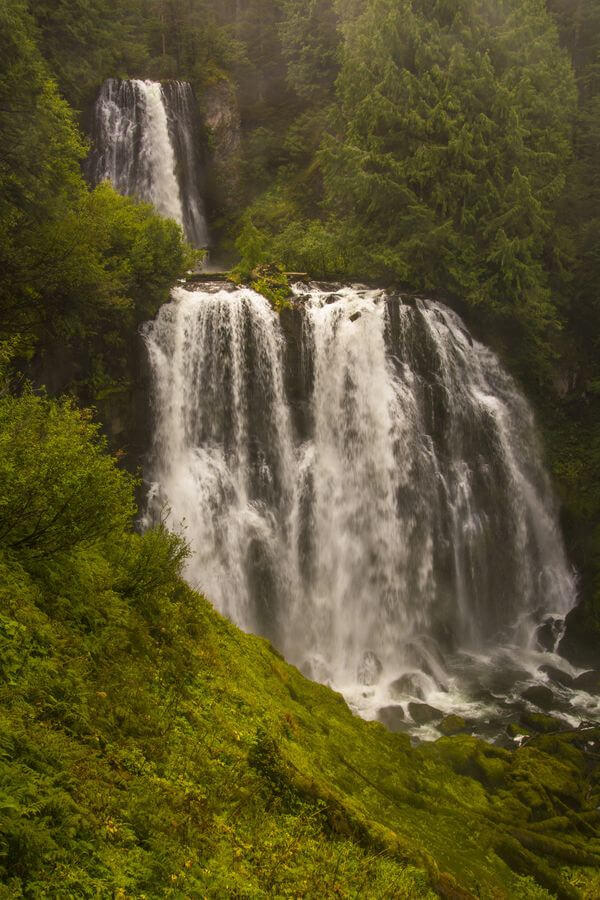 Here are some that we think are worth checking out.
Marion Falls (44°34'02.7"N 121°52'32.4"W) is accessible via the Marion Lake Trailhead. It is a 4.1 mile out and back hike that is connected to a network of other trails if you wish to continue on.
Tumalo Falls (44°01'55.9"N 121°33'58.7"W) is a one hundred foot tall waterfall that is truly picture perfect. It is one of the easiest waterfalls to access close to Bend, so the parking lot fills up quickly and it can become quite crowded. Try going early to get the view to yourself. Continue past Tumalo Falls to view four more beautiful falls as well.
Proxy Falls (44°10'06.7"N 121°55'38.3"W) is a 225 foot waterfall along a 1.6 mile loop with minimal elevation gain.
Day 5. Crater Lake National Park To Redwood National And State Forests
This stretch of the road trip takes 5 hours and 38 minutes, totalling 298 miles. We highly suggest that you check out Crater Lake along the way.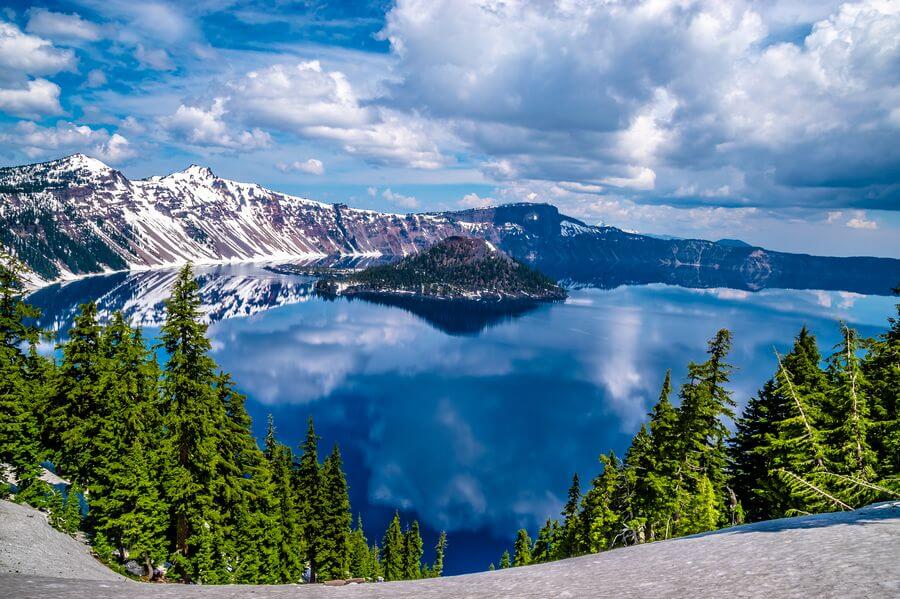 Crater Lake is just an hour and a half south of Bend Oregon and is the deepest lake in the United States. It was formed around 7,700 years ago after an eruption caused a mountain peak to collapse inward. The lake itself is a deep blue and offers some amazing clarity.
The historic rim drive takes you on a 33 mile trip around the entire lake. There are thirty overlooks along the drive that give you incredible views of the lake and the sides of the crater.
Pro Tip: It can take upwards of two hours to complete the rim drive depending on the number of stops you make, so consider how this would fit into your total drive. It is a two way road, so you can always turn back at any point.
It takes another 4 hours and 15 minutes to drive from Crater Lake to the Redwood National and State Forests. These forests are home to the tallest trees on the planet. Hyperion, the tallest of the tall, comes in at 380 feet and ust dwarfs the other giants!
Day 6. Explore Redwood National And State Forests
Not only is this area home to the tallest trees on Earth, the national and state forest includes grasslands, rivers, and forty miles of Pacific coastline. There are an innumerable number of hikes.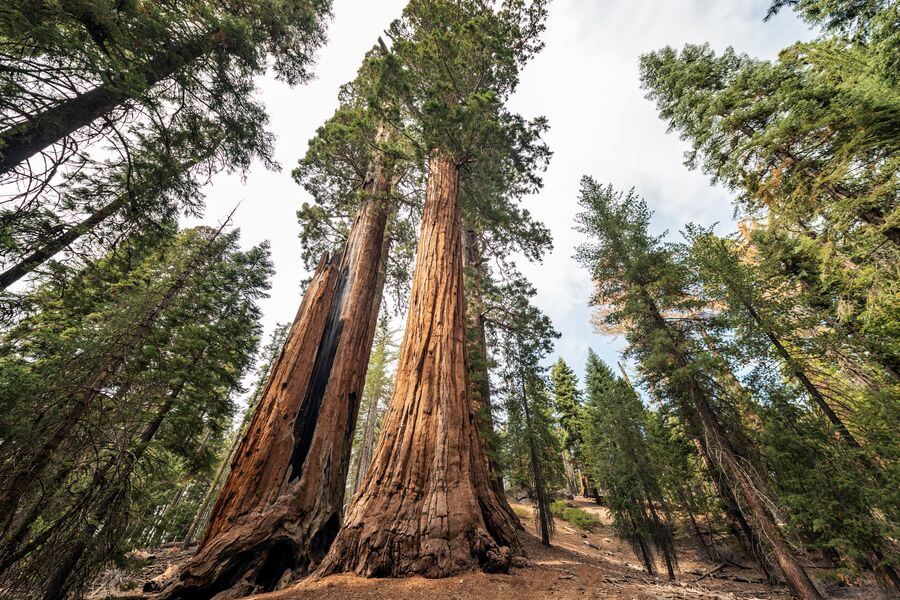 Tall Trees Grove is a 4 mile hike that takes you to the area where the tallest tree in the world, Hyperion, stands. Its exact location is kept secret to prevent vandalism and damage. Permits are also required to limit the foot traffic (applications are available anywhere from four weeks to just two days out).
Fern Canyon is exactly what you would expect it to be. The hike takes you through a fifty foot tall canyon that is densely covered with ferns. Some of the fern species date back hundreds of millions of years. Walking through this area will transport you back in time!
Check out some amazing overlooks at Klamath River overlook and Crescent Beach overlook. Walk the shoreline and peer into tidepools along Enderts Beach.
Please note that there is very spotty cell service within the park so consider bringing a physical map and make sure you know where you're going before you enter. There are no shops or amenities or gas stations within the park, so stock up on everything before you go.
Day 7. Drive To San Francisco
Depending on how long you want this portion of the road trip to take, you can get to San Francisco from Redwood National Forest in as little as five and a half hours. We really suggest taking a bit longer and getting on the famous CA-1 highway for at least an hour or two and driving along the breathtaking coast.
This will allow you to meander your way south through towns like Fort Bragg, Mendocino, and Bodega Bay.
Where To Stay The Night When Driving From Seattle To San Francisco
There are so many different places to stay along the drive from Seattle to San Francisco. You can choose to stay in hotels, resorts, Airbnbs, vacation homes, or even camp! Here are some of our suggestions in each stop along the way.
Mt. Rainier National Park
There are a lot of great Airbnbs around Mt. Rainier, but it takes at least thirty to forty minutes to get into the park. We've stayed in some really nice and affordable rentals just south of the park.
If you want to camp within the park itself we suggest White River Campground. It is a ten mile drive down the mountain from Sunrise, so you will be front and center. It is a rustic camp with no hookups or showers (there are flush toilets though). This campground is first come first serve only.
Coordinates: 46°55'36.6"N 121°38'25.0"W
There are a handful of lodging options within Crystal Mountain Resort, located forty five minutes east of the park. You can take your pick between three different locations or camping within the resort.
Address: 33914 Crystal Mountain Blvd., Enumclaw, WA 98022
Boise, Idaho
Our first suggestion is a charming bed and breakfast (the owners describe it as a bed and beer) in a historical home built in 1896. The Franklin House has since been beautifully restored and updated with an added beer garden in the backyard. There are five rooms, three of which have their own private bathrooms. It is located within walking distance to some great bakeries and coffee shops. However, it is not family friendly as they require all guests to be over 21 years old.
If you prefer a hotel, we suggest the Inn at 500 Capitol. It is a boutique hotel located downtown Boise, close to the river, the zoo, and the state capitol building. We think it's fairly priced for a three star hotel and was clean, which honestly is what we care most about. There is a restaurant in the hotel but we chose to eat at local restaurants nearby!
Lake Tahoe, Nevada
The entirety of the Lake Tahoe area is quite large, so there are many different options when it comes to lodging. What you decide on should really be based around what you plan to do (shopping vs. hiking vs. swimming, etc) and where you plan to do it.
Located in Homewood, California, Cedar Crest Cottages is a group of nine private home rentals with access to a quiet neighborhood beach. There are one through four bedroom cottages available. They have full kitchens, a washer and dryer, and other handy conveniences.
If you want to stick to camping, Camp Richardson is a large campground near South Lake Tahoe. It has two tent-only campgrounds and 100 RV sites offering full or partial hookups. They have a restaurant, general store, and an ice cream parlor on site. It's close to both city life and nature!
Oregon Coast
There are hundreds of places to stay along the northern Oregon coast when driving from Seattle to San Francisco. The majority are right along the beach and nestled within the towns themselves. We stayed in a small but nice Airbnb between Nehalem and Manzanita.
We enjoyed being away from the busyness of Cannon Beach and the surrounding towns. It was a nice respite to have a quiet place to go for the night. It was also much cheaper per night than most of the lodging in the cities right on the coast.
Bend, Oregon
A unique place to stay when in Bend, Oregon is at the Old St. Francis School Hotel, which was a Catholic school in the 1930s that has since been transformed into a fascinating hotel that continues to honor the property's past. While it does have a slightly dated feel, this clearly seems to have been done on purpose to retain the feel of the building's original use.
It is a three star hotel that has limited parking, but it does allow pets for an additional $25. Enjoy drinks from the brew pub on site or catch a movie in their screening room. They host frequent events as well that are open to the public!
Redwoods National Forest
Roosevelt Base Camp is a newly renovated motel that has a really cozy, retro, outdoorsy hipster vibe. It is perfectly situated as a launching spot for your Redwoods adventures. The motel is only about a five minute drive to the closest road taking you into the forest.
The Ideal Time Of Year To Road Trip From Seattle To San Francisco
For the most part, this drive can be done during any part of the year, and depending on what you plan to do, you can plan to take a road trip from Seattle to San Francisco during any month. If you enjoy winter activities, it's best to go November through March to catch the best snow on the mountains along the way. On the other hand, if you want to hike and travel when the most attractions will be open and accessible, April through September is ideal.
We love traveling during great weather (who doesn't?) but we tend to shy away from the busiest times of year, which would be in the peak summer months. Our recommendation would be to drive from Seattle to San Francisco in late September.
Summer is on its way out but will still provide you with warmth and sun during the days. Mountain hikes will be accessible without snow accumulation. The drive itself will be easier because there isn't as big of a chance of inclement weather. You'll get to enjoy hiking, eating outside, camping, checking out all of the beaches (and maybe even swimming!) during this time but without all the crowds.
Both Seattle and San Francisco have excellent weather during the month of September, with average highs for both cities between 67°F-71°F, so you will have ideal conditions in which to explore both cities.