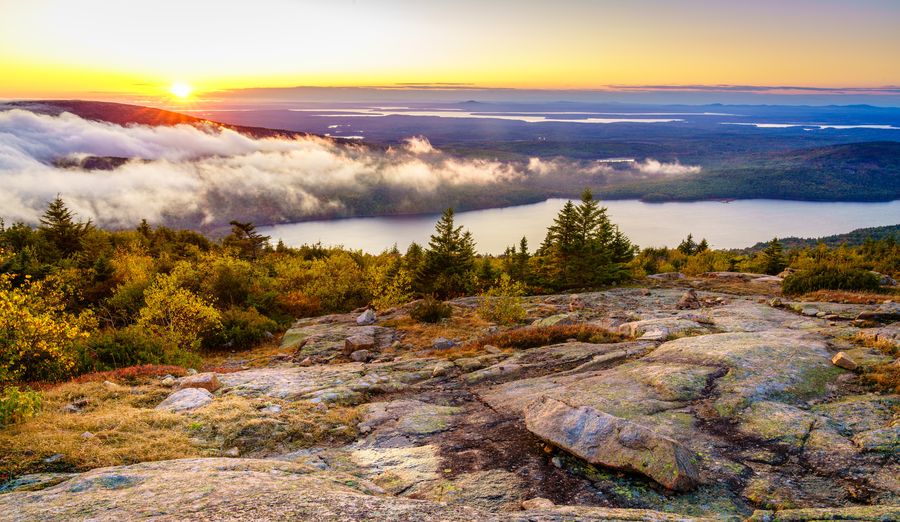 You've likely heard about the world-renowned parks in the western parts of the country, but what about the equally stunning national parks scattered along the East Coast?
From rugged mountains to pristine beaches, historical sites to diverse ecosystems, these eastern gems provide a wealth of natural beauty and unique adventures.
If you're an outdoor enthusiast or just someone looking for a new place to explore, you're in luck. These East Coast national parks might be just what you're searching for.
In this guide, we'll introduce you to some of the very best national parks on the East Coast. You'll get a taste of everything from the lush wilderness of Great Smoky Mountains National Park to the breathtaking coastal beauty of Acadia National Park.
After reading this article, we guarantee you'll want to pack your bags and start exploring these incredible havens straight away!
1. Great Smoky Mountains National Park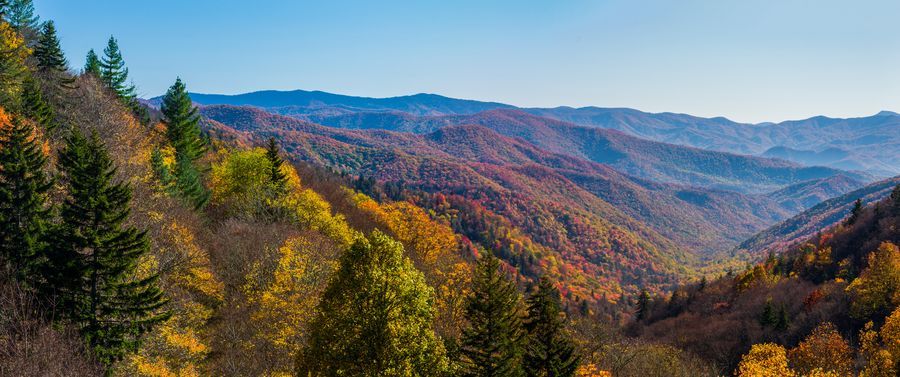 You'll be hard-pressed to find a more stunning display of natural beauty on the East Coast than what's offered by the Great Smoky Mountains National Park. It has ancient mountains, diverse wildlife, and year-round wildflower blooms! This East Coast national park straddles the North Carolina and Tennessee borders and is known for its forest-covered ridges that give it an enchanting allure. The morning fog that often engulfs these mountains gives them their "smoky" name.
As you explore this vast park, you'll come across numerous waterfalls and over 2,900 miles of streams, making it one of the last great refuges for wild trout.
While exploring this mesmerizing landscape, don't forget to immerse yourself in its rich cultural heritage. Great Smoky Mountains National Park safeguards remnants of Southern Appalachian mountain culture in its preservation of over 90 historic structures (these range from houses to barns to churches). You can even wander through burial landscapes and cemeteries that link back to days gone by. No matter where you choose to explore or hike, the area is adorned with waterfalls and rich foliage. Take a moment to appreciate the biodiversity around you, because it's not every day you're surrounded by such abundant plant and animal life!
We recommend taking some time to really explore the area. You'll be able to spot wildlife in action and appreciate the picturesque terrains. For those who enjoy angling, fishing in the park's streams should be at the top of your list of things to do! And if horseback riding is something you fancy, guided rides are available seasonally here too.
Whether you choose frontcountry camping or prefer experiencing backcountry wilderness overnight, there are plenty of options if you want to create some memories at America's most visited national park!
2. Acadia National Park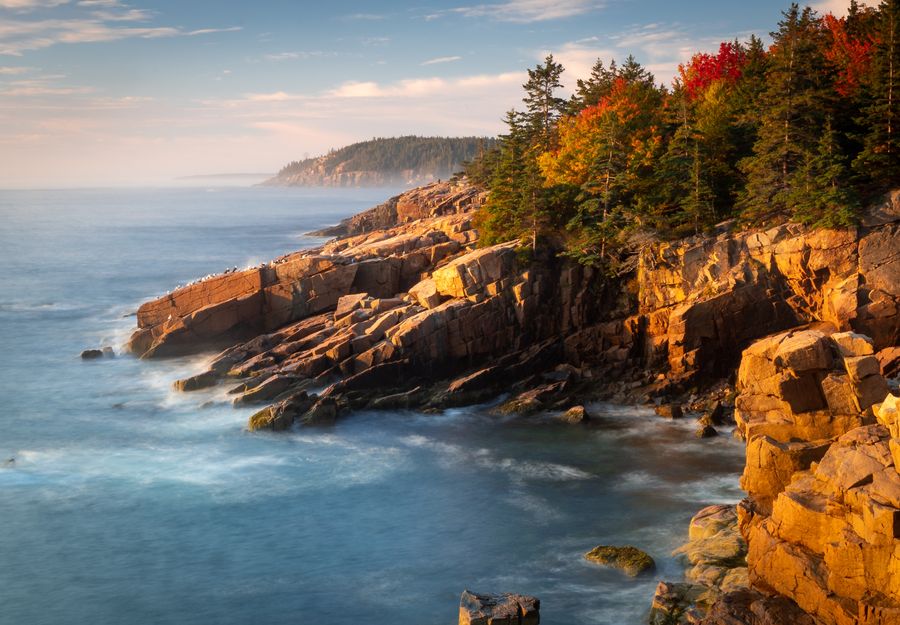 With its stunning natural beauty, rich history, and endless recreational activities, it's no wonder that Acadia is one of the best national parks on the East Coast (especially for outdoor enthusiasts).
Nestled on the Maine coast, you'll be astounded by this park's diverse landscapes. It's home to rocky headlands as well as the tallest mountains on the Atlantic coast!
The park has over 49,075 acres of spectacular habitats teeming with biodiversity for you to explore. You're also stepping into a piece of history as well, since Acadia dates back 10,000 years with the Wabanaki people and has been shaped by European explorers and wealthy families.
It doesn't matter if you're looking for an action-packed visit or something a bit more leisurely, there's something for everyone at Acadia National Park.
There are 45 miles of historic carriage roads where you can bike or ride on horseback. And for hiking enthusiasts, you can find trails ranging from easy walks to challenging climbs.
Pro Tip: If you want to mix things up a bit, Acadia National Park is a great place to try something new. You can indulge in birdwatching at dawn, tide pooling at low tide, or stargazing under the dark night sky.
But before planning your trip, remember that each season unveils different charms in Acadia.
Summer welcomes you with perfect weather for kayaking and swimming, while winter transforms the park into a playground for cross-country skiing and snowshoeing enthusiasts (it made our list of the best things to do in Maine during the winter). Fall never fails to impress visitors with New England's famous foliage display – truly a sight not to be missed!
3. New River Gorge National Park & Preserve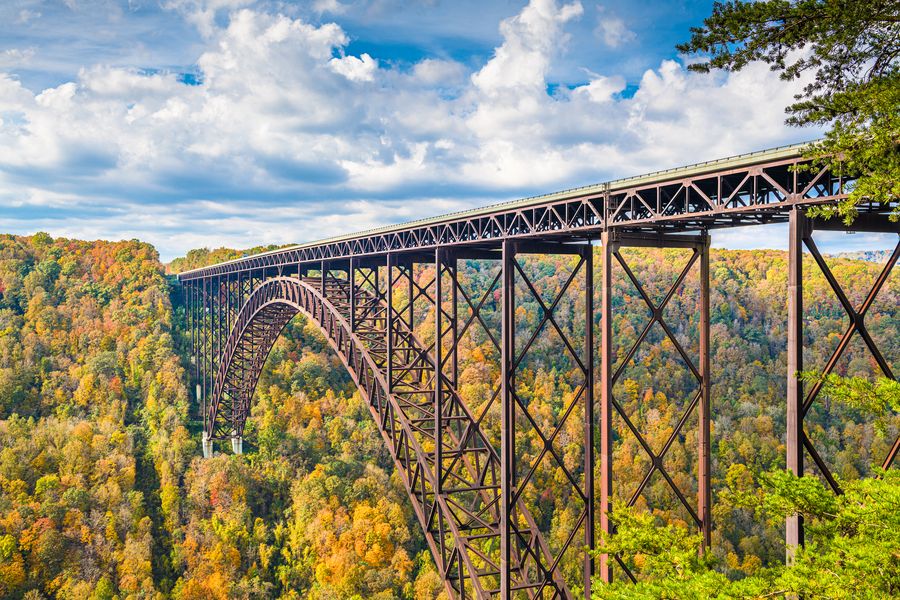 If you're an outdoor enthusiast, New River Gorge National Park & Preserve is a must-see destination, offering an array of exciting activities and unique features. Here you can venture into nearly 100 miles of trails tailored to various experience levels, or embarking on one of the over 1,600 established climbing routes. This park is considered a premier climbing destination in the United States!
And on top of that, there are exhilarating whitewater opportunities on the New River. Whether you're an adrenaline junkie seeking out thrills like the famed Gauley River rapids or prefer a more relaxed birding and picnicking experience, there's something for everyone.
Another reason why this is one of the best national parks in the East Coast is the free entry. It's hard to beat the accessibility and affordability of New River Gorge. There are also ranger-led activities and interpretive programs available to help you learn a bit more about the area. And if you have younger explorers in tow, consider letting them try the Junior Ranger program.
One thing that sets New River Gorge National Park & Preserve apart is its seasonal beauty and unique features. Named after one of the oldest rivers on the continent, it houses West Virginia's photographic icon – The New River Gorge Bridge. If you want to enjoy the best weather, try to plan your visit between April and October (mid-October will have some stunning fall colors).
And after immersing yourself in all these adventures you can head over to Fayetteville to wind down. There are plenty of great restaurants and breweries to enjoy before heading back into the park for another day full of exploration.
4. Cuyahoga Valley National Park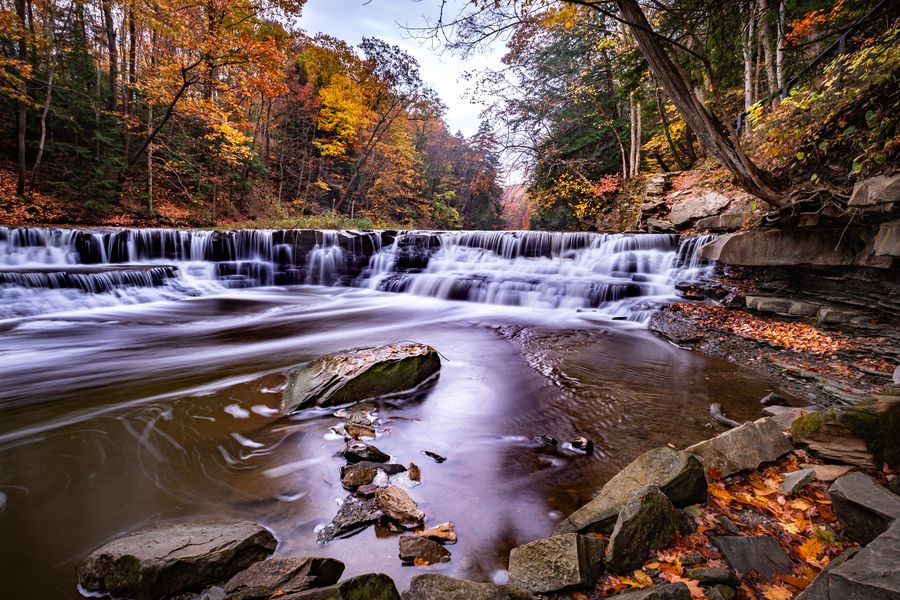 Ohio's only national park is definitely a hidden gem, making it one of the best East Coast national parks you can find. This unique destination stands out thanks to its diverse natural features and accessibility.
At Cuyahoga Valley National Park you can marvel at over 100 waterfalls (with Brandywine Falls being the tallest at 65 feet) or traverse through forests, rolling hills, ravines, and wetlands. And don't forget about The Ledges that offer expansive views and feature talus caves tucked among forest boulders!
You'll never be short on things to do in this park. If you're a fan of hiking or biking, there's the Towpath Trail that's over 20 miles for you to enjoy. For winter enthusiasts, skiing and sled-riding at Kendall Hills will be just what you're looking for! And don't miss out on water activities like canoeing or kayaking down winding rivers.
But it's not just about nature, feel history come to life as you embark on historical excursions via the Cuyahoga Valley Scenic Railroad or engage in art exhibits, outdoor concerts, and theater performances hosted within the park premises. There are also some interesting displays of sustainable farming from past centuries at places like Hale Farm and Village.
5. Shenandoah National Park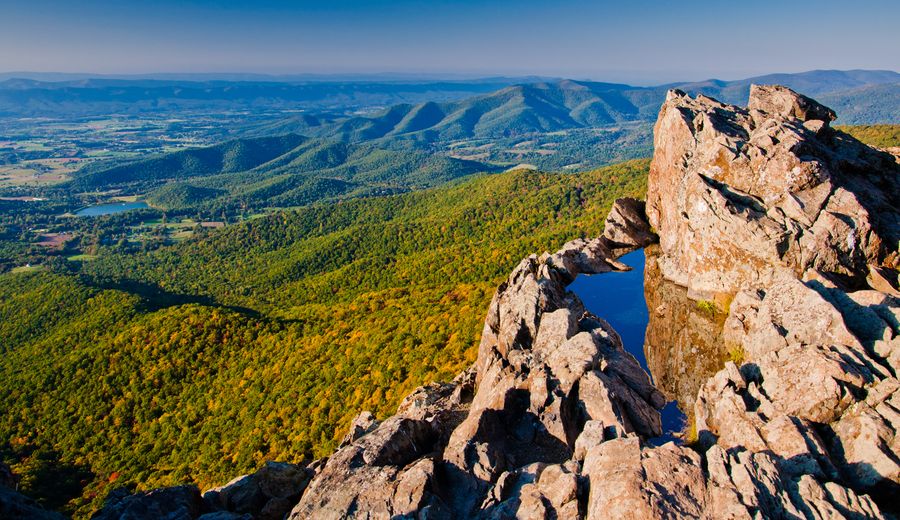 You're in for an unforgettable journey when you visit Shenandoah National Park, a place renowned for its striking beauty and diverse recreational activities.
Nestled in the Blue Ridge Mountains of Virginia, with the majestic Shenandoah River flowing to the west, this spectacular park is just a drive away from Washington D.C., making it easily accessible for both local residents and out-of-town visitors.
The natural allure of Shenandoah National Park is only matched by its array of recreational highlights. You can spend your time hiking on over 500 miles of trails including part of the stunning Appalachian Trail or cycling along historic Skyline Drive (which is designated as a National Historic Landmark and National Scenic Byway).
If you're into wildlife photography or bird-watching, keep an eye out for the bears or snakes that call this park home! And if water activities are more your style, there's plenty here: swimming, fishing or perhaps just enjoying a peaceful picnic near one of many waterfalls within the park.
If you fancy immersing yourself deeper into nature's wonders without letting go of comfort, consider staying at either Skyland Resort or Big Meadows Lodge which offer not just accommodations but also some great local cuisine.
And while any day is a good day to visit Shenandoah National Park due to its year-round opening hours and different seasonal attractions, springtime and early fall are the ideal times to visit. During these times crowds tend to be smaller so you can enjoy mild weather while exploring all that this amazing national park on the East Coast has to offer!
6. Everglades National Park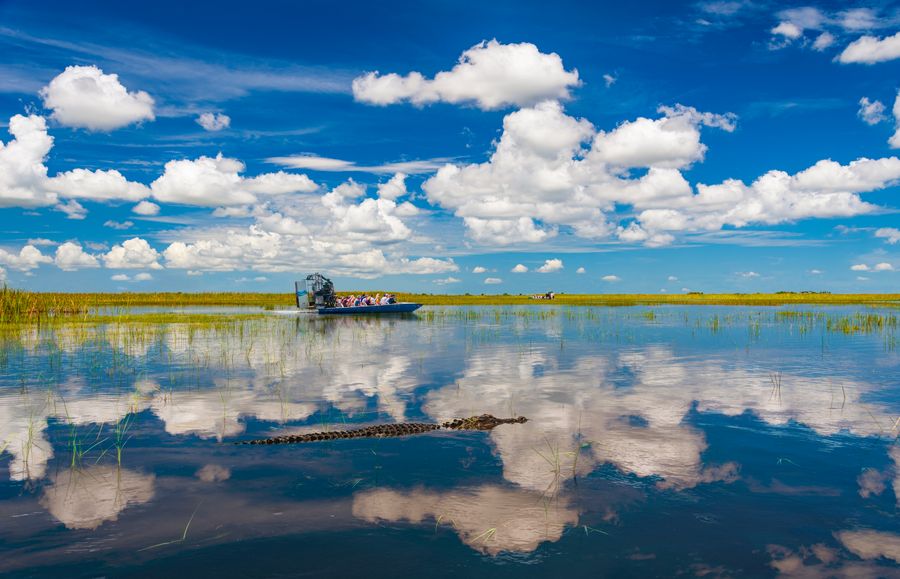 Next up on our list is the Everglades, a unique ecological wonder just a short drive from Miami. This national park protects 20% of the original Everglades, making it the largest tropical wilderness in the U.S.
Its importance isn't lost on global organizations either: UNESCO and World Heritage have recognized its significant ecological value. Don't miss your chance to catch sight of rare and endangered species like the American crocodile or Florida panther that call this place home.
Whether you're an active adventurer or prefer a more tranquil time in nature, Everglades National Park has plenty to keep you entertained. You can hike or cycle through over 500 miles of trails that include parts of the Appalachian Trail, or take self-guided walks along Anhinga and Gumbo Limbo Trails for an intimate look at distinct ecosystems.
If water-based activities are more your speed, hit Wilderness Waterway's 99-mile canoe trail or try your hand at fishing (just remember to grab a state license first).
As one of the best national parks on the East Coast, Everglades doesn't disappoint when it comes to visitor services and amenities either. With five visitor centers across its expanse including Ernest F. Coe and Flamingo Visitor Centers, you'll have easy access to maps, guides, and other resources throughout your visit.
Head over to Shark Valley Visitor Center for access to a 15-mile loop road and tram tours for fantastic wildlife viewing opportunities (this is great if you're into photography). And don't forget about stargazing; thanks to its dark skies designation, there's no better place in Florida for an unspoiled view of celestial bodies after sundown.
7. Mammoth Cave National Park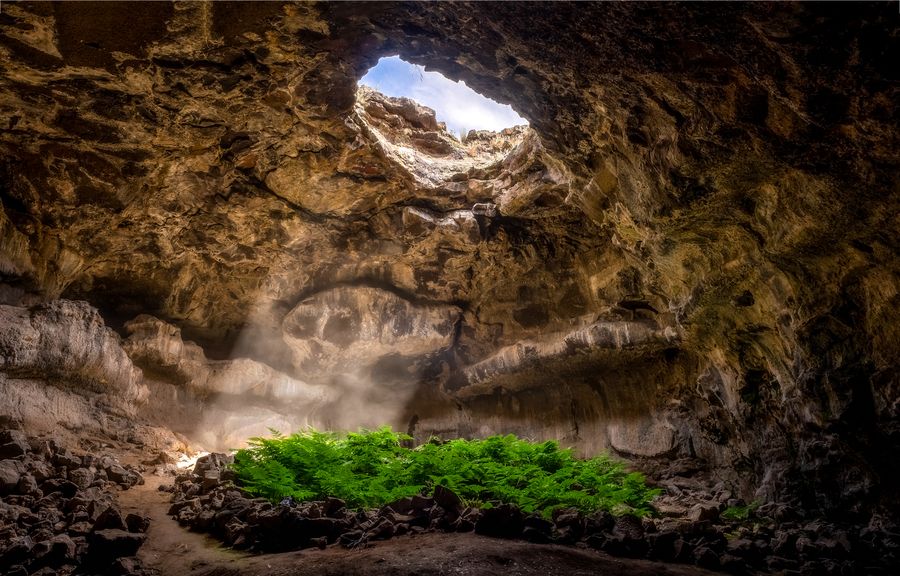 If you're an adventurer, you'll find Mammoth Cave National Park to be a unique gem, boasting the world's longest known cave system and offering a myriad of both above and underground exploration opportunities.
Nestled in south-central Kentucky, this internationally recognized park is easily accessible from major routes and close to Louisville. Entry into the park itself won't cost you a dime, but you will have to pay for cave tours, camping spots, or picnic shelter reservations.
Mammoth Cave National Park isn't all about caves though; it boasts river valleys, forests, diverse trails, and historic sites as well. You can paddle along the Green or Nolin Rivers in a canoe or kayak or try your hand at fishing.
The park offers 18 different hiking trails suiting various skill levels as well as biking trails and horseback rides that allow you to fully immerse yourself in its natural beauty. When night falls, don't miss out on looking skyward – with clear views of stars overhead, including sightings of the International Space Station and a number of satellites flying by!
For those interested in history and culture alongside natural wonders, this park has got you covered with its historic churches and four intriguing cemeteries within its boundaries.
As part of your visit to Mammoth Cave National Park, there are important environmental considerations to keep in mind such as mercury advisories for fish caught here – it's all part of preserving the ecosystem for future generations!
Whether it's summer when tours are plentiful or winter which offers a totally different vibe with open visitor centers amidst snowy landscapes – any season is great for visiting what is undoubtedly one of the best national parks on the East Coast.
8. Dry Tortugas National Park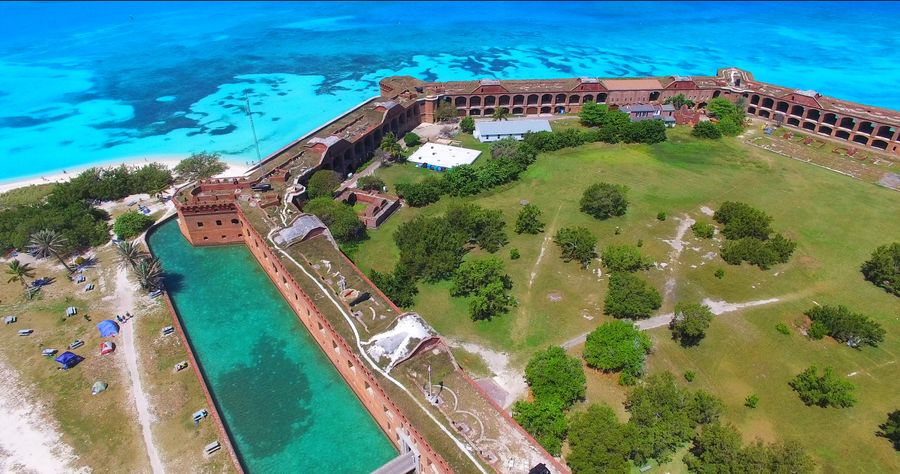 Imagine being surrounded by turquoise waters, vibrant coral reefs teeming with life, and historical sites that whisper tales of the past – that's Dry Tortugas National Park. Situated 68 miles west of Key West, this park comprises seven small islands waiting for your exploration.
Accessible only by seaplane or boat adds an adventurous element to your visit. As part of the Everglades & Dry Tortugas Biosphere Reserve, a UNESCO-designated site, you'll witness a tropical ecosystem largely undisturbed by human interference. You can also marvel at Fort Jefferson, the largest brick masonry structure in the Western Hemisphere and learn about its Civil War-era history.
You're not just limited to sightseeing here; Dry Tortugas offers a plethora of activities for outdoor lovers. Snorkel across one of Florida Keys' least disturbed coral reefs teaming with flourishing sea life or kayak around these remote islands soaking up their natural beauty. If you're into birdwatching, you'll love spotting tropical bird populations that call this East Coast national park home. And if camping under star-studded skies is your thing, then don't miss out on primitive camping at Garden Key!
Remember, visiting Dry Tortugas requires some serious planning due to its remote location and limited transportation options. But trust us when we say it's worth the effort! Whether you decide to explore Loggerhead Island's shipwrecks and historic Carnegie Laboratory for Marine Ecology or choose to wander along Bush Key's unspoiled shorelines, each experience is sure to be unforgettable.
Regardless of whether you visit during winter (with rougher seas yet cooler weather) or summer (offering clearer waters but hotter temperatures), witnessing wildlife like loggerhead sea turtles in their natural habitat makes any trip memorable! So brace yourself for an island adventure unlike any other at one of the best East Coast national parks.
9. Congaree National Park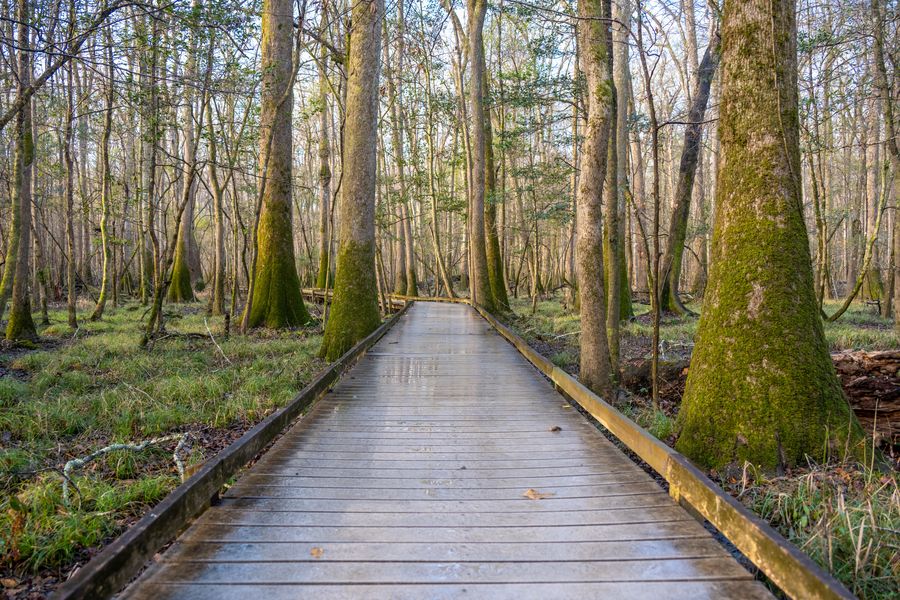 Take a journey into the heart of South Carolina, where you'll be greeted by the breathtaking wilderness of Congaree National Park. This park is home to the largest old-growth bottomland hardwood forest in the U.S., featuring some of the tallest trees in eastern America.
It's not just about towering trees though; this place boasts a rich biodiversity within its floodplain forest that ranks among one of the highest temperate deciduous forest canopies globally. The Congaree River winds through this park, designating around 15,000 acres as pure wilderness.
Explore on foot or take to water with options for hiking, canoeing, and kayaking. Don't miss out on witnessing firefly displays during summer evenings – it's a magical spectacle you won't forget!
If you're up for camping, Congaree offers primitive and backcountry options to fully immerse yourself in nature's tranquility. You might even paddle down their marked Cedar Creek canoe trail or stroll along their popular Boardwalk Loop elevated walkway – both are surefire ways to appreciate the park's raw beauty.
It's best visited in spring and fall due to more pleasant weather conditions, but winter has its charms too! Just remember that visiting during summertime may pose challenges with heat, humidity, and mosquitoes.
Many visitors find Congaree underrated and cherish moments without crowds common in other parks. As part of your adventure here at one of the East Coast's best national parks, don't forget to drop by Harry Hampton Visitor Center for valuable insights from knowledgeable park rangers.
Whether it's bird watching along Kingsnake Trail or enjoying some fishing, there's plenty for everyone to enjoy at Congaree National Park.
10. Harpers Ferry National Historical Park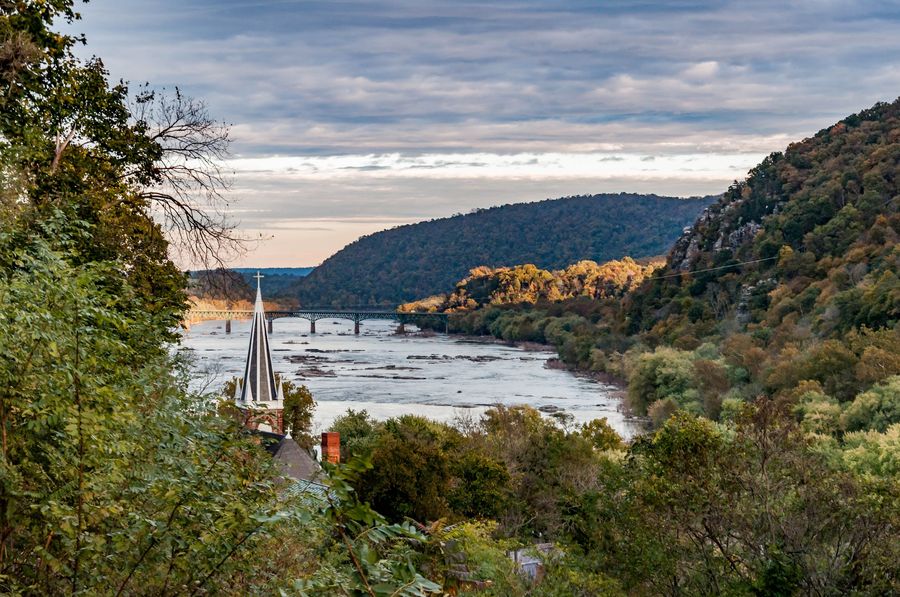 You'll find a wealth of history, natural beauty, and adventure packed into Harpers Ferry National Historical Park, making it an unforgettable destination.
Situated at the intersection of West Virginia, Maryland, and Virginia, this park casts you back into the 19th century with its well-preserved historic streets and museums in Lower Town. We recommend visiting John Brown's Fort, the most frequented historic site in West Virginia that played a pivotal role in abolitionist history.
In addition to its rich past, Harpers Ferry is also renowned for its stunning landscapes that Thomas Jefferson himself acclaimed as "stupendous."
And with 22 miles of hiking trails catering to various skill levels there's plenty of space for nature enthusiasts to enjoy. You can take advantage of opportunities for rock climbing or cycling along the scenic C & O Canal towpath.
Pro Tip: The park's diverse ecosystems are also home to peregrine falcons. This is due to the successful conservation efforts that have been made in the park.
There are also some other fun activities like guided ghost tours for some family-friendly fun. Additionally, there's an opportunity to learn about Harpers Ferry's significant role in events such as the underground railroad and the Lewis & Clark expedition.
Why East Coast National Parks Are Worth Visiting
The best national parks on the East Coast give you a chance to explore the unique charms and rich history that make visiting these places a truly unforgettable experience!
In other words, they offer you an extraordinary opportunity to connect with America's past. You can stroll along the Freedom Trail, reliving pivotal moments in U.S history, or get lost in Harpers Ferry's historical significance. These national parks provide an interactive learning environment where you can delve deep into different aspects of American heritage thanks to their proximity to historical societies and other educational institutions.
You'll also be amazed by the biodiversity and distinctive landscapes these areas have to offer. Whether you're spotting alligators in the Everglades or birdwatching in Dry Tortugas, there's always something to captivate nature lovers. The dynamic change of seasons adds another layer of beauty, since witnessing fall foliage or spring blooms is an experience like no other! And let's not forget about marine environments; snorkeling among coral reefs or exploring shipwrecks makes for incredible underwater adventures.
What truly sets national parks on the East Coast apart is their accessibility. Being close to major urban centers, they are ideal for short weekend trips without having to worry about long drives. Despite being readily reachable, these parks often have fewer visitors than their counterparts out west, meaning less crowded trails and campsites for a more tranquil connection with nature. So whether it's hiking up the Appalachians, participating in cultural festivals, or simply enjoying snow-based activities during winters, you have plenty of options.
Closing Thoughts
You've now got a glimpse of the beauty and diversity that the best East Coast national parks have to offer.
From dense forests, stunning coastlines to historical landmarks, there's something for everyone.
So what are you waiting for? Pack your bags and start exploring these gems.
You'll find they're more than worth a visit!