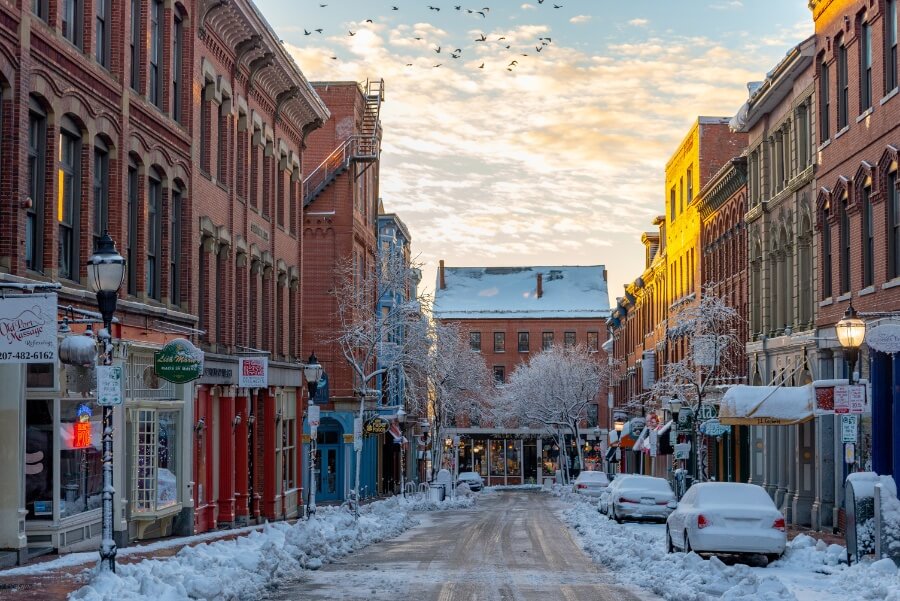 For anyone who enjoys the snow, there are a number of great things to do in Maine during the winter. This state has a unique beauty about it that really comes alive when things get colder.
Check out this list of Maine winter activities to find your next cold weather adventure!
1. Dog Sledding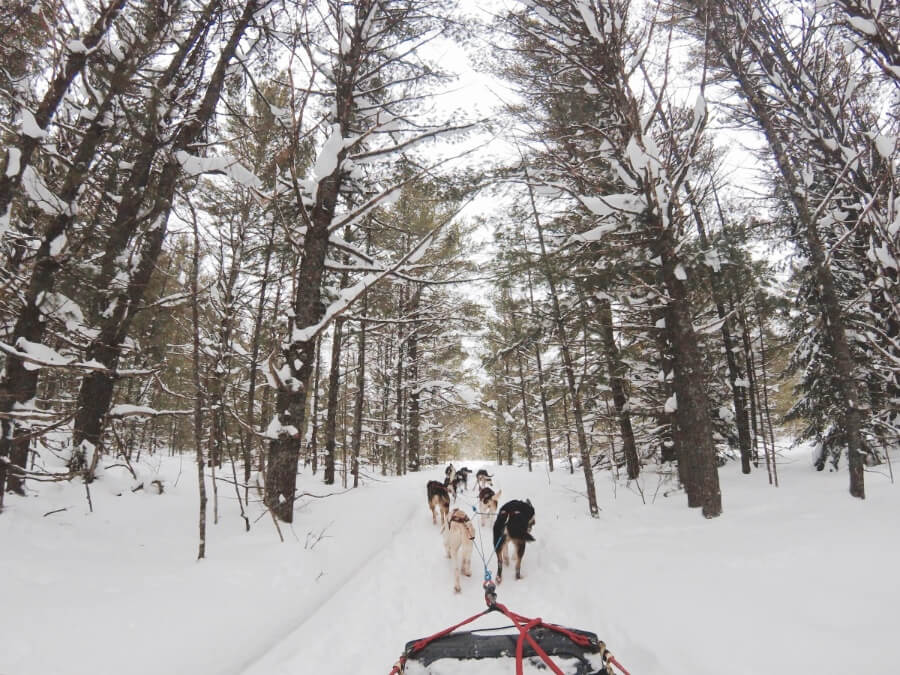 Dog sledding is one of the most iconic things to do in Maine in the winter, especially if you love dogs. It's a chance to zip through the snow-covered landscape. The activity can also be physically demanding, but there are many ways to have fun based on your skill level.
There are a few places in Maine to go dog sledding. Some of the most popular providers are Mahoosuc Guide Service in Grafton Notch, Dogsled Maine in New Portland, and The Ultimate Dog Sledding Experience in Oxford.
2. Rent A Snowmobile
If you want to explore the beautiful Maine landscape without the dogs, you can hop on a snowmobile. The state has over 14,000 miles of trails to explore. The trail system is well-maintained and connected.
The great thing about snowmobiling is that you can rent rides throughout Maine. Whether visiting a resort at Moosehead or Acadia National Park, you won't have a hard time finding thrilling trails and rental shops.
3. Try Out Night Skiing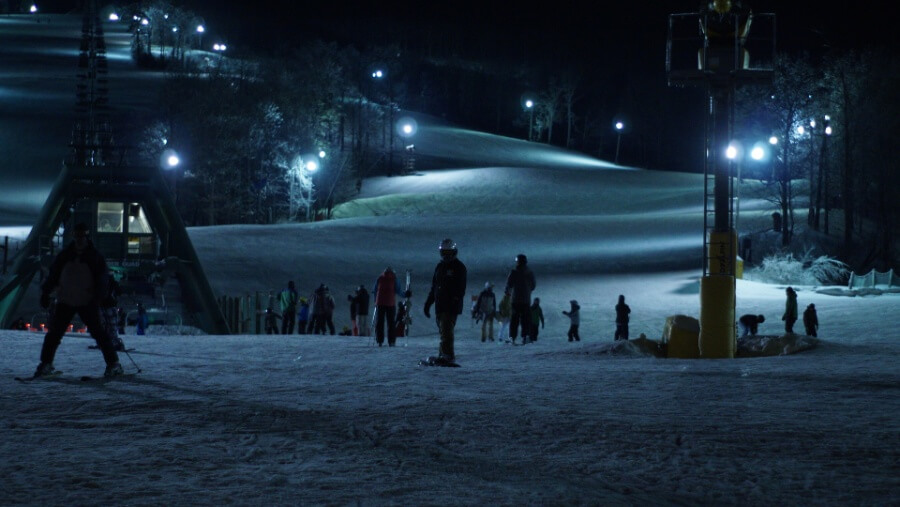 Night skiing is an old winter activity in Maine that you must try! Maine turns into a wonderland during the winter months. Zip down hills of varying levels under the stars!
Many ski resorts and lodges offer night skiing opportunities. Good places to hit up include Camden Snow Bowl in Camden, Pleasant Mountain in Bridgeton, and Black Mountain in Rumford. Most places have beginner-friendly slopes, so you don't need to be a seasoned skier to get in on the fun.
4. Acadia National Park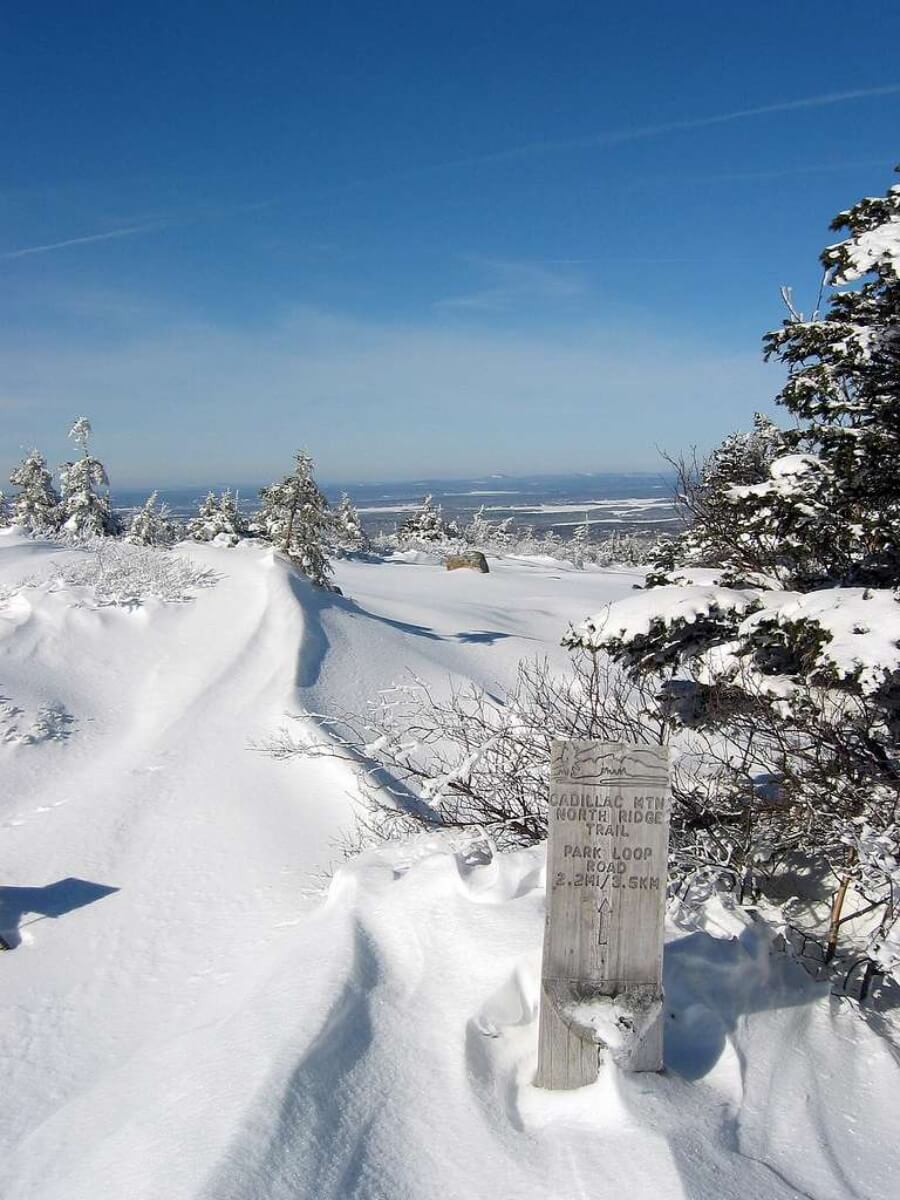 Acadia National Park is one of the most breathtaking national parks in the country. During the winter, it's the stuff of dreams. The park is open throughout the year, but many people venture into the park during the colder months to appreciate the beauty of Mother Nature blanketed in snow.
There are tons to do at Acadia. There are roughly 45 miles of trails to discover. The park also has miles of roads you can explore on a snowmobile.
5. Brave The Penguin Plunge
Here's another wintertime Maine tradition. The Penguin Plunge is an annual event occurring every New Year's Day.
Hosted by the Boothbay YMCA, it's a fundraising event that funds free swim lessons for kids and the community. So what is it?
Hundreds of people dive into the icy cold waters of the Atlantic! It's a blood-pumping activity that many don't dare to do. But if you're brave enough to battle the cold, you'll remember it forever.
6. Skiing & Snowboarding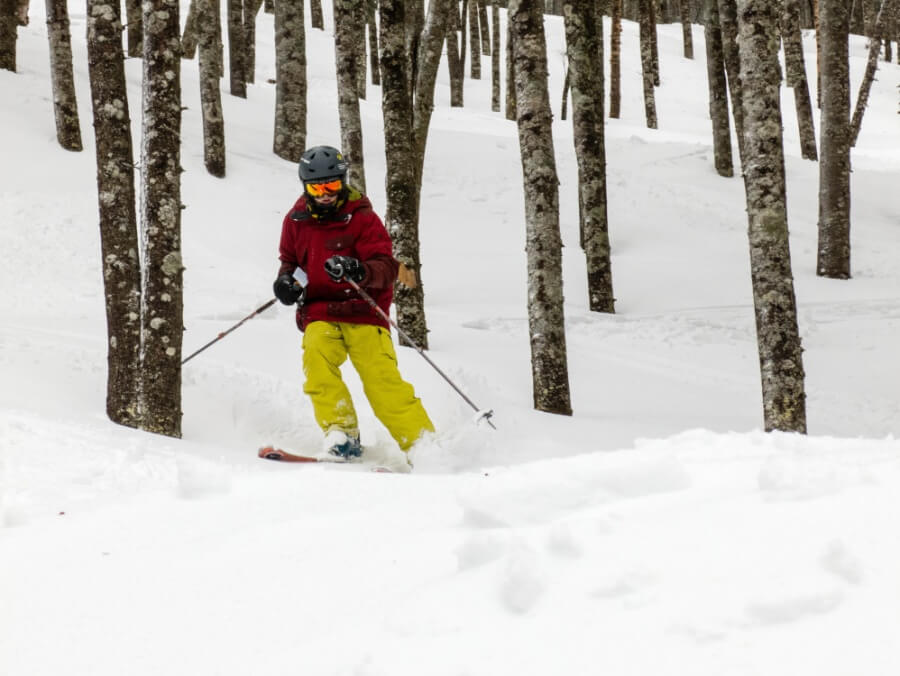 Of course, you can't forget about skiing and snowboarding. Maine is a popular winter destination for these activities. People worldwide visit resorts like Sunday River, Saddleback Mountain, Sugarloaf, and more.
Skiing and snowboarding are both physically demanding activities, but beginners will find plenty of bunny slopes to learn. As your skills progress, you can challenge yourself on challenging paths and even learn a trick or two.
7. Goat Hiking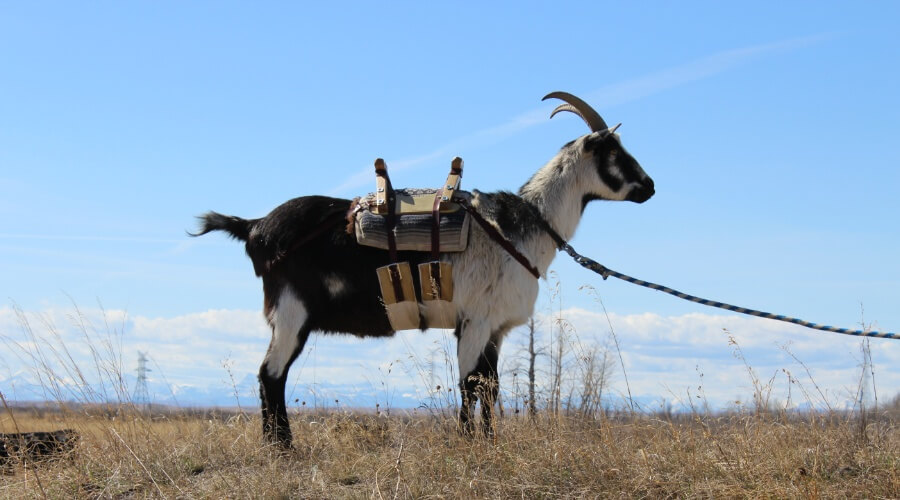 Here's an unusual activity that most people don't know about. It sounds silly, but goat hiking is actually quite an enjoyable thing to do in Maine during the winter. It's exactly what it says: Hiking through glorious winter trails with a goat by your side!
These animals brave the cold without missing a beat. It's your chance to explore the winter landscape while spending quality time with your new four-legged friend. Places like Ten Apple Farm in Gray and Saco River Farm in Steep Falls also teach you about goat farming while offering products made from goat's milk.
8. Go Horseback Riding
If horses are more your style, this is the activity for you. While you can't ride goats, you can certainly ride horses through snow-covered trails.
There's no better way to take in the landscape than atop a trusty steed as you meander through trails. Visit Carousel Horse Farm in Casco or stop by Sunday River for lessons at High Horse Stables or Alpha K9 Kennel.
9. Try Out Winter Glamping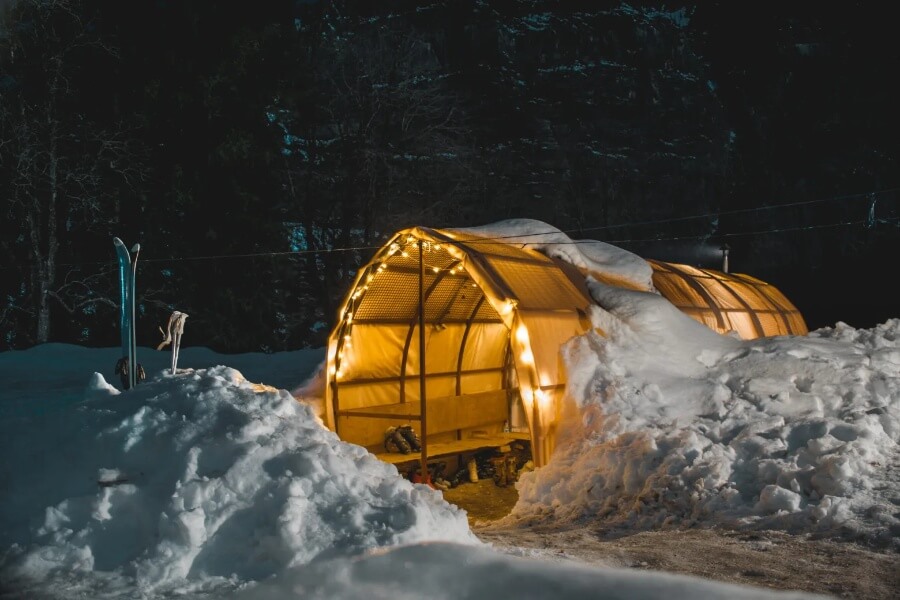 Most people wouldn't think to go camping in Maine during the winter. But this isn't rustic camping. It's glamping!
In case you've never heard of it, glamping is like luxury camping. You can surround yourself with nature while enjoying high-class amenities in a decked-out tent or yurt! There are many places to go glamping in Maine during the winter.
However, one of the most popular options is renting a spot from Maine Forest Yurts in Durham. Their yurts are fully furnished and heated!
10. Stop By A Winter Farmers' Market
Farmers' markets occur throughout the United States but are usually limited to spring, summer, and fall. But in Maine, you can see what vendors offer during the winter season!
These markets are lively community events that typically occur on the weekends. There, you'll find local vendors selling handmade goods, locally-grown produce from farmers, and more!
If you want to see what Maine is all about, stop at a popular market like Portland Winter Farmers' Market, Augusta Winter Farmers' Market, or Lewiston Winter Farmers' Market.
11. Sample The Local Shops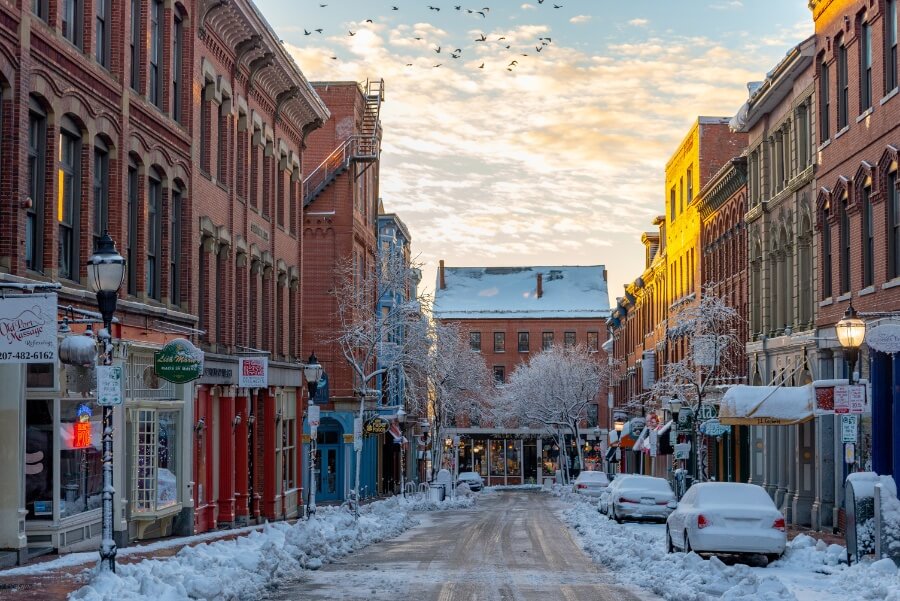 Maine is home to great mom-and-pop shops. While you can certainly browse well-known brands and chains, local shops offer a unique flare. Many stores provide locally-made goods, making this a popular thing to do in Maine in the winter.
Maine has it all, whether you want souvenirs or special holiday gifts unavailable elsewhere. Best of all, you can find great shops everywhere! Just stroll through small towns or stop by downtown areas of bigger cities like Portland. There's no shortage of great shops to peruse.
12. Catch A Show At The Criterion Theatre
The Criterion Theatre is in Bar Harbor. It opened back in 1932 and still hosts events today.
The venue is breathtaking. The expansive auditorium has signature red velvet curtains on its quaint stage. Criterion Theatre is so well-preserved it's like stepping into a time machine!
During the winter, you can attend holiday-themed shows, live music concerts, and more. It's a great way to spend a cold evening.
13. Do A Wildlife Watching Tour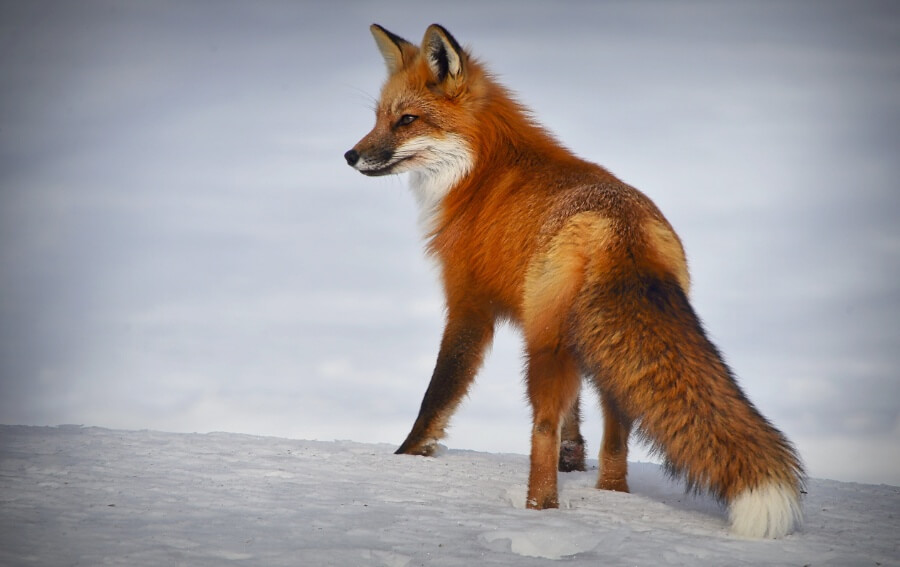 Wildlife tours, also known as ecotours, allow you to appreciate this great state's majesty. Maine is home to many beautiful native creatures. While some hibernate during the winter, plenty remains to see.
During these tours, you can watch birds and get a glimpse at foxes, mink, and more. Wildlife tours are about appreciating Maine at its finest while learning about conservation efforts.
Maine Audubon is one of the most popular places to take a wildlife tour. It's a wildlife sanctuary in Falmouth.
14. See The Thompson Ice House Museum Ice Harvest
Annual ice harvests played a crucial part in Maine's history. During a harvest, people would gather ice that forms in the region to use in homes. While we have modern refrigerators and freezers, ice harvests still occur.
It's most popular in South Bristol at Thompson Ice House Museum. The museum houses artifacts of Maine's past. But every year, the museum performs a historical reenactment.
15. Winter Alpaca Walks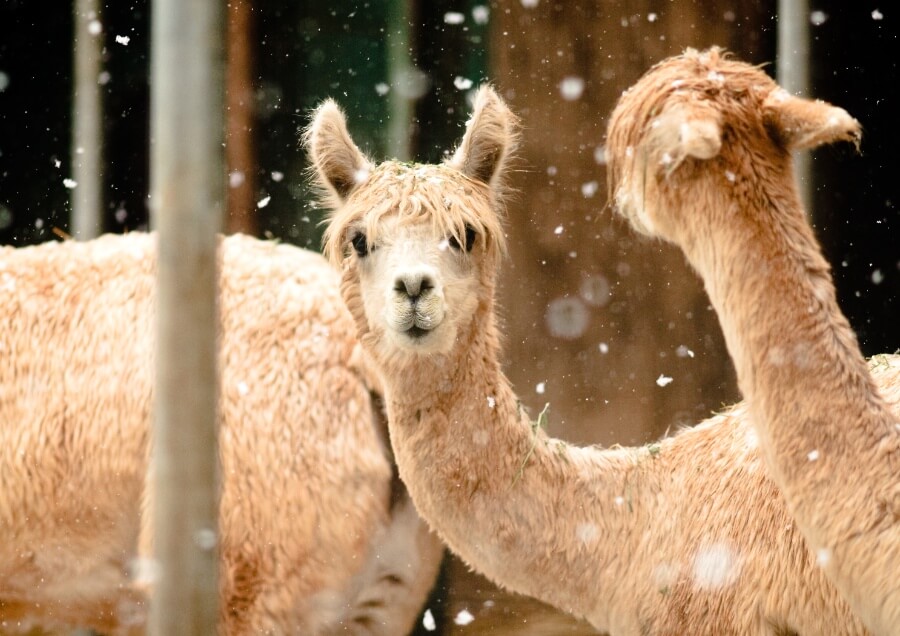 Here's an immersive activity that lets you spend quality time with one of the cutest animals around! Alpacas are beautiful creatures with thick coats of fur that are perfect for Maine's winter season.
During an Alpaca walk, you will walk alongside alpacas through peaceful trails surrounded by nature. You can also interact with the animals through pets and feedings while learning about these gorgeous creatures.
Cape Newagen Alpaca Farm in Southport and Northern Solstice Alpaca Farm in Unity are some of the best places to enjoy this activity.
16. Peary-MacMillan Arctic Museum
If you find yourself in Brunswick, stop by the Peary-MacMillan Arctic Museum. The museum is on the Bowdoin College campus but is open to the public.
The museum is indoors, so you don't have to worry about braving the cold. It's a great way to spend the day as you keep warm!
The museum boasts a massive collection of artifacts. There are over 41,000 things to see, including photographs, objects, and more. Each exhibit details life in the Arctic and teaches you about Arctic studies of the past.
17. Go Snowshoeing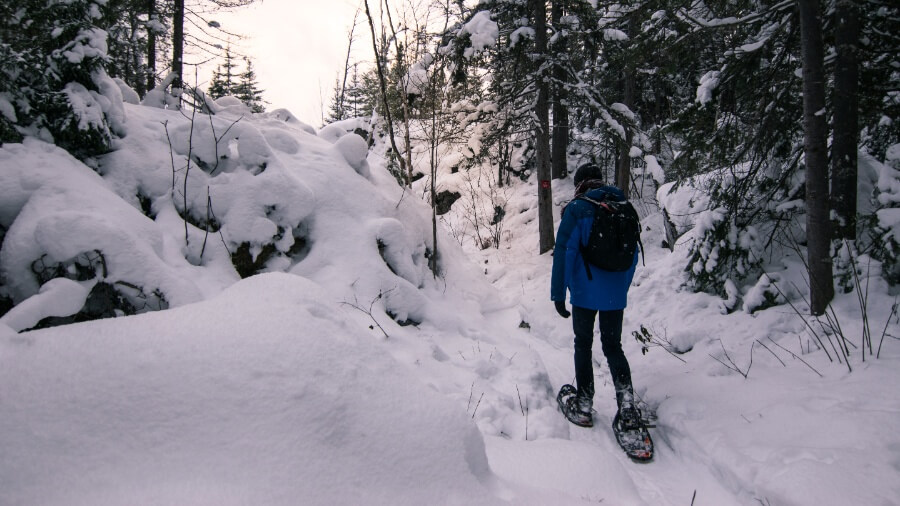 Snowshoeing is a classic winter activity in Maine that lets you explore snow-covered paths on foot. Strap the shoes onto your feet, and you can walk without worrying about sinking into the snow!
Maine is home to countless trails that put you in the center of a winter wonderland. Some of the best are at the Nordic Heritage Center in Presque Isle. The courses are well-maintained, with many more rugged paths for seasoned snowshoers.
18. Do Some Winter Sports At Sugarloaf Mountain
Sugarloaf Mountain is the third-highest peak in Maine. It's in Carrabassett Valley and serves as the state's epicenter for skiing and snowboarding. It's a must-see during the winter season.
In addition to traditional snowsports, you can try unique activities like cat skiing, skating, and more. There are several lodges on the mountain, and each one offers a unique winter experience.
With so much to do, Sugarloaf Mountain is worth visiting year after year.
19. Rent A Lakeside Cabin
There's no better way to spend your Maine winter vacation than staying at a lakeside cabin. These rentals are available throughout the state. However, some popular rental areas are around Caratunk and Moosehead Lake.
Most lakeside cabins are the epitome of cozy. Many feature log construction and have all the amenities you could ever want. Relax by the fireplace as you watch the snow fall outside.
During the day, you can find nearby trails to go snowshoeing. Some cabins are also close to popular skiing hotspots or fishing holes.
20. Outdoor Ice Skating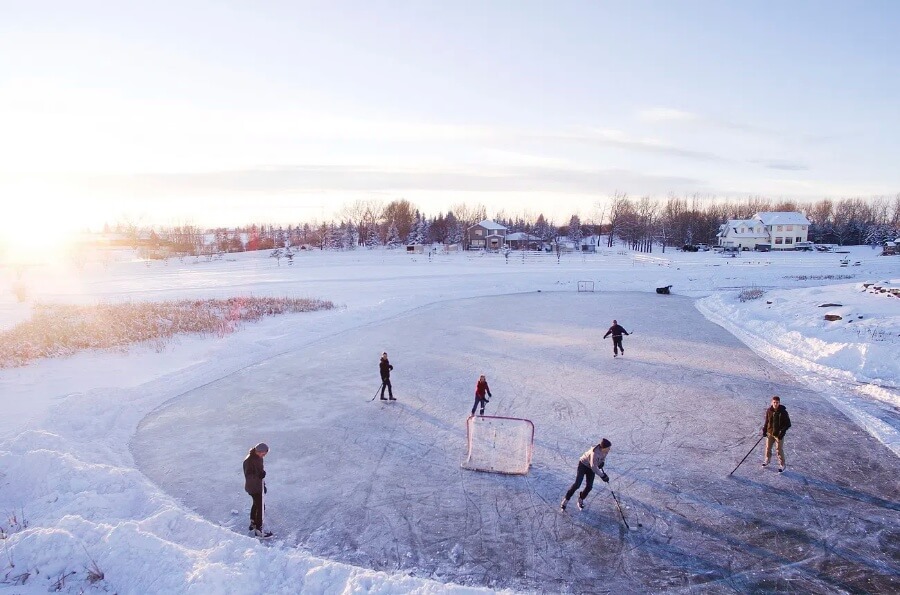 One of the best things to do in Maine in the winter is ice skating outdoors. Outdoor skating rinks are plentiful, and while indoor facilities exist as well, outdoor rinks let you enjoy the beautiful Maine scenery.
One of the most visited skating rinks is in Portland. Thompson's Point has an outdoor rink that measures over 10,000 square feet!
Strap on some skates, test your skills, and enjoy the crisp winter air!
21. Fat Tire Biking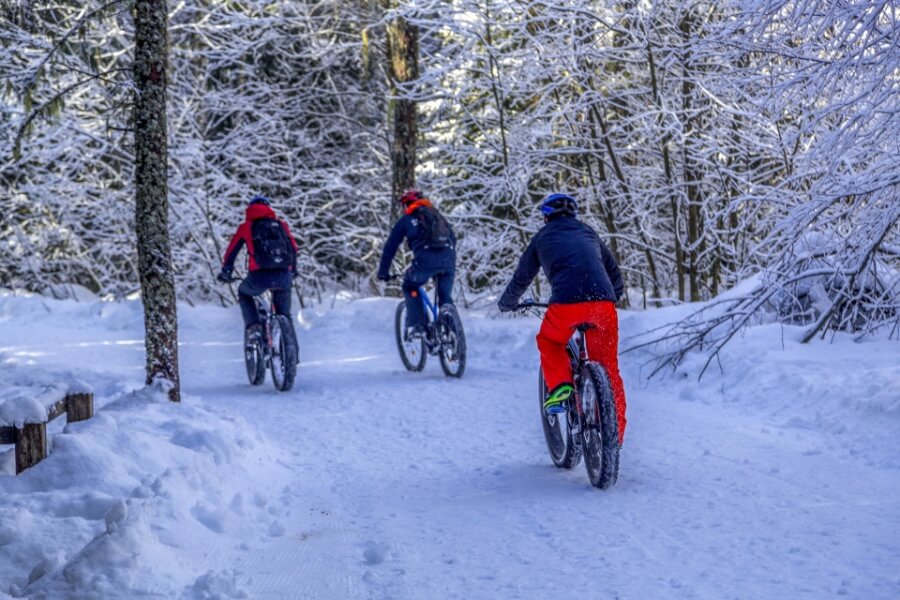 Fat tire bikes are not your ordinary bicycles! As the name suggests, they have special tires that are much chunkier and outfitted with unique treads. The tires let you bike over snow-covered trails with ease and much more safety.
Biking is a great thing to do during those long Maine winters. It's a chance to get out and explore snow-covered nature. Maine has many trails, but some of the best for biking are at Pineland Farms in Gloucester and Carter's Cross Country Ski Centers in Bethel.
22. Visit A Cozy Bookstore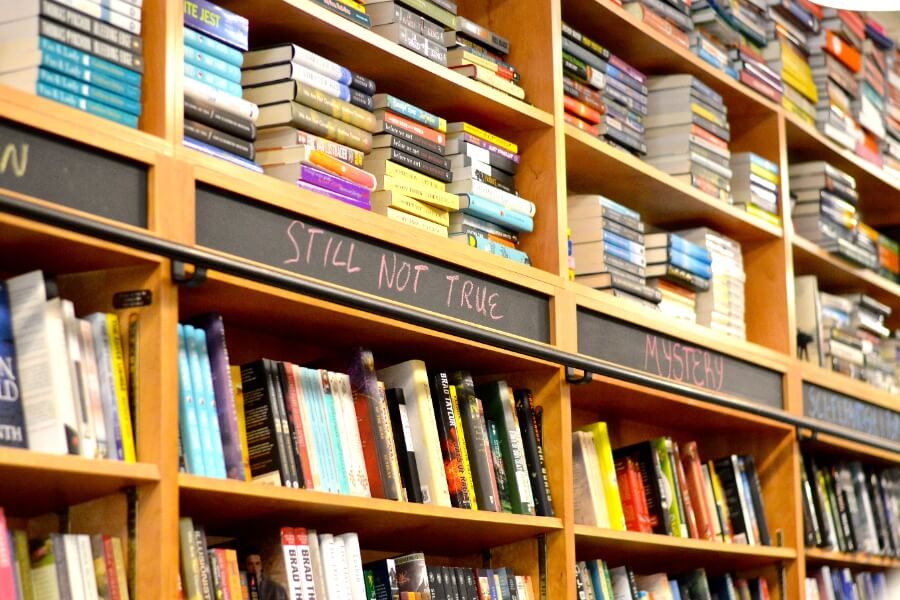 Maine has been the home of many famous authors like Stephen King, Nathaniel Hawthorne, Margaret Wise Brown, and more. As a result, bookstore culture is huge throughout the state.
Get a reprieve from the cold and shop at one of Maine's many local bookshops. Peruse the collection, cozy up for a quiet read, and see what hidden gems you can find.
Some of the most popular bookstores in Maine are The Maine Bookstore in Oxford and Print: A Bookstore in Portland.
23. Tobogganing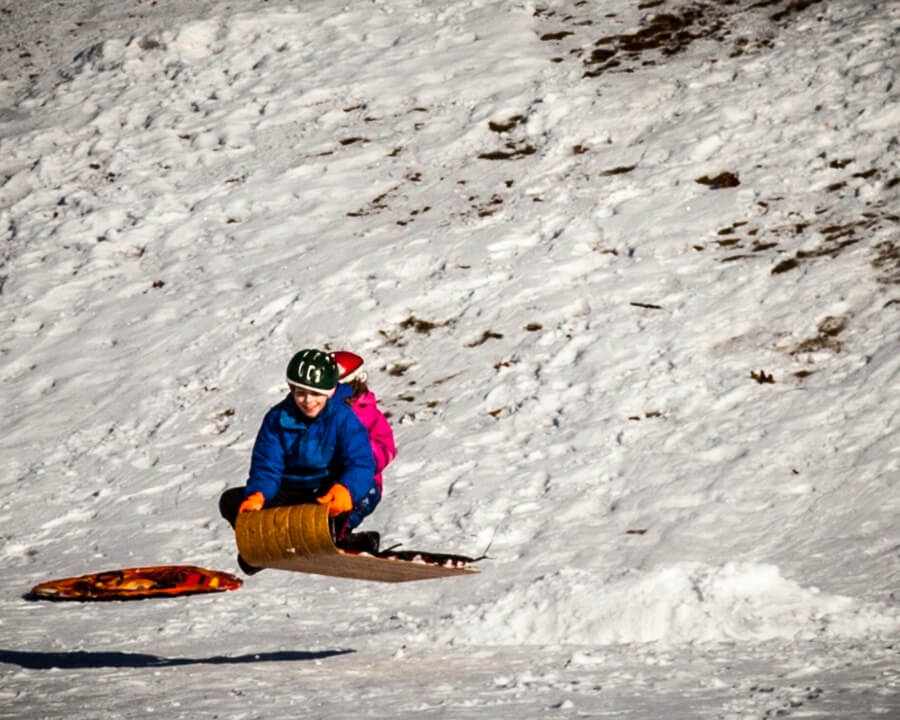 Toboggans are sleds you can use to race down hills and slopes. Anyone who grew up in the state will tell you it's a favorite winter activity in Maine for kids and adults alike.
You can go tobogganing virtually anywhere with a good hill. However, Maine holds many events where you can toboggan to your heart's content. For example, the U.S. National Toboggan Championship occurs every year in Camden.
If you're feeling competitive, you can gather a few friends and register to compete.
24. Try Ice Fishing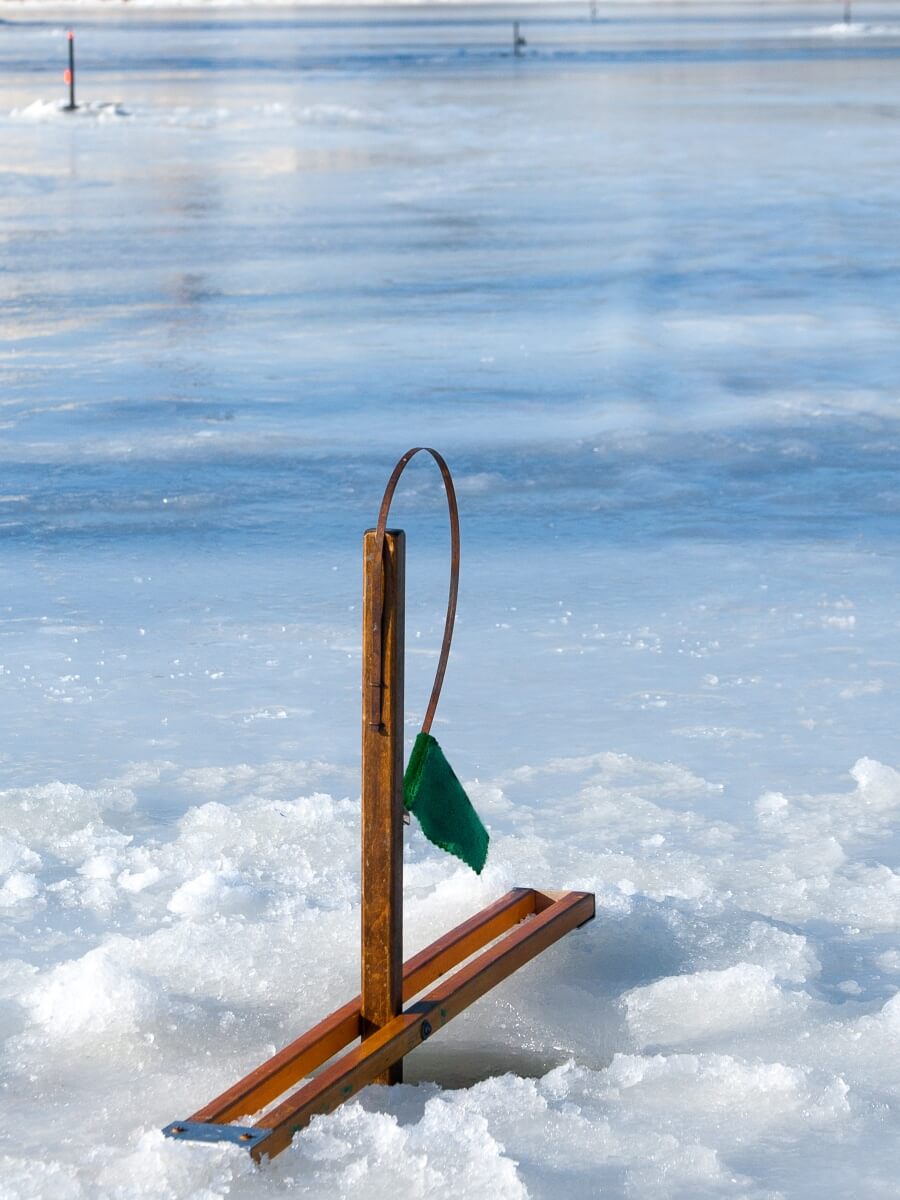 Don't let the frozen-over lakes and rivers fool you. There are still many ways to fish!
Ice fishing is another Maine staple for the winter. Throughout the state, you can rent an ice shack to stay warm as you fish through a drilled-out hole in the ice. You can catch everything from lake trout to smelt.
Ice fishing season is from the start of January to the end of March. Many cities and towns offer fishing opportunities. However, many flock to Moosehead Lake, Wilson Pond, and Acadia National Park for the best catches.
25. Visit A Lighthouse
Lighthouses are plentiful throughout the Maine coast. They often attract huge crowds during the summer, but visiting them during the winter can be a magical experience. These structures jut out of snow-covered coastlines, creating breathtaking photo ops.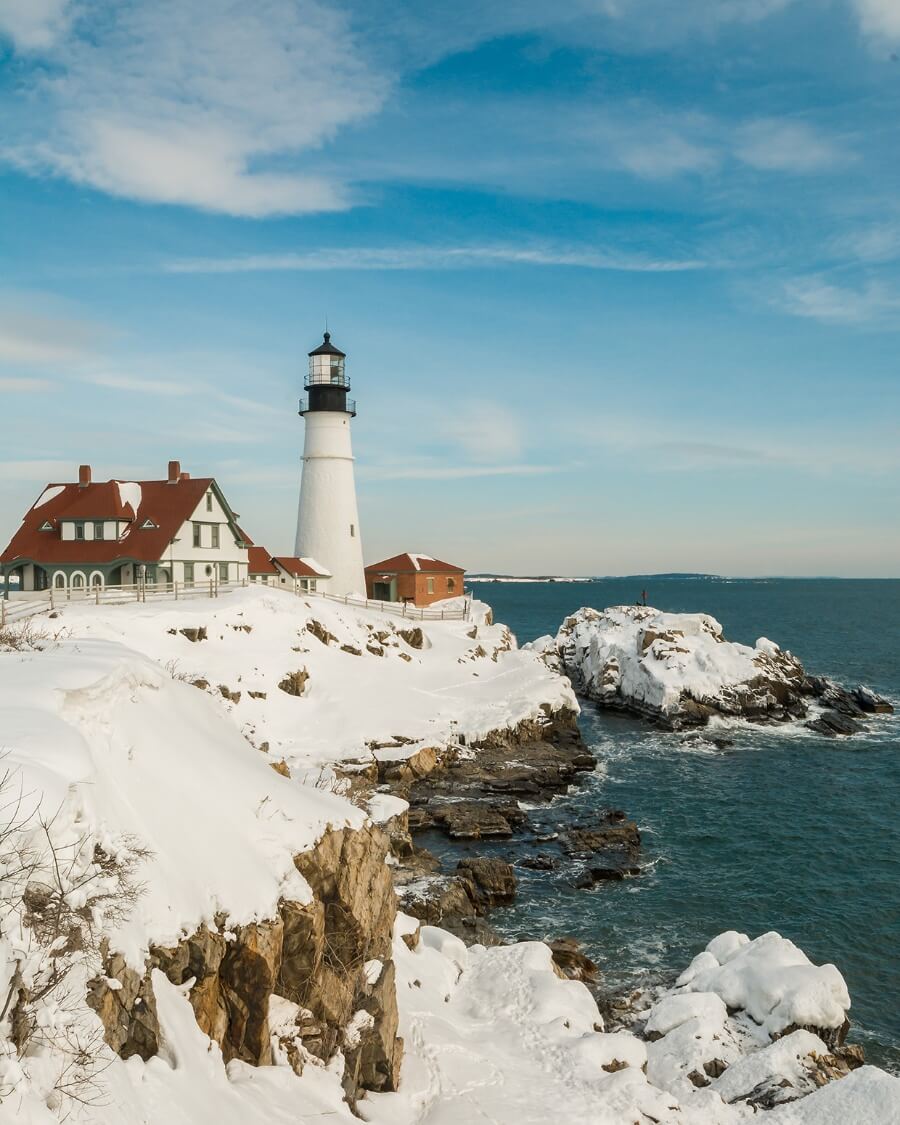 Several lighthouses give tours into the winter season and offer well-manicured grounds full of walking trails. If you want to see a lighthouse up close and personal, visit Cape Neddick Light in York, Burnt Coal Harbor Island Light on Swan's Island, or Portland Head Light at Cape Elizabeth.
26. Take The Family To The Railway Village Museum
You'll find the Railway Village Museum in Boothbay. The 35-acre museum is perfect for family adventures.
While open throughout the year, the winter season brings festive charm. You can ride the North Pole Express train that meanders around the museum's perimeter. At the end of the ride, kids can meet Santa, get a small gift, and leave a letter behind.
The museum itself offers many unique exhibits to learn about Maine's rail history. There are tons to see, and you can easily spend the entire day having fun with the family.
27. Go For A Sleigh Ride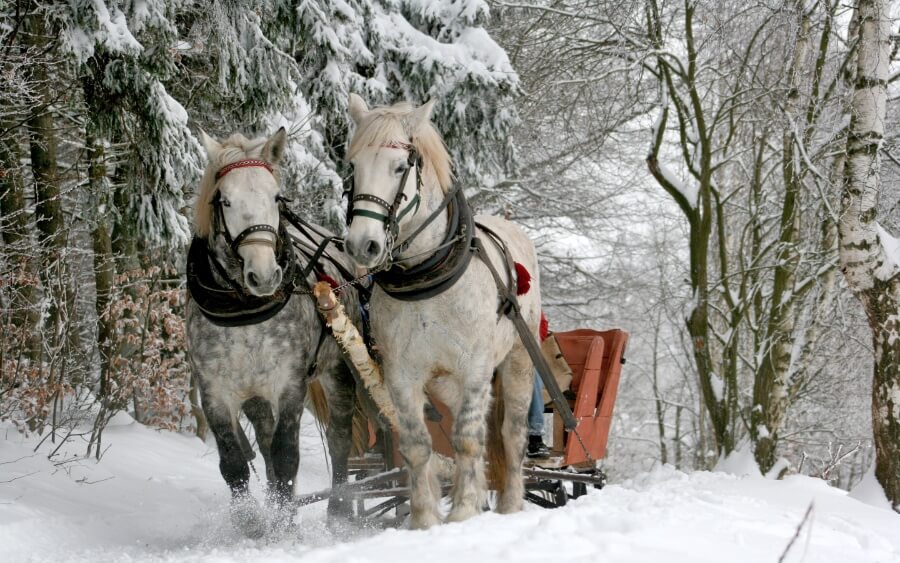 For anyone interested in creating a fairytale-like memory, this is one of the best things to do in Maine during the winter. There are several places in the state where you can ride a horse-drawn sleigh. Some good locations to try include Gorransen Farms in Dresden and Fireside Sleigh Rides in Brownfield.
Sleigh rides harken back to Maine's past when they were the main mode of transportation. However, they also offer a memorable holiday experience.
During the winter, you can hop onto a sleigh with a blanket as you sing carols and ring authentic sleigh bells!
28. Visit The Iconic Camden Opera House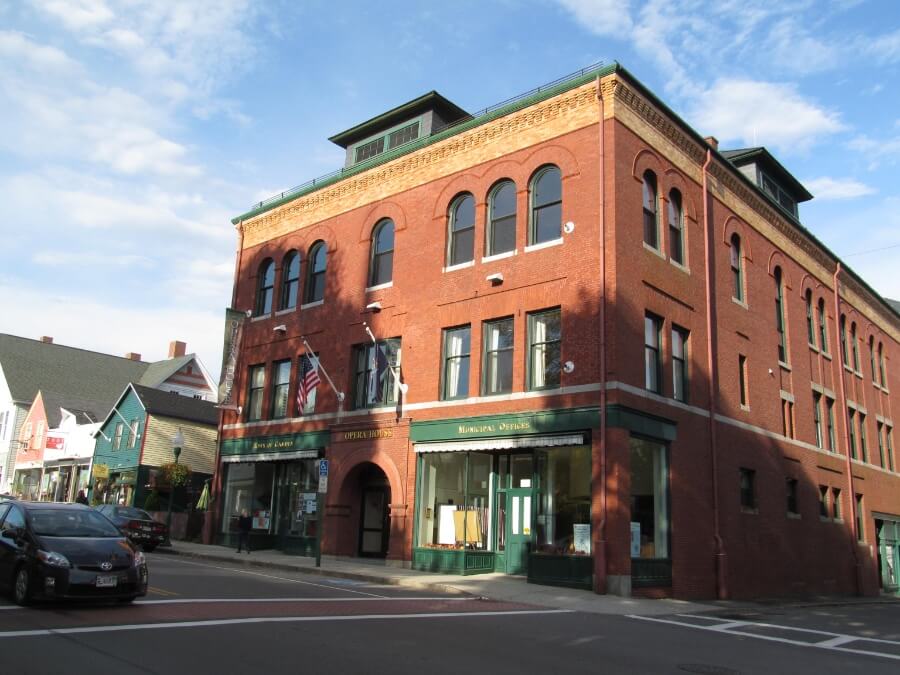 Camden Opera House in Camden is a historic event venue built in 1894. It's part of the National Registry of Historic Places and continues to host many amazing shows.
In the winter, you can catch the annual Christmas show for festive cheer. There are also many live musical concerts, plays, and more throughout the year.
The auditorium is breathtaking, thanks to its Victorian-era architecture and decor. It makes for an excellent date night and a memorable day trip with family.
29. Visit Gardens Aglow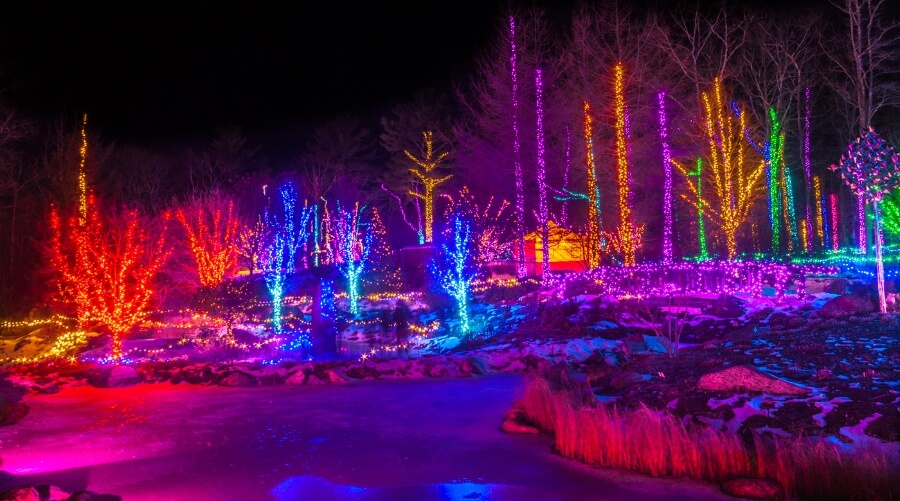 Gardens Aglow is a holiday event that occurs every winter at the Coastal Maine Botanical Gardens in Boothbay. If you're a fan of holiday light shows, this event is a must-see winter activity in Maine.
Lights adorn the property, creating a spectacular display you can't miss. Walk through the gardens to see themed light exhibits and tons of festive cheer. In total, there are more than half a million lights!
30. Carnaval ME
Carnaval ME is a relatively new event. It has occurred in Portland for the past few years and will likely become an annual tradition. Carnaval ME is a winter festival with activities for the entire family.
You can see live musicians, watch artists create ice sculptures, enjoy arts and crafts stations, and more. Kids will enjoy the many games and activity stations. Meanwhile, foodies can indulge in a bite to eat from some of the food trucks!
Carnaval ME has many vendors, and it's growing every year.
31. Do Some Storm Watching
Maine's weather can be unpredictable and intense. For those who love all things weather, storm-watching is a great thing to do in the winter. Crazy winter storms are common in Maine.
While they can be a little scary, they're also quite fascinating. Many love to travel into the state, find great accommodations, and watch as storms bring in several feet of snow.
It's such a popular activity that many hotels and lodges offer storm-watching packages. You can book a stay at Kennebunkport Inn in Kennebunkport, Stage Neck Inn in York Harbor, and more.
Closing Thoughts
We hope you found this list of Maine winter activities helpful, and consider trying something new the next time the weather gets cold. If you're in the Pine Tree State, there's always something to do when it gets snowy!
If you have any suggestions or feedback you'd like to share, feel free to connect with us. We love hearing from our readers.