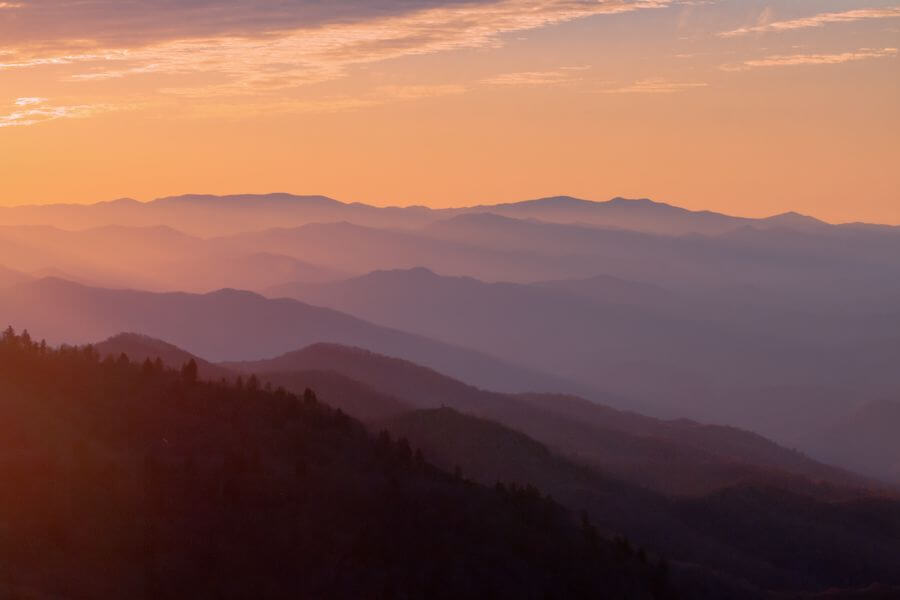 Camping on the East Coast offers some of the best variety in the world. Large areas of the northeast are still undeveloped and offer a pristine escape into nature. When you choose to camp in this region, you can pick from sites nestled within the mountains or ones that sit directly on the beach. You get to experience a whole range of climates with different plants and animals!
We love camping out east because there are so many different places to choose from, offering different facilities that fit any budget. Check out this list of best areas and campgrounds for inspiration!
Best Places To Camp On The East Coast
Because the East Coast encompasses such a vast area, there were a number of spots for us to consider. With that being said, we think these are some of the best places to camp on the East Coast, spanning from the northern reaches of Maine down to the tropical waters of southern Florida.
1. White Mountain National Forest – New Hampshire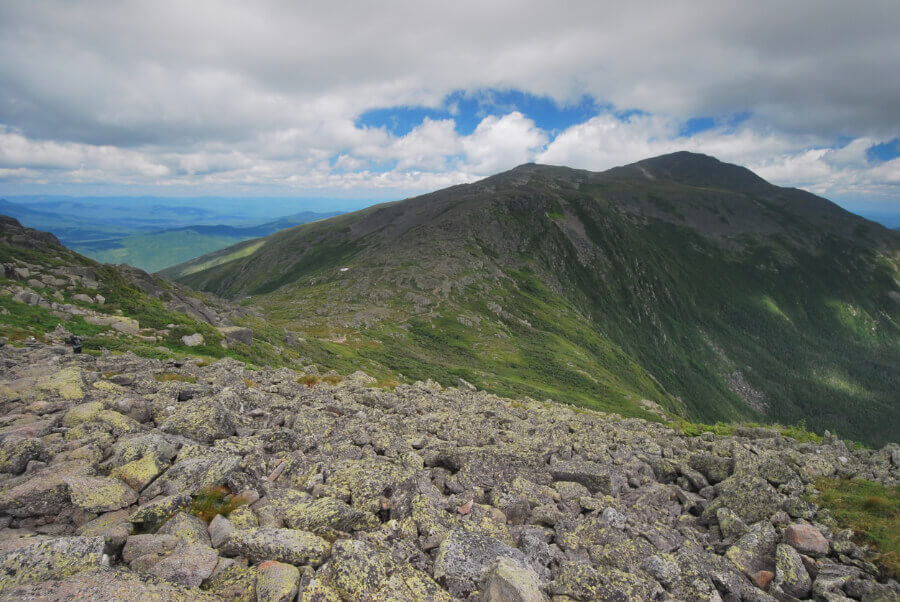 The majority of the 750,000 acres of White Mountain National Forest is located in northern New Hampshire with its easternmost reaches extending into Maine. There are over a thousand miles of hiking trails, including a small portion of the Appalachian Trail! If you like winter sports there are hundreds of miles of snowmobile trails and multiple ski areas.
To completely immerse yourself in this East Coast wilderness, you can choose to stay within the park at one of the twenty three campgrounds. There are also numerous designated dispersed camping areas if you choose to go backpacking.
Campgrounds vary from rustic to modern with great facilities. Most are open starting in mid-May through mid-October; Barnes Field and Hancock are both open year round however don't provide most services in the off season. Some take reservations while others are first come first serve.
2. Watkins Glen State Park – New York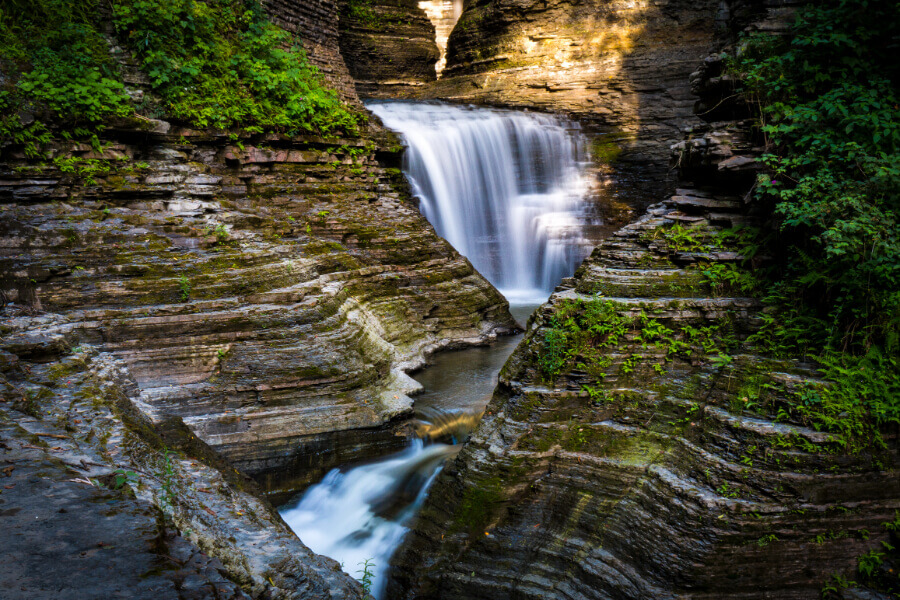 Located in the Finger Lakes region of New York, Watkins Glen State Park boasts nineteen mesmerizing waterfalls as a result of Glen Creek flowing through the deep, rocky gorge that defines the geography of this area. Go hiking within this state park or spend a day kayaking or fishing on nearby Seneca Lake.
You can camp within the park itself which is open mid-May through early-October. Reservations are required and can be done so up to nine months in advance. There are a total of 276 campsites, 98 of which have electric hookups. Most sites are well shaded!
This is a modern campground as it offers restrooms with flushable toilets and showers. There are multiple potable water stations and two dump stations. Dogs are allowed however you are required to show your dog's rabies vaccine certificate upon entry to the campground.
Address: 3530 State Route 491, Watkins Glen, New York 14891
3. Shenandoah National Park – Virginia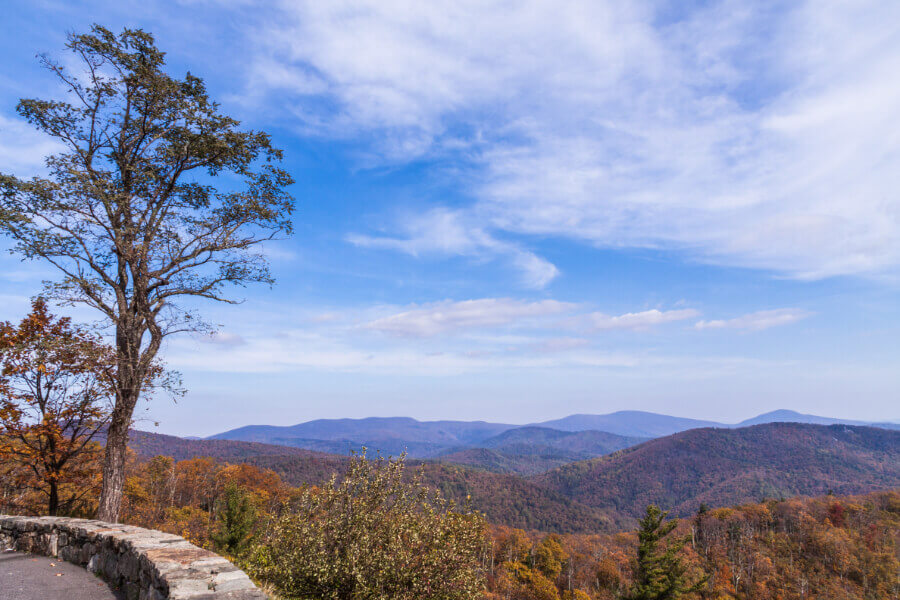 Situated within the Blue Ridge Mountains, Shenandoah National Park is home to dense forests covering rolling mountain peaks that are scattered with picturesque waterfalls and stunning overlooks. This national park offers some of the best camping on the East Coast.
You can choose from five different campgrounds all located along Skyline Drive that runs through the heart of the park along the crest of the mountains. If hiking isn't your thing, I suggest driving at least a portion of Skyline Drive, especially in the fall!
Most of the campgrounds open early spring and close late fall and offer most campsites for $30/night. There are no electrical hookups available in any campground. All five campgrounds have flushing toilets while only three have coin showers available. Be sure to check out the National Parks website to determine if a reservation is required, as not all sites are first-come first-serve.
4. The Adirondack Mountains – New York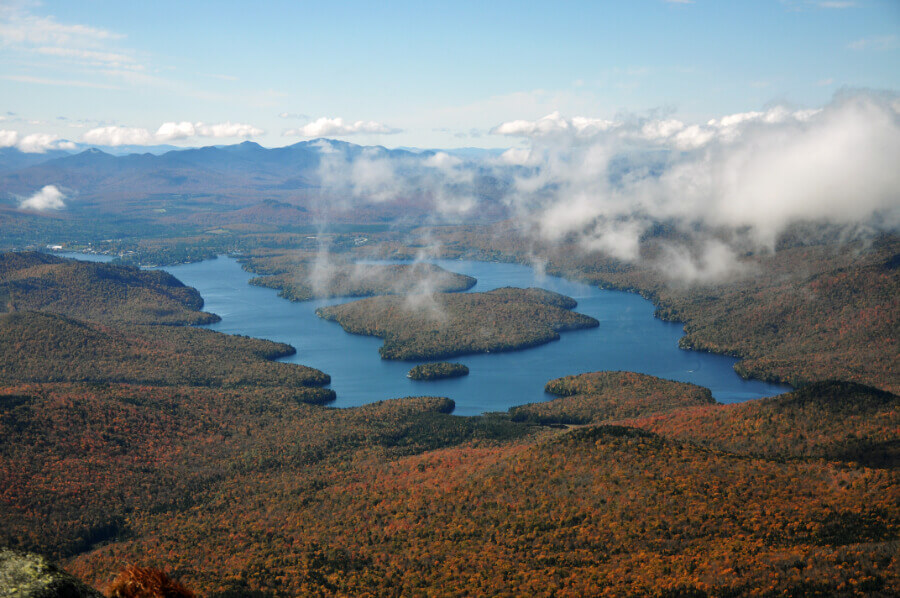 Summer in the Adirondack Mountains is something special and is easily one of the best areas to go camping on the East Coast. The Adirondacks have over two hundred lakes, some of the most famous being Lake Placid and Lake Tear of the Clouds. There is no entrance fee as this is such a vast area. It is open year round with plenty to do regardless of the season.
Since the list would be long, we've narrowed down some of our favorite places to camp within the Adirondack Mountains. If you are looking for a glamping experience with (almost) all the amenities of a hotel, we suggest Huttopia Adirondacks. There are 109 glamping tents ready and is a really nice place for a little treat yourself getaway.
There are numerous RV parks that offer sites with full hookups but also places for tent camping. Ausable Chasm Campground has a variety of options from rustic tent sites to full RV hookups (water, sewer, and electric), to cabins. Depending on what you are looking for, nightly fees range from $35 to $60.
Addresses:

Huttopia, 1571 Lake Ave, Lake Luzerne, New York 12846
Ausable Chasm, 2144 Route 9, Ausable Chasm, New York 12911
5. Great Smoky Mountains National Park – North Carolina and Tennessee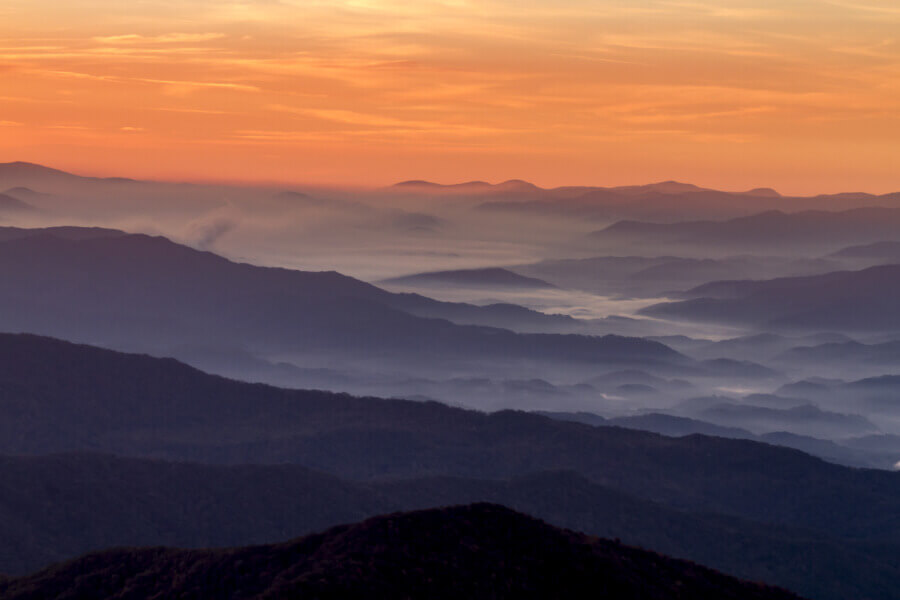 Spanning North Carolina and Tennessee, we highly suggest this national park if you are looking for some spectacular East Coast camping. The Smokies are a subset of the Appalachian Mountain range with over 800 miles of trails and an extremely diverse ecosystem. These mountains get their name from the natural fog that often spans the range. There are some of the best sunrises and sunsets to be seen over these mountains thanks to the fog. It feels magical.
Smokemont and Cataloochee Campgrounds are just two places at which to camp within the national park itself. Smokemont is open year-round while Cataloochee is seasonal. Both are $30/night. Neither campground has electric hookups but provide potable water.
Addresses:

253 Smokemont Campground Road, Cherokee, NC 28719
Cataloochee, 3576 Ranger Station Road, Waynesville, NC 37876
6. Acadia National Park – Maine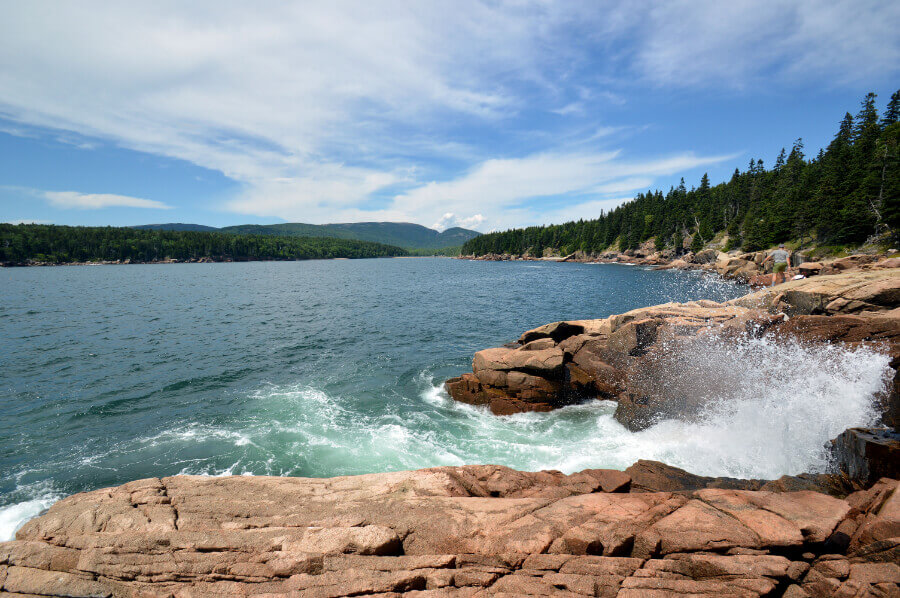 Acadia National Park is breathtaking. The waters of the Atlantic meet the craggy, rocky coastline of Maine in this national park. It is located mostly on Mount Desert Island however it extends to portions of more than sixteen other smaller islands.
We don't have a favorite place to camp on the East Coast, per say, but Acadia is one we keep coming back to thanks to its abundance of hikes up granite mountain peaks, pristine waters, dense coniferous forests, and diverse animal populations both on land and in the ocean.
We suggest Seawall Campground, located on the quieter western side of Acaida. It is just far enough away from Bar Harbor and the popular attractions on the east side of the park to decrease the number of tourists. It is, however, still only a thirty minute drive to these places so you won't feel totally secluded.
Seawall Campground has 59 RV-only sites and 43 tent-only sites, all of which are non-electric. Reservations are required and available up to two months in advance. Sites are a very reasonable $30 per night, especially when you consider the cost of other lodging in the area. There is seasonal potable water and a seasonal dump station. Flushable toilets are available but showers aren't.
Address: 668 Seawall Road, Southwest Harbor, Maine 04679
7. Mongaup Pond – New York
Mongaup Pond is located in the Catskills, about a two and a half hour drive north of Manhattan. This large lake is surrounded by dense forest which provides great shady camp sites.
The Mongaup Pond campground has loops surrounding the entire lake with a total of 163 trailer/RV and tent sites all of which are non-electric. There are restrooms with hot showers and a dump station on site. It is pet friendly!
Address: 321 Mongaup Pond Road, Livingston Manor, NY 12758
8. East Beach – Rhode Island
East Beach is a relatively untouched, undeveloped sandy barrier beach. It separates Ninigret Pond from the Atlantic Ocean. The clean sand is a perfect place to spend the day soaking in the sun in between refreshing swims. It's a popular beach for fishing and half-/full-day charters are available if you want to get out and fish on the water.
The East Beach campground is separated into two sections. One has five sites and the other has ten. All are for self-contained RVs, vans, and/or truck campers only. There are no utilities so be sure to bring everything you need with you, including water. There is a dump station located within ten miles of the campground.
Address: East Beach Road, Charlestown, Rhode Island 02813
9. Hither Hills State Park – New York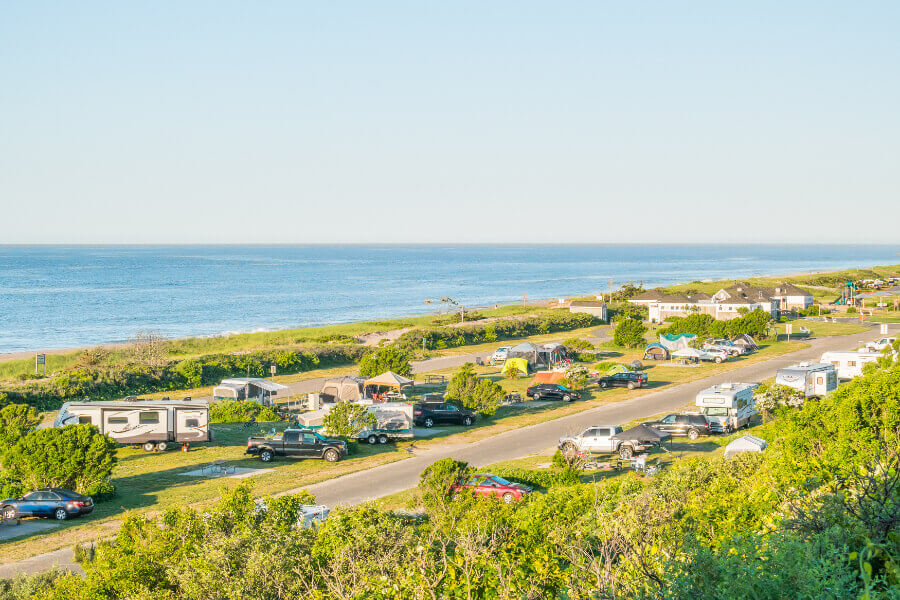 Located just outside of Montauk at the east end of Long Island, Hither Hills State Park offers a great area for beach camping. The state park includes a two mile long sandy beach, a large freshwater lake, and trails for hiking, cross country skiing and horseback riding. Drive the short distance to Montauk to enjoy boutique shops and delicious restaurants featuring fresh caught seafood.
The 190 site campground sits right along the ocean beach. There are restrooms and showers available for use but no dump station.
10. River's End Campground – Georgia
Tybee Island is a barrier island that's located twenty miles from Savannah. We love the laid back feel of this small town yet how close it is to the historic attractions in Savannah. There's a wide variety of water activities to choose from such as kayaking, surfing, and jet skiing. Tybee Island has its own marine center where you can observe and learn about local marine animals or take part in one of their educational programs.
River's End Campground is located just a short half mile away from the beach. There are a range of campsites available: full RV-hookups, electric and primitive tent sites, and cabins. This east coast campground offers free wifi, a laundry facility, a propane dispensary, a large swimming pool, and dog park. There are two modern restroom buildings with showers.
11. James Island County Park – South Carolina
If you are looking for a place to stay close to Charleston, James Island County Park is a great choice. There are paved trails that wend their way through the park. Within the day use area there is a dog park, a climbing wall, a waterpark, a high ropes course, and disc golf. Bike and boat rentals are available at the park so you don't have to worry about packing extra items.
The campground boasts nice facilities including showers, laundry, and a propane station. Free internet is available as well if you need to stay connected. There are multiple different sites offering different amenities: full hookup sites for $64-$75/night, water/electric sites for $59/night, and primitive tent sites for $35-$40/night.
There is also a shuttle that takes you to and from the campground into the heart of Charleston for $10 per person.
Address: 871 Riverland Drive, Charleston, South Carolina 29412
12. First Landing State Park – Virginia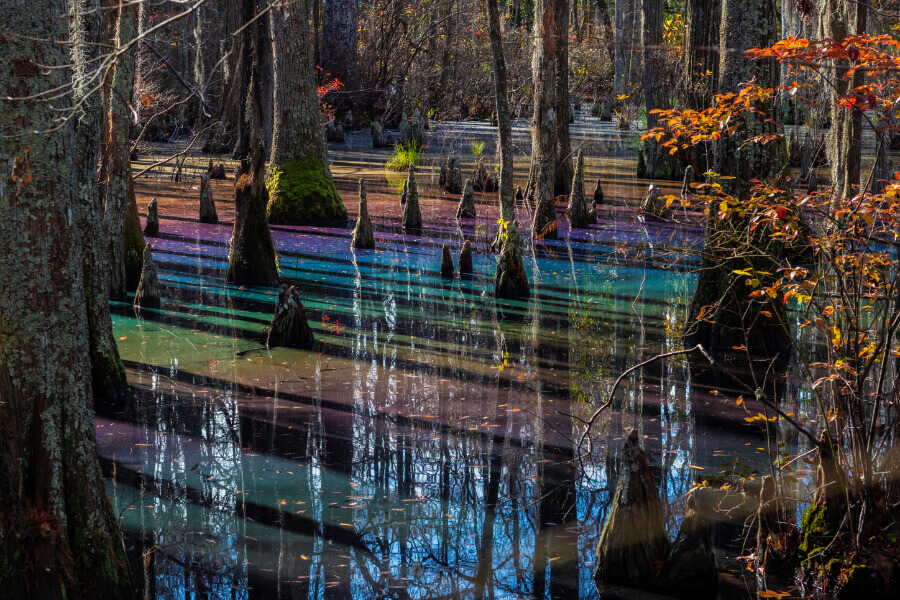 This East Coast campground and state park offers a nice break from the busyness of Virginia Beach. It is also the location where the first English colonists arrived in 1607 so it is packed with history.
In the fall, leaves that have dropped into the swampy waters release tannins that reflect different colors. The beautiful rainbows created are only able to be glimpsed in certain lights so it is a treat to see!
First Landing occupies over 2,500 acres of land and has a mile and a half long beach. Its campground has 205 sites and offers three different types of accommodation: campsites, cabins, and yurts. You have the option to choose a campsite with or without water and electricity. Each campsite has a picnic table and grill to enjoy delicious meals. There are bathrooms and shower houses. We really like this location because it's surrounded by dense forests.
Address: 2500 Shore Drive, Virginia Beach, Virginia 23451
13. Little River State Park – Vermont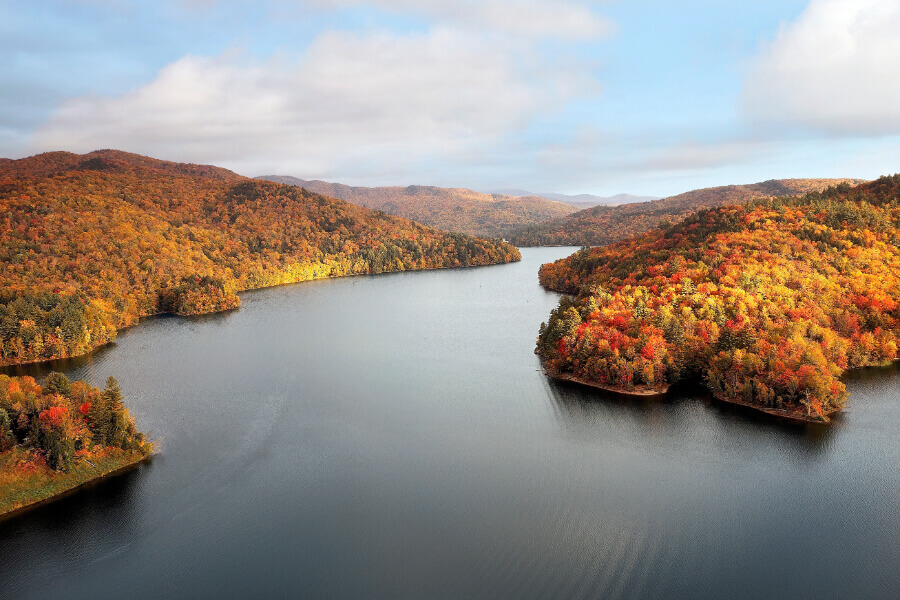 Considered the most popular state park in Vermont, we highly suggest visiting Little River both for day use or if you're looking to go camping on the East Coast. It is located within Mt. Mansfield State Forest and is home to Waterbury Reservoir which is the perfect place for boating, fishing, or swimming. Nearby, you can take a ride on the gondola at Stowe Resort or tour the Ben & Jerry's Ice Cream factory!
The campground offers 81 tent/RV sites, 20 lean-tos, and 5 cabins. There are also 27 newly added, remote backpacking sites available as well.
Address: 3444 Little River Road, Waterbury, Vermont 05676
14. South Mountains State Park – North Carolina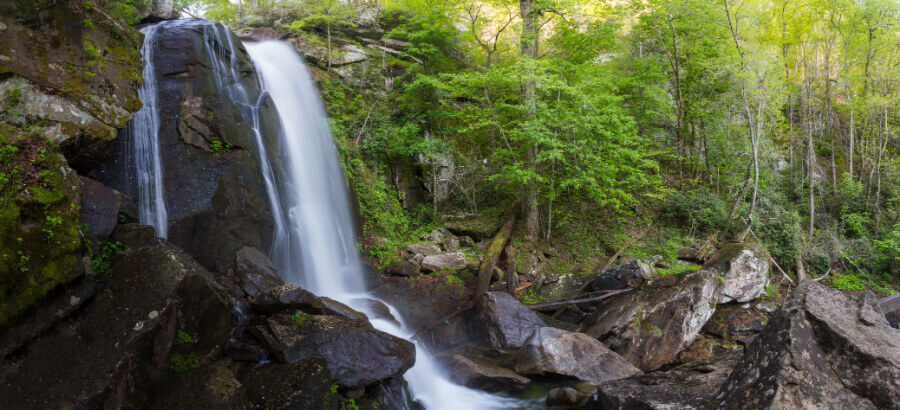 Located within seventy miles of Asheville, North Carolina, South Mountains State Park boasts some impressive natural features! One of the best hikes is to High Shoals Falls. There are dedicated mountain biking and equestrian trails.
There are numerous places scattered throughout the park for camping. There are rustic, backpacking tent sites as well as RV sites with electricity. Because of the abundance of equestrian trails, there are horse stalls and horse only campsites!
Address: 3001 South Mountain Park, Connelly Springs, North Carolina 28612
15. Edisto Beach State Park – South Carolina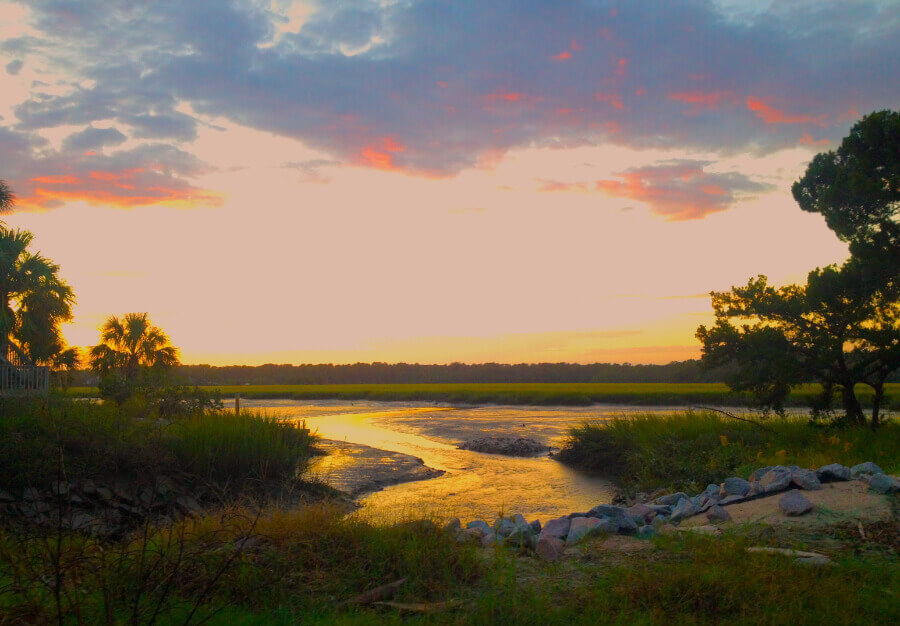 Edisto Beach offers great beach front camping on the East Coast. Obviously you can have fun doing all the normal beach activities, but we think the most exciting part of this beach is that it is a destination for Loggerhead sea turtles to nest. You may be able to see the turtles starting in May through October. If you're lucky, you can see the baby turtles hatching!
There are strict rules enforced during Loggerhead season so please abide so we don't disrupt their habitat. If you would like to get a closer look, ask a park ranger about their guided beach walks!
RV/tent sites are available in two separate campgrounds. All sites offer electricity. There are showers and bathroom buildings at each campground. There are plenty of sites with great shade; this information is listed in the reservation details so keep this in mind if you're camping in the summer!
Address: 8377 State Cabin Road, Edisto Island, South Carolina 29438
16. Big Cypress National Preserve – Florida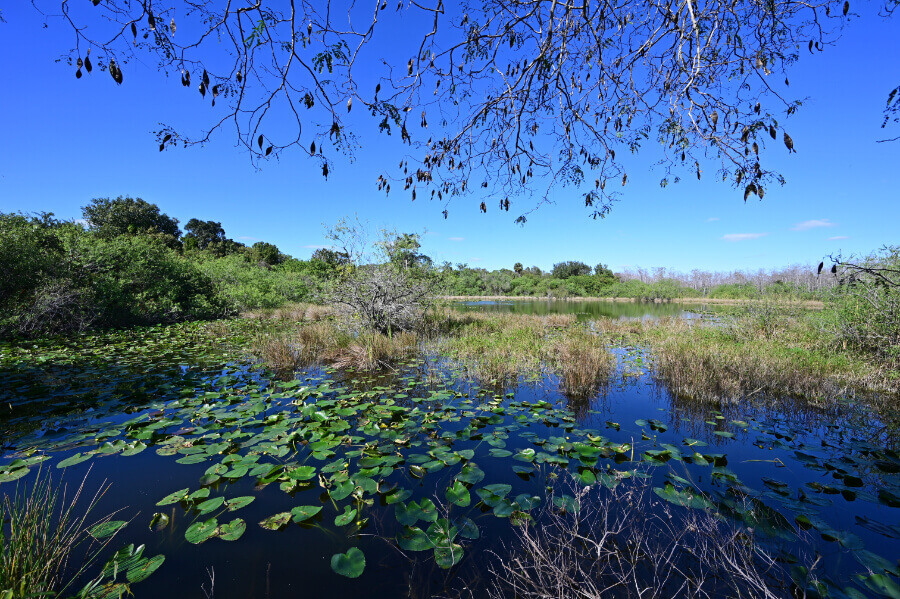 This massive, remote national preserve is located just north of the Everglades and offers amazing experiences. With a diverse ecosystem, Big Cypress National Preserve is home to the endangered Florida panther. This area has also been designated as an international dark sky park for some truly spectacular views of the night sky.
There are eight different campgrounds scattered throughout the park and are of various sizes, offering a range of facilities.
Address: 33100 Tamiami Trail East, Ochopee, Florida 34141
17. Cape Hatteras National Seashore – North Carolina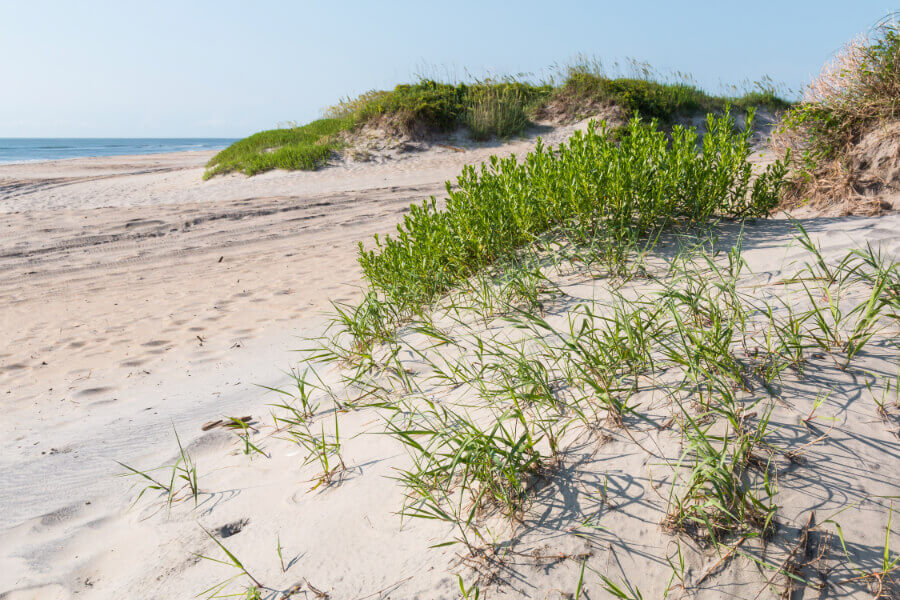 Cape Hatteras is located on a barrier island off the shore of North Carolina. This east coast camping destination is home to a multitude of plant and animal species. Keep an eye out over the ocean to spot whales and dolphins.
There are a total of 572 campsites located within four different campgrounds. Only one campground offers hookups but all have tent, trailer, and RV sites.
Address: 46375 Lighthouse Road, Buxton, North Carolina 27920
18. Fox Fire Riverside Campground – Tennessee
Just outside of Hartford, Tennessee, Fox Fire Riverside Campground is a fantastic spot if you want to go white water rafting. This campground is located on the Pigeon River which offers some of the best rafting (classes III-IV) in the state.
You can choose to rent one of the cabins or the cottage. There are tent and RV sites available. All RV sites have electrical hookup. Water and a dump station are located on the property. There are bathrooms and showers.
19. Hunting Island State Park – South Carolina
Hunting Island State Park offers year round camping on the East Coast where you can enjoy beach activities, go on a dolphin cruise, hike, bike and even have equestrian access to the beach in the winter.
Hunting Island offers 100 RV/tent sites with water and electrical hookups. A dump station and laundry building are both located in the park.
Address: 2555 Sea Island Parkway, Hunting Island, South Carolina 29920
20. Dry Tortugas National Park – Florida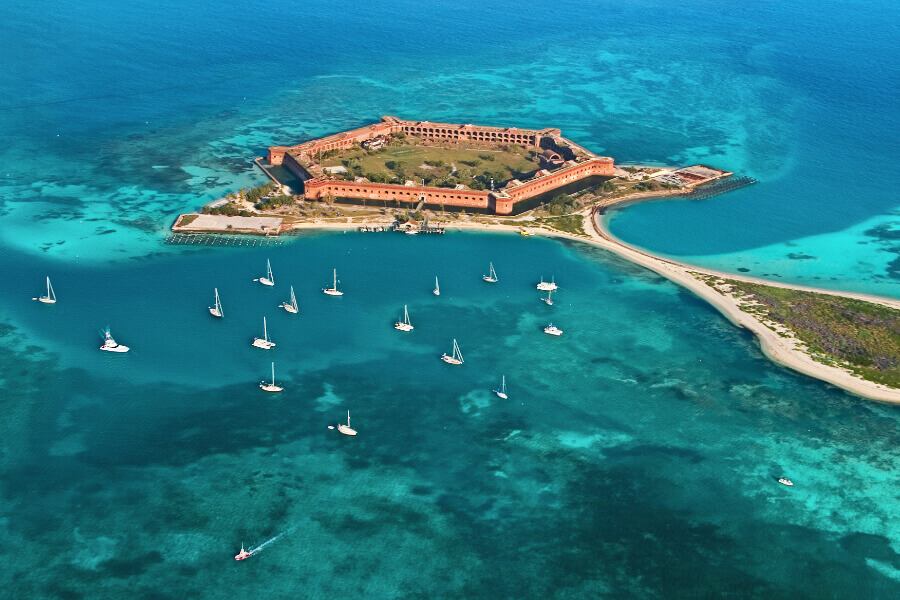 This camping destination is an incredibly remote and tropical paradise. The Dry Tortugas are a grouping of seven islands located seventy miles west of Key West. Known for the stunning aquamarine waters perfect for snorkeling, the Dry Tortugas are a perfect place for rustic camping.
A daily ferry carries ten campers to the island per day. Since so few get to travel here at one time, be sure to book far in advance! Garden Key campground is a primitive campground so you will have to bring EVERYTHING you need such as water, food, and fuel.
21. Four Mile Creek State Park – New York
Four Mile Creek is located fifteen miles away from Niagara Falls! You get to enjoy miles of trails that border Lake Ontario. The campground has 275 sites. Electric hookups are available, as are showers and flushing toilets. If you bring a dog, be sure to pack a copy of their rabies vaccine certificate that must be shown to a park ranger upon request.
Address: 1055 Lake Road, Youngstown, New York 14174
22. Provincetown Dunes Edge Campground – Massachusetts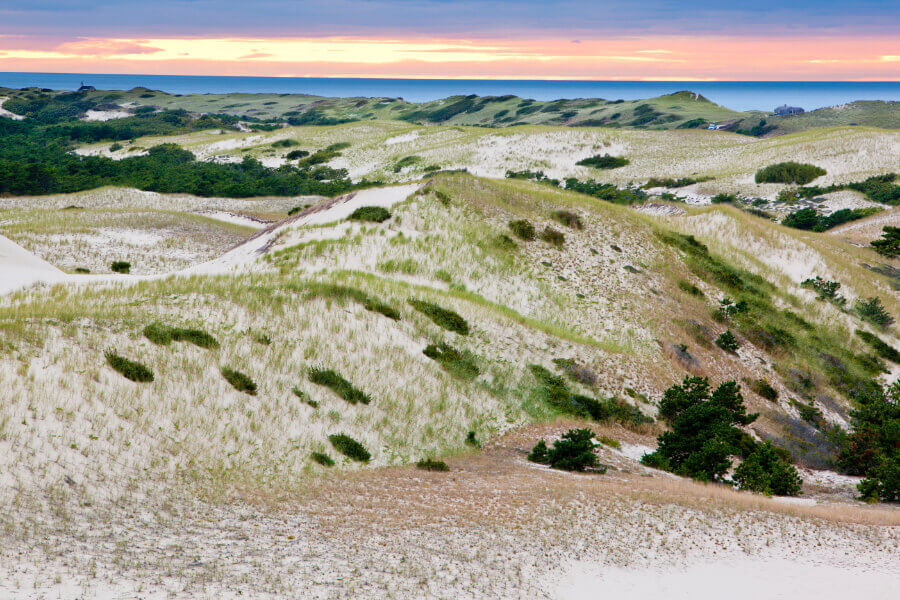 Provincetown is located on the tip of the Cape Cod peninsula and is the landing site of the 1620 Mayflower! This town is known not only for its historical significance, it's also a well known artsy and LGBTQ+ friendly town. Enjoy the upscale shops, restaurants, and frequent festivals!
Dunes Edge Campground is in an ideal spot that places you close to both recreational activities and city life. Dunes Edge has over one hundred campsites, including small bungalows. There are two shower/bathroom buildings on site with numerous water spigots. At the entrance there is a laundry facility, dump station, and a well stocked camp store.
Address: 386 U.S. 6, Provincetown, Massachusetts 02657
23. Hermit Island Campground – Maine
Hermit Island Campground sits on the southern coast of Hermit Island, nestled between the Atlantic and some fantastic nature. The campground consists of 271 rustic sites. No RVs or hard top trailers are allowed and neither are pets. There are hot showers, toilets, a snackbar, and a store within the campground.
Spend the day clamming or searching for tide pools located near the campground. If you prefer a more active day while camping on the East Coast, check out the hiking trails or take your bike out for a spin.
24. Libby's Oceanside Camp – Maine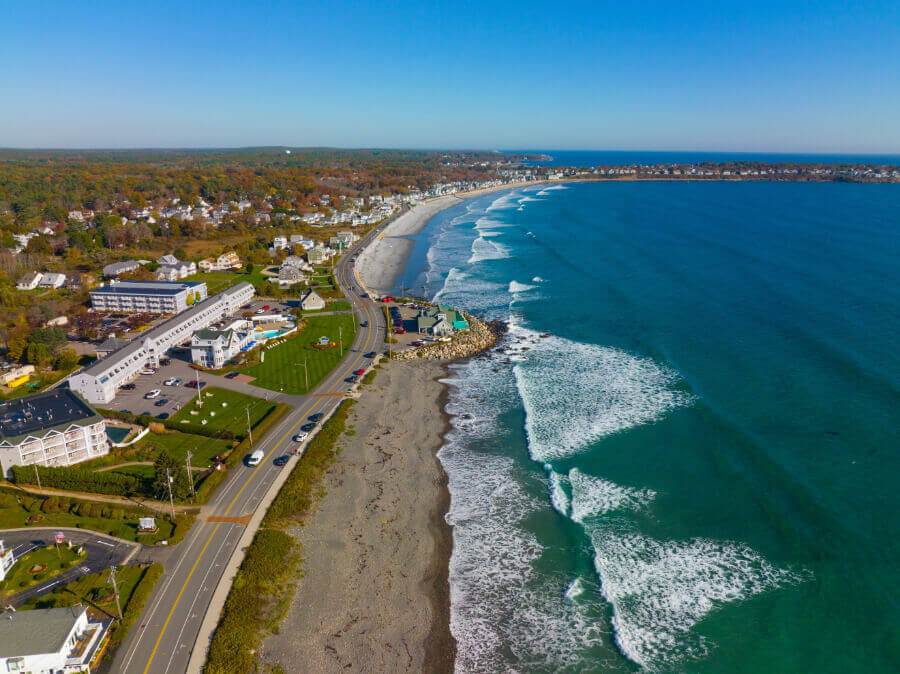 This is one of the more expensive places to go camping on the East Coast, but it's worth it. Located on the water, Libby's has 75 total campsites, 45 of which sit directly on the water offering some amazing views at sunrise. There are a number of sandy beaches and great surfing spots close by.
Situated on beautiful green grass, each site offers full hookups and free wifi. Their modern restrooms offer free hot showers. Because of these perks, we weren't totally surprised by the prices. We think Libby's offers some of the best campsites and facilities in the area if you want to splurge for the weekend.
25. Everglades National Park – Florida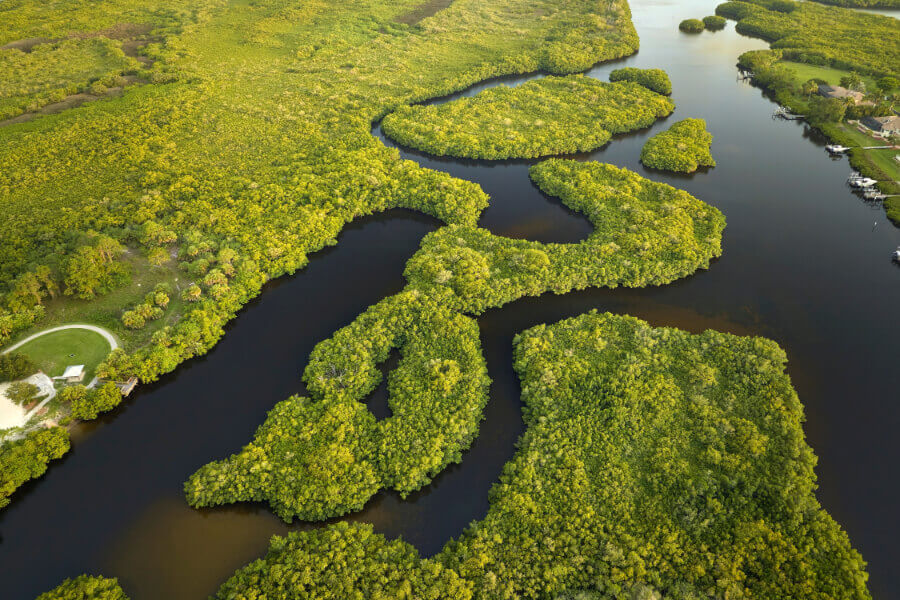 Home to one of the largest wetlands, Everglades National Park is a fantastic place for adventure. An important and protected area is home to a variety of animals, including manatees, American crocodiles, Florida panthers, and over three hundred bird species.
There are two campgrounds in the park that offer sites for RVs, truck campers, and more. This park has some of the most primitive campsites on the East Coast. If you want to try out a more rustic experience, look into their backcountry sites. Most are accessible only by boat. You will be housed in Chickee Huts which were originally designed by the native Seminole tribe. These huts are built on wooden platforms. They have a thatched roof and open sides, offering both protection from the elements and great ventilation for your tent.
26. Ocean Lakes Family Campground – South Carolina
Ocean Lakes is a mega park for all things camping located in Myrtle Beach, South Carolina. This is definitely one of the biggest campgrounds in the region. All 859 sites offer full hookups including sewer, cable TV, and free WIFI. This all-year campground has a coffee shop, bike rentals, outdoor games, a dog park, and lots of fun opportunities for kids.
27. Horseneck Beach State Reservation – Massachusetts
Horseneck Beach campground sits just behind the sand dunes overlooking Buzzards Bay, and it's one of the best places to go camping on the East Coast. Relax on the beach, swim in the ocean, or take advantage of the great winds for windsurfing off the coast.
There are standard electric and non-electric sites available for RVs, trailers, and tents. A dump station, restrooms, and showers are on site.
Address: 5 John Reed Road, Westport, Massachusetts 02791
28. Cape Henlopen State Park – Delaware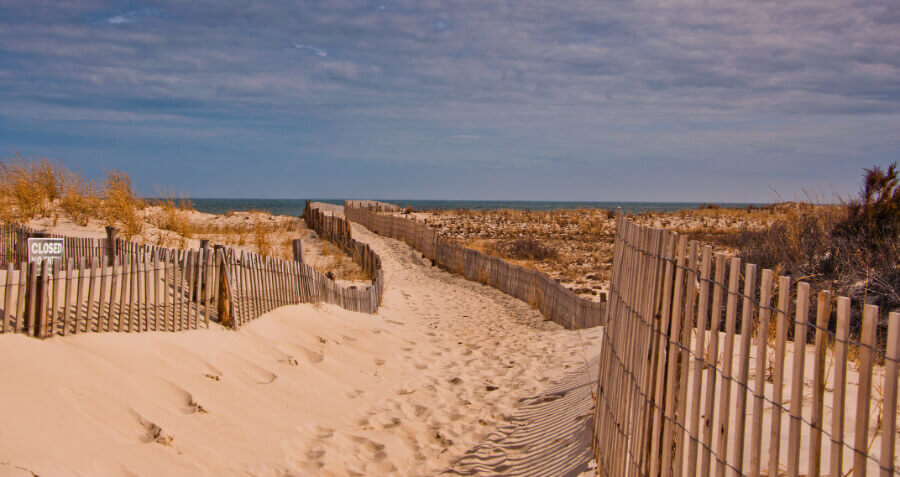 Cape Henlopen sits directly on Delaware Bay offering visitors over six miles of beach front. People come here to swim, fish, hike, kayak, and windsurf. The campground is newly renovated and has 177 sites. Different sites offer a variety of different hookups so take a look at their reservation page for more details.
Address: 15099 Cape Henlopen Drive, Lewes, Delaware 19968
29. Hammocks Beach State Park – North Carolina
Hammocks Beach State Park covers a large area that includes part of the mainland and three barrier islands. Kayaking through the marshlands is a popular activity. All camping takes place on Bear Island which is only accessible via ferry or kayak/canoe. There are 14 primitive tent sites and three group sites. Open fires are not allowed on Bear Island. Instead bring a propane stove for cooking.
Seasonal amenities include water and restrooms with hot showers. Most sites do have picnic tables. Pets are allowed!
Address: 1572 Hammocks Beach Road, Swansboro, North Carolina 28584
Wrapping Up
If you haven't already, try camping on the East Coast. We hope this list has provided you with some inspiration to travel someplace new!
If you have any questions about the locations above, feel free to connect with us on social media and ask.