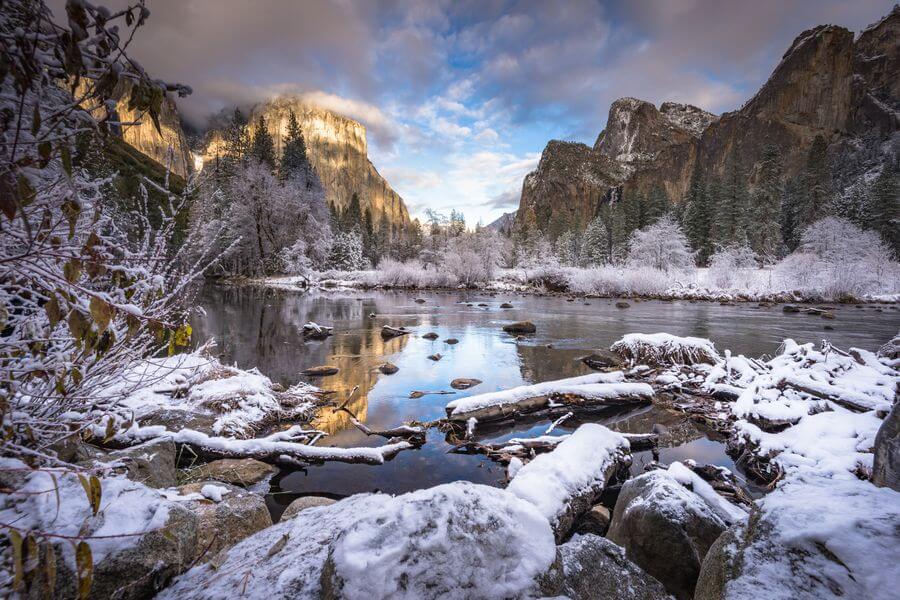 The best winter vacations in the US all have a few things that make them shine during the colder seasons. But as you'll find out, they all have something unique to offer as well.
This list of places to visit in the winter will give you plenty of inspiration when deciding where you should go on your next trip.
1. Breckenridge, Colorado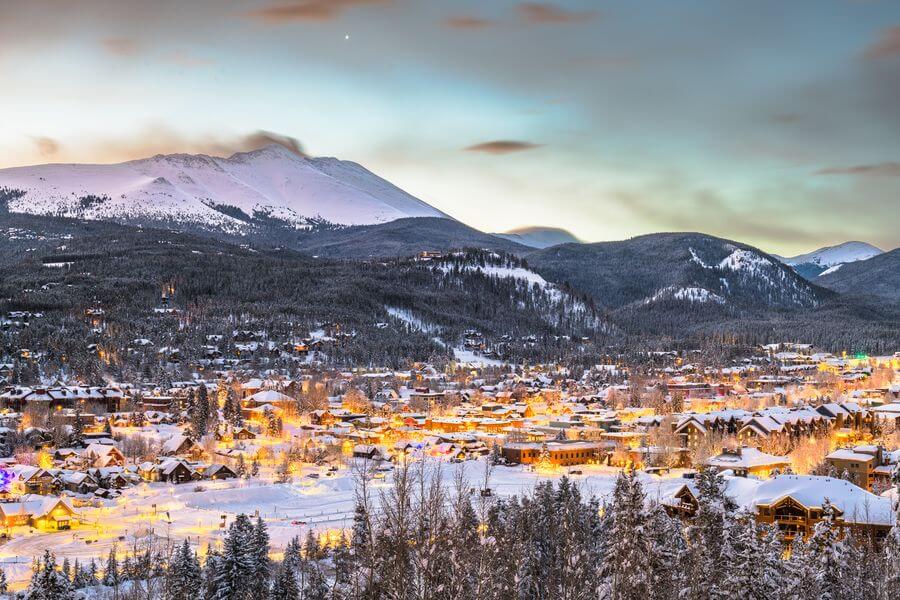 Breckenridge isn't just a snow-covered wonderland, but a vibrant community filled with unique experiences that make it one of the best places for a winter vacation in the United States.
The mesmerizing scenic beauty of fresh snowfall and your passion for outdoor activities will find their perfect blend here. With five peaks catering to all skill levels and over 2,900 acres of rideable terrain, it offers ample skiing and snowboarding options – it even plays host to international skiing events!
For Nordic skiing enthusiasts or those interested in snowshoeing, there are two centers featuring more than 30 miles of groomed trails interconnected for endless exploration. There are also family-friendly adventures like sledding hills to sleigh rides. You can even try guided snowmobile tours or dog sledding through the Rockies!
Main Street has a ton of stores for shopping, while its Victorian mining roots lend an irresistible charm to the area. And if you're a foodie you can enjoy high-quality hot chocolates or sample a number of different kinds of foods.
2. Yellowstone National Park, Wyoming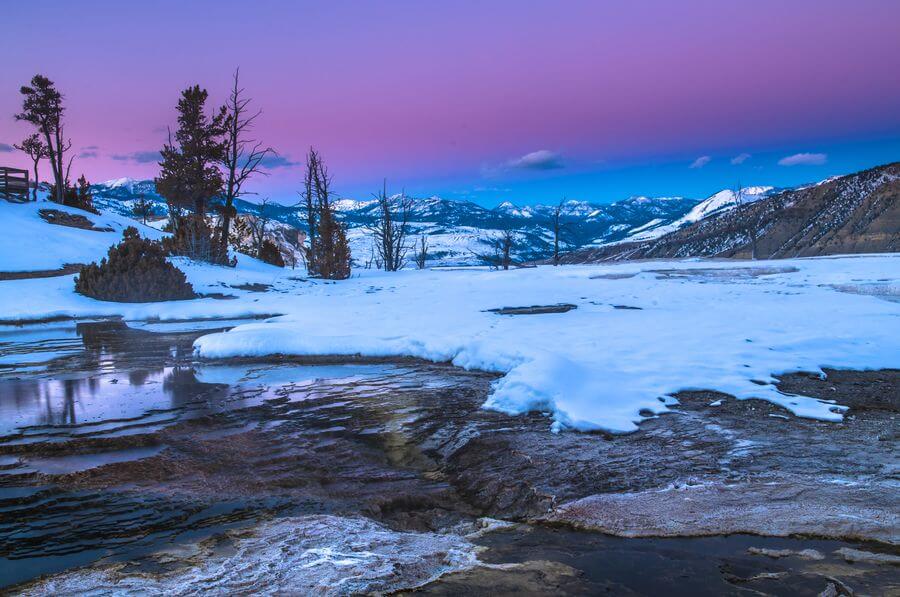 It's hard to describe the tranquility of Yellowstone National Park during the winter. With snow-covered landscapes and stunning geothermal features, the majesty of the park is transformed by a blanket of white that offers an atmosphere unlike any other season.
While many areas are closed to regular traffic, you can still enter through the North Entrance. Take an awe-inspiring drive to Mammoth Hot Springs and Lamar Valley. Marvel at iconic sights such as Old Faithful geyser and colorful hot springs adorned with snow, or catch your breath at the sight of frozen Yellowstone Falls nestled against the backdrop of the majestic Absaroka Range.
Winter also presents unparalleled wildlife watching opportunities. Keep an eye out for bison, elk, and possibly even wolves or grizzly bears!
Instead of hiking, try some cross-country skiing or snowshoeing to traverse the area on foot. You can also go on snowcoach or snowmobile tours as another way to explore the area.
And don't worry, there are still a number of lodging options available in or around the park during the winter.
3. San Diego, California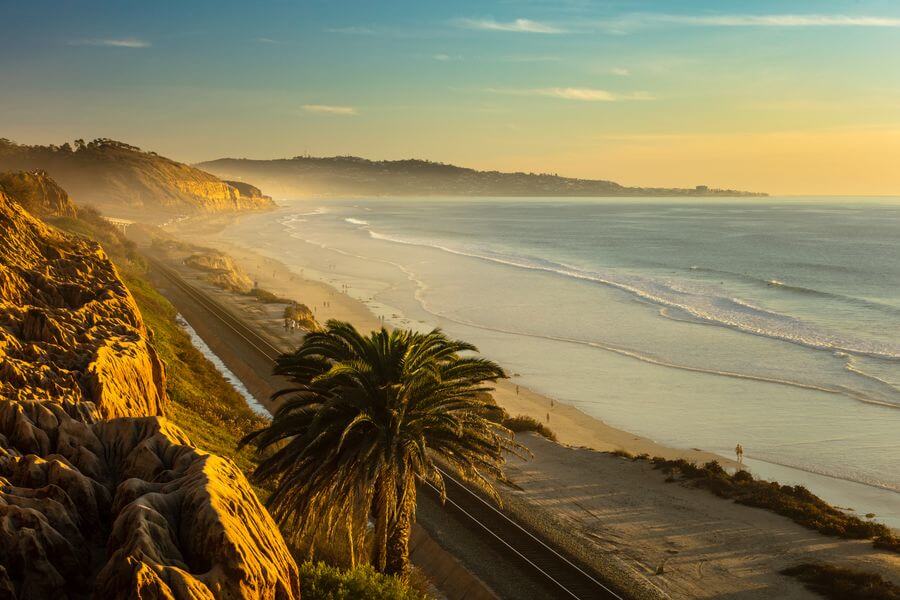 If you're looking for a less snowy place to visit during the winter in the USA, San Diego is definitely a city to consider. With its mild winter temperatures ranging from 50 to 65 degrees, it's an ideal retreat from harsher climates.
You'll find over 100 miles of coastline featuring world-renowned beaches like Pacific Beach and La Jolla where you can do some surfing, kayaking, or simply bask in the sunshine.
When night falls, areas like Old Town and the Gaslamp District come alive with a vibrant nightlife and diverse dining options. It doesn't matter what kind of food you're in the mood for, you'll be able to find it here.
For lovers of culture and history, there are fascinating museums including the USS Midway Museum, gardens, and art galleries. And outdoor enthusiasts can explore over 70 miles of pristine beaches or hike in Torrey Pines State Park.
Pro Tip: Stop by Little Italy for some great restaurants, shopping, and local events.
4. Mount Hood, Oregon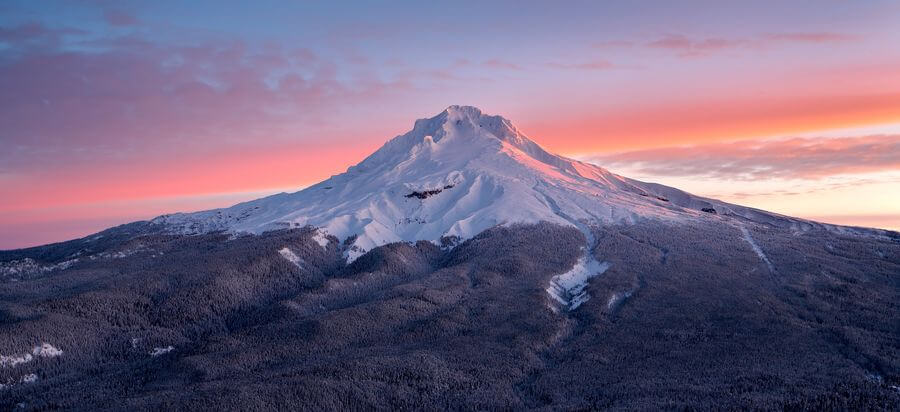 Mount Hood's snow-capped peaks and enchanting winter landscapes aren't just beautiful, they're an invitation for epic winter adventures.
This US winter destination is just a short 90-minute drive from Portland, where the million-acre Mt. Hood National Forest offers varied accommodations suitable for all types of adventurers.
You can hit the slopes (with over 4,500 acres of skiable terrain spanning five different ski areas) or get your adrenaline pumping with tubing and snowboarding sessions under twinkling stars on the country's largest night-skiing terrain.
If you want your vacation to be a little more mellow, strap on some snowshoes and explore serene trails like the Mirror Lake Loop Trail, or go for some peaceful cross-country skiing through the dense forests.
If you're keen on learning about regional history, make sure to visit the Mt. Hood Cultural Center and Museum that has an impressive collection of snow skis and associated equipment. And when you're done, the Mount Hood Christmas train ride is complete with hot cocoa and cookies while you enjoy picturesque views of the mountain in the distance.
5. Mount Rainier National Park, Washington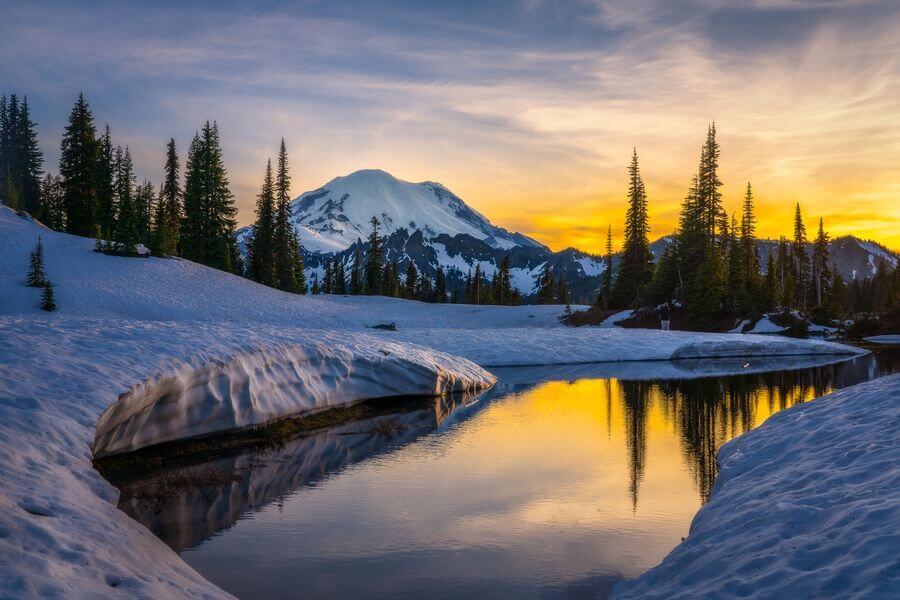 Mount Rainier National Park boasts ancient glaciers, stunning alpine lakes, and an array of activities to ensure that you'll always be on the move.
As the highest peak in the Cascade Range, this active volcano is surrounded by 142 square miles of pristine wilderness, making it one of the best winter vacation spots in the US. Seeing it up close is nothing short of breathtaking.
You can hike through miles of trails suitable for all fitness levels or join ranger-guided snowshoe walks under snowy skies. Marvel at ancient giant red cedars and firs as you explore, or get your adrenaline pumping with some snowboarding or skiing.
After a day packed with adventure, you can rest at The National Park Inn at Longmire where they offer lodging and to-go dining.
6. Oahu, Hawaii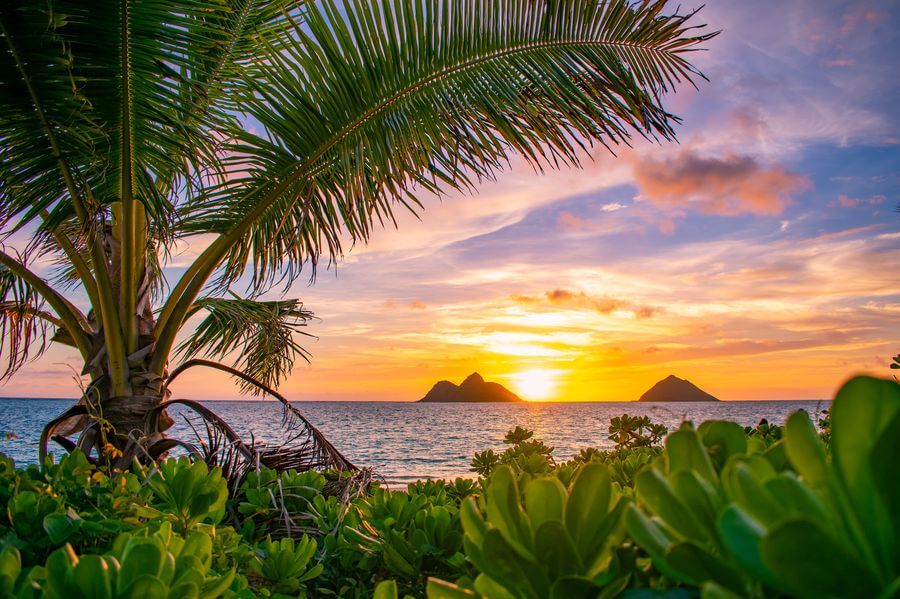 Imagine escaping winter's chill to bask in the warm embrace of Oahu, Hawaii, where you'll swap snow boots for flip flops and hot chocolate for fresh fruits. Winter temperatures here average somewhere between 64 and 77 degrees, which is hard to beat. Plus, you'll enjoy fewer crowds, better rates, and shorter lines at this time of the year.
On Oahu you can immerse yourself in a mix of bustling city life and natural beauty with an alluring blend of modern and ancient influences. As a history buff, tour sites like the Pearl Harbor National Memorial (book your tickets ahead of time) or enjoy a walk down Waikiki Beach.
If you're more of a thrill-seeker, go surf Pipeline on North Shore or explore underwater wonders through abundant snorkeling and scuba diving opportunities. You could also take a kayak or paddleboard to enjoy unique water-level views or sign up for a dolphin watching excursion for an unforgettable encounter with some fascinating animals.
Numerous picturesque hikes are available as well. Makapu'u Point trek is quite popular, and attractions like Sea Life Park Hawaii and Byodo-In Temple within the Valley of the Temples are absolutely incredible.
For a taste of local culture, try attending a luau. After that unique dinner experience, do some sailing or join a sunset cruise for a beautiful way to end the day.
7. Asheville, North Carolina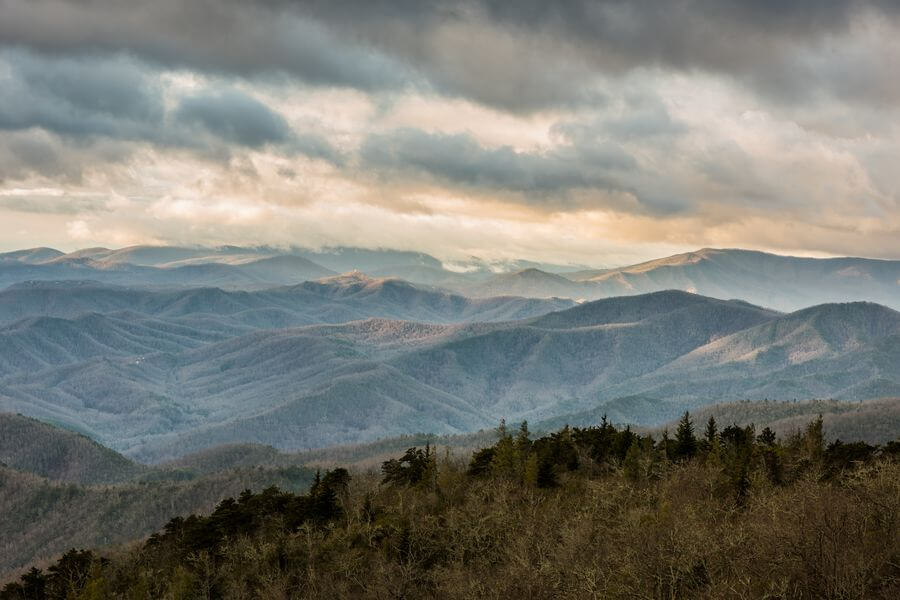 If you're looking for a great winter trip in the USA, Asheville should definitely be on your list. For those who are outdoorsy, there is plenty to do on the trails (either hiking, snowshoeing, or skiing) and a number of beautiful areas to explore.
If you crave culture and city life, immerse yourself in Asheville's vibrant arts scene along the French Broad River or experience some live music. And don't miss out on visiting iconic landmarks like the Biltmore Estate, America's largest home.
After a day full of winter adventures, unwind with some local brews or visit some of Asheville's finest restaurants. You probably won't need a reservation since things are not very crowded this time of year. Plus, you'll find great deals on lodging where you can cozy up by the fire.
With its mild winters allowing for extended stays and an array of activities catering to both outdoor enthusiasts and cultural explorers alike, Asheville offers an unbeatable balance that makes it one of the best places for a winter vacation in the United States.
8. Salt Lake City, Utah

Salt Lake City is a winter spot that will satisfy your craving for both adventure and relaxation alike. And trust us, its reputation as one of the best places in the US to visit in the winter isn't only because it's surrounded by mountains or because it boasts some of the best snow in the world.
What many people know is that there are eight ski resorts within an hour of the airport, with four being world-class (Solitude, Brighton, Snowbird, and Alta).
But if you're not into skiing or snowboarding, don't worry! You can also enjoy ice skating, snow tubing, or even exploring enchanting ice castles. Want to try something new? Sample some Cosmic Curling at the Utah Olympic Oval or explore trails for snowshoeing and cross-country skiing in Millcreek Canyon and Big Cottonwood Canyon.
And when you need some downtime after all those outdoor activities, Salt Lake City has a thriving craft beer scene and inviting coffee shops where you can warm up and relax.
If you want to broaden your exploration a bit, Park City is just around the corner and quite accessible during the winter season. Even non-skiers have plenty to do here with numerous restaurants, shops, and museums to check out. Plus, it's just downright gorgeous on snowy mornings.
In short, whether you're an expert skier or prefer sipping hot cocoa by the fireplace, Salt Lake City ensures no moment of your winter vacation goes wasted!
9. The Grand Canyon, Arizona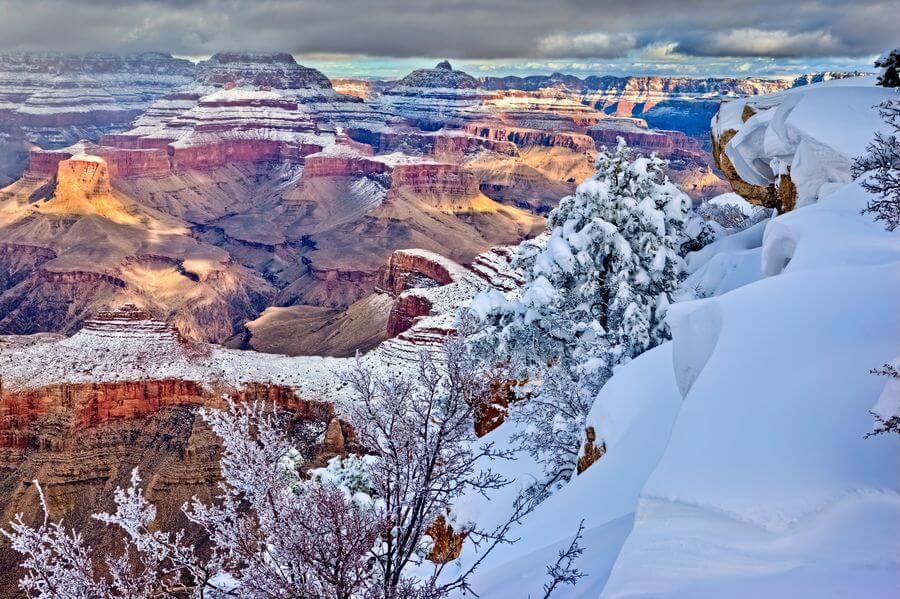 While many associate a trip to the Grand Canyon with summer travel, it's actually a fantastic destination for an offbeat winter getaway.
With far fewer crowds and amazing opportunities for pictures, you'll find yourself in awe of the iconic orange landscape, dramatically highlighted by a backdrop of glistening snow.
Despite cooler temperatures and shorter days, several scenic trails and viewpoints are still open for exploration, offering a more tranquil experience compared to the peak seasons.
Sunny days are perfect for strolling along the canyon rim or trying one of the popular winter hikes like Bright Angel Trail. Be ready though, things might be a bit icy!
For more extreme outdoor adventurers, there's even a multi-day South to North Rim hike. This requires you to be well-prepared, but those who have done this hike always say that it's amazing.
If solitude is what you're after, do a quick one-mile hike to Shoshone Point and experience the serene views. Winter provides a new lens through which to appreciate the environment and views of the canyon.
10. Charlotte, North Carolina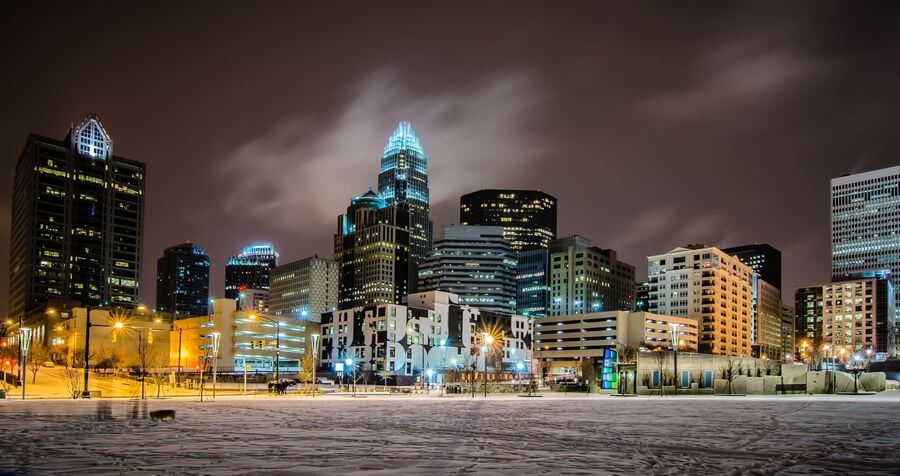 You'll find a delightful blend of holiday cheer and outdoor adventure in Charlotte, North Carolina, making it a must-visit destination for a winter vacation.
With its mild winters luring you outdoors, be sure to explore the U.S. National Whitewater Center's massive ice rink or join in on the fun at WinterFest at Carowinds with cookie decorating and ice skating.
If you want to get into the festive spirit, visit Gingerbread Lane at the Ballantyne Hotel or go shopping at Charlotte Christmas Village. And don't miss out on McAdenville's Christmas Town, rated as one of the best holiday light displays in America!
For a dash of culture, watch The Nutcracker performed by Charlotte Ballet or visit the German Christmas Market at Olde Mecklenburg Brewery where fire pits and holiday music set a cozy atmosphere.
There's plenty to do if you're traveling with family or pets as well. You can meet Santa Claus or enjoy a number of dog-friendly activities around town.
11. Lake Tahoe, California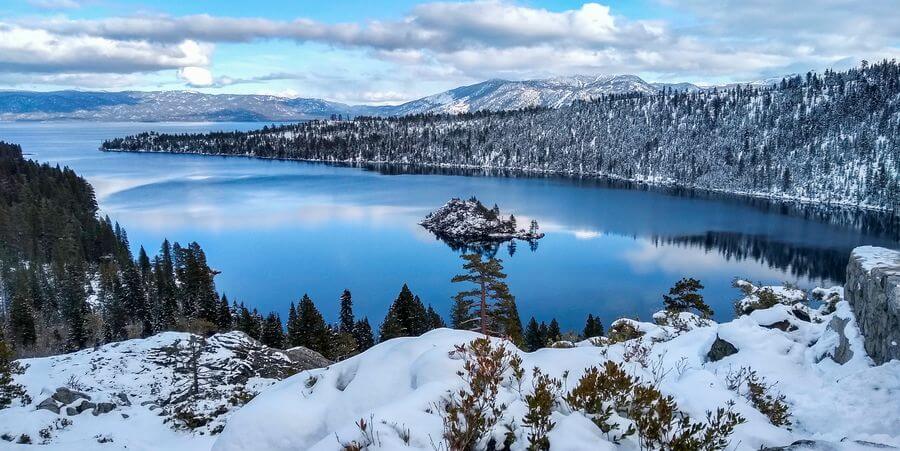 Straddling California and Nevada, Lake Tahoe is an alpine paradise that ranks highly as one of the prime winter vacation destinations in the USA.
Here you can wake up at your hotel with amazing views of the landscape and even watch some people skiing. With twelve ski resorts to choose from, you have plenty of options whether you're a seasoned pro or novice on the slopes.
And don't worry if skiing isn't your thing; there are plenty of other activities to fill your days. You can go tubing down slides that are hundreds of feet long, or opt for some off-road sledding at Spooner Lake. Emerald Bay and Tahoe City are great to explore as well, with access to snowshoe trails that are scattered around the lake.
There's the annual Lake Tahoe Snowfest that's packed full with fun events, or you can opt for a more laid back vacation by enjoying the beautiful drive around the lake.
Pro Tip: We recommend riding the gondola from Heavenly Village back to South Lake Tahoe where you can enjoy a number of great restaurants, and outdoor fire pits under starry skies.
12. Jackson, Wyoming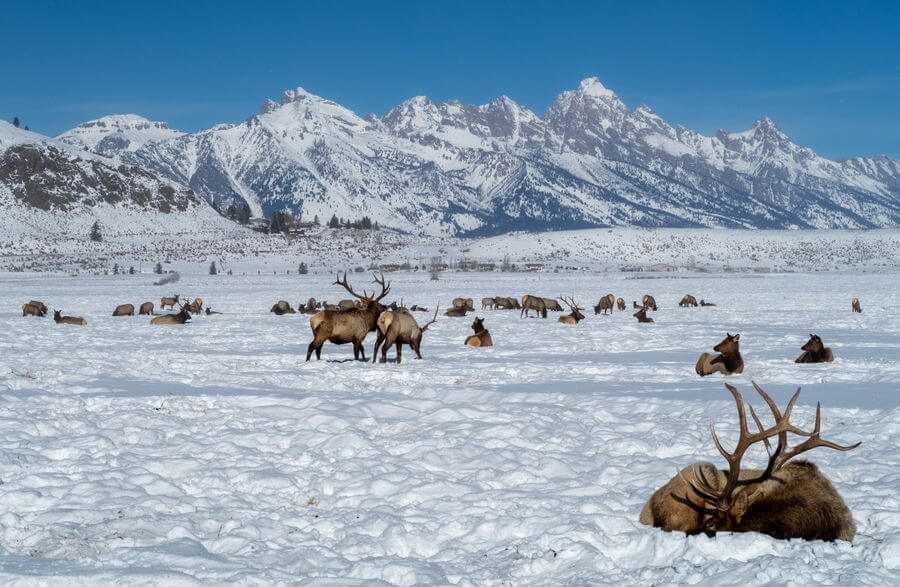 There's nothing like sitting back with a cup of hot cocoa and gazing out at the snow-covered Teton Mountains. In Jackson you're nestled at the base of these majestic peaks in the heart of the Jackson Hole valley, a haven for nature enthusiasts and outdoor adventure seekers alike.
In winter, this town transforms into a bustling ski resort attracting half a million visitors annually. It's a fantastic place for a winter vacation in the US whether you're a seasoned skier or if you've never set foot on a slope before.
But there's more to this winter destination than just skiing and snowboarding.
You can try your hand at dog sledding or snow tubing, take refreshing trips to local hot springs, or enjoy a romantic horse-drawn carriage ride courtesy of nearby resorts and ranches.
For keen wildlife watchers, embark on an educational safari tour to see some elk, bighorn sheep, coyotes, and even bald eagles in their natural habitat within Grand Teton National Park.
And don't miss The National Museum of Wildlife Art. This is home to America's largest collection dedicated to animal-themed art!
13. Park City, Utah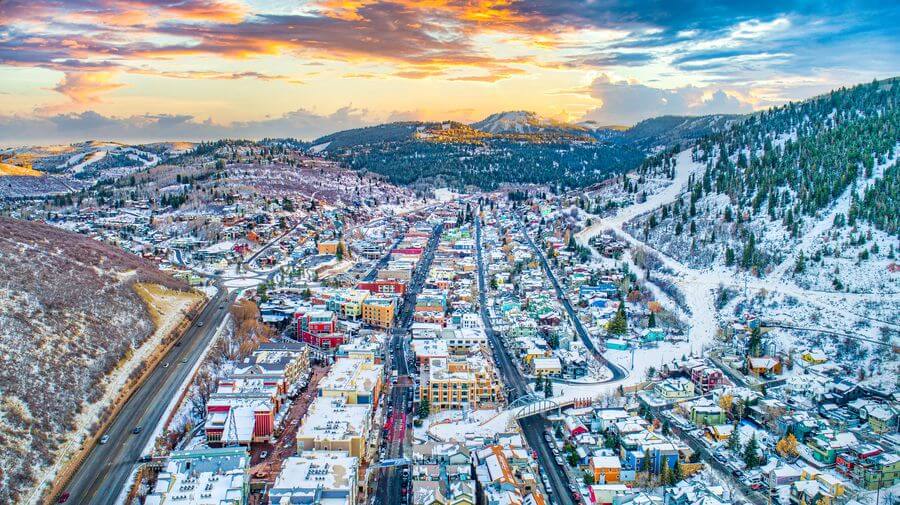 Park City will take your breath away with its snowy landscapes and great downhill opportunities. Just 40 minutes east of Salt Lake City, this former venue for the 2002 Winter Olympics is a year-round destination perfect for adventure seekers and tranquility lovers alike.
The city boasts the largest ski resort in the US and is known for its consistent powder and blue skies that make skiing and snowboarding an absolute delight. You can test your skills at two different resorts that cater to all skill levels (Park City Mountain or the Canyons). If you're up for unique thrills, hop on a public ride down the Olympic bobsledding track or do some tubing at Gorgoza Park.
But sports aren't the only reason why this winter vacation in the US is so popular. There's vibrant nightlife on Historic Main Street and boutique stores, cafes, bookstores, and restaurants abound. And don't worry about getting around, the city offers convenient free shuttles between resorts and other hotspots!
To get the best prices plan your trip either at the beginning or end of ski season and stay for at least three days to fully immerse yourself in this spectacular winter experience. Whether you're looking to stay somewhere luxurious or budget-friendly, there are plenty of options for you!
14. Yosemite National Park, California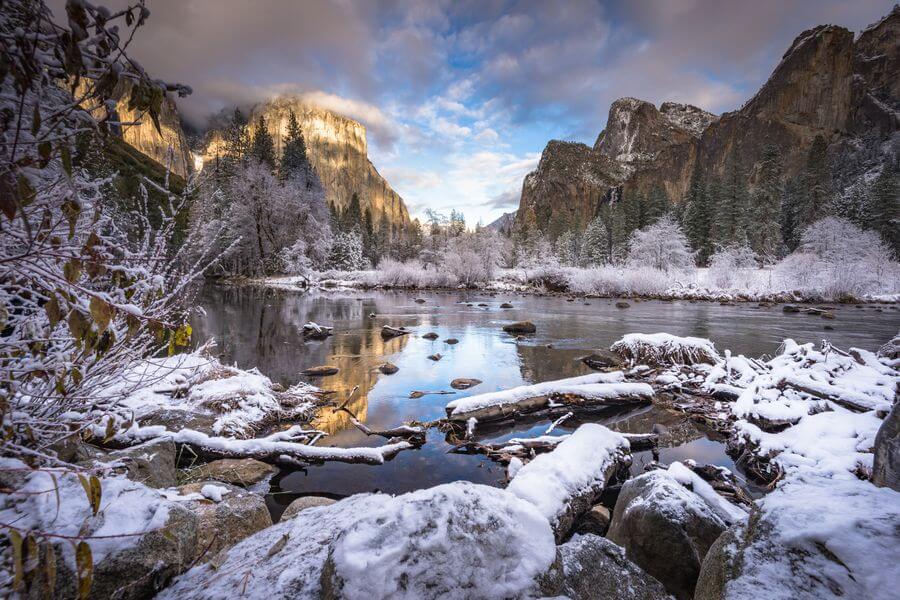 Imagine waking up in Yosemite National Park where the snow transforms this outdoor mecca into a fairy-tale with breathtaking scenery. When walking around enjoying the view and crisp air, you'll encounter far fewer crowds and a much more relaxed atmosphere.
It's definitely worth grabbing your camera and snapping some shots of El Capitan, Half Dome, or Yosemite Falls blanketed in snow. Even if you've been to Yosemite before, seeing these iconic features in the winter is a totally new experience (bonus points if you're able to catch a sunset).
Your winter adventure doesn't have to end there though. There's fantastic hiking on snowshoe trails, skiing at Badger Pass Ski Area, and ice skating at Curry Village or Tenaya Lodge.
If you'd rather do some mellow hiking during your vacation here, explore easily accessible trails from the valley floor like the Mist Trail to Vernal Falls, or Lower Yosemite Falls. While doing this you'll be able to look up at the amazing rock formations covered in snow all around you.
For lodging at night, you can choose from At night, retreat to accommodations that range from luxury resorts like The Ahwahnee Hotel to simple campsites where you can enjoy views of the stars (make sure to double check that your ideal campground is open during the winter first).
15. Death Valley National Park, California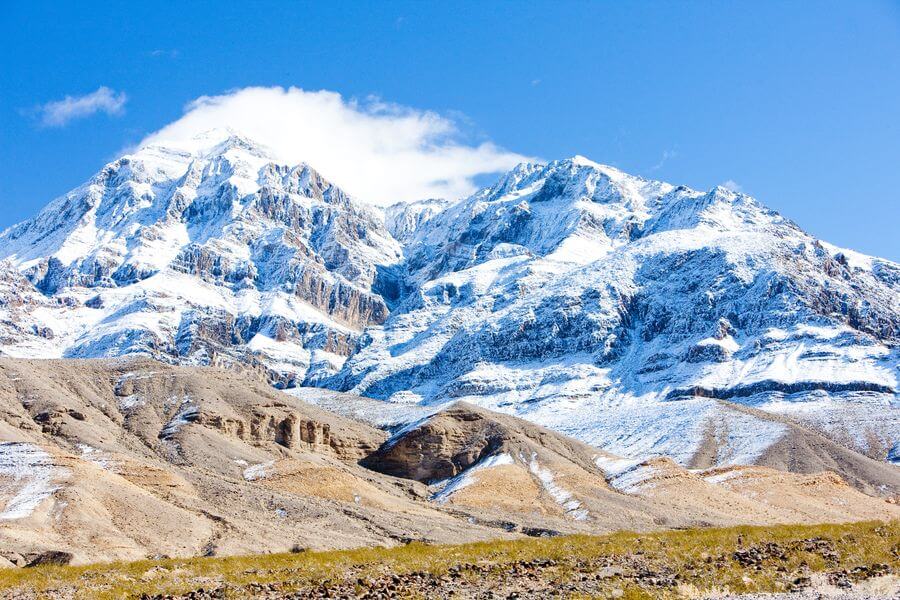 Don't let the name fool you, Death Valley National Park in California is far from lifeless. And during the winter months it transforms into a haven of pleasant weather and captivating beauty.
Considered one of the hottest and most desolate areas on Earth, the winter season offers a far nicer experience for adventurers seeking to explore the largest U.S. national park within the contiguous 48 states.
With an average high temperature of 67°F in January, you can comfortably drive through the valley or check out some of the normally intimidating hikes like Coffin Peak.
Just remember to make your reservations in advance, since winter is the peak season here (which isn't surprising). Whether you're planning to camp or lodge, early reservations are recommended due to high demand.
Pro Tip: If you want to avoid the crowds during this time of the year, plan your winter vacation between Thanksgiving and Christmas. It's a much more pleasant experience and you should have plenty of options when it comes to accommodations.
From snow-capped peaks enhanced by low-angled winter light to rare rainstorms that may lead to flash flooding, Death Valley truly comes alive in the chillier months making it one of the best places for a winter vacation in the United States.
16. Vail, Colorado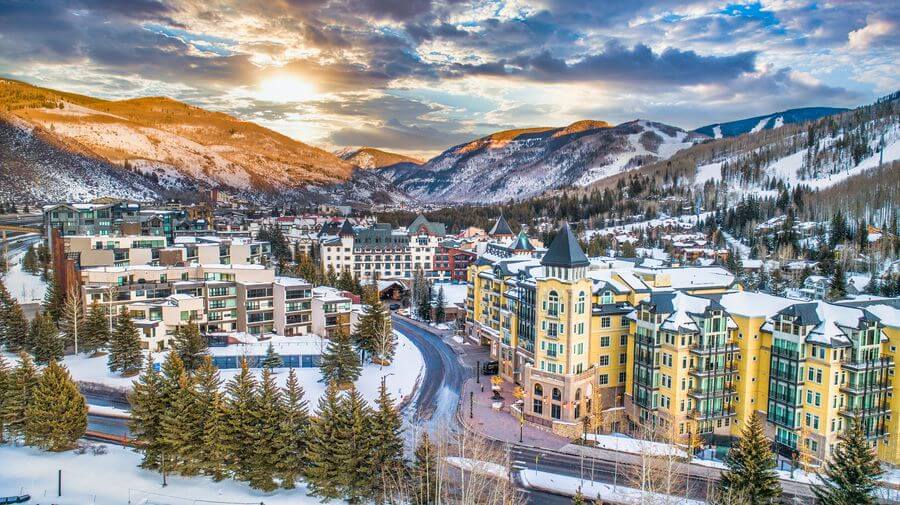 You're in for a treat if you choose Vail as your snowy getaway. And the world-class ski slopes and charming alpine village atmosphere are just the beginning. Nestled in the foothills of the mountains, surrounded by vast forests and breathtaking vistas, this winter wonderland offers more than 5,000 acres of snow-filled terrain for just about any cold weather activity.
Whether you're into skiing, snowboarding, or ice-skating, there's something for everyone. And to make things better, Vail also caters to families with amenities like kid's snowmobile tracks, ski bikes, and tubing lanes.
But it's not all about outdoor activities. You can take a leisurely stroll down the cobblestone streets of Lionshead, Vail Village, or Golden Park for some picturesque scenery and amazing photo opportunities.
Another reason why this is a fantastic winter vacation spot in the US is the dining scene. No matter what cuisine you're into, there's an array of options to suit your mood and budget. Plus, top-notch accommodations ranging from cozy lodges to luxurious hotels.
At night we recommend taking some time to walk around and enjoy the festive environment with all of the brightly lit decorations. It's a great place for the family during the holiday season.
17. Nashville, Tennessee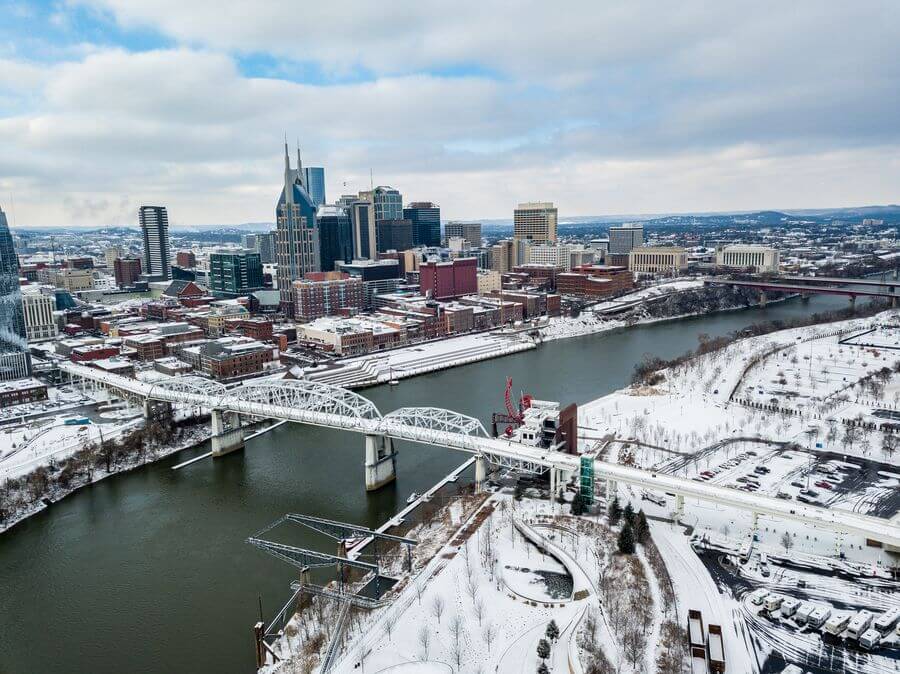 Going to Nashville can be one of the best winter vacations in the US, but it's often overlooked. If you're craving a unique blend of holiday cheer and musical ecstasy, this city is your answer. Known as "Music City," this vibrant spot doesn't let the cold slow it down. Instead, the festivities move indoors for a lively winter experience!
With an array of holiday events and celebrations throughout the city, Nashville is illuminated by millions of festive lights that cast a joyful glow on its attractions. There's also the signature midnight Music Note Drop accompanied by fireworks to mark the start of a new year in style.
And if you're worried about being stuck out in the cold, don't worry! The city provides an indoor winter bucket list that's filled with fun activities to keep you entertained and warm.
18. St. Augustine, Florida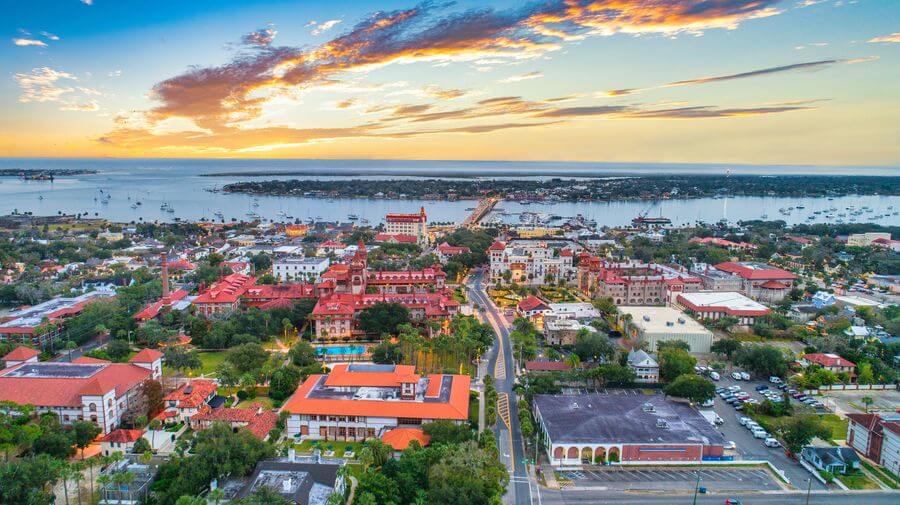 St. Augustine's unique combination of gorgeous beaches and immersive history make it a perfect choice for a memorable winter getaway. Its mild winter climate means you can still enjoy beach activities, but some days will be cool enough for you to throw on some long sleeves!
The beaches here tend to be less crowded than southern Florida hotspots, providing a peaceful atmosphere that's perfect for seashell hunting, lounging, or going for long walks.
As the oldest city in the USA, St. Augustine invites you to delve into its rich past with attractions like the imposing Castillo de San Marcos National Monument right in downtown and fascinating historical reenactments such as cannon fire displays at the fort.
With an array of diverse restaurants and attractions, there's no shortage of things to do and see. And definitely make sure to take a trolley tour, which is a popular way to explore this charming city.
Ideal for families looking to mix relaxation with cultural experiences, St. Augustine offers something special that every member of your family can cherish during their winter vacation.
19. St. John, US Virgin Islands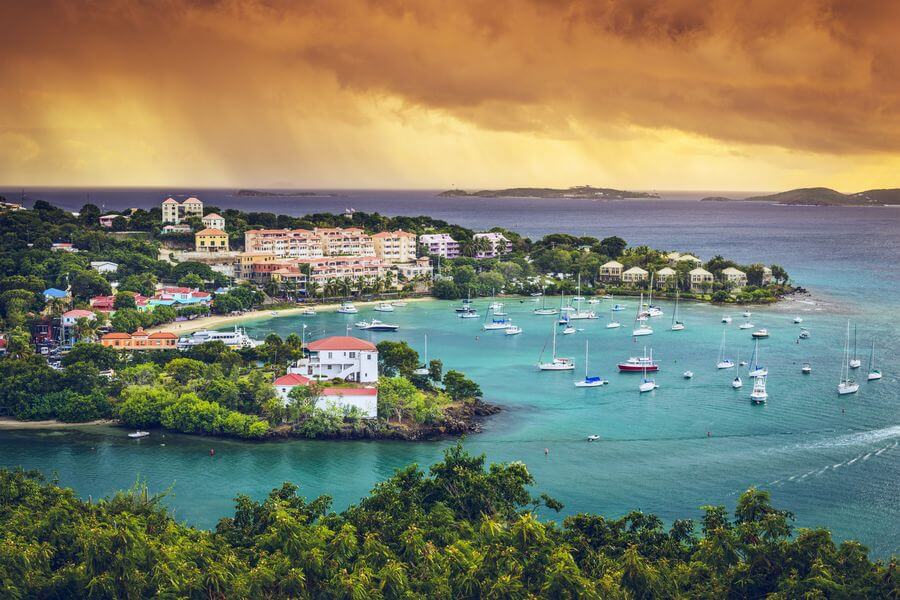 Imagine soaking up the sun on a secluded beach, exploring lush trails, and enjoying mouthwatering tacos at a floating restaurant. All this and more awaits you in St. John, US Virgin Islands, where you can escape from your usual winter routine in style.
Accessible by ferry from St. Thomas, with open-air taxis ready to whisk you around the island's stunning landscapes, St. John offers an unbeatable blend of natural beauty and outdoor activities that make it the perfect place in the USA to visit in the winter.
With two-thirds of the island being a national park, you'll have your pick of pristine beaches like Maho Bay and Hawksnest or the breathtaking Trunk Bay where you'll be able to swim with stunning marine life.
One of the reasons why this is such a good winter vacation spot is that this time of the year is a shoulder season. You'll bump into far fewer tourists than in spring or summer, but still have plenty of sunshine to soak up since hurricane season has passed.
You can kayak to Whistling Cay, hike to America Hill Ruins, or simply relax on Honeymoon Beach as part of your venturesome itinerary.
Plus, flights are typically cheaper during winter months which makes this tropical paradise not only stunningly beautiful, but also affordable!
20. Mammoth Lakes, California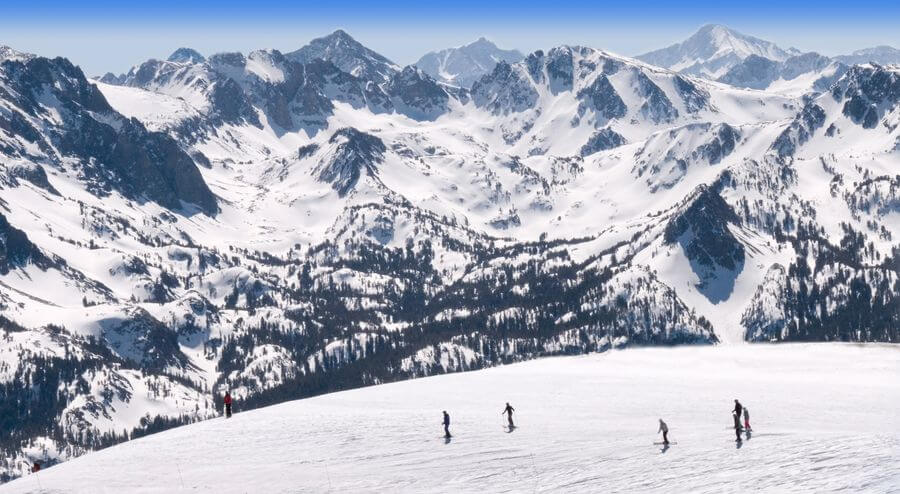 Mammoth Lakes is a true winter paradise with its striking snow-capped mountains and crystal-clear water, providing an idyllic backdrop for an array of thrilling winter activities.
Nestled in the heart of the Eastern Sierra, this picturesque destination turns into a snowy wonderland that presents opportunities for traditional skiing, snowboarding, snowmobiling, and even snowshoeing. And if you're looking for something different, go for a snowcat tour or spin around the local ice-skating rink.
But don't worry if you're not up for all that action; you can always take it easy with a relaxing gondola ride to the top where hot chocolate and breathtaking views await.
And if you want to take a toasty dip, there are a number of hot springs you can explore. In our opinion these are best when done in the winter, so give them a try!
21. Joshua Tree National Park, California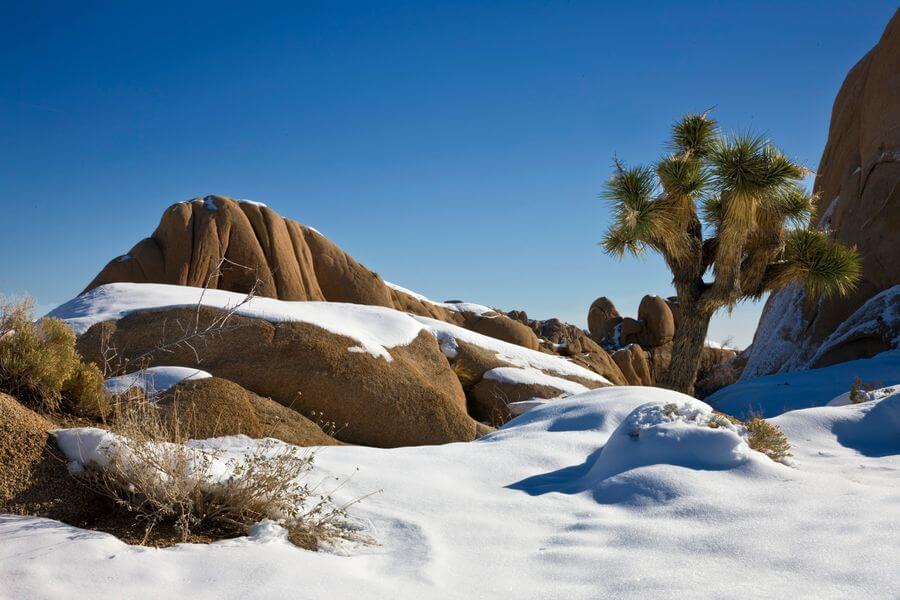 If you're seeking a unique winter getaway, look no further than Joshua Tree National Park. Its otherworldly landscape and ideal climate make it an outdoor enthusiast's dream, where you'll be mesmerized by the unique rock formations and iconic Joshua trees that dot the landscape.
The moderate winter temperatures range from 38 to 60 degrees Fahrenheit and are perfect for activities like hiking, camping, rock climbing, and horseback riding. Take advantage of extensive trails like the Split Rock Trail or Black Rock Canyon Panorama Loop during the daytime, then settle under blazing night skies for some awe-inspiring stargazing at your campsite.
There are also some funky local attractions like the World Famous Crochet Museum and the Glass Outhouse Gallery you can check out if you need a break from the trails.
It's worth noting that this is a fairly popular winter vacation spot in the US due to the temperatures during this time of the year. Hikes are a lot more pleasant, and camping is actually comfortable. That means you'll want to plan ahead when setting up your accommodations.
22. Castle Rocks State Park, Idaho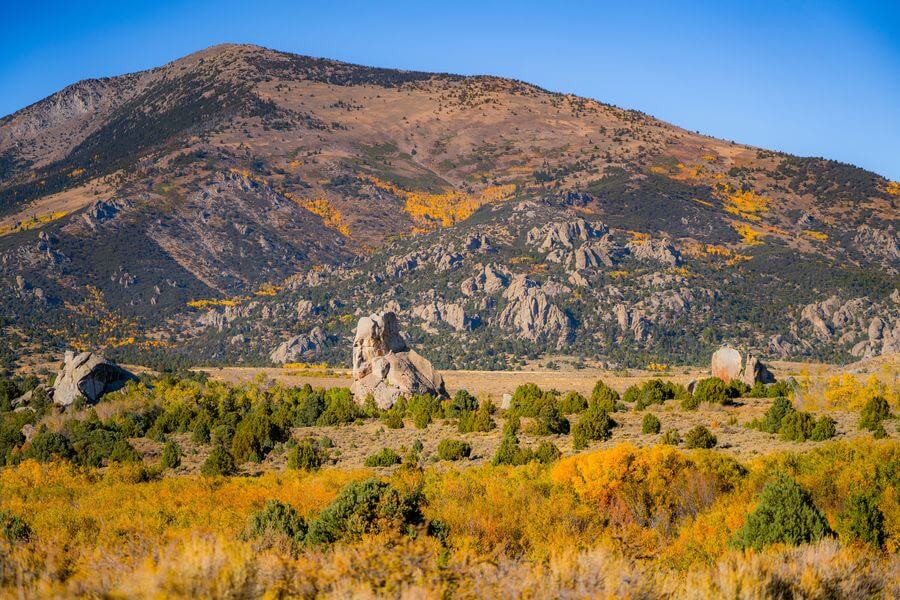 Castle Rocks State Park in Idaho is not as popular as some of the other winter getaways on our list, but it's definitely worth a visit.
Tucked away in Big Cove, this park presents an almost surreal landscape with its majestic rock formations, expansive farmlands, and towering pine forests blanketed in snow and icicles.
For outdoor enthusiasts, this is a perfect spot for snowshoeing, cross-country skiing, and even ice climbing. If you're lucky, you might even spot some of the diverse wildlife that call this park home. It's not uncommon to see moose and coyotes roaming the land while northern shrikes and horned owls fill the air with their calls.
It's easy to spend hours exploring the area and the surrounding rock formations. We recommend this as a vacation for outdoor adventurers who like to explore and spend some time in one spot for a bit. And as a plus, this state park is very quiet in the winter!
23. Rocky Mountain National Park, Colorado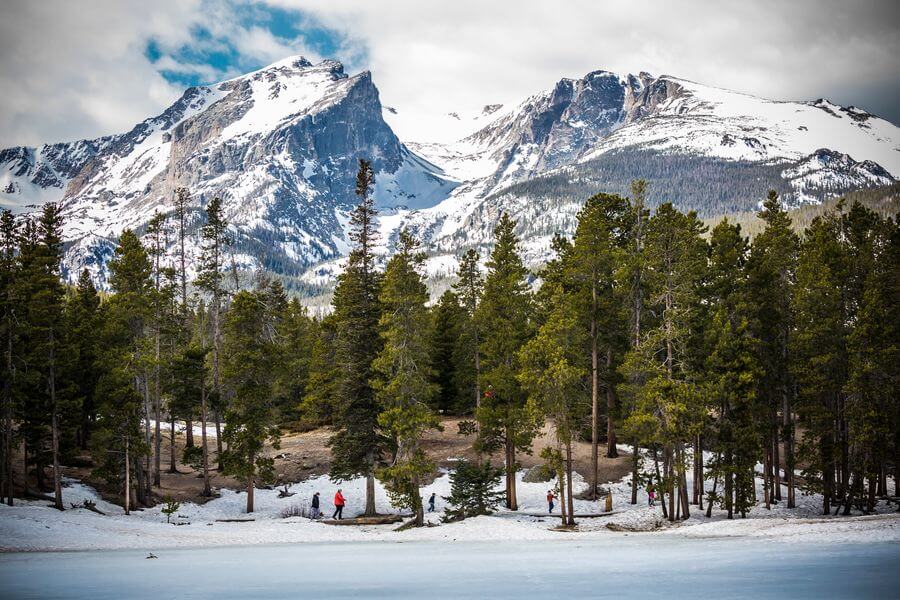 It's hard to beat the magic of Rocky Mountain National Park, where a simple hike becomes a snowshoeing adventure during the winter. The park's stunning landscape is blanketed in pristine white snow, creating picturesque settings around mountains and lakes that host an array of wildlife like elk, hares, and coyotes.
Popular trailheads like Bear Lake offer a variety of adventures depending on what you're looking for (Dream Lake, Nymph Lake, and Emerald Lake are all great choices). If you prefer solitude over popularity, Hollowell Park is a perfect spot with its less crowded paths perfect for wildlife spotting.
The park also caters to cross-country skiing enthusiasts and those who enjoy sledding or ranger-led snowshoe walks. If you need to stock up on supplies or rental gear there are a number of places in Estes Park where you can go before your adventures.
And if you're looking for an easier family-friendly trail, head over to Cub Lake. It's a perfect place to enjoy the winter scenery or cover some distance on the trail without things getting too strenuous.
24. New York City, New York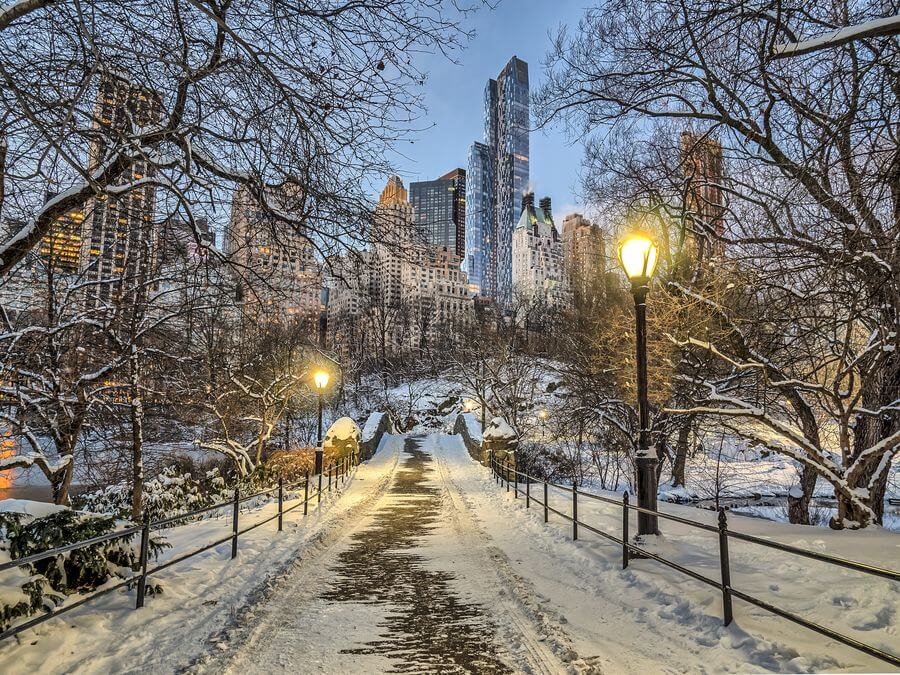 If you're looking for a dose of the city, going to NYC is one of the best winter vacations in the US. It's packed to the brim with a dizzying array of indoor and outdoor activities, cultural experiences, holiday specials, and more!
Fancy spending a cozy afternoon exploring iconic bookstores like the Strand? Or perhaps you'd rather lace up your skates for a spin around the ice at Rockefeller Center. And trust is, there's nothing quite like taking a serene winter walk through the snowy paths of Central Park.
For breathtaking views of the skyline and Statue of Liberty during the winter, take a ride on the Staten Island Ferry. And don't forget to check out some of the seasonal markets like Union Square Holiday Market!
When it comes to indoor entertainment, there are world-class museums and fantastic Broadway shows to pick from. You can also do a bit of shopping on Fifth Avenue or sample one of the many delicious restaurants in the city.
But one of the best things about coming to New York City in the winter is their holiday-themed activities. You can see the epic Rockefeller Christmas Tree or see a classic show like The Nutcracker.
Add into this mix some cultural experiences like food tours in Chinatown and Little Italy, family-friendly options including zoos and iconic toy stores, and a variety of sporting events. There's really always something you can do!
25. Chicago, Illinois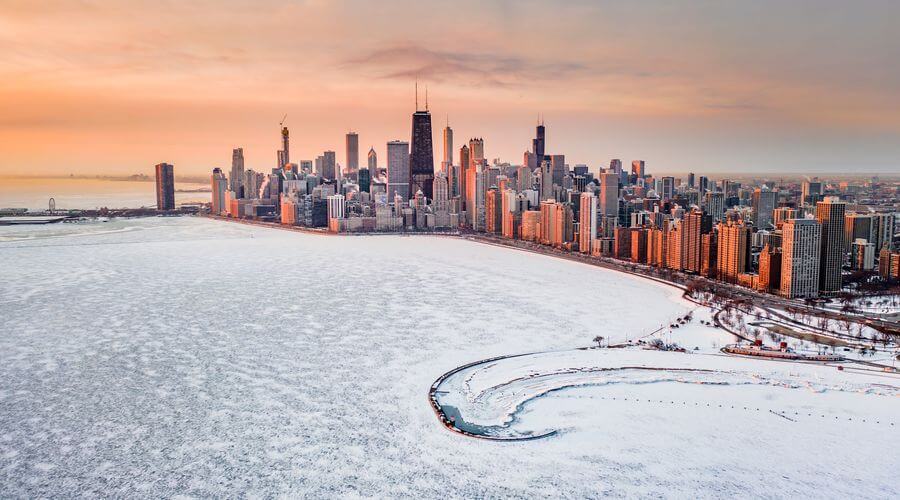 Sticking with the city theme for a moment, let's take a look at Chicago. If you visit this city on your winter vacation you can stroll through the magical ZooLights at Lincoln Park Zoo, glide gracefully across an ice rink against the stunning backdrop of Millennium Park, or enjoy a number of holiday-themed events and shows.
In Chicago, winter is far from dull. For more active pursuits, resorts within a couple hour drive offer thrilling snowboarding and skiing experiences, while Navy Pier's Winter Wonderfest brings all the fun of a fair indoors.
For those interested in culture, renowned museums like The Art Institute of Chicago or vibrant performances at the Symphony Center and Broadway shows can all be found downtown. And don't miss out on unique holiday events like Christkindlmarket (a traditional German Christmas market) in Daley Plaza.
Families will find plenty to do too, with indoor attractions at Navy Pier and Legoland Discovery Center all within reach. And if you're all interested in sports you can catch a Chicago Bulls game or see the Blackhawks hit the ice for some hockey.
There's also a great local food scene with unbelievable restaurants in a variety of cuisines. You could go for some classic deep-dish pizza or look for something a little more festive like gourmet hot chocolate!
26. New Orleans, Louisiana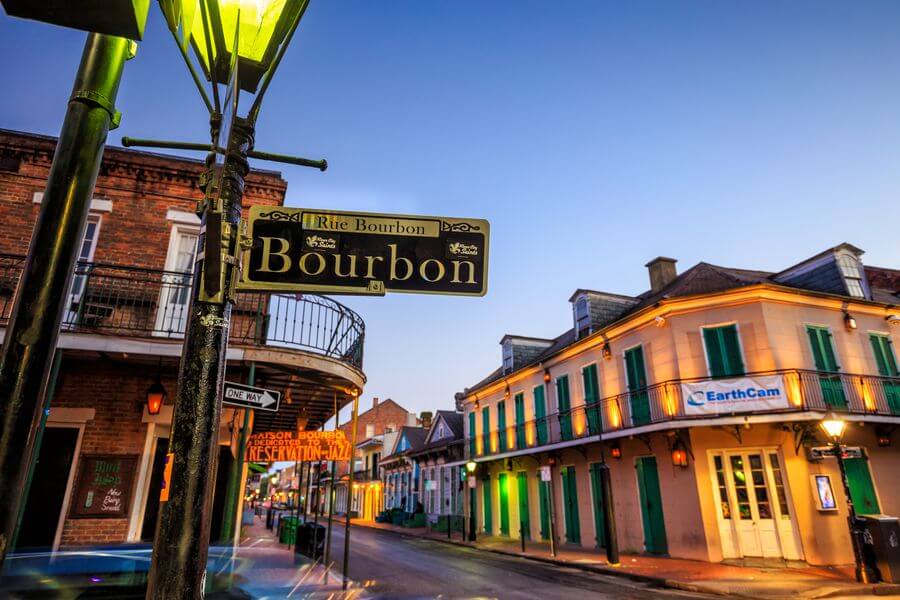 Strolling down the vibrant streets of New Orleans in the winter is a totally different experience than what people are used to. During this time of the year you can take in the festive holiday decorations, savor mouthwatering beignets, and dance to lively jazz tunes. So while it might surprise you, New Orleans it's truly one of the best places for a winter vacation in the US.
The city's mild climate during the winter season allows you to explore freely without needing to bundle up too much. You can indulge in delectable local dishes like gumbo and jambalaya that somehow tastes even better when it's chilly outside!
All major attractions stay open through the season, and there's less humidity and fewer crowds! Be it bayou visits or cemetery explorations, every experience is unique.
Entertainment is everywhere, cozy jazz clubs become your refuge on cool evenings while live performances keep the city buzzing. On top of that, seasonal events add to its charm. There are Christmas Eve bonfires that light up the night sky and iconic Mardi Gras parades in February.
And don't forget about shopping in the French Quarter where you'll find great deals galore! Add all this to the epic holiday decorations at places like The Roosevelt Hotel's Winter Wonderland, it's no wonder why New Orleans turns into a winter haven for tourists!
27. Big Bend National Park, Texas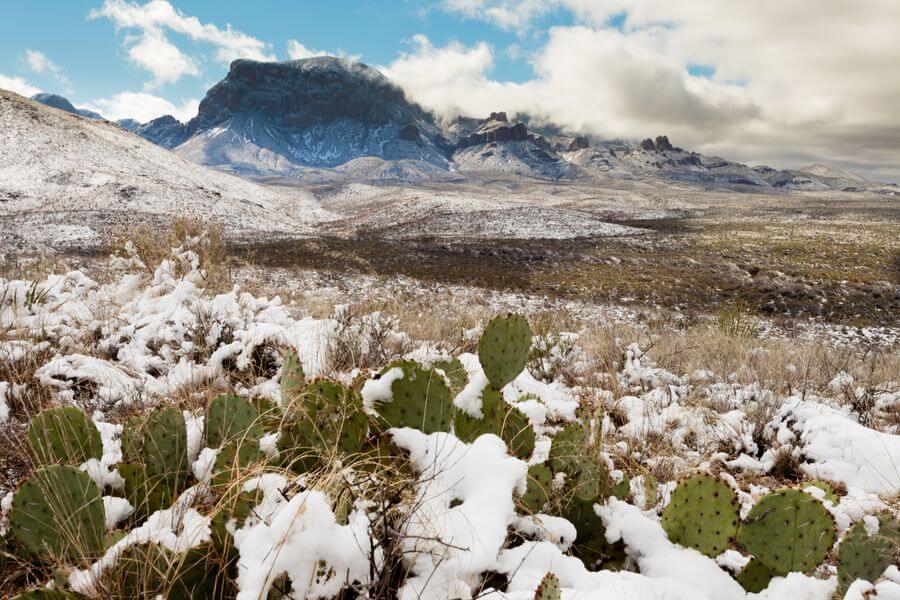 You'll be awestruck by the serene beauty of Big Bend National Park, where the mild climate and breathtaking desert landscapes provide an unforgettable getaway during the frosty months.
Nestled on the Southwest border of Mexico and Texas, this park is a winter haven, offering respite from harsh chills with its warm weather that makes normally toasty hiking downright enjoyable.
Having the opportunity to venture down popular trails like The Window View or Lost Mine in comfortable temperatures makes a world of difference. Here you can explore one of the largest expanses of Chihuahuan Desert topography you'll ever see!
You can even take a scenic hike to hot springs located right on the Rio Grande, just make sure you get there around sunrise to avoid the crowds!
And if you're traveling with children, there are plenty of easy trails you can explore that are full of opportunities to see the wildlife.
28. Boston, Massachusetts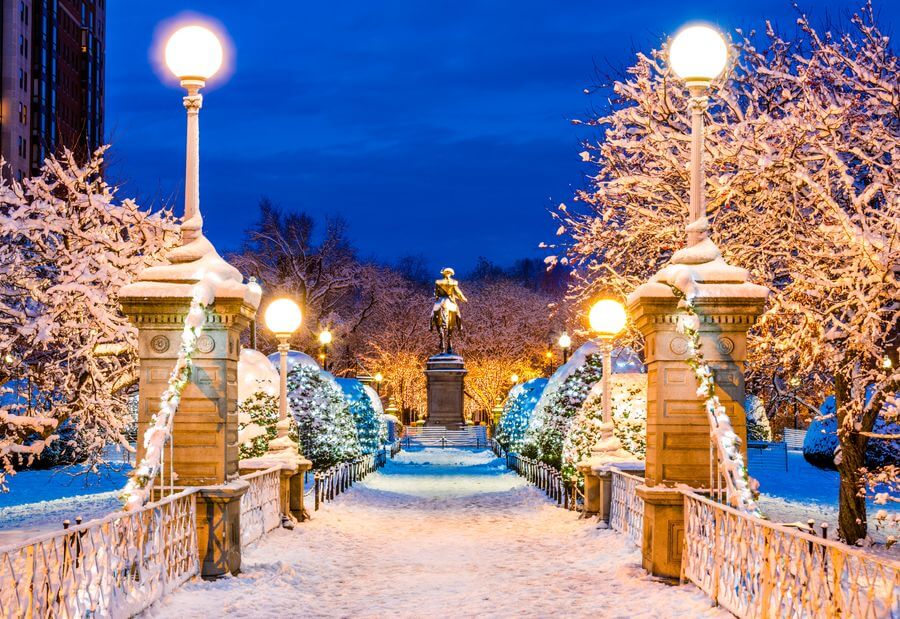 Don't let the chill deter you, Boston's rich history and diverse attractions make it a great place in the USA to visit in the winter. It's a city that's just begging to be explored!
Among the activities you can enjoy are ice skating at the Boston Common Frog Pond or gazing out over a snow-clad city from the Skywalk Observatory. You can also delve into the city's fascinating past by walking along the Freedom Trail.
Harvard University and its vibrant square offer cultural enrichment while Newbury Street satisfies your shopping cravings. And if you're looking for warmth, escape inside one of Boston's many museums like the Museum of Fine Arts or pick up some snacks from the Faneuil Hall Marketplace.
If you need a break, you can savor some good food paired with a cold craft beer at places like Harpoon Brewery.
And despite the frosty weather, don't overlook Boston's romantic side in the winter. There are plenty of activities perfect for couples too!
29. Whitefish, Montana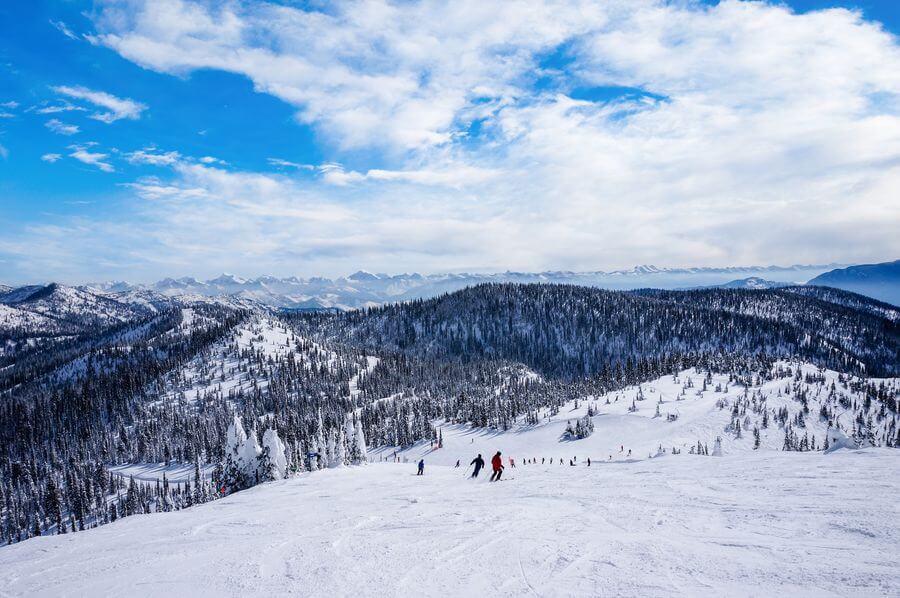 If you're craving a snow-filled adventure that'll leave your heart racing and your spirit soaring, Whitefish might be the destination for you. Known especially for its winter sports, Whitefish offers thrills like skiing at Big Mountain where knee-deep powder and temperature inversions actually make the mountain tops warmer than the valley.
One of the more unique attractions to check out here is the World Skijoring Championships in January. This is an event where skiers are towed by horses through an obstacle course. While it might seem a bit strange at first, it's quite exciting to watch!
For something a bit more quiet, go snowshoeing in Glacier National Park (one of the most beautiful places in the country in our opinion), or do some cross country skiing around the town's golf course. More adventurous outdoor adventurers might enjoy dog sledding in Stillwater State Forest or ice climbing in Bad Rock Canyon.
After a day of outdoor exploits there are plenty of top-notch restaurants where you can get warm and fuel up. Averaging over 70 inches of snow each year, Whitefish ensures a snowy retreat filled with diverse adventures and great dining experiences, making it the perfect winter getaway.
30. Aspen, Colorado
Craving a snowy retreat with diverse adventures and delectable dining experiences? If that's the case, Aspen might be your dream destination.
Whether you're an experienced skier or trying out the slopes for the first time, Aspen's ski resorts cater to all skill levels, offering optimal conditions from December through February.
But skiing and snowboarding aren't the only activities available. You can try your hand at snowshoeing, ice skating, or cross-country skiing at luxurious venues like Limelight Hotel Snowmass.
For a touch of magic, hop on a horse-drawn sleigh or carriage ride that will transport you to stunning alpine restaurants such as Pine Creek Cookhouse.
And don't miss out on gondola rides up both Aspen and Snowmass mountains for breathtaking views complemented by mountain-top dining. There's a reason why so many people think of Aspen as the ideal spot for winter fun.
31. Austin, Texas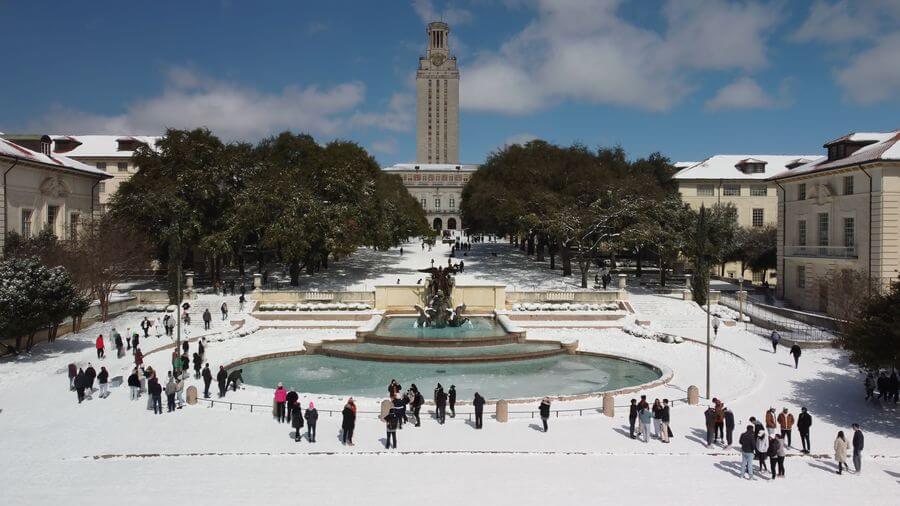 Looking for a city that combines warm winter weather with a lively music scene, delicious food, and outdoor adventures? Austin has you covered.
Known as one of the best cities in America for warm-weather winter travel, Austin boasts an average temperature above 60 degrees even in the cooler months. That makes it perfect for exploring its vibrant downtown area or embarking on an outdoor excursion.
As the Live Music Capital of the World, you'll find no shortage of live entertainment options to fill your evenings after indulging in some BBQ or Tex-Mex at one of the city's renowned eateries (if you're a fan of tacos like we are, this city is for you).
For daytime adventures, go for a kayak ride or do a nice mountain hike to catch the sunset. Thanks to Austin's compact city layout these activities are always within reach. And don't forget to explore local wineries and breweries when you're done!
With all this plus beautiful Christmas season decorations, it shouldn't come as a surprise that Austin is one of the best winter vacations in the US.
32. Savannah, Georgia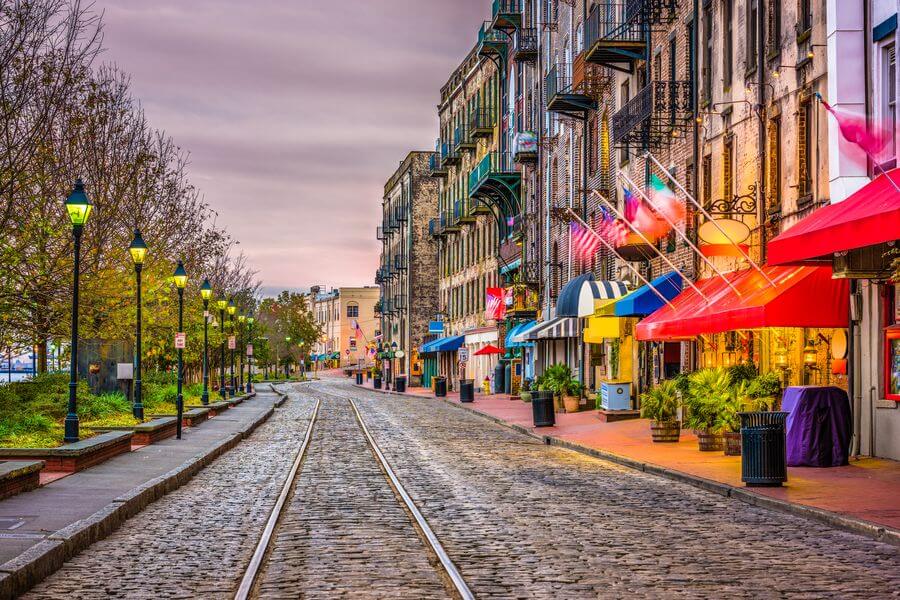 This southern gem boasts a mild winter climate that offers both cozy sweater days and bouts of t-shirt weather so you can comfortably explore the historic cobblestone streets adorned with majestic Antebellum mansions and moss-draped oaks.
Sometimes it feels like you've stepped back in time as you stroll through the hauntingly beautiful cemeteries or peruse captivating museums and antique stores in the Historic District.
And if you're up for a fun day trip, Tybee Island isn't far away.
If you're in the mood for some Southern cuisine during your visit, Savannah's diverse dining scene won't disappoint. And when night falls, ghost tours offer an eerie glimpse into the city's past while lively bars keep your spirits high.
Plus, there's no shortage of interesting festivals. From film fests to book events that draw renowned authors worldwide. There's always something going on.
With its fascinating history, varied cultural experiences, and mild winter weather, Savannah delivers a truly unique vacation experience.
33. Key West, Florida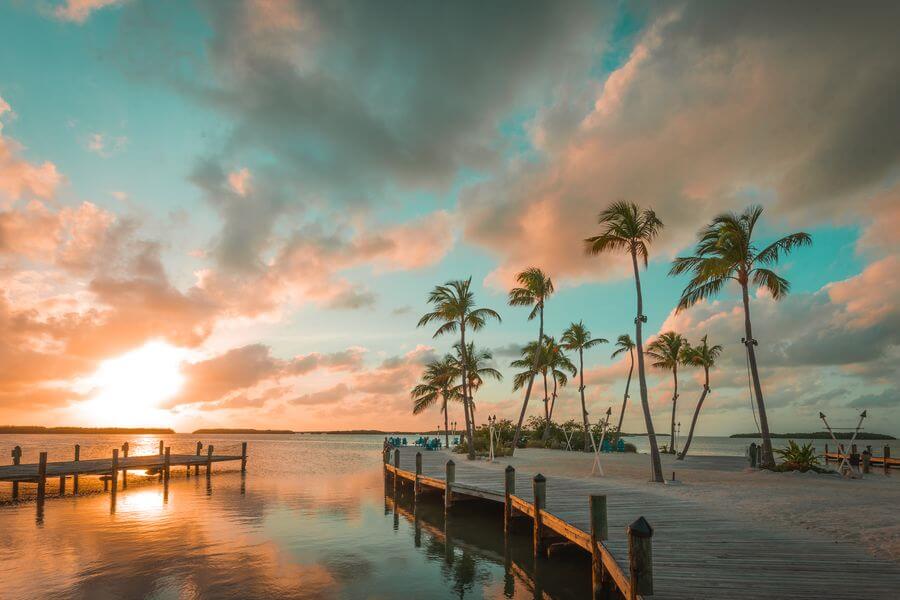 For those yearning for a balmy retreat, the tropical allure of Key West is unrivaled. Imagine escaping the winter chill to enjoy a spot where the average high temperatures never dips below 75°F.
The beaches here are stunning with locations like Higgs Beach and Fort Zachary Taylor Park beckoning with activities ranging from snorkeling and scuba diving to kayaking and sailing.
If you're more of a culture fiend, you'll be thrilled by the art galleries, antique shops, theaters, and museums that are scattered throughout the city. And if you spend enough time in the area you'll witness stellar street performances at Mallory Square in the evening.
And when you get hungry, there's succulent local seafood like lobster and shrimp served up fresh in numerous eateries across town. Duval Street also offers exciting shopping experiences alongside bustling bars and live music venues.
Pro Tip: Consider making time to visit The Hemingway Home and Museum or take a day trip to explore historic Fort Jefferson located in Dry Tortugas National Park.
If you want to mix things up you can drive down via the scenic Overseas Highway through the Florida Keys, even planning a pit stop at Miami Beach if you want a little extra excitement.
And during winter the Conch Tour Train gives riders an enchanting Holiday Lights Tour. If you're visiting from cooler climates, it's fun to get a dash of the holidays when you're not all bundled up!
34. Maui, Hawaii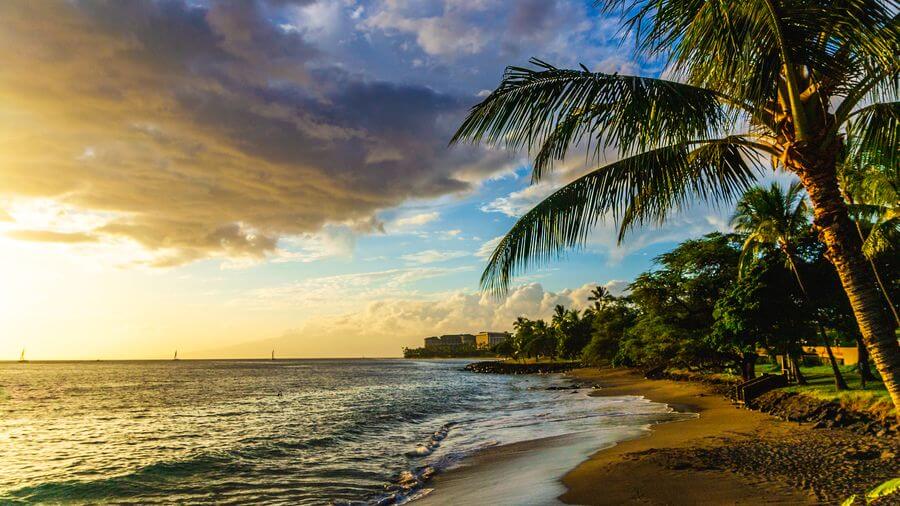 For many, trading in the winter blues for an island where temperatures consistently hover between 55 and 70 degrees is a dream come true. And that's where a trip to Maui comes in.
With more than just sunny beaches, Maui offers you a spectacular canvas of waterfalls, volcanoes, lush valleys, and unique black sand beaches.
Catering to all types of travelers, Maui is full of activities that range from relaxing on pristine sandy beaches to amazing inland hikes. You can go for an oceanic adventure by taking a whale-watching tour during migration season, or swimming alongside sea turtles.
You can even time your visit to coincide with the annual humpback whale migration that peaks in February (which we highly recommend) or wake up early to catch the awe-inspiring sunrise from Haleakala Crater.
If you want to immerse yourself in local culture, attend a traditional Hawaiian luau performance and take the legendary drive on the Hana Highway.
And of course, don't forget to treat your taste buds with culinary marvels like stuffed mahi mahi. It doesn't get any fresher than this!
35. Big Sky, Montana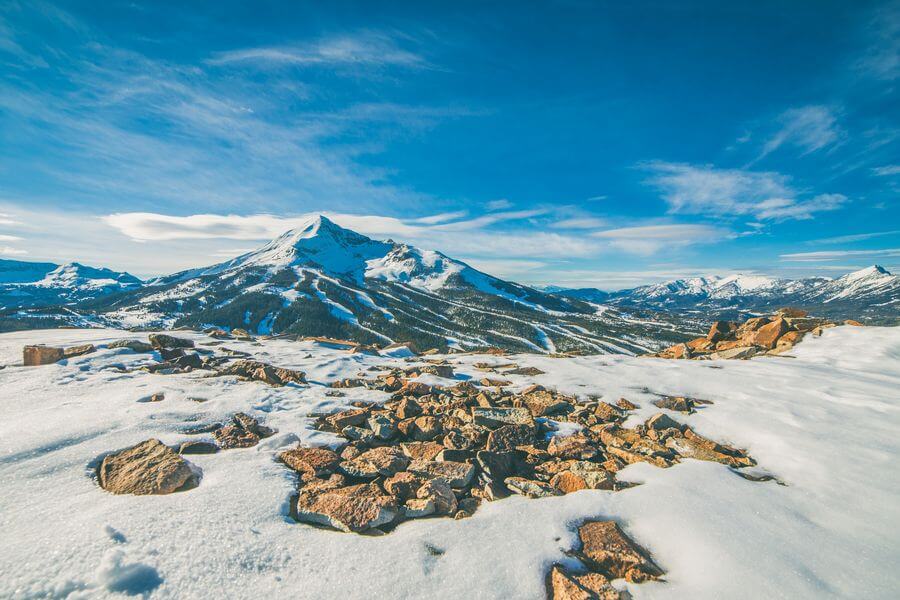 If you're looking for the quintessential snowy getaway, there's no place quite like Big Sky in Montana. Here, you'll find exceptional skiing conditions with an annual snowfall of over 30 feet that transforms the landscape into a snowy dream.
It's not just about snow quantity either; Big Sky is renowned for offering some of the best downhill skiing in the country. With over 4,000 feet of vertical elevation across four mountains and 300 runs sprawled over a staggering 6,000 acres, it's truly paradise for skiers and snowboarders.
You can also try your hand at cross country or headlamp night skiing for a unique twist. And if you're looking to explore the breathtaking scenery up close and personal, consider joining one of their snowshoe or snowcoach tours.
Dog sledding and snowmobile tours are also available. Off the slopes, you can try out some other outdoor experiences like horseback riding through the snowy landscape or even fly fishing.
As evening falls, wrap yourself up warm and enjoy a magical sleigh ride under starlit skies before heading back to relax in charming Mountain Village.
Whether you're an avid skier or simply looking for some fun in the snow and gorgeous views, Big Sky offers a diverse and exhilarating experience that makes it one of the best places for a winter vacation in the United States.
36. Fairbanks, Alaska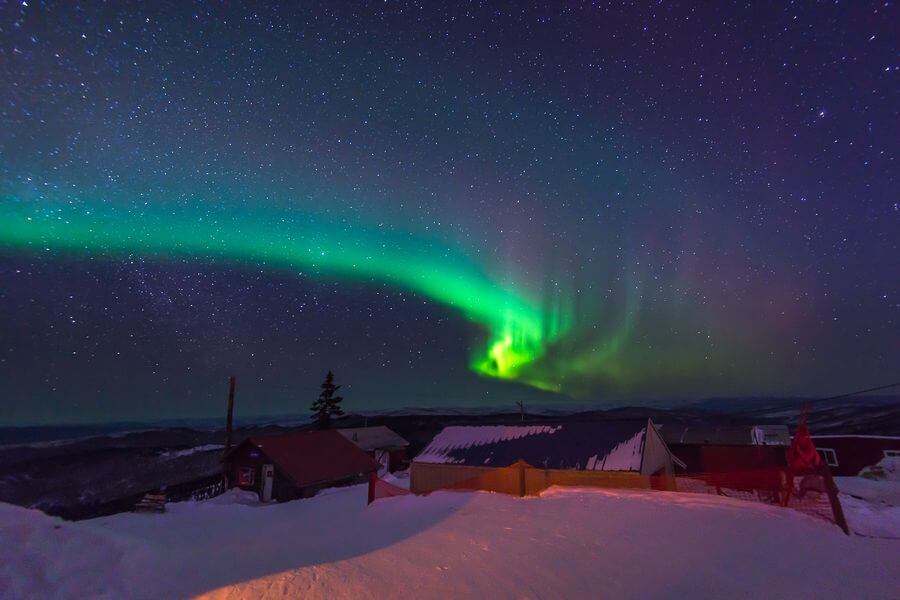 For many, experiencing the aurora borealis is nothing short of magical, and that's one of the many reasons why Fairbanks is worth a visit!
This Alaskan city also serves as your playground for countless winter activities. You can strap on skis or ice skates, rev up a snowmobile, or even try dog sledding across the frosty wilderness. For others, it's the ice fishing and curling that makes this city the perfect spot for a winter vacation.
You can unwind by exploring tranquil trails adorned with birch trees and snow-capped hills before hopping into Alaskan hot springs. And if you want to embrace your artistic side, head out and admire the massive outdoor ice sculptures chiseled from three-ton chunks of ice.
37. Sedona, Arizona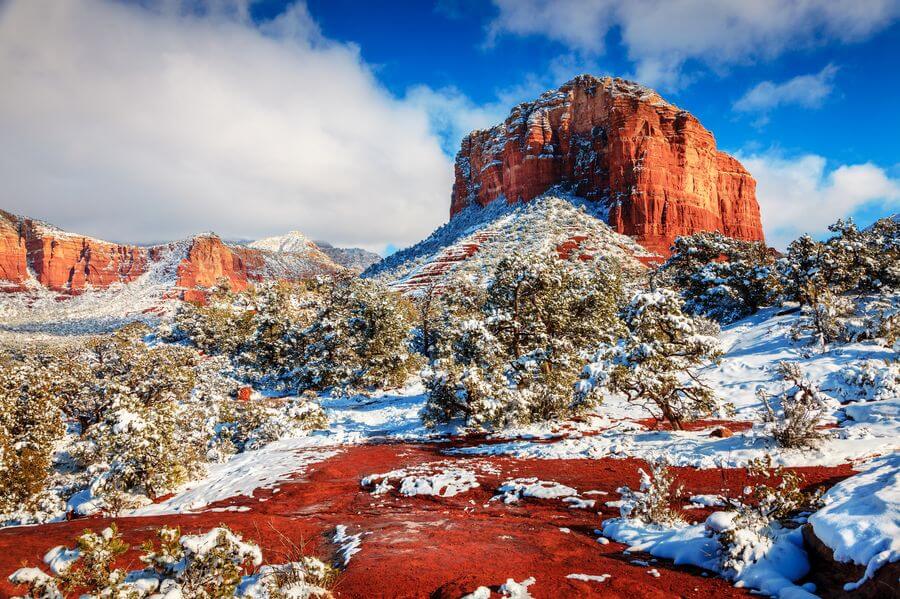 There's no other way to put it, Sedona is a city that's truly a gem in the desert. Here you're surrounded by fiery red rock formations against clear blue skies, even as snow dusts the peaks around you.
Every hike is an adventure (whether it's up to Cathedral Rock or Devil's Bridge) with winter adding an extra touch of magic to these iconic spots.
But Sedona isn't just about natural beauty, it's also known as a haven for wellness and spirituality seekers. You can hike to energy vortexes that have drawn healers from across the globe or unwind at one of the numerous spas offering restorative treatments.
After your outdoor adventures, check out some of the local restaurants and fuel back up. While the town isn't large, there are plenty of great options!
There are also plenty of fun holiday events going on in Sedona during the winter. You can go on the Canyon Christmas Train ride or simply cruise around looking at all the pretty lights that the residents have put up.
And even better, it's a lot cheaper in Sedona during the winter. If smaller crowds and the combination of snow on red rocks appeals to you, this is a place you should definitely visit.
38. Kings Canyon National Park, California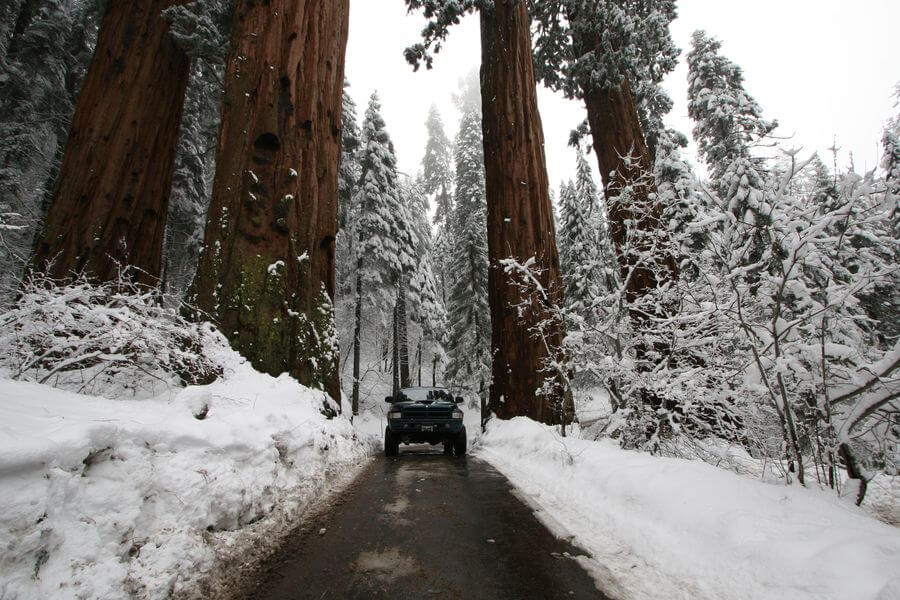 You'll be awestruck by the majestic beauty of Kings Canyon National Park, where towering granite cliffs and deep valleys provide a breathtaking backdrop for an array of outdoor adventures. Here you'll be able to snowshoe or ski around and marvel at all of the giant sequoias!
And there's more to this national park than the natural splendor. There's also a rich history and culture, with trails near Ash Mountain revealing Native American grinding stones and pictographs. And don't forget to visit Grant Grove, home to the world's second-largest tree known as General Grant Tree, or Redwood Canyon which boasts the largest grove of sequoias on earth. You can even participate in educational walks that are held by the Giant Forest Museum.
Pro Tip: Make sure you're prepared for the winter driving conditions here. Certain areas might require tire chains, and you should always keep some warm clothing, food, and water in the car with you.
39. Stowe, Vermont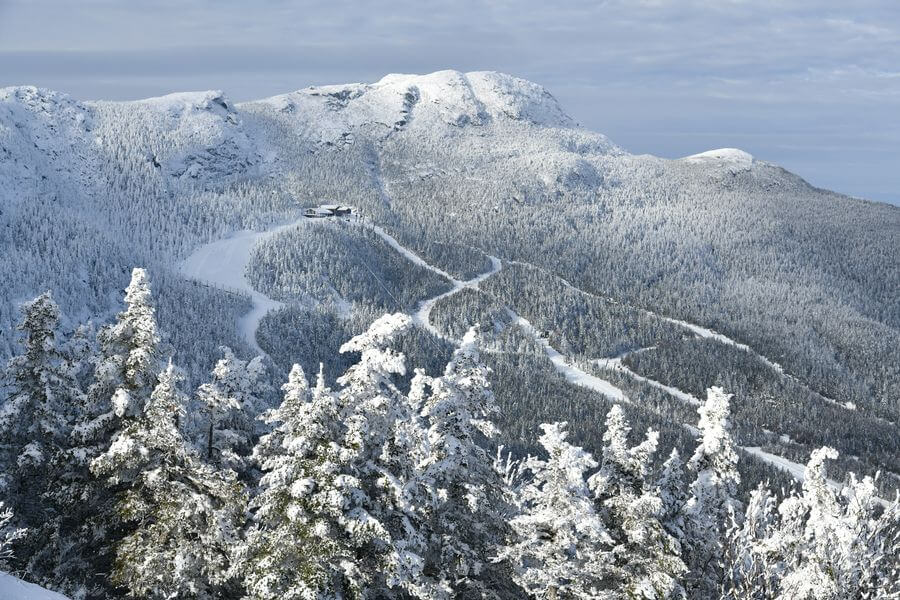 If you're craving the quintessential New England experience in winter, Stowe is your go-to destination.
Here you'll be able to glide across some of the finest cross-country ski trails in the country, far from the maddening crowds and long lift lines. Or perhaps you'd prefer adventuring with other snowy activities like snowmobiling, dog sledding, or even fat biking. There's an extensive trail system where you can do it all.
Beyond the thrill of winter sports, Stowe's natural beauty is simply breathtaking. Nestled beside Vermont's highest peak, this town offers spectacular vistas that are hard to find on the east coast.
The trails around the woods are well-used but never crowded. Consider packing a lunch and hot chocolate to savor during a hike!
After your day outdoors, unwind in Stowe's thriving après-ski scene with diverse dining options and an arts community adding richness to your stay.
40. Washington, D.C.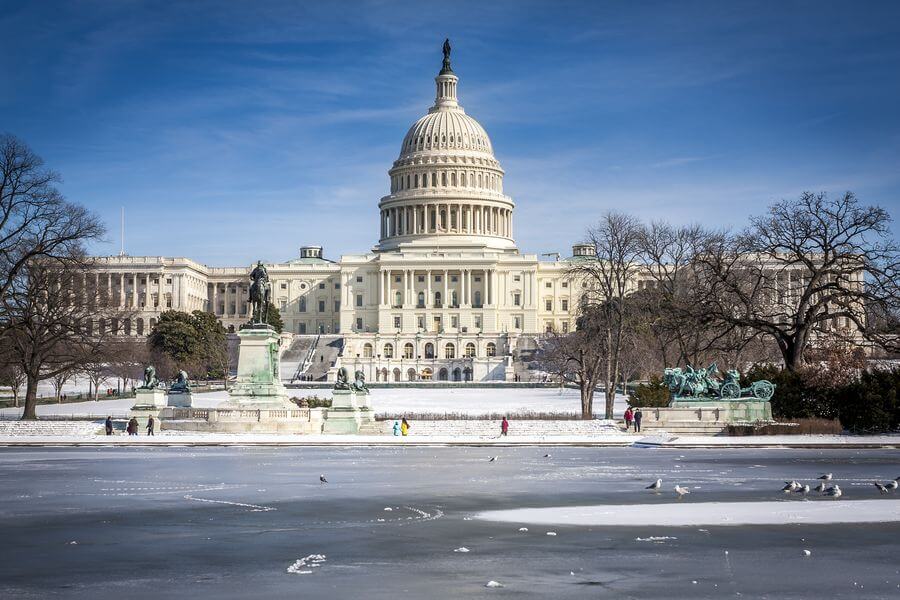 While the nation's capital is mostly known for its political influence and history, it's also a great place in the USA to visit in the winter.
You can go skating at the National Gallery of Art Sculpture Garden Ice Rink or the Washington Harbour Ice Rink. Visit the beautifully lit National Christmas Tree on the White House Ellipse, or wander through ZooLights at Smithsonian's National Zoo. If you prefer indoor activities, explore museums like the National Museum of American History or Air and Space Museum. Tour the Library of Congress or United States Capitol to delve into America's history and politics.
In winter the city bustles with holiday events like the Downtown Holiday Market and cultural celebrations including Hanukkah events. Don't miss New Year's Eve galas around town either! For culture enthusiasts, performances at Kennedy Center and exhibitions at art galleries await your discovery. Families will have a great time at the International Spy Museum, sports fans can watch a Wizards or Capitals game.
One overlooked part of D.C. is its culinary scene. There's fine dining all over the place in a number of different cuisines. If you want to go all-out, join a food tour to savor local flavors in neighborhoods like Capitol Hill. There are even winter-themed boat cruises along Potomac River if you're up for an adventure.
41. Miami, Florida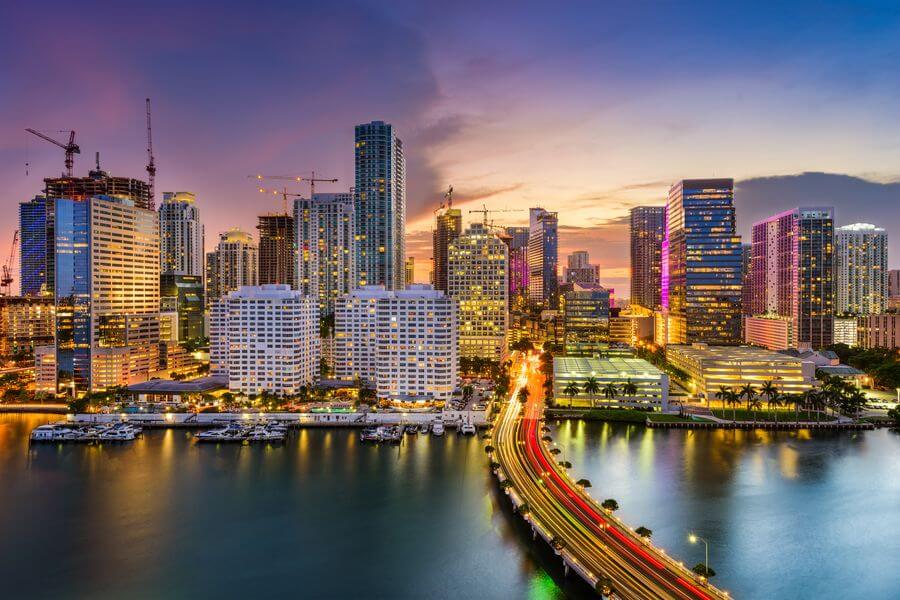 While it might seem a little obvious, there's no denying that Miami is one of the best winter vacation destinations in the United States. With its warm winter weather and myriad of outdoor activities, it offers an unrivaled holiday experience that's sure to leave you captivated.
Here you can spend your winter days basking in the sun with temperatures in the mid to upper 70s. You can enjoy some water sports at South Beach or explore other scenic beaches like Bill Baggs Cape Florida State Park.
A popular activity is cycling around downtown and South Beach to take in the architecture. Don't forget that Miami is home to the world's largest collection of Art Deco buildings along Ocean Drive and Collins Avenue!
The city's cultural diversity is also perfect for food lovers. You can't miss tasting authentic Cuban food at Versailles Restaurant in Little Havana.
Festivals like the Miami Comedy Festival or Ultra Music Festival offer unique entertainment experiences.
If adventure thrills you more than anything else, airboat tours of Everglades National Park or snorkeling escapades at Biscayne National Park will give you plenty to do in the winter season.
42. Crater Lake National Park, Oregon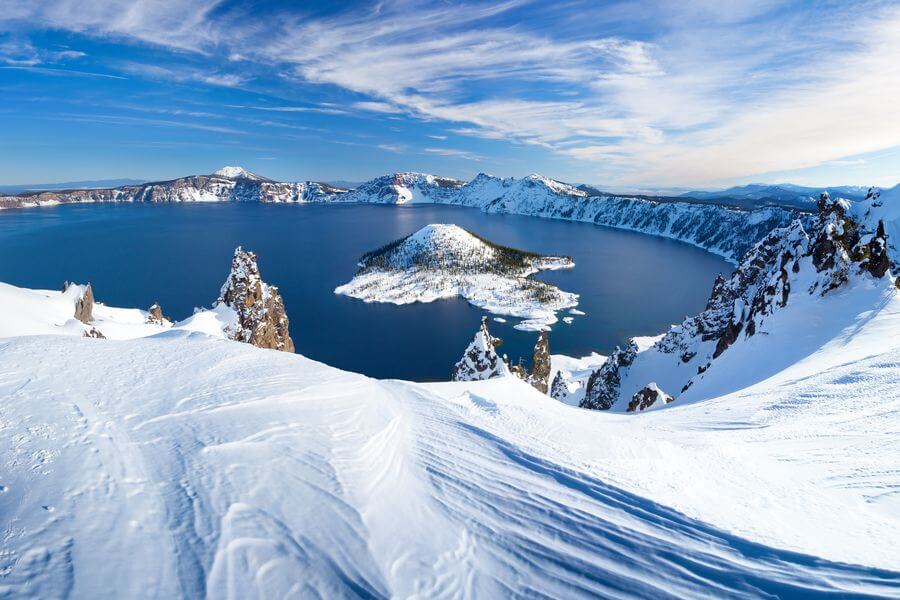 Crater Lake National Park in Oregon offers a tranquil and picturesque winter escape that's far removed from crowded snow resorts.
With an enchanting setting fed only by snow and rain, this park transforms into a serene paradise with an average of over 42 feet of snowfall each year.
This national park is perfect for those interested in winter activities like snowmobile rides or snowshoeing on scenic trails. There's also world-class cross-country skiing along designated routes where you can appreciate the beauty of the area.
Pro Tip: If you don't want to head into the wilderness alone you can go on a ranger-guided snowshoe instead. Not only will it feel a bit safer, but you'll also learn quite a bit!
43. Bryce Canyon National Park, Utah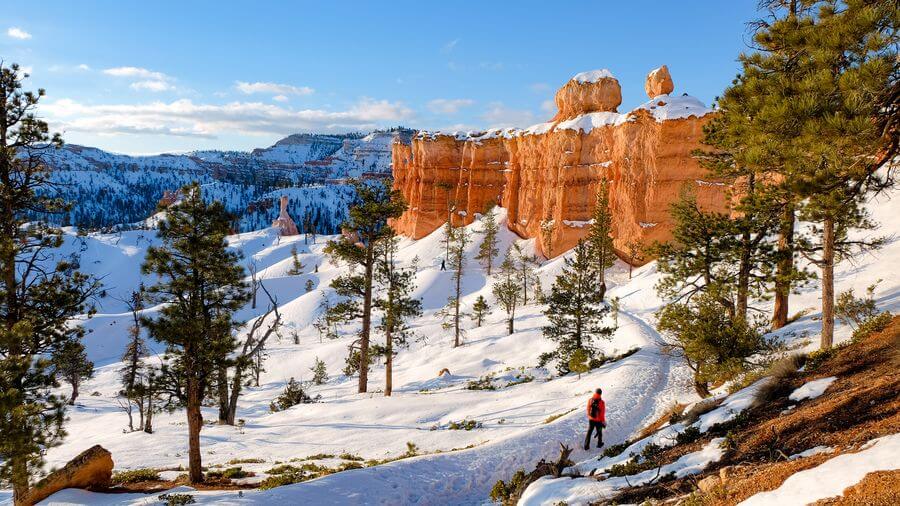 Bryce Canyon National Park takes on a whole new look in the winter. There's nothing like seeing the towering spires dusted with fresh snow against the backdrop of a brilliant blue sky.
If you visit, make sure to see the breathtaking view of Bryce Amphitheatre. This vast canyon is filled with multi-colored spires that rise up to 200 feet high.
There are plenty of scenic routes leading to multiple lookouts that offer diverse and awe-inspiring vistas. And in the winter, each one is a perfect postcard moment.
There's plenty for you to do outside as well. Many visitors like to do some cross-country skiing and snowshoeing through forests. Others prefer sleigh riding across the meadows!
If you're looking for something more festive, make sure to see the Bryce Canyon Winter Festival or Christmas Bird Count event.
Closing Thoughts
As you can see, there are a number of fantastic options for winter vacations in the US. What you consider to be the "best" will simply depend on what appeals to you!
But even if certain places on this list don't jump out at you, consider visiting them in the future. They might surprise you.