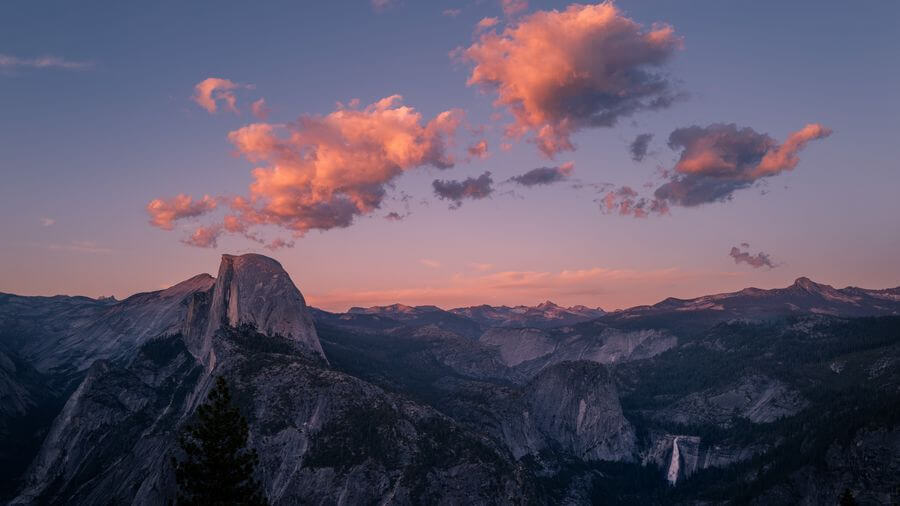 There are a number of amazing viewpoints and spots to see sunsets in Yosemite National Park, but when you're at the park it can be hard to decide where to go. Crowds, traffic (especially in the valley), and poor cell reception can all make things trickier than they need to be.
This list will go over the best places to see Yosemite sunsets, and how you can reach them.
1. Artist Point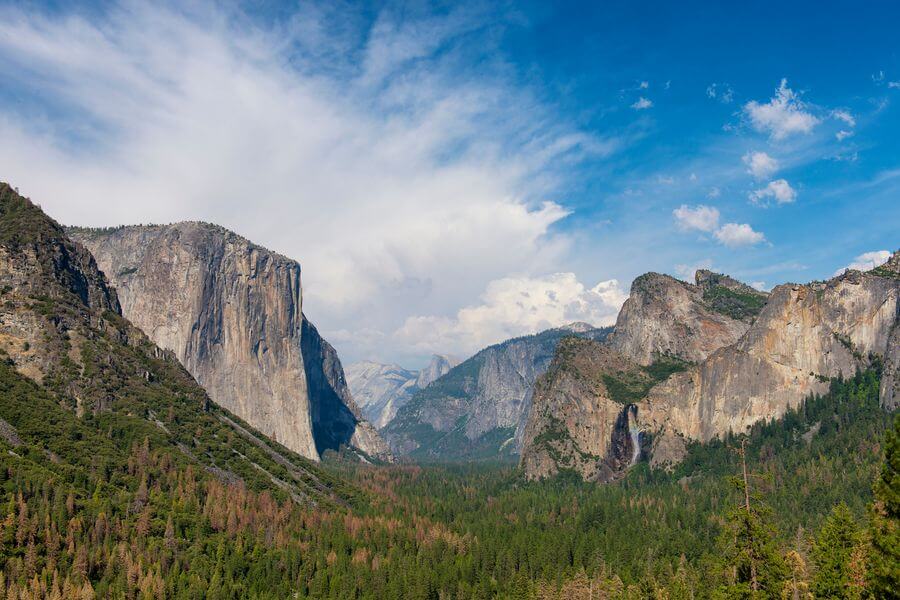 If you're seeking a tranquil spot to witness a majestic Yosemite sunset, then Artist Point is definitely worth considering. Pictures standing there with a view of Bridalveil Fall bathed in hues of gold and orange, surrounded by silence apart from the soft whispering of the wind through the trees!
This lookout is 400 feet higher than Tunnel View and decidedly less crowded. From here you'll have a view of Bridalveil Meadow, Royal Arches Clouds Rest, and Ribbon Fall. Artist Point offers far more than just stunning sunset views, the trail alone is worth the trip. The forest is dense and full of a variety of different trees that make the journey a beautiful experience. Sometimes you can even see climbers on El Cap!
Pro Tip: Like many of the Yosemite sunset spots that require a hike, it's a good idea to have a flashlight with you for your descent.
How To Get There
Depending on where you are in Yosemite Valley, make your way to its western end and look out for signs leading to Highway 41 or Bridalveil Fall. Alternatively, if you find yourself in southern Yosemite, simply drive north on Highway 41 towards Yosemite Valley.
The hike up to Artist Point is only 2 miles long with 761 feet of elevation gain. Be prepared for parts of the path that may be rocky and slippery (especially if you're doing it with minimal light). We recommend a headlamp for the way down if you're not familiar with the trail.
Location: 48.84692583194119, -121.69245264603013
2. Inspiration Point
This Yosemite sunset viewpoint is right next to Artist Point, so we figured it would be smart to group them together. Perched high above the Yosemite Valley, Inspiration Point is a classic lookout that's always worth the trip.
This remarkable spot is accessible through a moderately challenging hike from the Tunnel View parking lot. The uphill journey takes you through beautiful forests and rocky terrains that give you the peak Yosemite Experience.
One of the nice things about Inspiration Point is that the crowds drop off significantly compared to Tunnel View or the valley floor, but it's not too far out of the way. Usually the people you see at the top will be photographers or nature enthusiasts looking to glimpse an iconic sunset.
How To Get There
You'll start your journey to Inspiration Point at the trailhead located near the Tunnel View overlook, just a short drive past Bridalveil Fall.
Getting to this spot requires a moderately difficult 2.1 mile hike with 1,023 feet of elevation gain that leads you uphill through a dense forest. Just like Artist Point, there might be sections that are a bit rocky and slippery.
Location: 37.71513,-119.67665
3. Sentinel Dome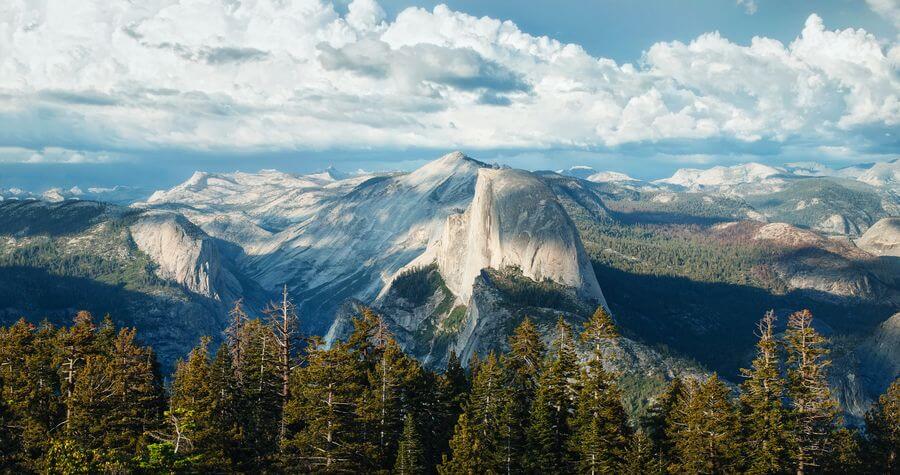 You won't believe your eyes when you reach the top of Sentinel Dome, where the beauty of Yosemite unfolds before you in a dazzling 360 degree view.
As you can imagine, the unobstructed views make this one of the best spots to view sunsets in Yosemite. It's also typically not as crowded as other popular locations, which is always nice (especially if you're visiting during the peak season).
From the top of Sentinel Dome you can easily see both El Capitan and Half Dome and the surrounding area. It's also a great spot to do some stargazing, so consider staying after sunset for this!
What's really neat about this location is that you don't need to do a serious hike in order to reach it. Despite having such a great panoramic view of Yosemite, it takes just over a mile to reach the top (and only 455 feet of climbing). That means you can hop out of the car and get to the top even if you're tired from a long day of travel and adventuring. The dome is granite that's easy to walk on, which is nice after the sun goes down.
How To Get There
Start your journey by driving along Glacier Point Road, about an hour away from the Yosemite Valley floor, until you reach the Taft Point trailhead.
From here, lace up your hiking boots and do a quick 1 mile hike with 459 feet of elevation gain. Most of this hike is relatively easy, but it does get a little tougher as you approach the base of the dome and start your ascent to the summit.
Location: 37.71244,-119.58633
4. Tunnel View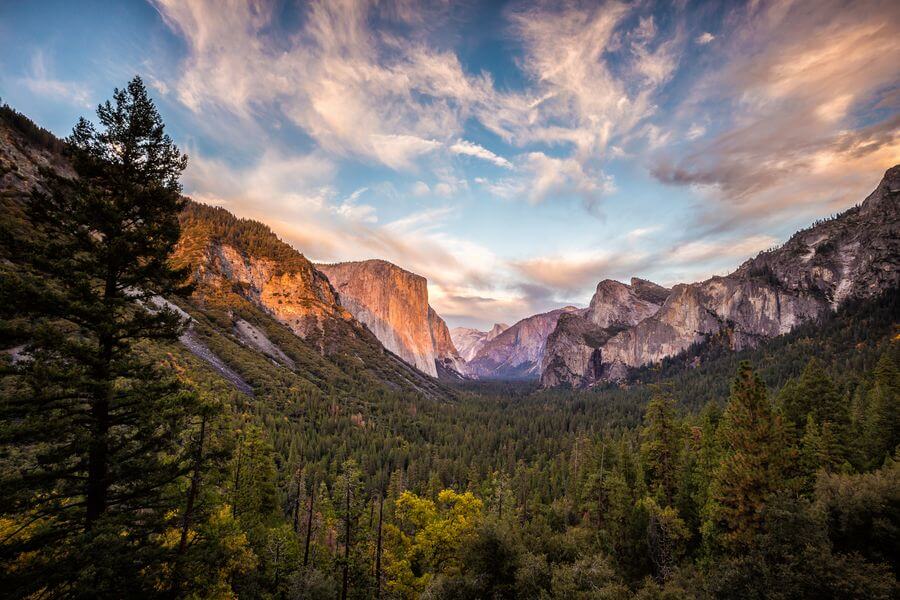 Driving right up to a viewpoint that sweeps you off your feet with its raw beauty is exactly what Tunnel View offers. This iconic location is open all year round and requires no hiking, making it an easy spot for those wanting a mesmerizing sunset without the effort.
But as you'd expect, this is a popular location where parking can fill up quickly. If you're looking to see a Yosemite sunset, make sure to show up and claim a spot early.
The scenery from Tunnel View gives you a fantastic opportunity to see Half Dome and El Capitan along with the rest of the Yosemite Valley. You'll be able to see the golden light from the setting sun cast on the rocks in the valley, which is hard to put into words.
Despite its popularity and reputation as a more touristy spot, it's still worth considering stopping by to watch the sunset from Tunnel View. This is especially true if you don't have time to do a hike or drive to a spot further away from the valley.
How To Get There
Making your way to Tunnel View isn't complicated. Simply drive for about 15 minutes from the valley floor, straight through the heart of the park. You'll be traveling through Yosemite Valley, surrounded by towering granite cliffs and lush pine forests.
When you reach Tunnel View, you'll find two parking lots. The viewpoint is conveniently situated right before the Wawona Tunnel.
Location: 37.71580274385494, -119.6774840938886
5. Glacier Point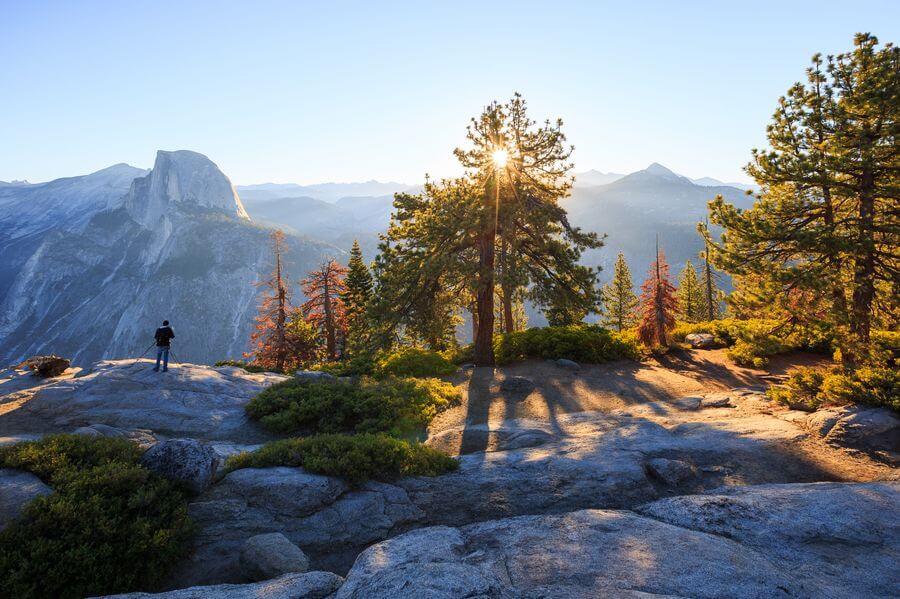 It's undeniable that Glacier Point offers an unparalleled panorama of the park's most famous landmarks, making it a must-visit location for those seeking breathtaking vistas. But what many people don't realize is it's one of the best sunset spots in Yosemite as well.
Just an hour's drive from Yosemite Valley, this accessible spot provides clear views of Half Dome, Yosemite Valley, and Nevada Falls. Because of its accessibility, you'll want to arrive at this viewpoint early so you can find parking and a nice area to look at the scenery. But it's definitely not as crowded as Tunnel View due to the drive from the valley. You'll see a lot of photographers and more serious hiking or nature buffs there as well.
How To Get There
If you're eager to explore the breathtaking panorama of Glacier Point, simply hop in your car and set off on a scenic drive along Glacier Point Road. Each twist and turn reveals a fresh landscape that will leave you utterly spellbound.
From May to early November, this winding road is open for travel, allowing you an approximately one-hour journey from Yosemite Valley straight into the heart of spectacular vistas. It's perfect if you're keen on capturing countless beautiful landscapes along your way to the sunset viewing point.
However, during winter and early spring when snowfall closes off this path, don't despair! A thrilling alternative awaits in the Badger Ski area where backcountry skiing allows adventurous spirits like yourself to reach Glacier Point despite these seasonal challenges.
So whether it's by car or ski, remember: stunning sunsets at Glacier Point are always within your reach – just plan according to the season and let nature do the rest!
Location: 37.72815198042615, -119.57349859241407
6. Merced River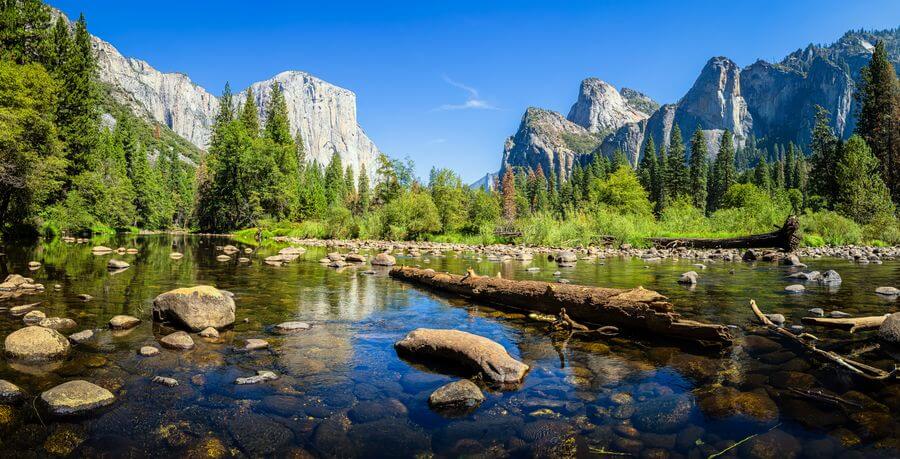 The Merced River is a serene location that doesn't require a strenuous hike up a mountain. In fact, it's one of the more easily accessible spots on this list!
Imagine watching the glow of a sunset painting El Capitan and the surrounding rock formations with deep shades of red. If conditions are just right, without any wind to disturb the water's surface, you'll also witness their reflections dancing in the rippling Merced River.
The great thing about this spot is it's not confined to only one location. The river winds nearly 150 miles through Yosemite Valley, which offers countless areas where you can enjoy the view. This also means that you shouldn't have any trouble finding a place to park and relax.
How To Get There
The Merced River runs through the Yosemite Valley, so as long as you're in the area you won't have trouble finding it. All you need to do is look for a nice spot to watch the sunset and enjoy!
7. Sentinel Bridge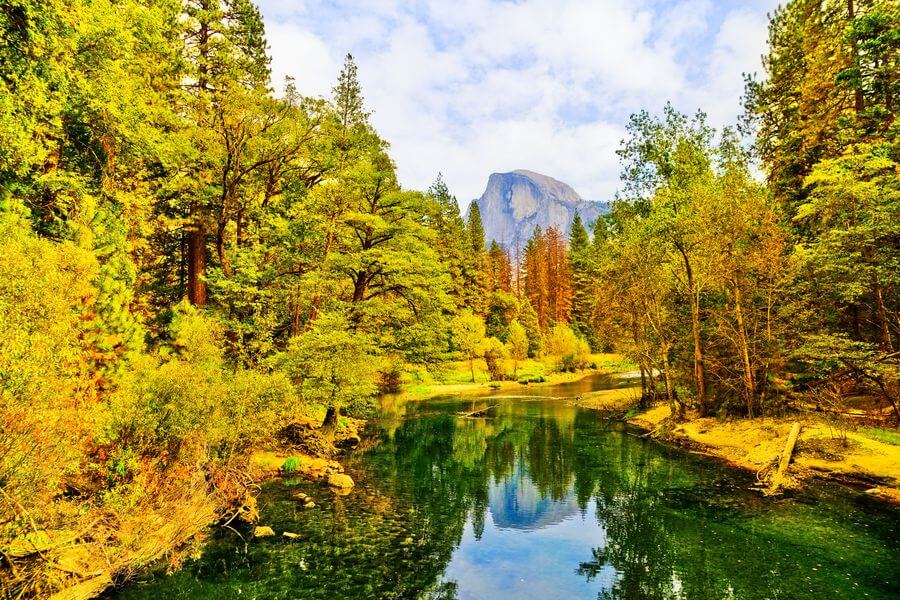 You're in for a real treat if you're able to make it over to Sentinel Bridge in Yosemite to see the sunset. This location will give you a mesmerizing view of Half Dome as it basks in the warm glow of a setting sun.
This spot offers breathtaking views that require barely any effort to reach, making it one of the most accessible sunset viewing points in all of Yosemite.
As you gaze at Half Dome's reflection mirrored perfectly in the tranquil waters of Merced River, you'll understand why this location is so beloved by photographers and nature enthusiasts alike.
But remember, Sentinel Bridge can get a bit crowded at times (especially during summer weekends). So if you want to stake out a prime viewing spot without rubbing elbows with other sunset seekers, it's probably best to get there at least 45 minutes to an hour before sunset.
How To Get There
Head down Southside Drive in the Yosemite Valley until you see Sentinel Drive (and the bridge) on your left. This is near Cook's Meadow. There's a decent amount of parking nearby so just find a place to pull over and walk to an area where you can enjoy the view!
Location: 37.743428491261184, -119.58971498797744
8. Taft Point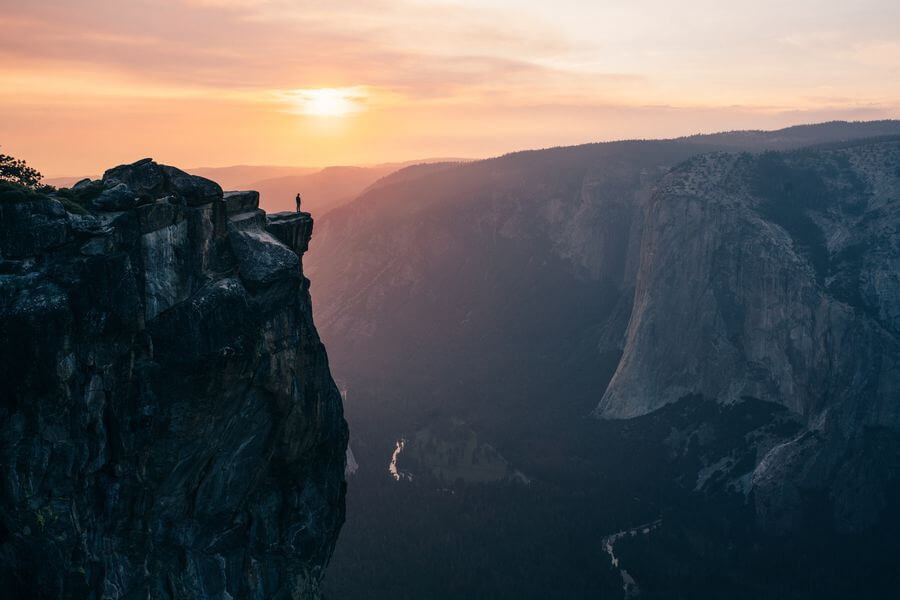 Taft Point gives you the opportunity to stand on the edge of a cliff with a multi-thousand foot drop below you and witness the beauty of the surrounding area. So as you'd expect, being here at sunset is nothing short of amazing.
You only have to hike a little over a mile of forested and rocky trails to reach this iconic viewpoint. Since the trailhead is right off of Glacier Point Road, getting here is easy (as long as it's not winter).
In our opinion, this is one of the best places to take photos in all of Yosemite. You get a view of El Capitan and the entire valley (including the Merced River). There's really nothing like it.
This is a pretty popular spot, but there's a reason for it. While we're not the biggest fan of crowds when we're going on adventures in nature, the view you can get from this Yosemite sunset viewpoint is worth it.
How To Get There
To get there from Yosemite Valley, you'll need to take a scenic hour-long drive to the trailhead parking area at Taft Point. Keep in mind that parking can fill up quickly during peak seasons. But don't worry, there are alternative lots nearby or spaces along the road within a quarter-mile of the trailhead if needed.
It takes just over a mile to reach the top, where some of Yosemite's most breathtaking sunset views await.
Location: 37.71231,-119.58653
9. Cathedral Lakes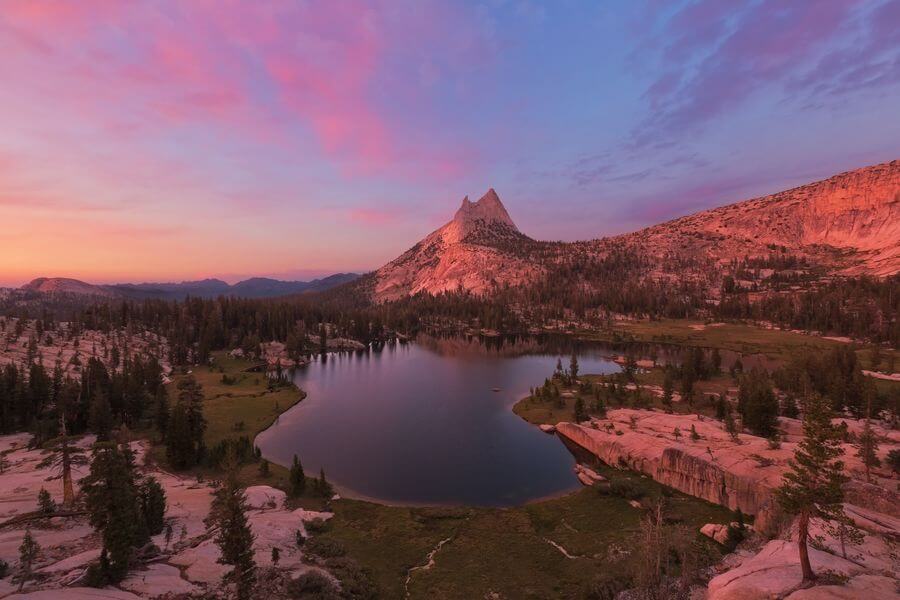 In our opinion, Cathedral Lakes is one of the most overlooked places to see a Yosemite sunset. With its stunning peaks and tranquil water, it's really a hiker's dream come true.
If you're someone who likes to get out and move (and avoid crowds), the 8.5 mile hike helps keep things quiet. As part of the John Muir trail and a highlight of Tuolumne Meadows, it offers a semi-challenging hike but rewards you with awe-inspiring views of the area and the surrounding peaks.
After crossing the swamp to reach this lower lake, you'll find a great spot on its eastern shore to take a break. You might also be able to see Tenaya Lake!
Pro Tip: If you end up doing this in the back half of June you'll be treated to gorgeous blooming wildflowers.
How To Get There
To reach this scenic spot, you'll need to head down Tioga Road, which is only possible between June and October due to weather conditions.
The trailhead is about an hour and twenty minutes from Yosemite Valley. You'll find parking in a small lot nearby, but if it's full many people often park along on the side of the road. If you want to make it all the way to Cathedral Lake you'll need to hike about 8.5 miles one-way.
Location: 37.8734,-119.38289
10. Cook's Meadow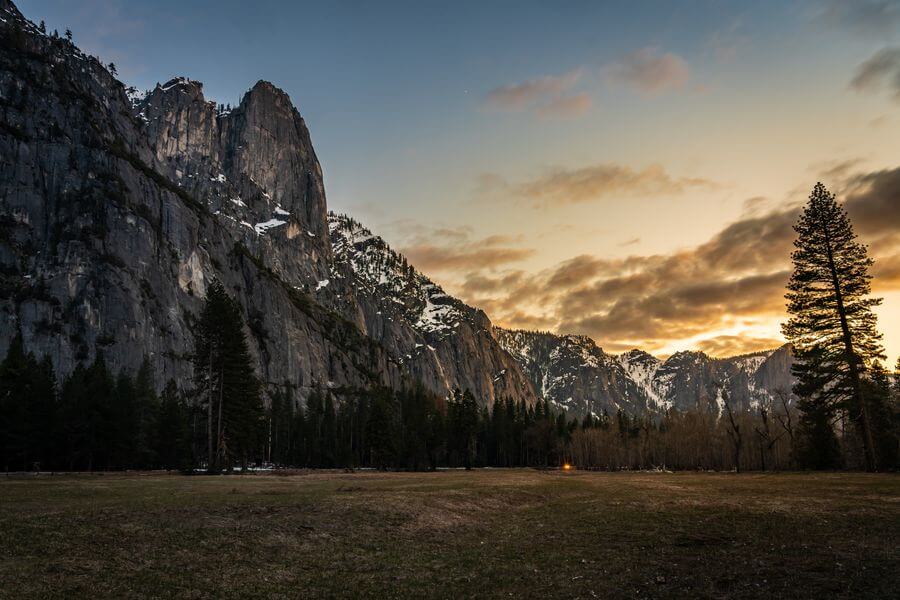 Cook's Meadow is a stunning location near Half Dome in the Yosemite Valley, and it's a rather accessible place to catch a Yosemite sunset.
We like this area because it gives you a great perspective of Half Dome towering over you. It's hard to describe just how imposing that rock formation is until you've seen it up close and from below!
While it's definitely near the hustle and bustle of the valley, our experiences at Cook's Meadow have been quiet and relaxing. In fact, we were able to see some fantastic sunset colors from this very spot!
If you plan on stopping here, make sure to have your camera with you. Not only are the views amazing, but it's not uncommon for some wildlife to make an appearance.
How To Get There
Cook's Meadow is just a short stroll away from either Lower Yosemite Falls Trail or Sentinel Bridge parking lot. You can easily drive or walk to these starting points and then embark on your quick trip to this central spot.
Location: 37.74613598569224, -119.59278019030097
11. Tuolumne Meadows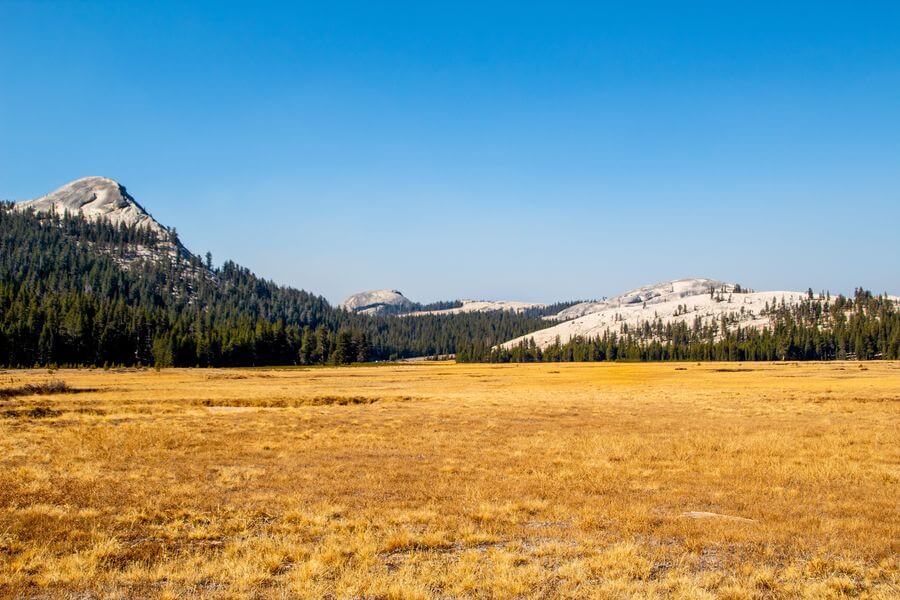 For those seeking a tranquil escape, pristine nature, and the chance to see an amazing sunset, Tuolumne Meadows is definitely worth a visit. Located about 60 miles from Yosemite Valley, this high-elevation meadow offers peace and quiet away from the usual tourist hustle.
Its accessibility via Tioga Road makes it a convenient destination despite being a bit more out of the way. You'll be surrounded by lush fields, majestic peaks, alpine lakes, and granite domes. Because this is such a large area, you'll have no trouble finding a quiet spot to view the sunset.
How To Get There
If you're starting from Yosemite Valley, begin by heading along Highway 120 for ten miles. From there, make sure to turn off at Crane Flat onto Tioga Road.
Continue following this road eastwards for 38 miles and soon enough, you'll find yourself at the breathtakingly beautiful Tuolumne Meadows.
Location: 37.87325858679447, -119.35908014908729
12. Swinging Bridge Picnic Area
Don't let the name fool you, there's a lot of splendor to take in at the Swinging Bridge Picnic Area. You can enjoy the magnificent Yosemite Falls while also appreciating the sunset.
And if you're traveling in a group and you want to enjoy some food, you have tables right there!
Pro Tip: If there's a full moon, we recommend staying after sunset. You'll be able to see it reflect on the river while enjoying the peace of the valley at night.
How To Get There
Nestled on Southside Drive, this destination is just a few miles east of Bridalveil Fall. Simply follow Southside Drive in that direction and you'll find yourself at the Swinging Bridge Picnic Area!
Location: 37.736446798705636, -119.59938417388513
13. Olmsted Point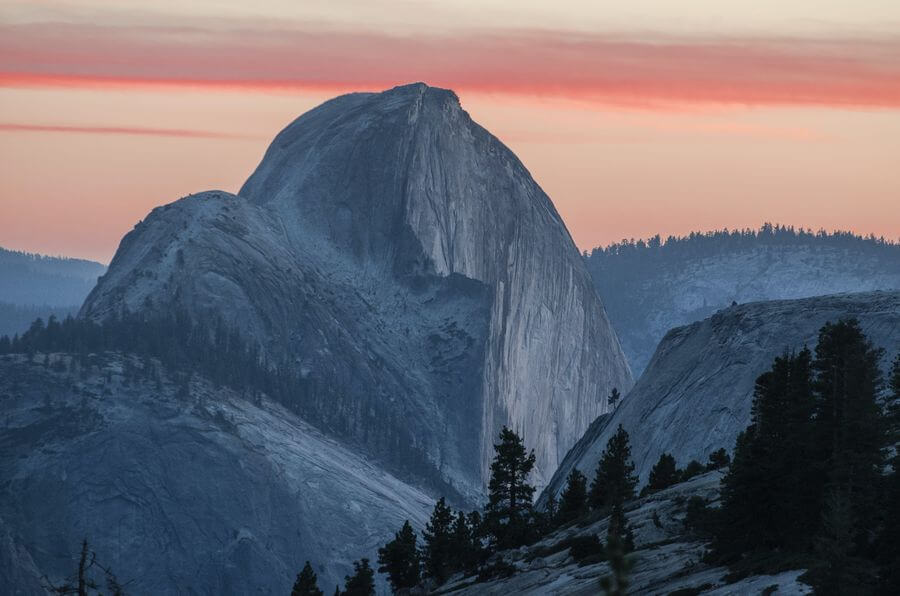 Olmsted Point is right off the Tioga Road, and it's a hidden gem that offers fantastic views of Tenaya Lake and Half Dome. And it's not just another stopover, but one of the best places to see a sunset in Yosemite.
As the day ends, the setting sun casts its golden glow over the Sierra Nevada Mountains, creating a stunning visual. If sunsets are what you're after, we think this viewpoint is definitely worth your time.
The area is fun to explore with sprawling granite all over the place. You'll have a blast walking around to find the perfect spot to enjoy the view.
How To Get There
If you're starting from Yosemite Valley, hit the highway 120 and drive until you reach the Crane Flat turnoff onto Tioga Road. From there, continue on Tioga Road for 30ish miles and you'll find yourself at the Olmsted Point parking lot.
If you're coming from Yosemite's east entrance at Tioga Pass, simply take the Tioga Road west and you'll arrive at the lot. Remember to keep an eye out for wildlife along the way!
Location: 37.81074114644696, -119.48517761779459
14. Horsetail Fall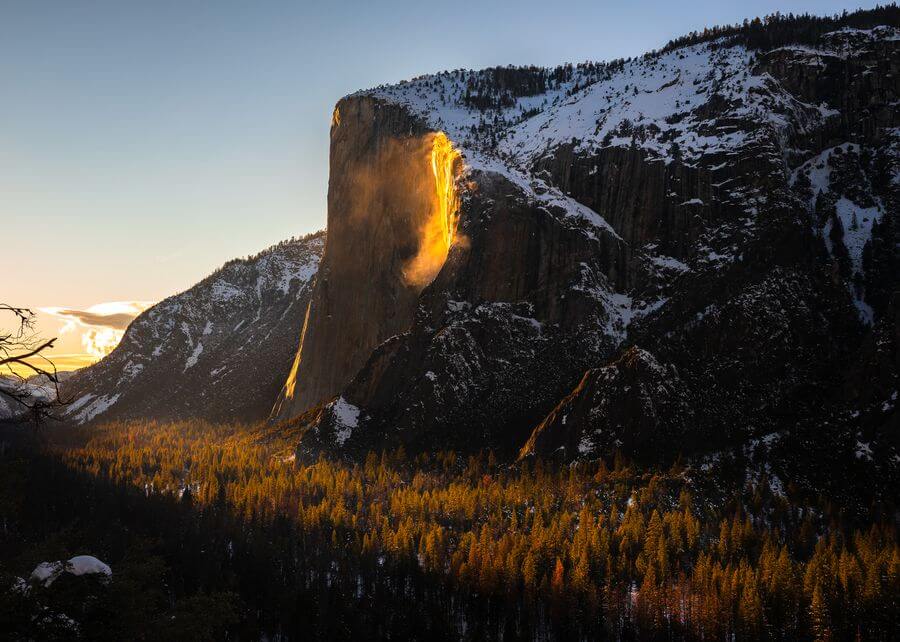 Imagine the sheer rock face of El Capitan ablaze with a fiery orange glow, an ethereal sight that's yours to behold when you experience the Horsetail Fall Firefall in February.
This isn't just any sunset, it's a rare natural phenomenon. It happens only when the setting sun is in just the right position to illuminate the waterfall with its warming rays. The show only lasts for three fleeting minutes, but those moments are nothing short of magical.
You'll need to plan your visit carefully if you want to witness this spectacle. Make your reservation to enter Yosemite Park and aim to park at Yosemite Falls by 3 or 4 pm. If parking spaces run out (which is definitely a possibility), consider leaving your car at the visitor center and hop onto a shuttle bus.
How To Get There
To get there, head into Yosemite Valley and follow signs for the El Capitan Picnic Area. This is a prime spot for viewing, as it's one of the closest locations to Horsetail Fall and was also notably where Galen Rowell first captured the stunning firefall photograph that rocketed Yosemite into fame.
Even if you don't have an expensive telephoto lens at hand, this vantage point offers an excellent position where you can view and capture the sunset over the rock features.
Location: 37.72915681863095, -119.62846476041884
15. Half Dome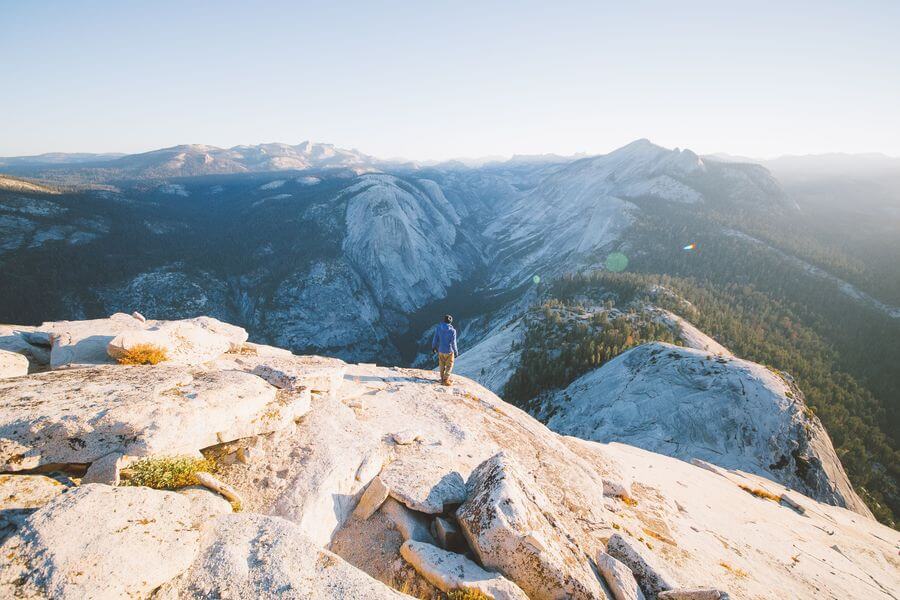 You're in for a real treat when you experience the sunset from the top of Half Dome, where nature's vibrant colors drop behind the iconic granite monolith, creating an awe-inspiring spectacle that'll leave you breathless.
This is one of Yosemite National Park's most famous landmarks, and it doesn't disappoint at golden hour. The grandest views occur just before the sun completely sets, with glazing rays painting a brilliant backdrop against the sky.
Depending on your preference, you can choose to hike to its summit or drive to viewpoints nearby.
But if you really want the full experience, we definitely recommend hiking Half Dome. It's a strenuous 16.5 mile round-trip trek, but rewards you with panoramic views of Yosemite Valley and the High Sierra.
If you're prepared with flashlights or a headlamp, watching a sunset from the top will be one of the more magical things you can do in Yosemite.
Pro Tip: You will need a permit to do this hike. All the information you need to know about obtaining one can be found on the Recreation.gov page here.
Location: 37.73282,-119.55778
Things To Remember When Watching Sunsets In Yosemite
If you're looking to catch a sunset in Yosemite, there are a handful of key things you'll want to remember.
First off, make sure you've checked out the sunset times for your specific location. Every spot may have different timings. Given that many areas at Yosemite offer limited or no cell service, it's smart to download all necessary information beforehand. This includes maps, trail info, and parking details. You'll also want to have a flashlight or headlamp with you if you'll be hiking back to your car in the dark when the sunset is over.
Also, keep an eye on the official Yosemite website for any updates regarding permits, entry timings, and changes in trail availability due to events such as wildfires. It's also essential to check whether roads and trails are open as seasonal closures or repairs might affect your plans. And don't forget about weather considerations such as haze and fog. This could put a damper on your sunset search!
Lastly, make sure you arrive early at your chosen spot so you can beat the crowds!
Wrapping Up
From Artist Point to Half Dome, Yosemite National Park has some truly breathtaking spots to experience a sunset. And in our opinion, each offers a unique perspective and atmosphere that'll leave you in awe.
We hope you found this guide helpful and are lucky enough to experience a great sunset the next time you're in the area.
Have fun!