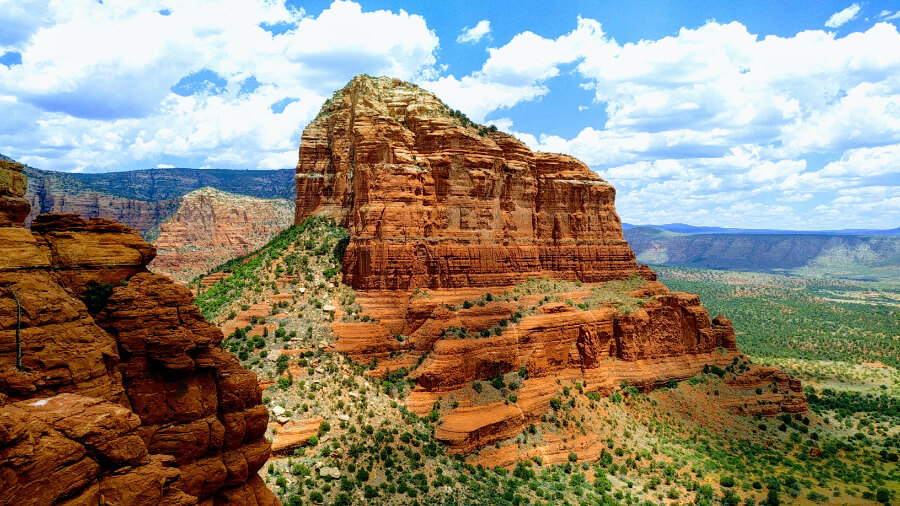 The Sedona vortex hikes are a unique and fun attraction that draw in thousands of people each year. It doesn't matter if you're looking for a spiritual experience or simply a pretty hike, they appeal to everyone.
This guide goes over the best vortex hikes in Sedona, how to access them, and the history behind this unique activity.
What Is A Vortex?
A vortex can have different meanings to different people. For many, it's a spot that provides a blend of earth's potent energy and mystery that can awaken a deep connection with nature.
Imagine standing in a place where the natural world pulses with an almost palpable force. That sensation is what some people say they experience when doing a vortex hike in Sedona, Arizona. It's said that these spots tap into the Earth's unseen energy field, creating a powerful point of amplified energy.
In essence, some interpret these vortexes as gateways or portals to other dimensions, while others view them simply as high-energy areas that enhance their connection to nature and themselves. People from various walks of life journey to Sedona not just for its stunning scenic beauty but also in search of this unique experience — be it for personal healing, meditation, or spiritual exploration. The transformative power attributed to these vortexes has even birthed theories suggesting they could facilitate profound shifts within individuals who engage with their energies.
And the neat thing is that even if you don't believe in these vortexes, the hikes are still gorgeous! No matter which one you do, you'll be immersed in nature and greeted with breathtaking panoramas.
Why Sedona Is Known For Them
Sedona's reputation as a hub for these energy vortexes and hikes to see them dates back to the 1950s when a psychic named Page Bryant. She was a resident of the city at the time, and identified specific locations imbued with an unusual but palpable energy. She decided to name these places "vortexes."
Since then, more and more people have come to the area from all over the world to experience what it feels like to stand within one (or at least near it).
Some even consider the city itself to be one big vortex!
We think that there's something about the unique beauty of Sedona that adds to this reputation. It doesn't feel like anywhere else, so it's not surprising that people associate this city with the vortexes Page Bryant identified many years ago.
The Best Vortex Hikes In Sedona
There are a number of vortex hikes in Sedona that are worth exploring. It doesn't matter if you're simply looking for a fun local activity or a powerful spiritual experience, there's something for everyone.
And the scenery for each of them is beautiful!
Here are the hikes to check out the next time you're in the city.
1. Boynton Canyon Vortex Hike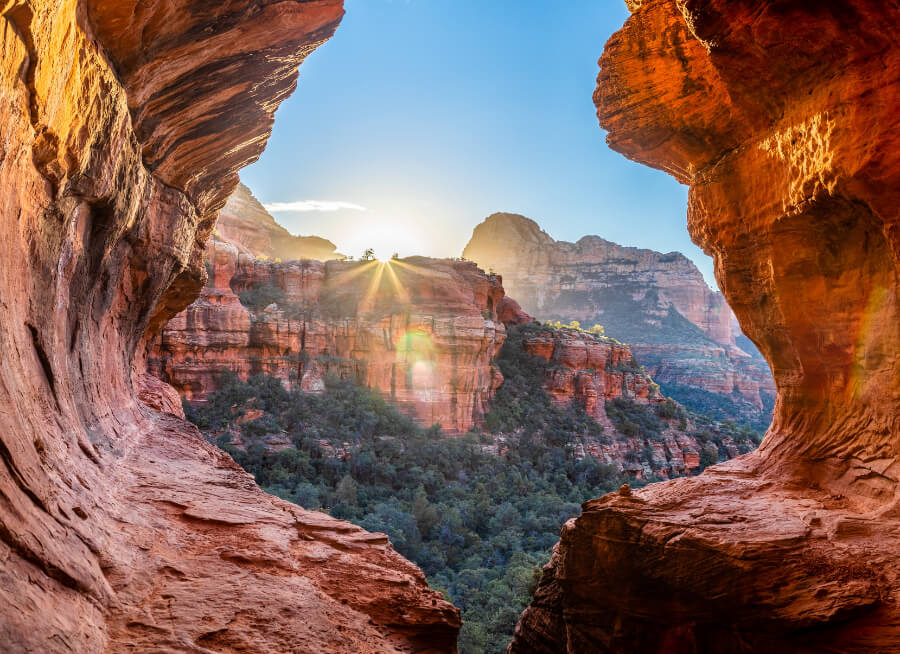 Boynton Canyon is an amazing area with tranquil energy and striking beauty. On your hike you can see interesting desert plants, massive red rock formations, and even ancient ruins!
This Sedona vortex hike is slightly over 6 miles in length, which gives you a great opportunity to take it all in. It's not a surprise that this hike is so popular! Make sure you bring some water and even some snacks if you plan on staying out for a while. The sun takes its toll!
And the neat thing about the Boynton Canyon hike is that it's actually home to two vortexes!
The hike starts at the Boynton Canyon Trailhead where there is some parking available. From here it's a pretty straightforward jaunt until you get to the vista and begin your climb. At the top of this climb you'll find the main vortex that's found near the Kachina Woman formation. For those who believe in the energy of these spaces, it's often described as a tranquil and peaceful space.
Even if you're not a believer in vortexes, there's something incredibly calming about being in such a serene natural environment. It doesn't matter what time of the year it is, there's beauty all around you.
Trailhead location: 34.90765, -111.84911
2. Cathedral Rock Vortex Hike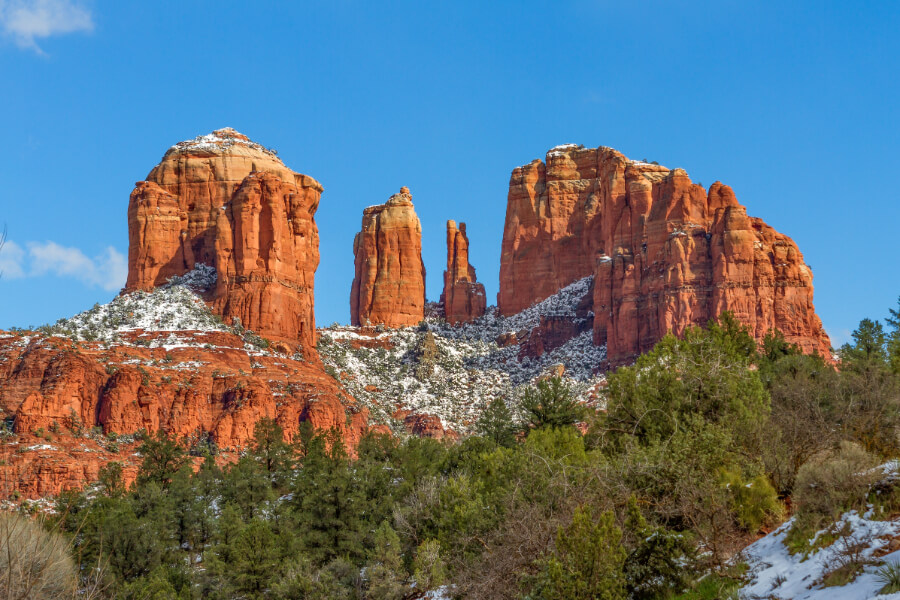 Cathedral Rock is one of the most iconic formations in Sedona. This towering rock feature reaches towards the heavens, beckoning you to embark on an unforgettable journey of discovery and connection with Mother Earth.
As one of the most popular vortex hikes in Sedona, this trail is not just a walk but an adventure that engages both your physical strength and spiritual awareness. Many say they feel the earth's energy coursing through them as they navigate the steep climb, all while being captivated by breathtaking views of Sedona's iconic red rocks.
The Saddle of Cathedral Rock is where many report feeling a surge of energy from this unique vortex hike. But remember, it's not a piece of cake for everyone. This hike requires a little bit of fitness and determination. However, those who aren't able to make it to the top often say they feel the spiritual energy that envelopes this area.
Finding parking for this hike can be a bit tricky at times (depending on when you're going), so plan ahead and think about getting an early start on the day. If you strike out with parking you can always try another trail like Baldwin trail or Mystic. The advantage of these is it's a bit easier to find parking and you get some great views on the way. The disadvantage is that some of the spots are a bit streep and exposed, so it's not for everyone.
If you want to experience a bit of this vortex hike without commiting to the full trail, check out Buddha Beach. This is an area that's easily accessible and allows you to get close and enjoy the beauty of the area.
If you plan on doing any of the trails that require some scrambling (like Baldwin or Mystic) you should bring the proper gear, namely appropriate footwear. Some hiking or trail running shoes that can provide you with some traction will make everything a whole lot easier.
Trailhead location: 34.82517, -111.78862
3. Bell Rock Vortex Hike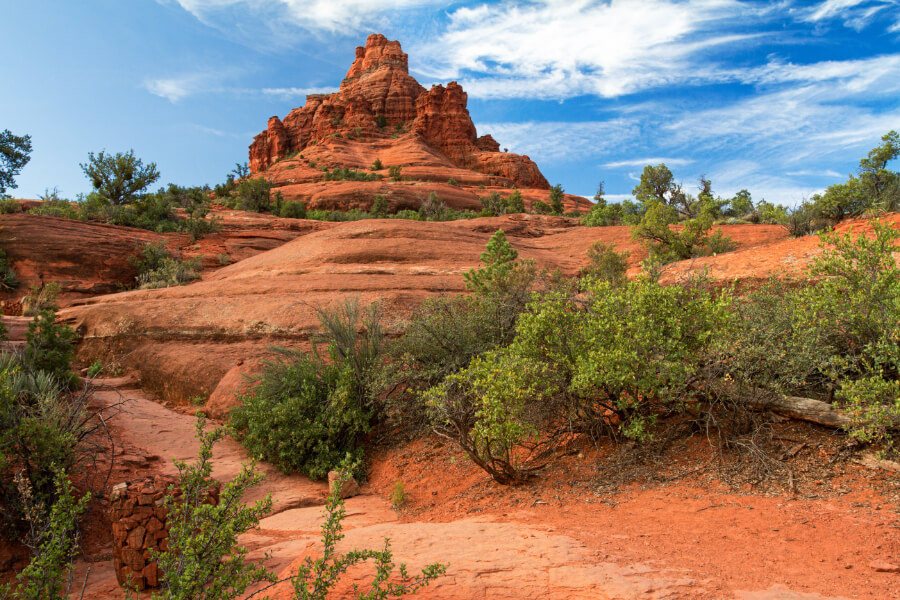 Bell Rock is another vortex hike in Sedona where many go to challenge themselves physically and connect with nature's energy in a truly unique way.
This hike is well-marked, making it easy to navigate your way around the stunning red rock formations (named after its bell shape). As you ascend towards the top, prepare for a more strenuous climb over steep trails and rocks.
But it's worth it.
If you make it to the top you'll have an unobstructed 360 degree view of the entire city and the surrounding area.
To find the vortex you'll go about 10 cairns in and then start working your way to the right. This is where many people go if they want to experience the most powerful energy this location has to offer. Sometimes you'll even see groups of people meditating!
This is definitely a hike that requires you to bring the proper footwear and be competent climbing on rock. If you plan on going all the way to the top you'll need to keep your wits about you and pay attention, because there are a number of no fall zones.
Trailhead location: 34.805587354936215, -111.76631753121694
4. Airport Mesa Vortex Hike
Looking for a quick yet rewarding vortex hike in Sedona that has some astonishing scenery? Try the Airport Mesa trail, it's sure to leave you breathless in more ways than one.
Despite being a relatively short hike, it can be a little steep at times. But overall, it should be accessible for just about anyone. Just make sure you have some water with you or in the car for when you get done!
As you turn left at the market sign from the parking lot, follow the trail to the overlook where the vortex is said to be. Many people do this hike to feel the energy of the space as well as enjoy the beauty of Sedona and the distant San Francisco Peaks.
This spot's proximity to town makes it an ideal choice when time is limited but adventure calls. You can squeeze in a quick morning jaunt or wrap up your day here with stunning dusk views over downtown Sedona and beyond.
Author Note: There is limited parking at this hike so don't be surprised if you have some trouble when visiting during peak hours. If you start early or go during a slower time of the year you shouldn't have trouble though.
Location: 34.85575722038314, -111.7791478052169
5. Red Rock Crossing Vortex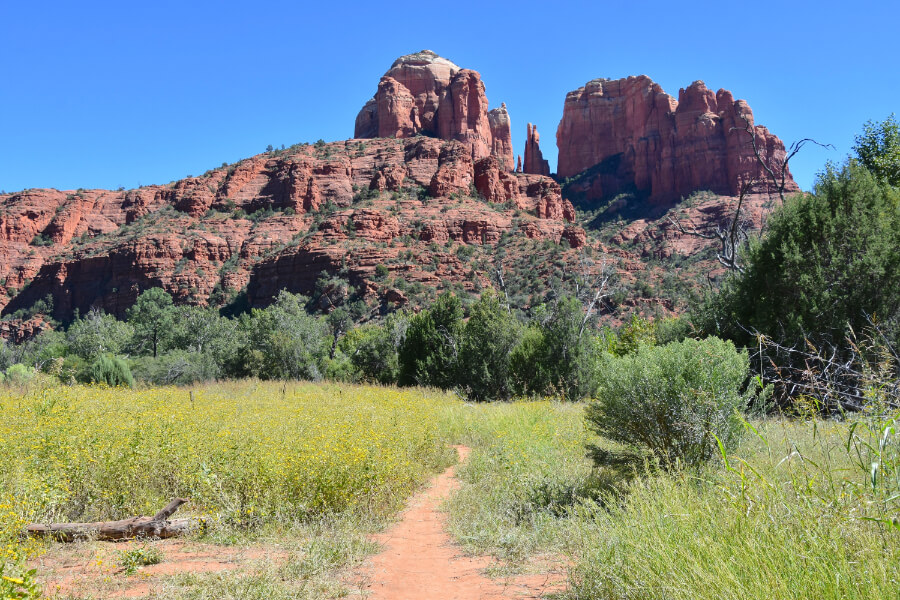 Nestled alongside Cathedral Rock, the Red Rock Crossing area is a treasure trove of stunning landscapes and sacred spots that are sure to awaken your senses. If you're looking for an easily accessible vortex hike in Sedona, then this place should be on your list.
There are several trails leading to the vortex, with Baldwin Trail being the closest. But if you're up for a bit of adventure, try taking the route from Secret Slick Rock parking area across Oak Creek. However, keep in mind that sometimes the water level is too high to cross!
One of the interesting things about this hike is the rich Native American culture that's tied to the area. Here, where Oak Creek runs alongside Cathedral Rock is believed to house a powerful vortex and is considered sacred ground by many. The majestic Cathedral Rock itself holds significant reverence among Native Americans as they view it as a home of gods and birthplace of first man and woman.
But don't rush off once you've finished the hike! There's still plenty to do in the area, and hanging out until the sun goes down is one of them. Everything takes on an otherworldly glow that you have to see to believe.
Trailhead location: 34.82170046173502, -111.80797284047618
6. Damfino Vortex Hike
If you're craving a blend of tranquility and stunning landscapes, the Damfino vortex hike is for you! This hidden gem in Sedona offers an immersive experience that's ideal for those seeking solitude and serenity.
Tucked away off Schnebly Hill Road, the Damfino Vortex area can be accessed via a small trail off of Munds Wagon Trail.
The journey itself is as rewarding as reaching your destination. As you navigate through this well-established trail, you'll be captivated by Sedona's signature red rocks framing every view.
There's plenty of space for you to explore the vortex area and engage in spiritual practice if you wish. It's not uncommon to see people meditating while they soak up the beautiful environment.
Trailhead location: 34.86650024027584, -111.74842513025634
The Best Time Of The Year To Do These Hikes
You'll find that spring and fall are generally the most comfortable times of the year to check out Sedona vortex hikes. The temperature is milder and the natural backdrops are breathtaking.
Fall brings a chill in the air and a burst of warm hues from changing foliage, adding an extra layer of tranquility to your vortex hike.
If you go in the spring, vibrant wildflowers create a colorful spectacle against the red rock formations.
But if you want to do these vortex hikes in the summer or winter, it's still possible.
During the summer we recommend going on these hikes early in the day or in the evening. That will help you avoid the midday heat and also steer clear of the crowds that often flock to the trails during this time of the year.
If you decide to try these vortex hikes in Sedona during the winter, you'll obviously have to contend with cooler temperatures and potentially slippery terrain. However, the crowds will be almost non-existent which means you'll be able to enjoy the unique environment all on your own!
Closing Thoughts
No matter who you are, the Sedona vortex hikes are worth exploring. The natural beauty of the area is unmatched, and there's a lot to be gained if you're a believer in the power these mystical places contain!
If you have any stories or experiences from doing these hikes, let us know! We love hearing about the adventures of our readers.