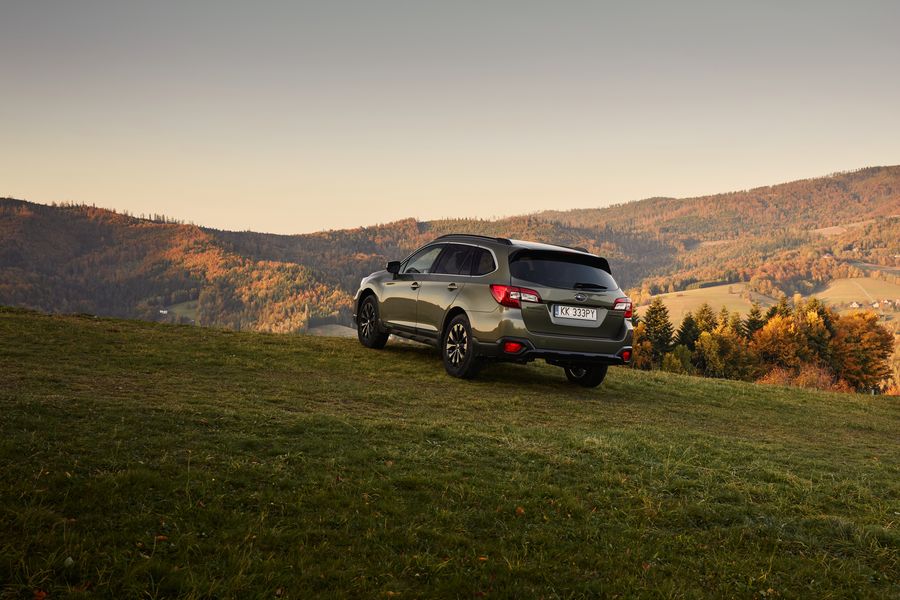 Most people think of full size SUVs and trucks as the only vehicles that can tow campers. However, the Subaru Outback is a great tow vehicle for lighter campers thanks to its surprising towing capacity and safety features. In fact, while a Subaru Outback cannot tow full size trailers, it can handle lightweight and ultralight campers with relative ease.
In this guide we'll discuss what makes this car a good towing vehicle and provide a detailed list of the best campers for the Subaru Outback.
Can A Subaru Outback Tow A Camper?
Yes! This may be surprising as the Subaru Outback isn't known as a dedicated towing vehicle. While there are numerous other vehicles that have higher towing capacities and a wider range of capabilities, the Outback is a great option for small, lightweight campers thanks to its engine, stellar safety ratings, and specs.
Depending on what year (we'll be referring to the 2024 model in this guide) and what trim you choose, the Subaru Outback can tow up to 3,500 pounds. For this vehicle's size and weight, this is quite impressive!
What Makes The Outback An Underrated Tow Vehicle
For those who don't want to drive a large SUV or full-size truck (especially when you aren't towing a camper or trailer), the Subaru Outback is a great alternative. Let's discuss in detail why you may want to consider buying a Subaru Outback as a towing vehicle.
Tow Capacity
The five lowest trims of the 2024 Outback have a towing capacity of 2,700 pounds. The higher trims (Onyx Edition XT, Wilderness, Limited XT, and Touring XT) can tow up to 3,500 pounds.
Both of these capacities allow the Outback to tow a wide range of campers and trailers that feature a lot of the same amenities as a larger setup. It's important to remember when looking at camper weight that you're often seeing the dry weight, aka the weight of the camper with nothing in it. The extra weight includes everything else, such as all of your gear (clothes, shoes, linen, etc.), food, water, and waste.
Capable Engine
All trims of the Outback have a 4-cylinder engine. Depending on the trim, your car will have either the standard 182 horsepower 2.5 liter engine (2,700 lb. towing capacity) or the turbocharged 2.4 liter engine with 260 horsepower (3,500 lb. towing capacity). While these specs might not jump off the page initially, these engines are quite efficient and capable.
Additionally, all Outback engines are mounted low and provide the car with a low center of gravity. This is really important given the high ground clearance of the Outback, especially when on off-road terrain.
All-Wheel Drive
Every trim comes with all-wheel drive. AWD provides better traction and stability than front wheel drive, so you'll have more security during bad weather and in off-road conditions.
Safe
Subaru is known for their high safety standards. The Outback has received a 5-star safety rating from the NHTSA and features a number of modern safety features which really make an impact on long car rides.
The Outback has adaptive cruise control (we LOVE this), lane centering and departure warning, pre-collision braking, and automatic emergency steering. On some trims, the side mirrors have blind spot detection, which provides extra assurance when towing a camper.
Camper Trailers For The Subaru Outback
Because of the towing capacity, the ideal campers for the Subaru Outback are going to be lightweight setups such as teardrop campers, pop-ups, and small travel trailers.
There are so many campers that fit this bill, so we've researched and compiled a list of what we think are some of the best campers for the Subaru Outback.
1. HC1 Trailer By Happier Camper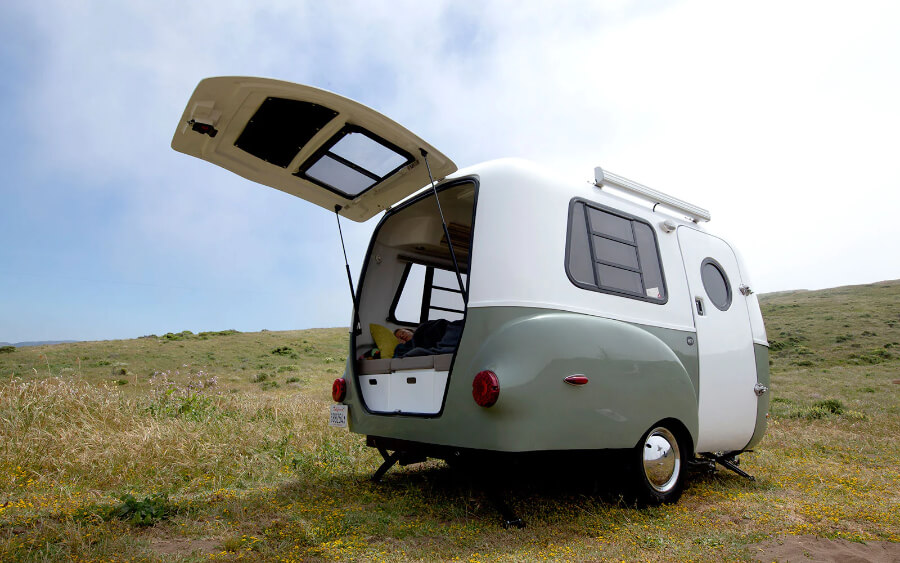 This brand is known for making stylish, modular fiberglass travel trailers! Happier Camper defines their style as retromodern and they create ultralight (thanks to the materials) trailers that are well-suited to be towed by an Outback.
The Happier Camper HC1 Trailer has a 42 square foot walkable interior with an interior height of 6 feet and 1 inch. This camper is designed to have a flexible and open feel thanks to the side entry door, large rear hatch, and wide windows. This camper is made to be compatible with solar power and can be used off the grid.
The modular system developed by Happier Camper gives you the ability to easily rearrange all of the components anytime you want to suit your traveling needs as they change. With the right arrangement, the HC1 trailer can sleep up to five people, which we think is pretty impressive.
There are three different packages to choose from. The basic and standard packages include modular seating, tables, and cushions. The premium package provides much more including a kitchenette, a dry flush toilet, and an awning.
Type: Travel Trailer
Dry Weight: 1,100 pounds
Price: $29,950 base, $42,950 with all the bells and whistles
Size: 7 feet wide, 13 feet long
2. Koala By Rustic Trail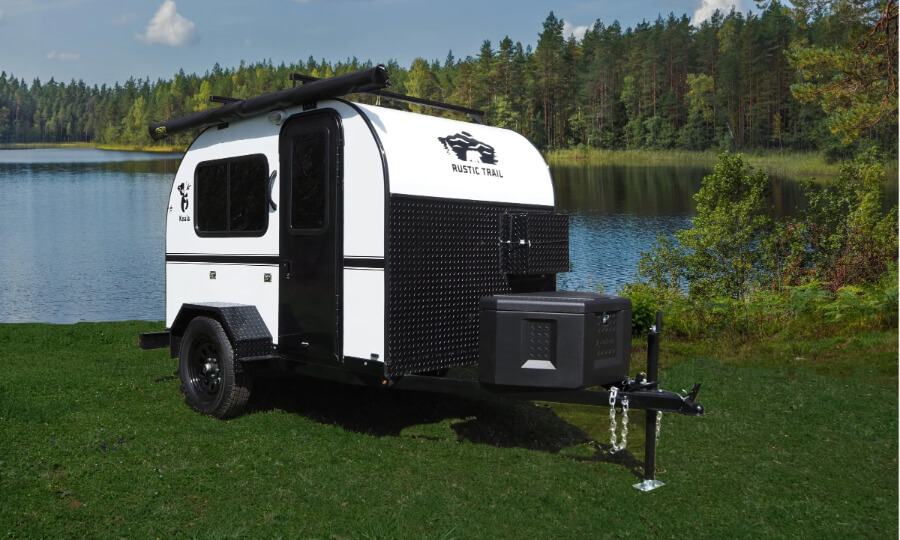 The Koala by Rustic Trail is a lightweight, compact teardrop camper. It is another great trailer for the Subaru Outback that we suggest.
Despite its small size, the Koala is a well built and sturdy camper lined with foam board insulation and a newly added radiant barrier in the roof. The interior is nicely accented with light birch wood ceiling and cabinetry and durable vinyl plank flooring.
Standard features include 15-amp shore connection, USB charging ports, LED lights, a 5,000 BTU A/C, electric brakes, and fifteen inch tires with a full size spare. There is adequate ventilation thanks to the MaxxAir vent, two sliding windows, and the main door. You can choose to add a trifold queen mattress.
There isn't a kitchenette or bathroom. However the cabinets can be used to hold a griddle and other cooking items. The company does offer a portable cassette toilet.
Type: Travel Trailer
Dry Weight: 1,110 pounds
Price: $8,000
Size: 5 feet wide, 8 feet long
3. "Original" By TCTeardrops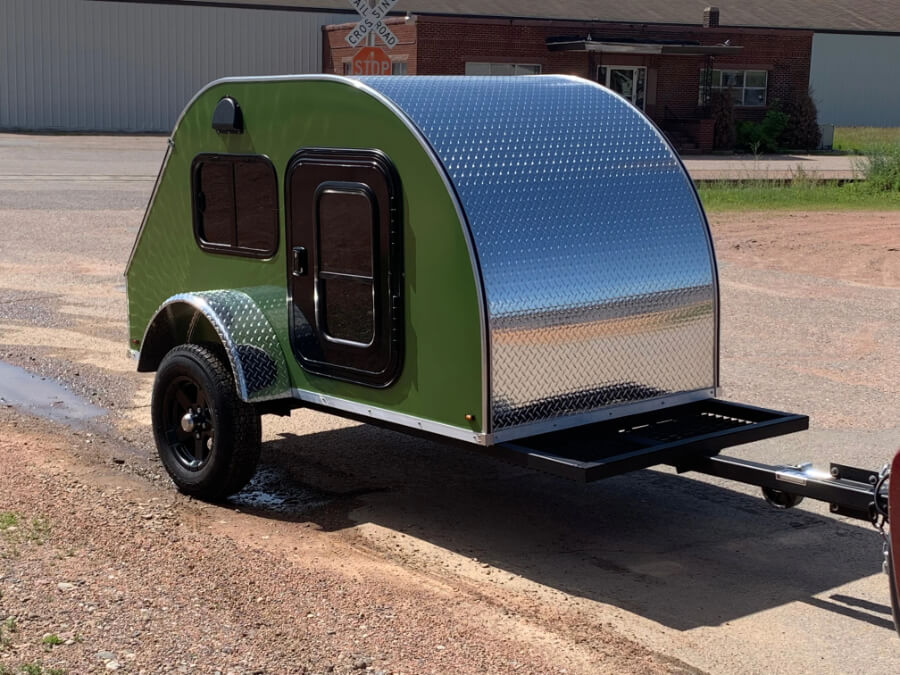 This is another fantastic camper for the Subaru Outback that you should consider. The "Original" by TCTeardrops is a well priced teardrop trailer that offers a wide variety of customization options and amenities. Choose from five different sizes to best fit your travel style.
There are a lot of features that come standard such as 14 inch aluminum wheels, 12 volt outlets and USB ports, overhead LED lights, and a well built outdoor galley with plenty of storage options. Enjoy two doors with windows and two side windows that come equipped with screens and locks for security.
The "Original" also comes with a wheeled tongue jack, a wiring harness, marker lights, tail lights, and a two foot receiver.
You're able to further customize the camper (for more money of course) by selecting any number of their long list of additional features.
Type: Teardrop Camper
Dry Weight: 750 to 1,150 pounds
Price: $8,300 to $10,500
Size: 4 to 5 feet wide, 8 to 10 feet long
4. Flyer Chase By inTech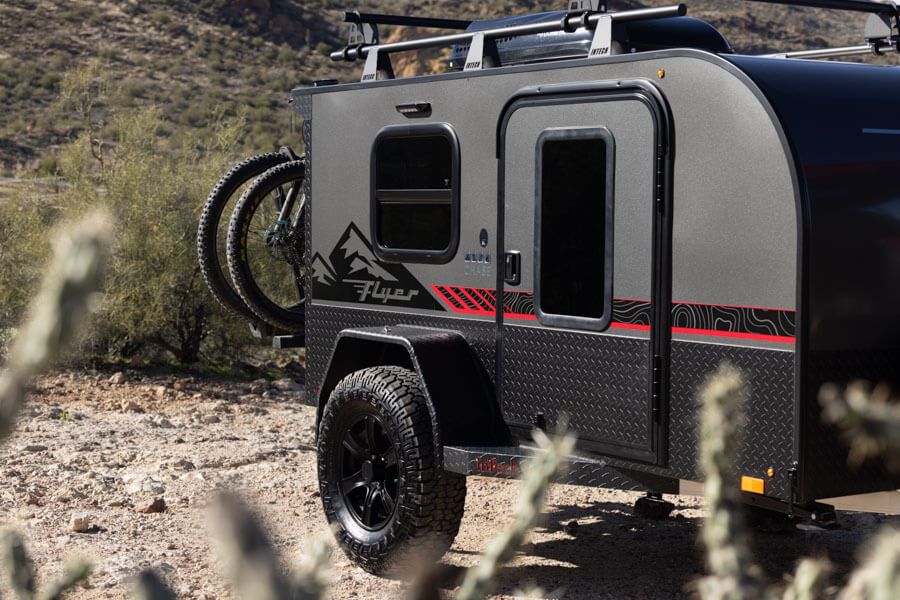 The Flyer Chase is the most basic travel trailer made by inTech. It's built for rugged adventure but is lightweight and versatile. This camper is made to accommodate add ons to make your life easier if you want a more robust setup. The frame of the Flyer Chase is an aluminum cage so is strong enough to handle any off road experience.
Because the Flyer Chase is made with aluminum, it won't rust, guaranteeing long-lasting durability. It's also designed to take you off the grid thanks to the ability to add solar power that all models offer.
You may be surprised to hear that this camper can accommodate up to five people. This can be done by buying an Add-A-Room tent (one of the many modifications available).
You can also choose to add off-road tires, A/C and heat, awnings, or roof racks.
Type: Travel Trailer
Dry Weight: 1060 to 1280 pounds
Price: $13,174
Size: 6 feet 11 inches wide, 12 feet 5 inches long
5. Scamp 13 Travel Trailer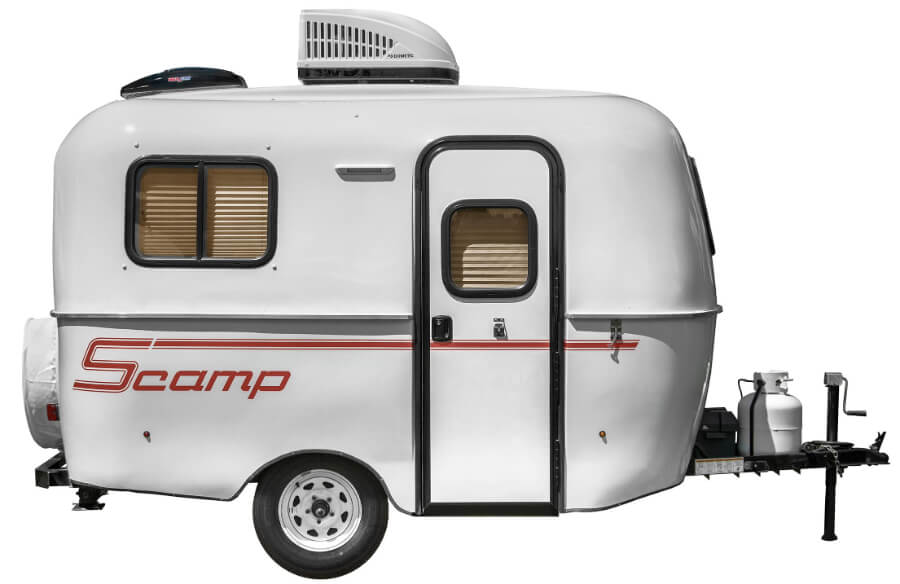 The Scamp 13 is another fiberglass camper trailer that's perfect for the Subaru Outback. This is due to its compact size (with a surprisingly roomy interior) and lightweight materials. While we don't think it's the most modern or aesthetically pleasing camper on this list, we do like the features and you can't beat the price!
The Scamp 13 comes in five different floor plans, two of which have a designated wet bath. The Standard floor plans come with an impressive amount of base amenities. These include a kitchenette (with propane stove, fridge, sink, and cabinets), a dinette/bed area, water tanks (potable, gray, and black water), and electrical outlets.
Type: Travel Trailer
Dry Weight: 1,500 pounds (without bathroom)
Price: starting at $19,921
Size: 6 feet 8 inches wide, 13 feet long
6. Flagstaff 176LTD By Forest River
Our first pop up camper that can be towed by an Outback is the Forest River Flagstaff 176LTD. This is a perfect option for families thanks to its ample sleeping spaces. And as you probably know, pop up campers like this one are lightweight and easy to tow thanks to the low profile!
Despite this camper's ability to be collapsed down, the 176LTD is roomy and offers a handful of modern amenities. There are two beds on either side of the camper. A nice kitchen and dinette are located in the center area.
For your comfort, the 176LTD comes standard with a roof vent and a 20K BTU furnace. Air conditioning can be added on for an additional cost. Your camper will also come with a 25 AMP converter, two rear stabilizing jacks, twelve inch radial tires, and electric brakes.
Type: Pop-up Camper
Dry Weight: 1,465 pounds
Price: $11,000
Size: 5 feet 4 inches wide, 11 feet 9 inches long (closed length)
7. TAB 320 S By nuCamp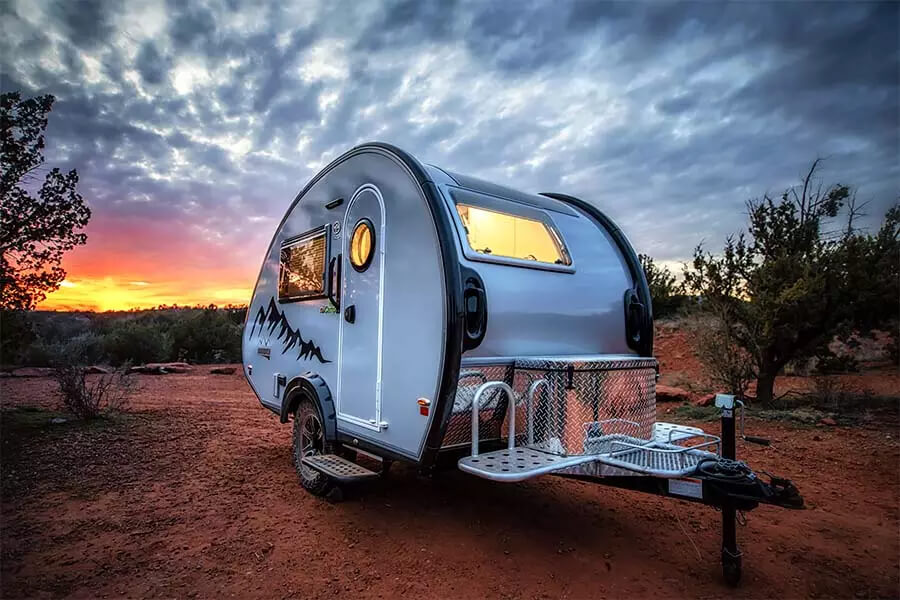 Another solid camper for the Subaru Outback is the sleek looking TAB 320 S by nuCamp. Even though it is small, this camper includes all of the essentials. If you enjoy off grid camping, the TAB 320 S is made for rugged boondocking.
This modern teardrop camper really pulls out all the stops. It has a fully equipped galley kitchen, a full wet bath with a cassette toilet, and a dinette that doubles as a bed (either a full sized bed or split twins). Enjoy central air conditioning, a Nautilus water management system (handy!), and double pane windows.
The starting price of this camper is more than many of the other campers on this list, but nuCamp has clearly paid attention to detail with pieces that will make your camper feel more like home. The kitchen cabinets are Amish made and soft close to add a luxury feel. Cook on a two burner glass-top stove. For entertainment, nuCamp includes a 19 inch TV and a Bluetooth media center.
Additional features that can be added include off-road tires and better ground clearance for off road adventures. You can add a solar package to your roof as well as a lithium battery package, giving you more flexibility off grid.
Type: Teardrop Camper
Dry Weight: 1,993 pounds
Price: starting around $30,000
Size: 6 feet 8 inches wide, 15 feet 3 inches long
8. Expedition By Aliner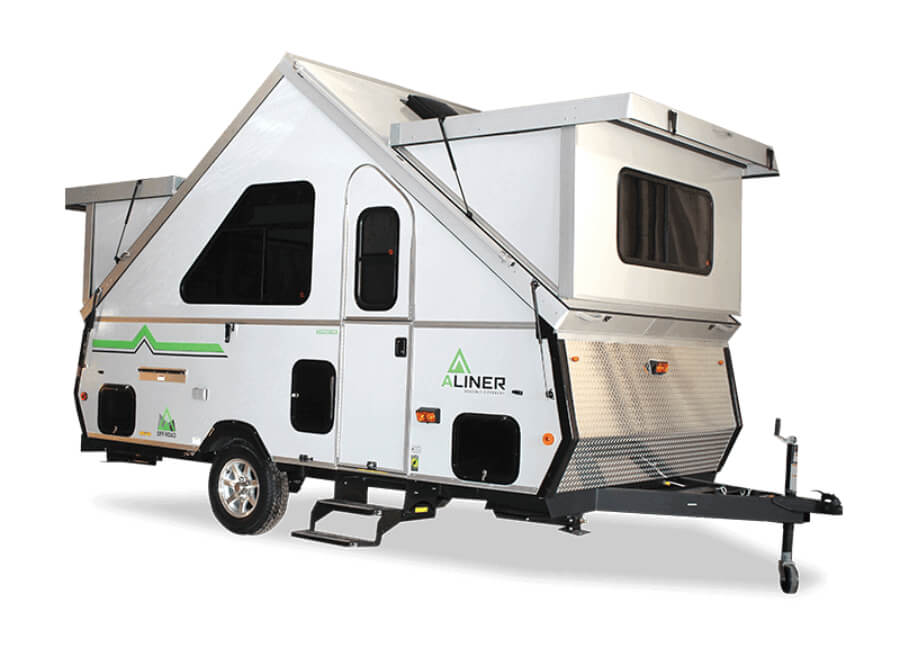 The Expedition is not your average pop-up camper. Unlike most others that have canvas sides, the Expedition's are hard and rigid, making this a really choice option for cold weather camping. It also features well thought out floor plans and a high ceiling thanks to its A-frame design.
Because the Expedition by Aliner has hard sides, made of an aluminum body with fiberglass materials, it is able to provide excellent insulation, much superior to that of standard canvas pop-ups. It takes only four minutes to set up and fits easily into cramped campsites.
Two hard-sided dormers pop-up on both ends of the camper to provide sitting and sleeping areas. There are two floor plans to choose from. One offers a queen bed on one side and a dinette that converts into a bed on the other. The second floor plan has a sofa bed instead of a queen mattress and the same dinette-to-bed conversion as the other option.
Inside, the Expedition has all of your necessary appliances for a small kitchen, air conditioning, furnace, heat pump, and a swivel cassette toilet. There are three electrical outlets. Enjoy an eleven gallon fresh water tank.
This camper comes standard with four stabilizer jacks, two exterior back doors for extra storage, electric brakes, an exterior outlet, and 35 amp converter to name a few features. It comes with a solar port if you're interested in investing in solar power.
Type: A-Frame Pop-up Camper
Dry Weight: 1850 pounds
Price: $28,000
Size: 7 feet wide, 18 feet long
9. Classic By Timberleaf Trailers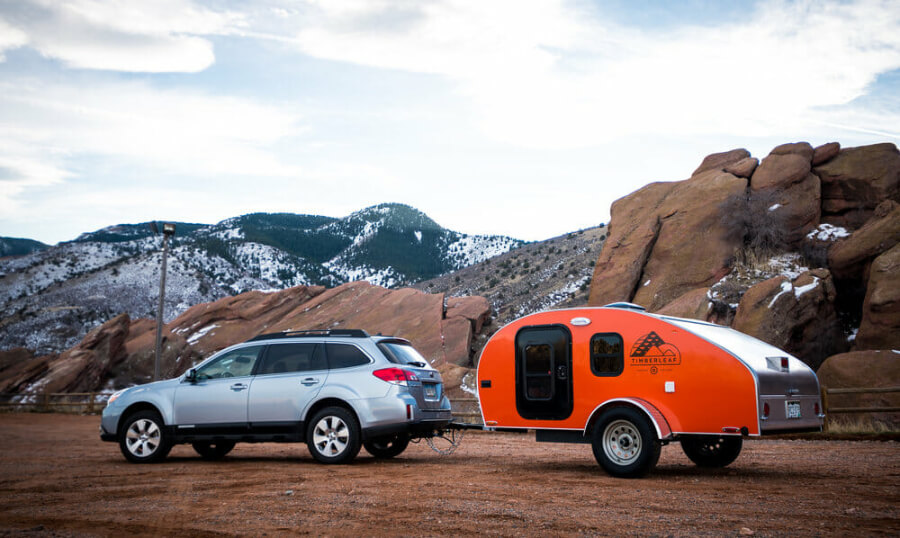 Timberleaf Trailers' Classic camper is a minimal but cozy and functional camper that is a good option for the Subaru Outback.
The Classic teardrop trailer is available in three different suspension packages, from easy highway cruising to extreme off road management. Once inside of the Classic trailer, you will be greeted with warm wooden walls and cabinetry. From the (almost) queen sized mattress, look up to peer through a perfectly positioned skylight.
The rear galley kitchen has plenty of storage both above and below the counter which features a slideout stove drawer. The Classic has a built-in sink with water storage options up to 17.5 gallons. Additional options include a stove and a 12-volt fridge.
Standard exterior features include a 3,500 pound torsion axle and trailer tires on 15 inch aluminum wheels. More rugged options better fitted for off-road functionality are available for upgrade.
Type: Teardrop Camper
Dry Weight: 1,500 pounds
Price: $24,150
Size: 83 inches wide, 168 inches long
10. TAXA Cricket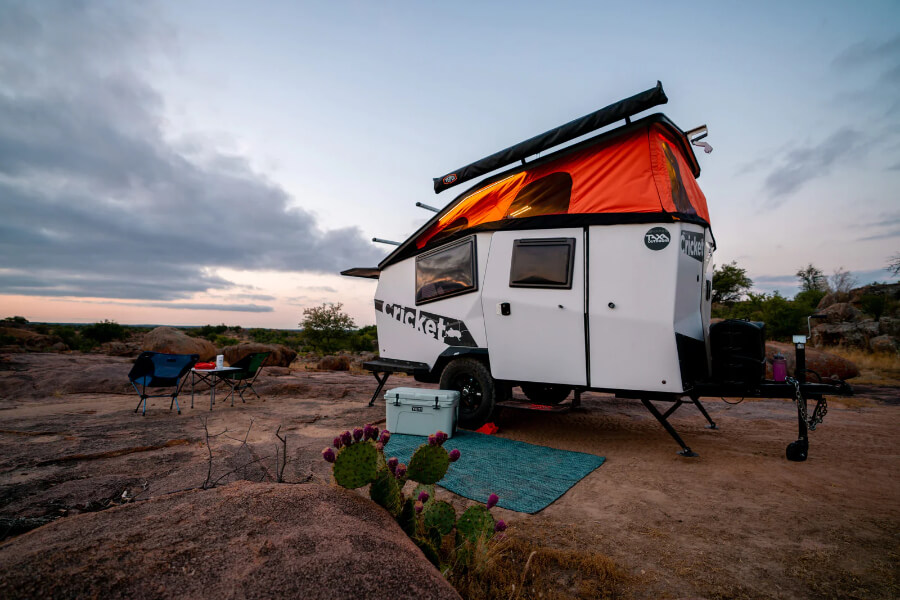 With its design inspired by NASA, the TAXA Cricket is a cleverly built travel trailer that can be easily towed by a Subaru Outback. Don't be fooled by its small interior footprint, the TAXA Cricket can accommodate a family of four thanks to its modular features.
A cross between a travel trailer and a pop-up camper, the Cricket is designed around a full sized aluminum frame topped with a pop-up roof to facilitate better air movement. If you need more sleeping space than just a full mattress, opt to add two lofted berths that attach to the roof.
The trailer's aluminum frame is secured to a steel chassis complete with torsion axle suspension and electric brakes for optimal handling. Standard features also include a 2,000 pound tongue jack, four stabilizer jacks, and all-terrain tires backed by a five year warranty.
Type: Travel Trailer (Pop-Up Roof)
Dry Weight: 1,753 pounds
Price: $39,871
Size: 6 feet 7 inches wide, 15 feet long
11. r-pod RP–107C By Forest River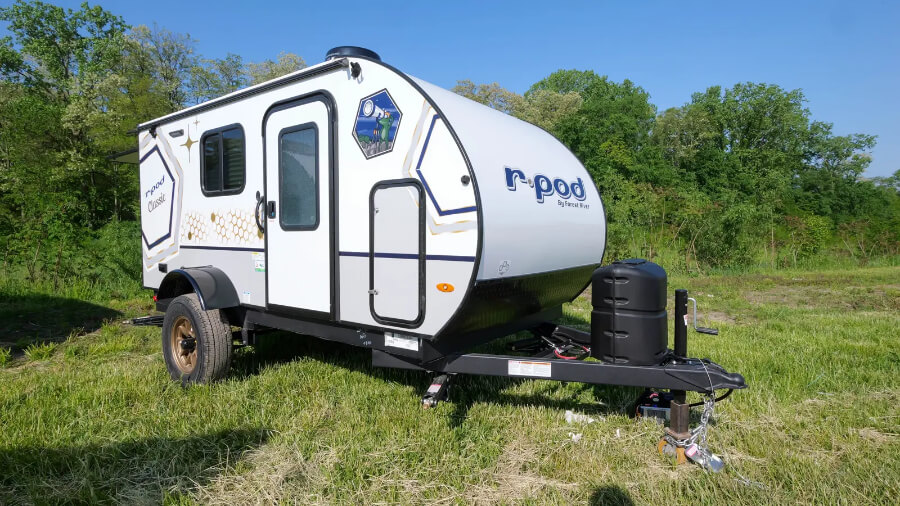 Another tried and true camper trailer for the Subaru Outback is the Forest River r-pod RP-107C travel trailer. While this model is new, the r-pod line has been around for a while.
The r-pod RP-107C is a basic yet comfortable and roomy lightweight travel trailer. The interior features a fireplace (fancy!), a sofa that converts to a queen sized bed, and adequate storage space. There is a rear outside kitchen with a two burner stove, refrigerator, and microwave oven. This trailer also has a 30 gallon water tank!
Stay comfortable in any season with a wall unit air conditioner and a furnace. A home grade wall thermostat is installed so you have precise control over temperature.
The r-pod is built on a steel frame, comes with self adjusting electric brakes, and a power tongue jack which is super handy. Upgrades are available, such as solar hook up. There are higher models with more amenities, however they are pushing the tow limit of the Outback.
Type: Travel Trailer
Dry Weight: 1,789 pounds
Price: ~$26,865
Size: 88 inches wide, 15 feet long
12. The Go Camping Trailer By SylvanSport
This unique and ingenious camper is the lightest on our list and can be towed with ease by the Outback. If you want a tent camping experience with a little extra comfort, the Go Camping trailer is the way to go.
The Go Camping trailer was designed and built to be a multi-purpose vehicle; use it to camp, carry gear and toys, or as a utility trailer. While it lacks all the bells and whistles you would want for glamping, it is a perfect adventure vehicle with a pop-up tent. While it doesn't have air conditioning or heat, it does have excellent ventilation. SylvanSport says the tent material is safe for heater use.
There are multiple ways to configure the interior. There is a center fold down table and you have the ability to rearrange the bed pads to sleep up to four people.
You can add different roof racks to fit your activities so bring along your bikes and kayaks. There is a large cargo bin area. You can also use the Go Camping trailer as a utility trailer for larger toys such as dirt bikes or ATVs. Regardless of how you use it, the tent is always with you when you need it. Find it in the gray pod on the top most part of the trailer.
SylvanSport does offer a solar kit, which is a great investment to consider if you like to camp off the grid frequently.
Type: Pop-Up Camper and Utility Trailer
Dry Weight: 840 pounds
Price: $14,495
Size: 75 inches wide, 140 inches long (collapsed)
13. LXE By Aliner
The LXE by Aliner is the smaller sister of the Expedition that we touched on earlier. It's a pop-up camper that features rigid, hard walls and one front dormer.
The LXE features a large sofa bed (80" x 76" which is huge for this small camper), ample side storage, a dining table, a kitchen (sink, stove, and fridge), and a cassette toilet/shower tub combo. The front dormer pops out at the front end of the camper to allow for more room and head space in the kitchen and shower area.
Just like the Expedition, the LXE has large windows on both sides of the camper and a skylight located on the dormer. There are three interior electrical outlets and one located on the exterior of the camper.
Type: A-Frame Pop-Up Camper
Dry Weight: 1,795 pounds
Price: ~$26,000
Size: 6 ½ feet wide, 15 feet long
14. Alto R1723 by Safari Condo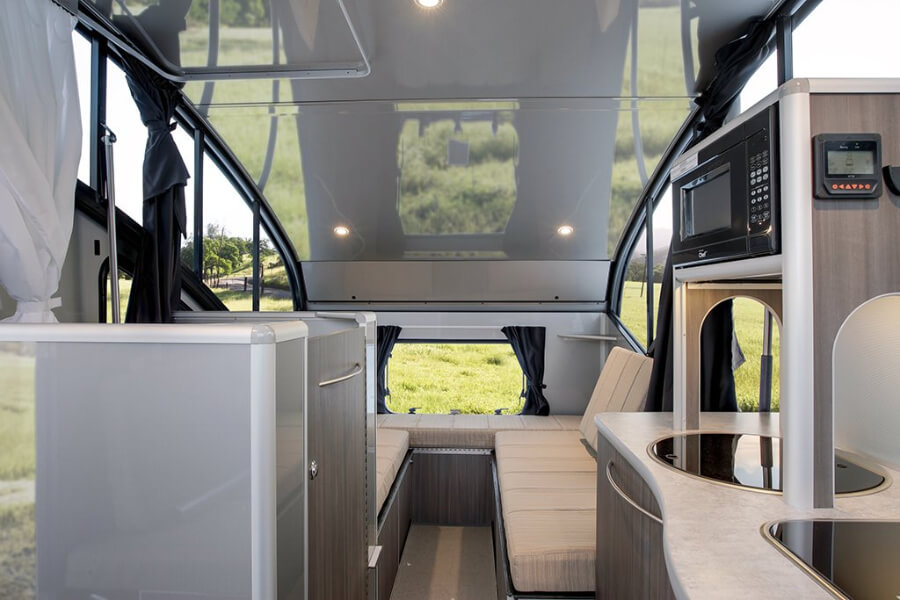 This ultralight and ultra unique travel trailer is made of aluminum and composite materials and formed into an incredibly aerodynamic shape that Safari Condo claims has 75% less drag than traditional travel trailers. This is great news if you want to tow a camper trailer with your Subaru Outback!
The Alto R1723 possesses one of the most distinctive designs on this list. This is thanks to the retractable aluminum roof that increases the interior height to almost seven feet! A fully opened roof reveals wall to wall windows made of tinted glass.
With sleeping space for up to four people, the Alto R1723 has a living area that can be converted into a king size bed and a front dining area that can be converted into a twin. An adjustable table can be moved to accommodate more diners.
The kitchen is equipped with a flush mount two-burner stove, a fridge, a microwave, and a deep round sink. Keep all of your food and dining ware in cabinets with sliding doors. Across from the kitchen is a standing, open topped wet bath with a fixed flush toilet.
The Alto R1723 has a low center of gravity and independent suspension system which makes towing this trailer with a car like the Outback safe and stable.
Type: Travel Trailer
Dry Weight: 1,867 pounds
Price: $40,000
Size: 6 feet 10 inches wide, 17 feet 3 inches long
15. Vaga By Wander Tears
The Vaga teardrop trailer by Wander Tears sports a sleek and classic teardrop shape and comes equipped with all the essentials needed when looking to camp simply and worry free.
Built on a five by eight foot steel frame, the Vaga trailer sits on fifteen inch wheels stocked with all-terrain tires, making it a great option camper trailer for the Subaru Outback if you're looking to venture off the beaten path.
The light wood interior has a trifold queen mattress. LED reading lights make this a cozy place to read on a rainy day or at night before bed. There are interior cabinets with locking latches to prevent items from spilling out while on the move. You have the option to add a floor table at the foot of the bed. The Vaga has a classic rear galley in the back.
Both the interior and the galley have a 12-volt socket outlet and a dual-port USB outlet. There is a 30 amp shore power connector inlet.
Type: Teardrop Trailer
Dry Weight: 1,300 pounds
Price: $17,950
Size: 5 feet wide, 8 feet long
Necessary Equipment And Upgrades
While a Subaru Outback can tow a camper, there are still a couple of important safety upgrades to consider ahead of time. Namely, you may have to buy and install the following on your Subaru Outback:
Tow Hitch and Ball Mount: This is the primary connector between your vehicle and your camper and since this feature doesn't come standard on the Subaru Outback, you will have to add one.

You can choose to buy one straight from Subaru (an OEM) or purchase an aftermarket hitch. This can cost anywhere from $500-$800 for the product itself plus the price of professional installation.
Wiring Harness: Because the Outback doesn't come with a tow package, you'll want to purchase a wiring harness. The purpose of a wiring harness is to connect the car's electrical system to the trailer. This is done (and required for safety) so, among other things, the trailer's taillights and brake lights work. Total cost for parts and installation is around $1,000.
It's worth noting that Subaru does not recommend adding a sway bar or weight distribution hitch. You might see some people online advocating for this, but we think it's always best to stick to the manufacturer's guidelines.
Wrapping Up
If you don't have or want a massive tow vehicle, you can use an Outback! The Outback has a long history of achieving the highest of safety standards, has a reliable engine, and comes equipped with all-wheel drive.
But as you can see, the best camper trailers for the Subaru Outback are on the smaller side. Our list of best campers for this vehicle all come in under 2,000 pounds. This gives you a good amount of wiggle room to add everything you need for a successful camping trip without going over the tow limit.
We hope you found this guide helpful and use it as a starting point for your own research. It's quite common to see Outbacks towing campers on the road, so don't be afraid to join the club!
* All images that have been sourced from company websites listed above have full image credit attributed to them.