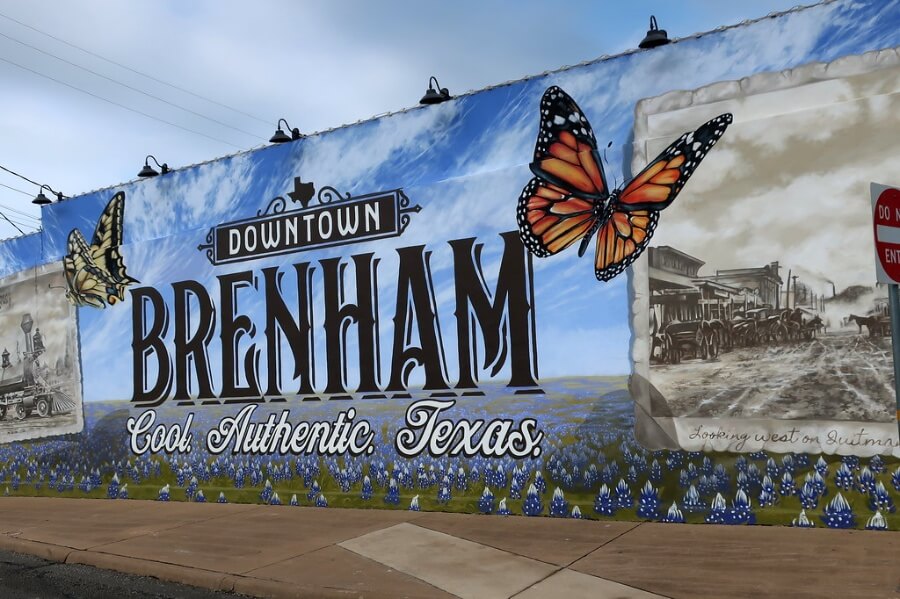 Many people don't realize it, but there are actually a number of German towns in Texas. Not only do they have a rich history, but there are often many German attractions and events that make them worth a visit.
This list breaks down each of the most interesting Texas German towns and what you can go there.
1. Boerne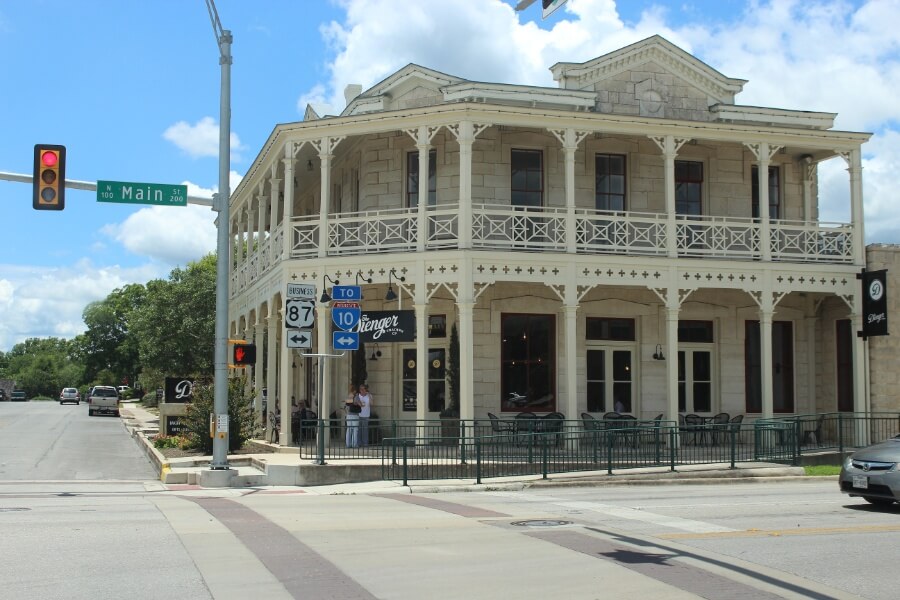 Boerne is a beautiful German town located in the Hill Country. About 30 minutes outside of San Antonio, Boerne began back in 1852.
After the German revolutions in 1848, a group of Free Thinker German colonists moved to Texas and founded the city. Initially, it was called Tusculum. However, the city changed its name a few years later to Boerne, after German author Karl Ludwig Börne.
Today, locals pronounce Boerne like "bernie," but the German roots are evident. Some of Boerne's most iconic German sites include Herff Farm and the Kuhlmann-King Historical Complex. The former is a preserved homestead serving as the backdrop for the town's farmer's market and community garden. The latter is a museum that showcases the town's rich German history, including objects used by the first immigrants who settled there.
There are tons to do in Boerne. While it isn't home to any large-scale German festival, plenty of places proudly display the town's roots.
For example, you can hit up Dienger, a historic building built by a German pioneer. It now holds a popular clothing store and cafe where you can enjoy traditional German treats. On Main Street, you can visit Tusculum Brewing Co.
2. Fredericksburg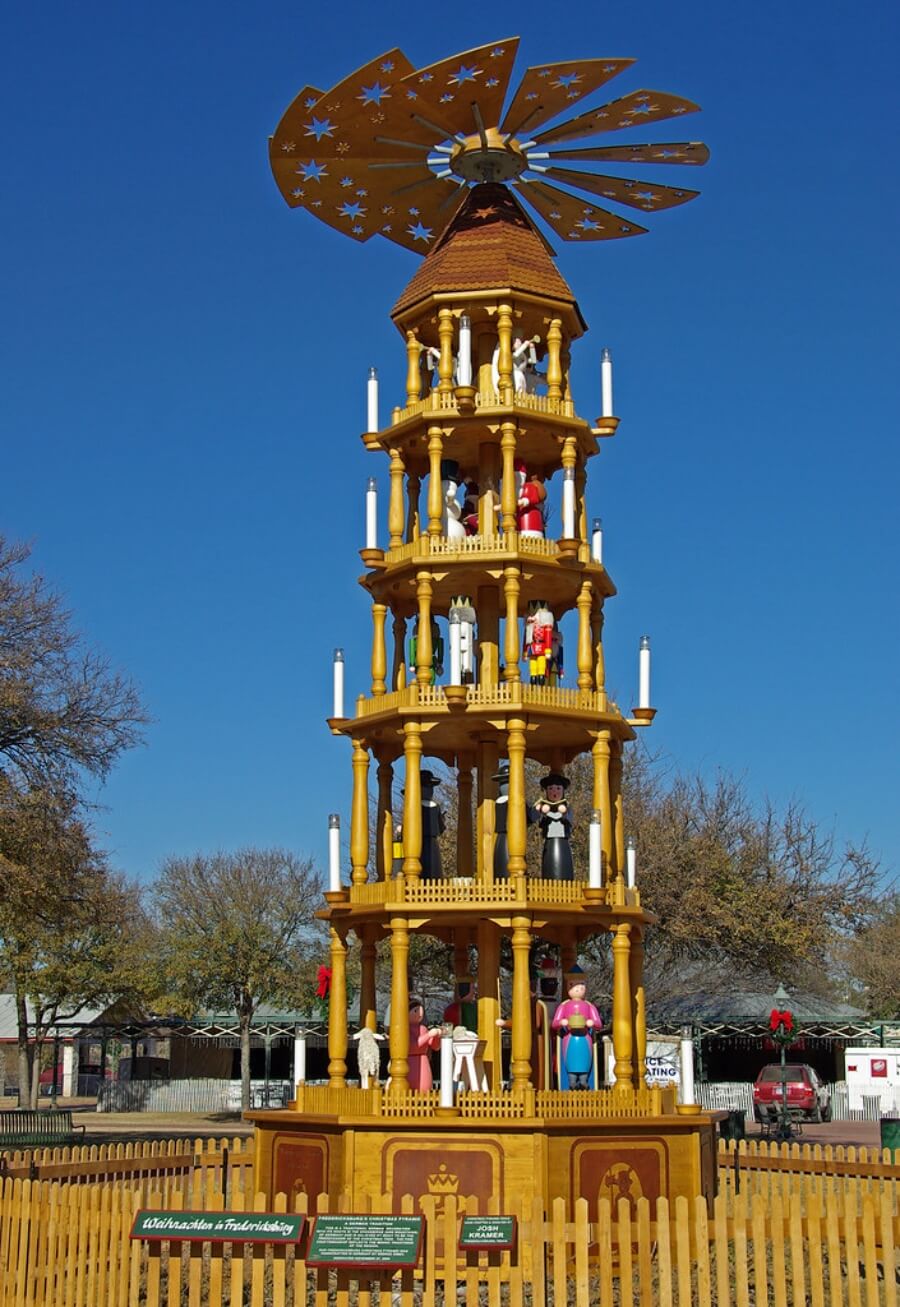 Fredericksburg is a popular German town in central Texas. It's about an hour and a half from Austin and well worth the visit. Not only does it have a rich German heritage, but Fredericksburg is renowned for its traditional German architecture.
It was founded in 1846 by German immigrants. Back then, they called it Friedrichsburg. The name honored Prince Wilhelm Ludwig of Prussia. The spelling changed several years later.
Fredericksburg is unique because the town held onto its German heritage for well over a century. Descendants of early settlers even developed their own dialect, known as "Texas German."
Today, German roots are evident everywhere. Stroll down Main Street to visit restaurants serving traditional German treats or stop by a shop to get souvenirs. The Pioneer Museum is one of the town's most popular tourist destinations. It has historic buildings packed with many artifacts detailing the town's past.
Fredericksburg also throws an annual Oktoberfest. It's a tradition that goes back over 40 years and continues to draw visitors from Texas and beyond.
3. Bellville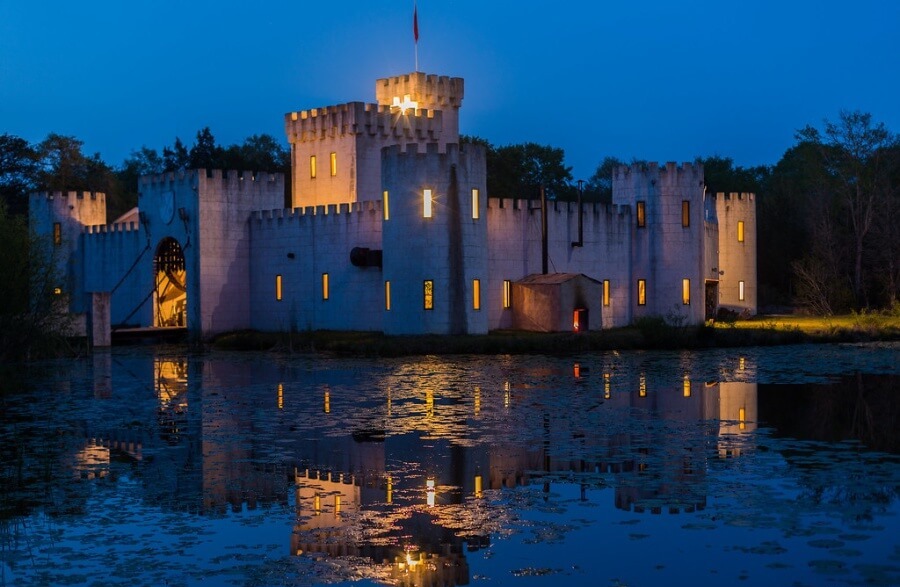 Bellville is a quaint Texas German town located in Austin County. Its roots go back to 1822. The first settlers in the area were Swiss-German immigrants, and their heritage defines Bellville.
This town has many beautiful historic homes with German architecture and unique building styles. Many people visit Bellville to stroll through its streets and appreciate its distinct architecture.
You can also walk down to Germania Cemetery, the town's historic burial site. It's a great way to learn more about the history. If you visit during the spring, you can also see blooming bluebonnet flowers dotting the path to the cemetery.
One of Bellville's most popular events is its annual Fruehling Saengerfest. Also known as the German spring singing festival, Fruehling Saengerfest is a time when the residents and businesses of Bellville put their German roots on full display. You can enjoy traditional German foods, listen to live music, and participate in a number of different activities.
4. Gruene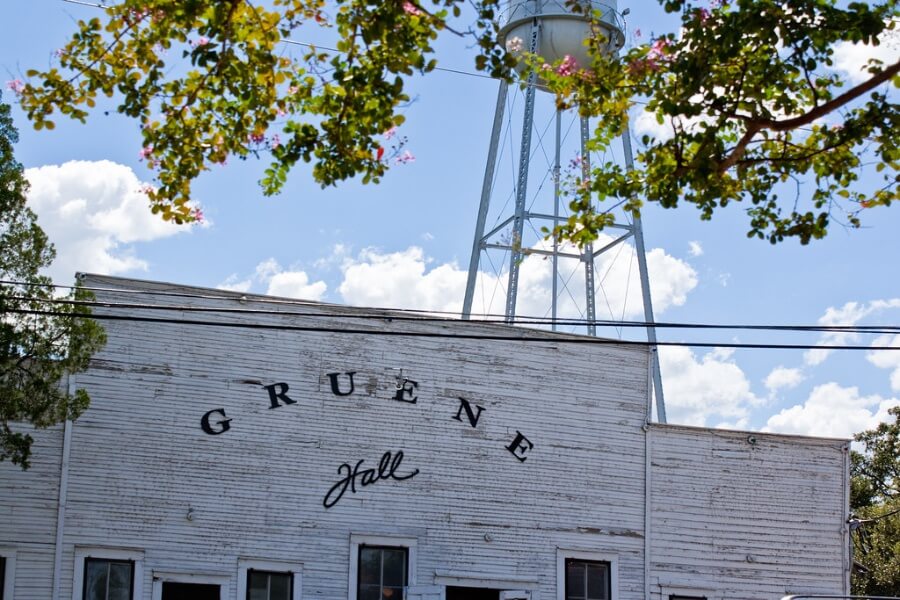 Gruene is a small village that is now part of New Braunfels. Officially, it's known as Gruene Historic District. While New Braunfels is a beautiful German town in Texas to explore, many visit the area to see the historic preservation of Gruene.
German immigrants established Gruene after arriving in Texas in the 1840s. It's named after the Gruene family, one of the original founders.
Gruene is special because it's very well-preserved. Many buildings from the 1800s still stand. It's like stepping into a time capsule, and there are many great landmarks to see.
One popular stop for visitors is Gruene Hall. It's the oldest dance hall in Texas, and many well-known performers have graced its stage. We're talking about the likes of Willie Nelson, George Strait, and other country music icons.
Beyond Gruene Hall, there's plenty to do. Stroll the streets to see the historic architecture, find hidden treasures at Gruene's antique shops, and get a bite to eat at a restaurant.
If you like live music, Gruene has concerts every week! Thanks to its location in New Braunfels, you can also attend nearby annual German festivals like Wurstfest.
5. Weimar
Weimar is a beloved German town in Texas that's relatively close to Schulenberg, another often-visited destination. It's part of Colorado County and the state's Texas-German belt.
This town is most known for its stunning German-influenced architecture. There are many well-preserved buildings and must-see churches. Weimar was first settled in 1873.
German immigrants chose this particular spot in anticipation of a new railway that would run through the area. Initially, it was called Jackson after a native Georgian who donated land for the railway and townsite. Eventually, it changed its name to Weimar after Weimar, Germany.
Thanks to the railway, Weirmar grew quickly. In just ten years, it grew to a population of around 1,000. Today, Weimar is home to museums, wineries, and eye-catching lavender farms.
The Heritage Society Museum is great for learning more about the town's German roots. There, you can see several artifacts that helped the town become what it is today.
Other notable sites include a dance hall, German restaurants, craft distilleries, and more. Weirmar also holds an annual Oktoberfest. It celebrates the town's German heritage with good food, cold beer, song, dance, costumes, and more.
6. Comfort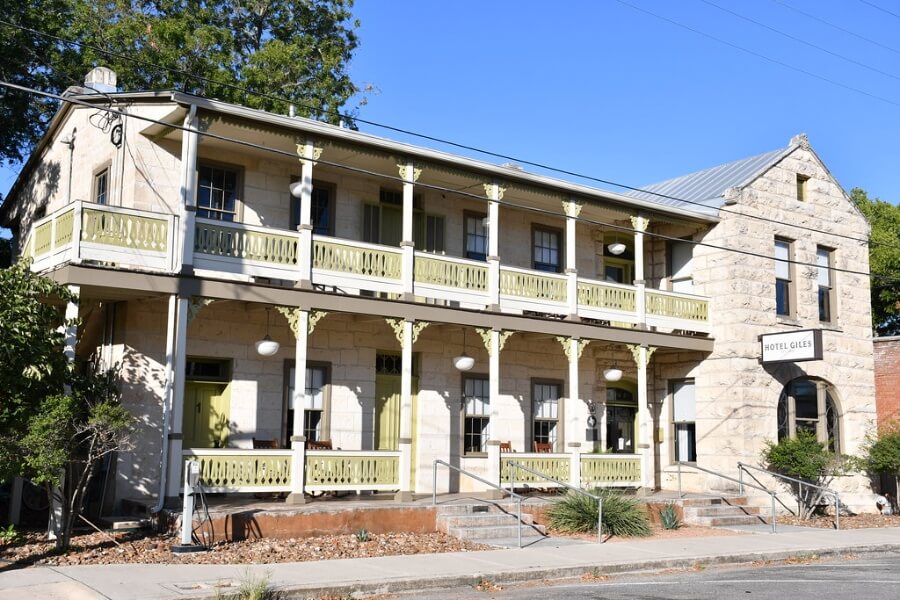 Comfort sounds like a strange name, but it's appropriate for this German town. A small group of German abolitionists and Freethinkers established Comfort in 1854. They came from New Braunfels and chose a spot filled with natural beauty and fresh water. They called the area "Camp Comfort."
It wasn't long until they started to build the area up. Comfort is known for its strong and beautiful buildings, like many other German towns in Texas. The settlers constructed the buildings to last and are still there to appreciate.
The downtown area is on the National Register of Historic Places. It's well-preserved and puts the German influences on full display. Take a stroll downtown, and you can learn about Comfort's past. Many buildings have placards detailing who built the building, its purpose, and more.
Some of the most beloved buildings are on High Street and Main Street, making them easily accessible to visitors. These include The Elephant Story, a former saloon, and Hotel Giles. There are also many colorful shops and restaurants.
One of the busiest times of the year in Comfort is Christmas. It's a time of parades, events, and traditional German celebrations.
7. Schulenburg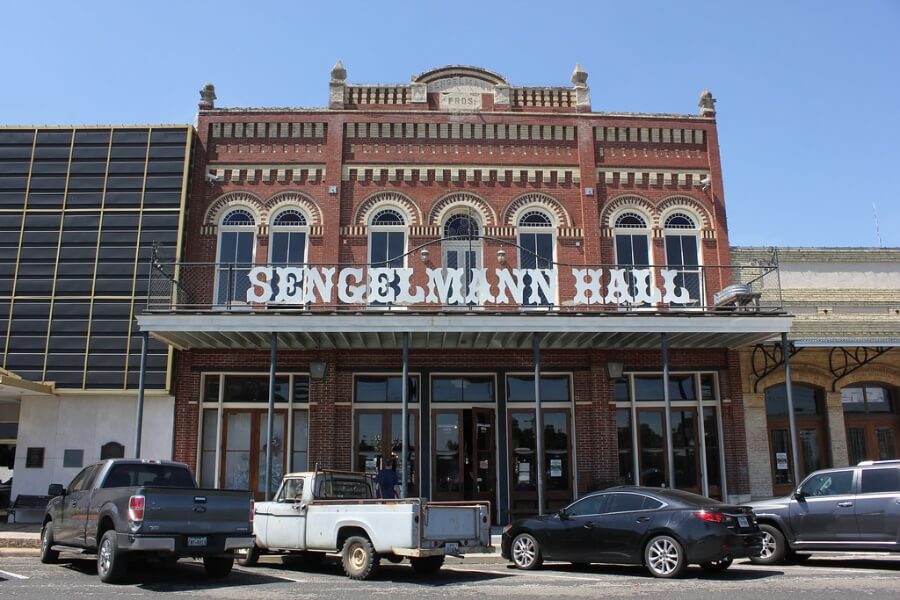 Schulenburg is a colorful town first established in 1975. It's between San Antonio and Houston. While most people know of Schulenburg for its German heritage, the early settlers included Czech and Austrian immigrants.
The culturally rich past of Schulenburg makes it an interesting place to visit. Not only do you get the traditional German architecture, but it's one of the few places to see Old European art from Czech and Austria.
Schulenburg is home to painted churches. They're awe-inspiring, featuring hand-painted murals and frescos. Old European cathedrals inspire the painted churches, giving them all the grandeur you expect. But you mustn't leave the Lone Star state to see it!
They're a sight to behold, and people travel far and wide to see them. The art is well-preserved, maintaining the brightness and vibrancy it had when first painted over a hundred years ago.
If you want to learn more about Schulenburg's past, head to the Schulenburg Historical Museum. It has several photos and artifacts donated by locals to teach visitors about the lives of early settlers.
Schulenburg holds many events yearly, but the Sausagefest is the most popular. It celebrates the Czech and German heritage of the area with cook-offs, polka music, wine tasting, and more.
8. Bulverde
Bulverde is a newer German town in Texas since it was first incorporated in 1999. However, it has been around much longer.
German immigrants moved into the area around the 1850s. It's located in Comal County and is only 30 minutes away from San Antonio. Originally, it had the name "Piepers Settlement" after German pioneer Anton Pieper.
In 1863, the people of Bulverde constructed a railway. It connected other nearby German towns, allowing settlers to visit New Braunfels, Boerne, and Fredericksburg. Bulverde never had a boom in population, but its roots never disappeared.
In the late 1990s, several municipalities combined to incorporate what is now the modern town of Bulverde.
Bulverde is quaint. It's known for its laid-back vibes and gorgeous scenery. There are many beautiful homes and chapels to visit. Several German restaurants still stand today, giving you a taste of the past while keeping the town's history alive.
While not as popular as other German towns in Texas, there's plenty to see and beautiful buildings to photograph. You can also visit The Farmyard to see animals, explore nearby caverns, and taste wine at the local distillery.
9. Muenster
Next up, we have Muenster. Muenster is in western Cooke County and about an hour and a half drive from the populated Dallas-Fort Worth area. It's a charming little town with beautiful art and amazing architecture.
You'll see murals everywhere in Muenster. They help to preserve the German heritage and give the illusion that you're strolling through a town in Europe.
Main Street is a popular destination for visitors. There, you'll find the oldest buildings with obvious German influence. Many of them house quirky shops and restaurants.
Muenster was founded in 1889 by German immigrants. Originally, it had the name "Westphalia" to honor the Westphalia region of Germany. However, another Westphalia existed in Texas, so the settlers chose to honor Münster, the capital of Westphalia, Germany.
The people of Muenster originally spoke German. That continued until the First World War.
There are many great landmarks throughout Muenster. Some of the most popular is the Glockenspiel clock tower. It's in Fisher's Market, where you'll see many lovely restaurants and shops.
Two major events in Muenster yearly celebrate the area's German heritage. These include Germanfest in the spring and Oktoberfest in the fall. Both are known for great food, music, and lively festivities.
10. Pflugerville
Pflugerville, pronounced "floogerville," is just 15 miles north of the Colorado River. It's a heavily populated area east of Austin and is currently home to more than 66,000 people.
The area was first settled around 1949 by Henry Pfluger and his family. Pfluger was a wealthy farmer in Germany. However, he lost most of his land during the Prussian War. He moved to Texas and purchased 160 acres from his brother-in-law, who immigrated to the area before him.
When Henry Bohls established a post office and general store in the area in 1860, it became a town. He named it to honor Pfluger, and the town continued to prosper. After the Civil War, Pflugerville grew.
However, it wasn't until the construction of a railway in the early 1900s that Pflugerville prospered.
Today, Pflugerville is well-developed. It has sprawling neighborhoods and a thriving business community. Even still, its German heritage lives strong.
Many German restaurants and shops exist. There's also the Pflugerville Heritage House Museum. The museum has many artifacts, artwork, and recorded history of the town's past.
Pflugerville hosts an annual Deutschen Pfest. The event celebrates the town's German roots with music, food, and tons of fun activities.
11. New Braunfels
New Braunfels is one of the most well-known German towns in Texas. It's between San Antonio and San Marcos and is a popular stop for Texans looking to explore.
The town was founded in 1845 by Prince Carl of Solms-Braunfels. He gave the town a similar name to his hometown in Germany. It quickly became a refuge for German immigrants looking for a place to call home in Texas.
You can learn much about New Braunfels' German history at the Sophienburg Museum. It's a fantastic place to learn about life for those early colonists. The Museum of Texas Handmade Furniture is another must-see stop. There, you can see pieces made by the first German settlers.
New Braunfels holds onto its history very well. Not only are there beautiful buildings, but the area is home to the Gruene Historic District. Many exhibits, museums, restaurants, and shops put the German roots out for all.
You can even pick up the Herald-Zeitung. The town's local newspaper has been in print since 1852!
If you want to try great German food, come into town during Wurstfest or Wassailfest. These two celebrations occur every year in New Braunfels, attracting thousands of visitors in November and December.
12. Luckenbach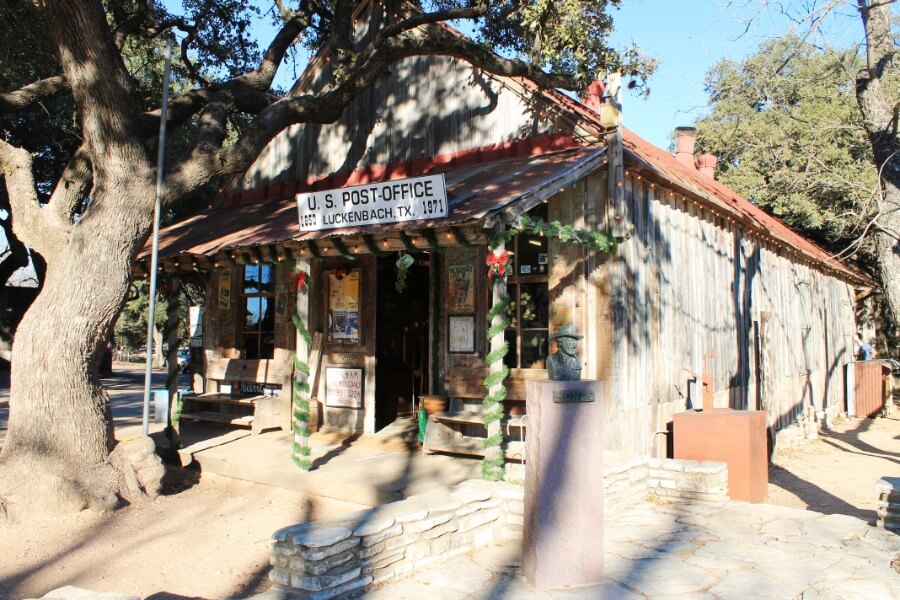 Luckenbach is only 13 miles from Fredericksburg, but don't expect a sprawling German-style village. The town has a population of only three people, and only two buildings are left standing. Despite its small size, it's still a popular place for tourists.
One of the two buildings serves as a saloon, dance hall, and post office. The other is a legendary music venue. Luckenbach is a historic place for country music fans.
It's been mentioned in songs by country music icons like Willie Nelson and Waylon Jennings. Even today, the town hosts many live concerts.
Luckenbach in the mid 1800s. It gets its name from Carl Albert Luckenbach, the husband of Minna Engel, the woman who opened the general store that still stands today. Initially, it went by Grape Creek but later turned into Luckenbach.
The population grew in the early 1900s. However, it was practically a ghost town by 1960. That's when it went up for sale. An actor and Texas folklorist bought the town, turning it into the country music destination it is today.
13. Brenham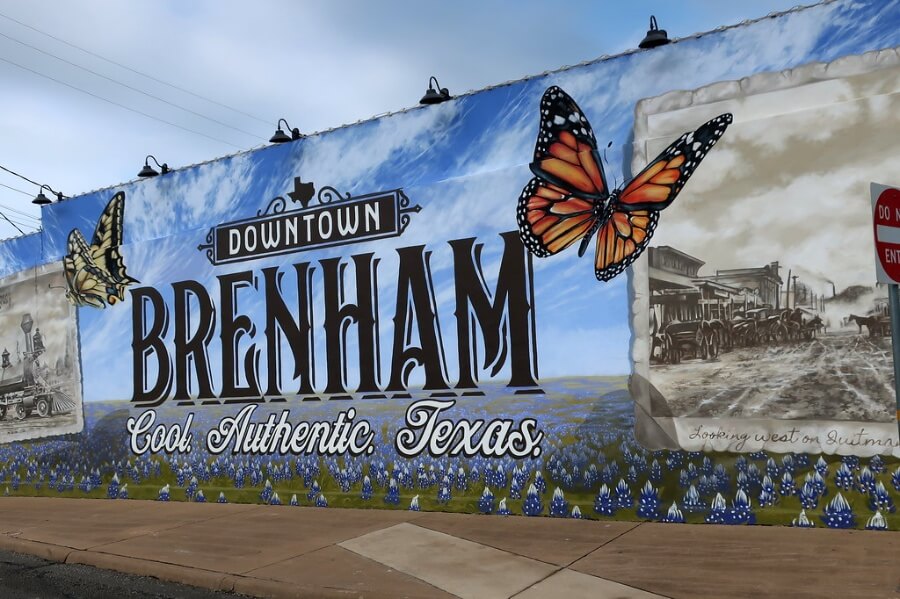 Brenham is a small town part of the Texas Hill Country. It's about an hour and a half from Houston and well worth the visit.
The town's Main Street is home to an annual German heritage festival. Called Maifest, it's unique to Brenham and celebrates the arrival of spring. It occurs in May. If you're lucky enough to visit during Maifest, you can participate in everything from Maypole dancing to traditional music.
Of course, German food and drinks are up for grabs, too!
Around spring, you can also see fields of beautiful bluebonnets throughout Brenham.
Settlers first came to the area around the 1820s and 1830s. This German town in Texas originally went by "The Hickory Grove Community." However, that changed to Brenham in 1843. The town got its name from a local physician, Richard Fox Brenham."
The first German immigrants arrived in 1846. The German population quickly grew over the decades, leading to the town's rich and colorful history.
There are many examples of German architecture throughout Brenham. One of the most famous is the F.W. Schuerenberg House, a sprawling mansion on the National Register of Historic Places.
Wrapping Up
Whether you're interested in the history or simply want a fun festival to visit, these German towns in Texas have what you're looking for. Take a trip and see for yourself!
If you have any questions or think we should include another town on this list, feel free to get in touch.