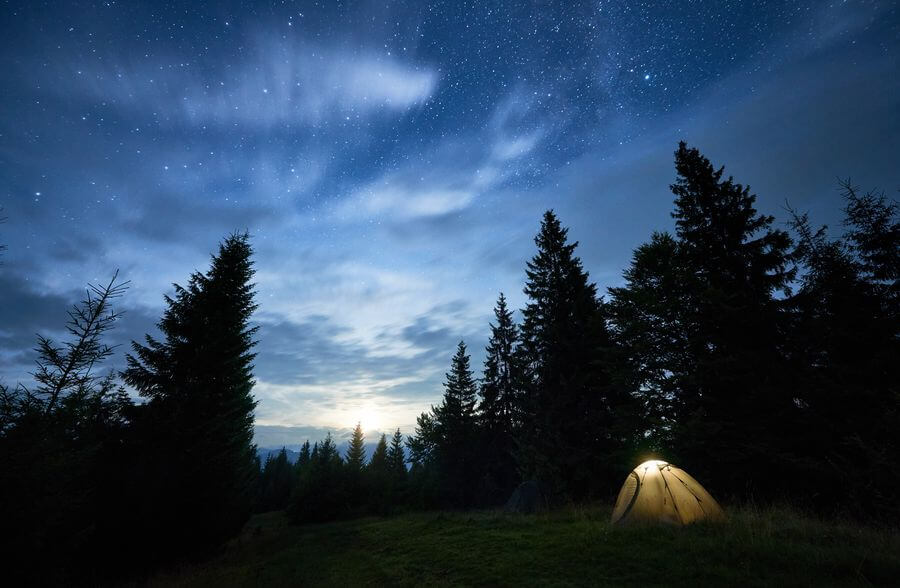 Northern Michigan is home to many of the best places to camp in the state (and in the region). And because of this, tons of campers load up their gear and head out into the wilderness each year to experience what this area has to offer.
This list of Northern Michigan campgrounds and camping spots will help you plan your next trip with ease.
Why Northern Michigan Is Such A Great Place For Camping
Camping in Northern Michigan treats you to magnificent natural beauty, a variety of camping options, tons of water activities, and so much more. It doesn't matter if you're an old-school tent enthusiast, a modern RV lover, or someone who prefers cabin rentals. There's always a perfect spot for you in this natural paradise.
With its proximity to the Great Lakes and numerous inland bodies of water, you can indulge in boating, kayaking, fishing, or simply enjoy a refreshing swim. If land-based adventures are more your style then take advantage of the region's extensive network of hiking and biking trails (like those found at Sleeping Bear Dunes National Lakeshore) that caters to all fitness levels.
You also get opportunities for wildlife viewing with birds, beavers, and foxes all being common. And if you're lucky, you might see a moose and or a black bear too!
And if you're looking for a camping experience that's a bit less nature-focused, there are always a number of seasonal events going on in the region. Summer music festivals, art shows, and even fishing tournaments take place quite regularly.
In other words, there's a lot to love about Northern Michigan camping.
The Ideal Time To Camp In This Area
If you're a fan of mild, pleasant weather perfect for outdoor activities, consider heading out on your Northern Michigan camping trip during the summer or early fall. During these seasons the temperature is not too hot and not too cold. This weather gives you a great opportunity to go hiking, biking, fishing, or whatever you're into!
If you end up camping in the early fall, you'll likely be fortunate enough to witness nature's grand display as leaves begin changing colors in the vast woodlands. The forests transform into a stunning palette of reds, oranges, and yellows that create picturesque scenes akin to living paintings.
But if you're more of a winter person, there's plenty for you to do as well.
Camping in Northern Michigan during the winter gives you the opportunity to enjoy snow-covered landscapes and winter sports like skiing or snowmobiling. All the parks turn into snowy wonderlands providing unique adventures for those who enjoy the colder climates.
So when it comes down to deciding what time is best for camping in this area, it really depends on your preferences. There's plenty to do all year.
Best Camping & Campgrounds In Northern Michigan
This list of the best places for camping in Northern Michigan will help you quickly narrow down your search. Some of the places on our list are general areas or parks, and others are specific campgrounds.
It doesn't matter who you are and how you like to camp, there's something here for everyone.
1. Isle Royale National Park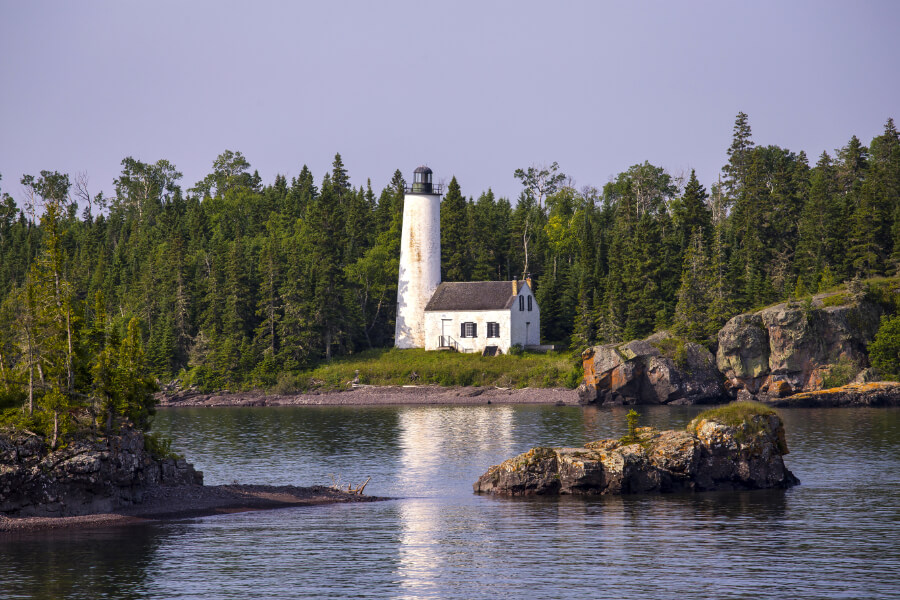 Isle Royale National Park offers an unparalleled remote and rugged camping experience. This island park, nestled in the heart of Lake Superior, presents you with a unique opportunity to camp amid untouched wilderness.
With its hike-to campgrounds scattered around the island, like Daisy Farm Campground and Chickenbone, you're sure to find tranquility and breathtaking views at every corner. Just remember that tent sites can't be reserved unless you're part of a group of seven or more!
Arriving on the island is an adventure itself as access is possible only by ferry, seaplane, or boat. But once you're there, you'll be able to enjoy activities like hiking through unspoiled forests brimming with wildlife or canoeing on crystal-clear waters. You might even spot resident moose during your stay!
Pro Tip: It's important to note that Isle Royale's campgrounds typically have only three to six tent sites each. If your desired site is full upon arrival, flexibility will serve you well as you may need to revise your plans and choose another beautiful location instead.
2. Pictured Rocks National Lakeshore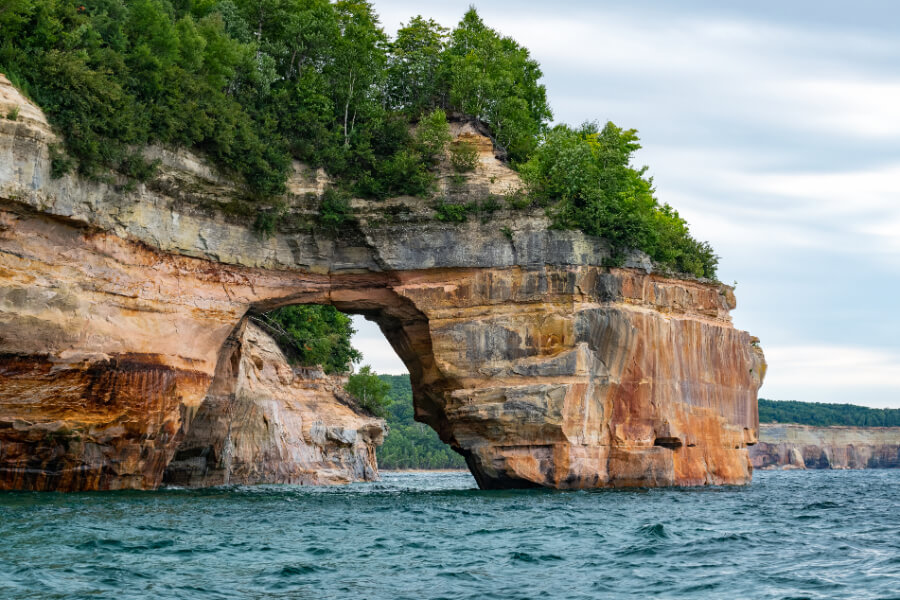 There's no doubt, Pictured Rocks National Lakeshore will steal your heart with its majestic sandstone cliffs, serene beaches, and lush forests that offer an unrivaled camping experience.
Imagine pitching your tent at one of the rustic drive-in car campgrounds like Little Beaver Lake Campground or Twelvemile Beach Campground. You'll find amenities such as fire pits for those cozy campfire nights, picnic tables for alfresco dining under the stars, and pit toilets. Some of these sites are best suited for tents due to their size and narrow access roads, so you can feel nestled in nature's embrace.
It won't take long to realize why this park is considered one of the best places for camping in Northern Michigan. You can spend your days exploring 42 miles of wild shoreline along Lake Superior between Munising and Grand Marais, appreciate blooming wildflowers, or listen carefully for the soothing sounds of waterfalls.
If you're interested in backpacking through this breathtaking landscape, there are numerous backcountry camping options along the North Country Trail – just don't forget to pick up a permit!
The area offers hiking trails that vary from tranquil walks through dense woods to challenging treks over dunes for dramatic views of Lake Superior. For a change of pace, consider kayaking on Lake Superior or visiting the Au Sable Light Station.
3. Tahquamenon Falls State Park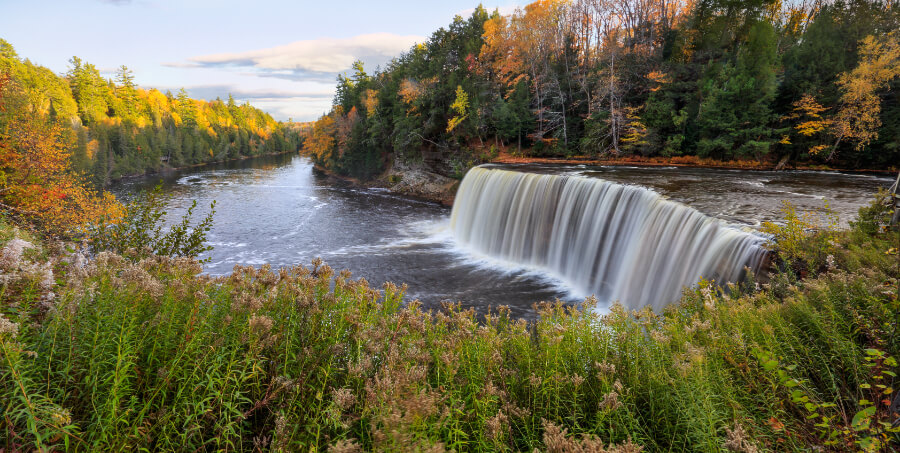 Tahquamenon Falls State Park offers a unique blend of natural beauty, outdoor adventure, and modern amenities, making it an excellent choice for your next camping trip in Northern Michigan.
With its proximity to the waterfalls, the Lower Falls Modern Campground is often quite busy. Don't worry about missing out on waterfall views from your campsite; you can easily explore them during hikes or canoeing adventures. This campground also has hot showers, flush toilets, and electrical hookups for RVs.
If you prefer a more rustic experience, try out the Tahquamenon Falls Rivermouth Pines site. Here you can immerse yourself in nature by setting up camp in the thick forest while still being near Whitefish Bay. And although this area has a more rugged feel you still have access to showers and facilities at the nearby Rivermouth Modern Campground.
What makes Tahquamenon Falls State Park stand out among other Northern Michigan camping spots is its sheer scale and diversity of attractions. The park is home to one of the largest waterfalls east of Mississippi which is named the Upper Falls (it's 50 feet high and over 200 feet wide). The park also covers 46,000 acres with 40 miles of hiking trails and 13 inland lakes.
You can also use one of the campgrounds as a base camp to reach Pictured Rocks or anything else you have planned in the Upper Peninsula.
4. Huron-Manistee National Forest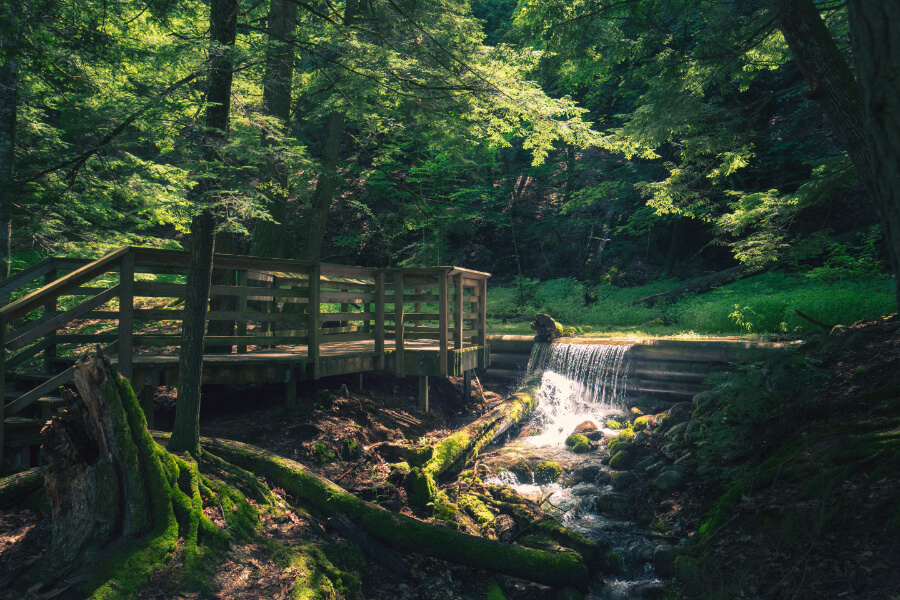 The Huron-Manistee National Forest is an expansive forest that's perfect for anyone who wants a camping experience that's rich in natural beauty and outdoor adventures.
Imagine pitching your tent amidst towering pine trees or waking up to the serene sounds of a sparkling river nearby. And if you're into backpacking, there are trails galore with diverse habitats for you to explore like the North Country National Scenic Trail and Manistee River Trail.
For those who prefer being near water bodies, Benton Lake is teeming with fish waiting to be caught. There's also the massive Manistee River for kayaking, boating, and hiking.
The nice thing about this area is there are plenty of different options for whatever style of camping you prefer.
Dispersed camping can be done pretty much anywhere within its boundaries except within 200 feet of any water body, no fees or permits required. But if you prefer to have a designated spot with unique amenities you can choose from 17 different campgrounds each offering their own special set of comforts.
5. D.H. Day Campground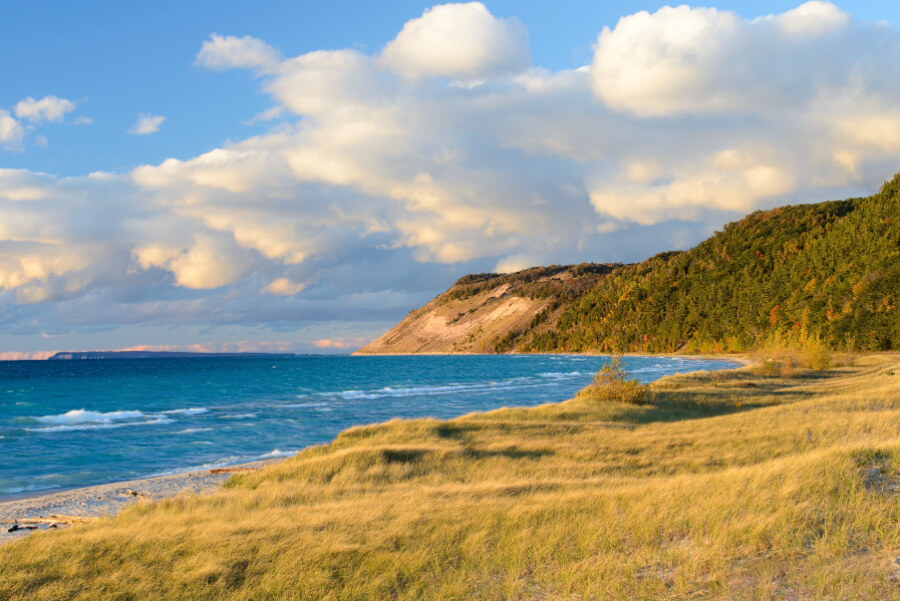 When it comes to campgrounds in Northern Michigan, D.H. Day Campground is hard to beat. Nestled in the northern district of the Sleeping Bear Dunes National Lakeshore, this rustic, wooded campground offers easy access to this beautiful area.
You can spend your day enjoying (or suffering on) the Dune Climb or take a leisurely drive along the Pierce Stocking Scenic Drive. And don't forget about visiting museums and exploring Glen Haven, a historic village that transports you back in time.
One unique feature of D.H. Day Campground is that it has nightly ranger-led evening programs during the summer. You get to hear tales of local folklore delivered by knowledgeable park rangers and learn about the lakeshore's environment while being surrounded by it! These programs are held either in their cozy amphitheater or historic log cabin.
You're also just two miles away from downtown Glen Arbor where you can easily replenish your camping essentials like hot dogs for grilling and sunscreen for those sunny days out on the dunes.
6. Sleeping Bear Dunes National Lakeshore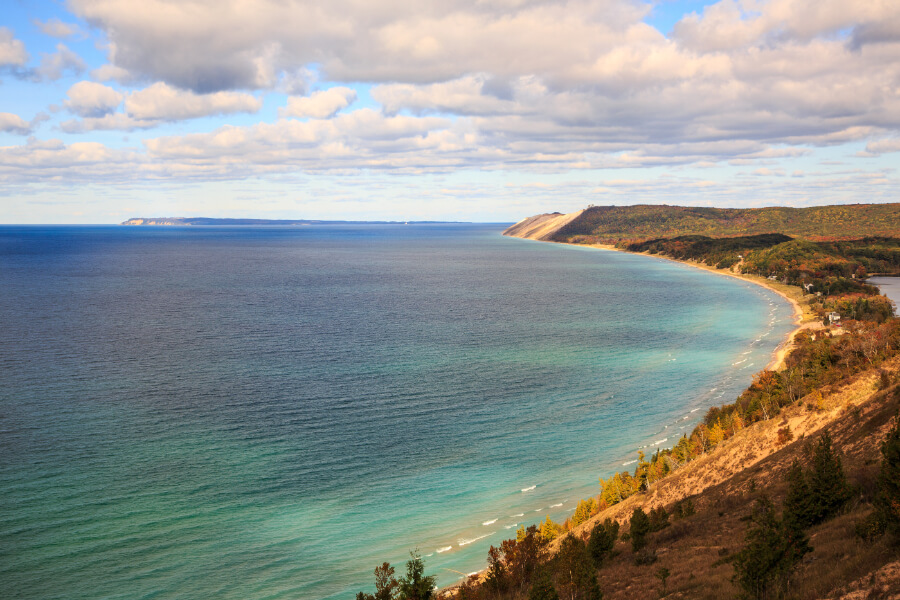 We hinted at this area above, but it deserves its own dedicated section. Without a doubt, Sleeping Bear Dunes National Lakeshore is one of the best places for camping in Northern Michigan.
At Sleeping Bear Dunes National Lakeshore, you're not just setting up camp. You're immersing yourself in a world of towering dunes, clear inland lakes, and lush forests. You can choose to stay at any one of the specific campgrounds such as Platte River Campground or D.H. Day, each offering different amenities and proximity to breathtaking views of Lake Michigan.
Whether it's hiking through the vast lakeshore or sunbathing on sandy beaches, there's never a dull moment here. And if you have kids, try out the "rescue mission" at the Maritime Museum.
The park has a rich historical background that's reflected in structures like island lighthouses and US Life-Saving Service stations. Plus, driving around Leelanau County lets you appreciate diverse flora and fauna that further enhances your camping experience.
7. Porcupine Mountains Wilderness State Park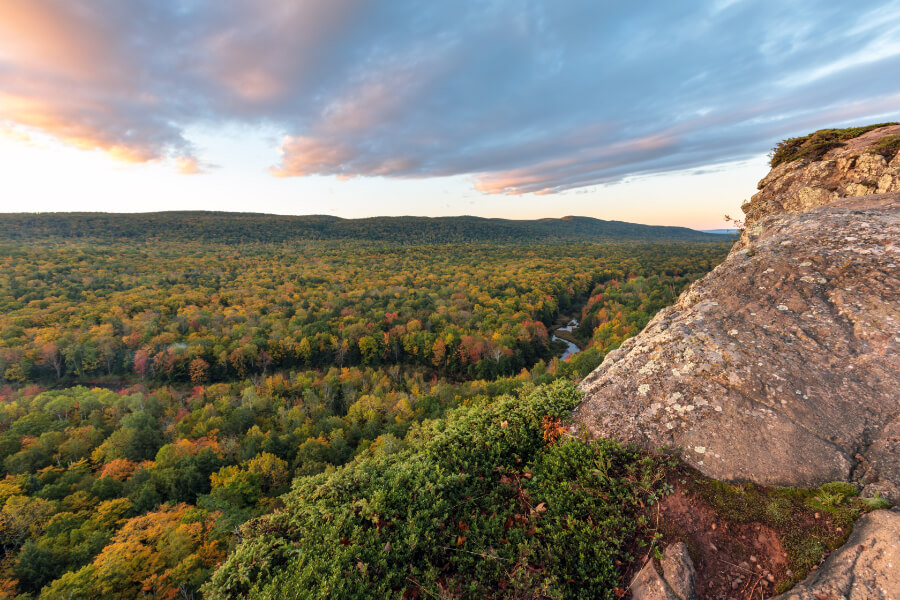 You're sure to have some fun exploring the vast wilderness of Porcupine Mountains State Park, lovingly referred to as "the Porkies." With a variety of campgrounds and unique accommodations like yurts and cabins, there are plenty of options no matter how you like to camp.
The park's diverse habitats offer countless exploration opportunities on foot or by snowmobile if you visit in the winter. Plus, its location on Lake Superior's shoreline adds an extra layer of beauty.
If you prefer rustic camping, you can set up your tent in one of their forested campsites with basic amenities such as vault toilets and picnic tables. For those who enjoy some comfort while camping, Union Bay Modern Campground has sites with flush toilets, hot showers and electrical hookups for RVs.
And if you're looking to make your Northern Michigan camping experience as private as possible, there are three rustic "outpost" campgrounds off the South Boundary Road that offer excellent seclusion though without any facilities.
Whether you're hiking through 60,000 acres of forest or fishing along a miles-long shoreline on Lake Superior, there's something for everyone. You can even try out disc golfing or catch fall chairlift rides at Porcupine Mountains Winter Sport Complex. And don't forget about the famous Lake of Clouds!
8. Barnes Park Campground
Barnes Park Campground, situated on Grand Traverse Bay, is a dream Northern Michigan campground for those who can't resist the charm of beachside camping.
You can wake up in your tent or RV to the sound of waves gently lapping against the shore and enjoy a walk along the sandy beach. If hiking is more your speed, take advantage of their expansive woodland trails.
And when night falls, gather around the campfire for stories and s'mores under star-lit skies.
Barnes Park Campground isn't just about scenic beauty; it also takes care of practical needs. There are two pavilions equipped with electrical outlets that are reservable online. You also have convenient amenities like a dump station and water fill station. You even have modern bathhouses and ADA accessible coin-operated showers.
9. Ludington State Park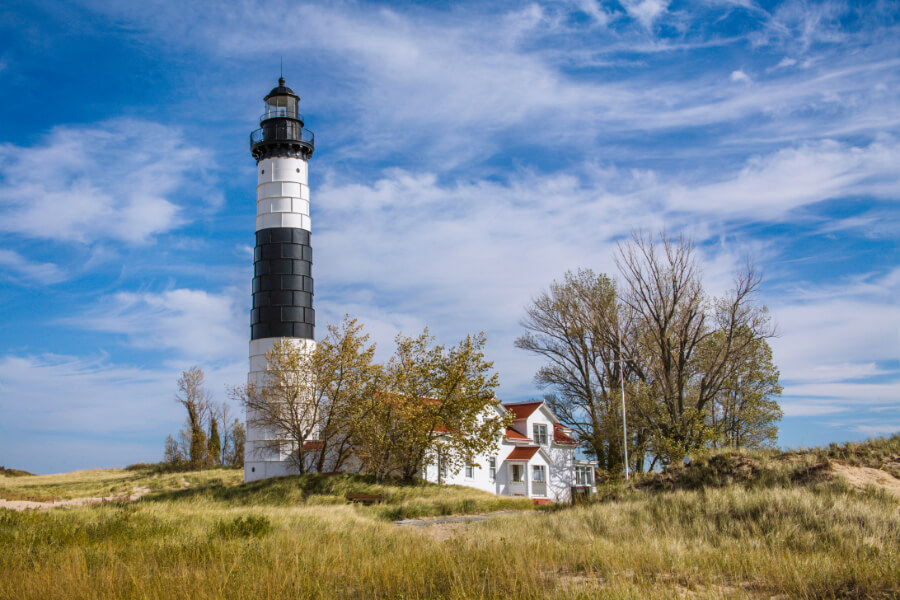 Ludington State Park is a wonderful spot to camp in Northern Michigan because it offers a blend of wilderness and recreational amenities. With 355 camping sites spread across four campgrounds (Beechwood, Cedar, Pines, and Jack Pine) you'll have plenty of options. It's a good idea to book in advance though, because these campsites fill up months before summer due to their popularity.
This state park has access to miles of sandy shoreline but also the scenic beauty of natural woodlands, water bodies, and dunes that surround the park.
One of the main attractions at this park is the iconic Big Sable Point Lighthouse. Reachable by a 1.8-mile sand-and-gravel pathway, it provides a unique way to explore the area on foot or bike. There's also the historic Lake Michigan beach house that hosts a variety of exhibits and programs.
We like the location of Ludington State Park because of its strategic location between Hamlin Lake and Lake Michigan. The park provides boat launch access to Hamlin Lake perfect for an afternoon out on the water (sailing, kayaking, and paddleboarding are all welcome). If hiking or biking is more your speed, there are 21 miles of marked trails ready for exploration. And for those hot summer days when you want to cool off or do a little fishing, the Big Sable River runs right through the park.
10. Northern Exposure Campground
Northern Exposure Campground is located in Mesick, MI, nestled on 300 acres of lush woodland and boasting a vast coastline on Hodenpyl Pond. Whether you're an avid fisherman or a mountain biking enthusiast eager to hit the trails, this campground has got you covered. It's not just about the outdoor activities though; with festivals and golf courses nearby, there's something for everyone.
When it comes to the actual campground setup, there are a number of options. There are 100 waterfront sites available as well as cabin rentals and water rentals. If you've brought your RV along you can take advantage of their pull-thru sites with 50 amp hookups. They also have a number of supplies and amenities from firewood and bait, to laundry facilities.
We think this is one of the best campgrounds in Northern Michigan because it's clear that they take care of their facilities. There's space for beach volleyball, children's activities, and live music performances, and nothing is run down.
11. Fisherman's Island State Park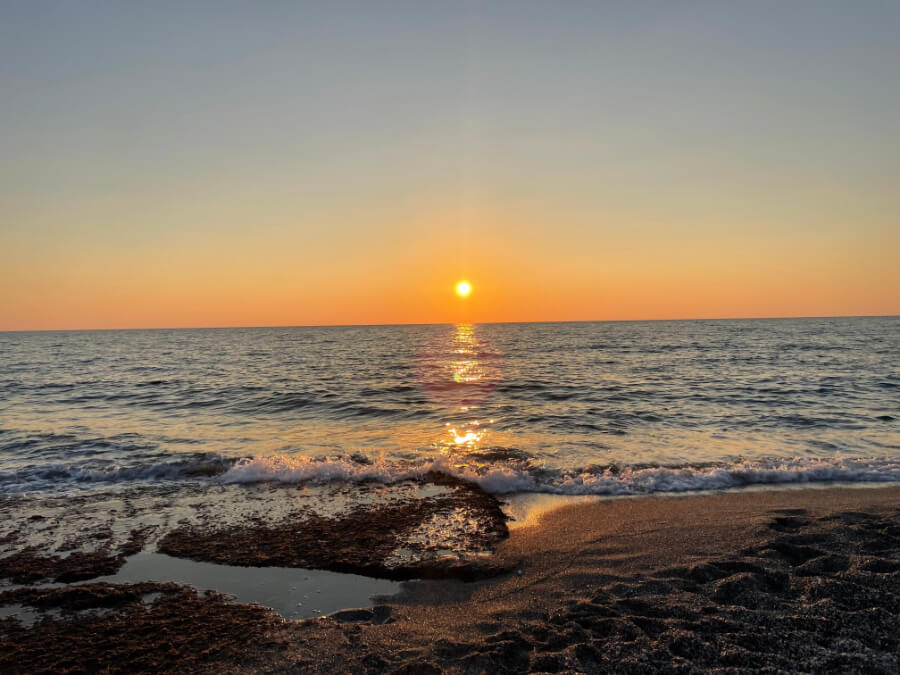 This northern Michigan gem spans a vast 2,678 acres and offers the unique experience of secluded camping right on the lake's edge. With more than 6 miles of unspoiled shoreline to explore and enjoy, you'll get to enjoy the view without a crowd.
Located conveniently halfway between Traverse City and Mackinaw City, this park places you just four miles from downtown Charlevoix and within reach of numerous attractions in each direction.
The park provides around 80 rustic campsites nestled among rolling dunes. The area has a variety of maple, birch, aspen trees, and cedar trees which gives it a rustic feel.
Pro Tip: Fifteen of these sites are located right among the sandy dunes! But as you'd expect, you'll need to make reservations for these spots early due to their popularity.
The range of amenities at these campsites ensures that you don't have to compromise on comforts while camping in Northern Michigan. Fires are allowed with available firewood provided, pets are welcome (as long as they're leashed), full hookups for RVs are available if needed, showers and bathrooms are accessible, and Wi-Fi is an option when you need it.
12. Betsie River Campsite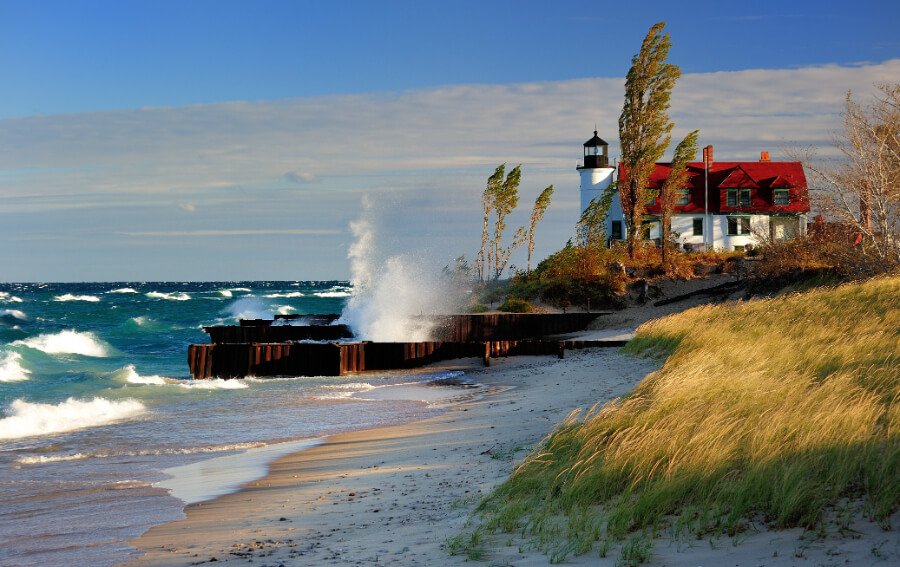 Nestled close to the river and a short distance away from pristine Lake Michigan beaches, the Betsie River Campsite provides an excellent base-camp for your northern adventure.
This isn't your run-of-the-mill RV park; it's a small, family-owned operation that values quiet and calm while still packing in tons of fun.
You can start your day with some homemade biscuits and local bread paired perfectly with camp coffee from Leelanau Coffee right at the Tiny Cafe within the campsite. You don't have to venture far for entertainment either, with sandy beaches, restaurants, shops, and even a movie theater all within a 3-mile radius.
The camp store also has everything you need in case you're shot on supplies. It offers snacks, t-shirts, ice cream, wood bundles for that perfect evening bonfire.
Fishing enthusiasts will love Betsie River Campsite as it's just next door to Frankfort – a world-class salmon fishing spot! Other catches like perch, bass, trout, or steelhead are also abundant. If you're more into big lake fishing on Lake Michigan, head over to Frankfort Marinas just 2.3 miles away or try river fishing on the Betsie or Platte rivers nearby.
13. Platte River Campground
If it's a nature-filled getaway you're after, Platte River Campground won't let you down. Nestled in the southern district of Sleeping Bear Dunes National Lakeshore, this campground offers an immersive experience all year round.
With Lake Michigan's beaches less than two miles away and the Platte River within walking distance, you have both freshwater bodies at your disposal for activities such as canoeing, kayaking, or fishing. If you prefer land-based activities, there are over 25 miles of trails accessible from the campground itself.
For those who enjoy creature comforts while being outdoorsy, there are 96 electric-only RV sites available with both back-in and pull-through options. But if you're more into rustic camping experiences under the starry skies then their tent sites are available as well. And for those seeking solitude or on a group adventure there are walk-in sites and group sites (for up to 25 people) which don't permit pets and RVs.
The area is beautiful with hardwood and conifer forests, abandoned farm meadows, wetlands, lakes, streams, bogs, and perched sand dunes all nearby. The campground offers amenities like hot showers, bathrooms, potable water, campfire rings, and picnic tables too.
14. Wilderness State Park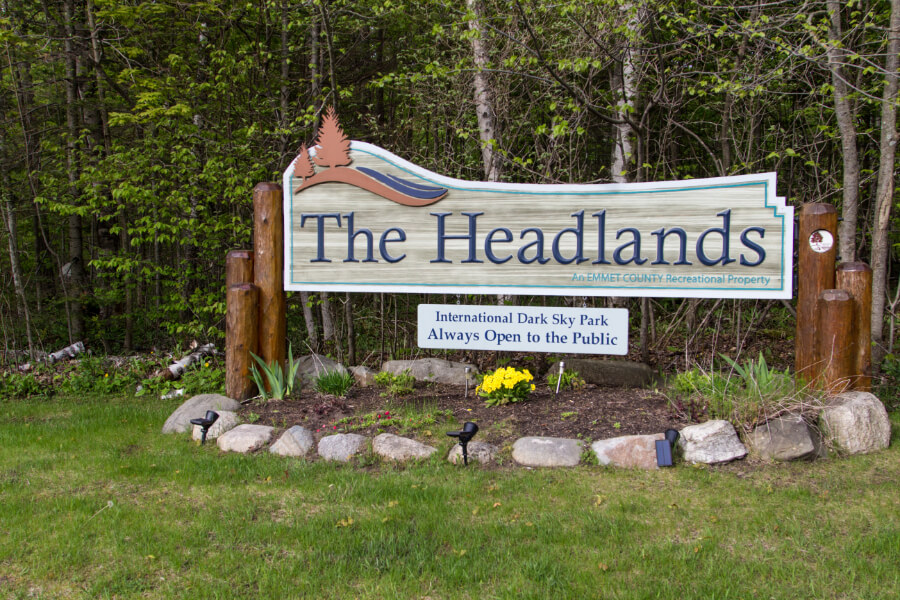 Wilderness State Park spans over 10,500 acres and boasts 26 miles of Lake Michigan shoreline, giving you endless opportunities to immerse yourself in nature. Whether you're a fan of rustic or modern camping sites, you'll be able to find something here.
Located just a stone's throw away from Mackinaw City in Northwest Michigan, it offers not only breathtaking lake views and remarkable sunsets but also easy access to other local attractions such as Mackinac Island.
If outdoor activities are your thing, then this is indeed your paradise. You've got options aplenty from swimming and fishing in the pristine waters of Lake Michigan to hiking or biking on the many trails within the park.
And don't forget about stargazing!
As an officially designated dark sky preserve, Wilderness State Park is one of the best places in Northern Michigan to look at the cosmos.
15. Young State Park
Nestled on the eastern shore of Lake Charlevoix, Young State Park serves up a mixture of outdoor activities and nature-filled tranquility that's hard to resist. And out of all the places to go camping in Northern Michigan, this might be one of the most overlooked.
It's just outside of Boyne City and spans 563 acres. You can set camp in its modern campgrounds or opt for overnight lodging facilities.
When you're not basking in the surroundings, hop onto your boat (anything under 16 feet is allowed) from the park's launch area and enjoy sailing or waterskiing on Lake Charlevoix's expansive 17,260-acre water body.
As you explore more of Young State Park, you'll find nearly five miles of nature trails suitable for hiking and cross-country skiing during winter months. These trails provide a unique opportunity to immerse yourself in diverse landscapes ranging from gently rolling terrain to lowlands and even cedar swamp areas.
If you're looking for biking, this area has you covered as well. The park provides easy access to the Boyne City to Charlevoix Trail which is a perfect way for you to experience the scenic beauty of Northern Michigan.
Fishing enthusiasts will be thrilled with what Lake Charlevoix has to offer. It's stocked annually with rainbow trout, brown trout, and lake trout, giving you ample opportunities for a catch-and-release session.
16. Hiawatha National Forest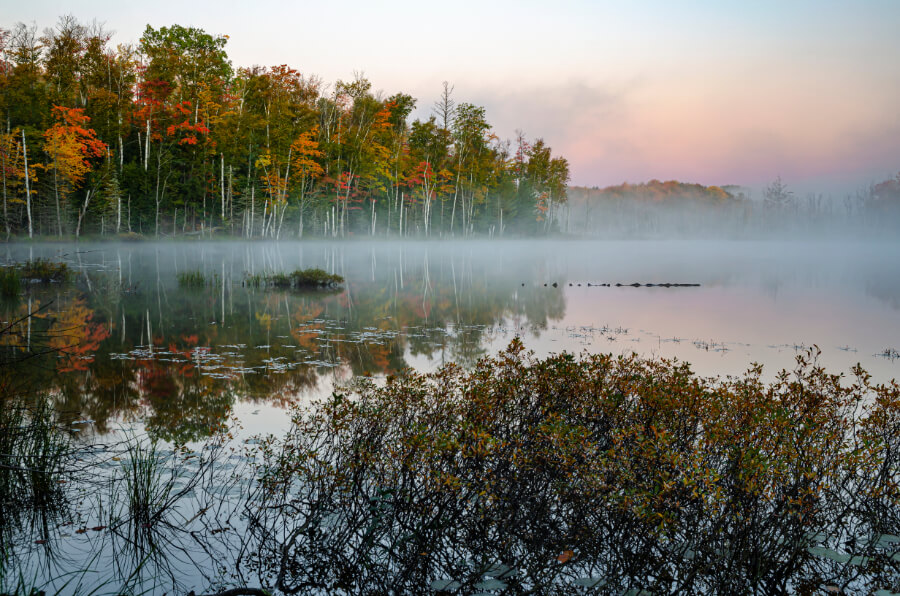 You'll be hard-pressed to find a more enchanting wilderness retreat for camping than Hiawatha National Forest with its expansive landscape and abundant natural attractions.
Spanning nearly 900,000 acres, this forest is one of the wildest stretches in Michigan's Upper Peninsula. Here, you can disconnect from your daily grind and immerse yourself in nature's tranquility.
The forest offers various camping options from modern campgrounds for a traditional experience, to dispersed sites at no cost if you're looking for a secluded camping session.
Pro Tip: Most camping sites here are best suited for tents as many don't accommodate large campers or RVs.
One notable feature of Hiawatha National Forest is its variety of landscapes; encompassing woodlands, wetlands, and even waterfalls. There are over 100 miles of shoreline that offers ample opportunities for boating, swimming, and other water sports activities.
If hiking is your thing, you're going to love trekking through hundreds of miles of trails. These trails allow hiking, biking, and even horseback riding.
17. Petoskey State Park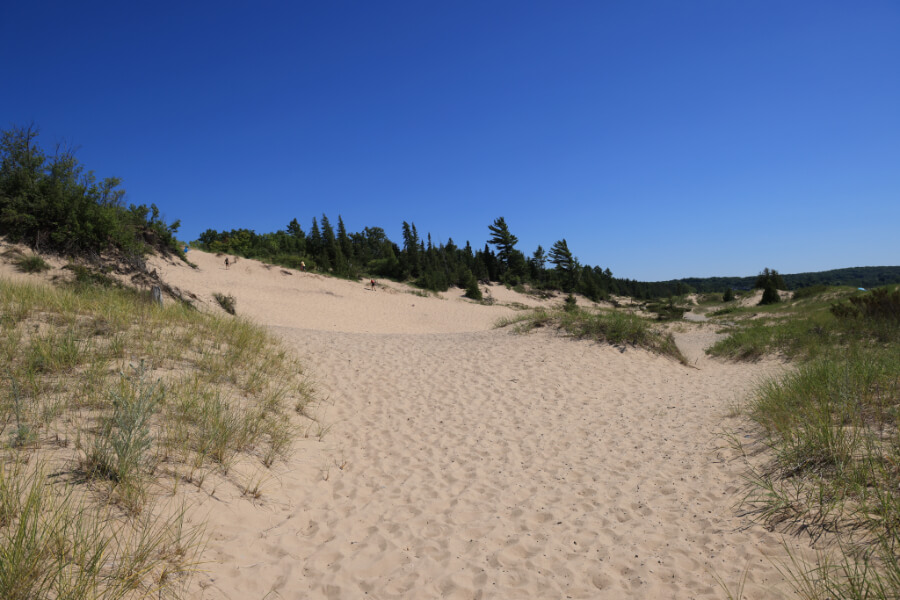 If you're yearning for a camping experience in Northern Michigan that combines outdoor adventure with unique geological discoveries (more on that later), Petoskey State Park is definitely worth considering.
Located on Little Traverse Bay, just a short drive from Petoskey and Harbor Springs, this park serves as an idyllic base for exploring this area's pristine beauty.
With 168 sites spread across two distinct campground loops (Dunes Campground and Tannery Creek Campground) there's plenty of room to pitch your tent or park your RV. Both campgrounds offer modern amenities like restrooms with showers and sanitation stations, so you don't have to completely rough it while enjoying the great outdoors.
The park isn't just about relaxation though; it offers plenty of opportunities to stretch your legs on trails such as Old Baldy Trail or Portage Trail, which provide scenic views over the landscape.
For those interested in geology or simply wanting a fun beach activity, hunting for Petoskey stones along Lake Michigan's shoreline can be a fun way to pass the time.
While staying at Petoskey State Park don't forget to make use of its proximity to local attractions such as the Little Traverse Wheelway and North Western State Trail. These paved paths are perfect for cycling enthusiasts who want to explore further afield linking Charlevoix and Harbor Springs or Petoskey and Mackinac City respectively.
And after all that activity you can cool off with a little swim. A sandy beach complete with a designated swimming area is at the north end of the park.
18. Hartwick Pines State Park
This park, one of the largest in Michigan's Lower Peninsula, boasts 49 acres of old-growth pine forest – some of the last remaining in the state. You can spend days hiking or biking along its 21 miles of trails or canoeing on its four small lakes.
If you're interested in history, don't forget to check out the Hartwick Pines Logging Museum where you'll get a glimpse into Michigan's 19th-century logging era.
The modern campground offers seasonal availability and has a number of amenities like a shower house, dump station, and playground. You're also located conveniently near trails for easy access to your next adventure. It's also pet-friendly, so anyone traveling with a four-legged companion will be right at home.
We think this is one of the best campgrounds in Northern Michigan because of the variety you get when it comes to nature. You're surrounded by rolling hills and unique timberlands, but you can also explore the valley along the East Branch of AuSable River.
You can also enjoy winter activities like cross-country skiing or snowshoeing when visiting in the winter.
19. Leelanau State Park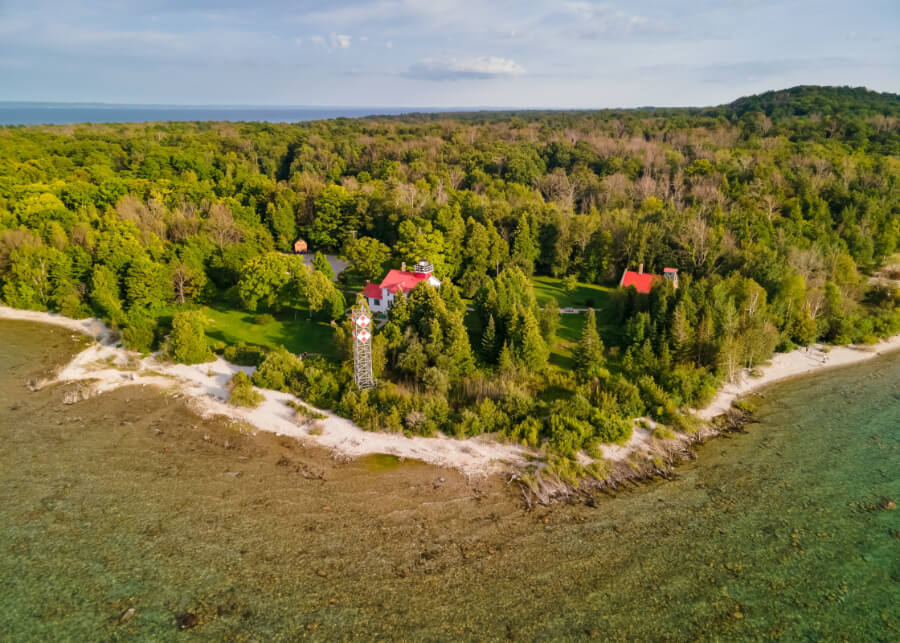 Nestled at the tip of the Leelanau Peninsula, Leelanau State Park offers you a unique blend of sandy beaches, maritime history, and an authentic camping experience. With over 50 rustic campsites and a handful of mini cabins, it's a great fit for all kinds of campers.
The Grand Traverse Lighthouse Museum is definitely worth checking out when you visit the park. First lit in 1852, this lighthouse stands as a testament to the area's rich maritime past. You can stroll through its exhibits during the day and relax under a blanket of stars at night; thanks to its designation as a dark sky preserve.
And it's tough to beat the location. Imagine waking up in your tent or cabin right on the water's edge! And for those who love exploring nature trails, winding paths through the forests can be easily accessed. Plus if you're bringing along your furry friend, this pet-friendly campground ensures they're part of all fun as well.
20. South Higgins Lake State Park
South Higgins Lake State Park is a water lover's paradise and an extraordinary spot for a camping vacation in the northeast part of the state.
Stretching across 1,364 acres, this park has a lot to offer. You're near the crystal-clear Higgins Lake, which is known for its refreshing swimming conditions. Here you can spend your day boating with rentals from the park or try out fishing on one of Michigan's most transparent bodies of water.
You'll also find an expansive network of trails weaving through the woods for hiking and nature observation. There is even a smaller lake (Marl Lake) tucked away on the southern side surrounded by 5.5 miles of peaceful wooded trails where you can enjoy a quieter setting ideal due to the non-motorized boating.
It's not every day that you find a park that boasts one mile of shoreline along with one of Northern Michigan's largest state park campgrounds! With nine boat launches and a boat basin at your disposal, there really is no end to the fun for anyone who wants to get out on the water.
21. Lakeport State Park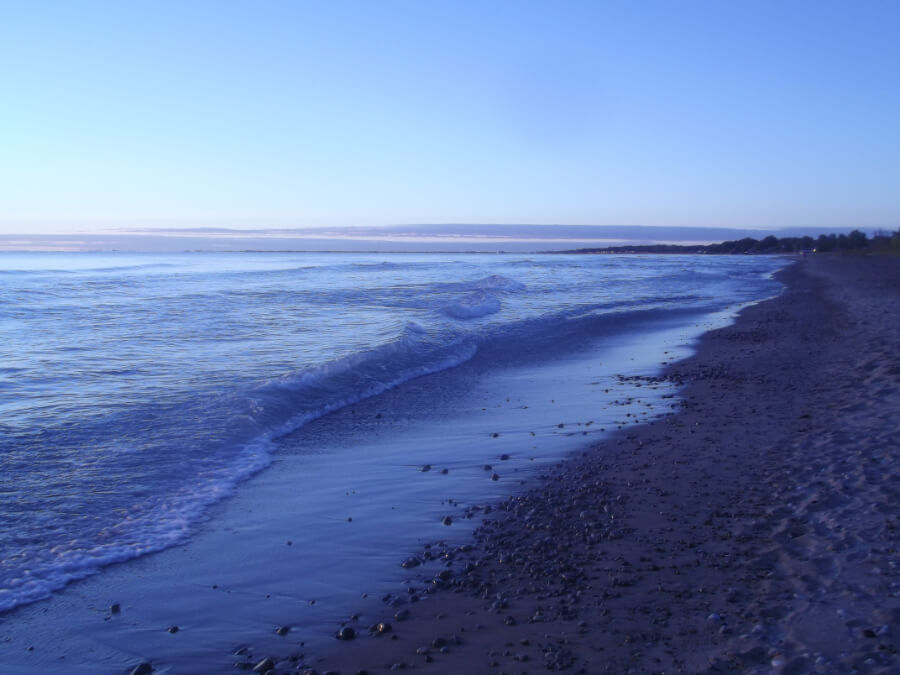 If you're looking for a memorable outdoors experience, Lakeport State Park should be at the top of your list. It's nestled within Burtchville Township in St. Clair County, Michigan and offers an array of outdoor activities to try.
One of the highlights that makes this state park one of the best places for camping in Northern Michigan is its modern campsites. Each one is outfitted with a picnic table, fire circle, and electricity so you'll have all the essentials right there. Their pull-through sites have camp pads designed for easy leveling as well.
Our favorite thing about Lakeport State Park is its unobstructed views of the stunning waters of Lake Huron. It also provides southeast Michigan residents easy access to the Great Lakes, making it both convenient and picturesque for those seeking some time away from city life.
Whether you want to set up camp on its beachfronts or bask in the beauty as you walk through its various trails, there's no better place than Lakeport State Park!
22. Interlochen State Park
Nestled between Green Lake and Duck Lake is Interlochen State Park, a fantastic camping spot in Northern Michigan that's sure to make your trip truly memorable.
For starters, you can choose from 490 campsites. And if you're craving an authentic outdoor experience, there are 60 rustic sites available. But if you prefer modern amenities, the park offers plenty of those too. Some even come equipped with 50 amp hookups.
Pro Tip: The park hosts weekly nature programs throughout the summer that can teach you about Michigan's diverse wildlife during your stay.
Both Green Lake and Duck Lake are within reach, so anyone interested in swimming and fishing will feel right at home. You can also use any of the three boat launches provided by the park if you want to get your craft out on the water.
If you want to mix things up a bit, the park is close to Traverse City where you can eat or attend concerts and local events.
23. Muskallonge Lake State Park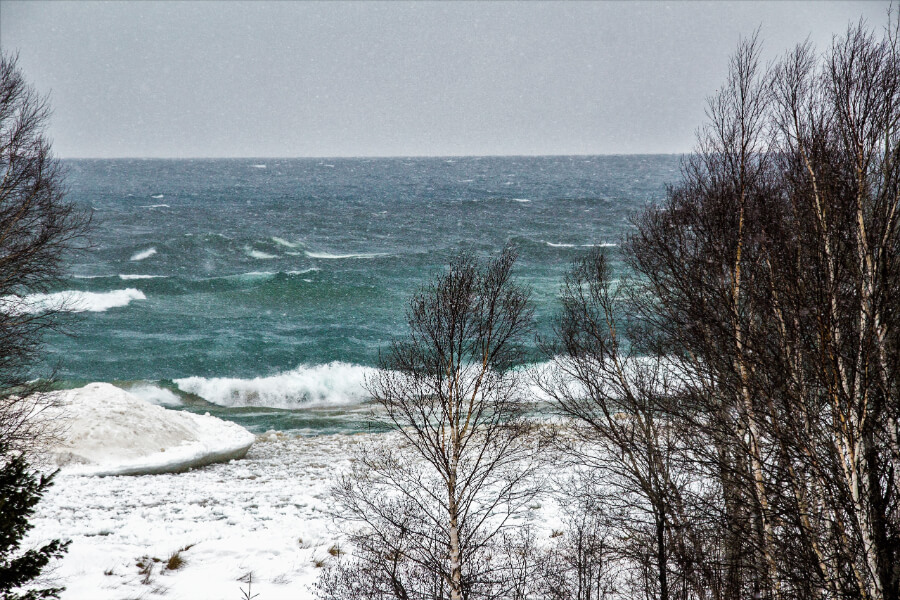 Muskallonge Lake State Park, just a stone's throw from Lake Superior, is truly a hidden treasure for outdoor enthusiasts who want to go camping in Northern Michigan.
Nestled between two picturesque bodies of water( Lake Superior and Muskallonge Lake) it's just 28 miles northwest of Newberry in Luce County. The park covers 217 acres of pristine natural beauty, boasting an interesting history that includes being the site of a former lumbering town and Native American encampment.
It's not only the history that draws visitors; it's also the modern conveniences of this campground amid the wilderness. Each campsite comes equipped with electricity and water pumps, making your stay comfortable.
Hiking trails lead right from your campsite to the shores of Lake Superior, offering you beautiful views as well as opportunities to spot local wildlife. If you're into watersports or fishing, there are boat ramps readily available for your use.
What sets Muskallonge Lake State Park apart isn't just its amenities or scenery alone, it's the historical significance of the area.
As you explore the park, look out for remnants from its lumbering days like piles of sawdust or partly submerged pine logs in the lake. These serve as reminders of a time when millions of white pine logs were transported by railroad before being turned into lumber at various mills.
Closing Thoughts
Camping in Northern Michigan has everything you need. Beautiful forests, fantastic water, and plenty of campgrounds to try!
Let us know if you found this list helpful. And if you have any suggestions for spots you think we should add, let us know.