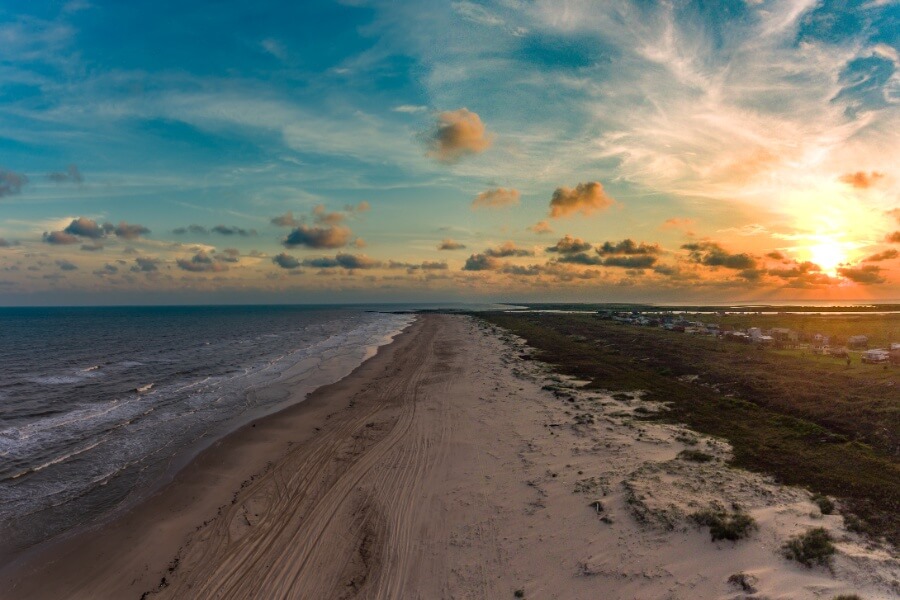 Texas has a large number of beach towns that are worth visiting. It doesn't matter if you're looking for a mellow day in the sun, or a number of attractions and activities, you'll always be able to find a town that has what you're looking for.
This guide will go over the best Texas beach towns, and why you should consider checking them out.
1. Galveston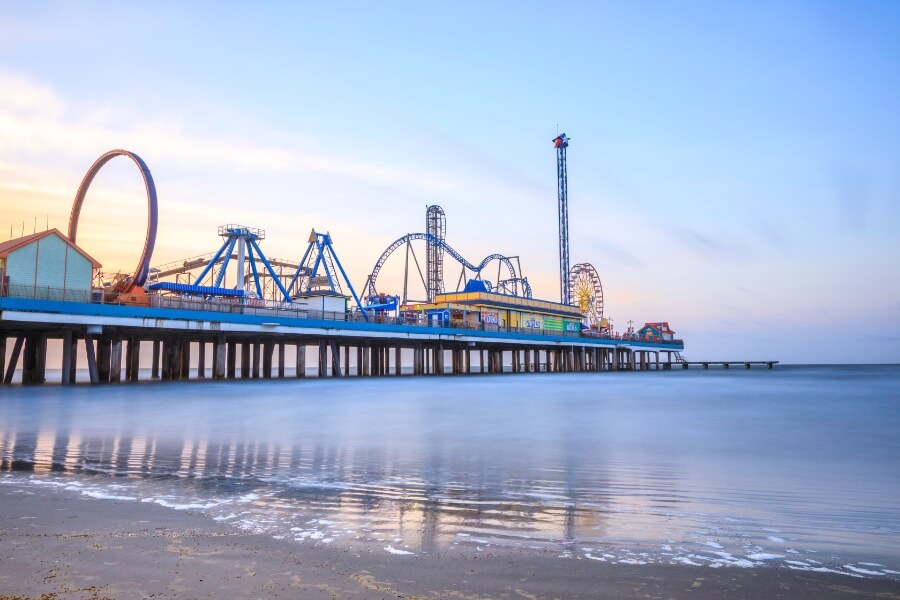 Galveston is one of the more popular Texas beach towns. It's only an hour away from Houston, making it a popular getaway. There are approximately 30 miles of coastline, and Galveston's infrastructure makes the area very walkable.
There's something for everyone in Galveston. Those who enjoy history can take a tour to learn more about the area's African American Heritage. If you love wildlife, you can visit the nearby state park to go for a hike.
Of course, there are many great party spots, too. East Beach is where you'll find all the shops, bars, and trendy restaurants. When you need a moment of respite, you can head over to Stewart Beach to soak up the sun and enjoy the peaceful waves.
2. Padre Island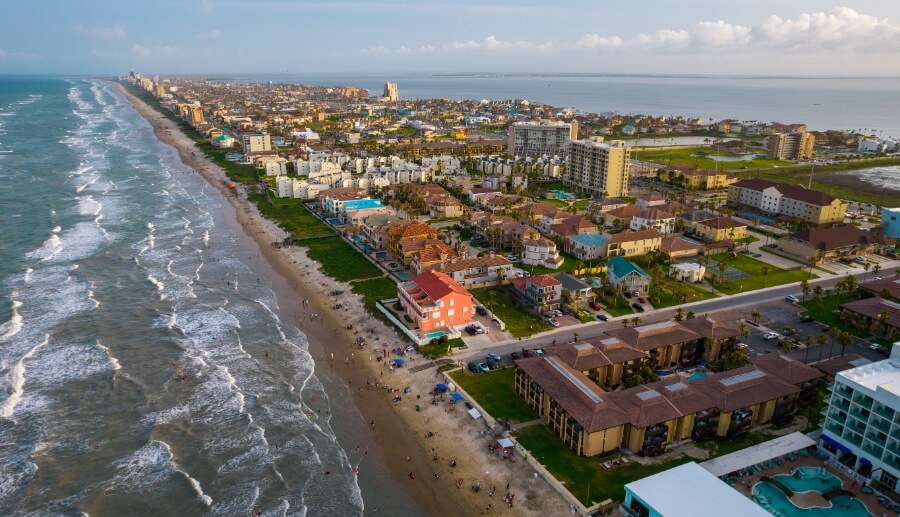 Padre Island is a long barrier island just southeast of Corpus Christi. The island is separated into two regions.
North Padre Island is a beautiful natural destination. It has miles of peaceful waterfront without all the hustle and bustle you get from more popular beach towns in Texas. It's the epitome of tranquility, and there's still tons to do.
Most excursions are nature-based. For example, many people travel to North Padre Island to see endangered sea turtles take their first swim into the ocean. Or, you can go to Little Shell Beach or Big Shell Beach for natural trinkets and wildlife photography.
South Padre Island is more of what you'd expect from a lively beach town. It's a popular spring break hotspot. You can go for a surf, hit up one of the many popular shops, or down some amazing seafood.
Some of the most popular beaches in South Padre Island include Dolphin Cove Beach and Beach Access.
3. Rockport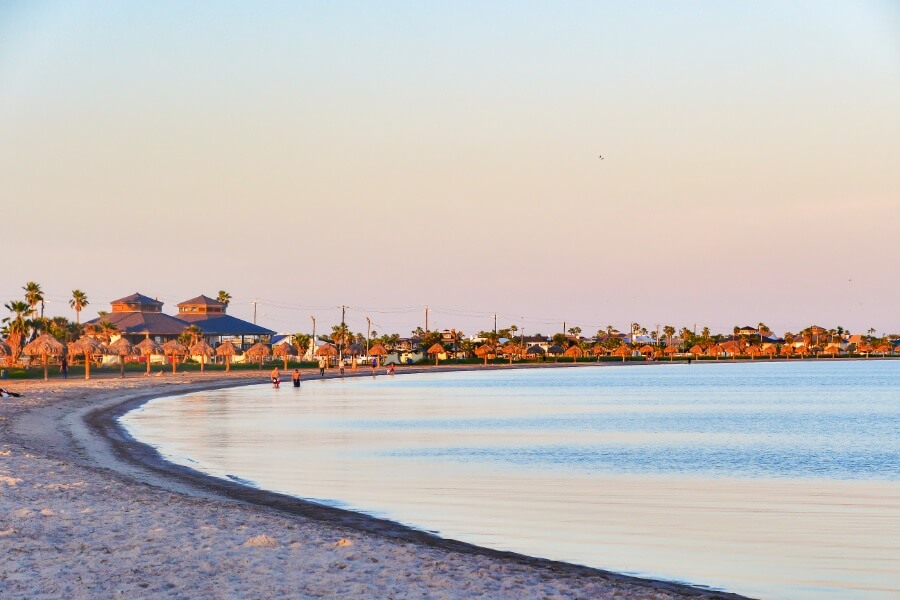 Rockport is a great getaway with history, natural beauty, and fun. It's on the Gulf and sits west of San Jose Island.
What makes Rockport a great Texas beach town is its dedication to environmental protection. The most popular beach, Blue Wave Beach, is well-managed. As a result, it's clean and free of debris.
The town's commitment to human and environmental health is impressive, and you can see efforts everywhere you turn.
Another great thing about Rockport is that beaches are accessible, even to those with mobility issues. You can easily make your way to the beaches, enjoy the sand, and use nearby amenities to stay comfortable.
If you're a foodie, you'll love Rockport. There are some great restaurants, and the most popular beaches have some grilling spots to do a cookout!
4. Port Aransas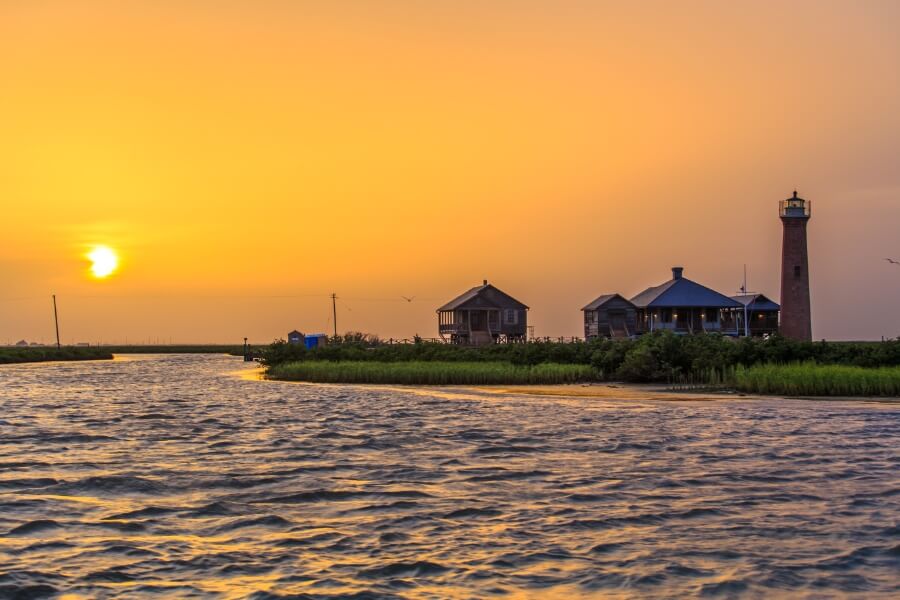 Port Aransas is south of San Jose Island and north of Mustang Island. It borders the Gulf to the West and Redfish Bay to the east. Thanks to its location, it's the fishing capital of Texas!
Anglers love Port Aransas. Horace Caldwell Pier is a popular fishing spot, and many chartering companies offer deep-sea fishing opportunities.
If you're not one for fishing, Port Aransas is also great for observing nature. You can head to Ray Roberts Park to see sea turtles, birds, dolphins, and more. At IB Magee Beach Park, you can go for a hike and watch the sunset.
There are many ways to enjoy the sun. At Port Aransas Beach, there are places to go surfing, kayaking, windsurfing, and more.
5. Bolivar Peninsula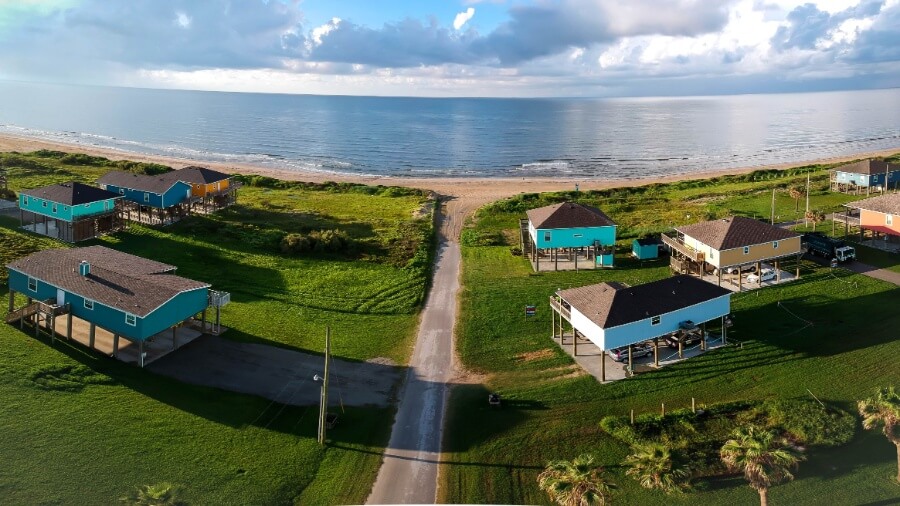 Bolivar Peninsula is about an hour and a half from Houston. Bolivar Peninsula refers to a stretch of land that separates the Gulf from Galveston Bay. It's home to many smaller communities and beach towns.
Bolivar Peninsula is one of the best beach towns in Texas for those who want to soak up the sun and relax away from the crowds. It's pretty quiet and full of wildlife. Many go to Crystal Beach to go birdwatching or visit Fort Travis for a little history.
The Anahuac National Wildlife Refuge is on Bolivar Peninsula and is home to many wild animals. You can also visit Point Bolivar Lighthouse to appreciate the area's history.
6. Freeport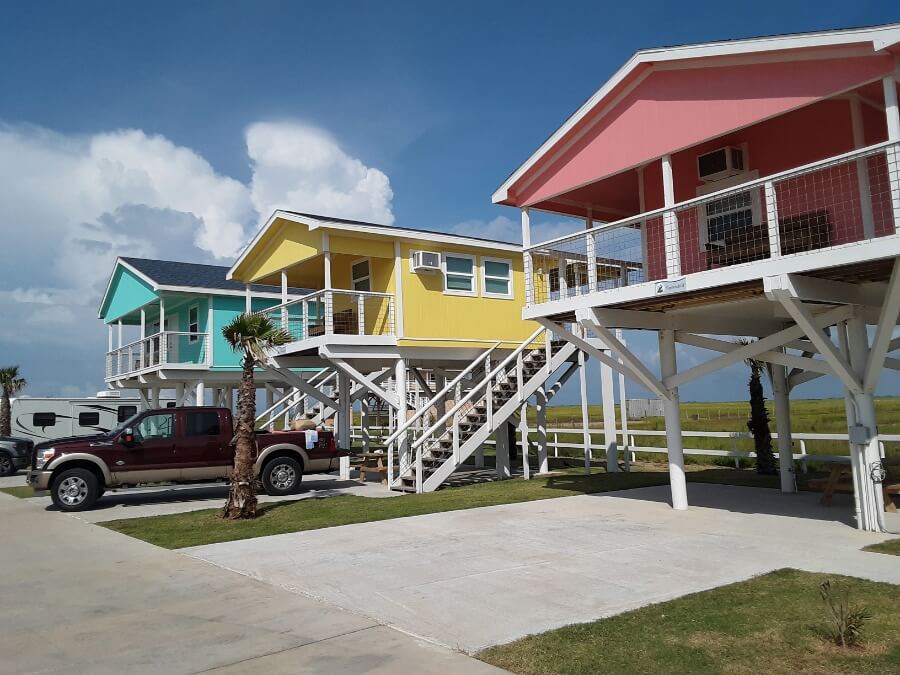 Freeport is a quaint beach town. It's home to Bryan Beach and Surfside Beach. The former is a nature lover's dream, thanks to its wildlife and camping opportunities. Meanwhile, the latter has miles of seashell-laden coast with plenty of ways to have fun with watersports.
Freeport is a great place to visit because of the many ways to spend your time. It's not all lounging on the beach. You can also learn a lot about the area and appreciate its history.
This town is home to a local history museum, bird observatory, marine life sanctuary, and more.
Roughly three miles of natural beach are ready for exploration. The beaches are great for spotting wildlife. Because Freeport is closer to busy cities, it's a popular destination for people wanting to get out and enjoy nature.
If you prefer lively activities, try Brazoria County Beach Park or the old Brazos River. These areas are full of opportunities for parasailing and kite-flying. You can also find people surfing, enjoying the breeze, and partying.
Freeport offers a nice mix of activities for people of all ages. There's something for everyone. Whether you're a young partier looking to let loose or a nature lover wanting to see everything Texas offers, Freeport likely has it.
7. Port Arthur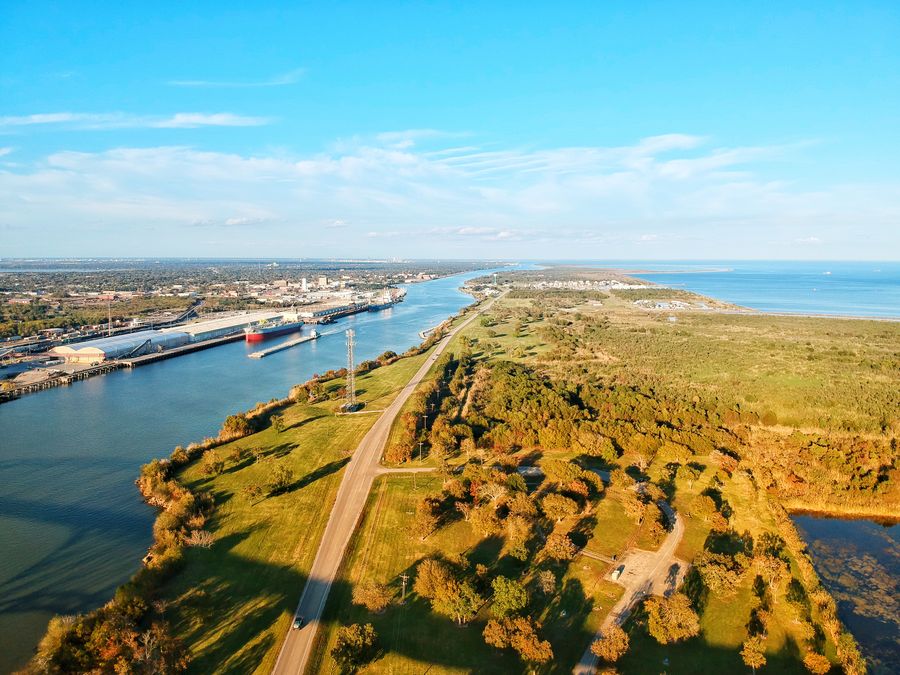 Port Arthur is a unique Texas beach town. It doesn't sit directly on the coast. Instead, it sits on Sabine Lake. Boats have to travel through Sabine Pass to get from the gulf to Port Arthur.
What makes Port Arthur so fun is its mix of traditional beach vibes with Cajun flair. Louisiana is on the other side of Sabine Lake, and those Cajun influences did a lot to shape Port Arthur.
Seafood is abundant in Port Arthur. There are great coastal walks lined with restaurants, creating a great atmosphere.
Sea Rim State Park is one of the more popular beaches in Port Arthur. You can camp directly on the waterfront or try your hand at adrenaline-pumping watersports.
8. Corpus Christi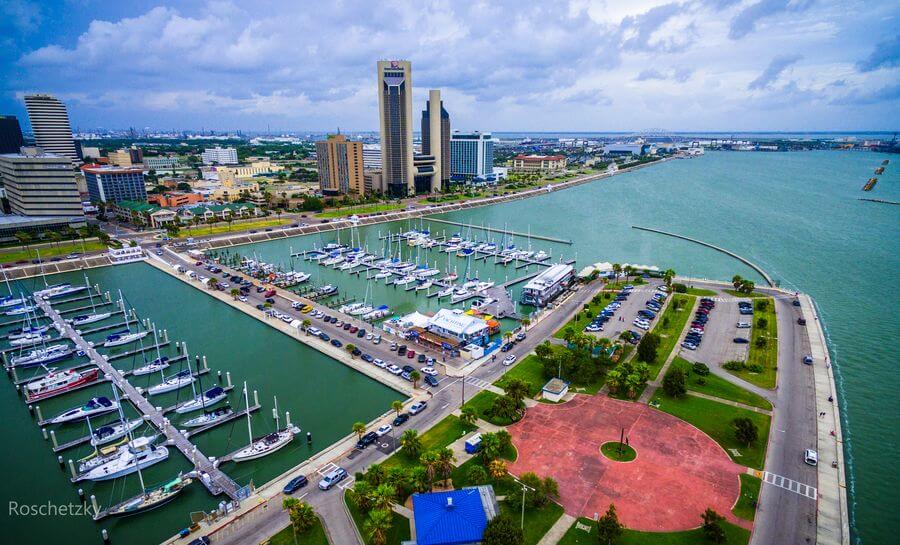 Corpus Christi is one of the bigger beach towns in Texas. It sits on Corpus Christi Bay, and there are several great beaches to visit.
Newport Pass Beach is the go-to for fun away from the crowds. Many surfers and windsurfers go here. There's also McGee Beach and North Beach, offering sandy getaways and plenty of great restaurants.
If you prefer more boisterous fun, you can check out JP Luby Beach.
Corpus Christi has tons of variety. In addition to great shops, restaurants, and beaches, there are ways to appreciate nature and history. For example, people love going to the Texas Surf Museum, aquarium, and art center.
9. Seabrook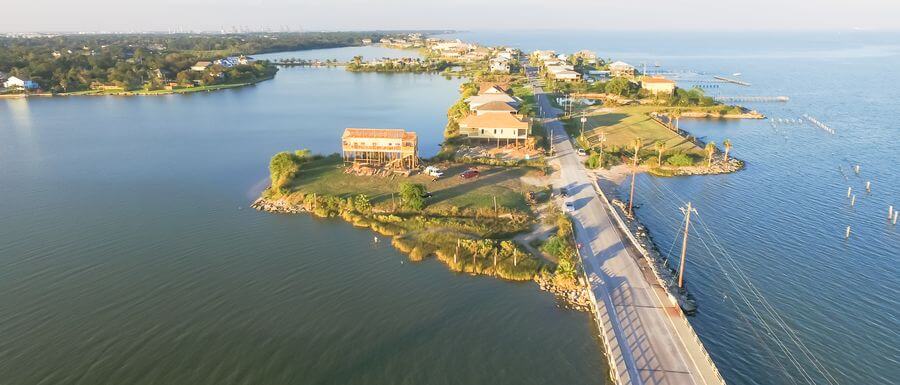 Located about 30 minutes away from Houston, Seabrook is a popular getaway. It's most loved by those who love wildlife and nature. Seabrook has more than 18 parks. Plus, it's a designated bird sanctuary.
Many colorful birds migrate to Seabrook every year, so it's the perfect place for birdwatchers.
There are many miles of hiking and biking trails, too. It's not a huge party center like other beach towns in Texas, so , so those wanting a tranquil experience will love it. Popular beaches include El Jardin Del Mar and Sylvan Beach.
10. Kemah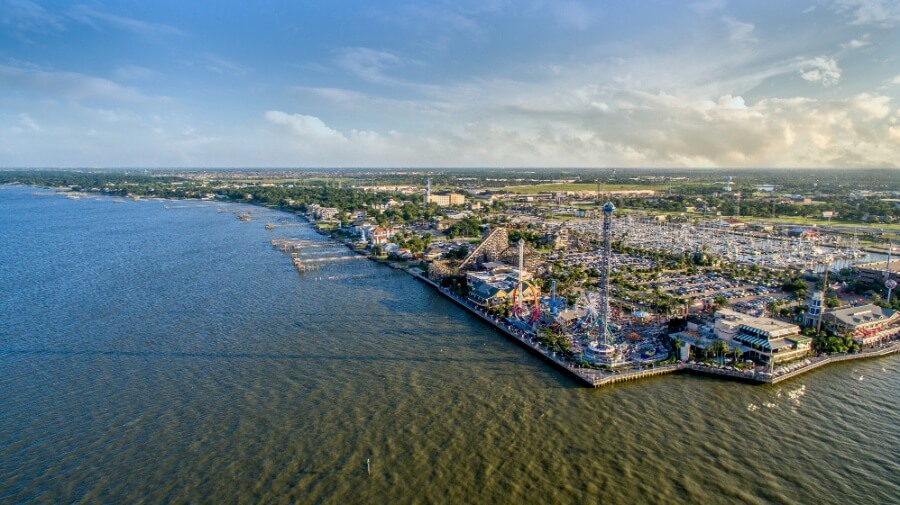 Kemah is a small town that's not too far from Houston. It sits on Galveston Bay and is known for its famous waterfront amusement park. There, you can hop on a giant Ferris wheel, enjoy the lights, and take in the beach breeze.
Kemah has many great activities. It's a popular cruise destination and hosts many live concerts. You can also visit places like the Bay Area Museum, Lone Star Flight Museum, or Armand Bayou Nature Center.
The Kemah Boardwalk is, without a doubt, its most popular destination. In addition to the amusement water park, you have several restaurants and shops. If you prefer to walk along the beach, you can head to one of the many public beaches or see what nearby Seabrook has to offer.
11. Surfside Beach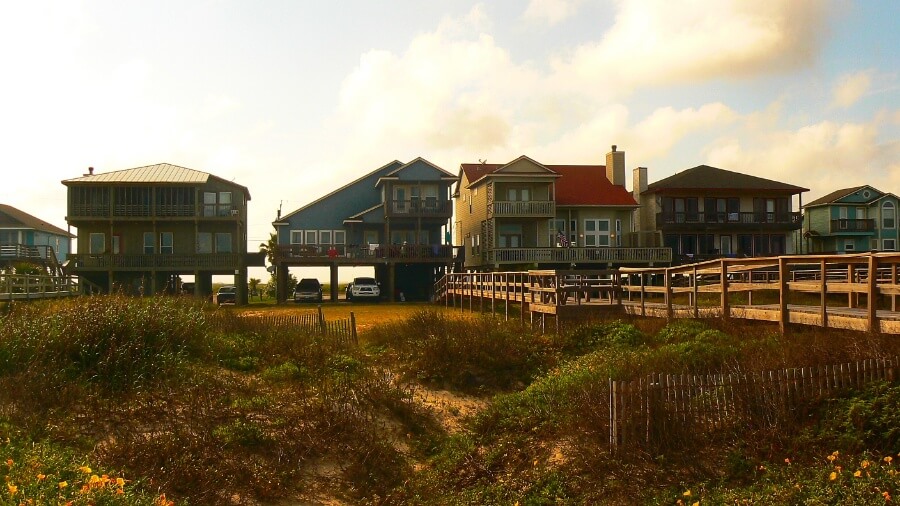 Surfside Beach is located close to Freeport. It has the Gulf to the east, an inlet to the south, and rivers to the east. It's surrounded by water, making it a great destination for beach lovers.
What makes Surfside Beach a unique beach town in Texas is its dark sand beaches and green-tinted water. It's a beautiful place but not the best for those looking for tranquil waters.
As its name implies, Surfside Beach is a surfer's paradise. In addition to surfing, you can go for a jetski ride, try your hand at windsurfing, and more. Bryan Beach, Surfside Oasis, and Surfside Beach County Park are some of the most popular beaches in the area.
There's also Surfside Jetty County Park for fishing and Brazoria National Wildlife Refuge for nature.
12. Matagorda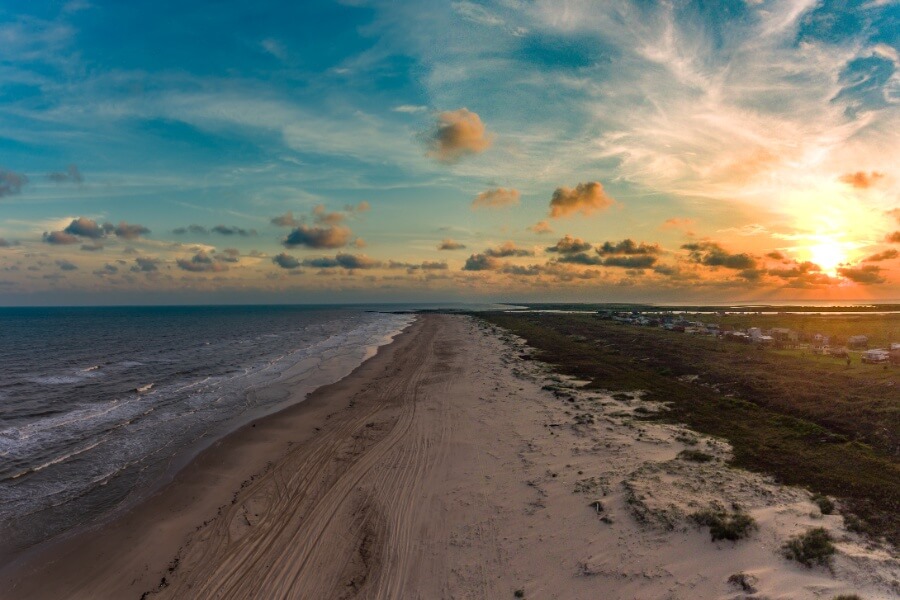 Matagorda is one of Texas' best hidden gems. It's a historical haven full of fun things to do and sights to see.
Matagorda is the third oldest town in Texas, and many old buildings with beautiful architecture remain. Many people visit this place to walk around town, get a glimpse of the past, and participate in community events.
If you want to see birds and wildlife, Matagorda Bay Nature Park should be at the top of your activity list. You can also visit the beach, where 23 miles of calm coastline await. Thanks to its close proximity to the mouth of the Colorado River, there are plenty of great fishing spots, too.
13. La Porte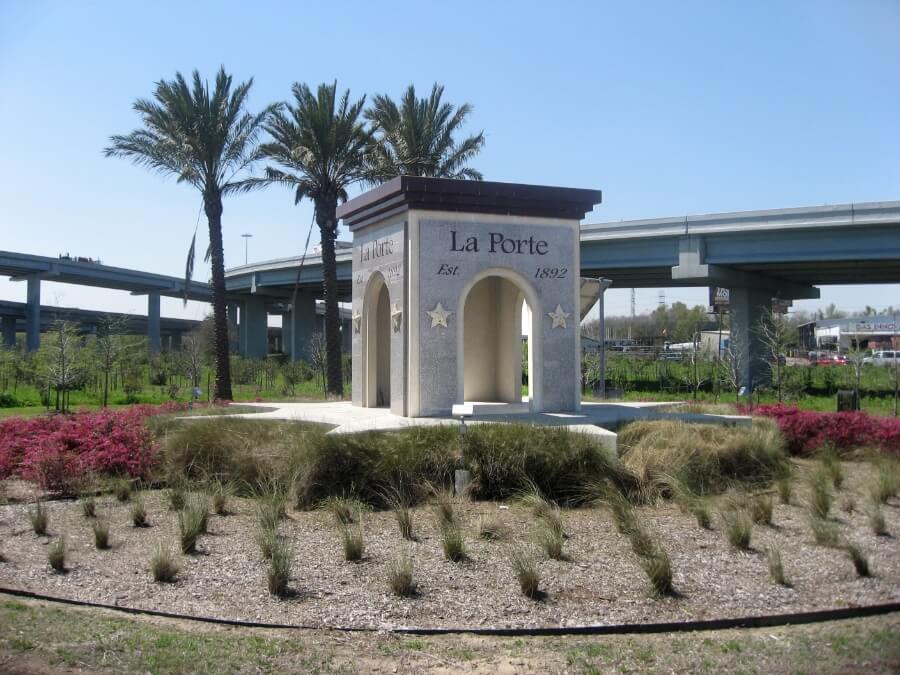 Here's another small beach town in Texas that's full of history. La Porte is about half an hour from Houston. It's the site of the Battle of San Jacinto in 1836, a pivotal moment in Texas' independence from Mexico. Modern-day La Porte offers many ways to learn more about Texas and its colorful history.
You can try the San Jacinto Museum of History or San Jacinto Historical Park. There are also many beautiful monuments and examples of breathtaking architecture throughout the town.
Sylvan Beach is a must-visit if you want to relax by the ocean. Alternatively, there are several well-marked trail maps for hiking, biking, and more.
14. San Leon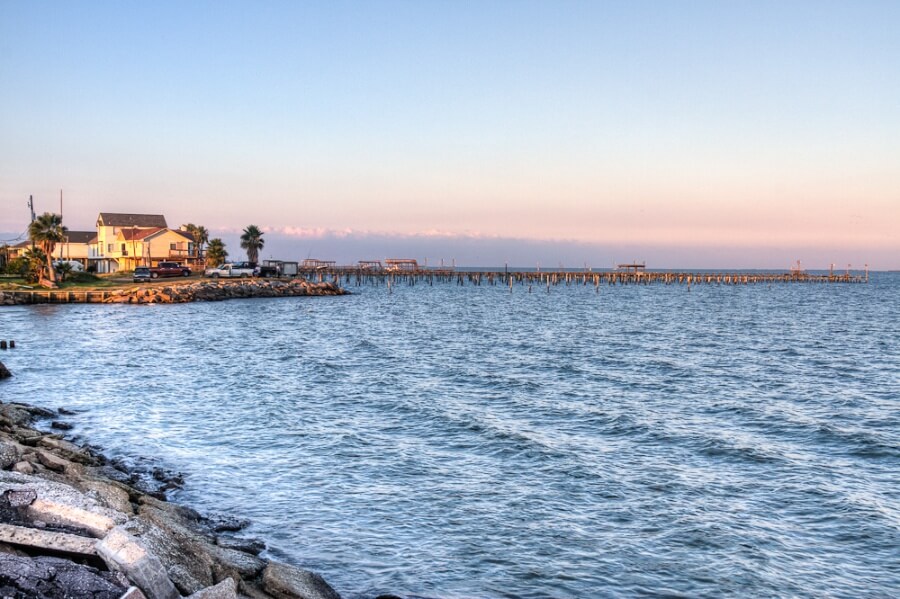 San Leon is a short hop from La Porte and Seabrook. It's smaller and quieter than other beach towns, but that's a big reason why so many Texans love it.
Bayshore Park is a popular destination. There, you can stroll by the waterfront on well-maintained sidewalks while visiting colorful shops and restaurants.
San Leon is well-known for its distilleries, too. Railean Rum Distillery is a fantastic place to learn more about the rum-making process. You can also pick up souvenirs, do taste tests, and more. Don't forget to stop by the beachfront restaurants or head over to Eagle Point for fishing.
15. Port Lavaca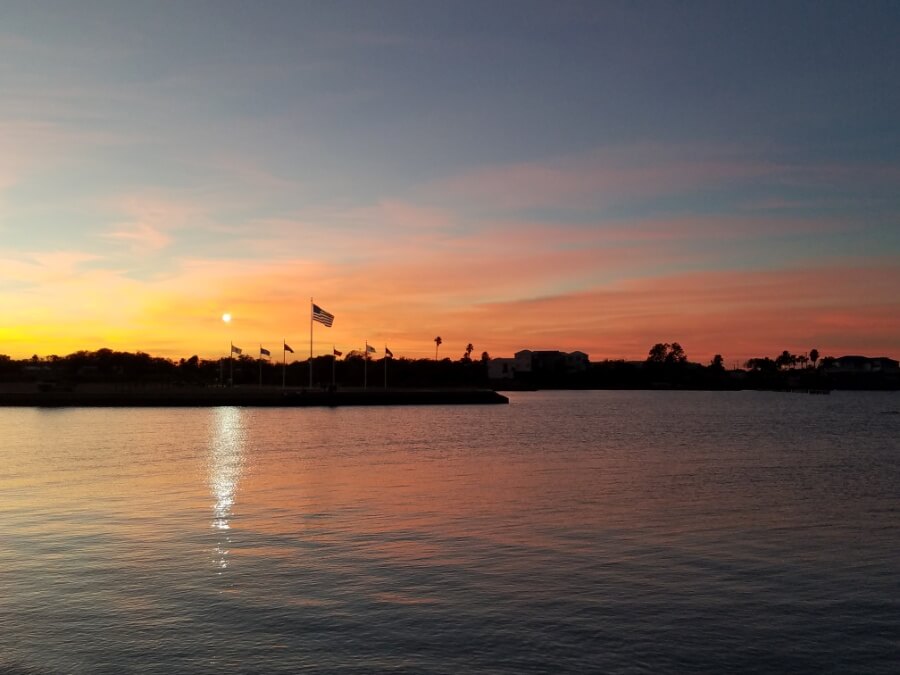 Port Lavaca sits on Lavaca Bay. It's around 130 miles from Houston and not too far away from Corpus Christi.
This Texas beach town is most known for its fishing. Magnolia Park is a popular fishing destination for people across the state. You can launch your boat, fish from a pier, or enjoy the sandy beaches.
Lighthouse Beach Park is another great getaway. The same goes for the historic Half Moon Reef Lighthouse.
If you prefer to see some wildlife, try visiting Formosa Wetlands Walkway. It has a walkway made entirely out of recycled materials. In the end, you can stop at Alcoa Birding Tower to get a great view of the birds and the surrounding area.
16. Port O'Connor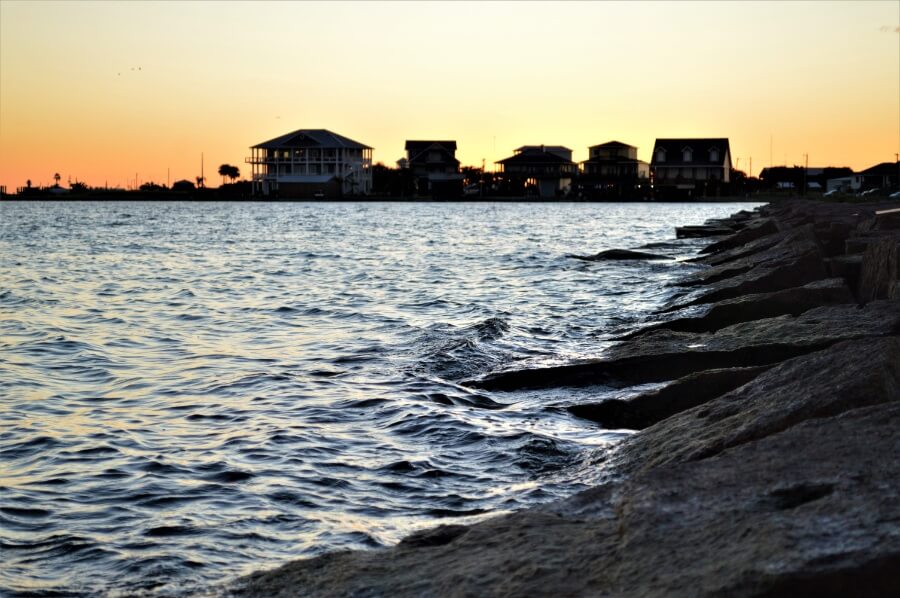 Port O'Connor is a smaller beach town that's close to Port Lavaca. Its biggest draw is nature and water activities. There are many places to go kayaking, paddling, swimming, and fishing.
While not as party-centric as other beach towns, Port O'Connor is a hit with boaters. You can rent a spot and venture into many famous fishing holes.
Port O'Connor is close to Matagorda and Espiritu Santo Bay. Both are well-known fishing spots, and there are several places to relax on sandy beaches.
17. Jamaica Beach
Jamaica Beach is a very small town in Texas that's located southwest of Galveston Island. If you're in the area, it's one of the best places to unwind. Jamaica Beach is very family-friendly, and the activities are never-ending.
Of course, swimming is one of the best things to do in Jamaica Beach. The sand is soft and white. Meanwhile, the waters are crystal blue.
It truly feels like you're in the Caribbean, and the beautiful lodges and cabins are a great place to stay with your family for a few days.
18. Crystal Beach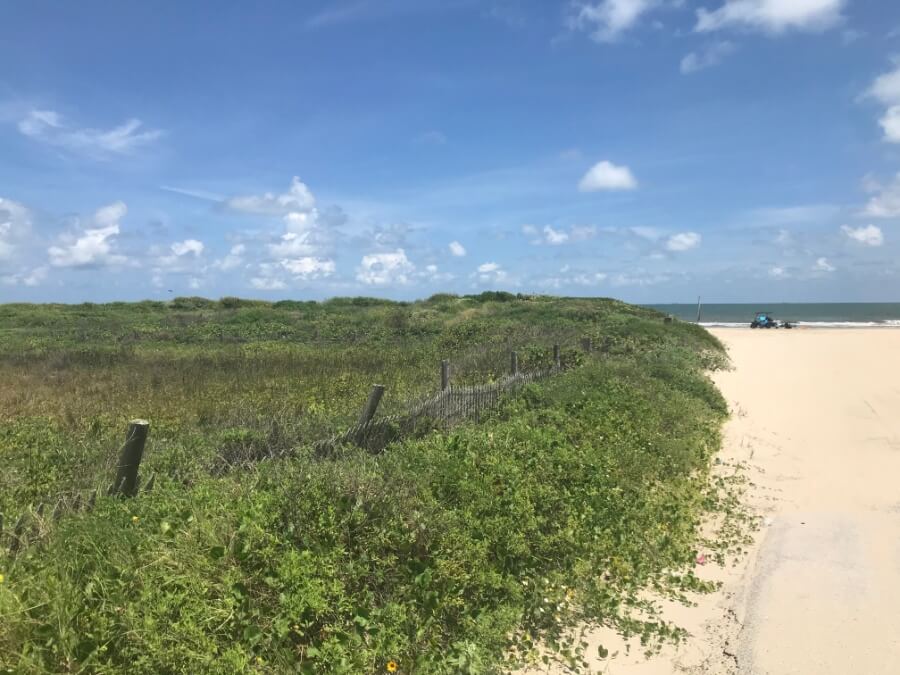 You'll find this Texas beach town on the Bolivar peninsula. It's a local favorite, and you'll see why when you visit.
There are many ways to get to Crystal Beach. You can drive, but many people take the ferry directly from Galveston. Once there, you can enjoy everything the Bolivar Peninsula has to offer.
That includes the Anahuac National Wildlife Refuge and the Point Bolivar Lighthouse.
The beach at Crystal Beach is nothing short of gorgeous. It's white and sandy. There are fun bohemian vibes in the area, so you can easily explore shops and restaurants to take in the local culture. If you want, you can even rent a golf cart to cruise on the coast to appreciate all its beauty.
19. San Jose Island
San Jose Island is a beloved place in Texas. It's not too crowded, and the coastline is pristine. San Jose Island borders Matagorda Island to the northeast and Port Aransas to the southwest.
There are about 12 miles of beaches in the area, and you can find tons to do. Many people soak up the sun, enjoy the waves, and go shelling. There are also spots to do some fishing and birdwatching.
Fishing is particularly popular on San Jose Island. The waters are home to some 600-plus fish! You can also go for a dolphin watch, charter a boat, take a tour to see the wildlife, and more.
20. Mustang Island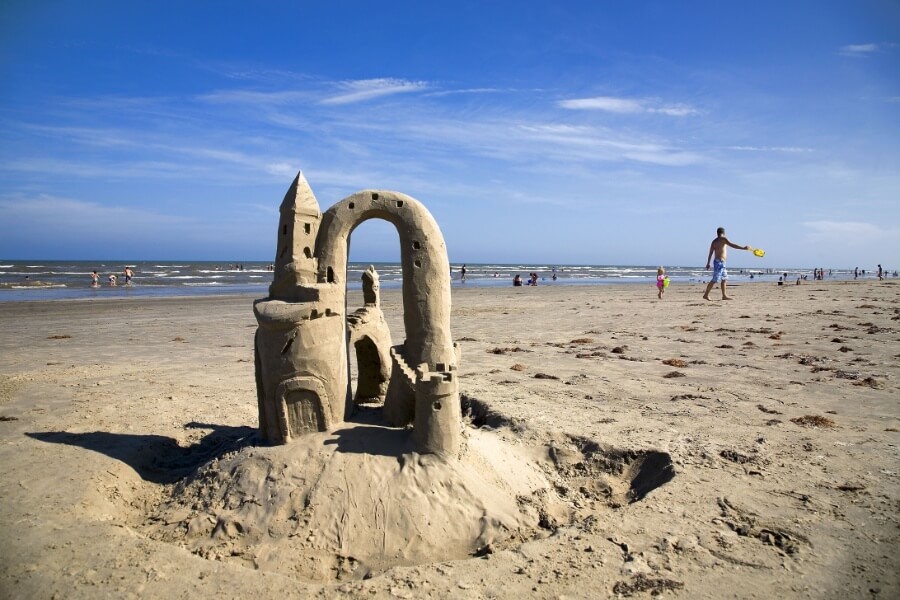 Last but not least, we have Mustang Island. This Texas beach town gets its name from its history. Back in the day, it used to be home to wild horses.
Those days are long gone, but you can get a glimpse of Mustang Island's past when you visit. It's to the east of Corpus Christi and is easily accessible by car.
There are about 18 miles of coastline. It's home to many beautiful beaches that aren't as crowded as some others in the area. You can enjoy the breeze, watch the sunset, or spot some beautiful wildlife.
Mustang Island is popular among nature lovers because of its many colorful seabirds, dolphins, and turtles.
There are also hiking trails and camping spots in the area. One place everyone needs to visit is Mustang Island State Park Paddling Trail. This shallow-water trail is perfect for family outings. It's not deep at all, so it's a great place to go kayaking, paddling, and more.
Closing Thoughts
Now that you know about all of the best Texas beach towns, it's time to check them out for yourself! No matter where you're located or what activities you're looking for, you shouldn't have trouble finding a place that's worth visiting.
If you have any stories about your time in any of these towns we'd love to hear them! Don't hesitate to reach out to us on social media and share.