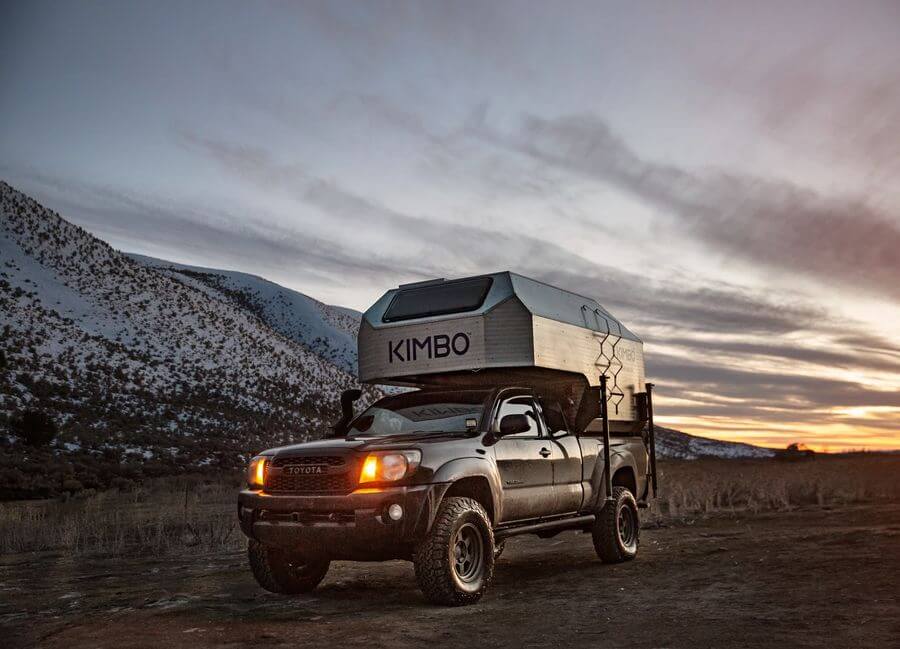 Finding the right camper for your Toyota Tacoma can seem daunting at first. Since it's the most popular mid-size truck around, there are almost too many options available to you!
This list goes over the best Toyota Tacoma campers on the market right now and gives you some tips for choosing the right one for you.
Let's get started!
1. Kimbo Camper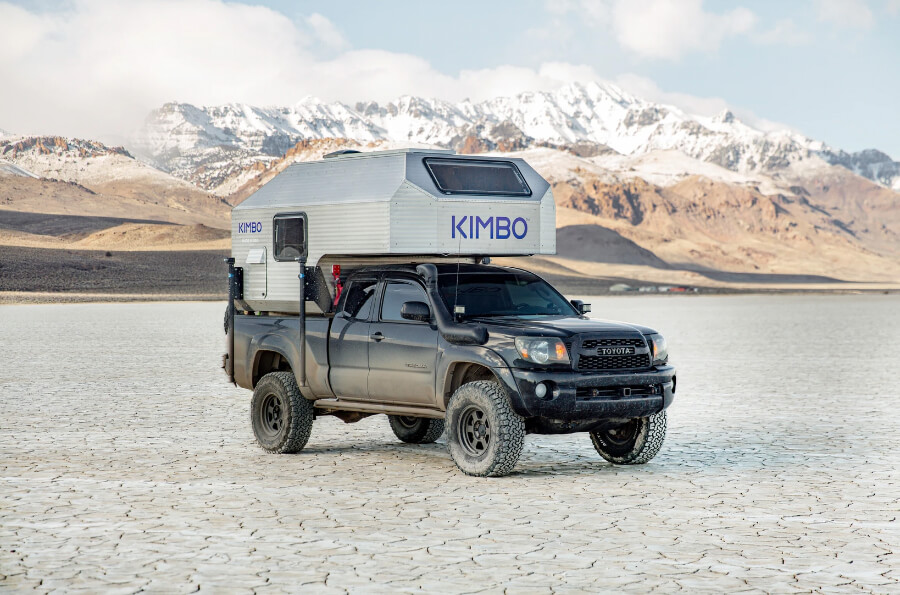 The Kimbo 6 series is a lightweight, durable camper made with aluminum frameless construction that maximizes interior space while keeping costs low. With 6 feet of floor space, 6.5 feet of headroom, and over 3 feet of clearance in the cabover, there's plenty of room to relax after a long day of outdoor adventuring.
The Kimbo camper has an R-5 insulated interior that keeps you cozy during chilly nights (plus an optional propane fireplace), while the double pane windows with screens let you enjoy fresh air without worrying about bugs getting in.
The camper also has multiple power options such as solar panels and propane tanks, ensuring that you can stay off-grid longer. The modular interior design provides versatile functionality within the compact space; including a teak entryway/mudroom with an aluminum partition, a 54 x 75-inch bed, two sitting areas, removable lift jacks, a sink, and a fridge.
Other amenities include a strong roof vent fan to keep things cool inside during those hot summer days and high-efficiency dimmable LED lighting.
This lightweight truck camper was designed specifically with the Toyota Tacoma in mind. It comes in at around 1,100lbs (depending on the options you choose) and the vast majority of owners use them on Tacomas.
Perhaps the biggest selling point to us is the build quality. When you're inside one of these truck campers, it's clearly well-made. It doesn't feel like the classic "RV quality" experience you get with so many other campers. At the end of the day, we recommend checking one out in person if you get the chance. They really sell themselves!
2. Scout Yoho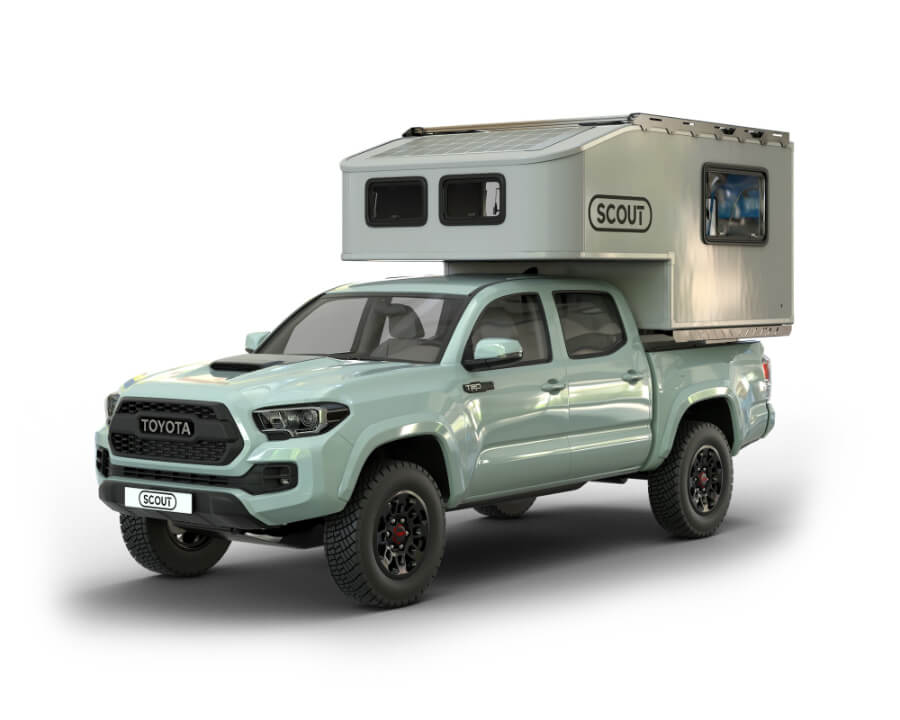 The Scout Yoho is another great camper for the Toyota Tacoma that has gotten quite popular in recent years. It's not only smaller than many other truck campers, but also lighter at just 934 pounds.
The camper is designed to be self-sufficient with a 190-watt flexible solar panel, a portable Goal Zero Yeti 1500x lithium power station, and gravity-fed filtered water system.
Another thing that's great about the Scout Yoho is its wide array of customizable options. You can choose to add a portable two-burner cooktop for preparing delicious meals on-the-go and also add on a Dometic CFX3 45L Fridge/Freezer with WiFi for keeping your food and beverages cold. A portable 2.6-gallon toilet gives you bathroom options during extended trips as well. They also have a nifty 270-degree batwing awning for shade and protection from the elements.
Another reason we like the Yoho as a truck camper for Tacomas is it can be used in all four seasons. It's well-insulated and you have the option to add a diesel heater for extra warmth on chilly nights.
With its impressive combination of essential off-grid features and customizable options, there's no doubt that the Scout Yoho is a camper you should seriously consider. Here's the website where you can learn more about pricing and options.
3. Fleet By Four Wheel Campers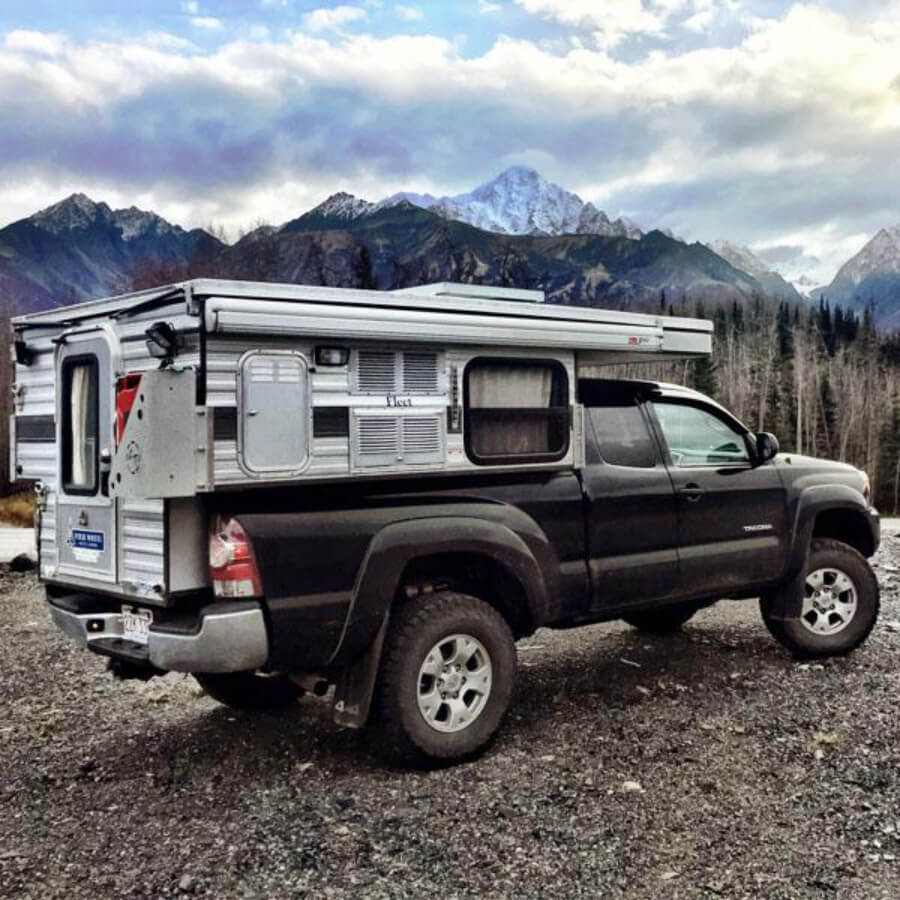 The Fleet by Four Wheel Campers provides a rugged yet comfortable home-away-from-home for your off-grid adventures. This lightweight camper is specifically designed for mid-size trucks like the Toyota Tacoma with 6-foot beds, making it an ideal match for your vehicle.
Four Wheel Campers are an industry leader that has been around for quite some time. If you're ever on a trip to explore the nature out west, you'll see more than a few on the roads.
Note: If you have a 5 foot bed you can get their "Swift" model that has many of the same features.
With four main floor plans available, including a rollover couch layout, side dinette, front dinette, and shell model, you have plenty of options to customize the interior according to your preferences. Plus, its light and low-profile design makes it easy to haul around while not destroying your fuel efficiency.
Inside this camper you'll find numerous amenities that make off-grid living enjoyable and practical. The Fleet has a 20-gallon freshwater tank and a two-burner stove in its kitchen area. You can also sleep up to three adults in the queen size cabover bed and couch/bed conversion option.
For those who have experienced poorly-made pop ups in the past, this isn't one of them. The Fleet's rugged build should withstand even the toughest off-road conditions while still providing years of reliable service. Its one-piece aluminum roof is waterproof and built to handle decades of use without breaking down or leaking.
Considering all the features and Four Wheel Campers' reputation for quality craftsmanship, the Fleet offers incredible value for those seeking adventure beyond paved roads.
4. GFC Platform Camper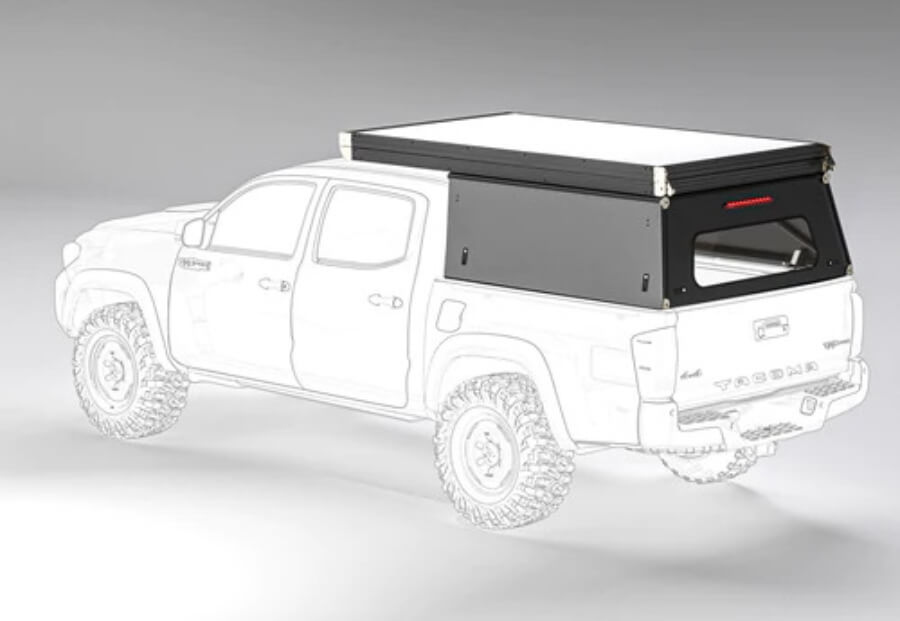 This ultra-light truck bed camper is designed to fit seamlessly onto your Toyota Tacoma, providing you with a versatile and durable shelter that can cater to all your outdoor adventures. For those who want a more simplistic build, the GFC Platform Camper offers a unique combination of functionality, minimal design appeal, and performance.
One of the main selling points of this platform camper is its robust construction. The structure features a tubular steel frame supporting the entire structure while side panels open up to create an inviting cabana-style living space. You also have aluminum t-slots that provide ample mounting options for roof racks or other gear up to 500 lbs.
Another obvious benefit of this camper is the fact that it weighs in at 255 lbs. If you're someone who likes to travel light and doesn't want to think about payload capacity, this might be the one for you.
We also like that its ease of use allows you to set up camp quickly. All it takes is undoing two latches and letting the gas struts lift the tent's roof. You can also secure your gear with confidence using the lockable rear panel access from inside the camper, removable panels for customization options, and optional tempered glass front windows for added protection against harsh elements.
5. Cube Series Camper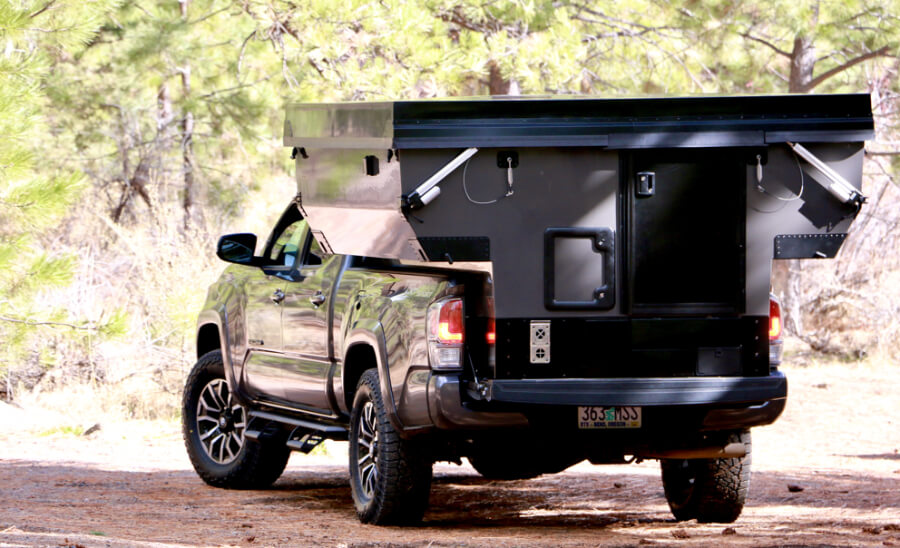 Created by Cube Series RV, an Oregon-based company, this innovative camper is another solid option for Toyota Tacomas.
Despite being a hard-sided popup, it still has a rather low-profile design. This means you'll be able to minimize wind resistance and have great clearance when it's mounted on your Tacoma. There's even a basement compartment that houses the furnace, holding tanks, and most electronics. While storage is obviously a major benefit of this design, it also has the added benefit of improved handling due to the low center of gravity.
The Cube Series Camper has a 12-volt roof lift system that allows you to get set up for camping in just about a minute. There's 6' 5" of headroom as well as high-quality amenities such as aluminum cabinetry, thermo-foil countertops, synthetic leather upholstery, LED lighting, and multiple power outlets. There's also an opposing dinette that converts into a cozy 75-inch sleeper.
You get a 21 gallon fresh water and a 10 gallon gray tank; plus enjoy hot water on demand with a 1.7-gallon 12-volt water heater. There's also a 16,000 BTU furnace, and electric water pump.
The main drawbacks of all this are price and weight. This thing isn't cheap, and on top of that it weighs somewhere between 1,200 and 1,750 pounds (depending on options). That means you not only need to spend a significant amount on the camper itself, but likely make some suspension modifications to your Tacoma as well.
But if you have the rig for it, there's a lot to like!
6. OEV Back Country 5.85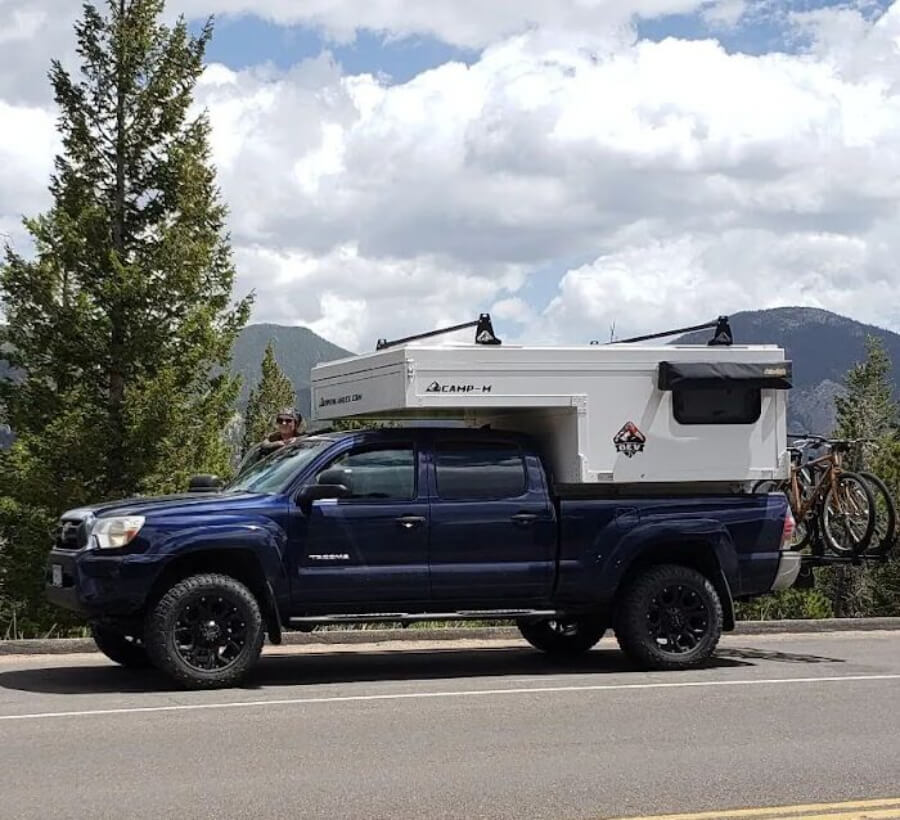 This truck camper is designed specifically for mid-size trucks like the Tacoma and offers a nice combination of comfort, convenience, and durability. It used to be called Camp-M, but the name has officially been changed to the Back Country 5.85.
This camper has a pop-up roof and a 3-season removable cabin that can sleep up to three people. Made from powder-coated aluminum extrusions and OEV gen-4 composite materials, this camper is well-insulated. It has external dimensions of 122" L x 77" W x 61" H when closed and extends up to an impressive height of 83" when opened.
It has a dual-pane acrylic window with blinds/screens for natural light while maintaining privacy, and a screen door keeps bugs out during those warm summer nights. The front dinette can easily fold down into a small bed suitable for children or pets, complete with under-seat storage and an adjustable table leg.
One of the key features of this Toyota Tacoma truck camper is its ample storage space. There's large exterior access through a locking cargo door on the passenger side that ensures that all your gear stays secure while you're on the move. Additionally, it comes equipped with an aluminum propane cabinet housing a ten-pound propane bottle for easy access when cooking outdoors or powering other appliances in your camping setup.
7. Phoenix Pop Up Slide-In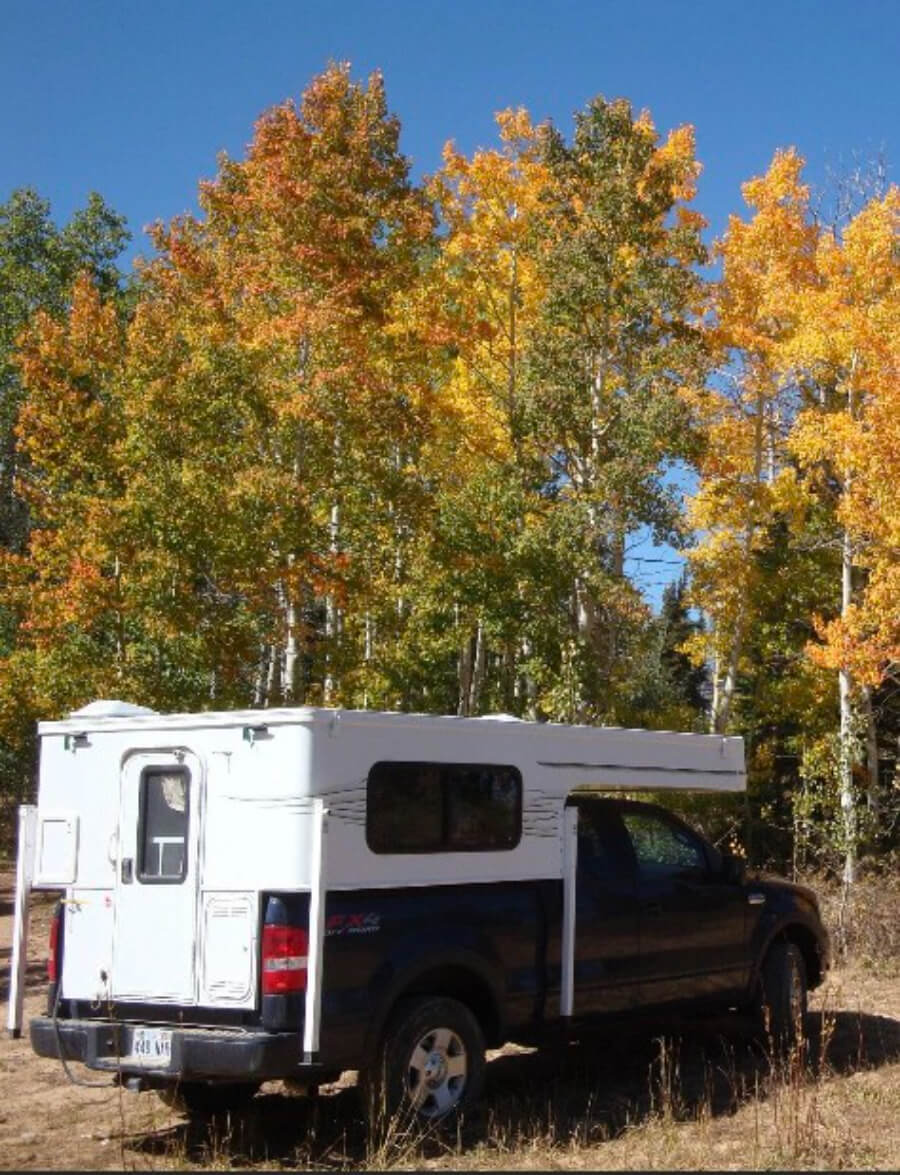 This lightweight camper has a dry weight of 1,180 pounds and is designed to work seamlessly with your Toyota Tacoma, while still offering a range of features.
The floor plan includes a spacious east-west queen-size bed, a large dinette at the front, and a small kitchenette on the passenger side. Constructed with an all-aluminum double welded tube cage frame and wrapped in pre-laminated Crane fiberglass, this camper is well-insulated and built to withstand the elements.
One nice thing about this camper is that it's fairly versatile when it comes to customization. You have the option to choose from standard birch cabinets or upgrade to materials like bamboo. There's also integrated power inverters with built-in transfer relays, solar power systems, floodlights, roof racks, a ladder in the back, low profile air conditioners, and Rotopax fuel-water containers.
If aesthetics are important, one nice touch is that Phoenix can even paint your camper in a custom color to match your Tacoma. This helps it blend in and makes it look more like a bed topper instead of a camper.
8. OVRLND Campers Midsize Pop Top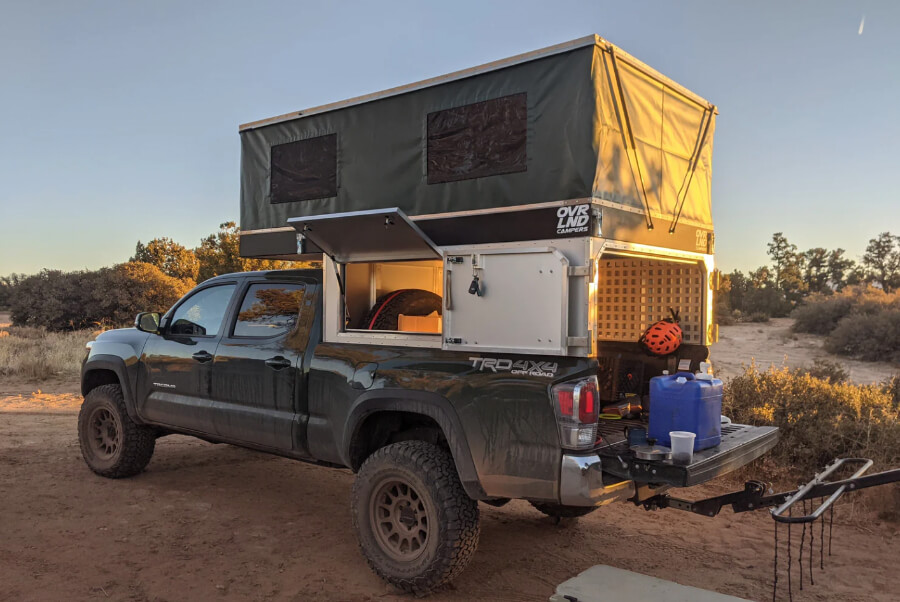 This Tacoma truck camper is unbelievably light, coming in at just 265lbs for the midsize short bed model. The shell-like pop up design maximizes usable space inside and provides plenty of headroom.
One of the unique features of this camper is its customizable interior with aluminum T tracks on both sides. These can be used to mount kitchen counters, stoves, and other equipment according to your specific needs and preferences.
You can choose from solar power systems, windows, awnings, roof rack tracks, additional vertical bed space, and cabinets. The design also means you can empty it out and use it for storage or hauling when needed.
The welded aluminum tubing frame not only keeps things lightweight but also allows for easy mounting of Jerry cans or propane tanks on both the interior and exterior. If you're someone who likes to keep things light and simple while still maintaining functionality, this camper is worth checking out.
9. Bundutec Topi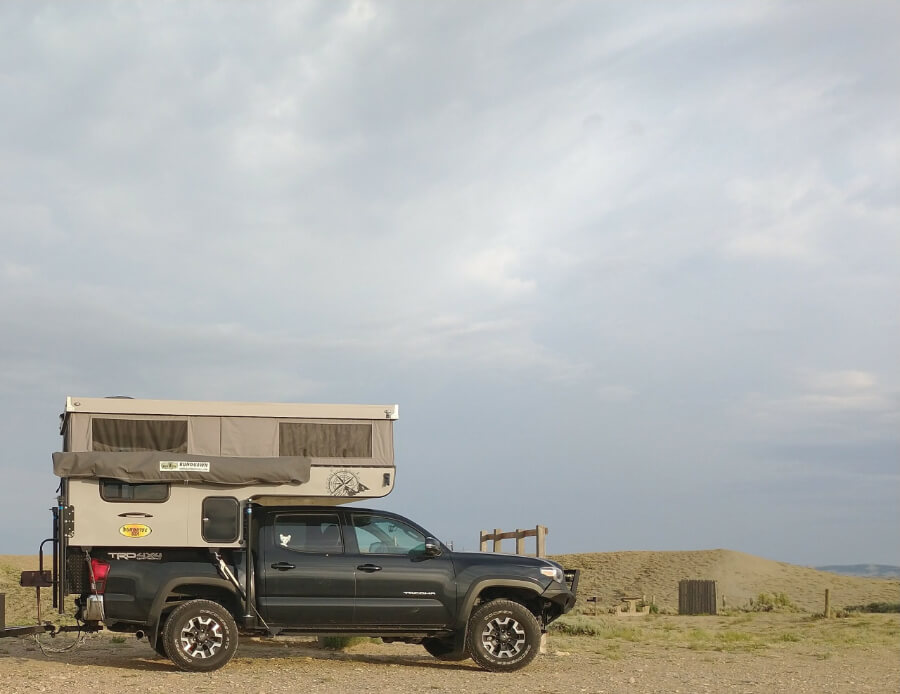 This impressive truck camper weighs in at 1,330 pounds, making it a great option for Toyota Tacomas.
The floor plan is spacious and features a full-length dinette on the driver side with plenty of storage. Standard features of the Bundutec Topi include a north-south 56 x 74-inch mattress with lift-up under bed storage, a 11-gallon fresh water tank, 1.9 cubic ft. 12v refrigerator, a stainless steel sink, and window and door screens. There's also the option for 190 watt or 380 watt solar, a skylight, and even a rear wall air conditioner.
Despite its relatively high weight compared to other options available in this category it's definitely worth considering if you have the right rig or are willing to make your Tacoma a little more robust.
10. AT Overland Summit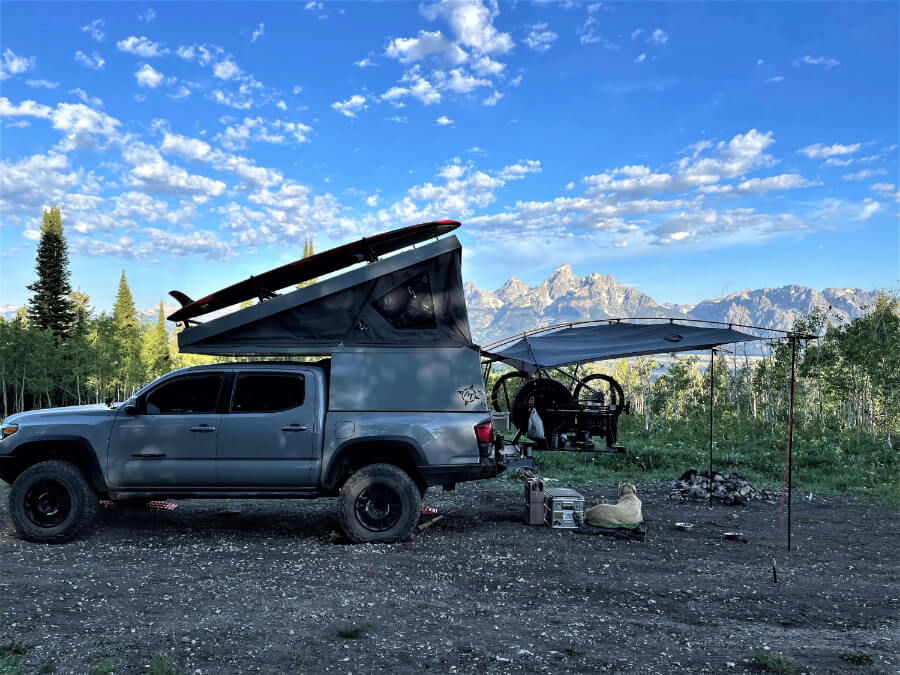 Weighing in at just 360 pounds, this innovative truck camper is designed to sit on top of the bed rails of your Toyota Tacoma. So if you're not interested in a slide-in, this might be a good fit.
The Summit is built from cut and formed aluminum with a bonded honeycomb composite and features a spacious wedge-style pop-up shell that offers up to 8 feet of headroom. It's also quick to set up and take down due to gas springs, making it convenient for those who like spontaneous camping.
The insulated sleeping platform and shell walls come complete with carpet covering for added comfort during all seasons. You also have no-see-um mesh windows as well as clear vinyl and privacy panels.
It's equipped with five interior LED lights as well as four lift gate LED lights (amber colored), plus locking lift gate functionality ensuring both convenience and security during your travels.
There's a fair amount of customization you can do when ordering yours as well, so you can personalize it to your rig and preferences.
11. Outfitter MFG Caribou Lite 6.5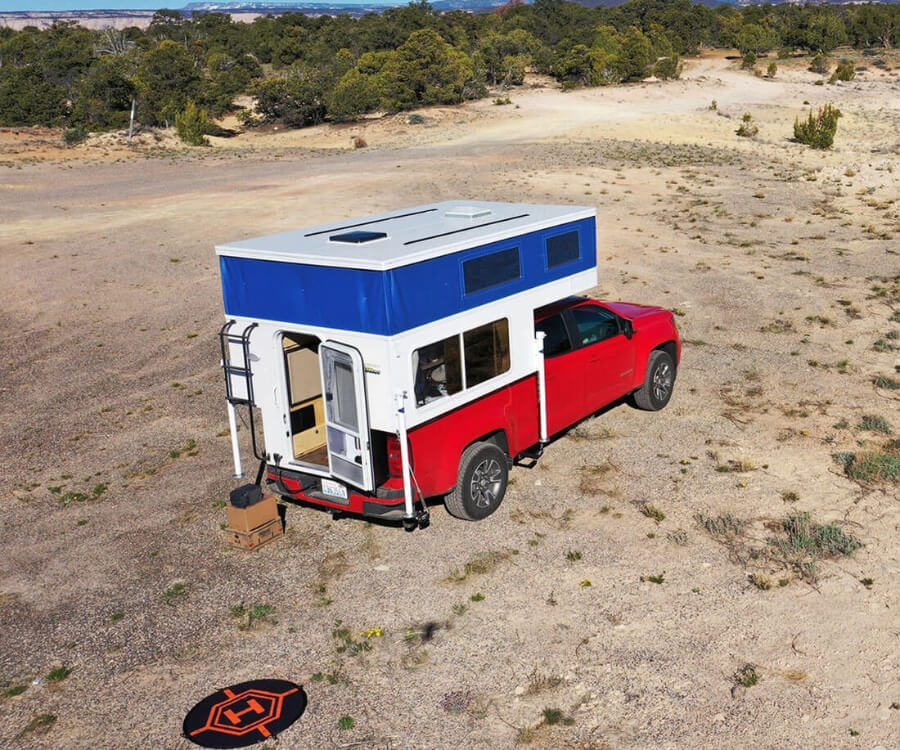 The Outfitter MFG Caribou Lite 6.5 is a classic-looking Toyota Tacoma camper that can do well on a variety of mid-size trucks.
With its vacuum bonded composite walls, fully welded aluminum frame, and full walk-on roof, you can feel confident in the construction and durability.
The Caribou Lite 6.5 is not only light on weight but also heavy on insulation. It has Owen Corning block foam in its hard walls and Weblon three-layer insulation in the top. Included are a 16,000 BTU furnace and solar reflective windows during warmer days, giving you versatility throughout the year.
The full-size cabover bed pulls out into a queen size for a comfortable night's sleep after a long day exploring nature. Standard features like a 24-gallon fresh water tank, 5-gallon propane tank, three-way refrigerator, torsion assisted lift system, and Progressive Dynamics converter-charger ensure that you won't have to compromise on amenities while traveling off-grid.
You can upgrade your Caribou Lite 6.5 experience by adding optional features such as a cassette toilet, outside shower, Tundra DC compressor fridge, and even a King Dome satellite dish. You can also opt for an air conditioner or Yakima roof rack depending on your specific needs.
12. All Terrain Bobcat
This small camper is designed to fit trucks with 6 foot beds like the Toyota Tacoma and weighs approximately 900 pounds.
Some of the interior features include an icebox, sink, stove, couch, table, hand and 12-volt pumps, a monitor panel, and a USB charging outlet. There's also ample storage space available within overhead compartments and under the couch area.
In addition to these functional aspects of daily living on-the-go, comfort is not forgotten with cozy curtains for privacy and a 4 inch thick mattress for optimal rest.
Safety features are an essential part of any camper experience; that's why the All Terrain Bobcat comes equipped with LED marker lights and brake lights to ensure visibility while traveling. Also included are CO (carbon monoxide) and LP (liquid propane) monitors along with a fire extinguisher for added peace of mind during your camping trips.
The exterior features large passenger side windows for natural light inflow as well as porch LED lights so that you can enjoy evenings outdoors. There's also pre-wiring for solar panels already installed as well as roof struts to support additional weight if necessary. This gives you a lot of flexibility when it comes to your ability to customize and make it the ideal camper for your Toyota Tacoma.
The Importance Of Understanding Payload
Before you rush out and get any old camper for your Toyota Tacoma, it's crucial to understand your vehicle's payload capacity and make any necessary upgrades to ensure that you're safe on the road.
For the 2023 Toyota Tacoma the payload capacity can be as low as 1,135 pounds or as high as 1,685 pounds. For the 2024 model the configuration with the highest possible payload capacity is 1,709. To determine your truck's specific rating, always check the sticker on the driver side door pillar.
Keep in mind that this number should include not only the weight of your camper but also passengers and gear. Staying below this limit is essential for the sake of safety and to prevent excessive wear and tear on your truck's frame and suspension.
In addition to knowing your payload capacity, you may need to upgrade certain components on your Toyota Tacoma to better handle a truck camper. One such upgrade is swapping out passenger-rated tires for Light Truck (LT) tires with a Load Range D or even E.
These tires are designed to accommodate heavier loads than standard passenger tires, which will help keep both you and other drivers safe while sharing the road. Upgrading the suspension on your Toyota Tacoma might also be necessary when adding a camper into the mix.
Options for this include helper springs, suspension stabilizers, or airbags – all of which can help support the additional weight of a camper while maintaining vehicle stability. If this isn't an area you're comfortable with, talk to a professional mechanic who specializes in aftermarket modifications before making these upgrades to be sure that the upgrades you're making are suitable for your specific needs.
You'll sometimes see people talk about payload capacity as more of a casual suggestion. We're not in that camp. Do it right, invest the necessary money, and stay safe!
Wrapping Up
Now that you know all of the best Toyota Tacoma campers, it's time to start thinking about which ones appeal to you. Depending on your rig, preferred camping style, and budget, some will naturally stand out more than others.
If you have any questions about these campers we're more than happy to lend a hand. Just reach out to us through our website and we'll help you out.
* All images have been sourced from the company websites listed above and full image credit is attributed to them.