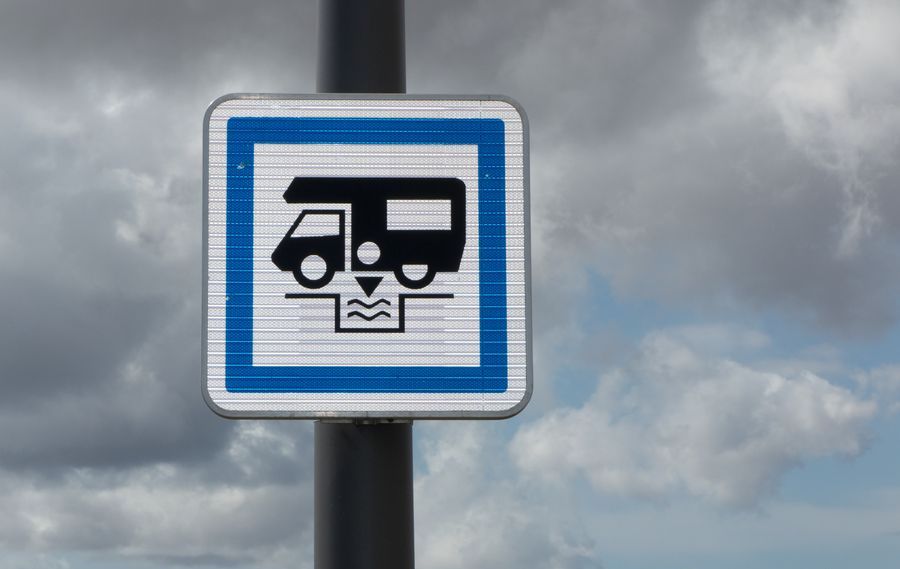 Learning where to dump RV waste for free can come in quite handy if you're on the road enough. The cost of paying for dump sites can add up quickly!
This guide will show you how to easily find free and convenient dump sites on your next trip.
Where To Dump RV Waste For Free
Contrary to popular belief, there are a number of places you can go to dump RV waste for free. All you need to do is know where to look and have a little patience!
Here's our list of potential free dump sites for the next time you're adventuring in your RV.
1. Rest Stops
We're always surprised by the number of people who overlook the convenience of rest stops while on a trip. And quite often they can serve as a handy (and potentially free) spot to responsibly dispose of your RV waste. Availability varies by state, so it's worth doing a little research beforehand to find out which ones offer this service.
Remember that not all rest areas are equipped with dump stations, but those that do present an opportunity for you to maintain cleanliness in your RV without having to pay. Even when your tanks aren't brimming full, pulling into a rest stop and checking if there's a dump site is a good habit to get into.
2. Gas Stations, Truck Stops & Travel Centers
At your next pit stop at a gas station or truck plaza, you can easily offload the unwanted contents of your RV, often without spending a dime. Many of these venues offer free RV dump stations as a part of their services, providing an ideal solution to manage waste disposal on your travels.
You're going to need to stop at these spots at some point anyway, so why not kill two birds with one stone? If you can fuel up and enjoy a free RV dump site at the same time, it's the ultimate convenience.
Pro Tip: The nice thing is that you can usually plan ahead to find gas stations that allow you to dump RV waste for free. Since you likely know what your route will be, using an app or website (we have a list below) to research what the dumping opportunities are will make your whole trip more convenient.
3. City & State Parks
What many people don't know is that city and state parks can be a great choice when you're trying to figure out where to dump RV waste for free. Not only will some provide electric and water hookups, but many also have sewage disposal facilities available for campers.
As you'd expect though, availability may vary depending on the location and seasonality. That's why it's always a good idea to research or call ahead before arriving to ensure these facilities are accessible when you need them.
Also, keep in mind that some city and state parks might have specific guidelines or regulations while using their dump stations.
4. City Wastewater Facilities
This might surprise you, but many cities offer RV owners access to their wastewater management facilities for free dumping. Instead of paying at a private site, just make a call to your local municipal facilities like water treatment plants or sanitary districts.
Inquire about the availability of public dump stations and if they allow RV waste disposal. And if you don't feel like you belong, don't forget that these places are often frequented by commercial vehicles servicing septic tanks or portable toilets. Why not an RV as well?
The key to using this as a place to dump RV waste for free is doing proper research and preparation. We recommend learning the location details beforehand to prevent any unnecessary complications or fumbling around when you get there.
5. National Recreation Areas
Places like National Forests, National Monuments, and National Recreation Areas often offer free RV dump stations. Some are entirely free for all RVers to use, while others might welcome a small donation in return for this service. This is an excellent way to save a bit of money on the road while also helping to maintain these magnificent natural spaces by disposing of waste responsibly.
That means if you're camping in or near federal land, it's a good idea to check out their website or ask at the visitor center to see if you can dump RV waste for free. If so, don't be afraid to take advantage!
Places That Include Free RV Waste Dumping With Their Services
There are some other places where you can go to dump RV waste for free, but it's usually bundled when you purchase or use their other services. With that being said, it's still a good idea to be aware of these options!
Campgrounds & RV Parks
Campgrounds and RV parks often provide facilities where you can dispose of your RV waste without incurring any additional charges. This is typically included as part of your camping reservation.
So if you paid for a spot, make sure to take full advantage of these facilities before packing up and hitting the road again. Dumping your waste here won't cost you anything extra and it will save you a significant amount of time finding another dump site later on.
Pro Tip: Sometimes campgrounds will allow you to swing by and dump RV waste for free even if you didn't stay there. It's not common, but it does happen!
Camping World Locations
There are plenty of Camping World locations out there, offering handy services for your travel needs. And if you're a customer or a Good Sam Club member, free RV dump services are often available at these stores.
This means you can easily dispose of waste as you venture across the nation in your RV. It's an incredibly convenient service that takes away the stress and hassle of finding suitable dump sites on your journey.
Cabela's
Cabela's is a great place to stop by if you're a fan of the outdoors. And if you're planning on going to one (or simply driving by), this could be the perfect opportunity to dump your RV waste. Many of their stores feature RV dump stations right in the parking lot, and they're often pretty cheap. But if you were planning on buying something in the store anyway, you might be able to get a code or voucher to use the dump station for free. All you need to do is ask the cashier!
Another reason why Cabela's is a great place to dump waste for free is that it's a very RV and camper-friendly business. They'll have no problem letting you spend the night in the parking lot, and you'll probably see other campers doing the same!
What's not to like?
Thousand Trails Campsites
If you're a Thousand Trails member, this gives you access to RV dump stations at any of their member campgrounds.
If you travel enough (and frequent the areas where they have campsites) this can be an easy and cost-effective way to manage your RV waste without incurring additional fees. As a part of your membership perks, you're allowed to drop by any participating campground for day use privileges which include access to their dump stations.
So if you're on a road trip and need an urgent place to unload your RV waste, Thousand Trails could be an excellent option for you.
General Rules To Follow When Dumping RV Waste For Free
Now that you've learned where to dump RV waste for free, it's time to make sure you're familiar with the general rules and guidelines to follow. There's a lot of misinformation out there about what needs to be done at free dump sites, so this should help make the process a bit easier.
Invest In The Right Gear
When it comes to dumping RV waste, having the proper equipment is non-negotiable. You need a reliable hose of adequate length and correct fittings at both ends to prevent potential messes or exposure to waste. And while it would obviously be nice if the entire process were free, investing in quality equipment will save you from headaches down the line.
Always wear disposable gloves when handling your gear, and make sure all parts (the hose, connectors, and valves) are kept clean. This not only prolongs their lifespan but also reduces chances of leaks that could lead to unpleasant experiences for other RVers using the same free dump station after you.
Be Prepared For A Crowd
Something else to keep in mind when dumping RV waste for free is that other people will probably be using the same facility.
Remember, these are no-cost facilities; they're bound to attract more users than paid ones. Especially during peak travel times, these locations can become quite crowded. It's not uncommon to find a queue of RVs waiting their turn.
This is where it's important to be patient and courteous. Don't rush or pressure others who are also trying to handle their own RV dumping process responsibly. Respect their space and time as you would want them to respect yours. Assume that if you're going to use a spot where you can dump RV waste for free, there's going to be a little extra wait time. And if you're lucky enough to be the only one there, consider it good luck!
Stick Around
Stepping away during the dumping process can lead to a disaster. Even if you've done this a million times before, leaving an actively dumping sewage hose unattended is not a good idea. Components can come loose, causing waste to spill in areas you don't want it to.
Being present will ensure that everything goes smoothly and you can take immediate action if something does go awry.
Clean Up When You're Done
After you've successfully emptied your tanks, it's crucial to clean up any debris or spills that may have occurred during the process. Even with the most careful technique, accidents can happen and minor spillages are not uncommon.
And just as you wouldn't want to arrive at a dumpsite littered with waste remnants from previous users, neither should anyone after you. Use an available water hose or spigot to rinse down the area thoroughly. It's a simple but significant practice of courtesy towards fellow RVers and dump station users.
Pro Tip: Cleaning up after dumping isn't merely about being considerate though, it also ensures that these free facilities dump sites will be available in the future. When sites remain well-maintained and sanitary, they're more likely to stay open for public use.
Handy Apps & Websites To Help You Find Where To Dump RV Waste For Free
To speed up your search and help you find where to dump RV waste for free, there are a few helpful apps and websites you should know about. These will help you quickly narrow down the search and keep your trip going smoothly.
Campendium
For those adventurous souls who love exploring the country in their RVs and campers, Campendium is an invaluable tool. Simply put, it allows you to quickly search for suitable spots to responsibly dispose of your waste without needing to pay.
This app not only saves you time and stress, but also promotes responsible RV camping through proper waste disposal. By entering your desired destination into the search bar and adjusting the filters to highlight free dump stations, you'll be presented with a number of options tailored specifically to your needs.
Campendium is often considered to have one of the more user-friendly interfaces as well as a comprehensive database of campground reviews (this is where the major value is). These reviews will help you know what to expect when choosing a location for dumping, and there seem to be far more reviews in their system than most others.
The Dyrt
The Dyrt app adds another layer of convenience and functionality to this process. And while many people know about this app for finding campsites, it's also a practical tool for locating free dump stations.
With their The Dyrt PRO membership you'll have access to a comprehensive database of over 50,000+ campgrounds. This database also includes details on overnight parking, dump station, and water station locations. If you're on the road and need to empty your RV tanks without breaking the bank, simply use their filter function to find nearby facilities offering these services for free.
RVDumps.com
While it doesn't have a fancy website or branding, RVDumps.com is still an invaluable tool to assist with the less glamorous aspects of travel, like finding a convenient and cost-effective location to offload your holding tanks.
This user-friendly website houses a comprehensive database of dump stations across the United States, allowing you to easily find locations for waste disposal. Whether you're seeking a free station or don't mind shelling out a few bucks for added convenience, this site provides options tailored to your needs and budget.
It has a handy map view that allows you to quickly visualize and plan your route carefully so you can conveniently dump your RV waste for free without needing to make a major detour.
Sanidumps
Sanidumps.com is another straightforward resource that helps you locate every station where you can empty your tanks. And it has a massive database of locations all over the world!
All you need to do is enter your current city or zip code and behold a comprehensive list of nearby RV dump stations with detailed information such as address and fees.
Harvest Hosts
Most people don't realize it, but Harvest Hosts has a database of 7,000 dump station locations across North America in their system. That's right! No matter where your travels take you in this vast continent, you can find a convenient location to dispose of RV waste.
All you need is a membership.
Wrapping Up
Now that you know where to dump RV waste for free, you'll be able to start saving some money on your next trips. And if you're on the road enough, you know that $10-$15 a pop can really add up!
If you're new, keep this post handy on your next trip. Eventually you'll know what your options are like the back of your hand!