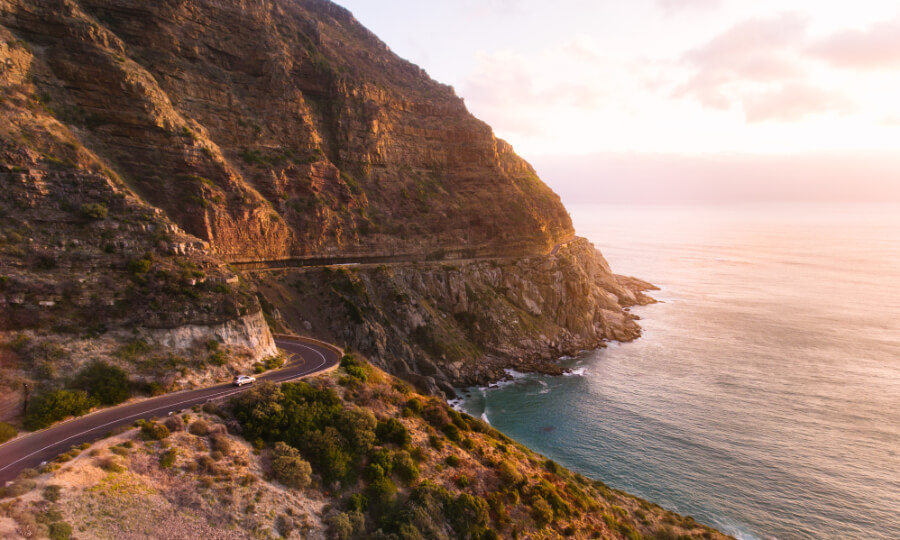 Having some things to do on a road trip is crucial if you want to keep yourself occupied and enjoy the journey. Sure, the first couple hours of a long road trip are great! You're excited to be on the road and are looking forward to the new adventures that are about to come your way. You're awake and freshly caffeinated.
But fast forward to the four hour mark and you'll probably start to drag a bit (we certainly do).
We've traveled across the country a number of times and done road trips that take multiple days to get to our destination. We've been through it all; the excitement and the complete boredom.
So to help you out, we've put together this huge list of what to do on a long road trip! Try some out and tell us what you think.
1. Brainstorm Your Next Adventure
So I am known to procrastinate…Pierce can attest to this! I'm really good at organizing all of the high-level plans such as flights, hotels, routes, and destinations. But when it comes to all the details, I sometimes fall behind.
But long road trips help me catch up! Brainstorming all of the details of your trip (from where you're going to hike, to where you want to eat, to landmarks you want to see) during the drive out can pass a lot of time.
And if you have already detailed your current road trip, take this time to brainstorm your next one! Because so much goes into organizing a vacation, this can kill a lot of time and keep you occupied.
2. Pick Some Fun Places Along The Way
There is always something on the way to your destination that you can plan to see. This gets you out of your car and gets your blood moving again! After a few hours on the road it can be a huge relief to walk around and enjoy some fresh air.
Here's an example:
We've made multiple trips from Michigan to Washington and back. In total, it's about a 36 hour drive and we have typically done it over four days and three nights. On our first drive out, we made a small detour south to go to Badlands National Park. Because we buy yearly National Park passes, this was a free stop!
We stopped at numerous look outs to enjoy the vastness of this national park and saw hundreds of mountain goats and (at least) a thousand prairie dogs! It was such a treat to explore a new place and to have a break from the monotony of the highway.
3. Do Some Journaling
Journaling is not only a great way to pass the time but an activity you can do to record all of the small memories that happen while on the road. Obviously, not everyone can do this because, like me, you may be prone to car sickness. But if that's not an issue, give it a shot. Your future self will thank you!
4. Work On A Crossword Puzzle Or Sudoku
Keeping your mind occupied by doing a crossword puzzle or sudoku is a great thing to do on a road trip. Bring puzzle books or download apps on your phone. Entertainment like this can really pass the time.
5. Play 20 Questions
This is a classic way to whittle away the hours during a long car ride. If you don't know how to play 20 questions here's the basic idea: Pick a topic that everyone is comfortable with. One person thinks of a person, place, or thing, and the rest try to guess what it is by asking yes or no questions.
Simple!
6. Listen To A Podcast
Out of all the potential things to do on a road trip, this is one of our favorites! Pierce and I have some go to podcasts that we both like and keep us entertained. We listen to a mix of funny and educational podcasts. I personally like true crime and cooking podcasts, while Pierce prefers shows discussing business and technology.
7. Document Your Road Trip
If you either aren't into journaling long entries (or can't thanks to motion sickness), there are some other ways you can pass the time and document your progress. If you can, jot down some notes. It could be something as simple as a funny sign you saw along the side of the road or a memorable meal.
Take pictures or videos to document a unique landscape or of yourself and your travel partners to look back on. Not only will this give you something to do, but it will help jog your memory in the future!
8. Ask Some Road Trip Questions
Start a conversation by asking each other random road trip questions. What did you want to be when you were a kid? What's your favorite dessert? If you had a time machine, what time period would you travel to?
There are an infinite amount of questions and can really take up a chunk of time during a long day of driving.
9. Stretch Or Exercise
I remember waiting in line for the bathroom on a flight from Detroit to London when I was probably ten or eleven years old. The guy in front of me was probably in his 70s and was doing a complete stretching routine. I thought it was funny then but now that I'm older, I totally understand why he was doing this.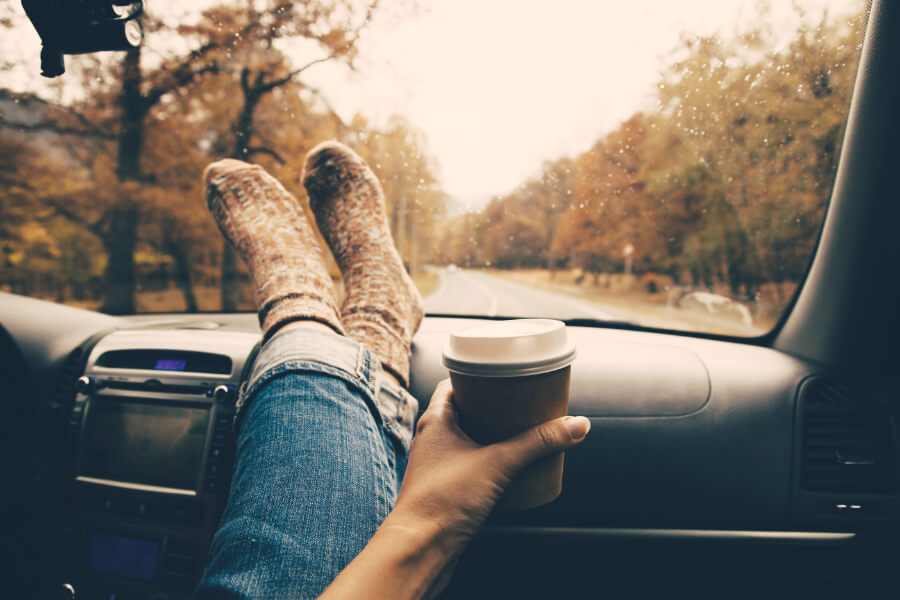 Stretching is one of the best things you can do on a road trip to pass the time and help prevent stiffness once you arrive at your destination. It doesn't have to be anything crazy or elaborate, just do something to keep loose!
10. Tell Some Jokes
Take some time to be silly! Tell some jokes or research new jokes to build up your repertoire.
A little pinch of humor during a road trip goes a long way.
11. Listen To Music
Another thing to do on a long car ride is to listen to music. You can listen to stuff you like or mix things up and try something new. We use Spotify but there are a ton of streaming apps out there. Or go old school and pop in a CD!
Pro Tip: Road trips are a great time to enjoy listening to a complete album, so consider holding off listening to a newly released album until you hit the road.
12. Connect With The Locals
Whether you're taking a road trip within your own country or crossing international borders, if you have the time, try to connect with the locals. You can do this by going to family owned restaurants or cafes, museums, markets, and parks.
Locals are the experts on their city and can give you some great recommendations for interesting places to visit that aren't swarmed with tourists.
13. See If You Can Navigate Without Directions
If you aren't on a tight time schedule, throw your directions to the side and see if you can get yourself from Point A to Point B without assistance. This can lead to some fun adventures and will provide some much needed entertainment on a road trip.
14. Enjoy A Good Book
Another fun thing to do on a road trip is catch up on some reading. If you're the passenger, bring a physical book to read or download an ebook on your device of choice. Jump into that series you have been wanting to read for months!
If everyone in the car is interested, you can also play an audiobook to enjoy together.
15. Get Some Rest And Take A Nap
One of my personal favorites! The sway and motion of the car when I'm in the passenger seat makes my eyelids heavy, and it won't take long until I'm fast asleep. I love napping because I can sleep away a couple of hours in what feels like no time at all, and then I'm ready to take over as the driver.
If you have a hard time sleeping in the car, bring your favorite pillow, a cozy blanket, and an eye mask. Try listening to some relaxing music to help you drift off.
16. Don't Skip The Funky Stuff
Taking a pit stop to check out quirky and eccentric attractions along your route is a fun thing to do while on a road trip. If you're not in a hurry, take some extra time to get out of the car, stretch your legs, and see some unique sites!
We're a fan of Roadtrippers.com, which is a website that helps you plan stops along your road trip route that are off the beaten path. It allows you to search for thousands of different stops along your specific route, choose different categories of sights and attractions, and even locate places to camp.
17. Try A Local Restaurant
Fast food is so convenient. It's cheap, easy to eat in the car, and usually right off the highway. But not only is it unhealthy, it can get monotonous after just a couple meals. That's why another thing we like to do on a road trip is to try some local restaurants.
This will add some much needed variety to your meals and provide you with better fuel to carry on with your journey! We've found some delicious gems along the way that I wish were located in our home town.
In addition to restaurants, try local coffee shops, bakeries, or ice cream parlors. You'll be delighted to try fresh new foods, plus it's awesome to support local businesses.
18. Pick Up Souvenirs Along The Way
Collecting small souvenirs is another fun thing to do to stay entertained on a long road trip. These provide you with a tangible reminder of your journey.
I like to collect pins and put them on my smaller travel backpack. This way, I can enjoy something new without adding extra junk to our house!
19. Check In With Family And Friends
I LOVE to get pictures from friends and family who are on road trips! I can live vicariously through them, plus it helps me know that they're safe and sound. So if you're looking for things to do on a long car ride, consider this!
Find fun pictures to take out the window and update loved ones in your life with funny adventures that you had during the day.
20. Learn A New Language
I'm currently (but slowly) learning Italian and found that this is a perfect thing to do on a road trip. Other than driving, what else are you doing?! Learning a new language that's what!
Pro Tip: We use Pimsleur because their lessons are all audio-based. Each lesson is about thirty minutes long and the program talks you through a conversation where you're actively engaged and speaking. And when you're focused on learning something fun, time goes by quicker and boom, you're at your destination!
21. Kill Some Time With Video Games
If you like video games, bringing along a portable device will certainly help you stay entertained. It's a great opportunity to get involved in a captivating and interactive story!
You can either do this by yourself or pass it off between you and your road trip partner(s) to work through the game together!
22. Knit Or Crochet
Keeping your hands busy keeps your mind busy too! If you're artsy, bring a new knitting or crochet pattern to work on. The supplies don't take up much space and it's easy to get into a rhythm where you can work and continue a conversation or enjoy the passing scenery.
23. Play The License Plate Game
This game has probably been around forever, and there's a good reason for that! In case you don't know, to play the license plate game, all you do is look for as many different state license plates as you can find. Keep track and see how many you can collect.
What's nice about it is that both the driver and passengers can play so everyone can stay entertained. You could also change it up and try to identify license plate patterns before confirming what state it is. See who guesses correctly first!
24. Practice Meditation
Whether you meditate regularly or are a total beginner, meditating on long car rides can help you relieve boredom while taking time to reflect and relax. There are some great apps that you can use to guide yourself through meditation.
25. Ask Each Other Trivia Questions
This is another thing to do on a road trip that can involve everyone in the car. It takes barely any prep and can keep you occupied for a long time. You can buy a physical trivia card game or find an app or website on your phone.
Choose topics that everyone enjoys or a topic that you want to learn more about. It can be serious and educational, or silly.
26. Put Your Phones Away
This is the opposite of some of the things on this list, but it can be just as fun. Make a decision to put away all electronic devices and connect with your road tripping partner. Take the time to be in the moment and enjoy the adventure.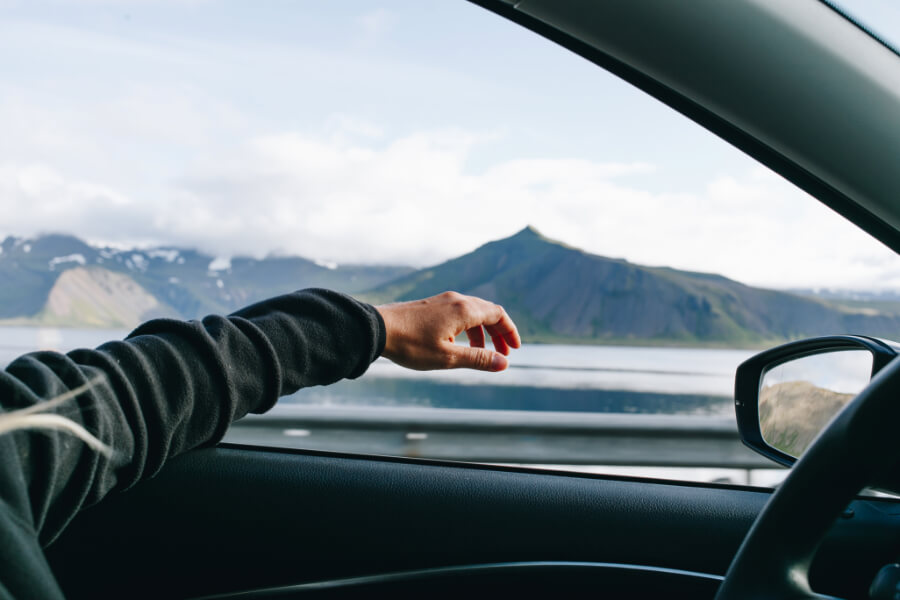 We've had some really interesting conversations and gone down a ton of rabbit holes during long car rides. Also, without the distraction of your phone, you get to take in the ever changing landscapes that you would otherwise miss.
Before driving through North Dakota, we never thought there would be much to see, but the countryside is actually quite beautiful and a whole lot different from Michigan. If we had been on our phones the whole time, thinking there was nothing to look at, we would have missed the unique features of this landscape.
27. Get Some Work Done
A long road trip is a perfect time to get some work done. Carve out an hour or two a day to take care of work-related tasks so you don't have to focus on them at your destination.
28. Watch TV Or A Movie
Obviously the driver can't watch TV or a movie, but than can listen! Watching a show or a film during a long car ride is a pleasant way to pass the time and relax.
Pro Tip: If you get car sick, consider buying a retractable sun shade. This still allows the drive visibility but can cut down on the amount of movement you see out of your peripheral vision.
29. Have A Picnic
Another unique thing to do on a road trip is to pause the driving and have a little picnic. You can pack your own meal to eat or buy something along the way. Regardless, this gets you out of the car and smelling fresh air. Some rest stops actually have nice open lawns. If you have the time, find a nice park to get completely away from the highway noise.
You will be surprised by how refreshed you feel!
Wrapping Up
The best way to tackle a long road trip is to be prepared and have a list of things to do to keep you occupied, and this list is just scratching the surface of potential activities.
Remember, road trips aren't just a means to an end and they don't have to be boring. We've made some amazing memories driving across the country, and hope you do too!