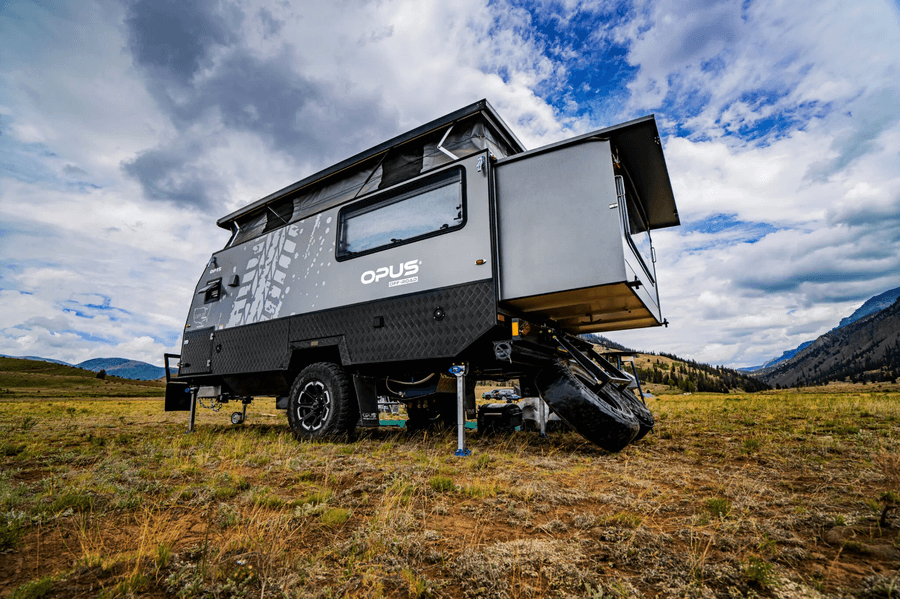 There are a number of pop-up campers with bathrooms on the market, but finding the best ones can get a bit tricky. Aside from certain models that clearly separate themselves from the pack due to particularly unique designs, the rest can look a bit similar.
This guide will help you figure out what pop-up campers have bathrooms and showers that fit your needs.
Types Of Bathrooms In Pop-Up Campers
Despite the design variety with pop-up campers these days, there are still only a few types of bathrooms that are made available. And that's because they're about as efficient as you can get with limited space and resources on the road.
Here are the main ones to get familiar with when you're shopping around.
Cassette Toilet
Cassette toilets can be a real game-changer because they let you easily dispose of waste without needing to hunt down the nearest dump station. Essentially, it's a toilet bowl attached to a removable holding tank, or "cassette".
Unlike traditional RV toilets that require you to drive your vehicle to a dump station for waste disposal, the convenience of this setup lies in the fact that the cassette itself is portable. When it's full, you simply detach it and take it straight to any available spot (many people simply bring these into a public restroom).
The reason why you see so many cassette toilets in pop-up campers is because of the convenience. Many pop-up campers don't have the space or structure to facilitate a wet or dry bath, but it's usually not hard to simply find a spot to tuck one of these out of the way.
Wet Bath
As you might have noticed, many of the RVs and campers on the market with bathrooms have one of these. This design is specifically crafted to maximize space efficiency, making it ideal for smaller campers where every inch matters.
When you take a shower in a wet bath, the whole bathroom gets wet – hence its name. But while this might seem a bit strange at first, a well-designed one will be easy to clean and dry when you're done.
Dry Bath
A dry bath is usually more of a luxury when it comes to campers because the shower is cordoned off from the rest of the bathroom (just like you'd expect to find at home).
This design requires more space than a wet bath, making it only possible in the largest of pop-up campers. And as you'd expect, this level of comfort often comes with a higher price tag.
Best Pop-Up Campers With Bathrooms
Now that you have an idea of what kinds of bathrooms and toilets can be found in pop-up campers, let's look at the best ones on the market. Some of these are pricey, but others are a lot more budget-friendly, allowing you to find one that fits the level of investment you're looking to make.
1. TAXA Mantis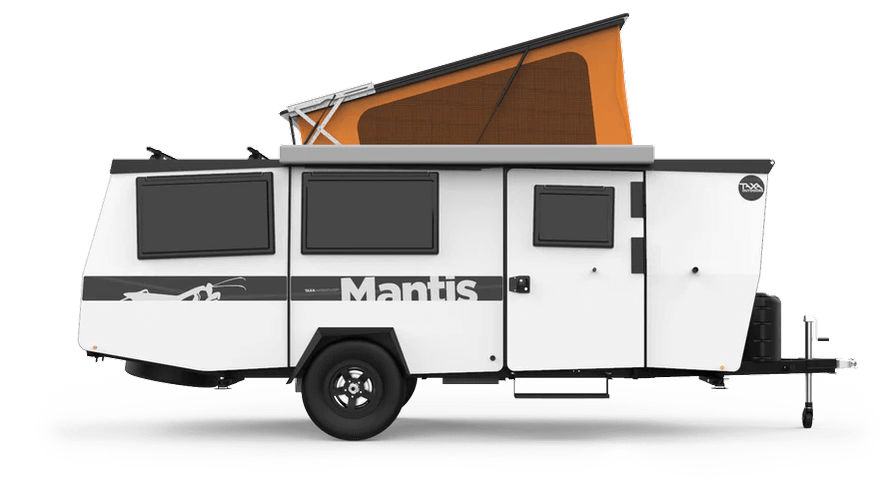 Boasting a NASA-inspired design and diverse functionality, the TAXA Mantis is easily one of the best pop-up campers around right now.
The bathroom setup of this pop-up camper is designed to provide comfort and utility. It includes a spacious shower that can comfortably accommodate individuals up to 6'6" tall, with a flexible hose that can be used outdoors as well.
They also have a front flex space that's designed to be used for work, play, or even storage. There's even a modular ottoman that adds extra versatility by providing some storage as well.
And it doesn't stop at just bathroom features; the TAXA Mantis also comes equipped with extensive kitchen setups, ample storage areas, and sleeping arrangements for more than four adults. And on top of that, it has a dry weight of 3,115 lbs which means it's easy to tow to your next adventure.
2. Opus OP15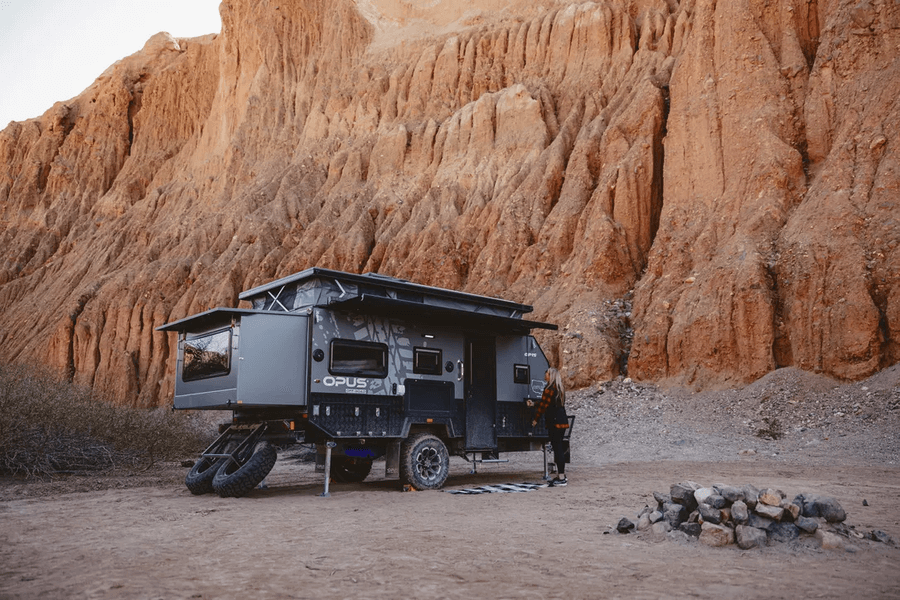 If you're craving an off-grid adventure with all the comforts of home, the Opus OP15 hybrid caravan is definitely a rig to consider. It's a perfect blend of rugged design and luxury amenities, making it one of the best pop-up campers with a bathroom.
With its dry weight of 5,159 LBS and dimensions of 257" (L) x 106" (H) x 83" (W) in travel mode, this camper can easily sleep four adults. The exterior features a galvanized steel truss chassis for durability and independent trailing arm coil spring suspension for smooth rides on rough terrains.
There's a nifty outdoor kitchen that includes a stainless steel stove, LED lights, storage space, wind guards, and even a fridge/freezer combo. Plus, with its impressive power capabilities (it comes with a roof-mounted solar setup and three deep cycle batteries) you can confidently venture off-grid knowing you have plenty of power supply.
The interior is equipped with an adjustable bamboo table, AC system, and even TV mounts. It's clear that everything has been thoughtfully designed with comfort in mind.
And when it comes to the bathroom, this pop-up camper boasts an on-demand hot water shower system along with a flush toilet.
3. Forest River Viking Legend 2485SST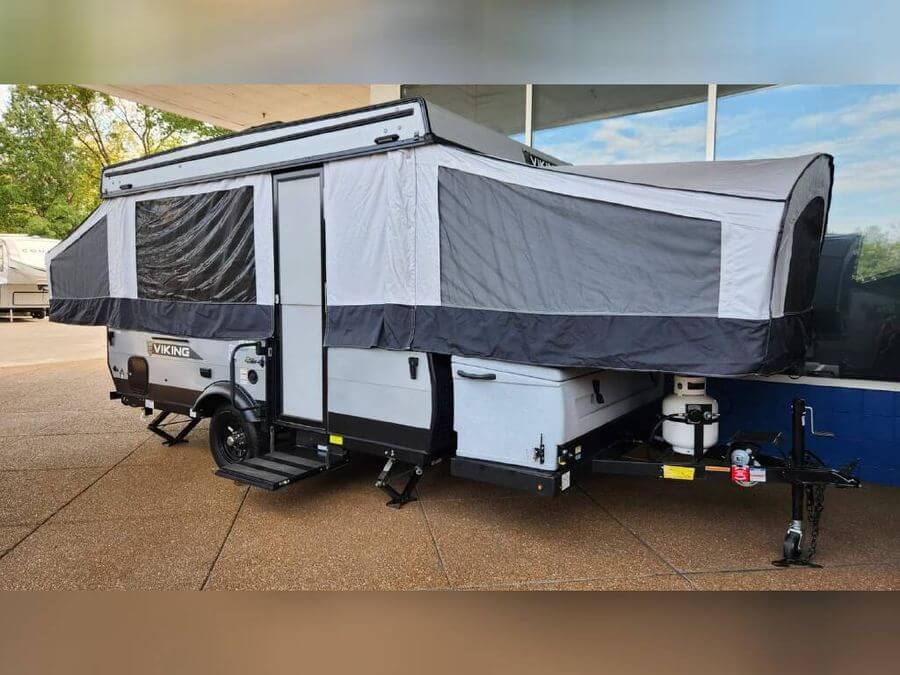 When it comes to combining comfort and functionality in a compact package, the Forest River Viking Legend 2485SST truly stands out. This pop-up camper is on our list because it's equipped with a 12V on-demand water pump, outside shower, and a modular cassette toilet.
In addition, the interior also boasts LED interior courtesy lights for better visibility at night, ultra-comfortable heated mattresses for those cold camping nights, and high-density cushions that provide extra comfort during your journey.
The camper's exterior features include a sturdy e-coated tubular steel frame and an E-Z swing stepper for easy access. It even has pre-bracing if you want to use air conditioning.
The Viking Legend has plenty to offer in the way of storage as well. There's a massive sliding storage feature that gives you plenty of space to put your gear without cramping your living quarters.
Its essentials package offers additional conveniences like a 1.7 cubic foot refrigerator and frame-mounted stabilizer jacks to keep you steady while parked.
4. Black Series HQ12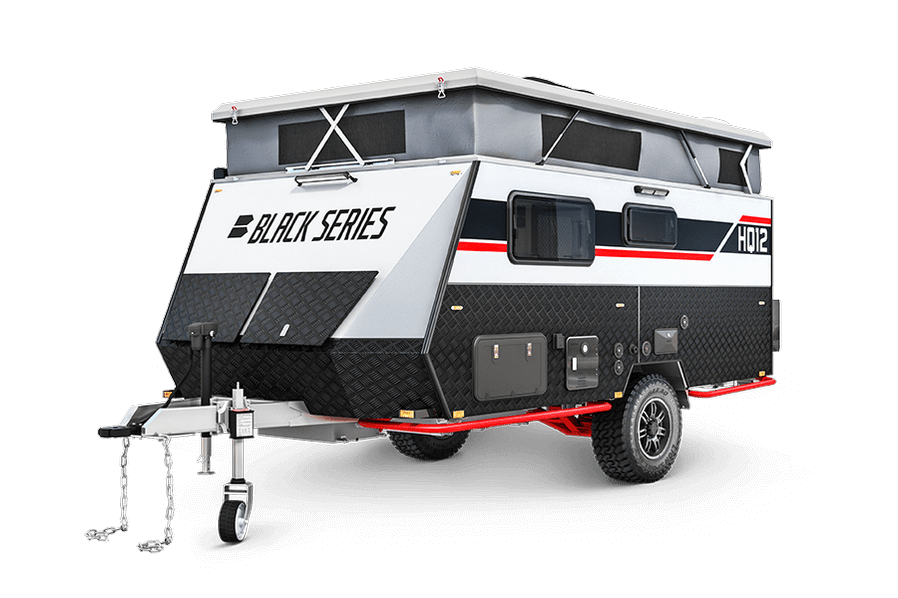 The luxury and convenience that comes with the Black Series HQ12 makes it a pop-up camper that's hard to beat.
The camper is more than spacious enough to keep you comfortable with an internal height that reaches 7ft when open, and length extending 12ft. But it's not just about space; this model brings luxury on board with its queen bed, bunk bed, convertible lounge sleeper, and a wet bath that boasts a full fiberglass shower and ventilation.
As if that wasn't enough, this pop-up camper also features a modern kitchen equipped with a propane stove, sink, microwave, and fridge so you can easily keep cooking while camping. The interior aesthetics are also fantastic.
The exterior is built using sturdy aluminum composite panels plus diamond plating for added protection against harsh weather conditions. There's also an outdoor kitchen setup complete with a sink and stove as well as a 10 foot electric awning.
Another perk is the dual showers (you have one outdoors for quick rinses after adventures, and another indoors for privacy). A massive 64-gallon fresh water tank plus an instant hot water heater make a big difference as well.
All these amenities are powered by robust electrical systems that can pull from solar panels to guarantee efficiency even off-grid.
5. Forest River Flagstaff 23SCSE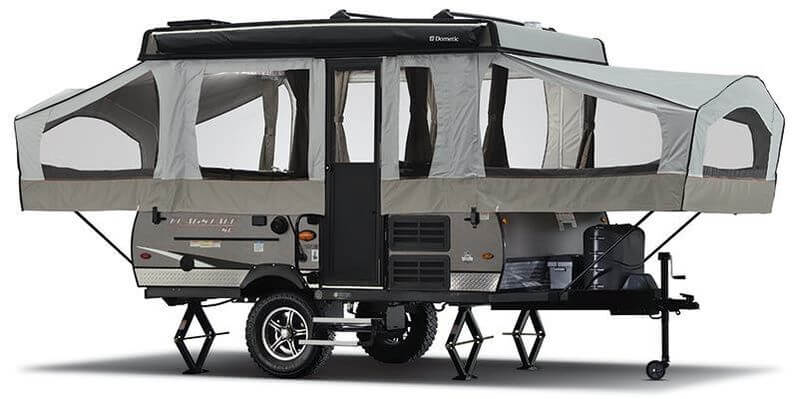 The Forest River Flagstaff 23SCSE is a pop-up camper with a bathroom that can go a long way in enhancing your camping experience without breaking the bank. Its spacious design (complete with a standard shower and toilet) makes for comfortable and hassle-free living on the road.
There's ample cabinet space, including an overhead kitchen cabinet, and a 20-gallon fresh water tank that also includes an antifreeze inlet bypass if you plan on taking some trips in colder weather.
It's equipped with modern utilities such as a 12 volt electric water pump, hot water package with hot/cold spray port, double 20 pound propane bottles, and a three-burner stove with cover.
There are also some nice functional details on the inside as well. USB charging ports, TV outlet with cable & satellite hookups, LED ceiling lights, and window curtains add up to make a nice usable space. We really like the storage net over the bunk and front deck storage.
And if you want to spec it up a bit, there are a number of packages and add-ons you can go with. Off-road tires, a heated mattress for the bunk, and a power roof lift are just some of the options available to you.
6. TrailManor 2518 Series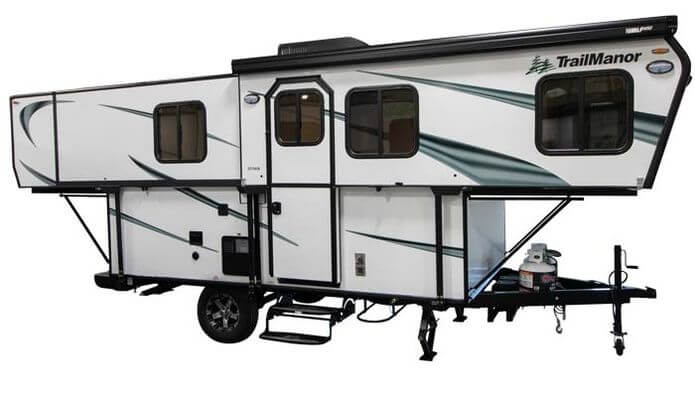 Designed to maximize comfort and convenience, TrailManor's 2518 Series stands out among other pop-up campers with its quick set-up time, compact size, and storage. And on top of that, it has a well-equipped interior that includes a functional dry bath.
This camper can be towed using minivans, crossovers, or SUVs due to its dry weight of just 2580 pounds, making it one of the more versatile options on the market.
Constructed with a sturdy steel frame and protective metal underbelly, it features an efficient 12-volt electrical system and even electric brakes for safety. When you're on your camping site, you have access to a comprehensive water system including a 20-gallon fresh water tank and 35-gallon gray water tank, as well as a city water hookup.
The exterior also has some practical elements such as swing hitch for space saving during storage and radial tires for stability. Inside the camper there is a well-equipped kitchen area featuring a stove and refrigerator and comfort amenities like LED lights, marble-like countertops, powerful vent ceiling fan, and a furnace for temperature control.
7. Chalet XL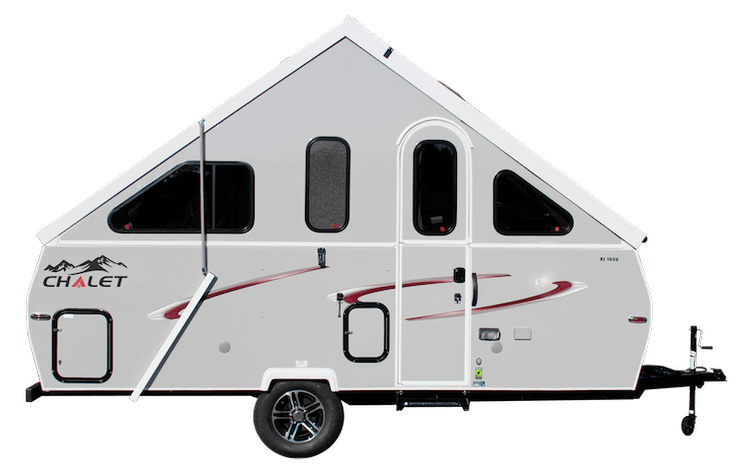 The Chalet XL is a self-contained A-frame trailer that's perfect for a wide variety of camping. Within minutes you can have a home away from home that's not only spacious and comfortable, but also equipped with its own bathroom for added convenience. And we love how this pop-up camper is designed to sleep four adults easily. The considerable space provided by a large rear bed and a spacious front bunk is what makes it possible. It even features its own window for the lower bunk!
With an impressive headroom of eight feet, residential-height countertops in the galley, and LED lighting throughout, it feels more like a cozy cabin than a pop-up camper with a bathroom. Standard features include a fridge, furnace, three-burner cooktop, and a sink. Plus, if you're aiming for off-grid escapades or just want to be environmentally conscious during your trips, this model comes pre-wired for solar.
Overall, the ample space, easy towing capabilities, and quick setup process make it a great choice. Whether you're camping as a family or simply need extra room during your outdoor adventures, this pop-up camper ticks all the right boxes!
8. Forest River Flagstaff T21DMHW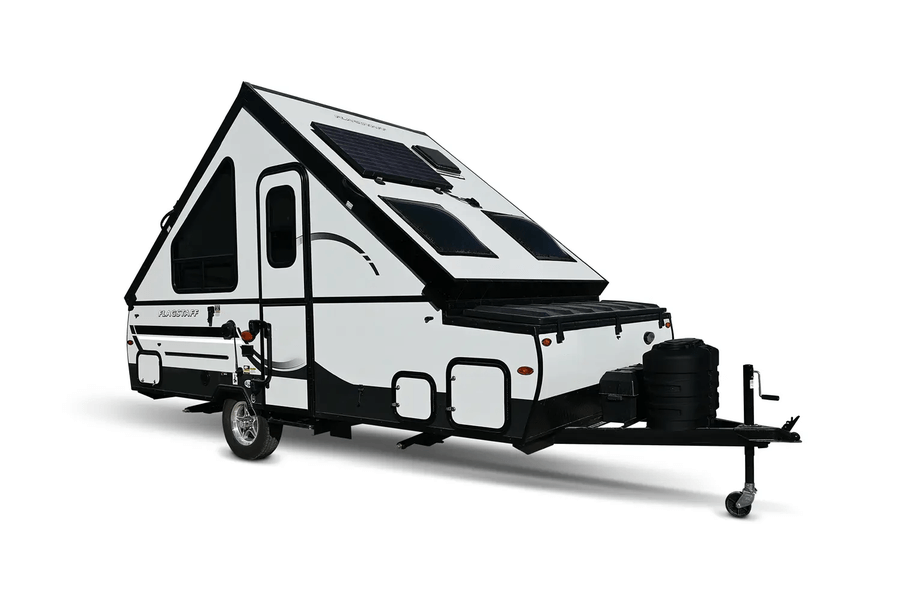 Unfolding the Forest River Flagstaff T21DMHW at your chosen campground isn't just about creating a temporary shelter – it's about crafting a comfortable and convenient home away from home.
This is a pop-up camper with a bathroom that also offers an impressive list of standard features for comfort and convenience. It includes a 12-Volt water pump, a 30-Amp detachable power cord for easy utility connections, interior floor lights for added convenience, and even a hanging wardrobe with two shelves for extra storage space.
The kitchen amenities are top-notch, with a three-burner indoor range with a cover, a microwave, and LED ceiling lights that give you the feeling of being in your own kitchen.
The pop-up camper also has a durable diamond plate front and fiberglass laminated roof. You'll also get electric brakes and four stabilizer jacks with sand pads for safe setup. Additionally the camper is also ready for off-grid camping adventures, equipped with solar prep on the frame.
Plus, it takes care of your entertainment needs outside with an outdoor griddle and is cable TV-ready. Lastly, if you crave additional luxury features such as temperature control or Wi-Fi connectivity while camping out in nature's backyard, this model has got you covered too!
9. Aliner Family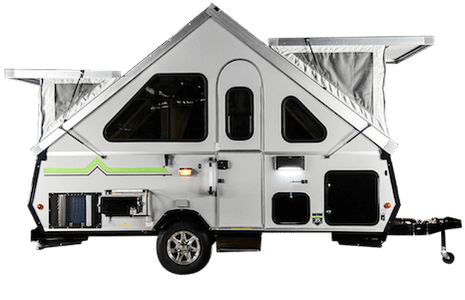 When you're seeking a camping experience that combines lavish comfort with practical amenities (including a place to "go" on the road), the Aliner Family is worth considering. This pop-up camper is one of the best on the market with a bathroom, and it's designed to offer nearly double the living space and 30% more storage than many other models.
It is lightweight and compact enough to be towed by most vehicles and can easily fit into small campsites or garages. Azdel composite panels help keep the weight down, and a tubular steel frame provides a little extra durability. This pop-up camper doesn't skimp on utilities either. It has an 11-gallon freshwater tank, a swivel cassette toilet, a microwave, an outdoor shower, an LED lighting system, and even an optional slide-out kitchenette. You'll have everything you need at your fingertips while also providing exceptional comfort (the size of these beds is fantastic).
10. Coachmen Clipper Legend 1285SST
This model stands out as one of the best pop-up campers with a bathroom due to its blend of robustness, luxury, and practicality.
Its sturdy construction is evident in the E-coated tubular steel frame and heavy-duty tongue jack, which ensure durability and stability. And setting up is a breeze with four heavy-duty scissor-style jacks and Goshen lift system at your disposal.
The interior doesn't disappoint either; it boasts LED courtesy lights, residential laminated countertops, ultra-comfort mattresses, as well as privacy drapes for an enjoyable living space.
You can also get a deep bowl acrylic sink, high output range burner, and a bathroom package that includes a modular cassette toilet and outdoor shower.
You can also opt for extras like an LP gas griddle with bracket or various power options including USB charging ports.
The essential package features a refrigerator, furnace, and frame-mounted stabilizer jacks among other necessities. As you can see, there's a lot for you to enjoy with this one!
11. Forest River Rockwood HW277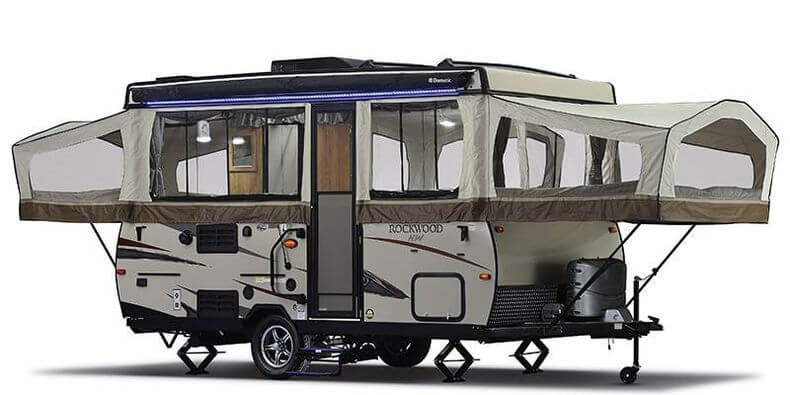 The Forest River Rockwood HW277 is a pop-up camper with a bathroom that's designed to impress, offering you the perfect combination of luxury and practicality for your outdoor adventures. Not only is this camper light, but there's plenty of space inside it as well.
The quality of the interior is impressive with raised panel cabinet doors, and wood drawers with full extensions. The camper also comes equipped with electric brakes, LED ceiling lights, and a double battery box..
Not only do you get a bathroom with this pop-up camper, but you also get luxuries like an oven, microwave, and even a Bluetooth stereo with outside speakers. The bathroom facilities are excellent as well since you get a hot water heater and a shower/cassette toilet combo.
With its unique blend of comfort features (like the heated mattress on bunks) and practicality (such as the storage nets on both bunks), the Forest River Rockwood HW277 is definitely a camper to think about.
12. TrailManor 3124 Series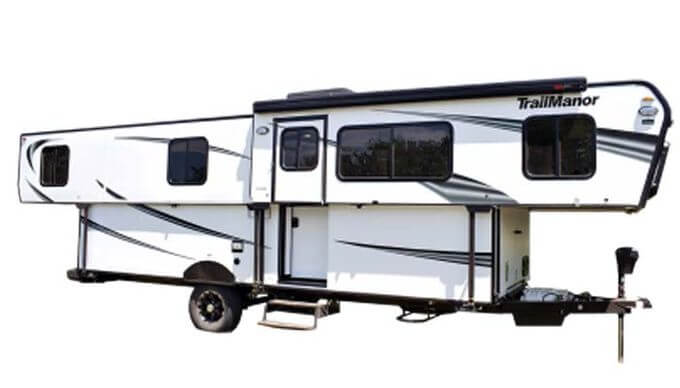 The TrailManor 3124 Series is a pop-up camper with a bathroom that's perfect for large families or those who enjoy traveling in style.
With a setup time of just five minutes without needing to unhitch, getting camp ready is hassle-free. Inside, you'll be greeted by a king-sized bed and plentiful storage at the rear. The fully equipped kitchen includes modern conveniences like an oven and refrigerator. There's also a hard-wall bathroom complete with a shower, tub, and sink.
The spacious living area can be customized with either a front slide-out living room featuring a sofa bed or a slide-out dinette. Luxurious additions like marble-look countertops also add a nice extra touch.
The sturdy construction houses numerous mechanical features, including rubber torsion axles with independent suspension and electric brakes. Utilities include sizable fresh water and gray water tanks, plus efficient heating systems. Exteriorly, LED lights enhance visibility, while stabilizer jacks ensure stability. Additionally, there's an outside shower for your convenience, plus power options for the front slide-out or awning (depending on what model you select).
There's plenty of options for entertainment as well, with pre-installed wiring for radio/stereo systems alongside a digital HD TV antenna.
13. Aliner LXE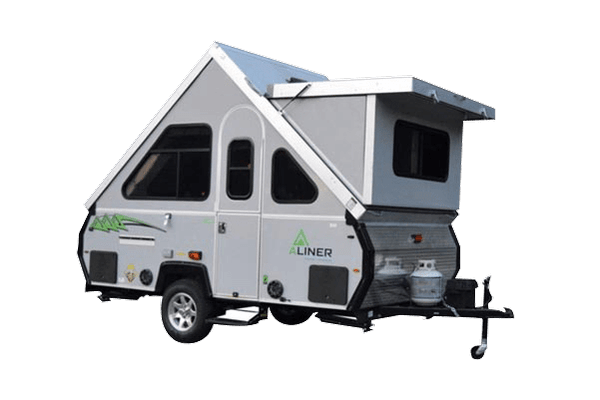 If you're searching for a lightweight yet fully-equipped pop-up camper that also has a bathroom, look no further than the Aliner LXE.
Despite weighing less than 2,000 lbs, this pop-up camper doesn't skimp on amenities or comfort. You'll appreciate its hard-walled front dormer that provides ample space and headroom for an integrated shower and cassette toilet. The interior boasts real hardwood cabinet doors, LED floor lighting, a microwave, two-burner stove, sink, and even a larger fridge with freezer capacity.
They even throw in some hypoallergenic cushions and high-density foam mattresses!
It's also fitted with a furnace and A/C heat pump to ensure you remain comfortable regardless of the weather outside. Additionally, it features an 11-gallon fresh-water tank along with dual propane tanks for energy efficiency.
Closing Thoughts
In our opinion, these are some of the best pop-up campers with a bathroom. Whether you're looking for a compact cassette toilet or a shower setup, you should be able to find something that works for you.
Your comfort on the road matters, and these days you don't have to compromise on your bathroom needs while exploring the open road.
* All images have been sourced from the company websites listed above and full image credit is attributed to them.