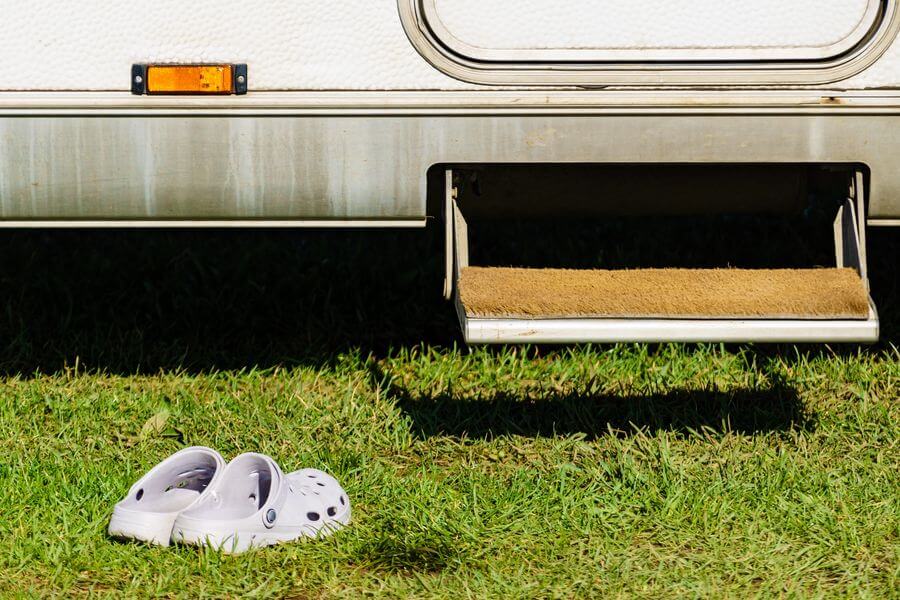 It can be hard to keep all of the necessary items you need for a trip organized in your camper, and shoes are some of the worst offenders. RV shoe storage is a challenge because you likely travel with a number of pairs, and some are bulky.
I cannot stand when shoes are strewn around our camper! They can get stinky (we do a lot of hiking), deposit some dirt on the floor, and just generally make the area cluttered. Our go-to rig is a truck camper which means that floor space is minimal and we have had to get creative!
Whether you have a small pop up, a truck camper, or a large RV, you probably want a dedicated space in your RV for shoe storage. Here is a list of ideas to choose from with product and installation details.
RV Shoe Storage Ideas
This list will help you start thinking about how you may want to improve your shoe storage setup inside your RV. Some of the ideas are straightforward and require no additional work beyond assembling a container, and others require some extra work or minor modifications to your RV.
1. Over The Door Shoe Organizer
A space saving RV shoe storage solution can be found in an over-the-door shoe organizer. These are typically made of canvas or another hardy fabric and have pockets where you can place your shoes. This type of organizer is made to be hung from the top of a door, secured by straps or hooks that still allow the door to close. If you choose, you can also hang it from a closet rod for an even more discrete storage option.
The profile of an over-the-door shoe organizer is quite small so it won't take away much space in your camper. It can also be easily removed and cleaned to keep your RV smelling fresh. If there are more pockets than you have shoes, the open pockets can be used to hold anything else, such as socks, hats, gloves, toys, electronics, miscellaneous accessories, etc.
Available at Target, this 24 pocket shoe organizer has see-through mesh pockets to allow for ventilation and solid pockets to hide unsightly shoes. It's quite affordable and has 24 total pockets.
Another over-the-door shoe organizer that we like is this one by Rebrilliant that can be found on Wayfair. It has a rigid design, made completely of steel bars with slip resistant shelves. It can hold up to 36 pairs of shoes while still maintaining a slim profile.
2. Shoe Bags
Utilizing shoe bags is another simple but effective RV shoe storage idea. These come in individual zipper pouches and are a good option if you don't have a ton of shoes traveling with you. This is also a good choice if you want to contain dirt, because they're able to be fully sealed.
We like these waterproof shoe pouches because they open up via a zipper like a shoe box. Other shoe bags only have a slit opening on the side and we found that it can be a hassle to get the shoes in. This product in particular is pretty cheap and has four pouches.
Put the shoe filled pouches underneath your bed or in a small closet when not in use. These can also be used for other types of travel to keep your suitcase clean.
3. Under The Bed Shoe Organizer
Another way to maximize shoe storage in your RV is by using an organizer that's slim enough to slide underneath your bed. There are dedicated under-the-bed shoe organizers that either have lids or zippered tops, like this one.
You could also repurpose a shallow, plastic storage box as well, which can be found at any number of stores. This idea will likely last longer due to the fact that it's made of hard plastic. It would also be easier to clean (just put it under a hose and you're all set).
Pro Tip: If your bed doesn't have an open bottom, consider placing this storage system underneath a sofa or in a closet.
4. Hanging Closet Shoe Shelves
Similar to an organizer that hangs from a door, a hanging shoe shelf goes in your closet and is hung from the clothing rod. There are a ton of different sizes to fit your needs and available closet space. We like this RV shoe storage idea because it keeps the shoes out of sight and leaves the closet floor open for larger items.
Some brands of hanging shelves have pockets on either side for additional storage of other items.
5. Over-The-Door Hooks
Utilizing door hooks as a way to organize your shoes is a cheap and super easy DIY hack for RV shoe storage. Metal Z-shaped hooks that are normally meant to fit over doors to hang items such as towels, can be repurposed as shoe hooks.
Hang the hooks off of a bed frame or from a closet drawer. It doesn't require any type of fastenings making this a great temporary option or a permanent yet flexible one. The only downside is that because your shoes will just be hanging off the hooks, dirt can easily get onto the floor underneath.
If you want a more discrete option, consider installing a low hanging shower or curtain rod in a closet. Hang the hooks over the rod to store your shoes off the floor and out of sight.
6. Wall Storage Baskets
Storage baskets that are made to hang on walls, and can be used as shoe storage for pretty much any RV. These are normally used on walls in a house for random items in the pantry or in a home office. There are a wide variety of types available, differing in size, shape, and material.
There are numerous wire hanging baskets available online for you to choose from. The price point is usually around $20 for a set of two to four. Wire baskets are good for an RV because they are lightweight and can be hung easily with just a couple of Command hooks. This allows you to more easily rearrange your RV shoe storage setup as needs (seasons, campers, trip activities) change!
You can find canvas or fabric storage baskets or wicker baskets to better fit the aesthetic you're looking for. The biggest limitation will be finding a set that has large enough baskets for more than one pair of shoes. However, if you are a solo traveler or travel in a pair, size may not matter as much as it would for a family of four or more.
7. Foldable Shoe Rack
A foldable shoe rack can offer large amounts of storage for families or for those who like to travel with nearly unlimited footwear options. What's great about this shoe organizer for an RV is that it's collapsible and easy to store when you're on the move. Most foldable shoe racks are also very light so can be moved outside at a campsite to open up more room in the RV.
8. Cargo Net
Repurpose a stretchy cargo net that's made for trunk storage and use it instead as a place to store your shoes in your camper. To attach the cargo net to a surface on your RV, we suggest using small cup hooks, two for the top corners and two for the bottom corners. Be sure to correctly measure the spacing before drilling holes into your RV. Next, screw in each of the four cup hooks and stretch the netting across.
Pro Tip: You can place a cargo net anywhere you want, but there are certain places that will allow you to save as much floor space as possible. We suggest installing it in any empty spaces, such as under a floating shelf or cabinet.
9. Fifth Wheel Stair Modification
If you have a large fifth wheel camper, use the wasted space underneath the interior stairs as a storage area for your shoes. Remove the front riser panel of the bottom most step to get the most depth. You can choose to keep this open or add a hinged panel in front to keep the shoes hidden.
We have also seen stair modifications done where the tread (or the step) has been removed. Instead of sliding in your shoes like in the above mod, this allows you to place your shoes in from the top. Since you are modifying the part of the stairs that you step on, you will want to replace it with a hinged top so it can be used both ways.
10. Storage Ottoman
Ottomans with storage space are a great idea for RV shoe storage. If you already want a place to put up your feet while lounging on your sofa, buy a storage ottoman as the dedicated place to stow away your shoes!
Storage ottomans are a multi-purpose solution because they can also be used as extra seats or as a side table. There are also plenty of styles and colors available to match the interior of your RV.
11. Laundry Basket
This one is simple and easy. Simply keep your shoes into a large plastic container or laundry basket! This can be kept outside of your RV during the day and brought in at night or in bad weather.
One of the things we like about using this shoe storage idea is that it encourages people to take their shoes off outside and will minimize the amount of dirt tracked inside.
Wrapping Up
Hopefully you now have some new RV shoe storage ideas that you can use on your next trip. All of these methods keep your shoes contained, and some even keep them out of sight entirely! Finally, no more tripping over a pair of shoes just to get from one side of your camper to the other.
We'd love to hear from you if you have any other ideas that you think we should add to the list. Don't hesitate to reach out!