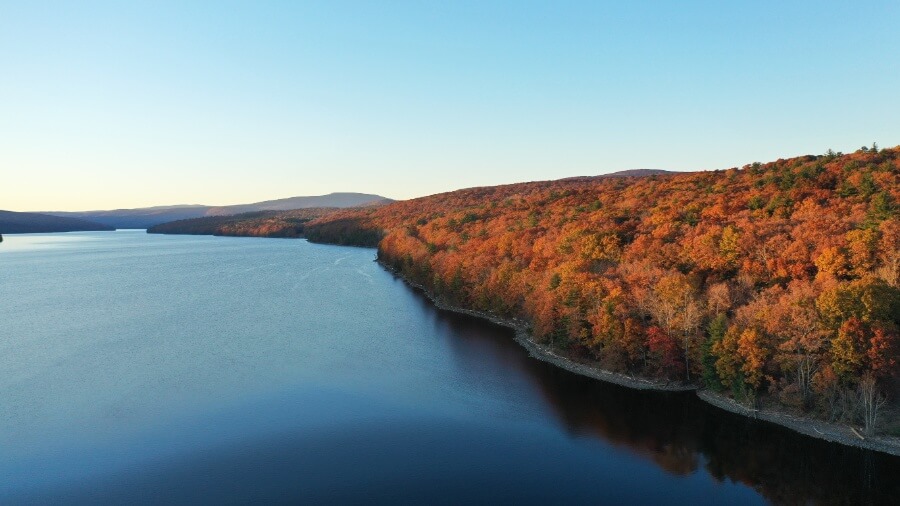 It's always great to find fun things to do in Upstate New York during the fall. The trees come alive with colors and there are many seasonal activities that are worth checking out.
This list will help you plan your fall adventures away from the big city.
When Can You See Fall Colors in Upstate New York?
Autumn officially starts towards the end of September, around the 22nd or 23rd of the year. It doesn't take long for the fall foliage to change colors in Upstate New York. Typically, your best bet is to visit in late September to late October to see the breathtaking fall colors.
During those two months, you can still enjoy warm afternoons before the cooler weather rolls in. By November, upstate New York's temperatures fall. The area often sees snowfall around late November before the rest of the country.
What Areas Tend to Have the Best Colors?
There are many great places to see those signature fall colors that have a number of fun things to do. However, the best sites include high-elevation areas like the Catskills and Adirondacks.
If you're visiting the central and western parts of Upstate New York, you can hit Finger Lakes and Hudson Valley to get a breathtaking view of the colors changing.
Fall Activities in Upstate New York
There's nothing more beautiful than the crisp air and autumn colors of Upstate New York. While the natural beauty is enough to attract millions to the area every year, there are plenty of things to do during your stay!
Here are some of the best activities to do when visiting Upstate New York in the fall.
1. Taughannock Falls State Park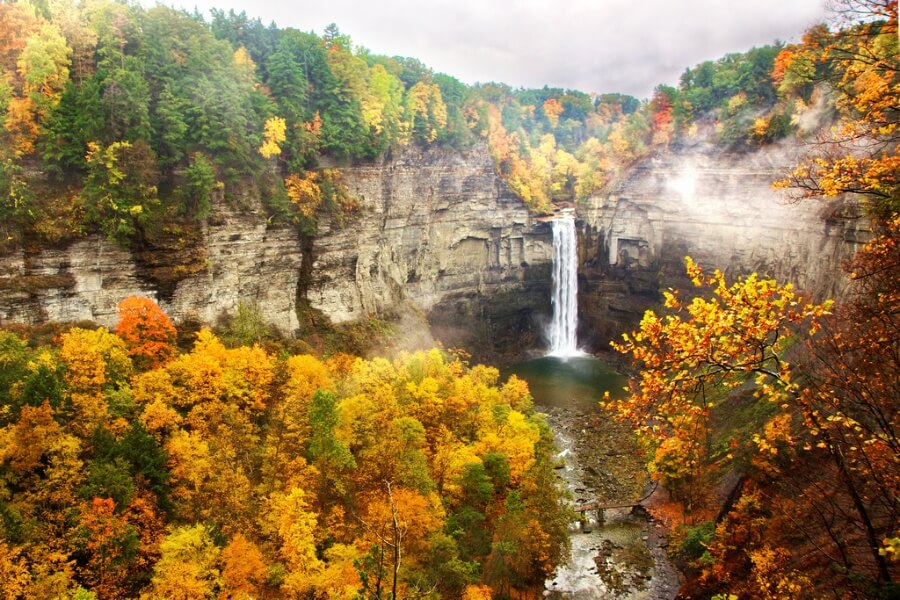 Taughannock Falls State Park in Trumansburg is one of the best places to revel in the beauty of Upstate New York. The park is aptly named for an awe-inspiring waterfall. It's 215 feet tall and well worth the trip alone.
But during the autumn season, the views are nothing short of breathtaking. Take a gorge or rim trail; you can view an endless expanse of red, orange, and yellow foliage below.
Location: 1740 Taughannock Blvd, Trumansburg, NY 14886
2. Explore the Hudson Valley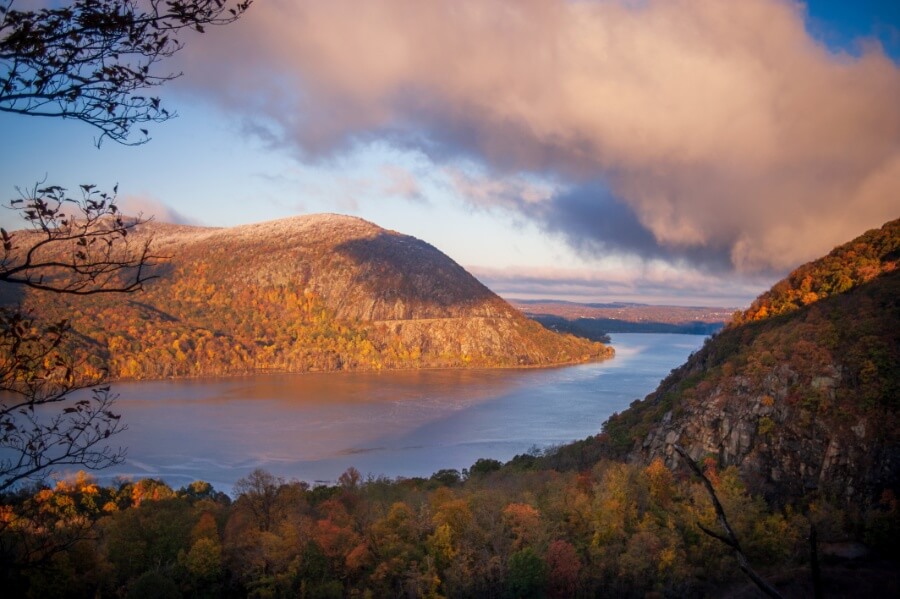 The Hudson Valley stretches over 150 miles, but one of the best places to see it is in Westchester. Once you leave the city, you'll see rolling hills covered in trees with historic bridges dotting the landscape. During the fall, it's a sight to behold.
If you're going to upstate New York in the fall and want a new perspective on the valley, consider taking a helicopter ride to see it from above!
3. Watkins Glen State Park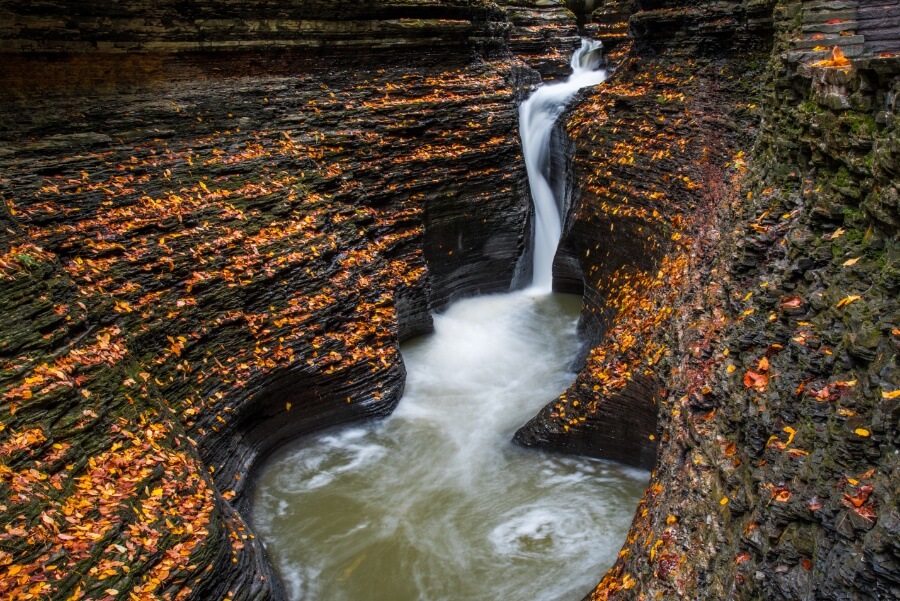 Watkins Glen State Park is in the Finger Lakes region. While popular throughout the year, the fall foliage makes it a special place! You can spend the entire day admiring the autumn scenery.
There are also 19 unique waterfalls to explore, so there's plenty to do amidst that iconic autumn backdrop.
Location: 1009 N Franklin St, Watkins Glen, NY 14891
4. Niagara Falls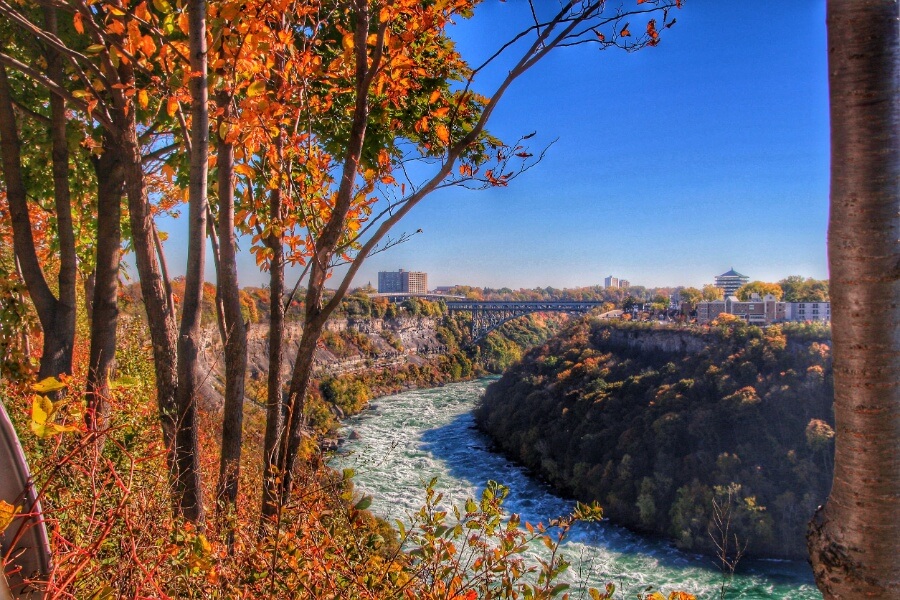 No trip to Upstate New York is complete without a stop at Niagara Falls. One of the most well-known destinations in the area, Niagara Falls is the most powerful waterfall in North America.
The falls are amazing year-round, but the color change that comes with autumn is a must-see. See Mother Nature's finest work on a boat tour or visit the Niagara Falls Observation Tower.
Location: 332 Prospect St, Niagara Falls, NY 14303
5. Women's Rights National Historical Park
In Seneca Falls, you can stop at the Women's Rights National Park. It's the birthplace of women's liberation in America. There are many historical sites to see and artifacts to peruse at the museum.
The fall season is the perfect time to enjoy the surrounding landscape as you take a tour.
Location: 136 Fall St, Seneca Falls, NY 13148
6. Fly Creek Cider Mill & Orchard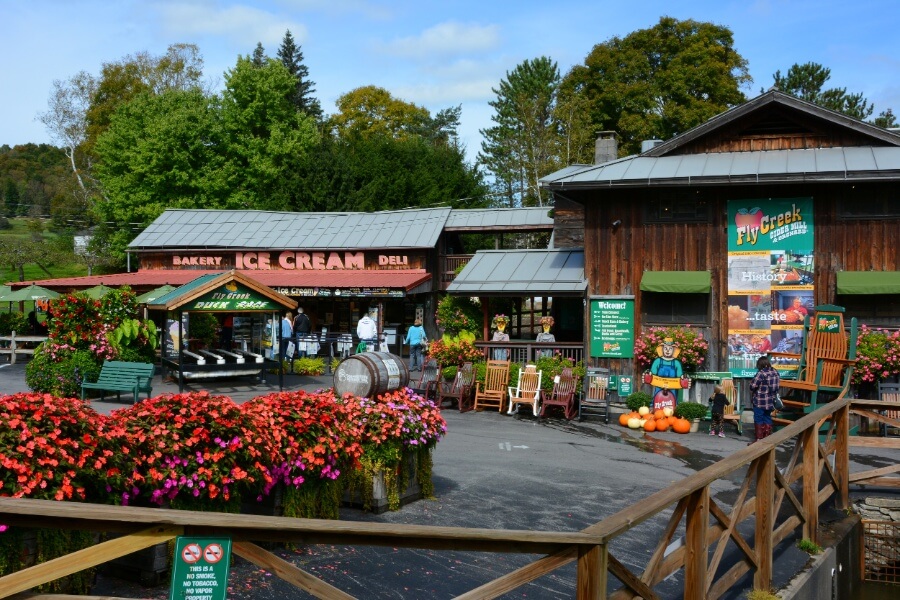 This water-powered mill has a long history of producing some of the best cider around. It's a great place to try cider, enjoy farm-fresh food, and tour the local orchards. Events occur throughout the year, but we think this is an especially fun activity in Upstate New York during the fall.
Not only are the colors changing, but many autumn apples are ready for harvest. There's tons to do and beautiful sites to see.
Location: 288 Goose St, Fly Creek, NY 13337
7. Lake Placid Olympic Museum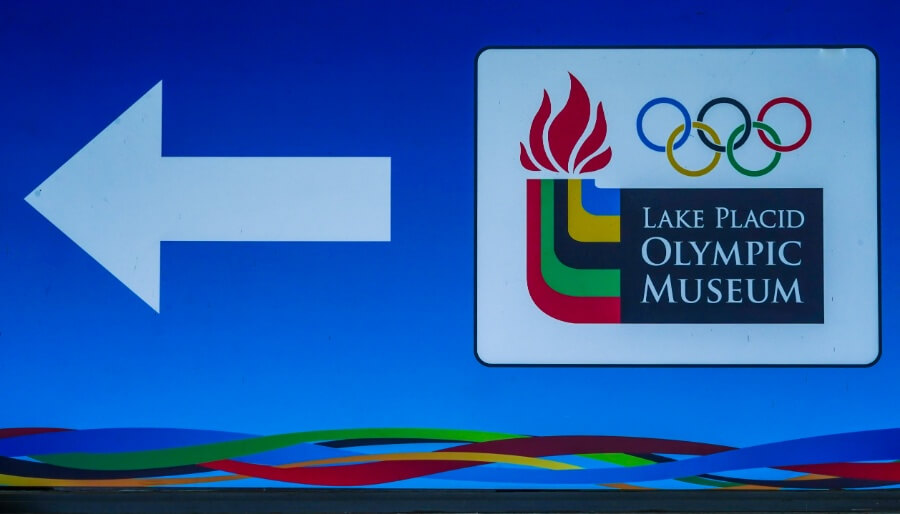 The Lake Placid Olympic Museum commemorates the 1932 and 1980 Winter Olympics in Lake Placid. Relive the events, explore exhibits full of artifacts, and enjoy the scenery of the Adirondack Mountains in the fall.
If you're lucky, you may even see a few athletes! Many still train at the Olympic Center.
Location: 2634 Main St, Lake Placid, NY 12946
8. Adirondack Park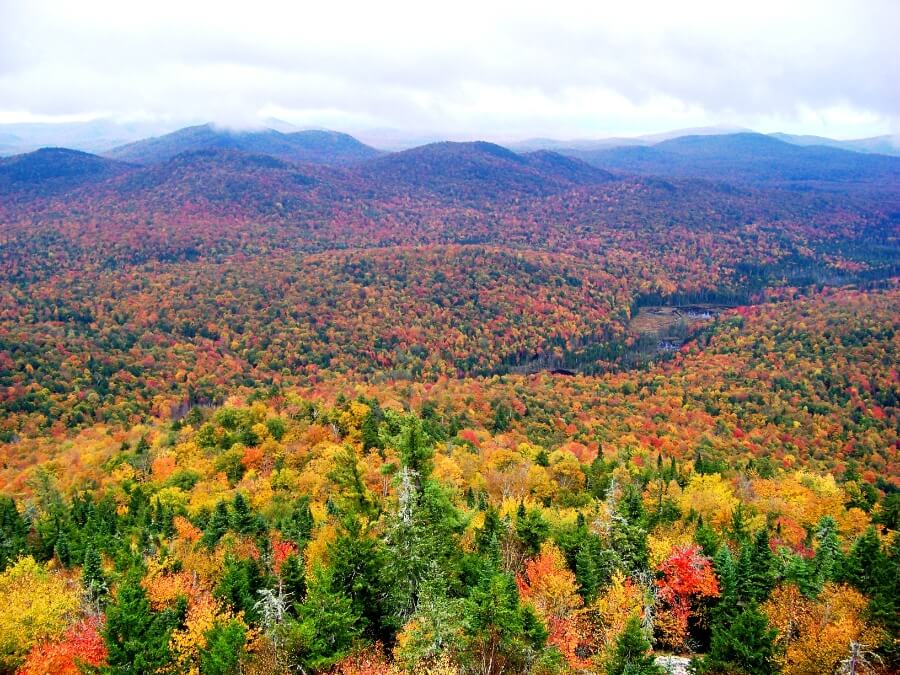 The Adirondack Mountains are a must-see when you visit Upstate New York in the fall, and Adirondack Park is the best place to do it. There are many great hiking trails, suiting people of all skill levels.
Whether you brave Mt. Mary or take a less rigorous path, you'll see miles of fall-colored trees with countless streams weaving through the landscape.
Location: 44.54138931718023, -74.64972032735294
9. National Baseball Hall of Fame and Museum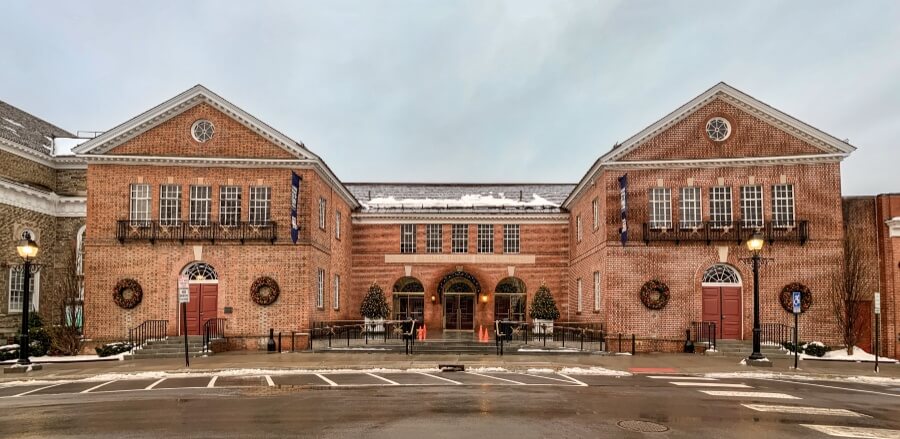 The Baseball Hall of Fame and Museum is in Cooperstown, and you're in for a treat if you've never visited this idyllic town before. During the fall, it's a picturesque beauty full of sunset-colored trees!
The museum itself is beautifully situated against that backdrop. Enjoy America's favorite pastime, learn about the sport's history, and see behind-the-scenes moments that will please any baseball enthusiast.
Location: 25 Main St, Cooperstown, NY 13326
10. Catskill Mountains Scenic Byway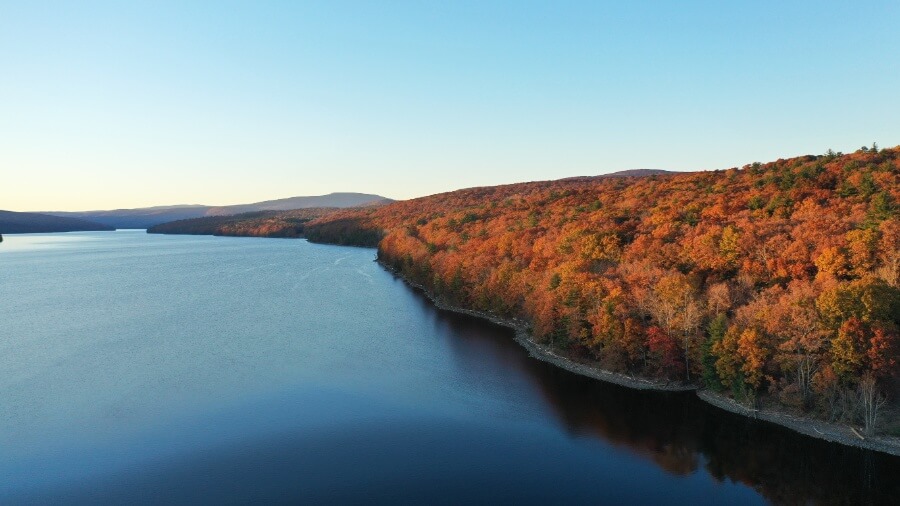 Here's an activity you can enjoy as you travel to other fall activities in Upstate New York. The Catskill Mountains Scenic Byway is a 50-mile stretch that takes you through the Catskills region. In the fall, you'll see an endless expanse of red, orange, and yellow trees as you make your way through the area.
There are four small towns to explore on your drive. You can also download an audio tour to learn about the Catskills while you drive.
11. Naples Grape Festival
The Naples Grape Festival occurs in late September when the leaves start to change. The celebration is famous for its great food, beautiful crafts, and festive music.
Of course, you must try some pie and wine! The Naples Grape Festival has a pie contest, giving you a chance to see what some of the finest pie-makers in the area can do.
Location: 154 N Main St, Naples, NY 14512
12. Wayside Cider
Here's another fun thing to do in Upstate New York during the fall that involves delicious apple cider. Wayside Cider is in the Catskills region. If you travel through the Catskill Mountains Scenic Byway, it's near the western entrance.
Explore Wayside Cider's two barns and taste locally-made cider in the taprooms. Against the scenery of fall in the Catskills, it's an experience you don't want to miss.
Location: 55 Redden Ln, Andes, NY 13731
13. National Warplane Museum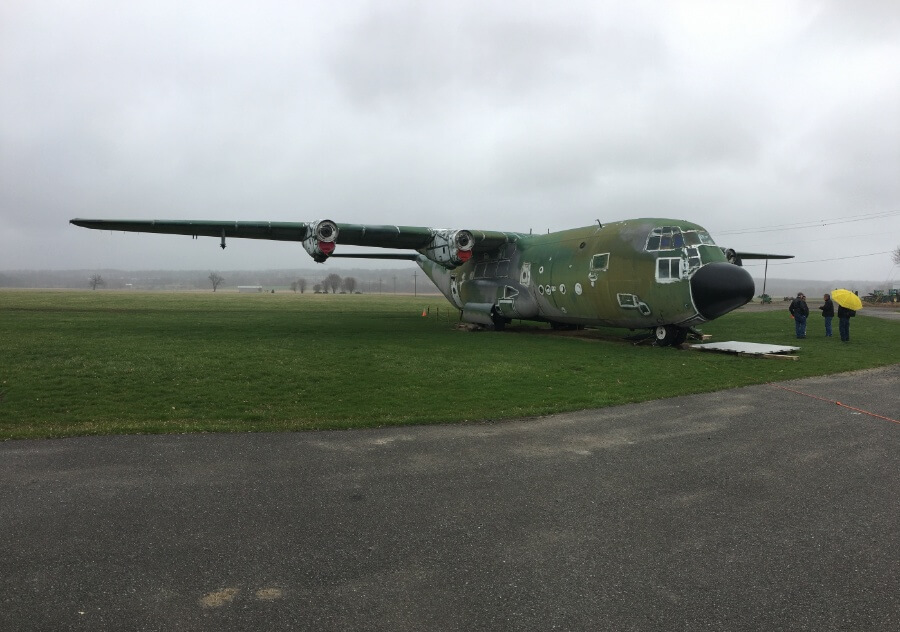 The National Warplane Museum in Geneseo gives you an up-close and personal look at aircraft used during World War II, the Korean War, and the Vietnam War.
You can even see an airshow or ride on a historic vessel. Zipping through the skies during the fall will give you spectacular views of Upstate New York below.
Location: 3489 Big Tree Ln, Geneseo, NY 14454
14. Letchworth State Park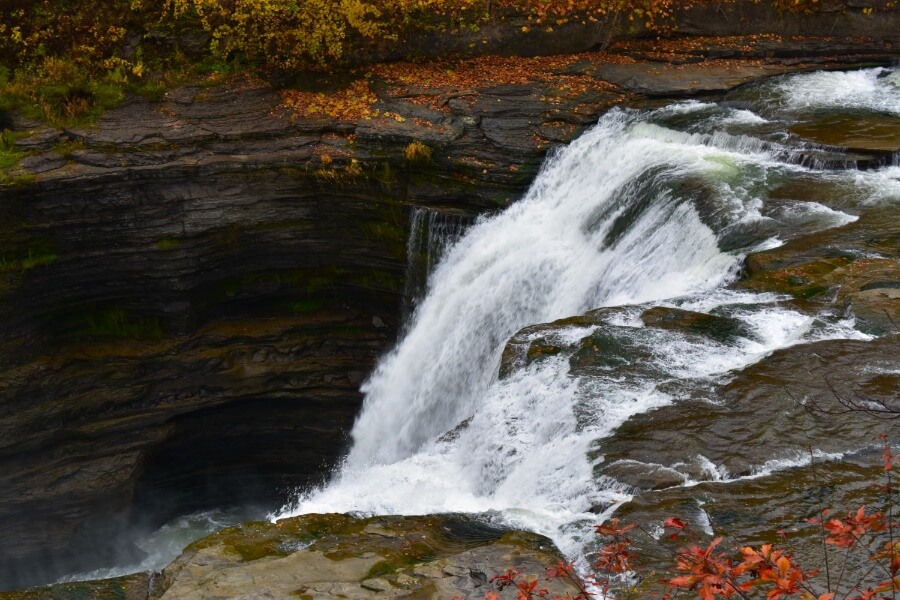 Letchworth State Park in Castille is called the "Grand Canyon of the East." The scenery is amazing; you can view everything from deep canyons to stunning waterfalls.
There are about 66 miles of hiking trails that weave through lush forests that look fantastic in the fall. As you can imagine, the journey is beautiful in the fall. You can also go rafting, horseback riding, and more.
Location: 42.65292528435689, -77.9776155634921
15. Warwick Applefest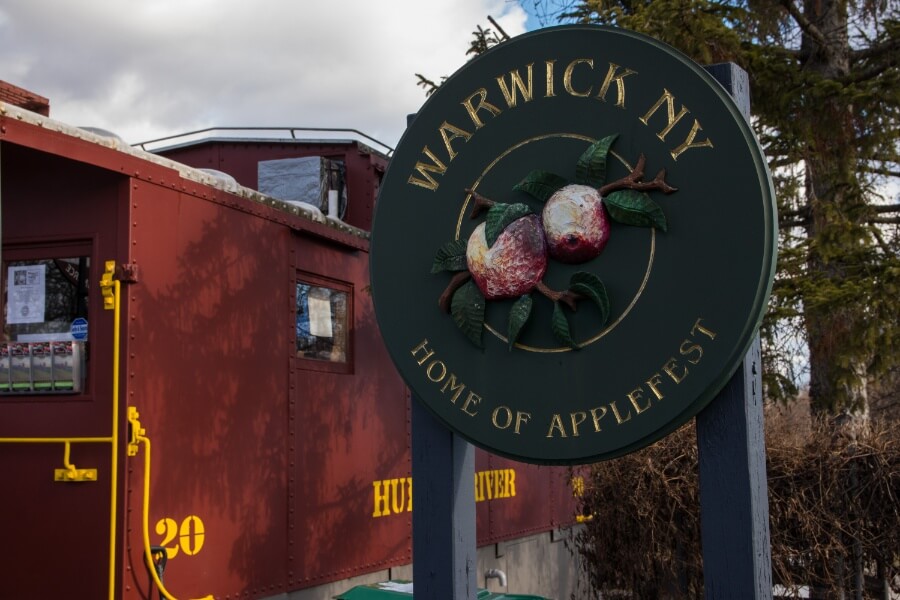 The Warwick Applefest occurs in early October. It's in Warwick and attracts roughly 30,000 visitors every year.
Shop from hundreds of vendors, enjoy live music, try locally-grown produce, and ride a few carnival rides. It's a celebration of all things autumn amidst the beauty of Upstate New York nature.
Location: 30-98 Railroad Ave, Warwick, NY 10990
16. Children's Museum of Oswego
If you have kids, this is a fall activity in Upstate New York that you don't want to miss. The Children's Museum of Oswego has tons of hands-on exhibits. It's a place to explore the senses and have some fun!
Kids can also learn about nature, agriculture, and crafts. In the fall, plenty of nature-based activities let you enjoy the beauty of the area.
Location: 7 W Bridge St, Oswego, NY 13126
17. Genesee Country Village and Museum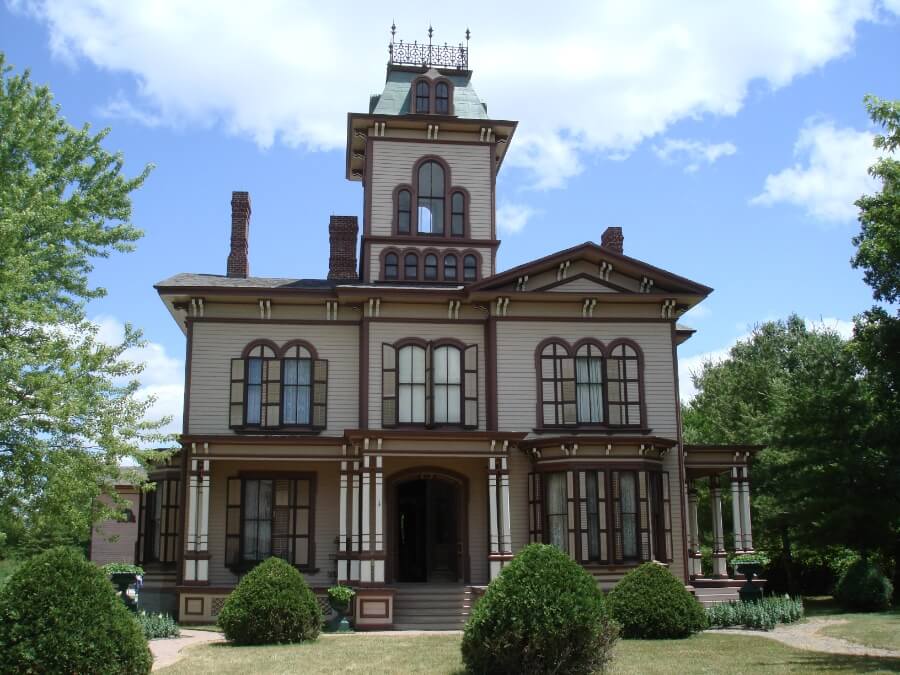 The Genesee Country Village and Museum sits on 600 acres of pristine land. It's beautiful year-round, but a magical place during the fall.
This activity is about celebrating the simplicity of 19th-century life. As a result, you'll spend a lot of time outdoors in nature. The village is a recreation of early New York life, with costumed actors going about their day to make it feel like you stepped into a time machine.
Location: 1410 Flint Hill Rd, Mumford, NY 14511
18. Apple Dave's Orchard
In Warwick, Dave's Apple Orchard is full of fun things to do. During the fall, you can pick apples to take home. It's also a great place to pick pumpkins, go on a wagon ride, and try food made from produce grown in the orchard.
Kids will also enjoy face painting, games, live music, and more.
Location: 82 4 Corners Rd, Warwick, NY 10990
19. Overlook Mountain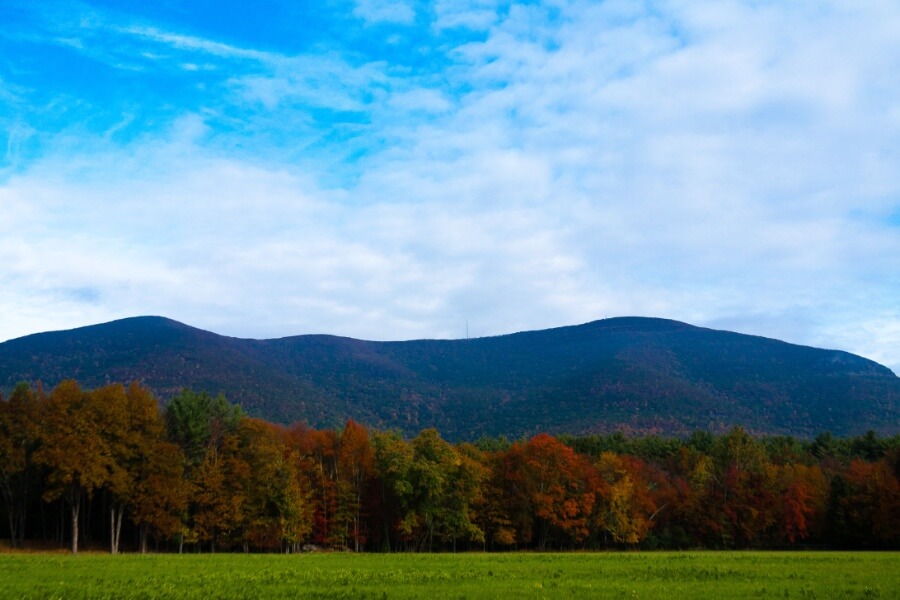 Overlook Mountain is a famous natural site in Upstate New York with tons of history. It's part of the Catskills and offers plenty of hiking trails.
This mountain is one of the best places to see the color changes in the fall. When you reach the top, you get a stunning view of Hudson Valley and all the treetops that surround it.
Location: 42.085758838791044, -74.0925945851852
20. Storm King Art Center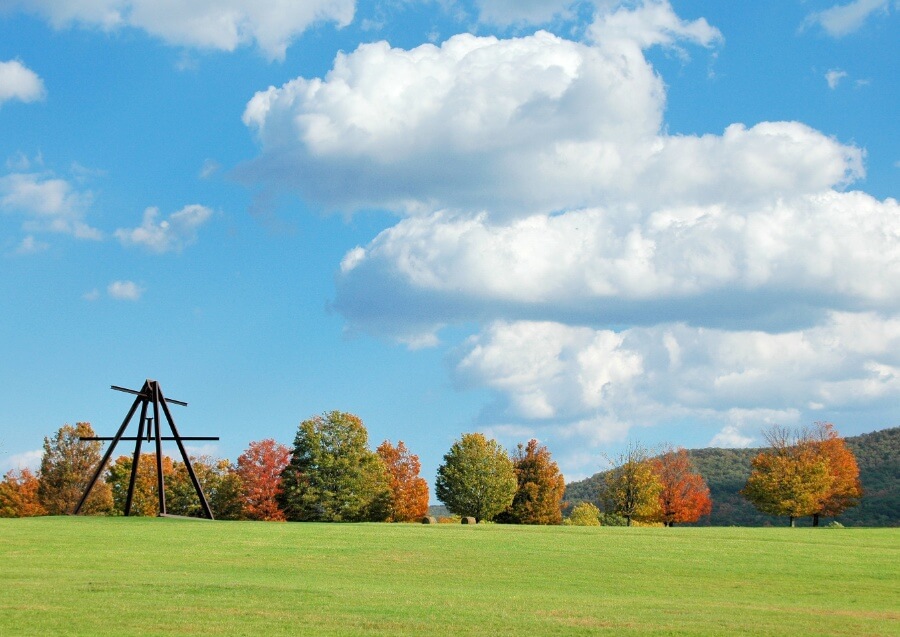 Storm King Art Center is an outdoor exhibit in New Windsor. When you visit in the fall, you can enjoy the art without being stuck in a building! Surround yourself with tons of culture while still appreciating the colors of autumn.
The art on display is ever-changing. You can see modern and contemporary art installations, and there's always something new when you visit.
Location: 1 Museum Rd, New Windsor, NY 12553
21. Saratoga National Historical Park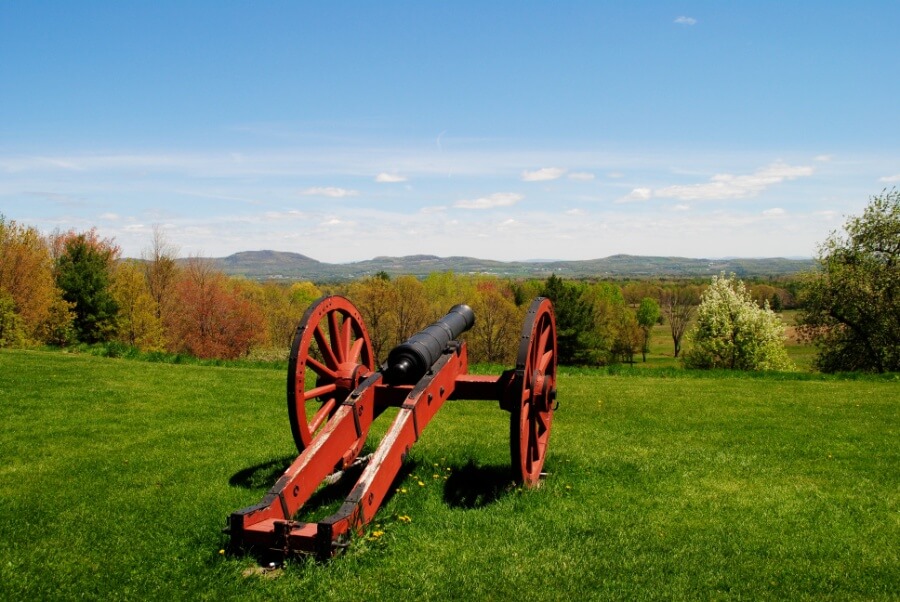 The Saratoga National Historical Park in Stillwater is the site of the Battle of Saratoga. Today, it's a beautiful park full of trees that turn shades of red and orange in the fall.
Ride your bike or hike up a trail to surround yourself with the essence of autumn while enjoying amazing views.
Location: 648 NY-32, Stillwater, NY 12170
22. Indian Head & Rainbow Falls Trail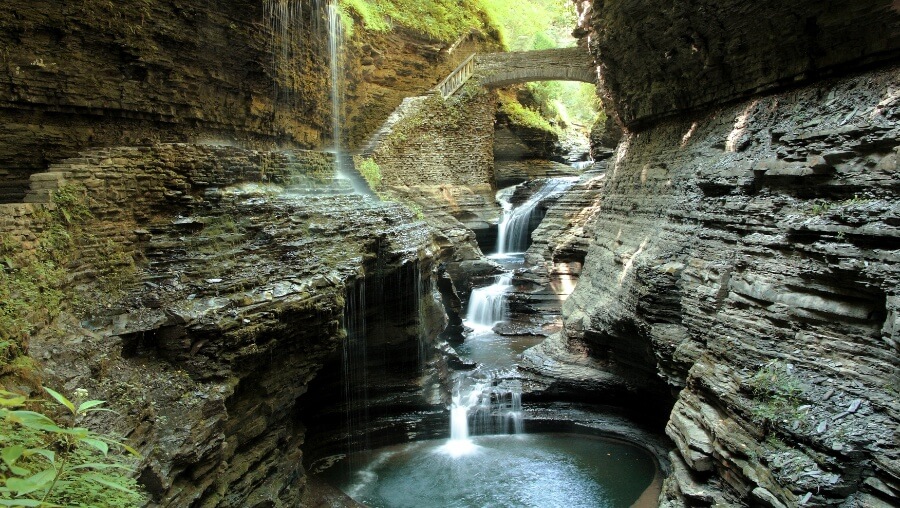 The Indian Heads Trail at Rainbow Falls is a popular hiking destination and a great thing to do in Upstate New York in the fall. It's busiest during the summer and fall because you get dramatically different views. In the summer, the foliage is green and lively. But during fall, you get the changing colors quintessential of the Adirondacks.
The trail is about 10 miles long and only moderately challenging, so it's accessible to most hikers.
Location: 44.14949, -73.76820
23. The Strong National Museum of Play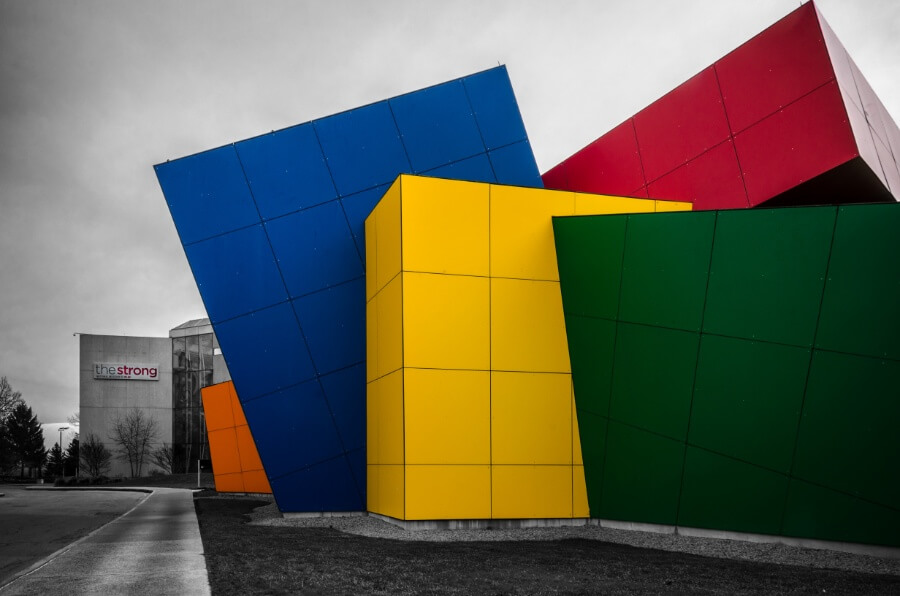 While this museum caters to kids, it's a great place for visitors of all ages. The Strong National Museum of Play in Rochester is an interactive museum full of exhibits to touch. It's a fun experience with tons to see.
Many visitors come in the fall due to the natural surroundings of Rochester. While there, you can stop at nearby parks or visit the Butterfly Garden.
Location: 1 Manhattan Square Dr, Rochester, NY 14607
24. Stuart's Fruit Farm
Located in Granite Springs, Stuart's Fruit Farm is perfect if you want to surround yourself with fall beauty in Upstate New York while picking fresh produce. Pick your own apples and pumpkins. Or, try a fresh-baked pie and other treats.
There are also hayrides and fun activities for kids.
Location: 62 Granite Springs Rd, Granite Springs, NY 10527
25. Fenimore Art Museum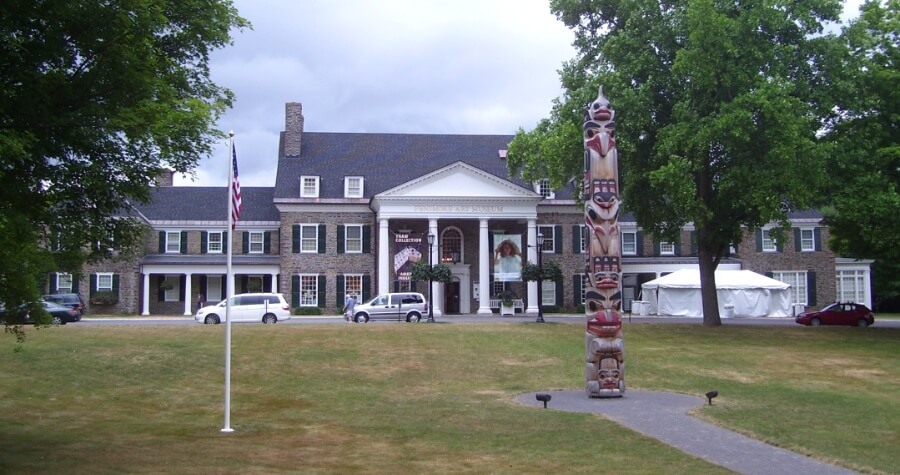 The Fenimore Art Museum in Cooperstown celebrates American art. You can appreciate everything from folk art to photography.
This museum is in a 1933 mansion set in a classic American village. Getting to the museum is a journey in itself because you have to stroll through the town and tree-lined streets. It's a beautiful experience in the fall.
Location: 5798 NY-80, Cooperstown, NY 13326
26. Albany Ghost Tours
If you want to explore the spooky side of fall in Upstate New York, take a ghost tour in Albany. Tours bring you to some of the most haunted locations on a bus or trolley ride.
You can see iconic locations like the Ten Broeck Mansion, New York State Capitol, and more. Strolling through historic streets in autumn is breathtaking, even if you're scared!
27. Old Macdonald's Farm
Want to sink yourself into one of the most iconic children's songs? Old Macdonald's Farm in Sackets Harbor is like the nursery song brought to life.
There are over 200 farm animals, fun games, and several family-friendly activities. In the fall, you can make your way through corn mazes and pick pumpkins.
Location: 14369 County Rd 145, Sackets Harbor, NY 13685
28. Corning Museum of Glass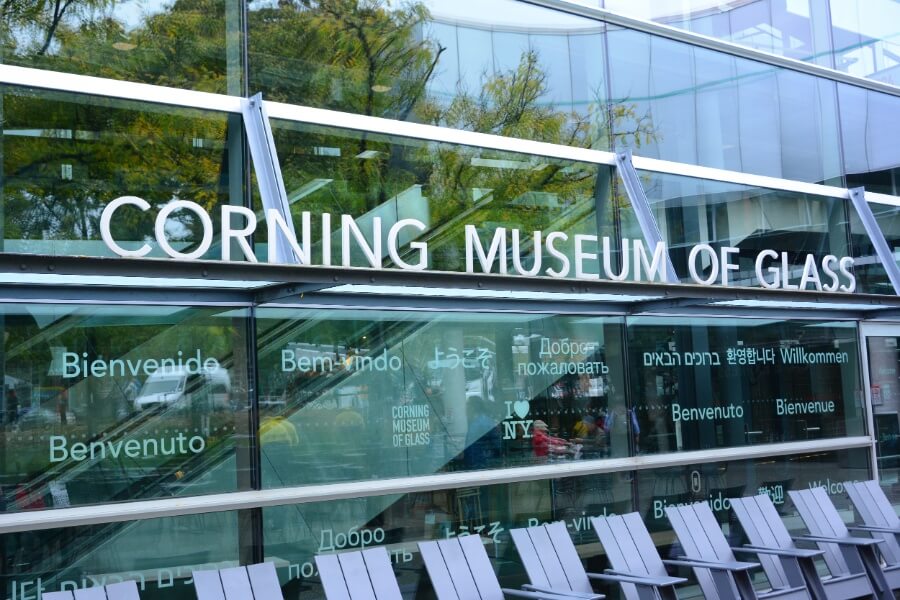 The Corning Museum of Glass is one of the most famous glass-blowing institutions in the world. Not only can you see amazing works of art, but you can get a live demonstration and learn about the craft.
One of the reasons why this made our list of things to do in Upstate New York in the fall is that the surroundings are simply beautiful. It's such a unique way to enjoy the scenery by watching expert craftspeople work with glass and fire!
Location: 1 Museum Way, Corning, NY 14830
29. Ellicottville Fall Festival
The Fall Festival in Ellicottville is the oldest in the area and maintains a beautiful early New York charm. As the colors change and the air cools, it's a perfect way to enjoy the new season.
Hop on a few carnival rides, play games, and indulge in food from local vendors. There's lots to do and plenty of photo opportunities with the amazing natural backdrop.
30. Pumpkinville
What better way to celebrate fall in Upstate New York than by pumpkin picking? Pumpkinville is a beloved destination that opens in September and October.
In addition to picking produce, you can try craft beers, eat tasty treats, and spend some time with farm animals. It's a family-friendly activity with something for everyone to enjoy.
Location: 4844 Sugartown Rd, Great Valley, NY 14741
31. Twin Star Orchards
Here's another great place to pick produce. Twin Star Orchards is in New Paltz. In the fall, you can pick apples and enjoy the scenery.
There are also many great foods and drinks to try. If you're hungry, you'll find many things you won't see at other orchards. That includes fired artisan pizzas, cider donuts, and more.
Location: 155 N Ohioville Rd, New Paltz, NY 12561
32. Norwich Pumpkin Festival
This fall activity in Upstate New York occurs every year in the picturesque downtown area of Norwich. It's a free event where you can brave haunted houses, take hay rides, and more. The decor is quintessential fall, and you can see thousands of lit jack-o-lanterns once the sun sets.
Of course, there are plenty of vendors for food and souvenirs. On some nights, the Norwich Pumpkin Festival also does fireworks.
33. Pure Terror Scream Park
Pure Terror Scream Park is only open from mid-September through Halloween. Amid the backdrop of autumn foliage, it's the perfect place to get a fright!
Located in Monroe, the park has ten different haunted houses. The themes change yearly, so it's worth an annual visit.
Location: 1010 NY-17M, Monroe, NY 10950
34. Dykeman Farm Market
The Dykeman Farm Market is in Pawling. It opens in late September, offering the chance to pick your own pumpkins. The market is on a working farm, so you're surrounded by the beauty of fall throughout your visit.
After picking pumpkins, kids can head over to an activity tent while parents explore the grounds.
Location: 31 Dykeman Ln, Pawling, NY 12564
35. Fort Ticonderoga Heroic Maze
Looking for something fun to do in Upstate New York that also tests your wits? Fort Ticonderoga Heroic Maze is a massive six-acre corn maze.
It's split into two sections. There's a "beginner's area" to get comfortable with the challenge. Then, there's a main maze that takes about an hour to complete. This isn't your ordinary corn maze. You have to use clues within its boundaries to find your way to the exit!
Location: 102 Fort Ti Road Ticonderoga, NY 12883
36. Indian Ladder Farms
Indian Ladder Farms is a must-see when visiting Upstate New York in the fall. It opens in September, ensuring you get all the beauty of autumn during your visit.
The farms are a great place to pick produce like apples and berries. There's also a market where you can get food, souvenirs, and crafts from vendors.
Location: 342 Altamont Rd, Altamont, NY 12009
37. Festival of Witches
Located in Sleepy Hollow, the Festival of Witches is an event that runs throughout October. It's a unique activity that lets you dive head-first into local lore.
There are lectures and workshops to learn about legends. You can also participate in belly dancing, paddleboarding, or take a ghost tour.
38. Great Jack-O-Lantern Blaze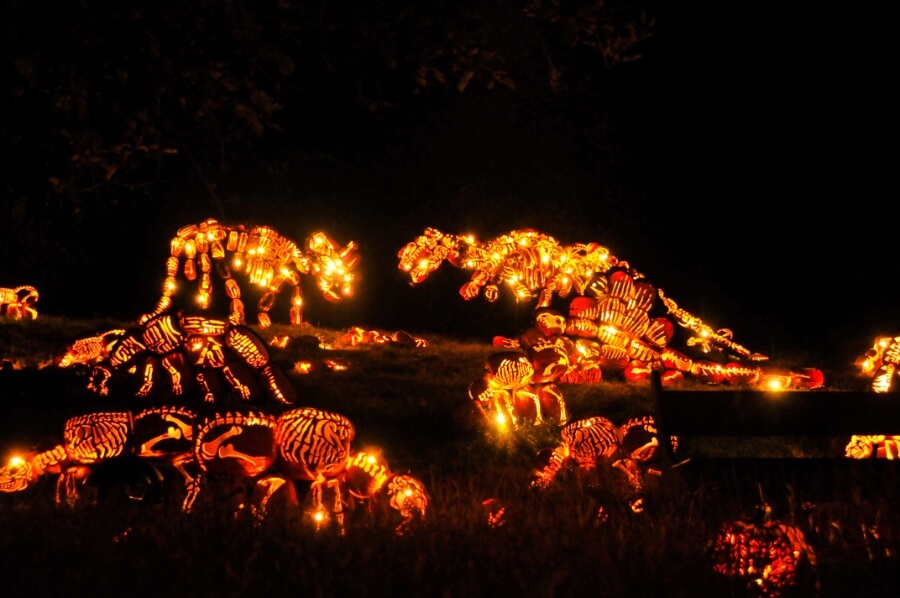 The Great Jack-O-Lantern Blaze is an event that occurs during the fall at Croton-on-Hudson. Artists carve thousands of pumpkins to create awe-inspiring displays. You can see everything from terrifying monsters to dome structures made entirely of pumpkins.
During the day, explore the quaint town to appreciate the fall foliage of the Hudson River. When the sun sets, you can enjoy the sights and get plenty of memorable photo snaps.
Location: 525 S Riverside Ave, Croton-On-Hudson, NY 10520
39. Burrville Cider Mill
Burrville Cider Mill in Watertown is one of the area's oldest buildings. It's been the site of cider-making for more than 200 years!
Visit during the fall to get a guided tour of the buildings and grounds. You can taste fresh cider or eat at the general store's diner.
Location: 18176 County Route 156 Watertown NY 13601
Closing Thoughts
Now that you're familiar with some activities and things to do in New York during the fall, we hope you go out and give some of them a try! You can have so many fun and unique experiences in this state that are a little off the beaten path, and when you add the magic of autumn it gets even better.
We'd love to hear from you if you've tried any of the activities on this list. And if you know any other great things to do that we should include, send them our way as well!