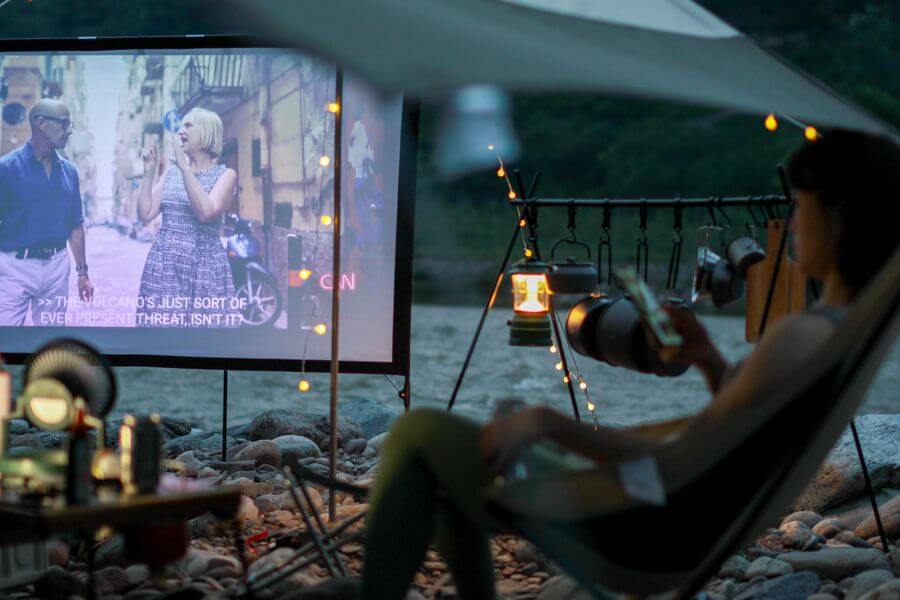 Coming up with fun and unique ideas for decorating your RV campsite can be surprisingly tricky. You know there are plenty of good options out there, but it's hard to choose where to begin!
This list will go over our favorite RV campsite setup ideas, and what makes them so great.
1. Hammocks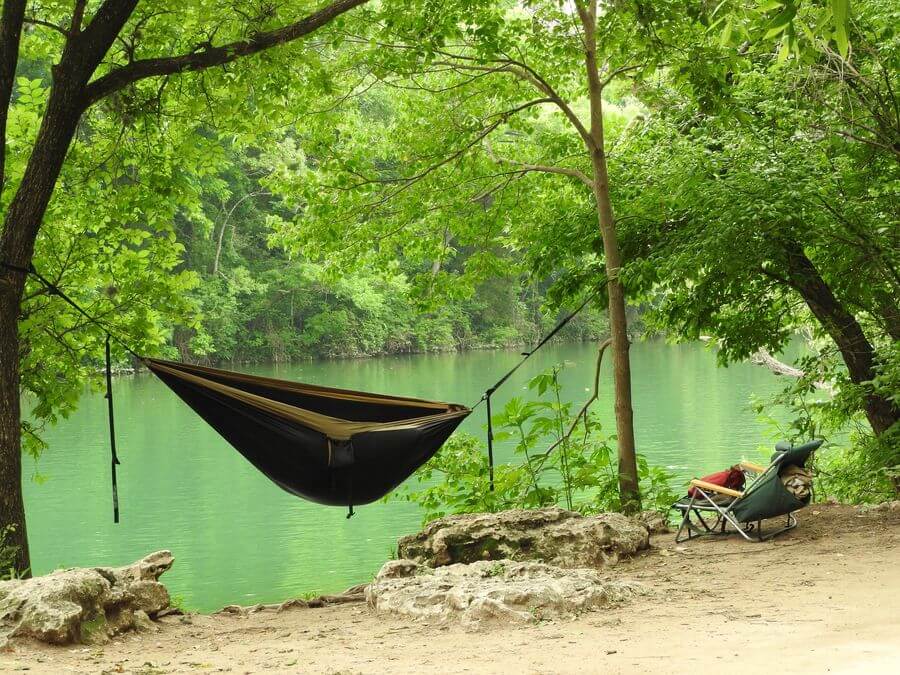 When it comes to the ideal RV campsite setup, you can't go wrong with a hammock. There's nothing like kicking back in one of these after a long day of adventuring, and they're perfect for adding that extra touch of comfort to your space.
Not only are they comfortable, but many can be folded up into an incredibly small package when not in use, making them extremely easy to store in your RV.
Whether you prefer to set up between two trees using travel hammocks with tree straps or opt for framed versions that can be placed anywhere without reliance on trees, both options provide a great experience.
And let's not forget about a chance to nap under the stars or read while swaying gently in the breeze!
2. Comfortable Chairs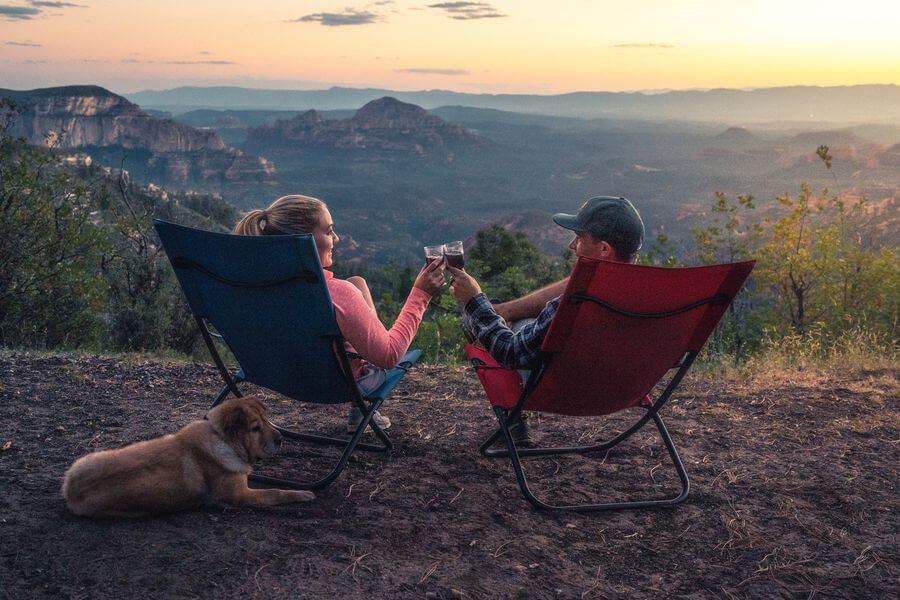 Choosing comfortable chairs for your RV campsite setup can elevate the overall experience of your nomadic adventures, offering not only a cozy spot to gather and relax while enhancing the aesthetic appeal of your temporary home.
Folding camping chairs are a classic choice due to their portability, allowing you to easily transport them in your RV and set up at any campsite. Available in various styles, these chairs can be tailored to meet individual comfort levels and preferences, from basic designs with fabric seats and backrests to more luxurious versions with padded seating, armrests and cup holders.
Adirondack chairs are another fun option that lends a rustic charm to your decor while providing great comfort. While these classic pieces might be bulkier compared to folding camping chairs, some models can fold down quite nicely for compact storage (this is still ideal for those who have a little extra room in their RV).
The key selling point of Adirondack chairs is their comfort. They feature a tall backrest and large seat that you can't find in a traditional camping chair. So despite them being slightly less travel-friendly, they might still be worth the trade-off if comfort is your primary concern.
3. A Portable Cooler Or Fridge
When it's time to take it easy and enjoy the great outdoors, there's nothing quite like having a portable cooler or fridge at your disposal.
There isn't a more convenient way to have access to cold drinks and fresh food at your campsite, no matter where you are. They also make it much easier to do a little cooking by the campfire (no more running back and forth to the RV).
There's a reason why most people who want ideas for their RV campsite setups tend to invest in one of these: It's a game-changer. You can pick from a number of brands that design theirs to withstand rough outdoor conditions while not sacrificing on functionality.
Imagine having chilled beverages within arm's reach while lounging under the starry night sky! That's an experience that can't be beat.
4. Table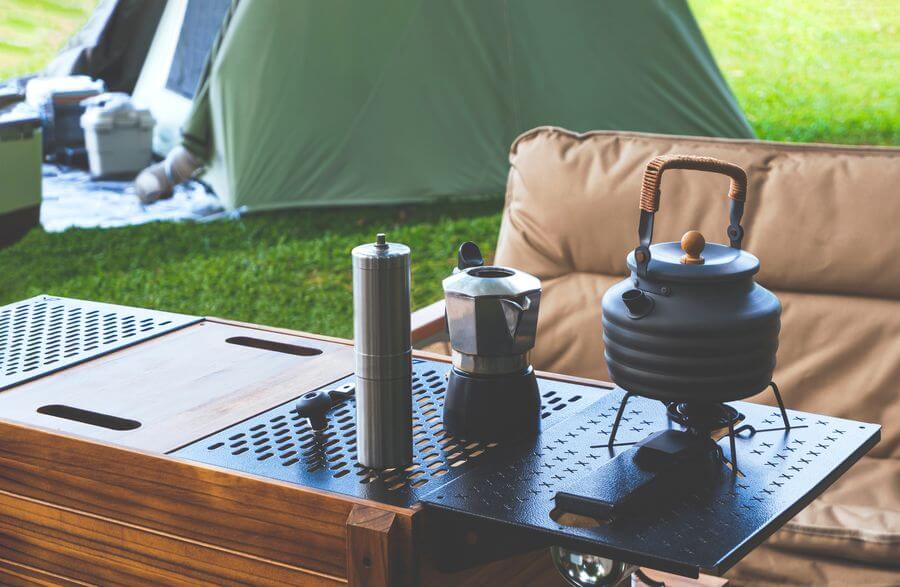 Bringing along a foldable table is a must-have when it comes to your RV campsite setup. This doesn't just give you a surface to place your items on, but also an extension of your RV kitchen.
A nice table can be the perfect spot to prepare meals or hold plates and tools while cooking outdoors. Plus, this makes any dining you do near the campfire much more pleasant (no one likes balancing a plate in their lap).
Foldable tables are available in various sizes, which means there's one to suit every camping need or any RV size. From small ones that'll comfortably hold drinks and snacks to large ones that can accommodate games and group meals. The best part? They're designed for easy storage, so they don't take up much space in your rig.
5. Lights For The Ambiance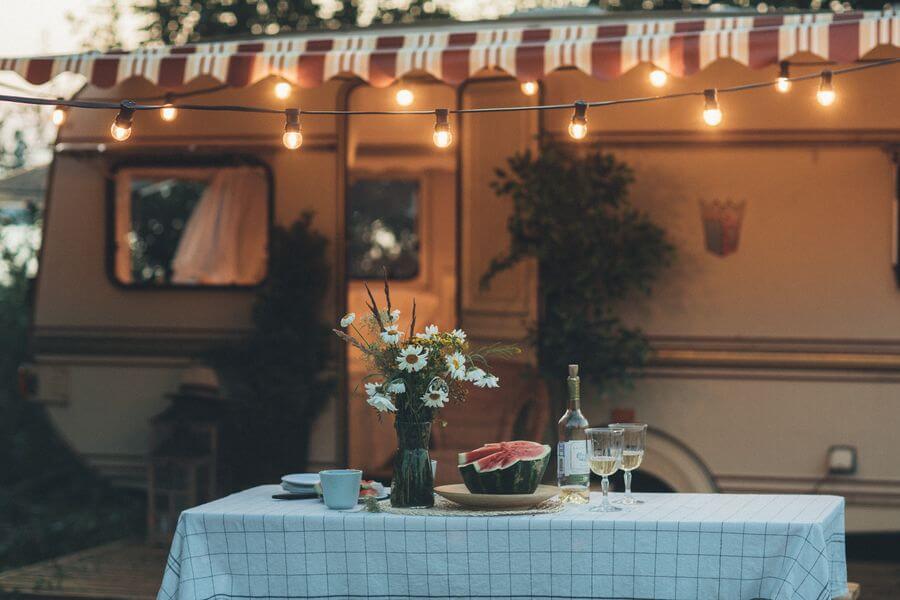 The right lighting setup can make all the difference in enhancing your nighttime activities and overall experience. In fact, when it comes to ideas for decorating your RV campsite, we'd say that some nice lights tend to be one of the most popular!
Lights strung around the space can create a comfortable and relaxing atmosphere for evening entertaining like sharing stories or enjoying a meal beneath the open sky.
If you want something different, colorful patio lights or some that spot your favorite team's logo can add a dash of fun and personalization to your little area.
In addition to setting the mood, proper lighting also serves functional purposes. Rope lights are an excellent choice to brighten up the border of your campsite, helping prevent tripping hazards in low light conditions and making boundaries more clear to other campers. Most outdoor lights like this are waterproof too, making them suitable for cold or wet conditions.
Pro Tip: We like Edison bulb string lights because they give off a classy feel while still doing a great job of illuminating your campsite.
6. Outdoor Movie Theater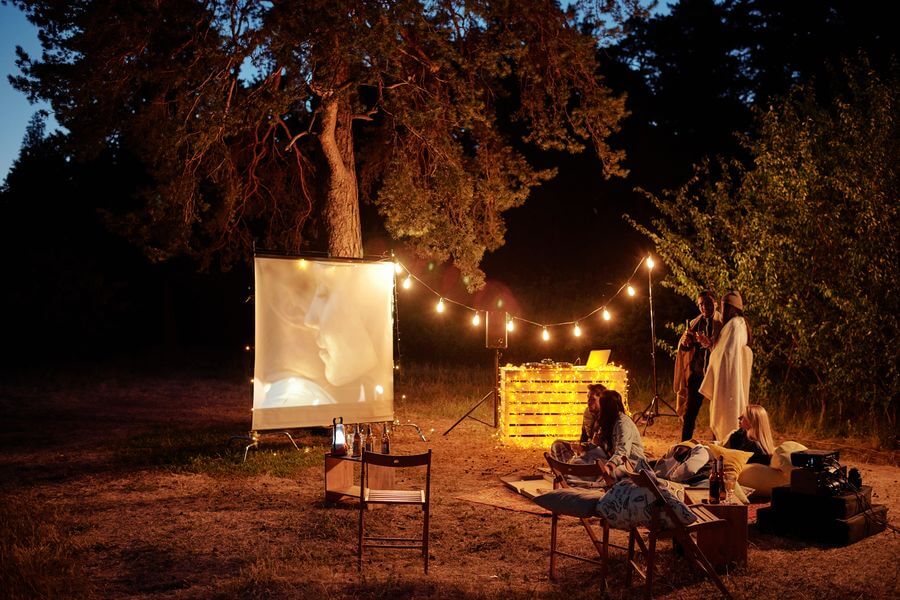 Now if you really want to take your RV campsite setup to a whole new level, go with an outdoor movie theater. Not only does it add a touch of luxury to your space (it made our list of glamping accessories for a reason), but it's also a fun way to bring everyone together after a long day of adventuring.
There's nothing like enjoying your favorite films under the stars with loved ones, or even watching sports with fellow campers. The main things you need are a large screen, a modern projector (ideally with bluetooth), high-quality speakers, and comfortable seating. And fortunately, these gadgets are compact and easy to store!
Our favorite thing about this idea is that it complements the RV lifestyle perfectly by offering a modern twist on the nostalgic outdoor movie experiences. Trust us, you should give it a try.
7. Privacy Screen
A privacy screen is not only an excellent way to improve the decor of your campsite, it's also a way to carve out your own cozy corner in the great outdoors.
Not only will it help you enjoy solitude and provide a barrier from curious onlookers, but it also offers an efficient way to cover up certain areas of your setup that might not be aesthetically pleasing. These are things like storage bins or maintenance equipment that can't be tucked away.
You can also use a privacy screen to provide a little shade near front windows or around patio areas. If you want to get fancy, you can use them as their own form of decoration by going with lattice or trellis panels (you can even hang some plants on them).
8. Portable Fire Pit
We're always surprised by how often RVers overlook this nifty piece of gear. While there's definitely something special about a traditional campfire, there are a number of undeniable conveniences that a propane fire pit brings to your setup.
First off, there's no need to spend time gathering wood or struggling to start a fire in windy conditions. A portable pit is quick and simple to ignite, allowing you more time for enjoyment.
Plus, there's no smoke involved. That means you'll never have to worry about shifting positions due to wind changes or dealing with irritated eyes. Just sit back, bask in the warmth, roast marshmallows, chat with your fellow campers.
On top of that, many campgrounds have restrictions regarding open fires but still allow propane pits.
9. Grill Or Stove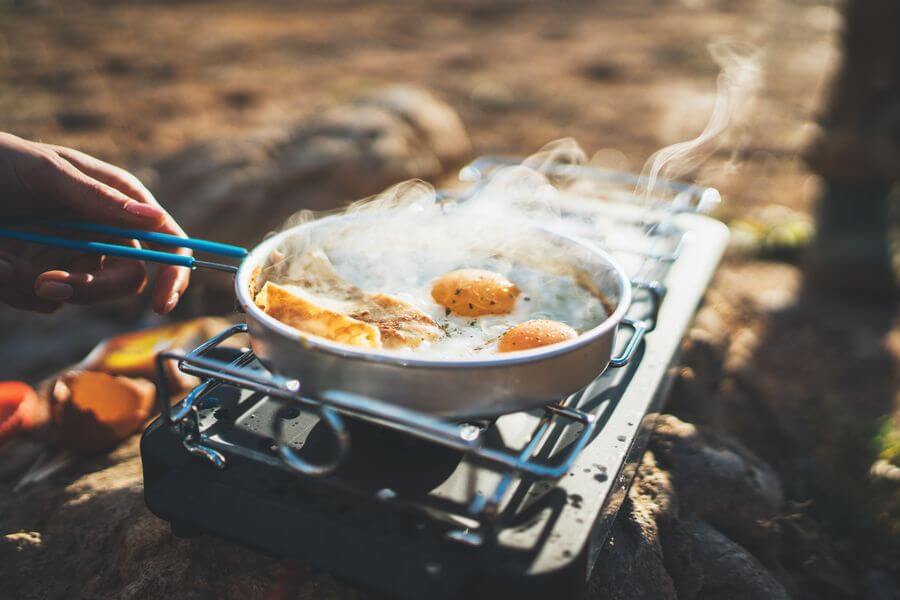 Out of all the RV campsite setup ideas on this list, we think having a stove or grill is pretty crucial. There's nothing better than cooking in the open air, enjoying nature, and savoring the smell of freshly made food.
With a grill or stove, you can make pretty much anything from simple grilled sandwiches to gourmet meals. And these days you can find plenty of options that are portable and convenient. No matter what kind of setup you have, it shouldn't be hard to find one that fits.
If you spend a significant amount of time RVing, you'll know that eating out can get annoying after a while (and expensive). Being able to cook fresh food whenever you want it and however you like it brings the comfort of home on the road with you.
Plus, it's a great social activity and opportunity to chat with your family or even meet new people (especially when done out in the campsite).
10. Locked Storage Container
The peace of mind that comes from knowing your valuables and essentials are safely tucked away in a locked storage container while you're out exploring goes a long way. And not only will this free you from anxiety over potential theft, but it also helps keep your whole RV campsite setup free from clutter.
While this isn't the most exciting idea on the list, it's definitely a worthwhile investment. This was a game-changer for us because we spend so much time away from camp doing hikes. You come back to all of your belongings, and it's all tidy as well!
11. An Outdoor Rug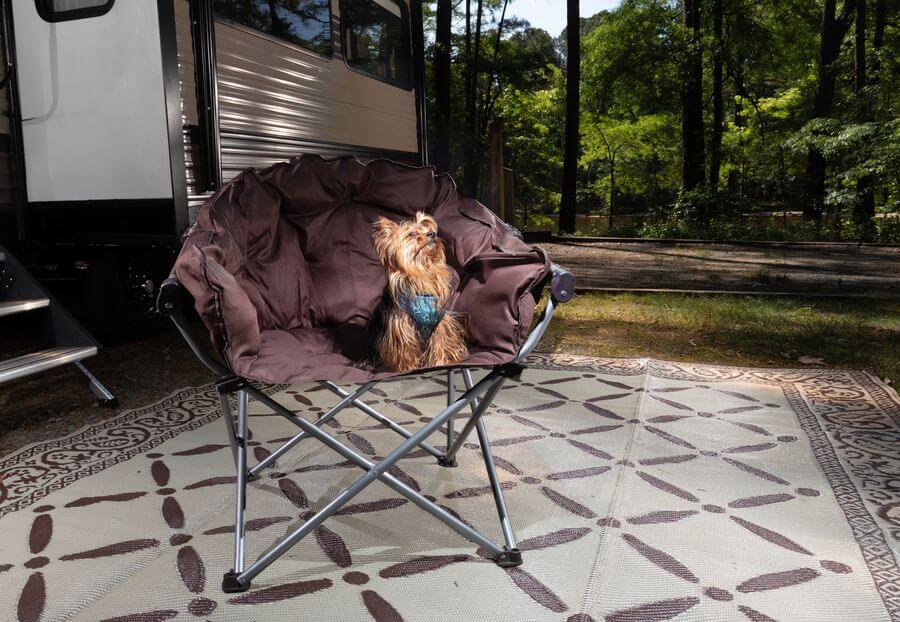 Here's a neat idea for decorating your RV campsite that not many people consider, but they quickly get excited when they see the transformation an outdoor rug can bring to a space. Whether you like something more subtle or a bold and bright design, an outdoor rug can make a statement in your RV's patio area or even on a bare patch of ground at your campsite.
But it's not just about improving the decor and aesthetics of the area, an outdoor rug also has some practicality. The best ones can be used on various surfaces like gravel, sand, grass, or dirt to create an even surface that minimizes tracking of mud or sand into the RV. This means less time spent cleaning up after outdoor fun and more time enjoying time at the campsite.
Pro Tip: We recommend getting rugs that are made from breathable recycled fabric that's gentle on grass so you won't have to worry about harming the environment while sprucing up your space.
12. A Screened Room
We've talked with so many people who rave about the difference a screened room made on their RV campsite setup. Affordable and portable, they offer immense convenience and comfort by creating a bug-free zone where you can relax, dine, and enjoy the outdoors without constantly swatting at your arms and legs.
There are plenty of options out there, so it's not hard to find one that suits your needs and budget perfectly. Whether you're camping solo or in a group, there's a screened room size that will fit into your setup. They're also easy to set up and disassemble.
Beyond just being a barrier against bugs, these portable rooms can keep you out of the sun while still allowing you to relax outside for an extended amount of time. We know plenty of campers who've actually ditched their awnings in favor of these rooms! It's like you've built an addition onto your RV!
13. Bug Repeller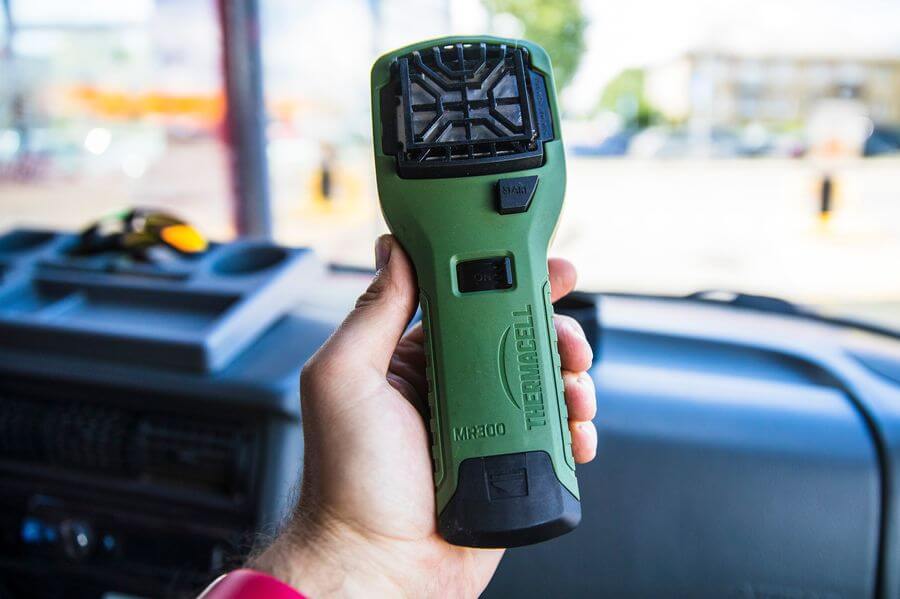 Bug repellers are also another necessary addition to any RV campsite setup. They offer more mobility and flexibility compared to a static structure like a screened room, allowing you to conveniently protect different areas of your site as required.
For many, the idea of enjoying an evening under the stars without the constant annoyance of buzzing bugs is a dream come true. And that's what bug repellers bring to your outdoor experience. For instance, there are lanterns that improve campsite decor while also serving as effective bug deterrents. Then there are dedicated systems like Thermacell portable repellents which are specifically designed with camping in mind. These are our personal favorite because they're compact and easy-to-carry while still being powerful enough to keep bugs at bay across a large area.
14. Flowers
Fresh flowers are a timeless idea for decorating your RV campsite. There's nothing like a lively splash of color to make things feel friendly and homey.
But they're not just about aesthetics, their natural scent can actually serve as gentle aromatherapy, helping you relax after a day full of adventures (or a day in the car).
When considering incorporating fresh flowers into your RV campsite setup, there are certain factors you should keep in mind for an outdoor display.
First off, always go with durable vases that can withstand wind and other elements. Silicone vases are a popular choice since they can handle a lot of punishment. You can even get them with suction cups to prevent the vase from tipping over on breezy days or being knocked over accidentally.
15. Fenced In Area For Pets
Bringing your furry friends along on your outdoor adventures? Then consider investing in a pet fence. It's an excellent way to ensure their safety at the campsite and let them enjoy the great outdoors with you.
A pet fence creates a secure area for your pets to roam freely, without straying too far from the campsite. This gives them the freedom they crave while keeping them safe from any potential dangers lurking outside your camping area. It also helps you stay within campground rules by containing your pets within your space, allowing them to move without the risk of a leash getting tangled around RV setup items.
A pet fence isn't just beneficial for larger animals. Smaller enclosures can keep smaller animals safe and leash-free as well. Most RV parks allow small enclosures for pets, which means that no matter what size or breed of pet you have, there's likely an option available that suits their needs perfectly.
16. Camping Flags
Camping flags are a fun way to inject some personality into your home on the road, and it's quite common to see them at RV campsites around the world. Whether you're displaying your home state's emblem, showing off your favorite sports team's colors, or even flying a custom design that represents who you are (like a family crest), camping flags are an easy way to add a personal touch to any setup.
These decorative pieces not only serve as a beacon for friends and family trying to locate your site amongst others, but they also provide an ice breaker for engaging conversations with fellow campers.
And as you'd expect these are so lightweight and portable that pretty much everyone should have room to stow a few. Plus, they can be set up quickly!
17. Outdoor Welcome Mat
Another idea for decorating your RV campsite is an outdoor welcome mat.
An outdoor welcome mat is a fantastic choice for your campsite setup. Not only do these mats come in a wide variety of designs, but they're also durable. The good ones are made with fade-resistant materials that can withstand the elements while maintaining their designs.
And of course, they're durable as well. These mats can serve as your first line of defense against dirt and debris being tracked into your RV, helping you keep the interior clean and comfortable.
18. Ottoman
You'll find that an inflatable ottoman can make a serious impact on your ability to relax at the campsite, making it a must-have for any RV adventure. This versatile piece of furniture is not only easy to set up (many have an included foot pump), but also compact enough to fit into a small bag for travel.
If you get one that's designed for outdoor use, the material it's made with will likely be durable, fade-resistant, and able to get wet. There are plenty of designs you can choose from as well, allowing you to choose one that best suits your style.
When you compare it to simply sitting in a chair with your feet on the ground, there's a big difference in comfort. And if you like to put in a lot of miles on the trail, elevating your feet a bit can help you recover a bit for the next journey.
You can also use it for additional seating space if you have extra guests, or even use it as a makeshift table when needed.
19. Awning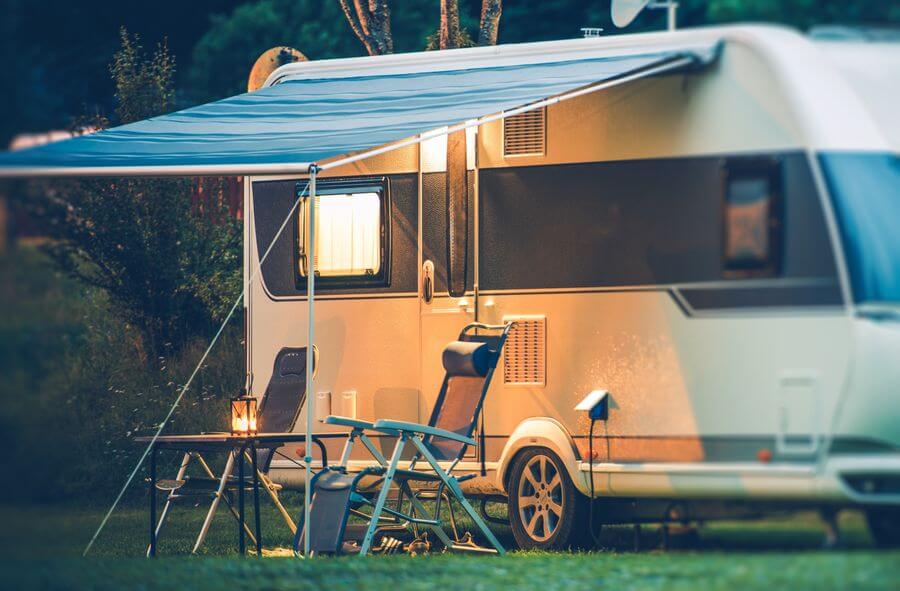 Adding an awning isn't exactly the most original idea for your RV campsite setup, but it's still worth including. It can add a touch of class to your space while also providing you with some much-needed shade (or shelter from rain).
Many RVs come pre-equipped with a roll-out awning on the side, but you can always add on your own as well.
But why stop there? Consider adding a drop shade for even more sun protection. These additional shades are simple to attach to your existing RV awning, expanding its coverage area and blocking out excess sunshine that might otherwise heat up your outdoor living space. With an awning and drop shade combo in place, you'll have created a cozy, weather-resistant outdoor haven right beside your RV
The nice thing about awnings is they're easy to store as well. All you need to do is roll them up and you're good to go!
20. Lawn Ornaments
Imagine turning your outdoor space into a charming exhibit of your personality with the simple addition of lawn ornaments. These delightful campsite decorations offer a wide range of choices, from whimsical gnomes to spinning wind wheels to elegant metal flowers, allowing you to pick and choose based on your personal taste and aesthetic.
While it might seem trivial, small details like these can make all the difference in setting up an inviting exterior that feels like home.
Deciding on which lawn ornament best suits your campsite can be an adventure in itself. Whether it's choosing the traditional pink flamingo that signifies fun and liveliness, or something more unique to match your style. If you travel around enough, make it a point to stop into some local stores and look for some! That way you can have a piece of your travels with you wherever you go.
21. Tiki Torches
When it comes to creating a warm and engaging atmosphere around your outdoor living space, tiki torches are an excellent choice. They offer an easy yet effective way to add a touch of tropical flair and distinctive style to your RV campsite setup.
With their inviting glow, these torches can transform the simplest of campsites into an enchanting getaway. The soft light they emit not only lights up the area but also creates fascinating shadows that dance on nearby surfaces, adding a magical element to your surroundings.
But there's more to tiki torches than just their aesthetic appeal. They're actually practical too! Many tiki torch fuels contain citronella which is a natural insect repellent. This means while you're enhancing the ambiance of your RV campsite with these attractive fixtures, you're also deterring insects from taking over your campsite.
22. Tablecloths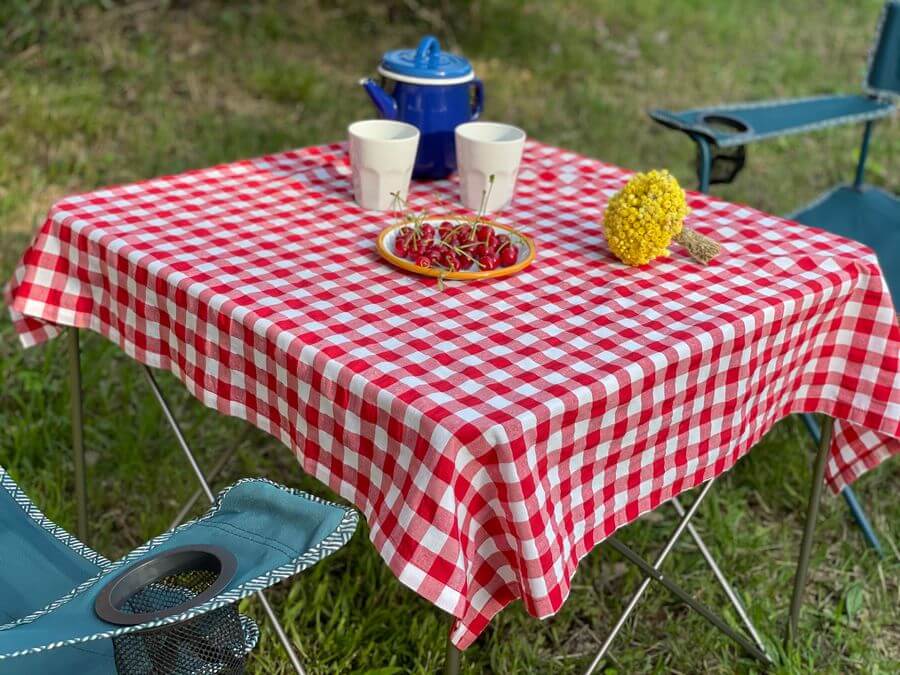 Don't underestimate the charm of a good tablecloth at your outdoor dining space; it's more than a simple piece of fabric. It's an excellent way to add a touch of style and elegance to the decor of your campsite.
With endless creative, colorful, and attractive designs available in the market, tablecloths can transform the look of your space. Not only that, but they also serve as a protective layer for those weathered campground tables, shielding them from spills or food stains while you enjoy your meals.
Pro Tip: Remember to pick up some handy tablecloth clips. These will help secure the cloth onto the table so it won't blow away on breezy days.
23. Candles Or A Tabletop Campfire
An underrated way to spice up your outdoor dining experience is to include some candles or a tabletop campfire. This adds an unbeatable touch of coziness and charm to your space.
Imagine the sun has just set and you're settling in for a lovely dinner outside your RV. By adding one or two candles (if open fires are allowed at your campsite) you instantly create a soothing ambiance that enhances relaxation. The flickering light casts warm shadows around your setup, creating an inviting atmosphere that makes your meal even more enjoyable.
You can do the same thing with a tabletop campfire. It's like having all the benefits of a traditional campfire without any of the laborious wood gathering or fire building! These handy devices are typically fueled with isopropyl 70% alcohol, making them easy to use and maintain while on the road.
A tabletop campfire not only delivers a little warmth at the table on cooler nights, but also provides that quintessential camping aesthetic.
24. Classic Campsite Games
From portable cornhole sets (which offer a convenient twist on a traditional game) to other outdoor lawn games like ring toss, ladder ball, horseshoes, and Kan Jam, these games are a great addition to your RV campsite setup.
This idea is not only about playing, but also about building bonds with family members and friends while enjoying nature's beauty. The versatility of these games ensures that both children and adults can stay entertained at the campsite.
And when evening falls or during those rainy days, simply bring out a deck of playing cards!
25. Bird Feeders
Adding a bird feeder is an interesting campsite decorating idea that invites the lively and colorful spectacle of nature to come on over. Having some birds drop by can be a great source of passive entertainment when you're hanging out at the RV. And there's nothing like waking up to hear their beautiful songs!
Depending on where you are, you might witness different types of birds that are indigenous to that area, making every destination a new experience.
Birdfeeders designed specifically for RVs ensure easy installation and minimal space usage. You can purchase ones equipped with suction cups that securely attach directly onto the RV exteriors. For an even more spectacular display, hummingbird feeders are perfect for attracting these beautiful creatures right up to your window!
Pro Tip: Remember not to use them if you're camping in bear-prone areas or places where attracting animals could cause problems. Always check local rules beforehand and use common sense.
26. Play Area For Kids
Creating a dedicated play area for the little ones isn't just about keeping them close and occupied, it's also a fantastic way to make the great outdoors feel like their playground. By incorporating elements such as a kids camping tent into your RV campsite setup, you're providing them with an unexpected, dedicated space where they can let their imaginations run wild.
This can be their hideout during the day or a magical place for shadow puppet shows after dark. A children's tent doesn't have to break the bank, and it can greatly enhance their camping experience.
The beauty of having this idea is that it allows kids to enjoy being outside without getting bored or feeling confined within the RV. It serves as their very own play zone where they can explore, create, and have fun in a controlled environment while still being close enough for you to keep an eye on them.
27. A Patio
If you're an RVer who loves spending time outdoors, constructing a portable patio for your campsite setup could be an ideal solution for you.
This isn't just about aesthetics; it's about creating a functional and comfortable outdoor space where you can relax and enjoy nature. Making your own patio gives you that sense of homey comfort, while also being practical since it's built from budget-friendly materials like free lumber and plywood.
Interestingly enough, this idea can actually be quite portable. Some have built their own with a hinged design so it can break down easily, but there are plenty of other ways to go about it. If you're handy and like projects, it could be worth a try!
Conclusion
There are countless ideas for decorating your RV campsite, but these are our favorites. Without a lot of effort (or expense) you can create a cozy and neat-looking spot that will be perfect for relaxing after a day of travel.
We'd love to hear what ideas you've tried, so feel free to send over any messages and pictures!