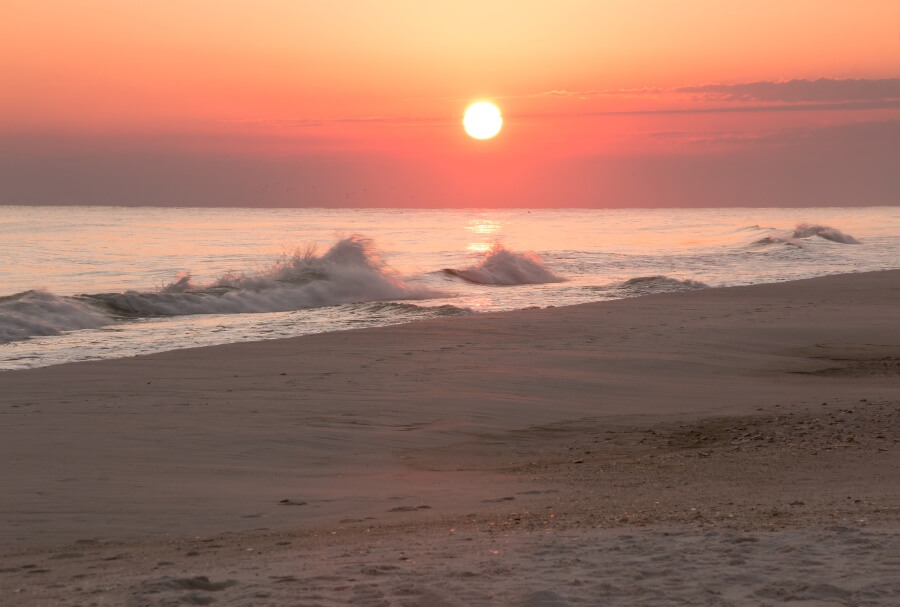 Although it might not seem like it, there are a number of quiet and secluded beaches in Florida. So if you're someone who wants to avoid the crowds and enjoy the sun, knowing these will come in handy!
This list of beaches will give you plenty of options. It doesn't matter if you're simply looking for something low-key or even a bit romantic, there's a place for you!
1. Santa Rosa Beach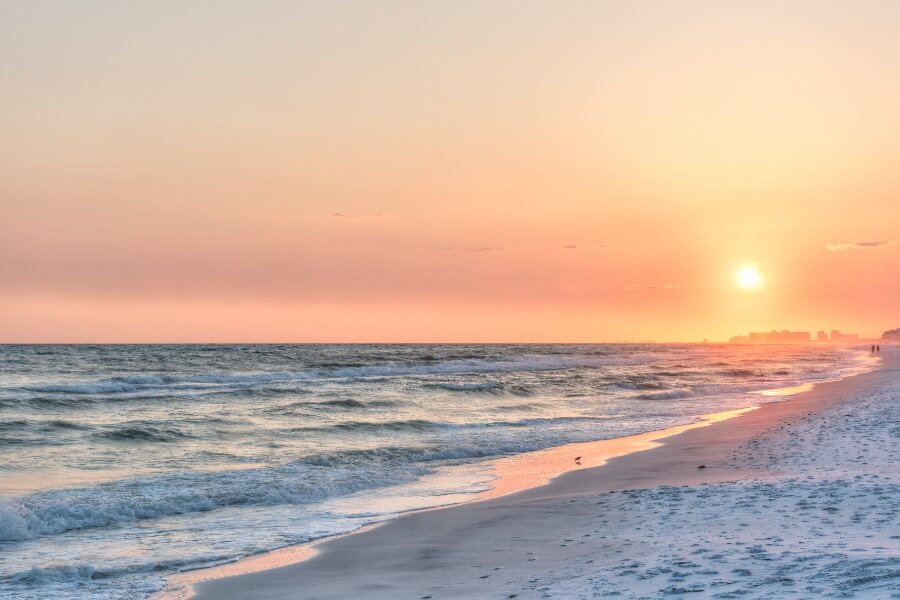 Santa Rosa Beach is one of the most beautiful hidden gems located on Florida's Emerald Coast in the panhandle. It's a quiet beach filled with towering dunes that reach 25 feet tall. Upscale homes surround the beach, but the dunes create a tranquil retreat for Floridians and guests alike.
The crystal-clear waters of Santa Rosa Beach are a snorkeler's dream. It's a hotspot for peaceful sunbathing, swimming, and laid-back underwater exploration. Nature lovers can head to Morris Lake Nature Trail for a hike.
While it's naturally secluded, Santa Rosa Beach is not too far from more lively destinations. Destin's shopping and restaurants are only half an hour to the west. Meanwhile, Panama City lies to the east.
2. St. George Island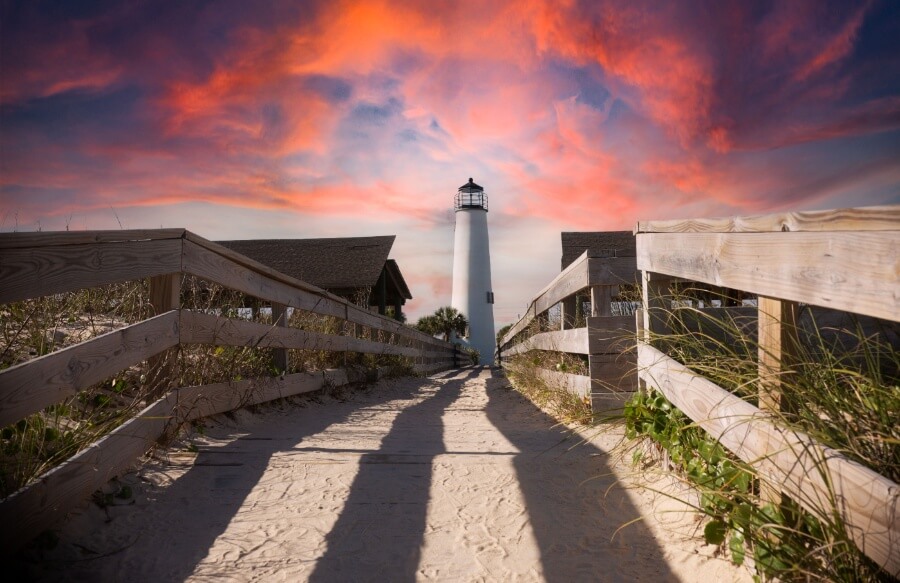 St. George Island is a beautiful destination accessible via Eastpoint to the north. The island is part of Florida's beautiful Forgotten Coast, and it sits between Dr. Julian G. Bruce St. George Island State Park and Cape St. George Island Reserve.
Getting to St. George Island is no easy feat. It requires ample hiking and walking, but visitors will tell you it's well worth it.
The island has turquoise water to the south. Shells litter the sugary sand, making it a favorite for collectors.
On the north side is Apalachicola Bay. There, you can explore marshes and go birdwatching.
3. Coquina Beach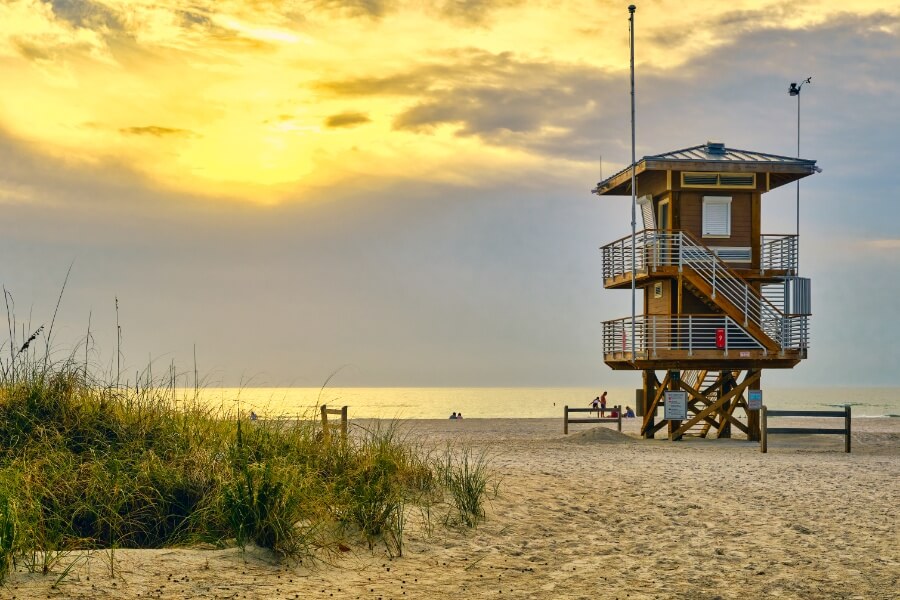 Here's a quiet beach in Florida if you visit the Tampa or St. Petersburg area. It's about an hour's drive from St. Petersburg and less than 30 minutes from Bradenton.
It's an accessible beach that separates Sarasota Bay and the Gulf. Wide and expansive, there are plenty of ways to escape the crowd and enjoy the pristine blue waters. The white sandy beaches are a favorite for locals, but it's never too crowded to find some peace.
Great for swimming and family outings, there are some great nearby amenities. A simple cafe and restrooms give you all the comforts you need.
4. Sandestin Beach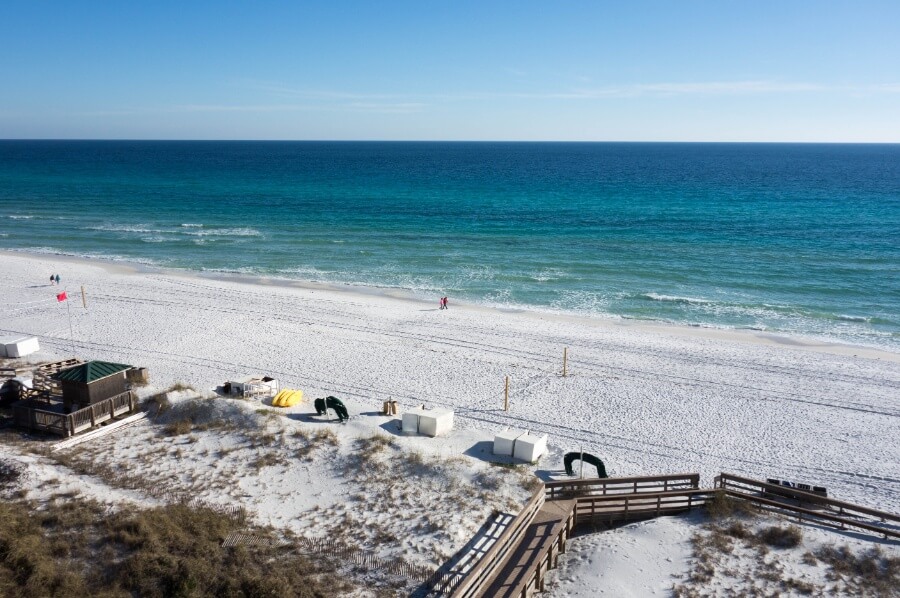 Sandestin Beach is a short drive away from Destin, FL. It's on the panhandle, giving you access to the clear waters of the Gulf.
This beach is part of a massive resort, but its sheer size makes it easy to get away from others and find a quiet spot to enjoy. It stretches nearly seven miles.
Perfect for sunbathing and swimming, the beach is ideal for more peaceful activities. For example, you can take in the sunset in the evening, gaze up at the stars at night, and enjoy the ways in the morning! Of course, adrenaline-seeking visitors can surf or jet ski.
5. Boca Grande Key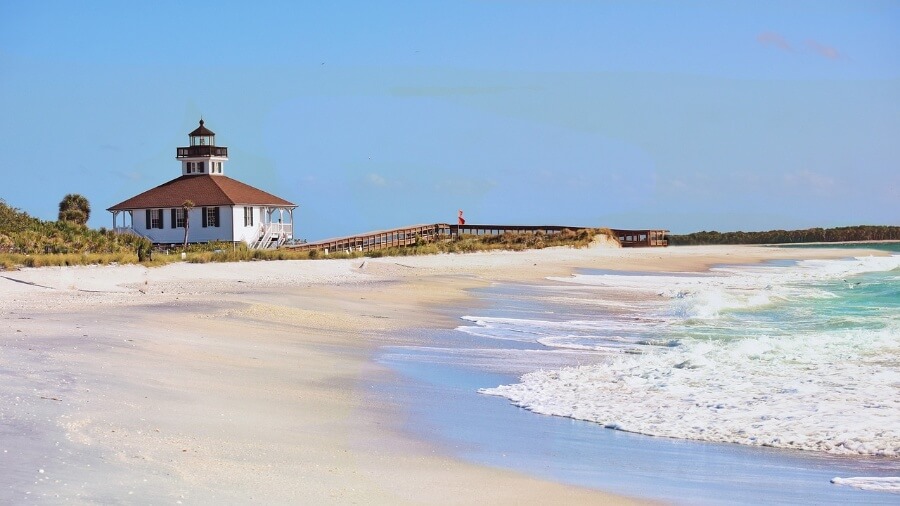 Boca Grande Key is a place where not too many tourists visit. Most stop at Key West, which is about 15 miles to the east. However, it's one of the best quiet beaches in Florida.
It's only accessible via an hour-long boat ride. But the trip is well worth it.
Boca Grande Key is a Key West National Wildlife Refuge. As a result, you can see marine life at its finest. Spot dolphins, see sea turtles, and go snorkeling in the crystal-clear waters.
6. Shell Island
Shell Island is off the Florida Panhandle. It's secluded because the only way to access it is by hopping onto a shuttle at St. Andrews State Park. Many treat a visit to Shell Island as a day excursion after seeing the beauty of the state park.
There are tons to do on this white-sand beach. It's a prime spot for quiet swimming, paddleboarding, and surfing. Pontoons also pass the area to take people on dolphin cruises.
Get what you need from the Jetty Store before hopping onto the shuttle. This beach's secluded nature means no shops, restaurants, or other amenities exist.
7. Pass-a-Grille Beach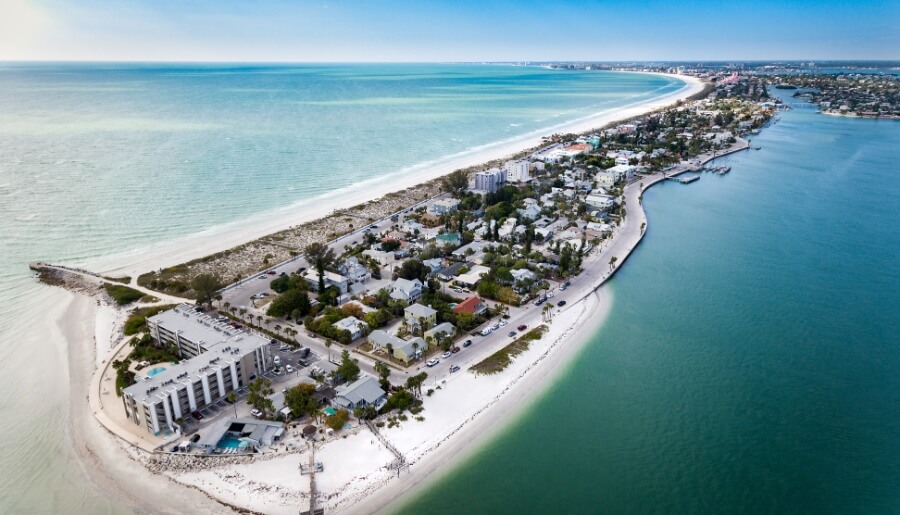 Pass-a-Grille Beach has a colorful name and a great atmosphere! It's on the Sun Coast and is only 15 minutes away from St. Petersburg.
This beach is unique because it's located on the tip of a peninsula. There's a single building on the beach, but it's one you'll likely visit during your stay. It's the Paradise Grille, offering great food and sunny vibes.
This beach is smaller than other secluded beaches in Florida. However, it's close to some great shops and a local art market, making your visit memorable.
8. Rosemary Beach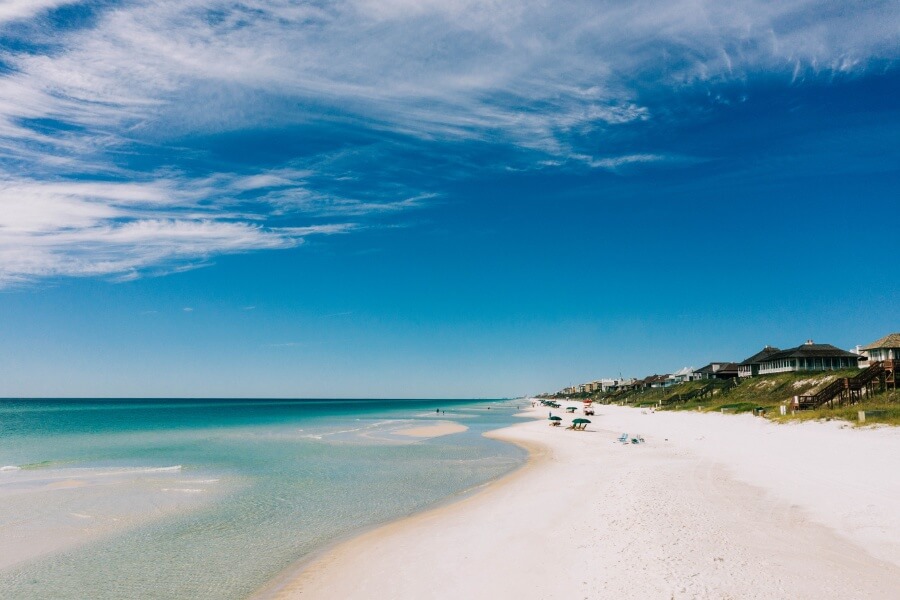 Next up, we have the beautiful Rosemary Beach. It's less than 45 minutes from Panama City and sits on the state's Forgotten Coast.
It's a stunning location. To enter this quiet Florida beach, you must walk through lush greenery. Once you pass the gorgeous vegetation, you'll see a sprawling coast with white sand and plenty of great amenities.
While quiet, you can rent umbrellas and other sunbathing supplies in shops nearby. Lifeguards also monitor swimmers, so you can enjoy the blue waters with peace of mind.
9. Clam Pass Park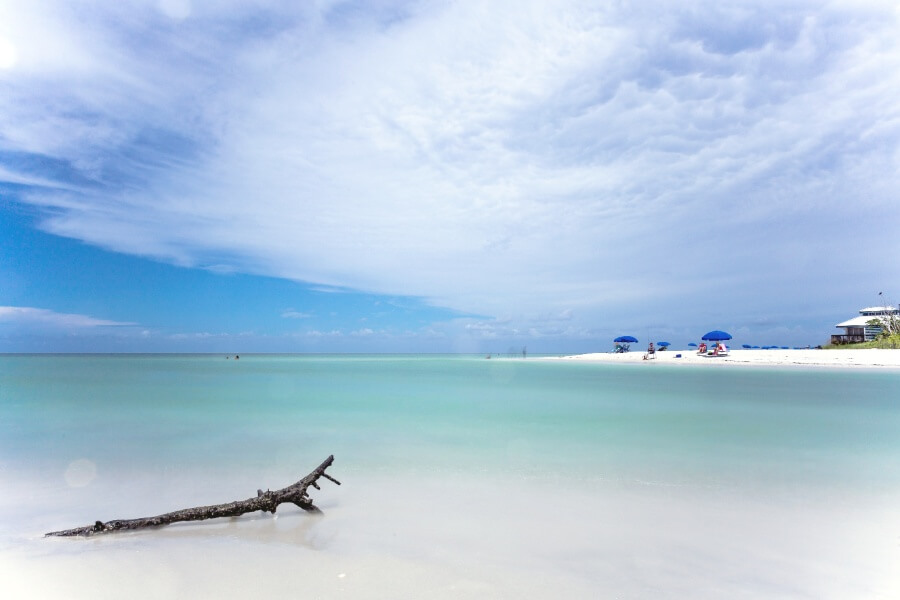 Clam Pass Beach Park is a short 15-minute drive from Naples. While many visit Cape Coral and Fort Myers for beach day getaways, Clam Pass Beach Park offers a more secluded experience.
It's still a popular destination, but there's ample room to escape the crowds with great amenities nearby. A bustling boardwalk is a great place to get some snacks. There are also bathrooms, showers, and more.
Clam Pass Beach Park is most known for its preservation. It's a pristine beach with sugar-like sand, turquoise waters, and nearby greenery.
10. Amelia Island State Park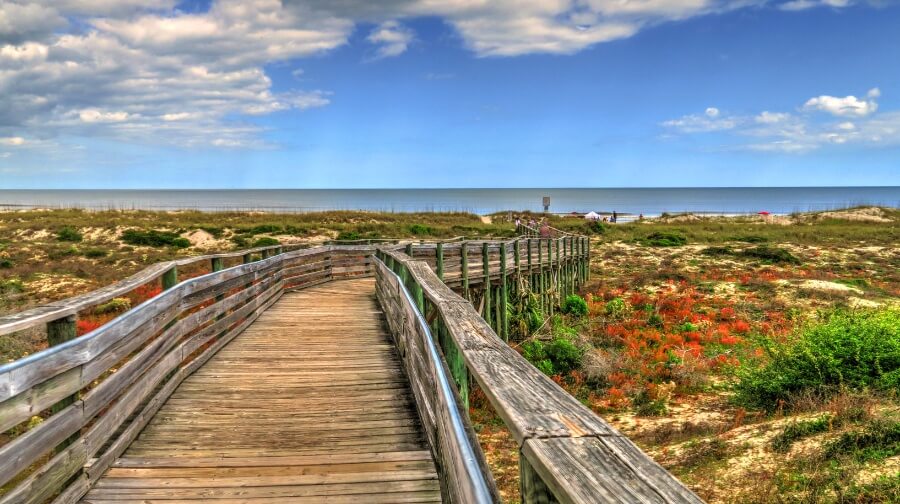 Here's a quiet beach you can enjoy if you're visiting Florida's east coast. Amelia Island State Park is on Florida's First Coast and is less than an hour's drive away from the hustle and bustle of Jacksonville.
This low-key beach in Florida has tons to do. It's a favorite for collectors and is one of the best places to find shells and shark teeth. Anglers can find great spots to nab a great catch, and shops dot the area to ensure you have the essentials.
Salt marshes and forests are great for nature lovers wanting to see what Florida wildlife offers. You can even go for a hike or take a horseback ride.
11. Cayo Costa State Park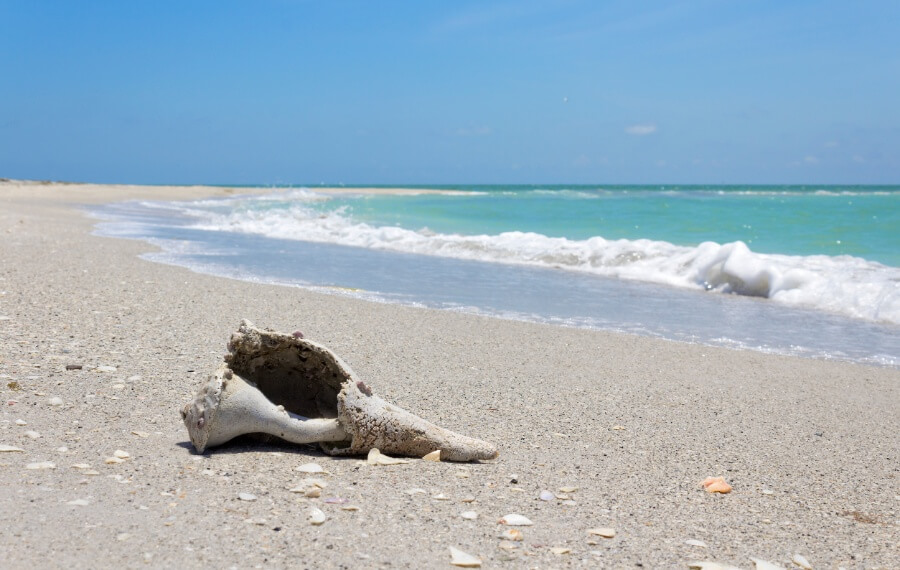 Cayo Costa State Park is a beautiful refuge that's not too far from Cape Coral. It's a remote destination, so you can't drive there. You must take a ferry and boat to get there!
As you can imagine, it's the epitome of seclusion. You won't see too many people here, allowing you to peacefully take in the clear Gulf waters and sandy beaches.
The beach has about nine miles of beauty to discover. There are plenty of trees for shade, and the remote location of the beach makes it a great place for snorkeling, dolphin-watching, and even manatee spotting.
12. Bahia Honda State Park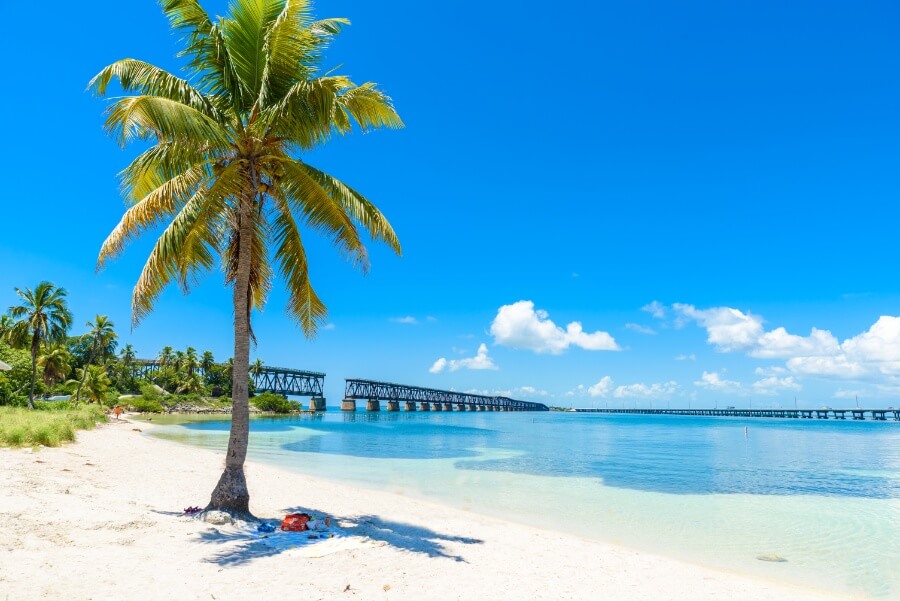 Going to Bahia Honda State Park is like visiting a tropical destination somewhere in the Atlantic. It's part of the Florida Keys and is about an hour away from Key West.
Many say that Bahia Honda State Park is a taste of "old Florida." You get the white sandy beaches, the blue waters, and iconic palm trees! If you're worried about getting hot, this area receives a year-round breeze that makes it perfect for all types of activities.
Swimming, boating, snorkeling, and surfing are common at Bahia Honda State Park. You can also hit up the local shops and restaurants to soak in the lifestyle of the keys.
13. Tigertail Beach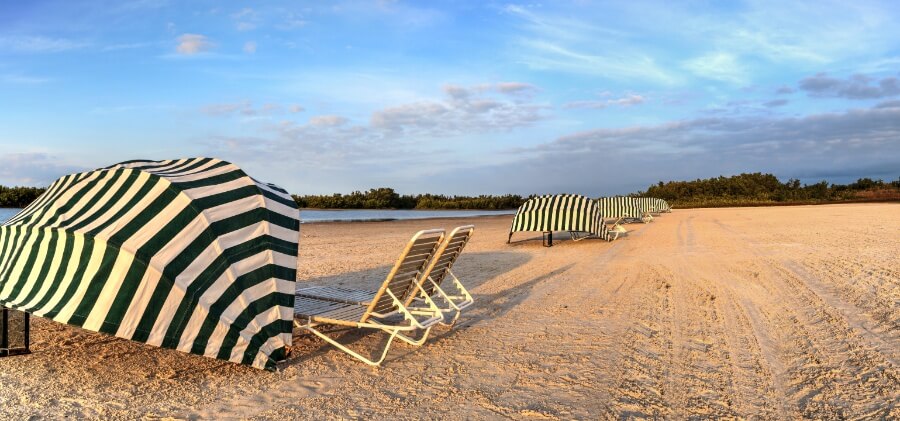 Tigertail Beach is a quiet beach in Florida that combines the beauty of white-sand with the lush greenery of the nearby Everglades. It's on Marco Island, which is about 45 minutes west of Everglades City and a little over an hour south of Cape Coral.
There are long stretches of sandy beaches to stroll through. If you want to participate in watersports, you'll find stalls to rent kayaks, paddleboards, and more. You'll also find concession stands and snack bars on the beach whenever you want to dry off and escape the heat.
14. Silver Key Beach
Silver Key Beach is a lesser-known area on Sanibel Island near Tampa. It's about 20 minutes from Sanibel and offers a unique refuge for visitors and wildlife.
This secluded Florida beach is a protected area that's home to unique animals. As a visitor, you might see everything from snowy plovers to sea turtles.
There are some amenities in the area. You can stop at the playgrounds, bathrooms, and showers as you explore the site and roam the hiking trails.
15. Grayton Beach State Park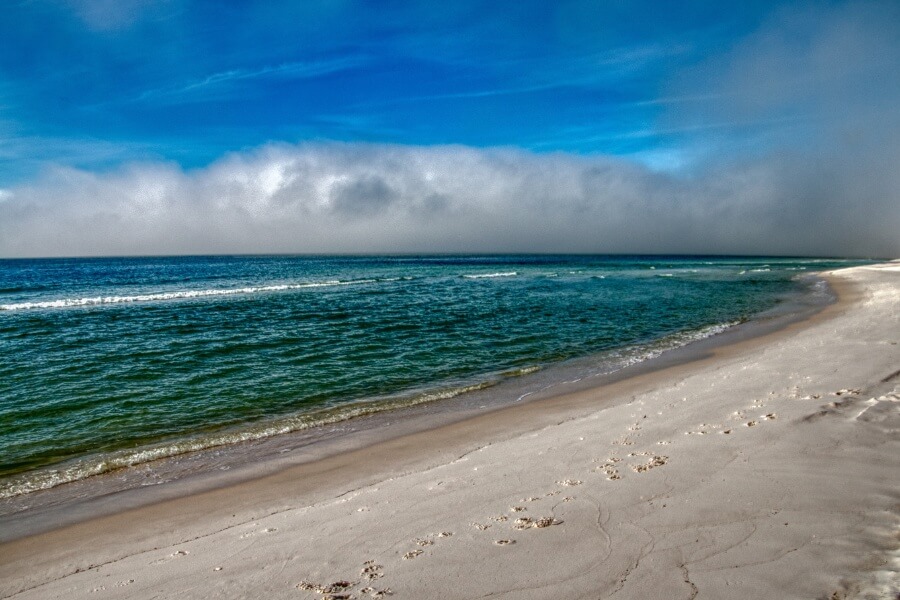 Grayton Beach State Park is between Destin and Panama City. It's a top-rated beach in Florida that doesn't attract huge crowds.
It's quiet and features miles of beautiful sand, tall dunes, and green areas to explore. Most visit Grayton Beach State Park for fishing. There are places to rent kayaks and go boating.
You can park your rig in the nearby camp if you have an RV. Grayton Beach State Park is also dog-friendly, so it's a great place for the entire family.
16. Miramar Beach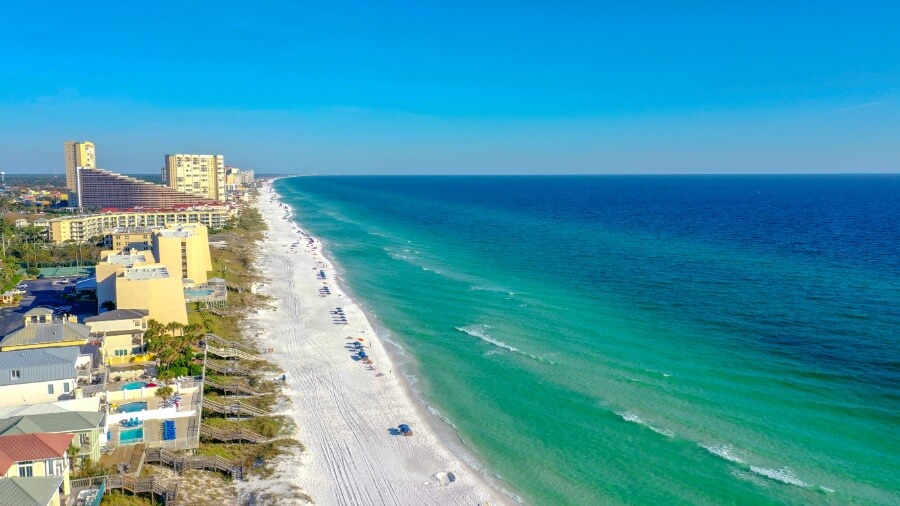 You'll find Miramar Beach on Florida's Emerald Coast. It separates the Gulf from Choctawhatchee Bay.
There's a lot to do on Miramar Beach. It's a great spot for parasailing, surfing, and other high-activity watersports. There are also scenic roads, hiking trails, and shops to get souvenirs.
Miramar Beach is quiet and well-maintained. Lifeguards patrol the area to keep swimmers safe, and color-coded flags give you a better idea of the weather and water conditions.
17. Caladesi Island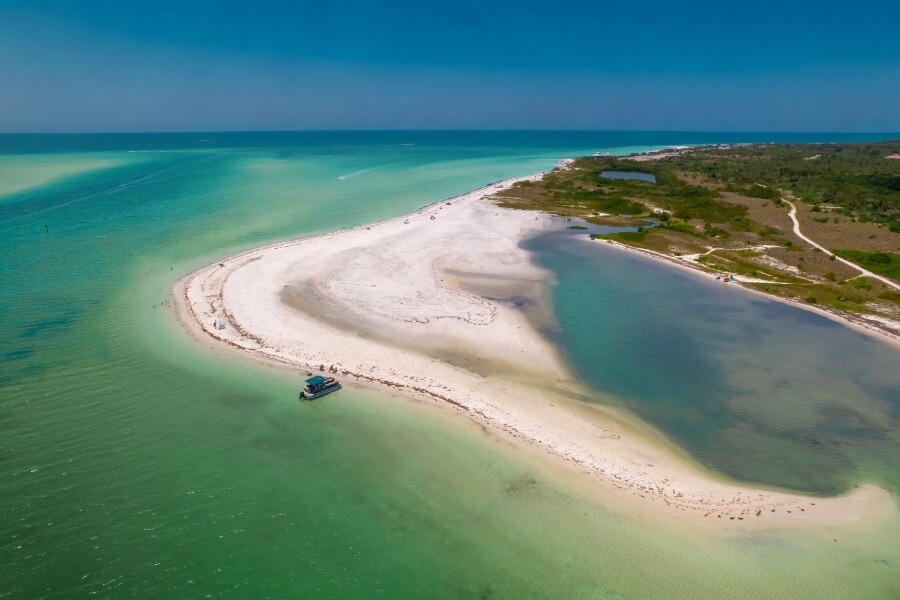 Caladesi Beach is on Caladesi Island State Park near Clearwater. This is another one of Florida's secluded beaches that you can only get to by boat. But that doesn't stop people from exploring everything this beachside oasis offers.
The untouched beaches are beautiful, sporting soft sand and clear Gulf waters. It's a great place for weddings, and plenty of amenities exist on the beach to help you stay comfortable.
Go for a quiet swim or hit up one of the many shops and stalls to go surfing, snorkeling, and everything in between.
18. Barefoot Beach Preserve
Barefoot Beach Preserve is a great place to appreciate nature between Naples and Cape Coral. In addition to having a beautiful, tranquil beach, this spot is home to cactus gardens, butterfly gardens, learning centers, and more.
You can visit Barefoot Beach Preserve to see sea turtles lay eggs or spot stingrays hanging out in the shallows. This quiet beach in Florida is still easily accessible. There's a wheelchair ramp and plenty of amenities to stay comfortable during your stay.
19. Canaveral National Seashore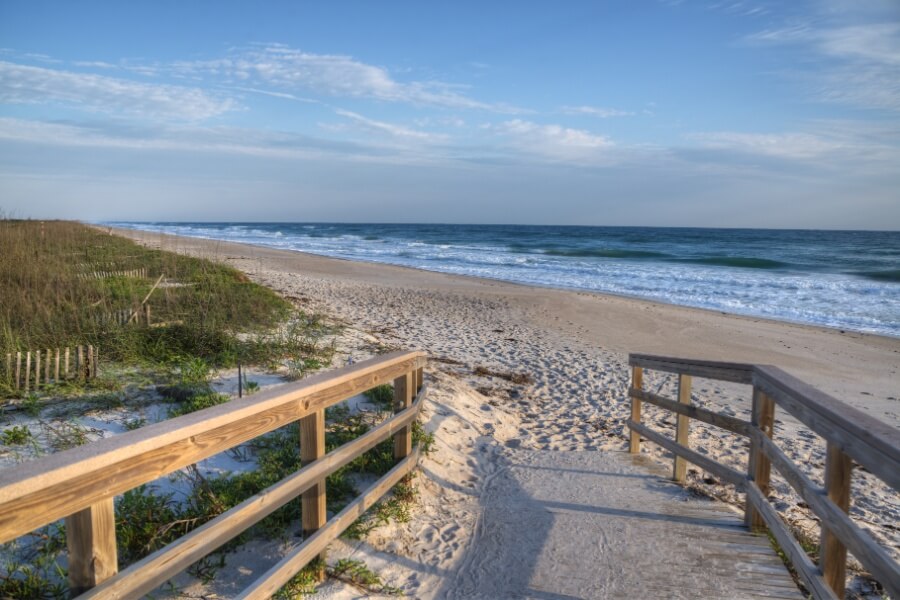 When you're done visiting theme parks in Orlando, head to Canaveral National Seashore. It's about an hour and a half away from Orlando and is well worth the drive. The picturesque beach has crashing waves on one side and lush greenery on the other.
Several beach access points are available, so you can easily find a more quiet spot to soak up the sun. Visit the nature reserve to see wildlife or enjoy the sunset on a more secluded beach.
20. Perdido Key Beach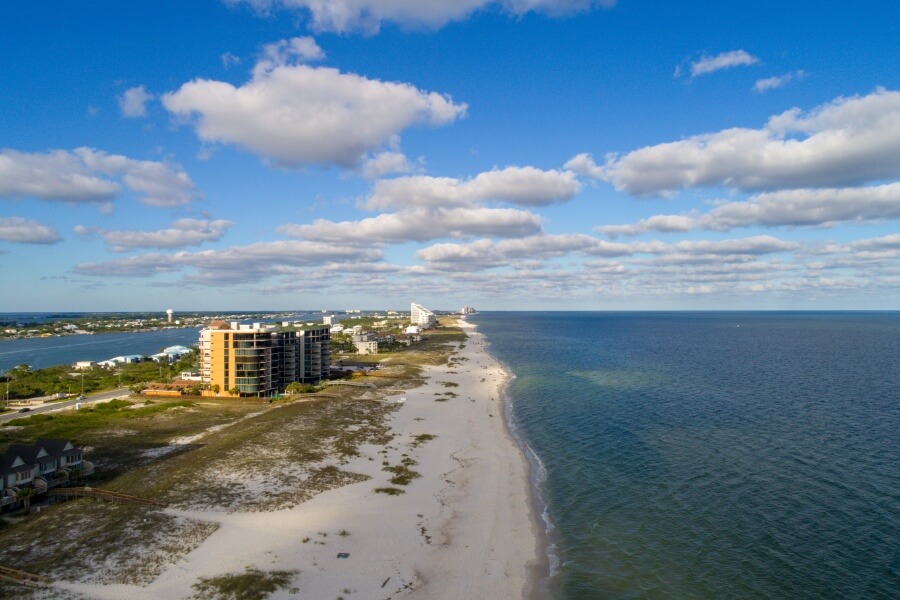 Perdido is about half an hour away from Pensacola. It's on the Florida panhandle and is a great alternative to crowded Destin beaches.
The beaches are clean and well-maintained. You get the clear waters of the Gulf and tons of soft sand for play and relaxation. Most beaches have bathrooms and simple amenities. Some locations also have camping spots that provide easy access to hiking trails.
21. Blue Mountain Beach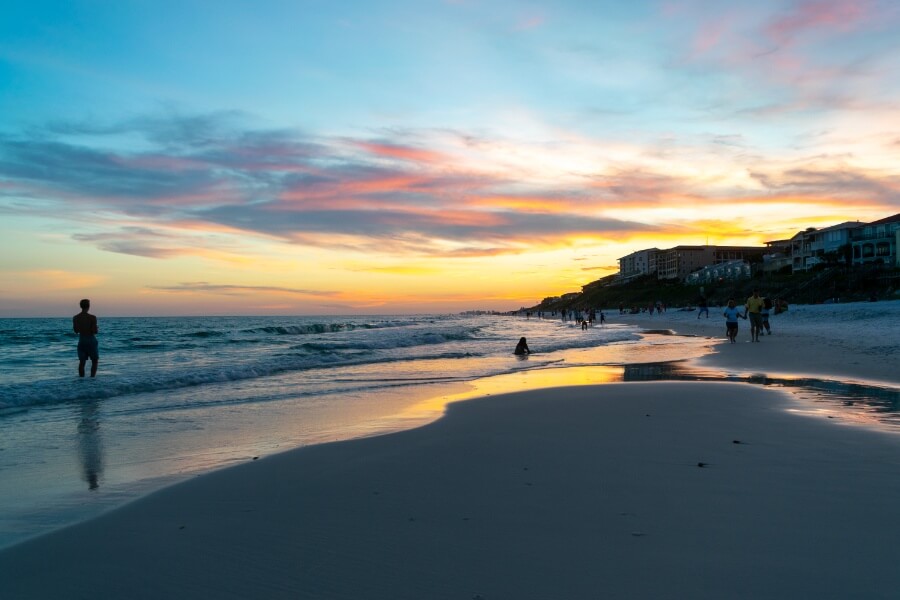 Here's another Destin alternative. About half an hour's drive away, Blue Mountain Beach is home to soft sand, blue-green water, and great amenities for a good time.
Most people go to this beach for sunbathing and swimming. However, nearby shops offer kayaks and paddleboards. You can also rent a bike to cruise the coastline!
Fragrant lupine flowers dot the coastline, giving you a memorable sensory experience as you hit offshore for dinner and shopping.
22. Palmetto Avenue Beach
Palmetto Avenue Beach is a quiet swimming spot on Anna Maria Island. It's a short hop away from Bradenton, extending into Tampa Bay.
This beach is usually less crowded but lacks amenities like a bathroom or lifeguard. On the plus side, there's free parking, and it's open all day long!
You can stroll the white-sand beaches at night, enjoy the sunrise, and go for a swim in the early morning.
23. Manatee Beach
Manatee Beach is also on Anna Maria Island. In fact, you can walk to it from Palmetto Avenue Beach!
The seven-acre beach has more amenities than the previous spot. You get access to picnic benches, grills, and more.
The water is clear and blue. If you have young kids, they'll love it here because of the many sandbars. The bars create artificial islands and shallow swimming holes that are a joy to explore.
24. Navarre Beach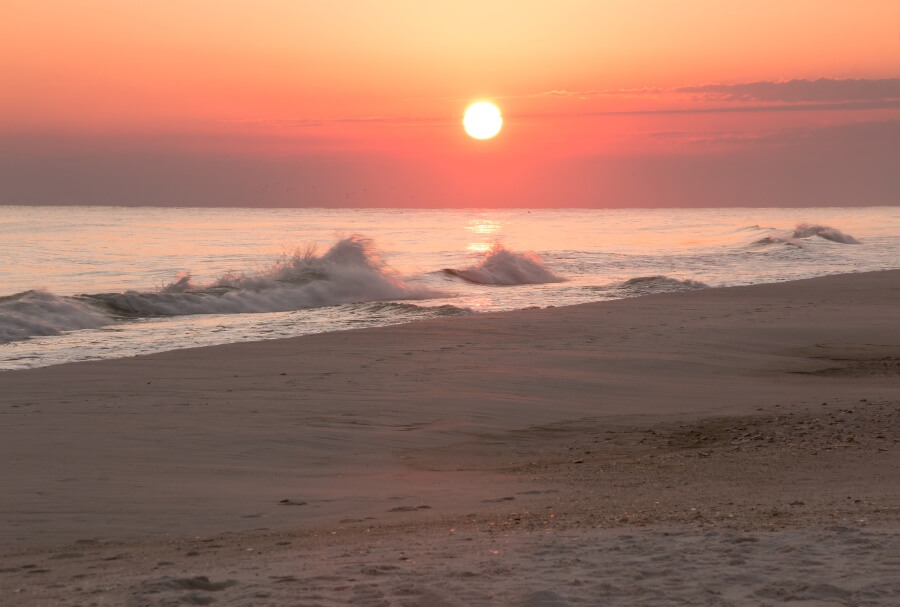 Navarre Beach is a favorite among locals. It's quieter than the beaches at nearby Pensacola and Destin, but it still has all the beauty you'd expect from the Gulf Coast.
You can sunbathe and take a dip in the blue waters without having to worry about huge crowds. There's not much in the way of amenities aside from parking and a bathroom. You won't find too many people surfing or participating in watersports, either.
However, there is a nearby bike trail that offers some great scenery.
25. St. Lucie Inlet Preserve State Park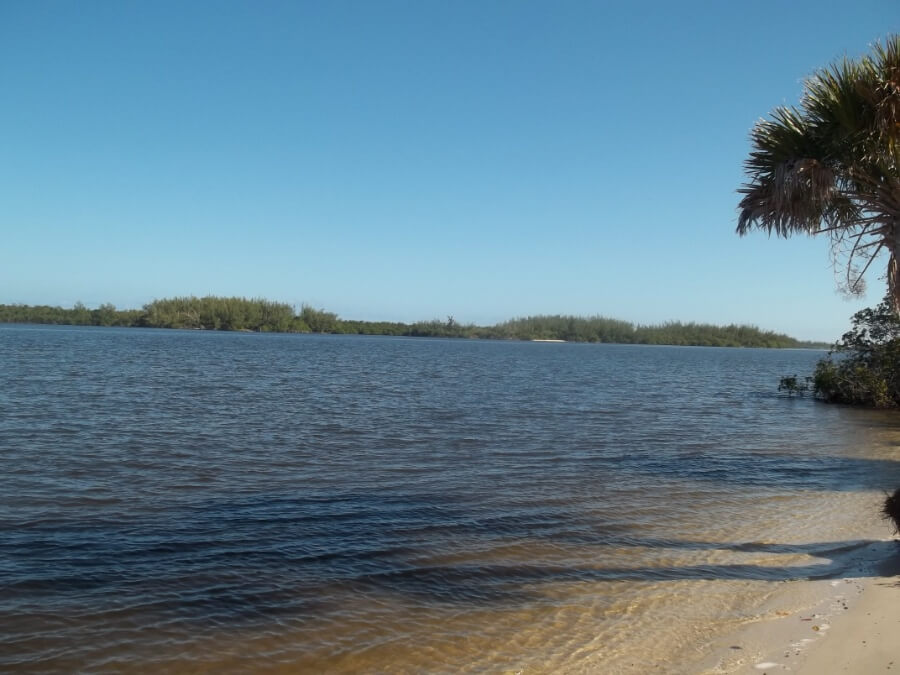 St. Lucie Inlet Preserve State Park is on a barrier island on Florida's east coast. The island is part of the state's gorgeous treasure coast and is a short drive from Stuart, Port St. Lucie, Jupiter, and Palm City.
There are some great activities for beach lovers. Not only can you go for a swim, but you can explore the boardwalk to see some of Florida's finest greenery. St. Lucie Inlet Preserve State Park is home to healthy mangroves, wild limes, paradise trees, and more.
Birdwatching is popular at this beach, but you can also enjoy kayaking, scuba diving, snorkeling, and more.
26. Madeira Beach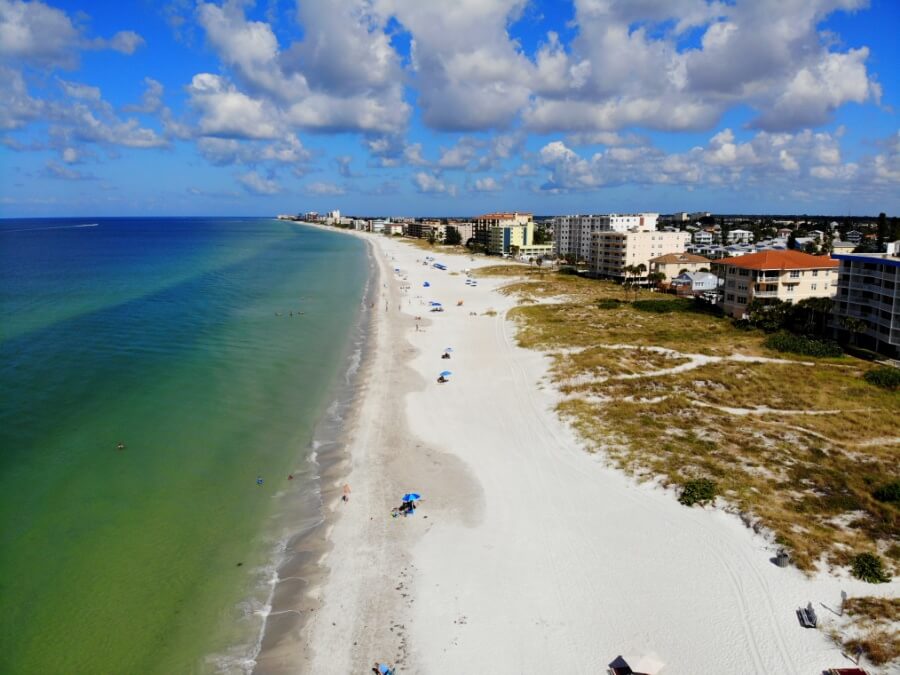 Madeira Beach is outside of the heavily populated St. Petersburg area. However, this hidden gem isn't usually crowded. It's close to John's Pass Village, where you can stroll the boardwalk and do all the usual boisterous beach town activities.
But when you want peace, Madeira Beach has it. The beaches are beautiful, thanks to the white sand and the turquoise water of the Gulf. Plenty of piers for fishing are available to anglers.
If you want to go shopping or get a bite to eat, the sea-themed village has all your bases covered.
27. Cape San Blas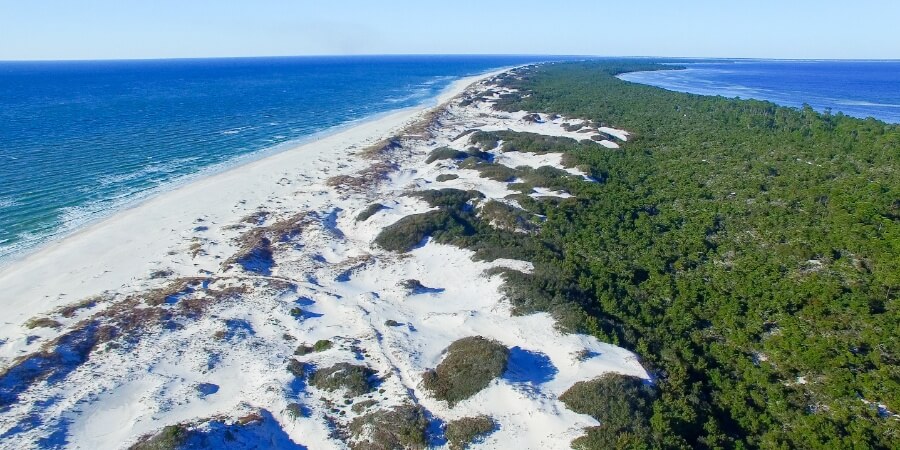 You'll find Cape San Blas on the Forgotten Coast near Panama City. It's about a two-hour drive from Tallahassee.
Cape San Blas is a peaceful wildlife retreat. Untouched beaches give you easy access to blue-green waters, and you'll see many people strolling the coast on horseback.
It's a great place for birdwatching. You can also view the nearby lighthouse or take a scenic drive down the 30E for shops and dining.
28. Seaside Beach
If you're a fan of "The Truman Show," you must visit Seaside Beach. It's where the hit movie was filmed, and you can enjoy the same white-sand beaches Jim Carrey did!
The planned beach community is not too far from Destin and Panama City. It's picturesque, with beautiful houses and quiet Florida beaches for sunbathing or swimming.
When you need something to eat, you can poke around town to find memorable shops and diners.
29. St. Joseph Peninsula State Park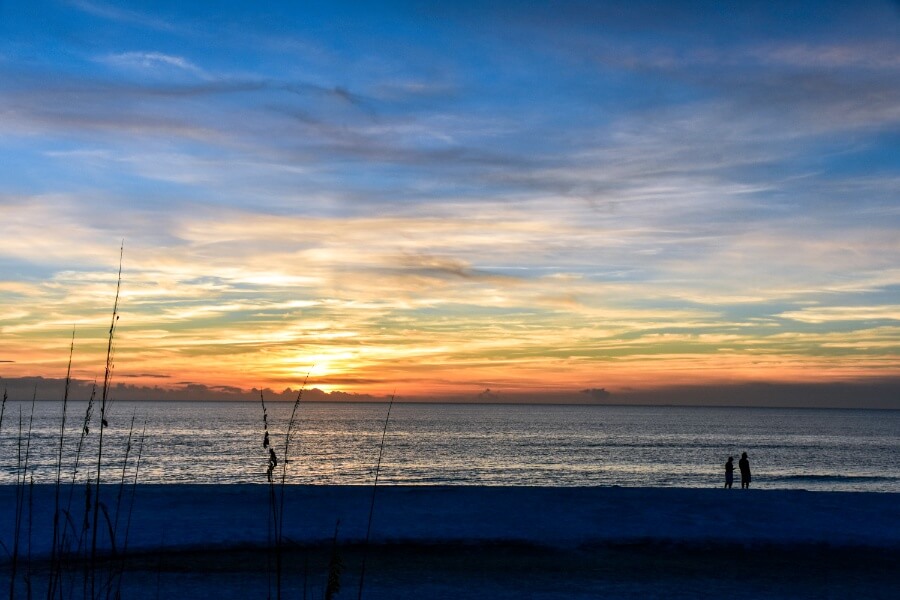 St. Joseph Peninsula State Park is a strip of land that separates St. Joseph Bay and the Gulf of Mexico. It's north of Cape San Blas, making it a must-see destination on Florida's Forgotten Coast.
This secluded beach in Florida feels like a quiet island getaway. There are beautiful sandy spots where you can explore and find shells. If you have a boat, you can use the public ramp to set sail.
There are many great fishing holes in the area. But you can also visit nearby restaurants to get a taste of local cuisine.
30. Mexico Beach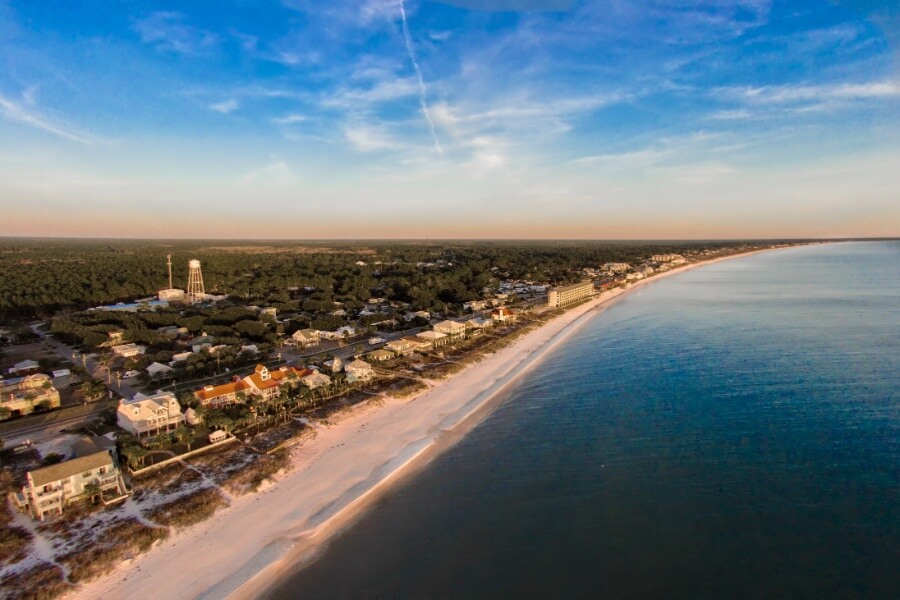 Mexico Beach is a short drive outside of Panama City, and it offers a good mix of fun activities and quiet seclusion.
This low-key beach in Florida is vast, so you can find more private spots to unwind. One cool thing about Mexico Beach is that the sand is only made of quartz. It's sparkly, creating a breathtaking view. Plus, it stays cool under the hot sun!
If you want to participate in more boisterous, adrenaline-pumping fun, there are places to rent a kayak or jet ski. Alternatively, you can go for an eco-tour and see marine life up close.
31. Hobe Sound National Wildlife Refuge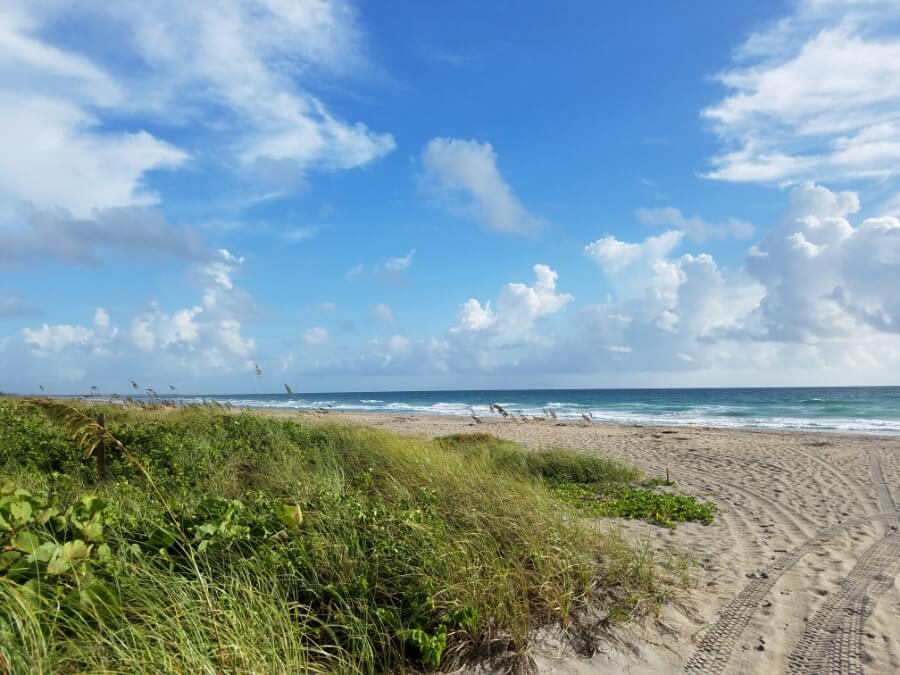 The Hobe Sound National Wildlife Refuge is on the Treasure Coast, bordering the Atlantic Ocean. It's close to Jupiter, FL, making it a great stop for people exploring the coast.
This quiet beach in Florida can be a little hard to find. It's not heavily advertised, making it a true hidden gem. When you find its entrance, you'll see miles of untouched beaches.
The sandy beaches are quiet, with no bathrooms or other amenities. It's one of the best places to get in touch with nature and unwind without all the noise of a rowdy beach.
Where Are You Headed Next?
We hope this list of quiet and secluded beaches in Florida can help you plan your next mellow day in the sand. It doesn't matter where you live, there are plenty to choose from!
If you have any questions about the beaches on this list or want to share a hidden gem of your own, send us a message.