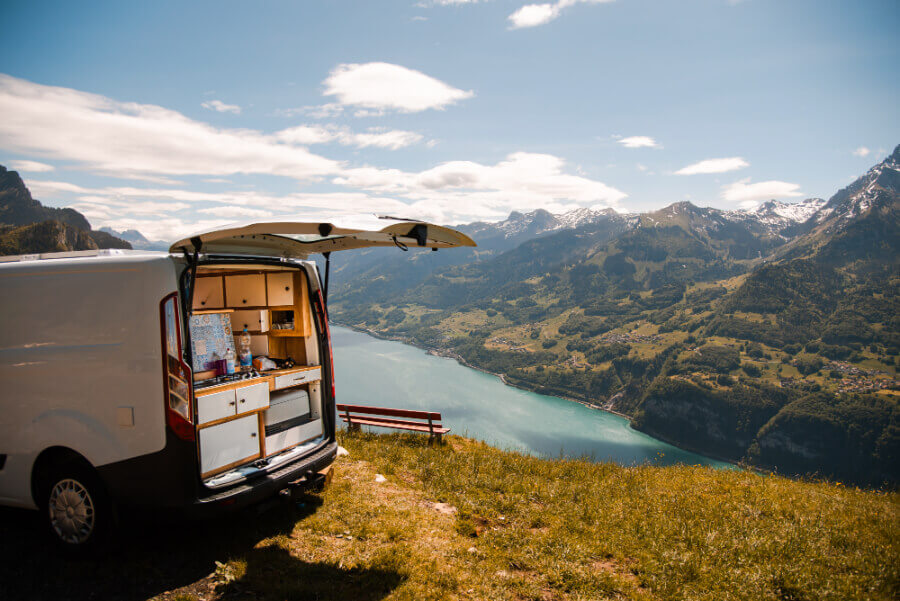 When you're on the road, you've probably noticed personalized license plates or decals on cars, vans, and RVs that have been chosen by the owner for a specific purpose. In the camping world, naming your RV is a big deal!
It can be a bit daunting to come up with the perfect name for your RV or camper. Some like funny names, some prefer something a bit more catchy, and others just want something cute.
To make things easy, we've created a huge list to get your started!
Why Do People Name Their RVs?
It seems to be a thing that we humans do, give names to inanimate objects! We name everything from our cars, cameras, instruments, phones, etc. It's usually done to something that we have a close relationship to and naming it really drives home the connection to us.
People name their RVs for this above reason and many others. We spend so much time in our RV and it keeps us safe and warm, so some people give it a loving, cute name. Others want to stand out among all of the other RVs out there so they give theirs a quirky, unique name. Sometimes it can be humorous or related to a funny memory that they had while in their camper.
Coming up with that perfect name can take time and can even be a bit tricky. While you will absolutely want to come up with a personalized name, we're here to give you some inspiration!
Tips For Choosing An RV Or Camper Name
Inspiration for an RV name can come from anywhere and everywhere. Again, this is a place where you will likely be spending a lot of time and making handfuls of core memories, so you have so much to work with when coming up with ideas.
Something That Inspires You
What do you seek out when you go adventuring in your RV? Do you have a favorite place? Where do you feel most alive? What do you feel when you are in your camper? All of these things can help guide you to the perfect name for your RV. Names such as "Freedom" or "Catalyst" may be an ideal fit!
Brands
You can draw inspiration from your RV's name or design to find the perfect fit. Winnebago could be shortened to "Winnie" for a more endearing name that is also half as many syllables. An Airstream could be called "The Tin Can" in honor of its signature look.
You can also create a name based off of your RV's size or a specific feature. If you have a 5th wheel or a trailer, you can name both your camper and your tow vehicle, like "Thelma and Louise".
Color
Because a lot of RVs sport neutral colors, if yours has a splash of something fun, try incorporating this into the name, such as "Gold Nugget" or "Blue Streak". You could even add a decal of the name in the chosen color to personalize your RV even more.
A Personal Story
This may be the most creative basis for a name. We all have a host of stories that bring good memories or good laughs, so why not be reminded of that specific time by making it your RVs name. You may choose to name your RV "Swerve" because of that crazy maneuvering you had to do to swerve around a buffalo.
Funny RV Names
If you're one of the many people who wants to get a bit funny with their RV names, this list has you covered.
Camperzilla
FreeDa
Landlubber
Our Empty Nest
The DeLorean
Romeo Victor
The Rolling Inn
Vagabond Valiant
JaRVis
Van Gogh
The Fuel Eater
RV Maria
Peregrination Palace
Irving
RoadRhino
She Shed
MaRVel
Highway Hawk
Mile Marker
The Wandering Wombat
Van Morrison
Seemore
MaRVin
The White Whale
Beige Betty
Rambler
Pilot
Cara Van
The Terra Rover
Terra Titan
The Road Runner
Cousin Eddie
Hauly
Wander Woman
Class C
The Roaming Raccoon
Free Willy
The Runaway
Coddiwomple
The Party Wagon
Adventurer's Ark
Homer
Terra Turtle
Van Halen
Drifter Dream
Backroads Betsy
Orville
Nomad's Nest
Trek Tractor
Cosy Caboose
MineRVa
The MaRVelous Mrs. Maisel
The Tank
Continental Cruiser
Breezy Buffalo
Thelma
Flo
Van Wilder
Hot Wheels
Gulliver
RVsaurus
The Dude
Highway Halcyon
Tiny Tim
Journey Juggernaut
Jean-Claude-Van-Dam
HaRVey
MaRVe
Roadbound Retreat
The Cow
Cramalot Inn
RoadRover
Jetsetter's Jeep
The Skipper
AdVANture
Touring Tina
Gypsy Galley
The Dog House
Chateau on the Go
The Jolly Jaunter
The Mosquito
Louise
Rover
Fun Finder
The Pony Express
Van Diesel
Chitty Chitty Bang Bang
Voyage Vessel
Odyssey Otter
Wayfarer's Wagon
The Money Pit
The Beast
Bare Necessities
HOWie
Cute Camper Names
Sometimes it's fun to give your camper a name that's more on the cute side. It could be based on the appearance and size of it, or simply your preference. This list will help you come up with some good ideas!
Giggles
Muffin
Ruby
Buttons
Puddle
Penny
Stella
Voyager
Twinkle
Skipper
Foxtrot
Harmony
Daisy
Pearl
Dusty
Pippin
Noodle
Stardust
Lucy
Ranger
Caramel
Peanut
SnugBug
Switchback
Dobby
Whisper
Bear
Whiskers
Sprinkles
Bubbles
Doodle
Bandit
Bumblebee
Jolene
Wiggles
Firefly
Marshmallow
Desert Rose
Roly-Poly
Honeydew
Wanda
Poppet
Lulu
Edna
Fern
Birdie
Jingles
Felix
Sweet Pea
Roamer
Acorn
Faith
Herbie
Joy
Sunny
Lucky
Bubblegum
Gadget
Holly
Buttercup
Home Sweet Camper
Skittles
Hazel
Queenie
Fannie
Scout
Dandelion
Clover
Tadpole
Cuddles
Nibbles
Pebbles
Catchy Travel Trailer Names
If you're looking for a name for your travel trailer that rolls off the tongue (see what we did there?), these should get you started.
Freewheeling Florence
Highway Diva
Goldilocks
Terra Trotter
Sightseer
Love Shack
The Getaway Galleon
Odyssey Orchid
Just Hitched
Nomadic Nirvana
Tom and Jerry
Wheel Estate
The Rambling Rose
Voyage Vessel
Thelma and Louise
The Long Haul
Wayfarer's Whistle
Hotel [Insert your last name]
Belle of the Byways
The Rolling Ritz
Sunshine Sojourner
Highway Hobbit
Old Faithful
Jolly Juggernaut
Neverland Navigator
High Road Hideaway
Bon Voyage Bungalow
Starlight Safari
The Gypsy Jive
Hitched Haven
Zen Zone
Drifter's Dreamboat
RV (Retirement Vehicle)
Wanderlust Wagon
Sonny and Cher
Romeo and Juliet
Adventure Attic
Wandering Willow
Pride and Prejudice
Sun Chaser
Roaming Ritz
Tranquil Trekker
Abbott and Costello
Waltzing Matilda
Road Runner Rhapsody
The Shaggin Wagon
Bert and Ernie
Trailblazer's Tango
Camper Names by Brand
Take some inspiration from your RVs brand name and turn it into something clever or cute or give it a nickname! If you have an Airstream, you can officially submit its name on their website to become a part of the community. You will also receive an official medallion with your RVs name!
Airstream
The Tin Inn
Apollo
Silver Bucket
Chrome Capsule
Nebula Nomad
Silver Surfer
Silver Streak
Starlight Streamer
Polished Pod
Aluminum Astronaut
Quasar Quester
Iron Maiden
Orbital Oasis
Celestial Cruiser
The Aluminum Falcon
The Shiny Shuttle
Silver Wings
Moonbeam
Rocket Rover
Flying Saucer
Silver Bullet
Silver Comet
Daystreamer
Astro Stream
Stream Bean
Silver Lining
Starship Stream
Al Uminium
Starburst Stream
The Silver Surfer
Galaxy Glide
Iron Maiden
The Silver Bullet
Lunar Locomotive
Planet Pilgrim
Meteor Mobile
Annie
The Tin Can
Comet Cruiser
Mercury Marvel
Rosie the Riveted
The Toaster
Eclipse Explorer
Spudnik
Winnebago
The Winning Wanderer
Wanderlust Winnie
WinnebaGlobe-Trotter
WinnebaGold
Winnie's Wandering Home
Winning Wagon
Minnie
WinnebaGo-Go
Winnie the Wheel
Win
Wind Rider Winnebago
Winnie's Wheels
Wonderbago
WinnebaGo-With-The-Flow
WinnebaGo-Getter
Bonnie-bago
Wandering Winnebago
Winnie
Pooh
WinnebaGreat
Winnie the Pooh
Winnebago Whirlwind
WinnebaGone with the Wind
The Winner
WinnebaGo Places
Whimsical Winnebago
Winnebago Wayfarer
Camper Van
Van Go-Go
The Wanderer's Whisk
Vanquisher
Van of Dreams
The Vantasy Island
Escape Pod
Gypsy Rover
Van-Cation
Vanish Point
Bruce Vanner
CaraVan
Vanity FareVantastic Voyage
Dream Weaver
Vandyke
Rolling Retreat
Van Damme
NirVana
Van Diego
Journey Juggernaut
Van Diesel
Rolling Rambler
GalliVant
High-Van-Tage Point
WanderVan
Vanquility
Adventure Capsule
Casita
Nugget
Camino Casita
Casita Dulce
Casita Cruiser
Casita del Mundo
Little Casa Cruiser
Casita Caravana
The Happy Hacienda
Cheerful Casita
Cosy Casita
Cassie
Casita Cómoda
Casita Callejera
La Petite Casa
Free Spirit
Casita Conquistador
Casita Aventurera
Casita de la Libertad
Nomad's Nook Casita
CasaChica
Traveler's Tesoro
Journey Joy Casita
Compact Casita
Keystone
Key to the Highway
Key to Serenity
Key Getaway
Key of the Road
Kitty
Key to the Stars
Key to Exploration
Key Escape
Key to Happiness
The Rolling Stone
Key to Dream
Monty
Unlock Adventure
Key to My Heart
Key to Unwind
Key to Wanderlust
Key to Adventure
Key to Freedom
Key to the Wild
Stone Cold Fox
Key to Discovery
Key to Evasion
Key Journey
Jayco
Eagle's Nest
Blue Jay
Taking Flight
Jaybird
Jacob
Jay
Wrapping Up
There is no wrong way to name your RV. It should be a fun experience and may even take some time. As you spend more time out on the open road, your RV becomes part of the family and is a place where you will make endless memories. Use your unique experiences to make your RV stand out among the rest!