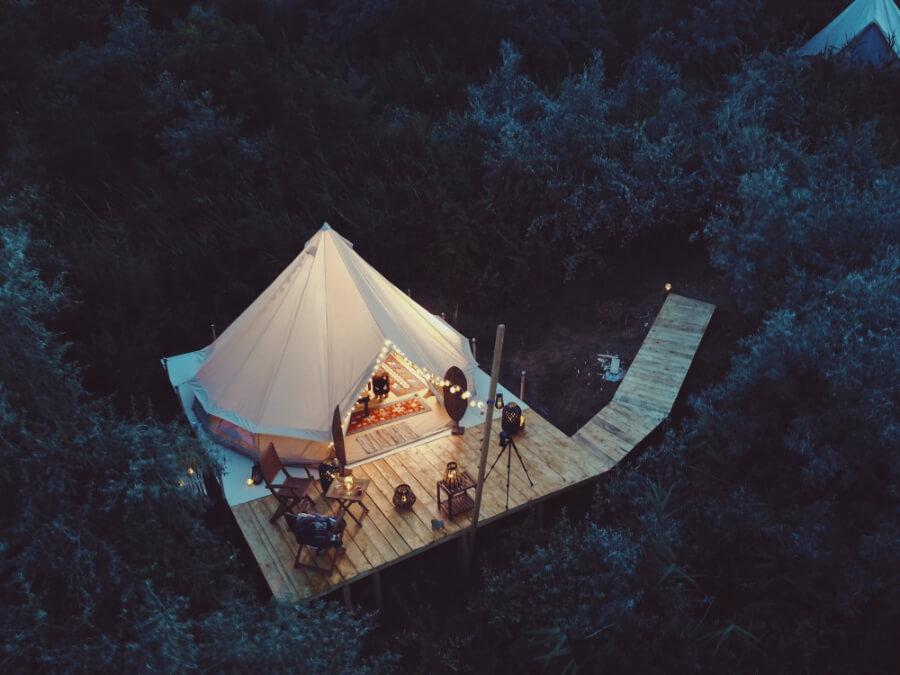 While some people say it's a bit highbrow, we think glamping is incredibly fun. While roughing has its own benefits, there's something so unique about going all-out and planning for maximum comfort!
This list of essential glamping accessories and gear will help you make your next luxury adventure a successful one.
1. Power Station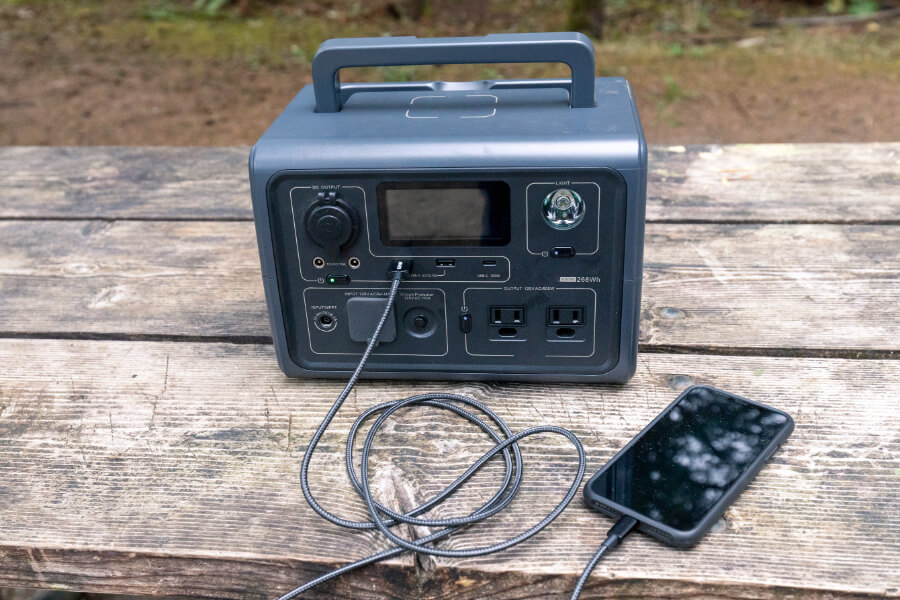 One of the most essential pieces of glamping gear is a power bank, and here's why.
Having power when you're glamping is not just about keeping your smartphones or cameras energized, you can also fuel other devices like laptops and tablets that you may carry for entertainment or communication.
But why stop there?
With so many other amazing pieces of equipment at your disposal like refrigerators, heaters, lights, camping stoves, a portable power station allows you to run them all and enjoy camping in maximum comfort.
Plus, some models can be paired with solar panels. This gives you a sustainable source of energy during extended glamping trips where electricity might be scarce.
2. Smokeless Fire Pit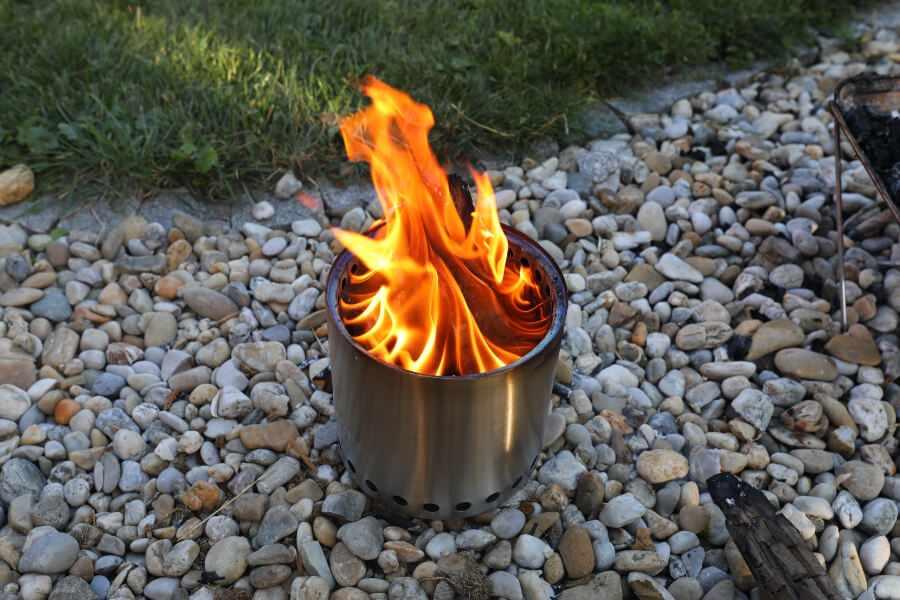 Imagine roasting marshmallows over a smokeless fire pit with the stars twinkling overhead as you comfortably chat with friends without having to dodge billowing smoke clouds. It's an essential part of the modern outdoor experience!
A smokeless fire pit significantly enhances your glamping adventure by producing less smoke than traditional pits. You can enjoy the warmth and ambiance of a campfire without constantly shifting positions to avoid getting smoked out. It's especially beneficial for those with smoke sensitivities, making your social events like group discussions or marshmallow roasting sessions far more enjoyable.
You're free to soak in the stunning views, gaze at the stars, and engage in enriching conversations without any obstructive cloud of smoke blurring your sight or causing your eyes to water.
Cooking over a smokeless fire pit is much more convenient. The heat is easier to control and there's less chance of an unwanted smoky flavor in your food.
3. Wireless Speakers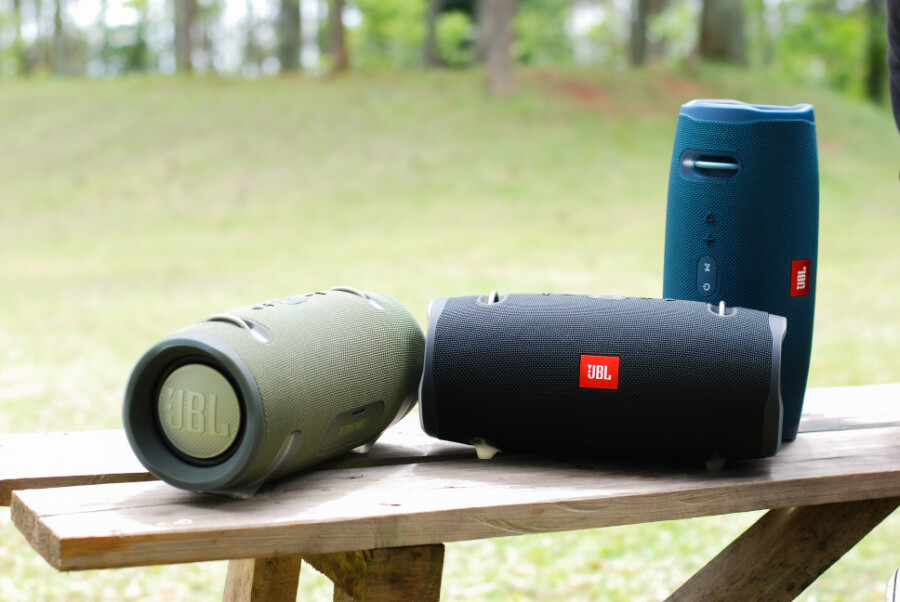 You can't beat sitting around a crackling fire under the stars, sharing stories and laughs with friends, all while your chosen soundtrack plays in the background. That's why wireless speakers are such an essential piece of glamping gear. They allow everyone to enjoy the same audio entertainment, be it music, an audiobook, or even a movie.
Wireless speakers connect seamlessly with devices like smartphones or tablets via Bluetooth. This means that you can play anything from your library or streaming services straight through these speakers. You could choose relaxing melodies for peaceful mornings or switch up to lively beats when it's time for some fun activities like impromptu dance parties, singalongs, or even outdoor exercise sessions!
4. Sleeping Pad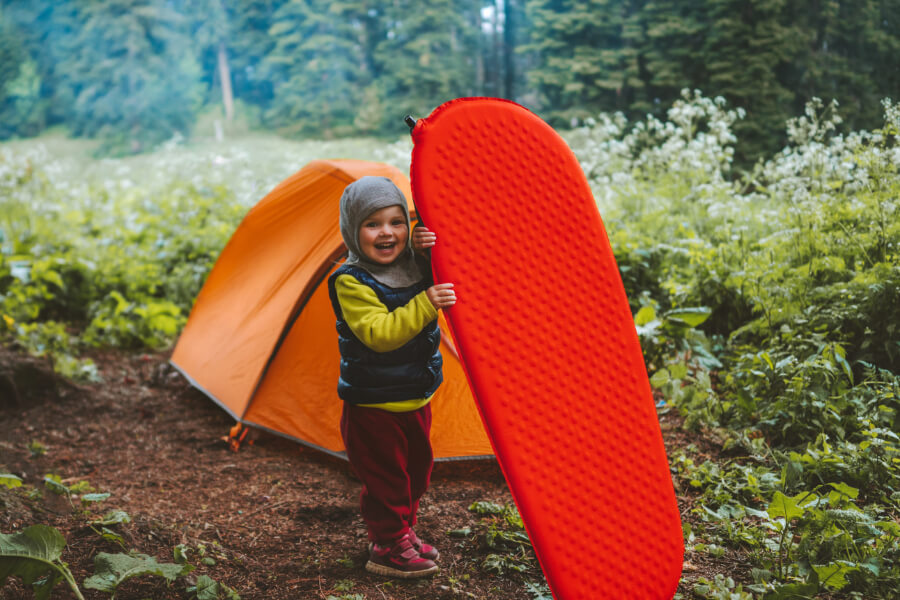 It's not glamping if you can't sleep well, and that's where a quality sleeping pad comes in. If you've been used to roughing it out with an air mattress or even just a sleeping bag on the ground, you're in for a pleasant surprise with how much more comfortable your nights will be with one of these.
A foam camping pad is designed to provide exceptional comfort and support, making sure you wake up refreshed rather than feeling sore from the hard ground beneath you. Regardless of whether you're a back sleeper or side sleeper, these pads are designed to accommodate various sleep positions while providing enough cushioning to prevent any discomfort.
5. Bell Tent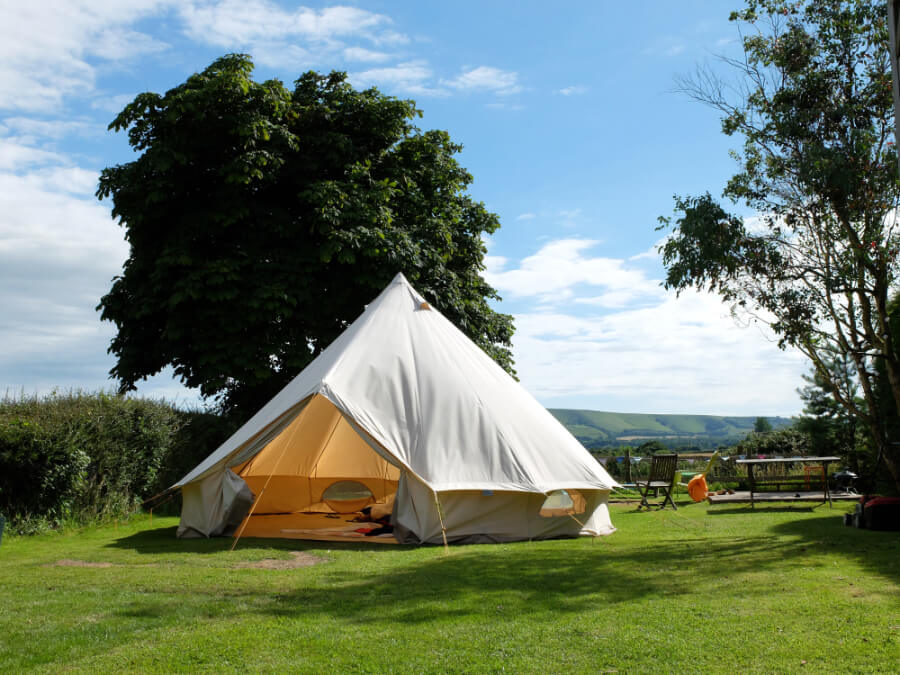 When it comes to high-end glamping supplies, a bell tent is definitely a worthwhile investment. These tents offer unparalleled luxury, comfort, and space that can significantly enhance your overall experience.
They're available in various sizes, meaning you can find the perfect fit whether you're camping solo or with the entire family. Despite their size and luxurious feel, bell tents remain incredibly portable and easy to set up. That means you don't have to worry about wrestling with complicated poles or instructions.
Bell tents are also renowned for their durability and waterproof qualities. This ensures that no matter what the weather is like during your glamping adventure, your bell tent will withstand the elements while keeping its occupants dry and comfortable.
6. Camping Refrigerator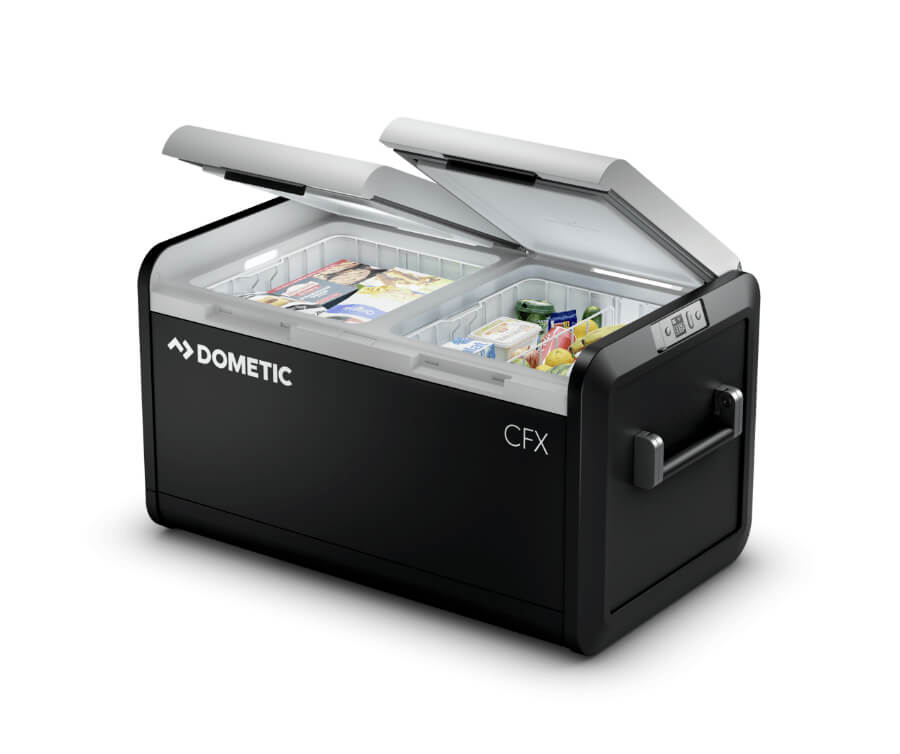 Forget about dealing with melting ice and soggy sandwiches, this glamping accessory is a significant upgrade from your traditional cooler. A portable fridge/freezer combo ensures that your food and drinks remain fresh throughout your adventure.
You don't have to miss out on enjoying the special treats that would otherwise require refrigeration, even while you're nestled in a remote or scenic spot.
One top-rated brand you might want to consider when investing in a camping refrigerator is Dometic. They make some of the best portable fridges on the market (we even have one in our camper).
You can power this piece of glamping equipment with standard electric hookups or solar power, so you'll have options no matter where you are.
7. Comfortable Chairs
Investing in a quality folding chair can significantly enhance your glamping experience, providing you with an optimal level of comfort and luxury.
These chairs are not only stylish, but also offer a high level of portability and convenience. But don't let their compact nature fool you, they're sturdy enough to support an impressive amount of weight.
And when you think about it, chairs really are a glamping must-have. Gone are the days when you have to resort to sitting on the hard ground or uncomfortable tree stumps. With a well-made camping chair, you get to enjoy both comfort and elegance in one package.
8. Camp Stove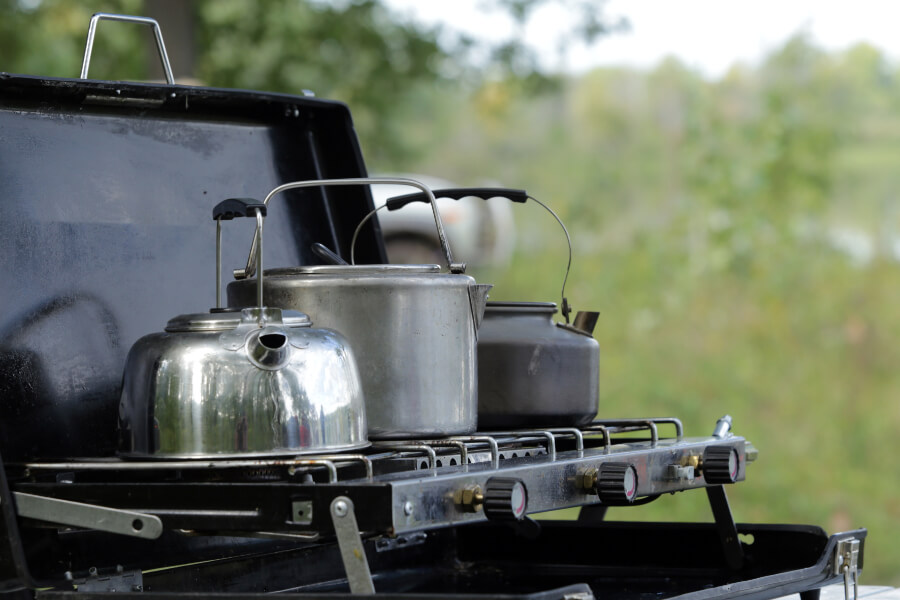 There's nothing quite like the satisfaction of whipping up your favorite meal on a portable camp stove, surrounded by nature's majesty. A camping stove doesn't just give you the opportunity to expand your palette from simple camping meals, but it also lets you bring a touch of home comfort to the wilderness.
You'll be able to cook delicious steak, fresh vegetables, or even pancakes wherever you set up camp! That's the magic of having a portable stove at your fingertips. It transforms cooking into a fun and enjoyable part of glamping rather than a chore.
9. Portable Hot Shower System
No matter how deeply you love the wilderness, we bet you'd still appreciate the comfort and convenience of a warm shower after a day of adventuring. This is where a portable hot shower system comes into play, making it one of the best pieces of glamping gear you can have.
With its ability to store several gallons of water, you'll have enough supply to rinse off all that dirt and sweat accumulated throughout your fun-filled day. Plus, there's no need to rely on sun-heated water or wait for the perfect temperature because battery-powered versions offer the luxury of hot showers anytime!
10. Foldable Table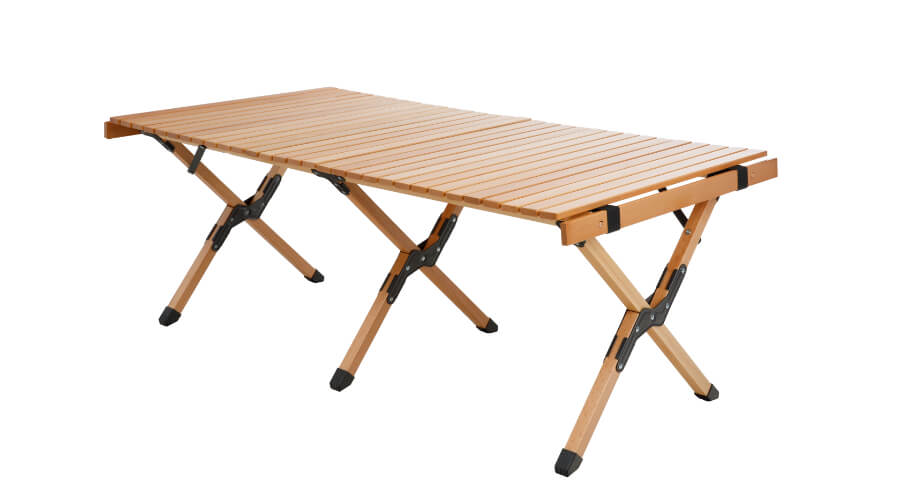 Just imagine the ease and convenience a foldable camping table could bring to your outdoor setup. This lightweight, portable piece of furniture shouldn't be considered optional, it's a required glamping accessory.
When you're out in the wild, a clean, flat surface for meal preparation makes a world of difference. The beauty of this table is that it hardly adds any weight to your luggage but contributes significantly to making your camping trip enjoyable and hassle-free.
But its uses go beyond just being a dining or cooking station. A foldable table can be transformed into whatever you need it to be, from organizing your gear to becoming the platform for impromptu board games under starry skies. It's incredibly versatile!
11. High-Quality Sleeping Bag
Once you've tried one, you'll appreciate the comfort and functionality a high-quality sleeping bag can provide when you're glamping. This isn't just about having something soft to lay on, it's about ensuring you get a restful sleep despite being in the great outdoors.
High-end sleeping bags are designed with superior materials and technology that help regulate the temperature and keep you comfortable no matter the weather condition.
Furthermore, most quality sleeping bags offer more than just warmth. They can be unzipped and used as quilts or blankets, adding versatility to your camp setup. You can sit by the fire under star-filled skies wrapped in your cozy sleeping bag blanket, it doesn't get more glamping than that!
12. Portable White Noise Machine
While a high-quality sleeping bag delivers comfort and warmth, it's the soothing hum of a portable white noise machine that'll lull you into the deepest sleep. This magical device is capable of producing sounds such as rain or wind, seamlessly blending with the natural symphony of the great outdoors. This important glamping gear is an exceptional tool to drown out any unwanted noises from your surroundings like chatty wildlife or fellow campers who stay up late.
You can truly escape into your own peaceful bubble even when you're in a bustling campground.
13. Cozy Blankets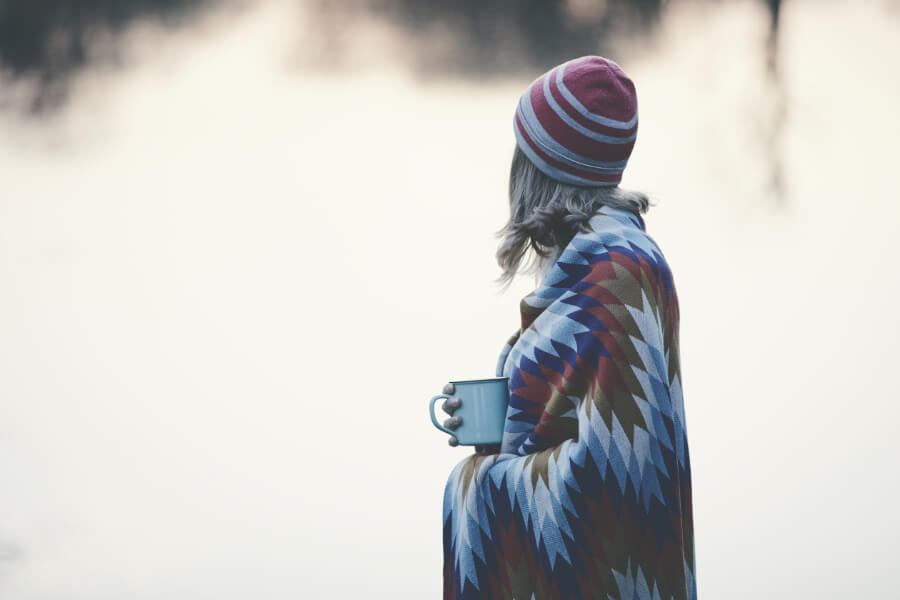 You'll definitely appreciate having cozy blankets when you're out glamping. They're not just about comfort, they also create an inviting and warm atmosphere!
Think about the cool evening breeze whispering through the trees as you sit around a crackling campfire. The chill starts to seep in, but you've got cozy blankets on hand. You snuggle under one, feeling its warmth envelop you instantly. It's soft against your skin and heavy enough to provide comfort without being stifling. You find yourself relaxing more deeply, truly soaking in the tranquility of nature.
And these blankets aren't just functional, they add an element of style to your set-up too. They can be draped over chairs for additional seating comfort or laid out on the ground for a relaxed lounging area ideal for stargazing or reading your favorite book by lantern light.
14. Portable Fan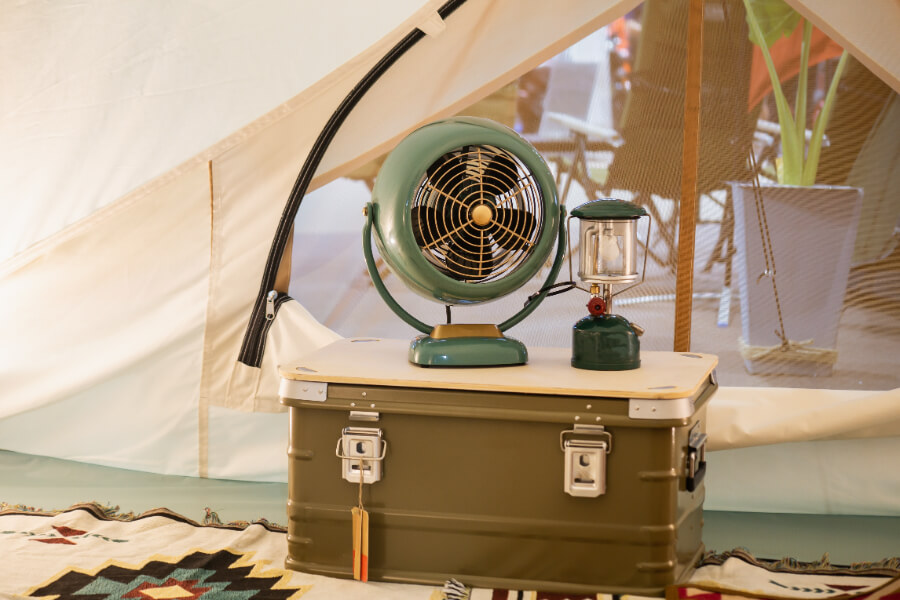 A portable fan is an absolute must-have piece of glamping gear if you want to avoid the sweltering midday heat.
If you're glamping in the height of summer, the inside of your tent can become hot and stuffy. That's where a portable fan comes in handy. It not only cools you down but also improves air circulation, reducing humidity and making your tent much more comfortable for sleeping or lounging around.
Most of them are battery-operated or can be charged via USB which is perfect for places without easy access to power outlets. They're energy-efficient too, which is always a bonus when you're out in nature! Depending on the size and power of the fan, they can also make soothing white noise that drowns out ambient sounds. You can place them on a table, hang them from your tent ceiling, or simply hold them in hand!
15. Comfy Clothes
When it comes to glamping supplies, the kind of clothing you pack for your trip can make a huge difference in your overall comfort and enjoyment.
Imagine yourself lounging around your campsite in clothes that are soft as clouds, allowing you total freedom to move around with ease. Whether it's hiking up a trail or setting up your tent, wearing comfortable clothes like cotton sweatshirts or fleece joggers can make these activities so much more enjoyable.
And don't forget that these cozy outfits can double as perfect sleepwear! Nothing beats slipping into a sleeping bag at night dressed in your favorite comfy attire.
16. Propane Oven
Bringing along a propane oven can revolutionize your outdoor cooking experience during your next glamping retreat. When most people picture cooking in the wilderness, they imagine the struggle of trying to cook over an open fire or dealing with smoke and unstable heat. A portable propane-powered oven eliminates these issues, simplifying the cooking process and allowing for a more enjoyable glamping.
These ovens provide consistent heat, making it easier to prepare meals like pizza that wouldn't typically fare well over an open fire. Plus, it offers flexibility in what you can cook which expands our menu options significantly.
Whether you're an experienced chef or a novice cook, using a propane oven doesn't require any special skills or knowledge. It's as simple as adjusting the temperature and setting your timer according to your recipe requirements. Piece of cake!
17. Side Tables
Side tables are a seemingly simple glamping accessory that can really give your comfort and convenience a big boost
They give you a place to set down your drink or snack while you relax in your camping chair, or a spot for your lantern as the sun sets. It's these little touches that transform everyday camping into a luxurious glamping experience.
Plus, they double up as game tables which is perfect for those group bonding sessions over card games or board games.
Also, adding side tables on either side of your camping pads not only creates a bedroom-like environment but also increases the familiarity and overall appeal of your setup. They embody the very essence of what makes glamping stand out from traditional camping.
18. Hammock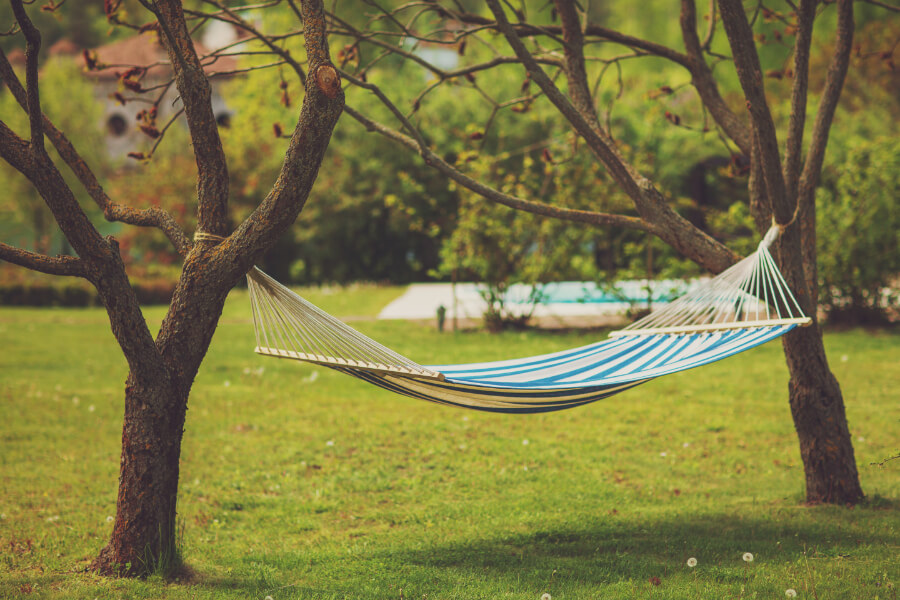 Hammocks bring a touch of opulence to glamping, offering not only a unique lounging spot but also an alternative sleeping option under the stars. Compact and easy to carry, they can be set up pretty much anywhere. That way you can enjoy your own private haven wherever you choose!
With some soft pillows and warm blankets, your hammock becomes more than just a place to lounge, it transforms into a cocoon of comfort where you can unwind after a long day of hiking or exploring. You'll find yourself lulled by the gentle rocking motion as you read your favorite book or simply soak in the serenity around you.
They even make some that are designed for two!
19. Movie Projector & Screen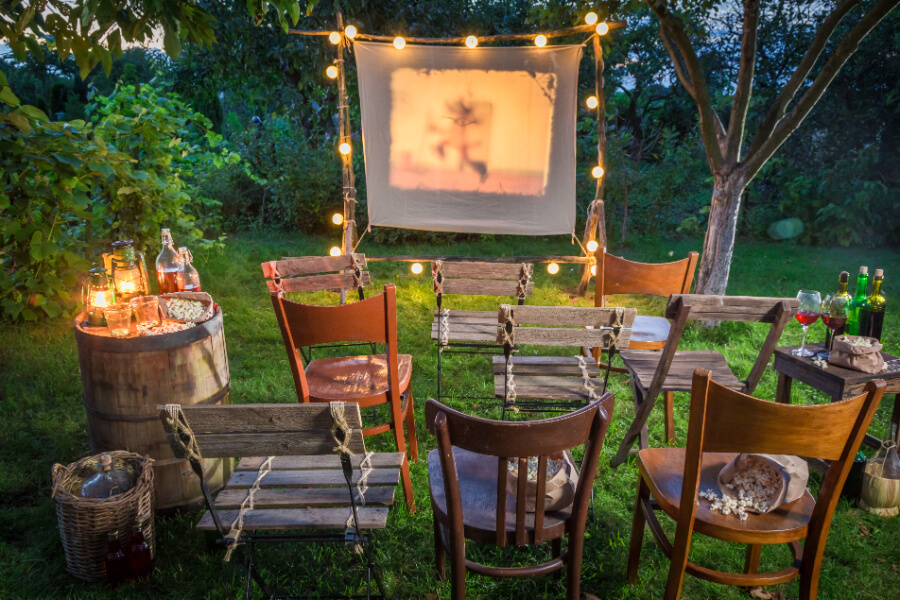 Let's take our list of glamping equipment to a new level. Imagine this: after a day filled with outdoor activities and relaxing in your hammock, you gather around under the starry sky for an open-air movie night!
This is where having a movie projector and screen can make for a memorable experience. It isn't just about bringing luxury to the great outdoors, it's about creating memories with your loved ones. You can set them up under tree canopies, by a roaring fire pit, or even inside your spacious tent if it's raining outside.
As you cuddle under warm blankets, munching on popcorn and sipping hot cocoa, watching your favorite films on a large screen brings an immersive cinema-like feel to your campsite. Not only does it add a touch of homeliness, but it also provides some variety of entertainment during those quiet nights.
20. String Lights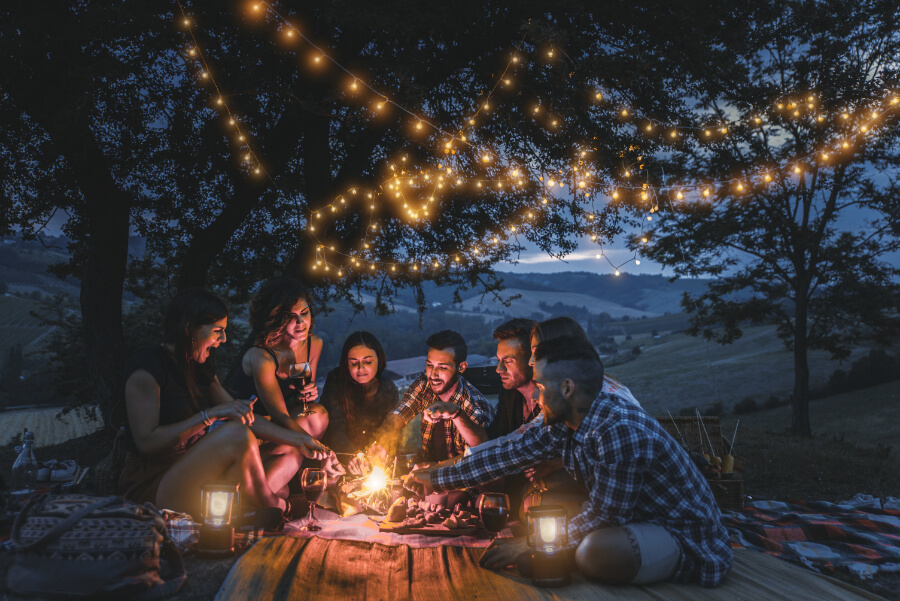 String lights aren't just about illuminating your campsite, they're great at creating a magical and inviting atmosphere during those tranquil nights in the wilderness. Their soft, twinkling glow brings warmth and comfort to your glamping setup, transforming it into a picturesque haven reminiscent of a cozy home.
The delightful aesthetics of string lights can significantly enhance the visual appeal of your site, lending it an air of enchantment and festivity that you'll absolutely love. When you see them draped around your tent or hung from nearby trees, you'll understand why we consider them such great glamping accessories.
Besides their decorative value, string lights also serve practical purposes on your glamping trip. Most are LEDs which are energy-efficient and long-lasting while providing just enough illumination for nighttime activities without being too harsh or intrusive.
Whether you're preparing a late-night feast, playing games with friends or simply enjoying heartfelt conversations under the starlit sky, these lights create the ideal mood-setting backdrop. Plus, let's not forget how spectacular they look in photos! With string lights as part of your glamping gear, every snapshot becomes an opportunity to capture memorable moments against a stunningly lit backdrop.
21. Stemless Wine Glasses
While indulging in the natural beauty and luxury of your glamping experience, there's nothing quite like savoring a fine wine from high-quality stemless glasses.
The absence of stems gives these glasses an elegant yet casual vibe, perfect for mingling around the campfire or enjoying a peaceful sunset.
Not only do they elevate your overall wine-drinking experience, but they also offer practicality since their compact design is easier to pack and less likely to tip over on uneven outdoor surfaces.
We highly recommend getting some with silicone sleeves! They protect the glass from potential damage during travel and provide a comfortable grip while you're sipping your favorite vintage.
22. Lanterns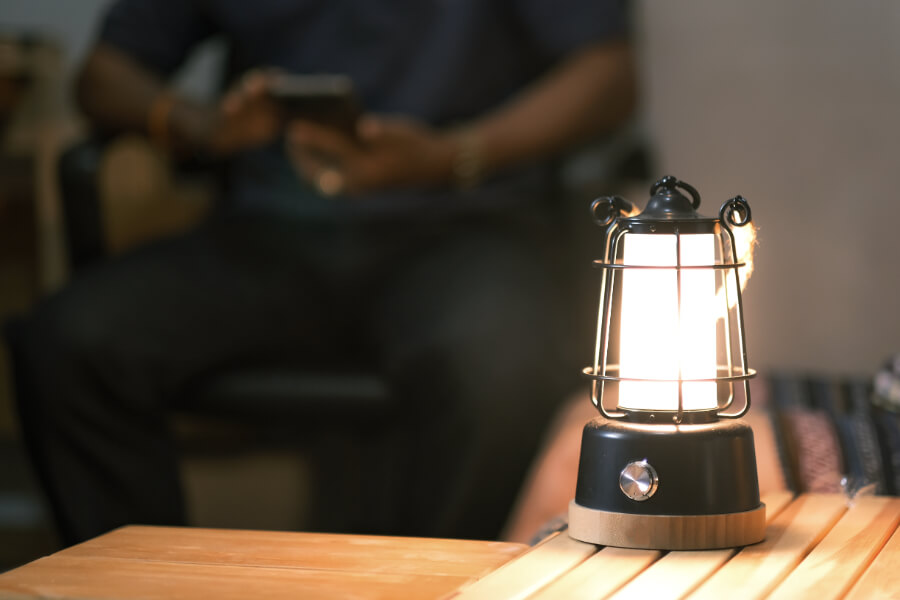 When it comes to glamping, the best lanterns are functional pieces of art that add an elegant touch to your outdoor setting. These beautiful camping lanterns create a heavenly, well-lit space that enhances the overall ambiance and spirit of your glamping setup.
Be it on a picnic table during an evening meal or nestled on a side table next to your cozy camp bed, these lanterns provide warm lighting that mimics the daytime sun.
Also, many modern lanterns come with additional features like built-in power banks so you can charge your devices, ensuring that you're never out of juice when capturing those breathtaking sunset images. Some even have fans in case things get a bit too warm around the campfire!
23. Insulated Mugs
This is one of the simplest glamping items on the list, but also one of the most overlooked. You'll truly appreciate the beauty of an insulated mug when you're out in the wilderness enjoying your luxurious trip.
They allow you to sip on your morning coffee, still hot and fresh as if it's just been brewed, while watching dawn break over the trees. Or enjoy a chilly beer at night by the campfire without worrying about it turning warm. The convenience offered by these mugs is unparalleled.
There really isn't much more that needs to be said about them. Just bring some!
24. Roasting Sticks For S'mores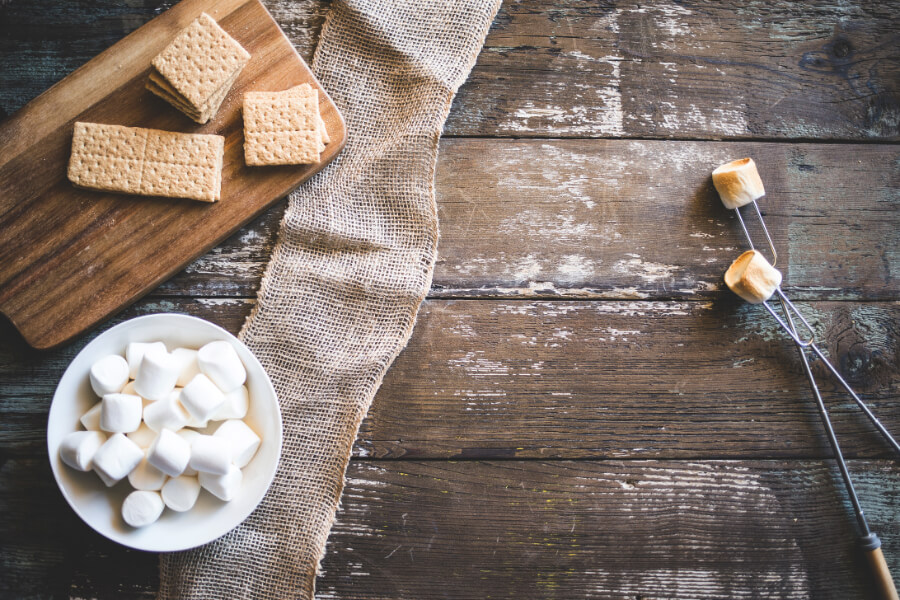 There's no denying the charm of roasting s'mores over a campfire, and having durable roasting sticks on hand can take your culinary experience to a whole new level when you're looking for a bit of luxury in nature.
These essential glamping accessories add an element of fun and nostalgia to your outdoor escapades. They let you whip up those gooey marshmallow-filled delights all while basking in the warm glow of the fire under a starlit sky.
Beyond just s'mores, these versatile tools open up a world of outdoor cooking possibilities, allowing you to grill hot dogs or other finger foods effortlessly over the fire.
The best ones are designed to endure high temperatures and last over a long period of time. A sturdy set ensures that you won't have any unfortunate mishaps like losing your marshmallow in the flames or breaking your stick midway through cooking.
25. Bug Repellant
Nothing ruins a tranquil night under the stars quicker than the relentless buzz of mosquitoes and other pesky bugs, which is why it's so important to pack reliable bug repellant on your luxury camping trip.
Out of all the glamping supplies on this list, you'll regret forgetting this the most. And remember, it does more than just increase your comfort. It also protects you from potential insect-borne diseases such as Lyme disease or Zika virus.
Depending on where you're headed, different types of insects could be prevalent, so do some research ahead of time and choose a repellent that targets those specific pests. Whether it comes in spray, lotion, or candle form, make sure this item finds a spot in your bag.
Not only will having insect repellant enhance your overall glamping experience by letting you enjoy outdoor activities without constant swatting and itching, but it can also ensure uninterrupted sleep.
26. Pocket Torch
Here's a piece of glamping gear that's highly underrated. But who doesn't want the ability to reliably start a fire in any conditions?
When you're out enjoying glamping at its finest, the last thing you want is to struggle with damp wood or high winds. Traditional matches might leave you frustrated and cold as they quickly burn out or fail to ignite in unfavorable conditions. However, a reliable pocket torch will save you from this predicament.
Not only will it provide a steady flame that laughs in the face of gusty winds, but it also has the advantage of not being easily extinguished by moisture on your firewood.
In addition to saving time and reducing frustration, using a pocket torch adds an element of safety to your glamping trip. It eliminates the need for close contact when lighting your fire; no more risking singed fingers while desperately trying to get those matches or lighters close enough!
27. Slippers
Picture kicking off your hiking boots at the end of a long day exploring nature and sinking your tired feet into the plush warmth of your favorite slippers. The bliss of that sensation is exactly why slippers are a must-have glamping accessory.
Slippers aren't just about comfort, though that's undeniably important after a day filled with adventure. They're also about keeping your feet toasty warm as the night air chills. Having a pair of comfy slippers can make those cool evenings and early mornings much more pleasant!
Adding slippers to your packing list for glamping might not seem like a priority at first. However, once you're in the great outdoors enjoying the beauty of nature while maintaining some home-like comforts, you'll appreciate their value.
Closing Thoughts
As you can see, some of the glamping accessories and gear on this list are quite simple, and others are much more fancy. But that's what makes glamping fun. It's all about making sure you have every little thing you could possibly need!
If you have any other items you think we should include in the list above, send them over. We love seeing what our readers are using on their adventures!