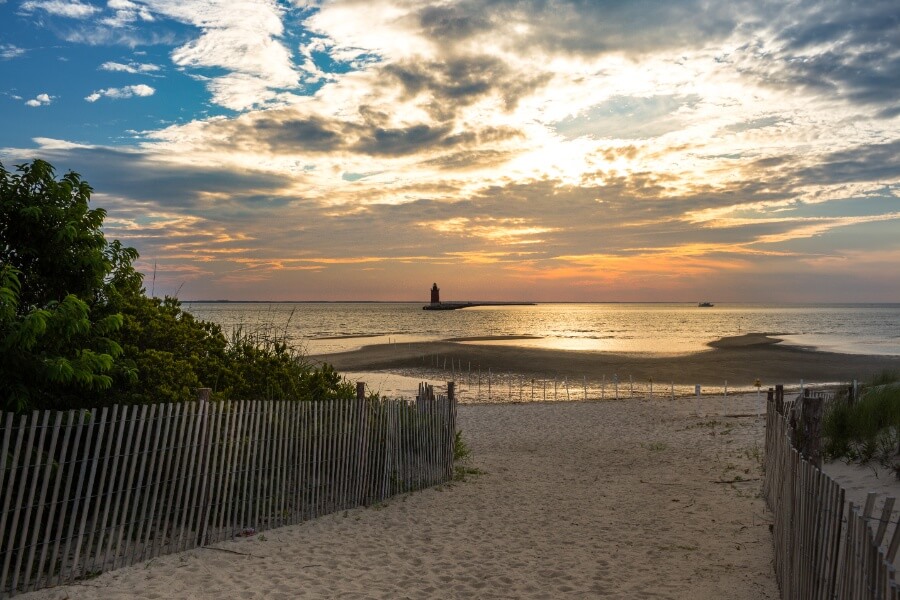 As surprising as it may seem, there are actually a number of great beaches in Delaware that are worth checking out. With beautiful sand and low crowds, we think it's one of the most underrated parts of this amazing state.
This list of the best beaches in Delaware will help you decide which ones you'd like to visit.
1. Lewes Beach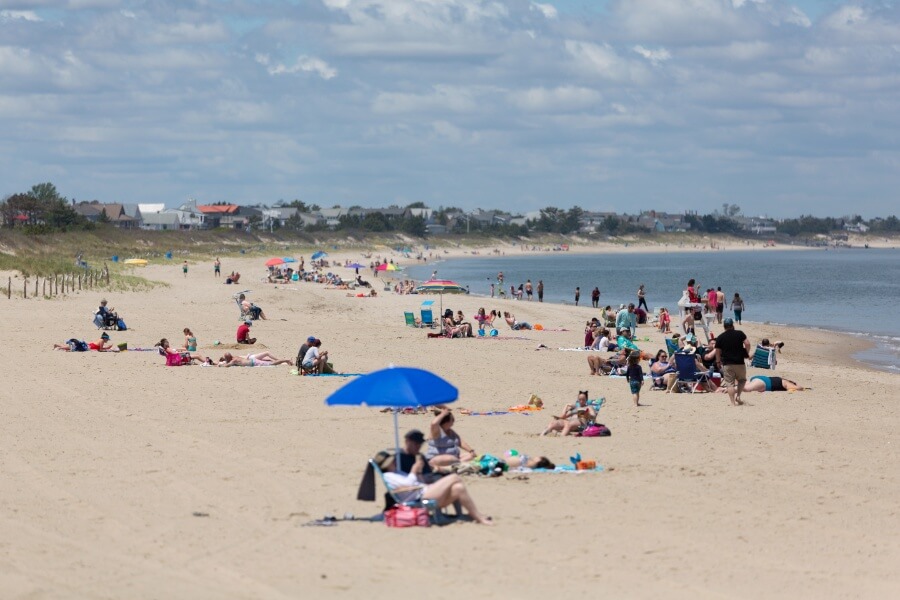 Lewes Beach is easily one of the best beaches in Delaware. The nearby city, Lewes, has the unique nickname "The First Town in the First State." And while Lewes is a great place to visit, the beach is a must-see.
It's off Cape Henlopen, sitting west of Cape Henlopen State Park. Many consider Lewes Beach one of the state's most family-friendly. There's gentle surf with very little undertow, so kids can enjoy the waves while staying safe.
Nearby amenities are also great for families and the bathhouse provides all the comforts you need. Lifeguards are only on duty during the summer months, so you'll need to closely monitor the young ones at other times of the year.
Fortunately, there's plenty to do if you don't want to splash around. From the beach, you can see historic sites like the Delaware Breakwater and Harbor of Refuge beacon.
Stroll to the town of Lewes, and you'll have your pick from dozens of boutique shops to peruse and high-rated restaurants to get your fill. You can also enjoy the view of the Atlantic at Canalfront Park or visit the nearby dairy farm, Hopkins Farm Creamery.
Location: 206 Bay Ave, Lewes, DE 19958
2. Broadkill Beach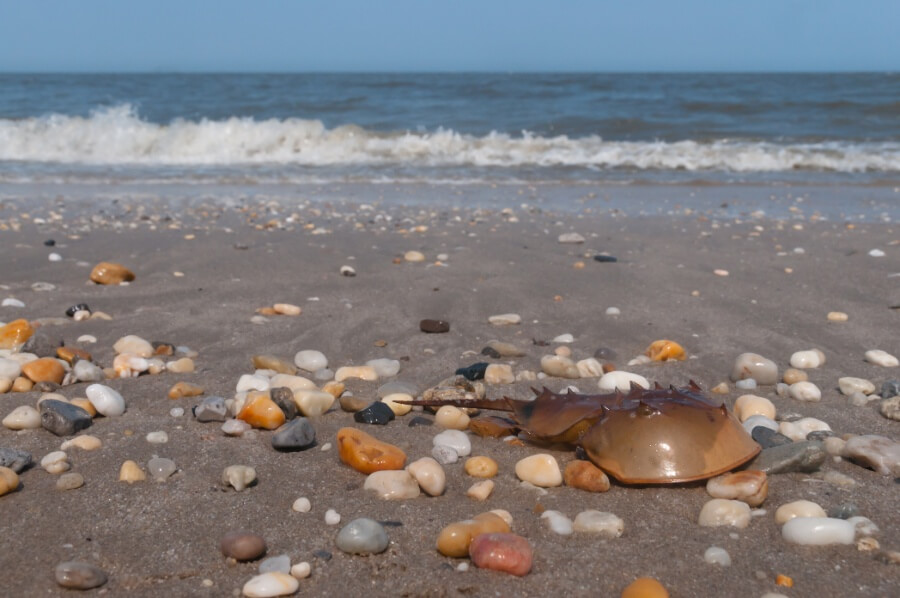 If you want to get away from the crowd, Broadkill Beach has what you need. This place is becoming increasingly popular, but the crowds are much smaller than other nearby destinations. You can reach this beach from the Coastal Highway. Get off the highway on Broadkill Road, and you'll find the beach at the end!
Because this Delaware beach is more low-key than others, you won't find many amenities. There are a few portable toilets, but that's it. The good news is that there's no parking fee.
There is also the Broadkill Store. The general store has all your basics and is a great place to stop for snacks. You can even rent kayaks or paddleboards.
The neat thing about Broadkill Beach is that it sits next to Prime Hook National Wildlife Refuge. Take a quick stroll to the refuge, and you can see tons of beautiful wildlife native to the area.
This beach is also an official Horseshoe Crab Sanctuary. It became the state's first in 2000. That means you're bound to see these unique creatures along the surf and in the water.
Location: 38.826690887523625, -75.21147983927335
3. Slaughter Beach
Don't let the somewhat grim name fool you. Slaughter Beach is a beautiful destination that's most known for its birds and horseshoe crabs. Like Broadkill Beach, Slaughter Beach is an official sanctuary for these unique crabs.
This beach in Delaware is accessible via Bay Avenue east of Milford. It's on Delaware Bay and close to the Milford Neck Wildlife Area. The beach is also immediately east of the Marvel Salt Marsh Preserve.
Slaughter Beach isn't the sandiest beach in the state. It's covered in pebbles and crab shells, so it's wise to bring beach shoes.
There are a few amenities in the area. Shaded picnic spots are great for family outings, while the bathhouse provides all the comfort you need for a day in the water.
When you're done splashing around, you head over to the Prime Hook National Wildlife Refuge. There is no entry fee, and the refuge has many fun activities for people of all ages. Nearby restaurants and breweries are a must-stop for foodies. Meanwhile, the Lavender Fields Farms is a great place to shop for plants and see breathtaking blooms in the spring.
Location: 38.91367886109677, -75.30353850767204
4. Cape Henlopen Beach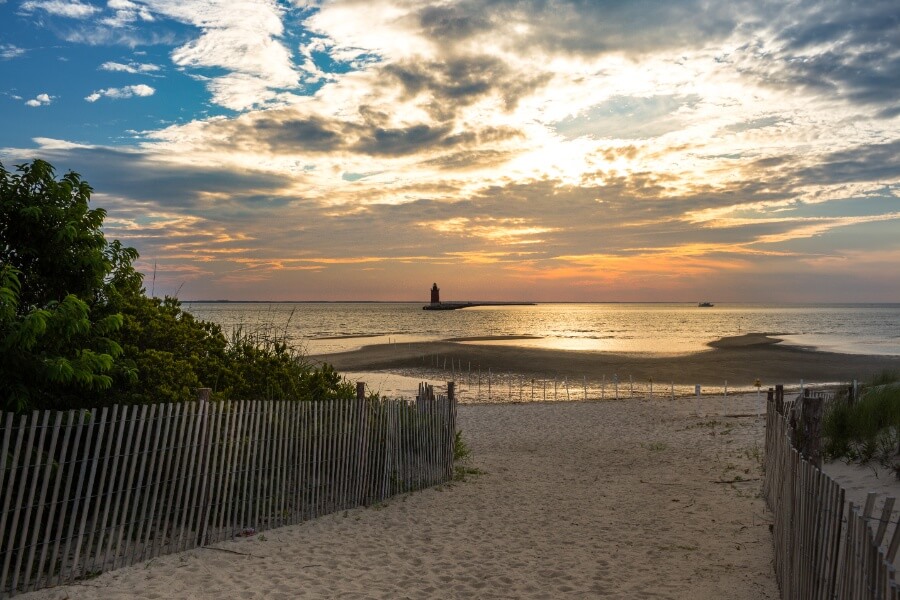 Cape Henlopen State Park is east of Lewes. Cape Henlopen is a hook-shaped piece of land on the lower east side of the state. It's an easily identifiable part of Delaware's state map, and many throughout the state love to visit the area.
Lifeguards staff a designated swimming beach in the park during peak swimming season. You also have access to many great amenities. There's a fully equipped bathhouse, a concession area, and a place to get umbrella rentals.
The beach on Cape Henlopen State Park spans six miles of coastline. It's a popular spot for swimming and sunbathing, but you can also go windsurfing, paddleboarding, clamming, and more.
The larger state park is also home to great activities. Try your hand at disc golf with the 18-hole course. You'll also find basketball courts, scenic hiking trails, and a 3.2-mile biking trail.
If you want to stay longer, you can check out the 24-hour campground. It has easy access to the fishing pier.
History buffs will appreciate the Fort Miles Historic Area. It was the state's coastal defense site during World War II.
To take in the views of the coast and shore, stop by The Point. The scenic overlook provides a breathtaking view of the Atlantic and Delaware Bay.
Location: 38.795125602127996, -75.08847530264556
5. Dewey Beach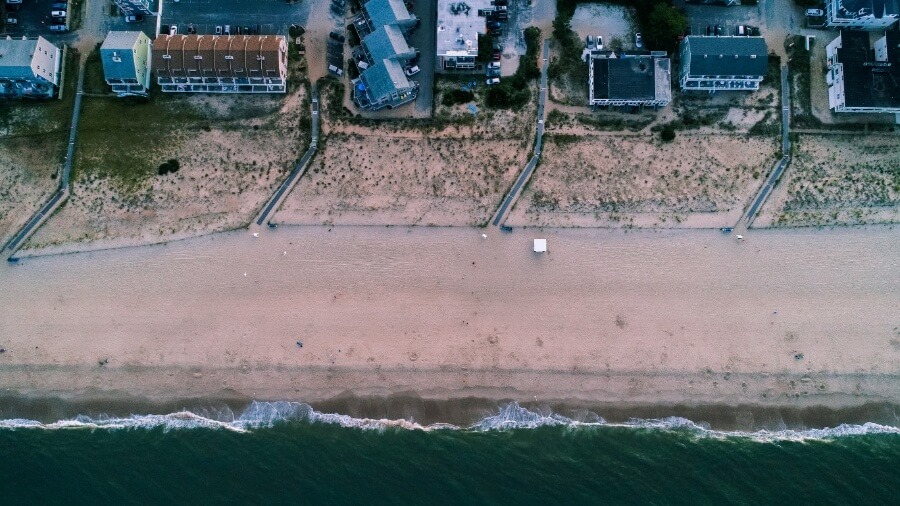 Dewey Beach is on the eastern side of Rehoboth Bay, about 30 minutes from Dagsboro. It's a smaller beach in Delaware, but the accompanying town is well-known for its relaxed vibes and vibrant nightlife.
The town has many great bars and dance clubs. Of course, there are also many restaurants for dining and boutique shops for souvenirs.
You can also attend events like Elvis Festival and Fiddler's Festival. Dewey Beach even hosts movie nights on Mondays and bonfires on Wednesdays.
The beach itself is a popular spot for thrilling sports activities. The surf is more aggressive than in other locations, making it perfect for windsurfing, parasailing, skimboarding, and more.
If you prefer more relaxing activities, you can go to Dewey Beach for seaside yoga. There are also junior lifeguard programs for kids and educational activities where you can learn about local marine life.
Location: 38.69283198214672, -75.07315387227982
6. Pickering Beach
Here's a hidden gem on Delaware's coastline. Pickering Beach is a small coastal community about 15 minutes from Dover. It's on Delaware Bay and offers small-town relaxation and a close connection to nature.
Like other Delaware beaches, Pickering Beach is a horseshoe crab sanctuary. These crabs spawn on the rock-covered beach in early summer. Due to the presence of rocks and crab shells, wearing protective shoes is a must.
Pickering Beach is known for its romantic setting. Getting to the beach is not easy. There's little public parking, and many private properties sit just past the dunes. If you visit during high tide, you won't find much of a beach to walk on at all!
Timing is everything when visiting Pickering Beach. But if you plan things right, you can take a beautiful stroll and admire the pristine nature of this bay beach.
Nearby Dover is home to many activities. While Pickering Beach doesn't have much in the way of amenities or shops, the secluded nature of this hidden gem makes it worth visiting.
Location: 39.13731025385977, -75.40962633439155
7. Fenwick Island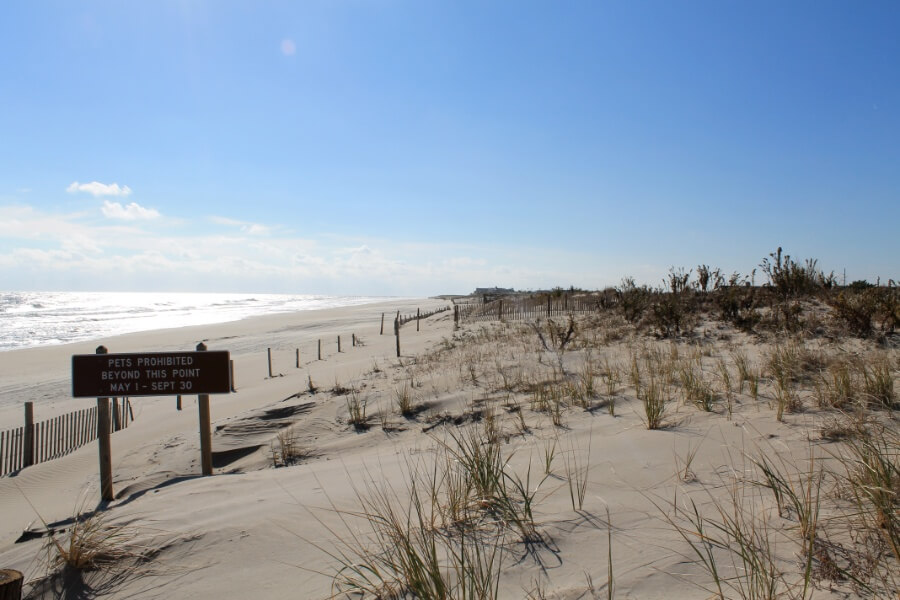 Fenwick Island is a barrier island located on the southeast corner of the state. It's about an hour and 20 minutes away from Dover. You can access it via Lighthouse Road from the west or the Coastal Highway from the north.
The most popular beach spot on Fenwick Island is Fenwick Island State Park. It has three miles of gorgeous coastline filled with soft sand. Many visit this beach for sunbathing, sandcastle building, crab-chasing, and more.
It's a great family-friendly spot, too. Kids will have plenty to do, and you can rest easy knowing that there are lifeguards on duty during the summer months.
Fenwick Island used to be home to a fire control tower during World War II, so there's plenty of history here.
Amenities include a bathhouse with showers, changing rooms, and a snack bar. Nearby businesses offer kayak and paddleboard rentals. There's also a water and amusement park close by. It has go-karts, a lazy river, an 18-hole mini-golf course, and more.
Those with mobility issues will love Fenwick Island. Many parts of the beach are wheelchair accessible, thanks to the movable Mobi-Mat.
Location: 38.47213393220496, -75.05024402431917
8. Bowers Beach
Bowers Beach is about 20 minutes from Dover. It's located in the middle of the state, sitting on Delaware Bay.
This is one of the best beaches in Delaware because it has a lot of history. It used to be a popular stop on the Frederica steamboat tour, bringing in people from Philadelphia. Today, it's a popular destination for anglers.
The old fishing pier collapsed, and the nearby dunes experienced some damage. However, the town is investing in improving this already-great beach.
It's a sandy beach with plenty of spots for relaxation. There aren't many amenities, but people love to sunbathe at Bowers Beach. Kids will also love the amount of sea glass glittering on the coast!
Bowers Beach is most known for being a prime fishing location. You can cast your line off the jetty. There are also nearby places to hop on a boat for deep-water fishing.
Location: 39.05875034282363, -75.39677774701167
9. Bethany Beach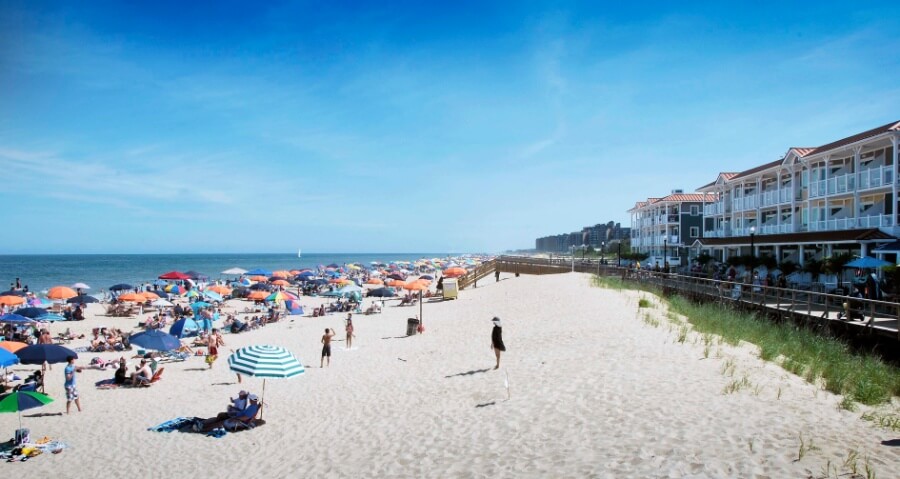 If you want a more traditional, family-friendly beach experience, head over to Bethany Beach. This picturesque beach town is less than 30 minutes from Dagsboro and only a short drive north of Fenwick Island.
Bethany Beach is known for its sandy beaches and green-covered dunes. There's an old-school boardwalk that stretches about half a mile down the coast. Look down from the boardwalk, and you'll see grassy dunes and plenty of soft sand.
The boardwalk is home to many quirky shops and restaurants. It's the perfect place to get a bite to eat or shop for souvenirs. Foot-washing stations along the boardwalk make it easy to go back and forth throughout your stay.
This Delaware beach is popular among families and thrill-seekers. The waves are strong enough during the summer for surfing and other watersports activities. Nearby shops can rent you jet skis.
There are also fun activities like mini-golf. If you're worried about safety, you'll be happy to know that lifeguards patrol the beach throughout the year. While other beach destinations only have lifeguards during the summer, Bethany Beach is safe all year long.
Throughout the summer, Bethany Beach hosts a few weekly events. You can catch a movie under the stars every Monday or attend a bonfire on Thursdays.
Location: 38.542229283721795, -75.05385582857168
10. Delaware Seashore State Park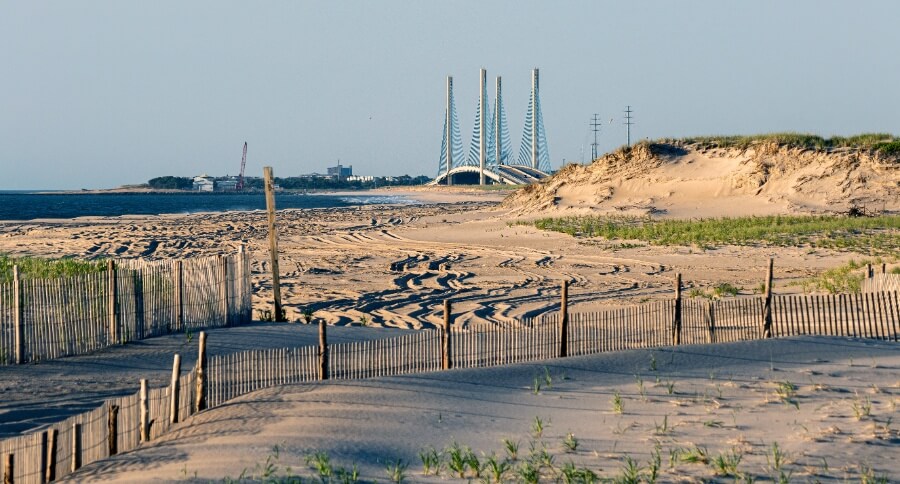 Delaware Seashore State Park offers endless opportunities to participate in water activities. Accessible via the Coastal Highway, the state park sits on a sliver of land between Rehoboth Bay and the Atlantic Ocean. It's south of Dewey Beach and only half an hour away from Lewes.
There are multiple beaches in Delaware Seashore State Park. Two of the beaches have lifeguards on duty. Many also have amenities like bathhouses and concession stands.
This area is a haven for thrill-seekers. Surfing is popular at the North Inlet Day Area beach. Meanwhile, those who want to see wildlife up close and personal can go kayaking in the bay to the west.
If you want to go boating, you have plenty of options. You can bring non-motorized crafts or charter a boat for fishing and sightseeing.
The state park is about 2,825 acres. When you're done sunbathing by the beach, you can walk miles of nature trails for a new perspective of the beauty Delaware's coast offers.
Location: 25039 Coastal Hwy, Rehoboth Beach, DE 19971
11. Holts Landing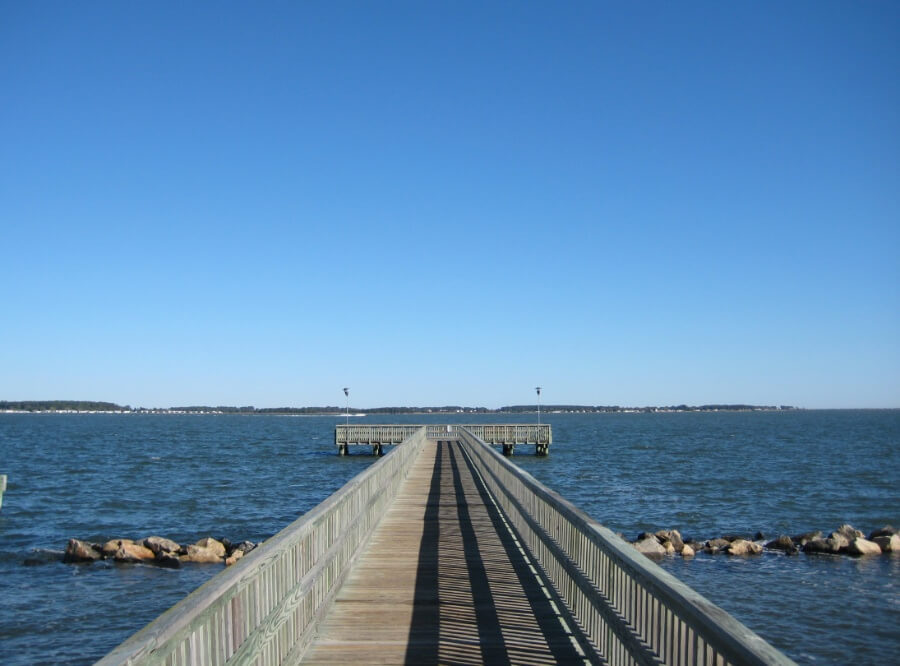 Holts Landing State Park, also known simply as Holt's Landing, is a beautiful Delaware beach area outside of Dagsboro. It sits south of the Indian River Bay, offering a unique landscape to what you would get at a beach on the Atlantic.
Holt's Landing is most known for its lush surroundings and wildlife. There are many unique landscapes to explore. In the 203-acre park, you'll see everything from salt marshes and grassy fields to marine forests and freshwater regions. There's so much to see, and the wildlife is unique everywhere.
This beach is a birdwatcher's dream! Throughout the park, you might see ospreys, herons, hawks, and more.
The park has a wheelchair-accessible trail (Seahawk Trail) that can take you through many distinct ecosystems. There's also a public boat ramp you can access 24 hours a day for fishing.
Holts Landing State Park hosts many events throughout the summer. Bayside concerts and family-friendly campfire activities occur throughout the season, giving you plenty of opportunities to enjoy the natural surroundings and have fun your way.
Location: 27046 Holts Lndg Rd, Dagsboro, DE 19939
12. Woodland Beach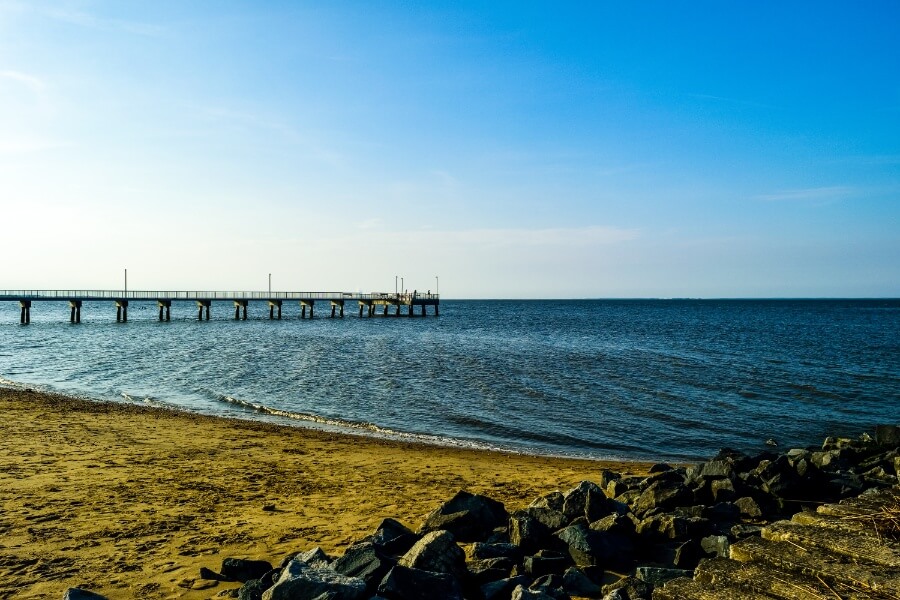 You'll find this beautiful beach community towards the middle of the state. It's further north on Delaware Bay and is located approximately 15 minutes from Smyrna.
Woodland Beach is in the middle of several Delaware wildlife refuges. To the north, there's the Cedar Swamp Wildlife Area. To the south, you have Bombay Hook Wildlife Refuge. East of Woodland Beach is the Woodland Beach State Wildlife Area.
It's the perfect spot to see natural Delaware at its finest. Unlike other beaches in the state, this one is more untamed. It has lush grass and tall foliage.
Woodland Beach used to be a thriving town, but a storm in the 19th century destroyed a big part of the area. It hasn't recovered since, but it's still considered a hidden gem by many Delawarians.
Most people don't go to Woodland Beach for swimming. It's more of a natural romantic setting for strolling the coastline and exploring nature.
The beach itself disappears during high tide, but you can go clamming or crabbing with an appropriate license. You won't find many amenities, either. There are a few portable toilets. However, restaurants and shops along the beach are non-existent.
The biggest attraction at Woodland Beach is the fishing pier. It's open 24 hours a day and has ample lighting at night, making it a popular fishing hole for anglers around the state.
Location: 39.3334791114726, -75.47421757186733
13. Rehoboth Beach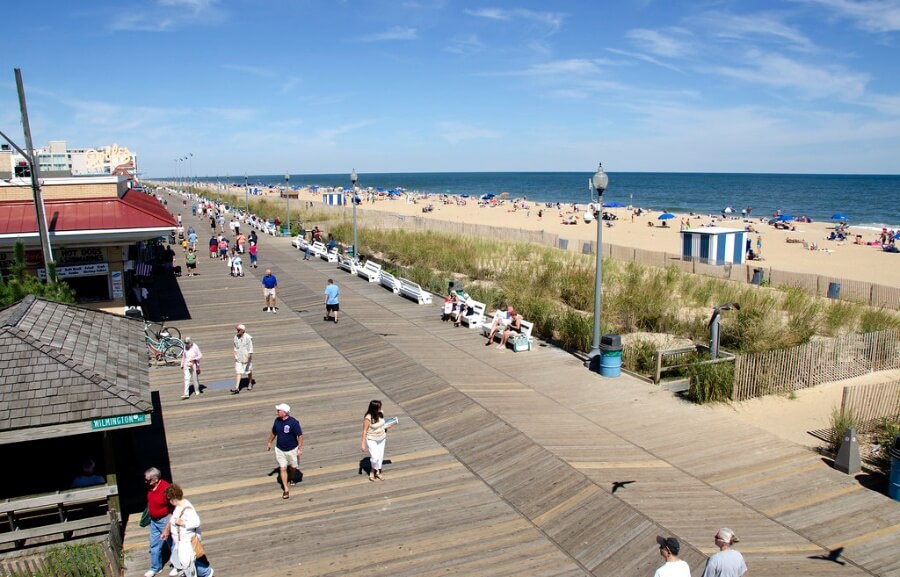 Rehoboth Beach is one of Delaware's best and most popular beaches. It attracts millions a year and offers tons of fun activities to do.
You can reach this beach via the Coastal Highway. It's south of Cape Henlopen State Park and north of Delaware Seashore State Park.
The town is built for summertime fun. There's a massive boardwalk full of unique eateries, boutique shops, and miscellaneous activities for the entire family. You can even save money at tax-free shops. Combining old-school aesthetics with modern amenities, it's a must-see if you visit the area.
There's also a Funland amusement park with ticket-style admissions. You can do traditional carnival games of chance, enjoy thrill rides, and more. The boardwalk and Funland amusement park are Rehoboth Beach's centerpieces, but you can do so much more.
The swimming beach is a well-maintained area where you can build sandcastles, soak up the sun, and splash around with kids. It's well-maintained, and the blue waters are nothing short of inviting. Many establishments also offer rentals, giving you the chance to try your hand at kayaking, paddleboarding, and other summertime activities.
Lifeguards patrol the area during the summer season. Rehoboth Beach can get crowded during the summer. Unless you find a metered spot, you must pay for a parking permit or find transportation from a nearby hotel.
Fortunately, you have many options. Rehoboth Beach is a tourist attraction, so finding amenities that suit your needs is a breeze.
Location: 38.72115420820131, -75.07582344384542
Check Them Out!
The next time you're looking for something to do on a sunny day, give these Delaware beaches a try! With low crowds and sprawling beauty, they're a fantastic way to relax.
If you know any other good beaches in Delaware that you think we should consider adding, send them over! We love getting tips from our readers.