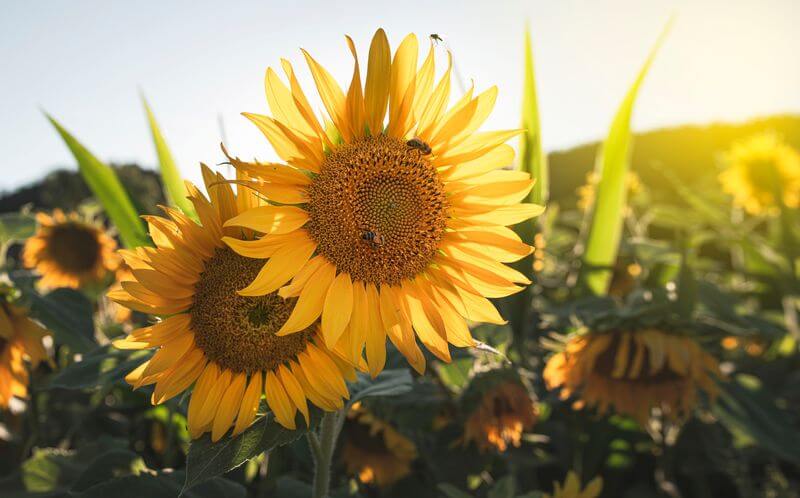 Texas has a number of amazing sunflower fields that are worth visiting if you get the chance. Witnessing the endless patches of yellow is quite the experience!
This list of the best sunflower fields in Texas will help you pick one to visit when you need a splash of color in your life.
When Do Sunflowers Bloom In Texas?
Sunflowers are among the most iconic flowers in the Lone Star State. Much like the bluebonnet, sunflowers paint the Texas landscape to create the perfect photo spot. Referred to as "Yellow Gold" by many Texans, sunflower fields are a must-see as you drive through the state.
But when do sunflowers flourish in Texas? Unlike other blooming plants, sunflowers aren't a rare occurrence! These flowers thrive during the spring, summer, and fall seasons. The only time of the year they aren't growing is in the winter!
Of course, sunflower fields take time to develop. Whether you want to frolic through sun-kissed fields or take inspiring photos with your entire family, the best time to see these flowers is in the late spring and early summer. The months of May and June are usually the best time to see them.
During that period, the flowers are in full bloom before the scorching heat of Texas takes over.
That said, you can still see vibrant fields during the summer and fall. Sunflowers thrive in the heat. Thanks to the Texas weather that means colorful blooms all the way into the festive fall season.
Sunflower Fields In Texas
Sunflowers grow throughout the state, so you'll see fields big and small. But if you want to surround yourself with cheerful blooms, here are the best sunflower fields in Texas you need to see.
1. Froberg's Farm
Froberg's Farm is a charming farm site with tons to do, so it's a great place for the entire family. Not only can you see colorful sunflowers, but you can find plenty of enjoyable activities to make the most of a day trip.
The great thing about Froberg's Farm is that it's accessible to many throughout the state. It's in Alvin, Texas, which is only 30 minutes away from Houston. Many from Houston and beyond visit Froberg's for a short weekend getaway.
So what is there to do at Froberg's? The sunflower fields are enough for many, giving you gorgeous snaps for social media. However, Froberg's Farm also has pick-your-own produce!
You can pick strawberries, blueberries, many types of citrus fruit, and more. Pluck the fruits straight from the plant. There's nothing fresher than that!
Froberg's Farm also has an on-site bakery to try decadent desserts made from the produce grown just steps away.
The best time to visit Froberg's Farm is in the fall, from September to November. The sunflowers covering the fields are all autumn bloomers. The farm is open year-round, but the fall season is the busiest.
Not only are the sunflowers blooming, but the farm throws its annual Fall Festival every weekend between late September and November. You can take home a sunflower for only a buck during the festival!
Location: 3601 Hwy 6, Alvin, TX 77511
2. Wildseed Farms
If awe-inspiring views are what you want, Wildseed Farms is the place to visit! This popular sunflower field in Texas is the largest in the country. It spans 200 acres, offering a chance to get away from it all in one of the most tranquil settings in all of Texas.
You'll find Wildseed Farms outside of Fredericksburg, about an hour and a half from Austin.
Wildseed Farms has acres of gorgeous sunflower fields, but it also has other blooming plants. In the spring and summer, you'll see rows of vibrant flowers in all colors of the rainbow! If sunflowers are your main priority, you'll want to visit in the late summer to get the best views.
This farm features roughly half a mile of wheelchair-accessible trails. Meander through the property and see all the beauty of Mother Nature. You can also stop for snacks at the Brewbonnet Biergarten. One of the most popular treats is the signature homemade peach ice cream!
Wildseed Farms also sells a variety of different sunflower seeds for you to start your own garden at home. Learn about the different types and see them in person to find the right one for your garden. The farm is open throughout the year, seven days a week. Admission is also free!
Location: 100 Legacy Dr, Fredericksburg, TX 78624
3. Robinson Family Farms
Robinson Family Farm is a beautiful place to visit. It's in Temple, Texas.
This Texas sunflower field is on a working farm, so it's not always open to the general public. Instead, you can visit on select days during specific seasons. To see the sunflower fields, you'll want to stop by in June.
The farm opens every weekend in June for the Summer Sunflower Fest. This annual event has a general admission. You can also pick blooms for just $3.00 a stem during the last weekend of the month.
The sunflowers on Robinson Family Farm are a sight to behold. They grow five to six feet tall, creating a maze of paths perfect for photos. These flowers grow taller than most people, making it an inspiring place for the entire family.
In addition to seeing the sunflowers, Robinson Family Farm has many activities during the Summer Sunflower Fest. Stop by the pumpkin patch, walk through the tall corn fields, and play games. There's also live music on most days of the festival and food vendors offering tons of tasty treats.
Location: 2651 Bob White Rd, Temple, TX 76501
4. P-6 Farms
In Montgomery, you'll find P-6 Farms. It's about half an hour west of Conroe and less than an hour north of Houston.
Open to the public throughout the year, P-6 Farms has a wide variety of sunflowers. There are traditional yellow varieties, but you can also see and pick unique cultivars with deep red and orange blooms. It's a great place to learn about sunflowers and build a stunning bouquet.
Because there are so many unique sunflower fields, P-6 Farms is worth a visit throughout the year.
In the spring, the farm throws the Blooms & Berries Fest. In addition to seeing flowers, you can pick blackberries and witness the magical butterfly release.
The fall season is one of the most popular at P-6 Farms. The classic sunflower varieties are in full bloom, and the farm offers many fun activities for the entire family. Pick your own pumpkins, go for a hayride, and make your way through the corn maze.
P-6 Farms has much to offer, so it's worth checking out their website to see what's happening.
Location: 9963 Pooles Rd, Montgomery, TX 77356
5. Lone Star Family Farms
Lone Star Family Farms is in Stephenville. You can get there from Fort Worth in about an hour and a half, and the trip is well worth it.
This farm has fields of fall-blooming sunflowers, making it a popular destination for Texans during the autumn season. Sometimes, they also plant flowers that bloom earlier in the year, so there's still plenty to do during the spring and summer months.
The farm opens during the summer season, with exact opening dates depending on the weather.
When you visit, you can pick sunflowers from these fields for a fee. There are also many great activities during the autumn season.
Walk through fields of sunflowers before checking out the pumpkin patch and cotton field. Your family can also explore the expansion corn maze or make your way through the hay maze. Lone Star Family Farms also does pig races if you like farm animals!
Of course, you can also play games and get a bite to eat at the concession stand. There's plenty to do while surrounded by the beauty of yellow-gold fields!
Location: 4199 US-67, Stephenville, TX 76401
6. Sweet Berry Farm
Sweet Berry Farm is located in the picturesque town of Marble Falls. You can get there with an hour-long drive from the heart of Austin.
Sweet Berry Farm is open throughout the year, offering unique activities for a small fee.
The sunflower fields bloom from late May to late June. During that time, you can pick flowers and enjoy the expansive fields of gold. Sunflowers are the last time the farm is open for the summer.
It reopens during the fall for festive activities. You can still pick sunflowers and other blooming varieties during the fall to create the perfect bouquet. The farm also offers hayrides, corn mazes, pumpkin painting, scarecrow stuffing, and more.
It's a true family-friendly location with activities for people of all ages.
Earlier in the year, the farm is most-known for flower and berry picking. While sunflowers are the star of the show in the summer and fall, you can also pick tulips, strawberries, and more.
Location: 1801 FM 1980 ​Marble Falls, Texas 78654
7. Western Belle Farm
These gorgeous sunflower fields are in Waco, about an hour and a half away from Dallas. It's a family-owned farm with tons to do.
You can see the sunflower fields throughout May and June. However, the farm is also open during the fall.
Like other Texas sunflower fields, fall is one of the most festive and busiest seasons! In addition to photo-ops everywhere you turn, you'll find fun games to play, slides, zip lines, and animal events. Don't forget to check out the duck and horse races if you get the chance!
Western Belle Farm recently threw its first Sunflower Festival. It was a huge hit and will likely become an annual affair. Check out their website to learn more and plan your visit.
Location: 7929 Heritage Pkwy, West, TX 76691
8. Hamilton Farms
Hamilton Farms is in North Texas, located about 10 minutes north of Lubbock. It's in a quaint town called Shallowater. The drive to get there from Lubbock is gorgeous, and the sunflower fields you'll see when you get there are breathtaking.
You can't visit Hamilton Farms year-round. However, the fields open to the public during its annual Sunflower Days during the summer. Sunflower days occur Thursday through Sunday, and the duration varies based on the weather.
When you visit, you'll see 28 acres of yellow beauty! You can stroll through the grounds, take tons of photos, and enjoy a peaceful day surrounded by some of the finest sunflowers you'll ever see.
Hamilton Farms also has activities for the kiddos. Concession stands, farm animals, and other great must-see attractions are available to enjoy.
Location: 6830 F M 1729, Shallowater, TX 79363
9. Mainstay Farm
Here's another family-owned farm worth visiting if you're looking for sunflower fields in Texas. It's in Cleburne, about half an hour away from Fort Worth. Sometimes referred to as the "Biggest Backyard in Texas," it's an inviting place with plenty of fun things to do for people of all ages.
The sunflower fields are breathtaking. The best time to see them is between September and October. Mainstay Farms throws many events during the fall season, a time they call "Pumpkin Days."
Pumpkin Days are a huge hit, and the annual event is popular across the state of Texas. Not only can you see sunflowers in full bloom, but there are over 40 attractions!
Kids and adults will enjoy activities like mazes and giant slides. There's also a cool tree house to explore, a pumpkin patch for picking, and live music for dancing. You can also stop by the gift store for homemade goodies and souvenirs.
Location: 1004 W Bethesda Rd, Cleburne, TX 76031
10. Dewberry Farm
Roughly an hour outside of Houston, Dewberry Farms is a must-see. There are four acres of sunflowers, ranging from signature yellow-gold to deep red. In total, there are more than 25 different sunflower varieties.
During spring, you can visit Dewberry Farms to pick your own flowers. Get free reign of the wide varieties to build an unforgettable bouquet.
The Spring Sunflower Festival offers more than just flower picking. It's one activity out of many. Visitors of all ages can also participate in carnival games or visit the iconic goat hotel! There's also gemstone mining, a Ferris wheel, a horse carousel, and other memorable activities to help you make the most of your visit.
Don't forget to try some of the food! Dewberry Farms is known for offering finger-licking good Texas barbecue! There's also kettle corn, fried Oreos, and all the carnival food you could ever want.
Location: 7705 FM 362, Brookshire, TX 77423
11. Maxwell's Pumpkin Farm
Also known as Maxwell's Country Family Fun, Maxwell's Pumpkin Farm is a popular getaway in the Texas panhandle. It's about 20 minutes from Amarillo.
As you can guess from the name, this farm offers more than sunflowers. It's most known for being a beloved pumpkin farm! However, the sunflowers get tons of attention, too.
The best time to visit is in mid-September through October. The fall-blooming sunflowers light up the property. Acres of fields are fully walkable thanks to the designated trails. The sunflower trails are all wheelchair-accessible.
The admission price for Maxwell's Pumpkin Farm is a bit higher than other sunflower fields in Texas. But once you enter the property, you'll see why. There are so many unique activities at this farm!
Kids will have a blast going through mazes or climbing the hay pyramid. Meanwhile, older kids will enjoy unique activities like firing off an apple cannon or attending the hilarious duck derby. Parents can get their fill of barbecue and other treats.
There's something for everyone, and you can easily spend a day at Maxwell's Pumpkin Farm without a second of being bored.
Location: 12908 Bell St, Amarillo, TX 79118
12. Sweet Eats Fruit Farm
The Sweet Eats Fruit Farm is a fantastic place to see gorgeous sunflowers. The farm is less than an hour from Austin and has over six acres of colorful blooms.
Every June, the farm hosts the Sunflower Festival. Depending on when you visit, you can see various types of sunflowers. The first part of the festival revolves around classic single-stem flowers. However, you'll also have the chance to see more than 35 unique cultivars.
The colors are impressive, and you'll likely see varieties you never knew existed. That includes sunflowers with blooms of purple, green, and black.
Some sunflower fields are pickable for a fee. However, others are no-pick zones perfect for snapping memorable photos.
Location: 14400 E State Hwy 29, Georgetown, TX 78626
13. Bloomer's Garden & Flower Farm
Bloomer's Garden & Flower Farm is in Sadler, Texas. It's north of Dallas and close to the Oklahoma border.
As the name suggests, this farm is all about the beauty of flowers! It's a great place to learn about different flower species and pollinators.
Of course, you can see acres of gorgeous sunflower fields. The farm's sunflower season is during the summer. Great for photos, you can also purchase plants and learn how to create your own sunflower garden.
The farm is a haven for flower lovers. In addition to sunflowers, you can see zinnias, wildflowers, and more. There are also many fruiting plants available for picking. Get your supply of blackberries, blueberries, zucchini, and more.
Location: 905 Crawford Rd, Sadler, TX 76264
14. Yesterland Farm
Yesterland Farm is about an hour away from Dallas. It's a beautiful place that transports you back to simpler times, where you can surround yourself with nature!
The sunflower fields are plentiful. Yesterland Farms only recently started planting sunflowers a few years ago, but you'd never know it! Every year since planting these flowers, the farm hosts an annual Sunflower Days festival in late September.
During the festival, you can see these beauties in bloom while participating in many fun activities. Like other farms, Yesterland has corn mazes, pumpkin patches, and more. There are also several photo spots to get the perfect snaps!
Other times during the year, you can visit to see other plans. Yesterland Farm hosts events during Easter, Halloween, Christmas, and more.
Location: 15410 I-20, Canton, TX 75103
Conclusion
Now that you know all of the best sunflower fields in Texas, set aside some time to go visit them! Many of these locations and farms have other great activities to do as well, so you'll easily be able to fill an afternoon if you want.
If you have any thoughts, pictures, or experiences that you'd like to share just let us know! We love hearing what our readers have been up to.