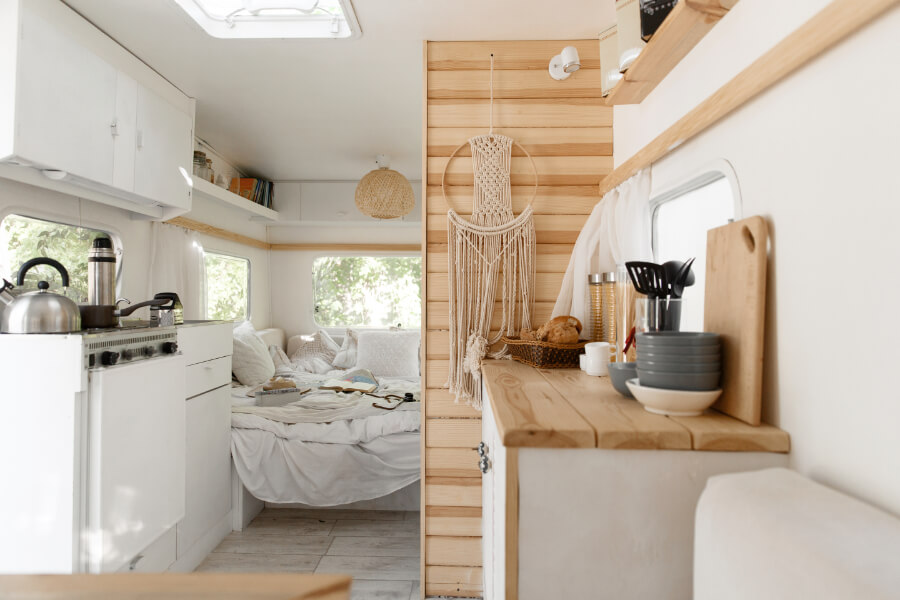 If you're an avid camper, you likely spend a lot of time in your vehicle of choice. Because of this, you probably want the layout and amenities to fit your lifestyle. And while modern RVs have a lot of great features, you may find yourself wanting to change something.
And for many, this is the dinette.
An RV dinette usually takes up the center portion of real estate in any camper vehicle. And most of the time they aren't super stylish and eat up a lot of space without actually providing a comfortable place to sit.
If you're looking for something different, we created this list of RV dinette replacement ideas for those who need a little inspiration.
The Benefits Of Replacing an RV Dinette
If you feel like your current RV dinette is too small, too big, or simply underutilized, consider changing it up and converting it into something else! You may choose to make minimal improvements such as add new custom upholstery or be more ambitious and completely transform the space. No matter what you decide, it can be a rewarding project to create something that reflects your camping personality.
Before starting, evaluate how you currently use your RV dinette space. Does anything need to be modified? If so, do you want the area's main function to continue to serve as a place to eat or do you want something completely new? How can you replace your RV dinette to make it better suit your lifestyle?
Maybe you eat out a lot and never utilize the dinette. Or maybe you feel like your RV dinette takes up too much precious space because you only travel with one other person. In this case, wouldn't you rather this area be used for something you really want?
How Challenging Are RV Dinette Conversions?
The level of difficulty when replacing or converting an RV dinette to something entirely new depends on the scope and detail of the project. This also applies to the cost of the work and if you are willing to handle it yourself.
It's important to plan beforehand. Make sure you take careful measurements and draw up detailed plans to keep you on track. If you're removing original furniture, make sure you do so carefully so as to not compromise the structural integrity of the walls or floor. Many dinettes are modular and put together with screws, meaning they aren't too difficult to remove and shouldn't leave behind much of a mess.
Pro Tip: It is also good to note how much weight you're removing and how much weight is being replaced. Pay special attention to avoid adding additional weight to floor sections that sit on an RV side slide out.
Additionally, with all new, loose items that you are adding to your RV, make sure to secure them properly. This can be done by bolting the furniture into the wall or tying them to the floor with bungee cord and D-rings. For a more permanent solution you can also use industrial strength velcro tape to keep items secured. What's nice about this is that the tape can be easily hidden underneath or behind objects.
RV Dinette Replacement Options
If you feel like you're ready to take on an RV dinette replacement project but need some ideas on what to do or how to start, this list is for you. The following conversion projects are realistic and affordable for the average RV owner to do by themselves.
1. Use It For Storage
One of the most practical ideas for an RV dinette replacement is to use this area for additional storage. You can do this whether you plan on just modifying the dinette area or if you want to completely refurbish the space. Most dinettes contain either a booth style set of benches or a U-shape bench that wraps around three sides of the table. These are just begging to be converted into storage!
Creating storage underneath bench-style seating is a great way to keep your RV clutter free while packing more for trips. If you have stand-alone chairs, swap these out with pre-made or custom-made storage benches. Doing so can make a huge difference, not only in convenience, but in the overall style of your camper.
Depending on the design, you can choose to have this new storage space accessible by opening the bench seat from above like a chest, or from the side like a cabinet. To keep items organized within the storage area, you can add drawer dividers or stackable boxes.
2. Replace The RV Dinette With A Table And Chairs
If your current booth dinette set up isn't your ideal size (either too cramped or much too imposing), consider this easy RV dinette replacement idea. Simply swap out the current design with a table and chairs to better fit your needs!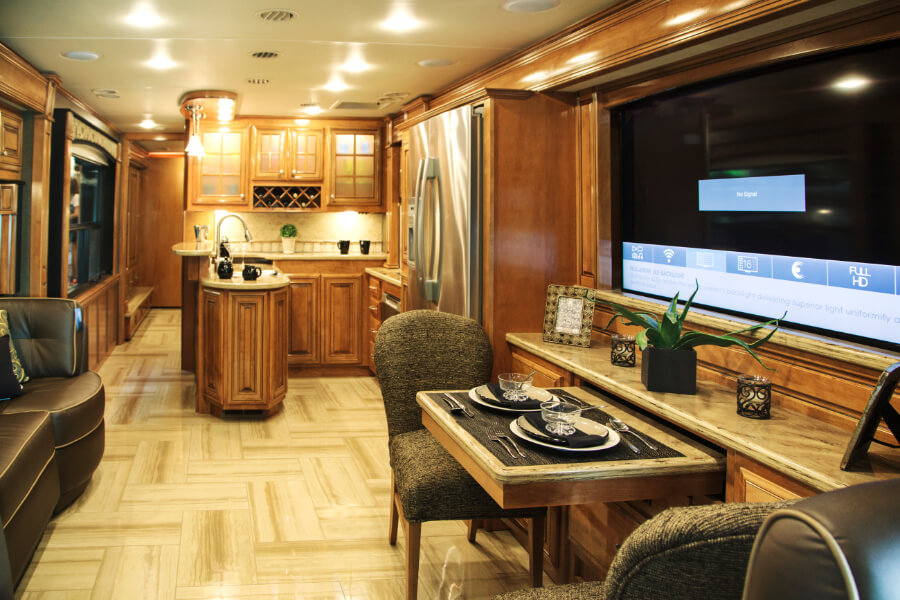 If it's just you and another person who regularly need the camper, you may feel that the current dinette takes up too much space. A dining set with a free-standing bar table and two chairs may work a lot better and create a more open interior. To best optimize the small space, find a table that both chairs can easily slide under.
Pro Tip: If you like this idea but want to cut the work in half, remove the table and only one side of the booth. Add a chair or two to the new side and simply reupholster the old bench.
To have more dining flexibility, buy a table with a removable leaf or a leaf that can be flipped up or down to add more dining space. A folding table that can be attached to the wall is another great, space saving option that will give you more usable square footage when you're not using it.
3. Turn It Into A Play Space For Children
If you have kids and travel as a family, you could transform your RV dinette into a play area. We have two different ways to carry out this conversion idea. The first is to completely remove all dining furniture to create a large spacious area dedicated to fun and creativity. To keep clutter at bay, you could add a shelving unit or a toy chest that also acts as a comfy bench.
If you don't want to completely forgo all dining options within your camper, find a collapsible table that can easily be assembled for meals yet is easily stored so you can have a play space throughout the day.
4. Bring In Some Recliners
Adding recliners is a popular way to modify your RV dinette space, especially if it's just two of you traveling at a time. While you will have to completely replace the original set up of the RV dinette, in return you get two comfy chairs for relaxing. For meals, use two foldable TV tray tables.
Remember to take weight into consideration. Two recliner chairs will likely be heavier than the original dining furniture, so be mindful in your placements!
5. Set Up A Daybed
If you have a smaller RV but usually bring an extra traveler when you're camping, you probably want them to have a nice place to sleep. Here is RV dinette replacement idea number five; build a daybed.
A daybed is a great option because it can be used in a number of different ways. Constructing a built-in daybed ensures that the finished product will stay in place when you are on the move. While the main purpose of the daybed is to create an additional place to sleep, it can be used at other times of the day as a comfy sofa, a reading nook, or a new dining bench.
And if you want additional storage space, build in a pull out drawer or a hinged top into the daybed construction.
6. Build A Bar
If you like to entertain frequently or think of yourself as an unofficial barista on the road, you can transform your RV table and chairs into a bar area. This will not only give your RV a new feel, but it will likely save some space as well.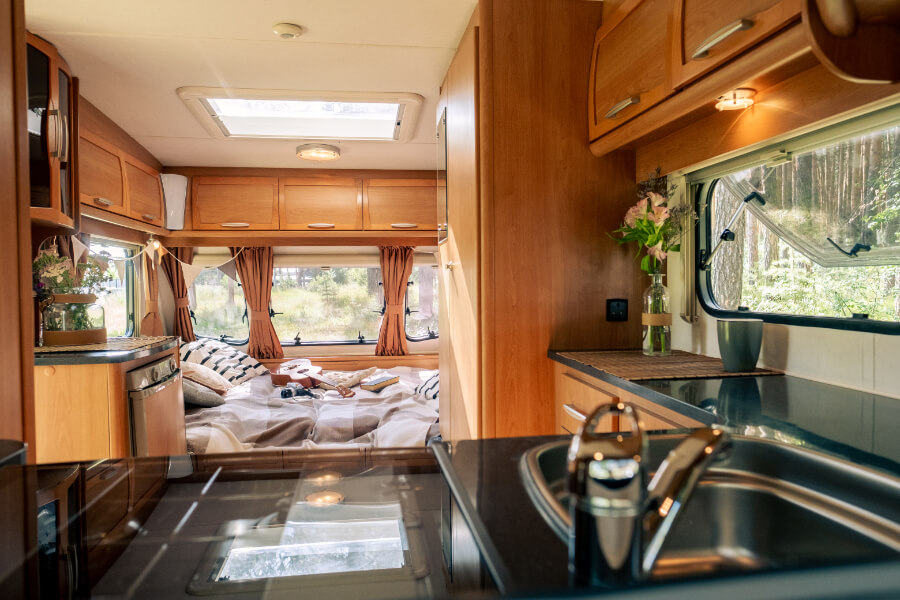 You can construct a bar any number of ways. You could build a high top bar that is directly adjacent to the RV wall and create an intimate seating area for two. If you have the space, you could install a bar table so people can sit on both sides.
We love coffee so we would opt to build a bar table that could accommodate an espresso machine and fixings. Can you imagine a warm cup of fresh coffee on a chilly morning while looking out the window above your newly built bar? Sounds heavenly!
7. Use It As A Play Area For Your Pet
Pets are an important part of the family. If you don't use the current space, you might want to give your furry traveling companion a place of their own by replacing your RV dinette with a play area for your pet.
Bring in their bed and toys and convert this space into a mini pet hotel. If you're willing to put in the work, you could build custom platforms and storage areas for their bed, food and water, and favorite toys. If you have a cat, this would be an ideal place for a cat hotel or scratching pole.
This is a great conversion idea if you travel with a pet who isn't so keen on the open road (we recommend this to many people who RV with cats). Providing them with a dedicated space that feels secure can make their experience so much more enjoyable.
8. Bring In A Couch
Not all couches are created equal, and usually RV couches aren't the most comfortable (and if we're being honest, not super stylish either). So another great RV dinette replacement idea is to simply remove the dinette and bring in a super comfy sofa!
We really like this idea because you can create a whole new design theme around this sofa. You can keep the area functional by bringing in collapsible TV tray tables. If you need extra lounging space AND extra beds, swap out the RV dinette with a pull out sofa.
Pro Tip: Be mindful when picking out the couch because, remember, you only have a small door to bring it through! We've had a couple of different comfortable sofas from Ikea in the past. These would be great for an RV because they come disassembled and you won't have as much trouble squeezing them in the door.
9. Convert It Into An Office
If you work from home and travel frequently, you can remove your RV dinette and convert it into a mobile office. Obviously you can still use the desk as a place to eat, but turning the dinette into an open office area will provide you with more functional space throughout the day.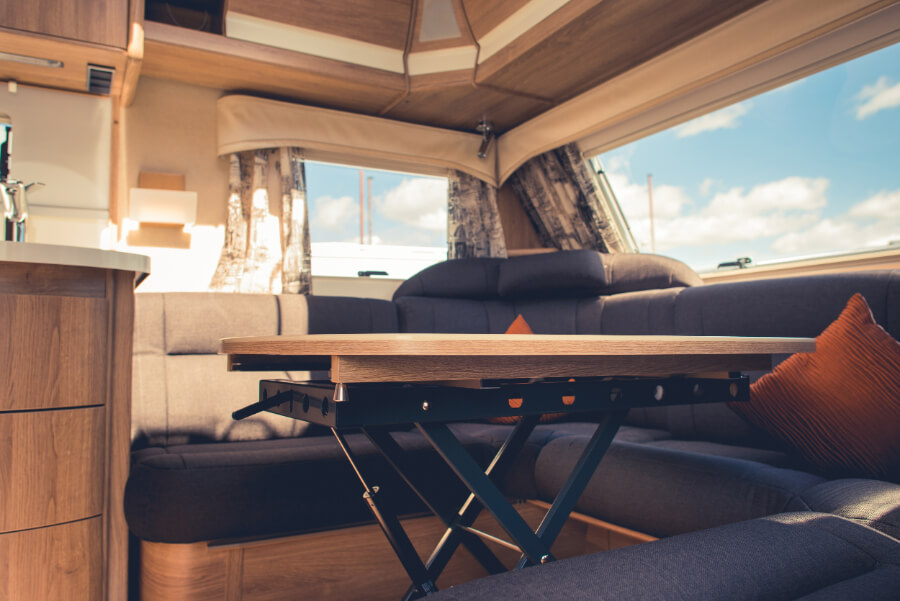 We think a long piece of wood with a live edge installed as a desk would look beautiful in an RV, especially if it looks out a large window. Find a chair that slides under the table nicely to keep the walkway clear.
One thing to consider about this replacement idea is the lack of privacy. Because the dining area in an RV is usually centrally located, converting it into an office may not be the best option if you travel with many people and need to focus. If you don't mind the noise of a higher trafficked area but want to decrease distraction, you could add a privacy curtain.
Closing Thoughts
While none of these are projects that can be completed in a day, they're able to be done by anyone with some careful planning. And if you're up for it, we think it's always fun to personalize your RV with some DIY projects!
The goal of an RV dinette replacement is to ultimately make your camper feel like home and fit your lifestyle. It's a central area in any camper and it should be a welcoming, cozy place that gets used often, not just some place that gathers junk.
We would love to hear if you've done anything to remodel your RV dinette space. Feel free to reach out to us on social media or send us a picture!