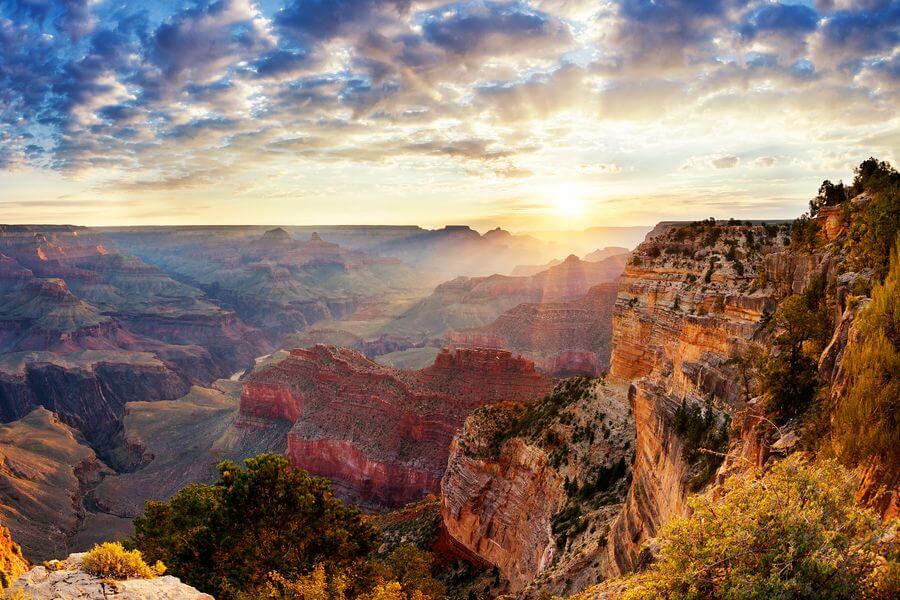 We have been lucky enough to experience the car ride from Phoenix to the Grand Canyon National Park and back a couple times. It is an easy route to drive if you want to straight through but is filled with really enriching, worthwhile stops along the way that allow you to see all that this area has to offer!
We're going to talk about how to road trip from Phoenix to the Grand Canyon, and the places to enjoy along the way.
How Far Is The Car Ride From Phoenix To The Grand Canyon
The trip from Phoenix to the Grand Canyon by car takes around four hours or less, depending on the route you take and traffic.
Option 1: The route that takes the shortest amount of time is about three hours and twenty minutes long, covering 224 miles of road. This is the most direct route between the two locations. It hugs the rim of the valley where Sedona is located and takes you through Flagstaff.
Option 2: The second main route between Phoenix and the Grand Canyon takes you on a slight detour through Sedona. This drive is 225 miles and takes approximately three hours and fifty minutes.
Option 3: The third route you can take goes just a bit farther west than the other two, skirting the northern edge of Prescott. The drive takes about three and a half hours to cover the 215 miles.
The Ideal Route To Take
We highly, HIGHLY suggest the second route mentioned above because it guides you on a slight detour into the Verde Valley and to Sedona which sits in the heart of the Red Rocks.

We think this is the best scenic drive from Phoenix to the Grand Canyon, and an overall fantastic road tip. Sedona can be seen in a couple of hours if you don't have a lot of time to spare, but it's best enjoyed for a few days. This allows you to stroll through the town, immerse yourself in the surrounding nature and native history, and enjoy a truly remarkable sunset that sets the valley on fire.
The drive itself is beautiful and puts the changing landscape of Arizona on display. With a change in elevation of around 6,000 feet, this route starts in the arid desert climate of Phoenix where the dusty ground is flat and dotted with cacti.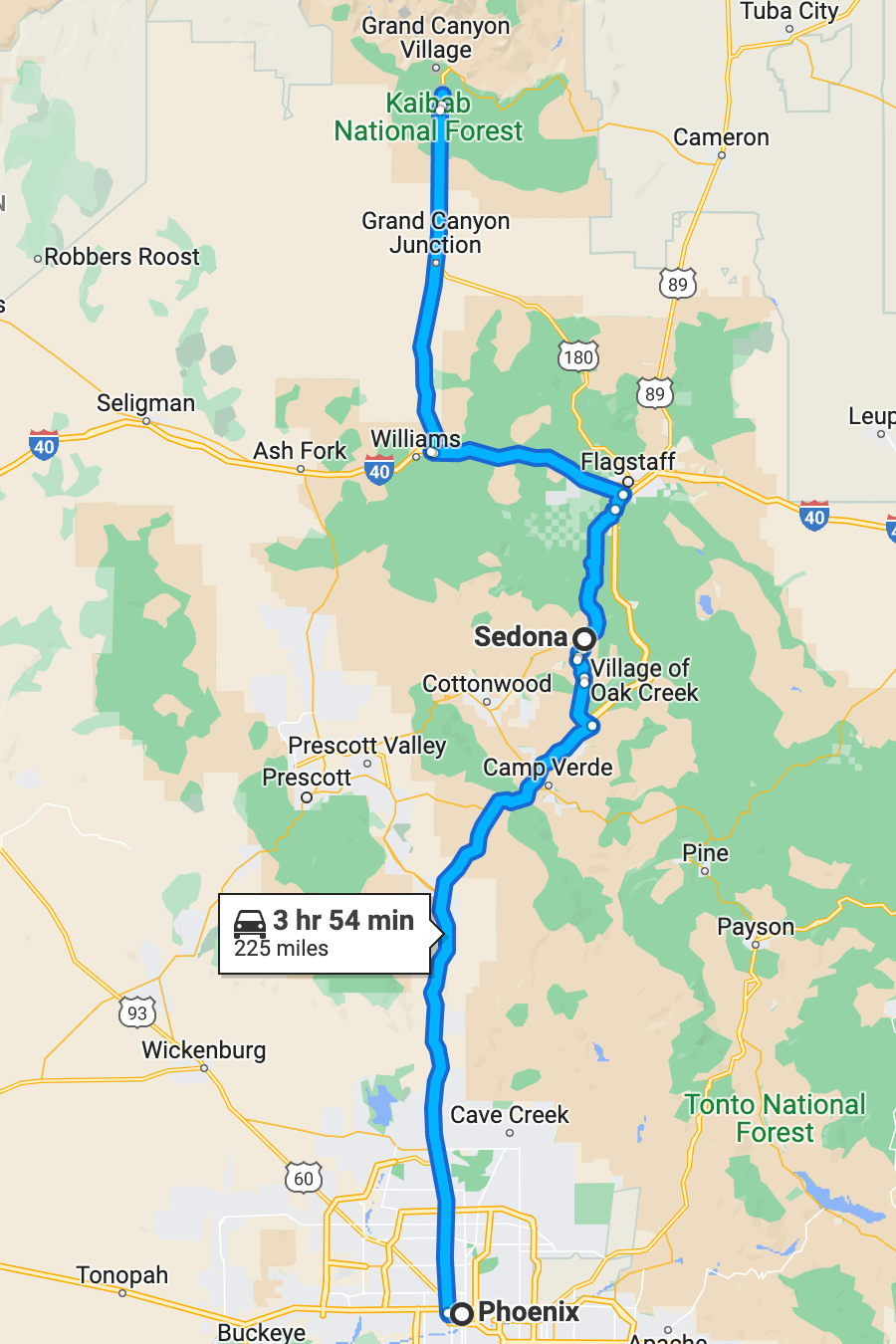 As you begin the drive north on I-17, the level ground changes to rolling hills. This was the first time we saw a Saguaro cactus, the most identifiable and defining plants that grow in the Sonoran Desert. These towering cacti only grow in this small area of the world and hundreds of thousands dot the earth on either side of the highway.
Further north on I-17 as you start to angle northeast, the terrain becomes more mountainous and rugged. The brown undulating hills become craggy and rocky. The cacti give way to low growing bushes which become more numerous the farther you get.
Once you turn onto I-179 towards Sedona, the view changes quickly. Instead of a barren desert, you will be gifted with a view filled with red and orange rocks and mountains of every hue. Trees such as the Arizona cypress, sycamore, and ponderosa pines line the roadway. The terrain is lush and green. Impressive sandstone formations rise out of the ground to towering heights.
Continuing north towards Flagstaff and beyond, your drive will consist of winding through dense, old mixed-conifer forests, a far different landscape than the one you started in. These trees escort you all the way to the Grand Canyon where you get to take in the vast canyon and surrounding vista carved out by the Colorado River over millions of years.
Places To Stop During Your Road Trip From Phoenix To The Grand Canyon
This list is a culmination of our experiences and places we think are worth taking a little extra time to check out! You will find suggestions for places to eat, lodging, campgrounds, hikes, tourist attractions, and natural historical features. Starting in Phoenix, we will order this list from south to north, ending at the Grand Canyon.
1. Lola Coffee
Every successful road trip starts with coffee right? We think so. Lola Coffee has delicious drinks, yummy pastries, and small breakfast bites to get you going! There are two locations, one in downtown Phoenix and one in Arcadia, a neighborhood of Phoenix to the northeast and bordering Scottsdale to the west.
I got my usual cold brew coffee while Pierce opted for water (a smart but boring option!). We both ordered the breakfast burrito and split a croissant. Yum!
2. Taliesin West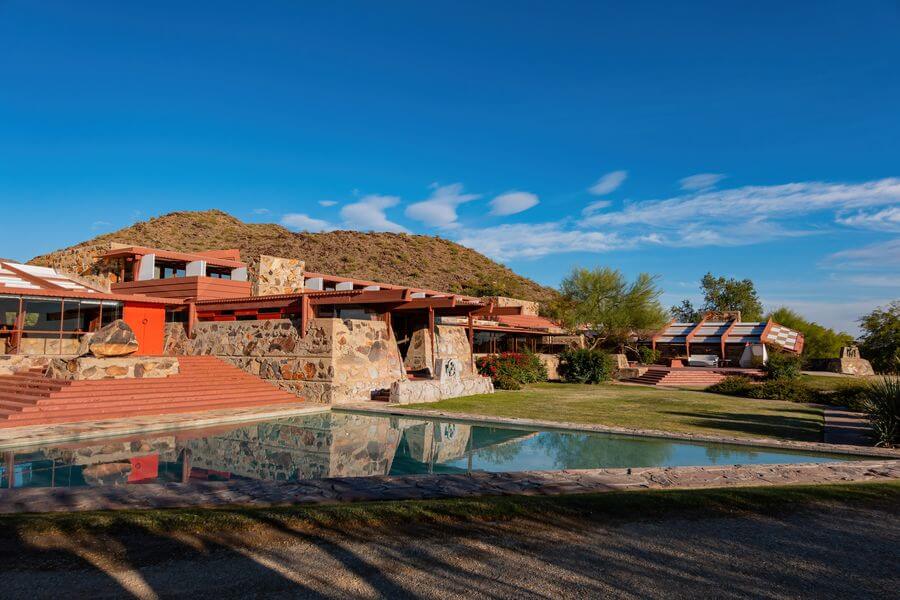 One of the most underrated things to see on a road trip from Phoenix to Grand Canyon National Park is Taliesin West. Open for public tours, Taliesin West is a remarkable home designed by architect Frank Lloyd Wright that embodies desert living. Wright, along with his apprentices, built and maintained Taliesin West almost solely on his own and used it as his winter home from 1938-1959.
Built from the rocks and sand of the surrounding Sonoran Desert, Taliesin West is built into the land it occupies. The sprawling one story interlaced structures of the home are built around gardens and pools.
You can enjoy Taliesin West by taking a self-guided audio tour that takes one hour to complete or by joining a guided ninety minute tour. Public tours cost $39-$54 per adult and are available Fridays, Saturdays, and Sundays. Be sure to book in advance and plan for a morning tour as the property is only open until noon on the previously mentioned days.
3. Fossil Creek Wild and Scenic River Recreation Area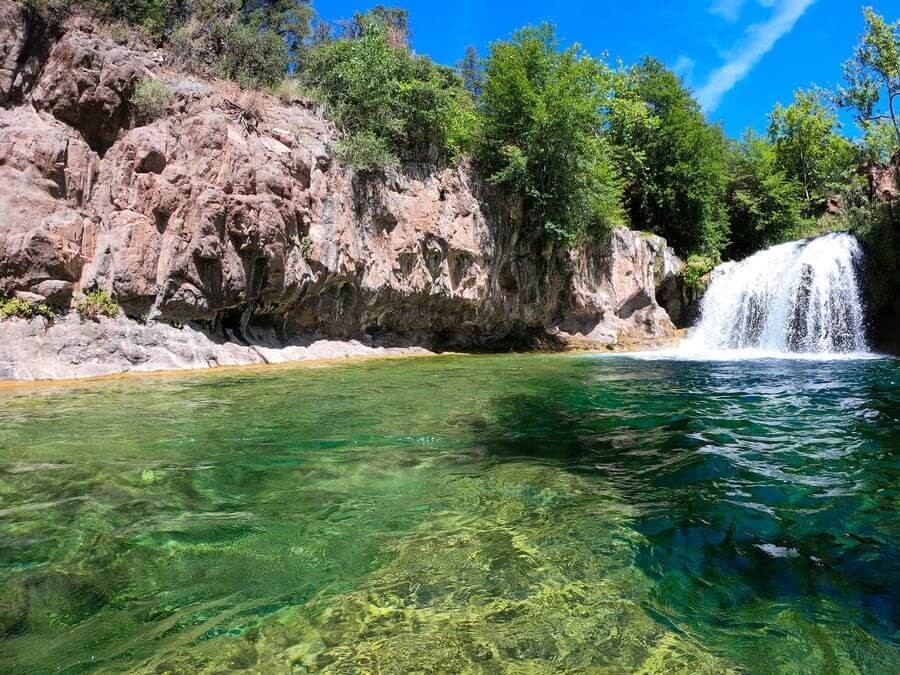 Fossil Creek is a bit off the main route (30-45 minutes) but it's a great area for anyone interested in hiking, swimming, camping, and an overall scenic drive. The calcium content in the water has created fascinating limestone deposits that have formed natural swimming pools and waterfalls. The gem colored waters are naturally maintained around 70°F. If you have extra time, we think it's worth staying at one of the surrounding campsites so you have more time to explore.
Reservations for parking are required April 1st to October 1st. Limited numbers of permits are available in order to keep the crowds down, which we think is fantastic! Camping is only permitted in select areas.
Coordinates: 34°23'40.5"N 111°39'02.8"W
4. Montezuma Castle National Monument
Montezuma Castle and Montezuma Well (discussed next) are both must-see Native American monuments when going from Phoenix to the Grand Canyon by car. Built by the Sinagua people around 1050 CE, Montezuma Castle is actually a large collection of cliff dwellings containing twenty rooms. This impressive feat of architecture is built five stories high into the walls of the limestone cliff. There are ruins of other dwellings that are on ground level that allow you a closer look at how they were built.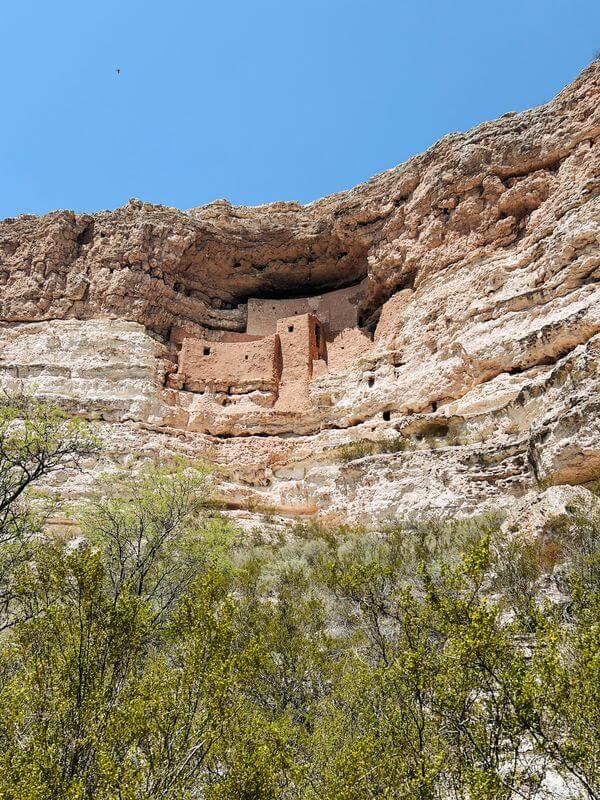 The monument is accessible to all via a 1/3 mile paved loop that walks you past the monument itself and back along the spring fed Beaver Creek. While it was crowded when we visited, we didn't feel cramped or rushed to see everything.
Since this is a national monument, you can enter without additional fees with an America The Beautiful pass. If you don't have this, the entrance fee is $10 per adult. Well behaved dogs are allowed on the leash. We visited with our dog, Ethyl!
5. Montezuma Well
Located just 11 miles north of Montezuma Castle, the Well is quite a special and unique feature. The water itself contains a number of plants and animals not found in any other body of water in the world! The walk from the parking lot to the rim of the well is 1/3 mile long and paved.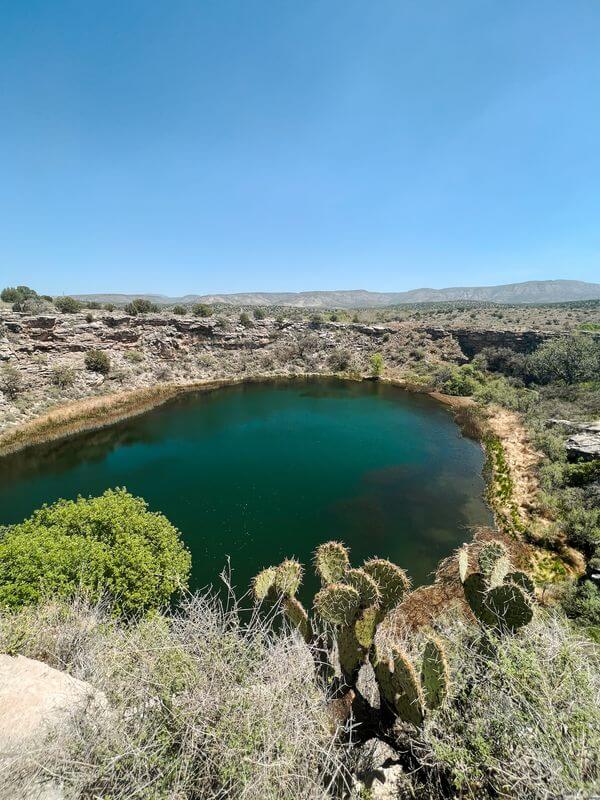 Once at the edge of the rim, you get to see the Well itself along with cliff dwellings that reside just beneath the rim. There is a trail down steep steps that takes you to the water's edge and to more dwellings.
Be sure to bring a hat and water because there is minimal shade. Some days, the Well can actually provide a significant amount of relief from the heat as it can be up to twenty degrees fahrenheit cooler than the air above.
There is no entrance fee!
Coordinates:34°38'55.9″N 111°45'15.6″W
6. Bell Rock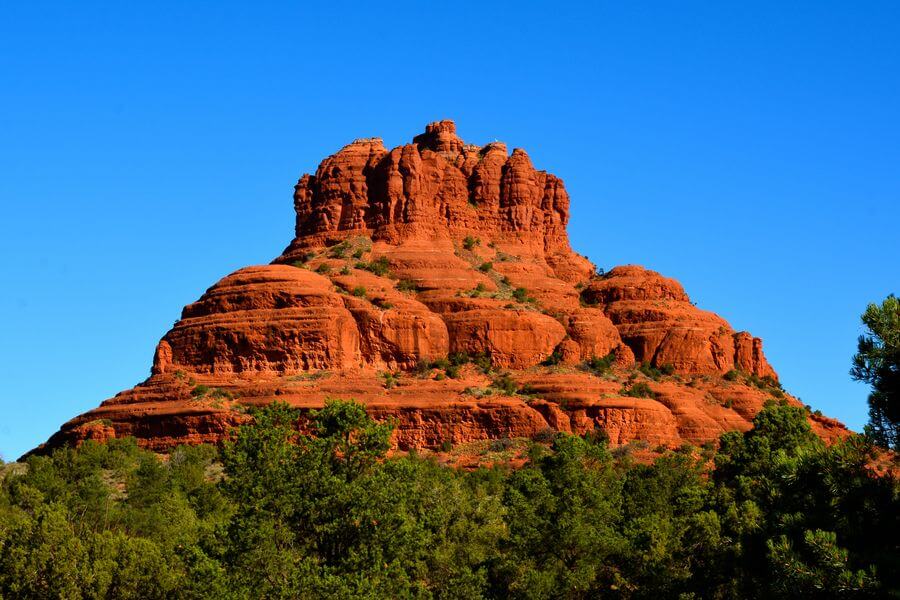 One of the first distinguishable landmarks as you approach Sedona is the large, rounded butte just off to the side of the road called Bell Rock (for obvious reasons). There are a couple of hikes around and up onto Bell Rock that are popular with hikers and bikers.
Pro Tip: GET UP EARLY! It can get super crowded by mid morning so if you want a peaceful hike, get up with the sun.
There are two main trails we suggest checking out. The first takes you up onto Bell Rock (not all the way, while this is possible it can be quite technical so proceed with caution). It is a 0.8 mile out-and-back hike with 203 feet of elevation. The second trail is Bell Rock Loop which is 1.8 miles total with the same elevation gain. It takes you around the entire base of the formation.
You need a Red Rock Pass ($5 for one day) or an America The Beautiful Pass to park. The Red Rock Pass can be really useful as it allows parking at eighteen difference fee sites in the Sedona area.
Coordinates: 34°48'19.8"N 111°46'00.5"W (northern parking lot)
7. Cathedral Rock
Another popular and stunning "red rock" formation in Sedona is Cathedral Rock, and it's definitely worth seeing if you're on a road trip from Phoenix to the Grand Canyon. In fact, it's probably one of the most recognizable and pictured sandstone buttes in Arizona. Beautiful and towering red spires rise from the rocks below.
There are a lot of trails that link together to get you to Cathedral Rock, but the closest and most direct trail is the Cathedral Rock Trail. It is 1.2 miles out-and-back and takes you up 741 feet of elevation. There is minimal shade, so we suggest doing it super early or much later in the day to enjoy the natural shade from the rocks themselves (and to avoid crowds).
A Red Rock Pass or American The Beautiful Pass are needed to park here.
Coordinates: 34°49'30.7"N 111°47'18.3"W
8. Pump House Station
Ok, if you've gone on a couple of hikes after the two hour drive from Phoenix, you're probably ready for some food. We really enjoyed the lunch from Pumphouse Station. They serve breakfast and lunch daily and dinner on Friday and Saturday nights.
9. Tlaquepaque Arts And Shopping Village
Inspired by its namesake, Tlaquepaque in Mexico, this stucco adorned outdoor shopping village is filled with one-of-a-kind art galleries, jewelry stores, and specialty stores. Most things are on the pricier side, but we loved going into all the shops and walking through the beautifully curated and landscaped paths.
It's not very big so it can be seen in an hour or two depending on how fast you shop.
10. Sedona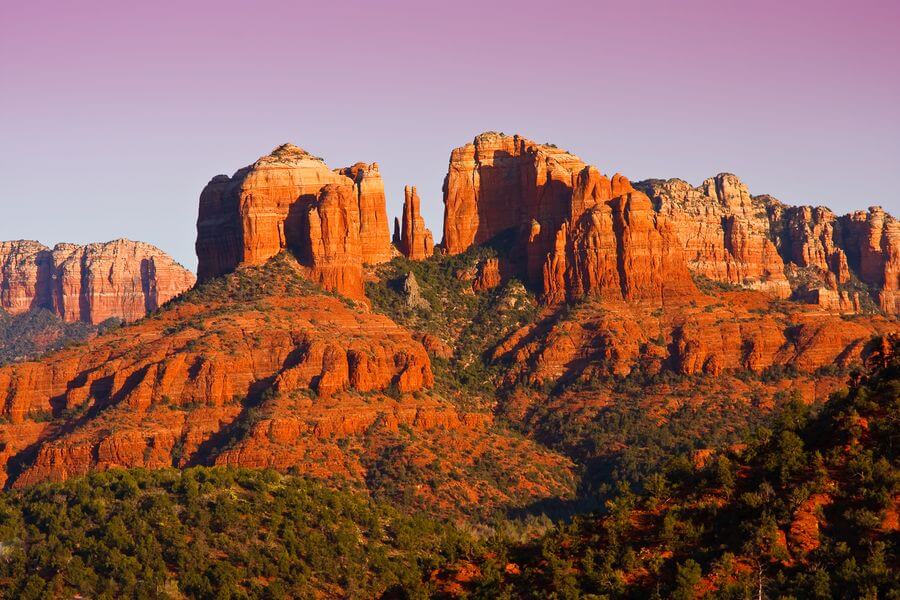 If you're driving from Phoenix to the Grand Canyon by car and need a little break, check out downtown Sedona. There are a number of shops featuring Native American art and jewelry as well as stores selling every type of crystal you can imagine! There are a lot of great restaurants and ice cream shops. We ate dinner at Elote Cafe, which serves regional Mexican food!
There are also so many other hikes in this area that we would be listing them for days, but please check them out! Some of our favorites (other than the ones listed above) include Seven Sacred Pools and Soldier Pass Trail, Devil's Bridge Trail, and Capitol Butte.
11. Sedona Airport Scenic Overlook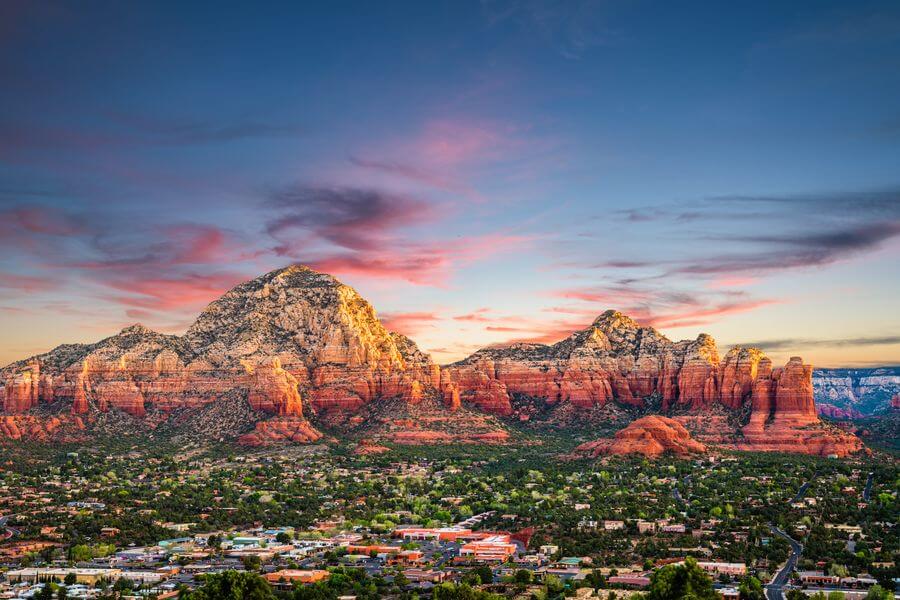 For a perfect unobstructed panoramic view of Sedona at sunset, drive up to the Sedona Airport Scenic Overlook and enjoy the rocks that are set ablaze by the setting sun. There is a $3 parking fee and the lot fills up fast, so plan to get there well in advance to secure a spot.
Address: 538 Airport Road, Sedona, AZ 86336
12. Red Rock State Park
Red Rock State Park is a 286 acre nature preserve that was founded in 1991. Just fifteen minutes from downtown, it can be accessed by driving west out of Sedona on AZ-89A. Oak Creek runs centrally through the state park and wends its way through the lush greenery shaded by manzanita and juniper trees.
There are five main trails, all less than three miles long but with really stunning views of many of the main rock formations in the area including Cathedral Rock. Eagles Nest Trail, coming in at 2.8 miles and only 341 feet of elevation gain gives you the perspectives of the entire area.
At the top there are also informative plaques that talk about the changing landscape as well as images that will help you identify landmarks. We think that the whole area is really easy to navigate thanks to the signs.
There is an admission fee per person to gain access to Red Rock State Park. Also, it's worth noting that dogs are not allowed.
13. Palatki Heritage Site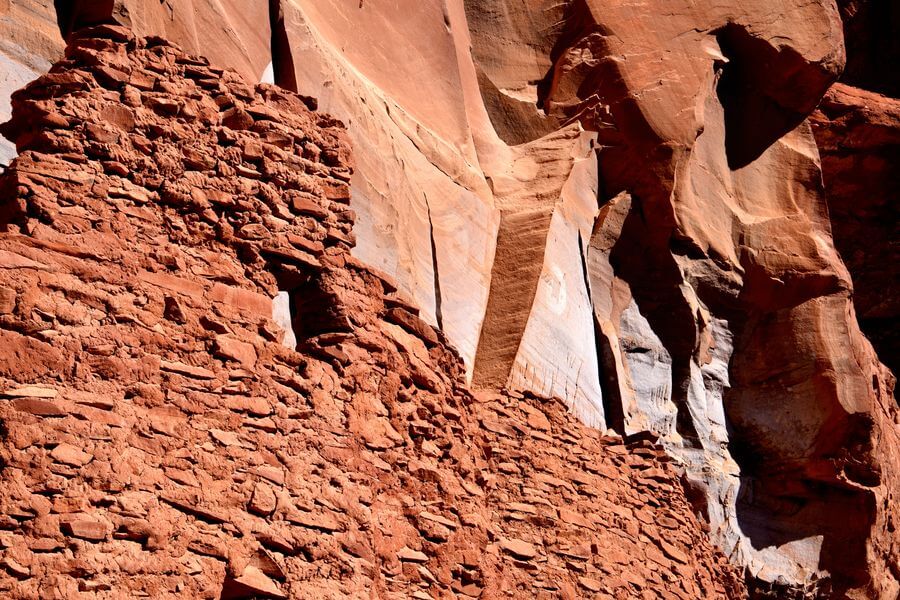 Nestled in the cliffs of Red Canyon, Palatki Heritage Site is a must-visit if you're on a road trip from Phoenix to Grand Canyon National Park. At this site you get to witness cliff dwellings built by the Sinagua people dating back to 1100 CE.
There are also breathtaking pictographs and petroglyphs on display that were created by not only the Sinagua people, but likely people who lived one thousand or more years before. We love ancient history of all kinds so this was really exciting to see!
Accessible by tour via reservation only, the site is open daily from 9:30 am to 3 pm. There are three trails, one of which is wheelchair accessible.
Coordinates: 34°54'53.6"N 111°54'08.4"W
14. Jerome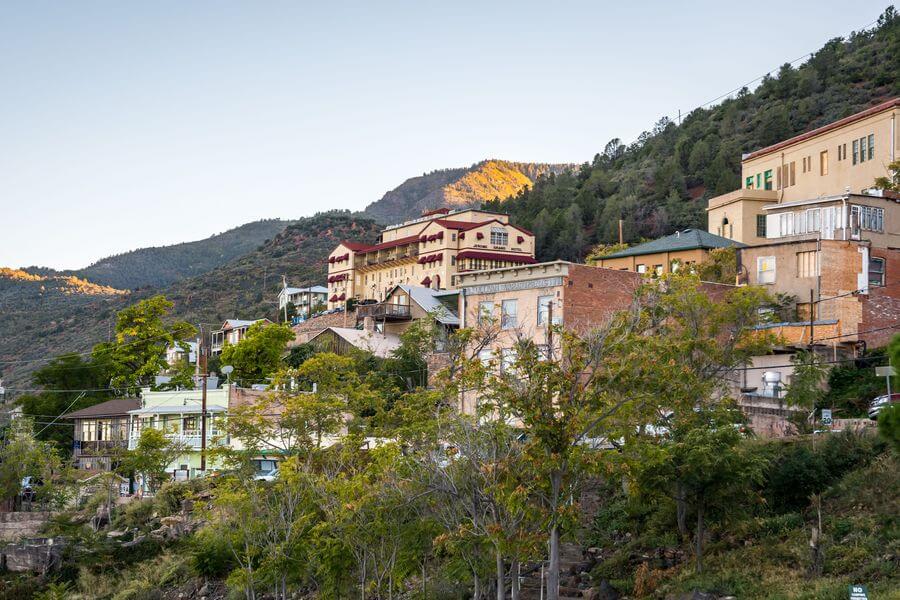 Check out a (revival) ghost town! Stopping to check out Jerome in Arizona only adds an additional thirty minutes to your road trip. Jerome was founded in 1876 and was a booming copper mining town, boasting up to 15,000 residents in the 1920s. After the mine closed in the 1950s Jerome became a ghost town of about 50 people.
Today it has become a tourist attraction and center for funky art. As of 2021, Jerome had a population of about 460 people. It's a really interesting town to visit built upon Cleopatra Hill. Despite being a tourist destination, it felt really authentic and was not gimmicky like you may think.
Walk up and down the main street to admire the historic buildings and houses. There are a surprising number of restaurants with a variety of fares. You can also take tours of the old mines with all of the equipment still standing.
15. Slide Rock State Park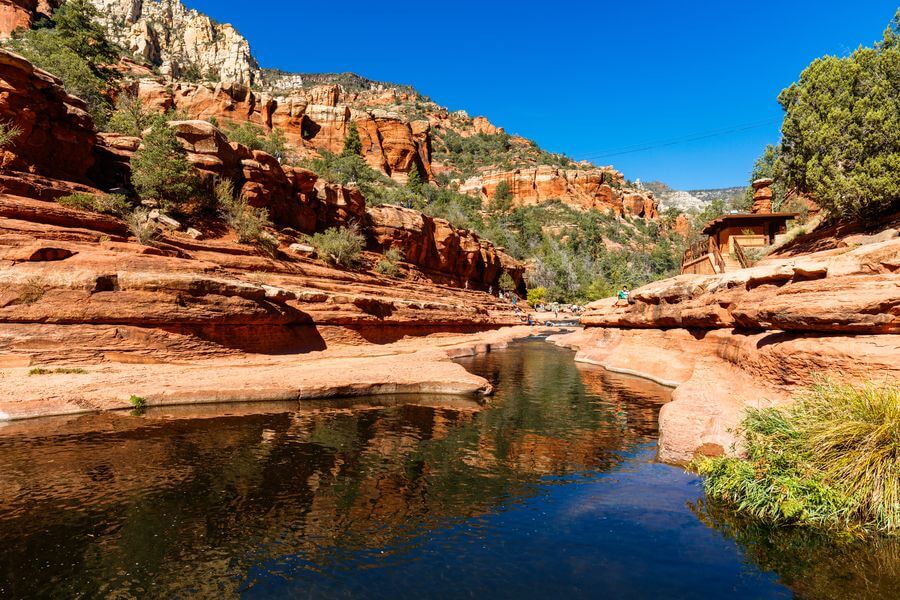 If you're traveling from Phoenix to the Grand Canyon by car, this is the perfect place to stop for a picnic and cool off with a swim. Slide Rock State Park is just six miles north of Sedona in Oak Creek Canyon. It's a gorgeous and refreshing natural pool and rock slide. You are still surrounded by the famous rusty red rocks and lush greenery seen around Sedona.
There is an entrance fee up to $30 per car and is open for the majority of the day throughout the entire year.
16. Sunset Crater Volcano National Park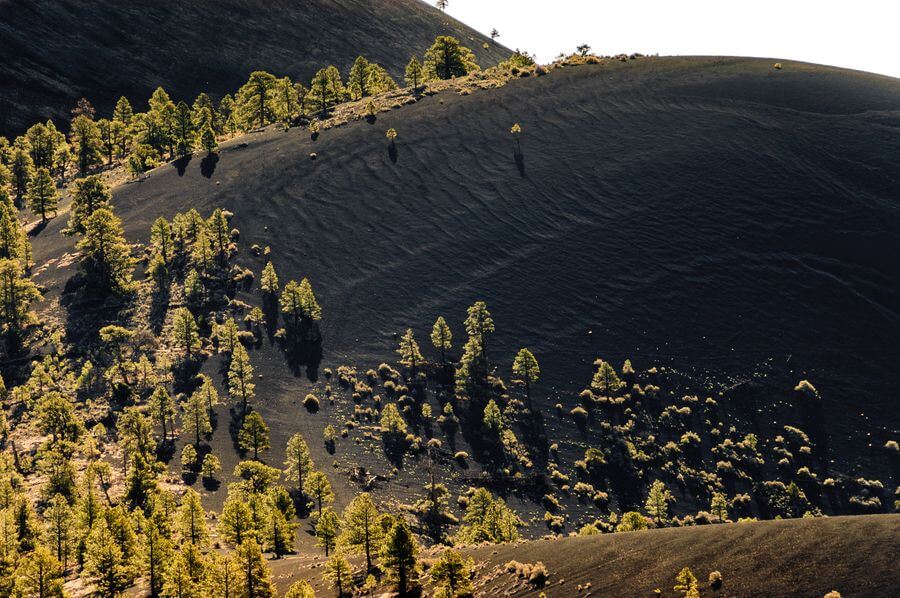 Sunset Crater Volcano erupted just under 1,000 years ago and left behind some really distinctive geological formations. It is now a national park where you can walk through black lava fields via numerous trails.
Entrance fees cost $15-$25. It is free for holders of the America The Beautiful pass and who have the annual national monuments pass for the Flagstaff area.
17. Hiking In The Grand Canyon
Congratulations! You've now completed your road trip from Phoenix to the Grand Canyon. And now that you're here, it's time to explore!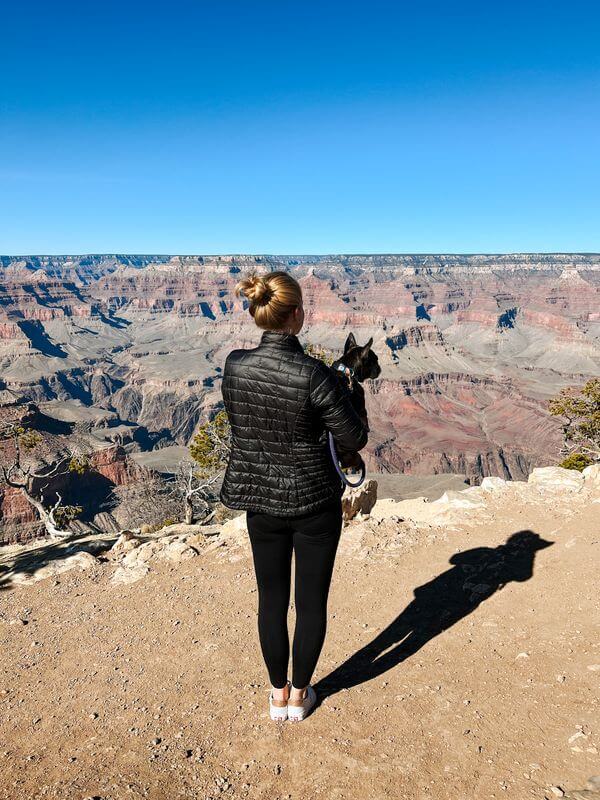 The view from the rim around the Grand Canyon is breathtaking enough, but we suggest venturing into the canyon if you're up to it. Make sure you're prepared with enough water and food.
Regardless of the time of year, we suggest wearing a hat with a wide rim. Weather can change unexpectedly, especially in the winter months, so pack extra layers. Most importantly, know your limitations!!!
Pro Tip: Our favorite hikes are Bright Angel Trail to Havasupai Gardens, South Kaibab Trail to Ooh Aah Point, and Shoshone Point.
Places To Stay When Driving From Phoenix To The Grand Canyon
We have some lodging suggestions if you want to make your trip from Phoenix to the Grand Canyon by car a multi day journey! Because of the abundance of activities and it being located about halfway between the two, Sedona makes the most sense to hunker down for a night or two. However, there are a couple of places that are scattered throughout the drive that we think are great as well.
Sedona
We've stayed in a couple places in the area and had good experiences at all three. Hotels and Airbnbs in the downtown and surrounding areas are expensive, especially in peak tourist season (spring and mid to late fall). If you want something affordable on your road trip, we suggest the Holiday Inn Express Sedona in Oak Creek. It is about a fifteen minute drive away from downtown.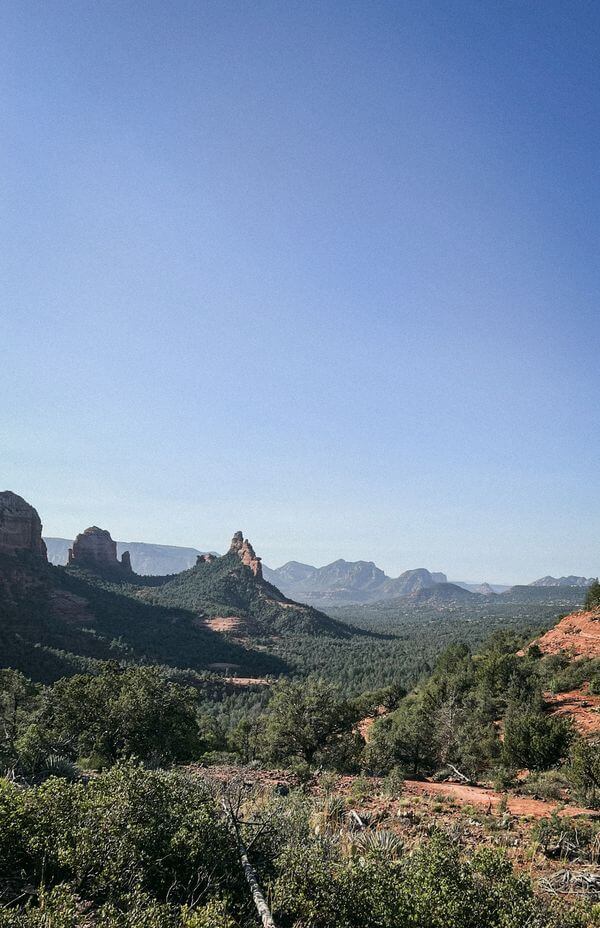 For something more upscale and all inclusive, consider booking at the Hyatt Vacation Club at Piñon Pointe. It is located just steps away from downtown and really convenient.
The third place we stayed was an Airbnb in a really quiet residential area. We loved how peaceful and cozy the casita and gardens were. The owner was so friendly and welcoming!
Websites:
Jerome
The Jerome Grand Hotel is a really unique place to stay as it transports you back in time to the 1920s while providing modern amenities, including WIFI, climate controlled rooms (yes for AC!), and free breakfast in the lobby. It sits upon Cleopatra Hill with an unobstructed view of the Verde Valley below.
Camping
The only campground we have stayed at in this general area is the Clear Creek Group Campgrounds near the Fossil Creek area. It's a rustic campground that accommodates tents, trailers, RVs, and motorhomes (36 feet for less). Their 18 single unit sites are first come first serve.
We enjoyed our stay here and it put us close to some really cool trails and swimming areas! Because it is close to a river, there are a lot of trees which provide much needed shade from the Arizona sun!
Coordinates: 34°30'58.8"N 111°46'05.0"W
Website: https://www.fs.usda.gov/recarea/coconino/recreation/camping-cabins/recarea/?recid=55274&actid=29
The Ideal Time Of Year To Road Trip From Phoenix To The Grand Canyon
If you don't already know, we LOVE offseason travel. There are always less crowds allowing for a less hectic experience. The early spring and mid to late fall are the best times to road trip from Phoenix to the Grand Canyon. Temperatures are much more mild and the crowds are significantly less in all areas!
We have done this road trip in early February and in mid May. Both were excellent and we highly recommend these times!
Wrapping Up
With a drive time of less than four hours, the trip from Phoenix to Grand Canyon National Park by car can be done any number of ways. If you want to drive straight through, you'll get to enjoy the passing landscape as it transitions from a pure desert feel to a semi-arid desert with greenery and pines.
To better appreciate and immerse yourself in the area, we absolutely suggest visiting at least a couple of the stops listed above. The area spanning the two destinations are absolutely stunning!