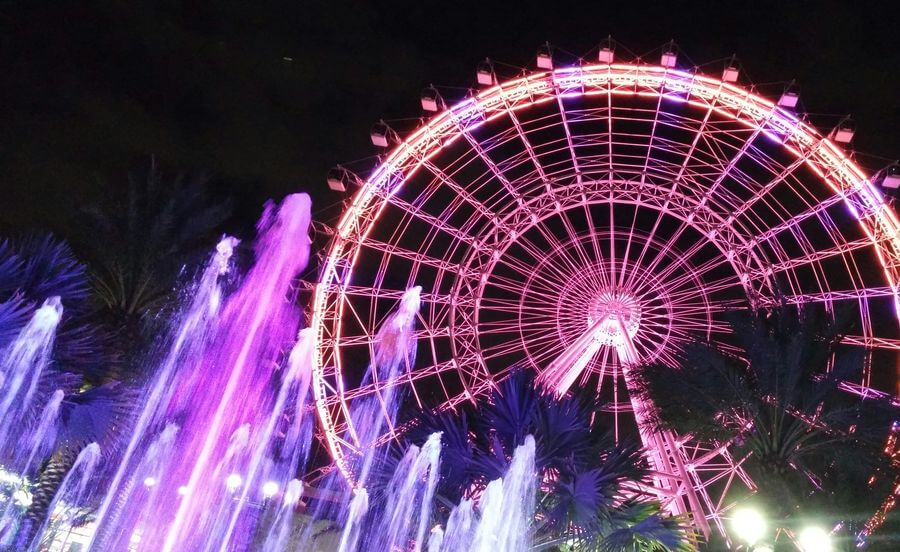 There are plenty of romantic things to do in Orlando. The city is massive and full of unique experiences for your next date night!
This guide will help you narrow things down and come up with a memorable activity for both you and your partner.
1. Rent A Boat Or Jet Ski At Lake Fairview
Orlando is no stranger to beautiful lakes, but there's something special about Lake Fairview. The 405-acre lake is a beautiful slice of nature just northwest of central Orlando. The accompanying park is a popular hangout for local families and couples.
The lake offers beautiful views and plenty of opportunities for both relaxing and thrilling adventures. Rent a jet ski or boat to enjoy a day on the water. Or, you can charter a sailboat tour.
Sailing the waters of Lake Fairview during sunset is a breathtaking experience. Bring a bottle of champagne, and it'll be a memorable evening of romance.
2. Embrace The Beauty Of Leu Gardens
Leu Gardens is a 50-acre park featuring some of the most breathtaking art you'll see in Orlando! It's in the Milk District, which is a culturally diverse part of the city that celebrates all things art! Before you visit the garden, stroll through the district to get a drink at an eclectic coffee shop.
As you make your way to Leu Gardens, you'll also see vibrant murals and several quirky shops. The Gardens are a botanical wonder. See a piece of Mother Nature in the middle of bustling Orlando.
Leu Gardens has many rotating art exhibits, sculpture installations, and unique themed gardens. Not only is it a romantic thing to do in Orlando, it's also quite interesting!
3. Go Up In A Hot Air Balloon
Is anything more whimsical and romantic than taking to the skies in a hot air balloon? There are a few spots you can book a tour. Some of the most popular in Orlando are Painted Horizons Hot Air Balloon Tours, Aerophile, and Air Hound Adventures.
Most of these tour companies are off I-4 to the southwest of Central Orlando. See Orlando like never before as you cuddle high in the sky with your partner. For extra romance, consider booking a sunset tour to see the majesty of Florida during golden hour.
4. Take Your Date To International Drive
International Drive is a beloved tourist destination. While many people visit the city to see Disney and Universal, International Drive has tons to offer. It's also a heavily visited area among locals.
Also known as I-Drive, this strip of road is home to many great attractions. You can visit ICON Park for rides and experiences, find adventure centers for an evening of games, and stop by plenty of restaurants at all prices.
I-Drive lights up at night. Drive through the area and see what you can do! With so many attractions, this Orlando date night idea will never be boring.
5. Have Some Fun At Nona Adventure Park
Nona Adventure Park is a great way to spend an afternoon in the water! It's in the growing Lake Nona area.
The park has a massive floating aquapark. While it looks like a kid's dream, adults often visit this park and jump in on the fun! The floating water park has many unique obstacles for you and your partner to challenge yourself.
Of course, there are many other water sports activities to try. You can go jet skiing, rock climbing, and more. When you're tuckered out from all the physical activity, you can explore nearby Lake Nona for great food.
6. Take Date Night To The Aquarium
Learn about marine life and enjoy the company of your partner under the glowing lights of Orlando's aquarium. The Sea Life Orlando Aquarium is on International Drive and is part of ICON Park.
It's a massive aquarium with over nine unique exhibits. Come face to face with sea turtles, sharks, and everything in between. There are also behind-the-scenes tours, countless learning opportunities, and even a touch pool.
The aquarium also does events throughout the year, so check the schedule to see what fun experiences you can have when looking for a date night in Orlando.
7. Visit The Blue Harmony Spa
Pamper yourself and your date at the Blue Harmony Spa. The spa is located inside the Wyndham Grand Orlando Resort in Bonnet Creek. But you don't have to stay at the resort to spend a relaxing day in the spa.
Book an appointment and spoil yourself rotten with the many great packages. The spa has several couples packages that include everything from massages to full-body treatments. Unwind and spend a day taking care of yourself while enjoying the company of someone you love.
8. Enjoy A Romantic Date At Bok Tower Gardens
Here's another romantic thing to do in Orlando that's nature-themed. Bok Tower Gardens is not like your average botanical garden. It's a 250-acre bird sanctuary.
Bok Tower Gardens is in Lake Wales, southwest of Orlando's city center. It's away from all the hustle and bustle of Central Orlando, allowing you to get away from the noise and relax while exploring the grounds.
The property has meditative gardens and many paths to explore. At the center of the garden is the Singing Tower. It soars above the trees and features a 60-bell Carillon. It's a massive instrument that musicians use to make beautiful melodies ring through the gardens.
9. Experience The Magic Of Discovery Cove
Discovery Cove is an all-inclusive resort that focuses on marine life, so it's not just a hotel! Discovery Cove is home to aquariums and tons of unique experiences.
The highlights of Discovery Cove are the snorkeling pool and dolphin exhibit. Swim with tropical fish without having to enter the open ocean. Or, have fun with dolphins and make lifelong memories.
There are tons of activities to do at Discovery Cove, and it's a fantastic place to explore with your partner.
10. Go Horseback Riding
Most people don't think of horses when they picture Orlando. But this city is not too far from one of the country's horse hotspots, Ocala. And you don't have to drive to Ocala to go riding.
Outside of Orlando, there are many ranches. One of the most popular for Orlando citizens is Hidden Palms Ranch. It's in Sanford, which is to the northeast of Central Orlando.
At this ranch, you can go horseback riding and make your way through picturesque trails that put "Old Florida" on full display. It's a great date night idea if you're looking for something romantic to do in the Orlando area.
11. Experience Bioluminescence
Have you ever wanted to have a fairytale experience? This romantic date-night activity is one of the easiest ways to feel like you've stepped into another world.
About an hour's drive east from Orlando will take you to Cocoa Beach. There, you can book a kayaking tour to see Mother Nature's most breathtaking phenomenon.
During some parts of the year, beaches and bays in Florida's space coast come alive with bioluminescent algae. As the dinoflagellates collide, they sparkle with flashes of vibrant blue.
Kayak through the water and surround yourself with twinkling lights.
12. Go Fruit Picking
Spend an afternoon picking fruit straight from the plant! There are a few places in Orlando where you can go fruit picking. Some popular destinations include Taylor Farms, BeeGreen Farms, Meadors Blueberries, Bekemeyer Family Farm, and more.
These pick-your-own farms offer a variety of different fruits based on the season. You can pick sweet blueberries, sunflowers, pumpkins, and more.
Most places charge you by the pound or bucket, allowing you to get a great supply of fresh fruit while you spend the afternoon on an idyllic farm.
13. Satisfy Your Sweet Tooth At The Chocolate Museum And Cafe
The Chocolate Museum and Cafe is a candy lover's dream! The museum is on International Drive, making it easily accessible as you explore Orlando.
The museum and cafe have many educational activities. Take a tour to learn about how chocolatiers make this sweet treat. You can also see artisans in action as they make everything from simple bonbons to ornate sculptures.
Of course, there are plenty of opportunities for taste testing. Stop by the cafe to try desserts to die for. There are also wine-tasting hours and events throughout the year.
14. Try The Beer Spa
Here's yet another unique Orlando date night idea you can try on International Drive. The Beer Spa is exactly what it sounds like. It's a place to relax, unwind, and drink!
Many couples go to the Beer Spa to experience an evening of romance as they soak in a hops-filled hot tub. As you unwind, you can enjoy a pint and taste what's on tap.
The spa also has private spa rooms for massages, thermal tubs, and more. It's a truly unique thing to do and will undoubtedly help you create lasting memories.
15. Get Outside At The Tibet-Butler Nature Preserve
If you and your partner are nature-buffs, you can spend a day at Tibet-Butler Nature Preserve. The preserve is a wildlife haven that's not too far from Disney. It's in Lake Butler, giving you a glimpse of Florida's untouched beauty.
The preserve has over three miles of trails with varying difficulties. Elevated bridges also take you off the ground and closer to some of the area's native birds. See animals in their natural habitat as you go on a hike and stop for a picnic.
16. Enjoy A Romantic Fireworks Show
Is there a better way to cap off a great evening than the twinkle of fireworks? Orlando is a popular tourist destination, so there are fireworks shows every day. You don't have to wait for a major holiday like the Fourth of July!
The most obvious place to enjoy a show is Disney. Disney's Magic Kingdom and Epcot throw nightly shows full of fireworks, music, and mind-boggling light tricks.
If you're in the area during a holiday or event, you can also enjoy fireworks at Lake Eola. No matter where you choose to go, this is one of the most romantic things to do in Orlando.
17. Take A Cooking Class Together
Here's a low-key date night activity that you'll remember for years. Cooking classes are a great way to spend quality time with your partner while learning practical skills. Learn how to make mouth-watering dishes that you can recreate at home.
There are many places to book cooking classes. Places like Truffles & Trifles and Chef Night are popular among couples. Even the Publix at Dr. Phillips Boulevard has classes you can take.
Learn new skills, taste-test your creation, and have fun.
18. Go To A Jazz Club
Not a fan of traditional nightclubs or bars? No worries. Orlando has some great jazz clubs.
These unique venues are more low-key than your average club. Instead of ear-shattering bass, you get to enjoy live music from some of the most skilled jazz artists in the area.
Try visiting JazzTastings or Bosendorfer Lounge. JazzTastings is outside of Orlando in Maitland. It has a tapas bar, great wine, and live music. Bosendorfer Lounge is an upscale cocktail lounge with live entertainment.
19. Rent A Swan Boat
At the heart of Downtown Orlando is Lake Eola. This park is an oasis located in the middle of tall buildings. The surrounding park is beautiful and has plenty to do. More on that later.
But one of the most popular activities for couples is the swan boat ride. Rent a swan paddle boat and explore the lake.
Paddle to the center fountain, float through the water among the birds, and enjoy the tranquility of the water amidst a city backdrop. You can rent swan boats throughout the day and night, making it a perfect activity for dates.
20. Go To Crystal River And Swim With Manatees
If you want to see what Old Florida truly has to offer, make your way to Crystal River. Crystal River is about an hour and a half away from Orlando, but the drive is well worth it.
The river is spring fed. Florida is home to the largest concentration of freshwater springs in the world. There are over 1,000!
The springs that feed the Crystal River create clear blue waters. What makes the river unique is that it's home to many manatees. You can swim with these gentle giants, rent a kayak, and explore the waters they call home!
There are some rules. Florida goes to great lengths to protect these creatures. But Crystal River is one of the best places to see them up close and personal.
21. Have A Romantic Date At Lake Eola Park
Lake Eola Park is like Downtown Orlando's Central Park. It's where couples living in the area get away from it all and have a romantic evening of fun.
There are tons to do here. The center of the park is Lake Eola. You can rent a swan boat, take photos at its fountain, and more. Surrounding the lake are various paved trails.
Take a stroll around the perimeter of the lake and stop at the many attractions. There's an amphitheater, nearby shops across the street, restaurants, and more. A few times a year, Lake Eola Park also hosts spectacular fireworks shows!
22. See A Broadway Show At The Dr. Phillips Center For The Performing Arts
The Dr. Phillips Center for Performing Arts is Orlando's premier venue for Broadway shows. It's in Downtown Orlando and is home to a few different performance spaces.
The main theater is the Walt Disney Theater. There, you can catch huge productions. Many Broadway tours stop at the Dr. Phillips Center, giving you an easy way to see stunning productions from the heart of Orlando.
There's also Steinmetz Hall. This gorgeous hall is one of the best acoustic venues in the world, and it often hosts live music performances. It's a great place to catch a symphony.
The Alexis & Jim Pugh Theater is a more intimate venue, perfect for comedy shows. Dr. Phillips Center also has other spaces to enjoy art and community events, such as the Seneff Arts Plaza, DeVos Family Room, and Grand Lobby.
Check out the events calendar. With so many shows throughout the year, it'll become a frequent place for date nights.
23. Check Out Universal CityWalk
Most people are familiar with Universal Studios and Islands of Adventures. But Universal is about more than just theme parks and rides. Universal CityWalk is a unique entertainment district.
Called "The Epicenter of Awesome," CityWalk becomes a hub of activity every night.
It's the perfect place for dining, thanks to iconic restaurants like Jimmy Buffet's Margaritaville, the Hard Rock Cafe, Bubba Gump Shrimp Co, and more. CityWalk is also where you'll catch entertainment acts like the Blue Man Group and Hard Rock Live.
CityWalk is the ultimate date night destination in Orlando. Catch a bite to eat, see a show, get a drink, and explore in one place!
24. Take Your Date Night To Orange Avenue
Orange Avenue is one of Orlando's great nightlife destinations. When the sun goes down, Orange Avenue comes alive! It's home to many venues you'll have to try at least once.
The cool thing about this avenue is that it offers something for everyone. If you want to see a dinner show, you can stop at Mango's Live or the Outta Control Magic Comedy Dinner Show. If you prefer to dance the night away, you can go to EVE Orlando, Aero Rooftop Bar & Lounge, Room 22, and more.
You never know what you'll find. There's always a party on Orange Avenue, making it a must-see for couples looking to have fun.
25. Relax At The Ritz-Carlton Spa
The name "Ritz-Carlton" is enough to conjure up thoughts of luxury and sophistication. The Ritz-Carlton Spa in Orlando doesn't disappoint.
This spa is to the south of Central Orlando. It's in an area known for its upscale hotels and restaurants. You'll find the spa in the Ritz-Carlton Grande Lakes destination.
The spa is available to both hotel guests and those who book appointments. The offering is impressive, and there are plenty of treatments you can get as a couple. From body scrubs to couples massages, it's all here.
Between treatments, you can enjoy the fragrant gardens. The grounds are breathtaking, and the spa gives you easy access to opulent luxury and romance while being surrounded by nature.
26. Try Surfing
Want to try a date activity with a little more thrill? Surfing is a great choice! Orlando isn't known for its beaches. The city is inland, after all!
However, you have many unique opportunities to have fun on the waves. If you want to surf in the Atlantic Ocean, you'll have to head an hour east to Cocoa Beach.
Getting to Cocoa Beach is a cinch. Its close proximity to the theme parks makes it a popular destination for locals and tourists alike. The waves aren't crazy at Cocoa Beach, so it's a great choice for beginners.
You can try indoor surfing if you want to stay within the Orlando city limits. Places like Fantasy Surf and Grove Resort & Spa have indoor FlowRiders. It's a fun activity that lets you enjoy the thrill of surfing in a more controlled environment.
27. The Wheel At ICON Park
The Wheel at ICON Park is a must-see, and a great romantic thing to do in Orlando. The 400-foot Ferris wheel is enormous! It's not your average Ferris wheel.
It takes roughly 18 minutes to go all the way around. At the top, you'll see amazing views of Central Florida. You can see the hustle and bustle of downtown and the many theme parks.
However, you can also see the pristine beauty of the area's many lakes and untouched forests.
ICON Park is home to over 40 attractions. The Wheel is just one activity you can do. Grab a drink at the bar, relax on the Wheel, and visit one of the restaurants or shops afterward!
28. Paddleboard Or Kayak In The Winter Park Lake Chain
The Winter Park Chain of Lakes is a great place for those who love physical activity and nature. You'll find it in Winter Park, which is only 15 minutes north of Central Orlando.
Winter Park is a beauty and well worth exploring on its own. But the Chain of Lakes is a must-see. It consists of six lakes, all connected by canals that you can navigate through on a kayak.
It's a beautiful place full of nature. You can rent one or two-person kayaks. Many also go there to fish or boat.
There are several access points to explore the Chain of Lakes and easy-to-follow signs for navigation.
29. Stop By The Orlando Farmers Market
Every Sunday of the year, you can visit the Orlando Farmer's Market. It occurs in Lake Eola Park in Downtown Orlando.
Lake Eola Park is a beautiful site with plenty to do, but the farmer's market turns it into a bustling haven of shopping and eating. The market attracts vendors who offer fresh produce grown not too far from the populated downtown area.
Many artists set up booths and tables, too. You can pick up handmade goods, fine works of art to hang in your home, and more. Of course, there are also great food places.
The farmer's market is dog-friendly, and many visit the park for family fun. You'll see plenty of couples holding hands and seeing what the vendors have to offer.
30. Explore Restaurant Row
Tired of visiting the same old restaurants during your date nights in Orlando? It's time to take a drive through Restaurant Row!
You'll find Restaurant Row in the Dr. Phillips neighborhood. It's part of Sandlake Road and is near International Drive. It's not an official name, but many locals call it Restaurant Row due to its many unique and upscale eateries.
There are more options than you can imagine! Find a restaurant that suits your fancy every day of the week.
If you want sushi, you can go to Dragonfly Robata Grill & Sushi. If you want steak, you can try Fleming's Prime Steakhouse & Wine Bar Morton's Steakhouse. For seafood lovers, there's Big Fin Seafood Kitchen, Ocean Prime, and more. You'll even find unique places like the Melting Pot.
There's truly something for everyone.
Closing Thoughts
Now that you're familiar with the most romantic things to do in Orlando, it's time to pick your next adventure. Think about what appeals to you and your partner and go out to make some memories!
If you have any questions or thoughts about the activities on this list, send them over! We always enjoy connecting with our readers.