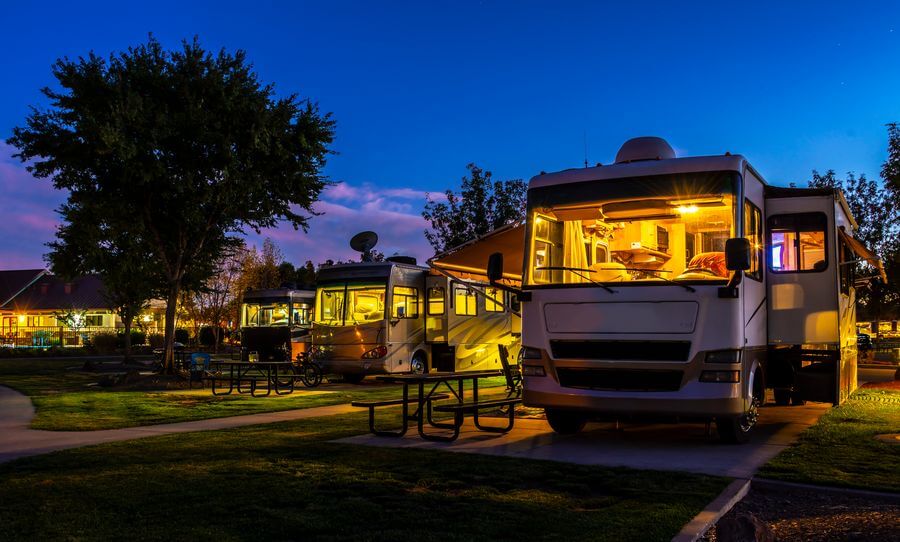 There are a number of luxury RV resorts in South Carolina that provide the ultimate experience away from home. With stunning locations and all the amenities you could ask for, you'll never want to leave!
This list shares our favorites, so you can quickly plan your next RV trip in this beautiful state.
1. Sun Outdoors Myrtle Beach

Boasting an array of amenities and nestled amidst majestic loblolly pine trees, Sun Outdoors Myrtle Beach stands out as one of the best luxury RV resorts in South Carolina, offering guests a unique blend of Southern hospitality, relaxation, and adventure.
Its strategic location near Conway serves as a gateway to Myrtle Beach, and they even have complimentary shuttles that can take you there! The resort offers easy entry and exit through its pull-through sites and oversized pads equipped with full hookups for recreational vehicles.
The RV resort has plenty of fun or relaxing activities for you and your family (depending on what you're looking for). Among these is the Carolina Splash Water Park, multiple swimming pools, a fitness center with a yoga studio, and places to play basketball, volleyball, or pickleball.
A key aspect contributing to the resort's standing among South Carolina's best luxury RV resorts is its dining options. You can choose from poolside bistro service to an on-site full-service restaurant. They also hold themed weekends and special events to keep things fresh throughout the year.
Address: 5800 SC-90, Conway, SC 29526
2. Lake Jasper RV Village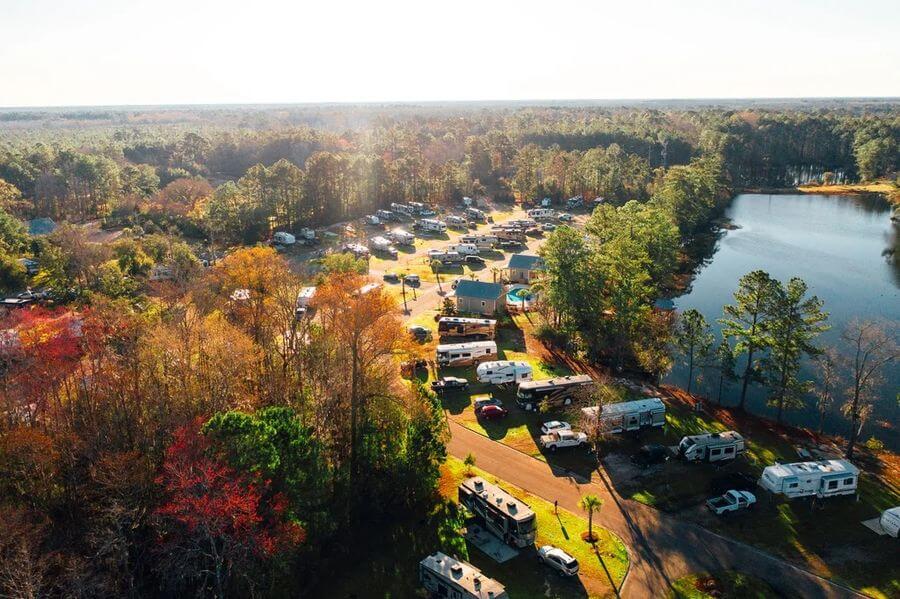 If you're looking for a blend of outdoor adventure and relaxation, Lake Jasper RV Village stands out due to its premium facilities, convenient location, and array of recreational activities.
This luxury RV resort in South Carolina is right next to a 320-acre nature preserve which allows guests unparalleled access to natural beauty (it's a great spot for fishing, hiking, or renting kayaks). And on top of that, it's also close to major tourist destinations like Hilton Head Island, Savannah, and Beaufort.
All sites in this resort have been designed to provide you with maximum comfort. You'll find full hook-ups, complimentary WiFi and cable television, picnic tables, fire rings, and paved roads. They even have space for you to store your RV!
The amenities at Lake Jasper RV Village extend beyond typical expectations of an RV resort. It boasts a resort-style swimming pool, immaculate restrooms with private tiled showers, laundry facility, and an on-site store stocked with necessary supplies.
For an immersive outdoor experience within the comfort of the RV resort grounds itself, there are several recreational facilities available to you. These include a community fire pit, horseshoe area, dog parks, disc golf, and more.
Address: 44 Camp Lake Dr, Hardeeville, SC 29927
3. Hideaway RV Resort
Located off the serene Intracoastal Waterway, Hideaway RV Resort offers a unique blend of tranquility and convenience, making it a preferred choice for travelers seeking an exclusive camping experience.
Ideally situated minutes away from Myrtle Beach, this luxury RV resort in South Carolina provides an escape from the bustling city life without compromising accessibility.
The resort boasts fully-equipped campsites with full hookups, pull-thru options, and cement pads. These sites also offer digital cable TV connectivity along with free Wi-Fi access. Additional amenities like fire rings and picnic tables will help you have a memorable outdoor experience, while waterfront site options offer breathtaking views.
Hideaway RV Resort is not only renowned for its superb accommodations, but also its extensive range of modern facilities designed to enhance guests' stay. Individual bathrooms and showers provide privacy and comfort that you don't normally find at an RV park. Laundry facilities are available for extended stays while an on-site camp store caters to basic needs.
For recreation there's a dedicated dog park, community pavilion, private boat launch access, docks, and seating areas around the waterfront pier. There's also a nice pool, large fishing pond, available kayak rentals, and a nature trail.
Address: 101 Cypress RV Way, Myrtle Beach, SC 29588
4. WillowTree RV Resort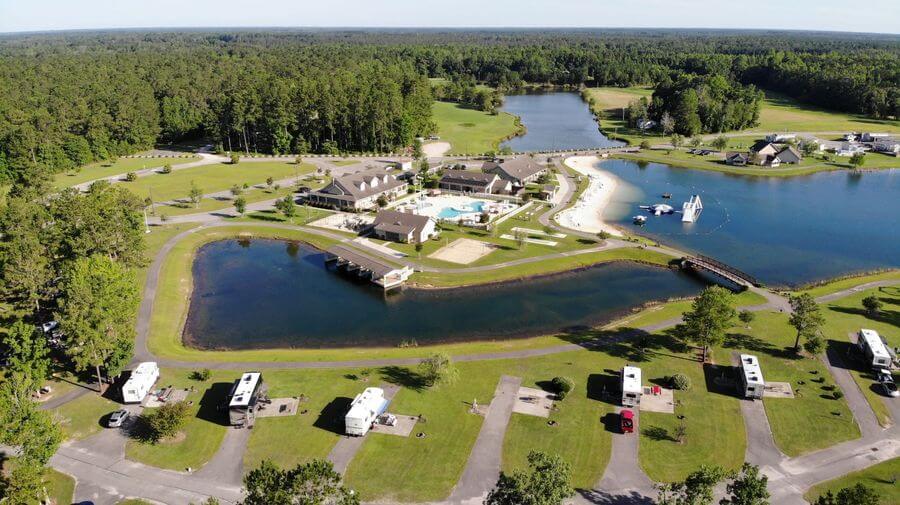 WillowTree RV Resort has long stood out as a premier destination for anyone who wants an exceptional camping experience. Its convenient location provides easy access to the attractions of Myrtle Beach, Sunset Beach, and Calabash, while providing a little seclusion from the bustling crowds.
This luxury RV resort in South Carolina is not only conveniently situated, but also boasts spacious paved sites complete with full-service hookups that can accommodate nearly any camper or recreational vehicle. You'll enjoy scenic views of a private lake, large concrete patios, dedicated barbecue grills, picnic tables, and fire rings at each site as well. One of the most underrated features of this resort is the expansive lawn area between sites which provides some extra privacy.
This resort's luxurious amenities set it apart from many other options in the state. It operates as a gated community ensuring security via entry through coded gates and extends Wi-Fi service throughout the campground. For recreation options, guests have access to heated pools and a Jacuzzi alongside fitness facilities for health-conscious travelers. The presence of two freshwater lakes allows boating and catch-and-release fishing activities while an in-lake water park provides fun-filled aquatic courses and slides for all ages.
Other notable features include laundry rooms, bathhouses, dog parks (called Bark Beach), a game room, as well as along basketball courts and pickleball courts. The hiking trails woven through the resort offer nature enthusiasts ample opportunities for wildlife spotting.
Address: 520 Southern Sights Dr, Longs, SC 29568
5. Myrtle Beach Travel Park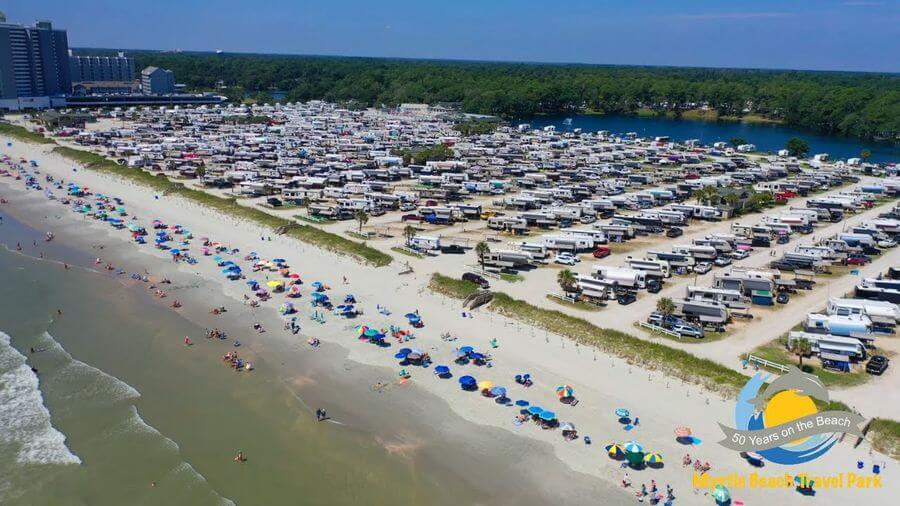 Myrtle Beach Travel Park stands as an exceptional destination for RV beachfront camping, providing a range of top-tier amenities and entertainment options to ensure a memorable vacation experience.
As the name indicates, this luxury RV resort is located near the celebrated Myrtle Beach in South Carolina. And even better, the park offers half a mile of serene beach access graced by gentle breezes and sun-kissed waters.
The resort's extensive facilities include outdoor playgrounds, swimming pool with sun deck, splash pool for children, basketball and volleyball courts, and kayak rentals. And for those who prefer indoor activities, there is a heated indoor pool and an on-site arcade.
As you'd expect, the RV park offers full hookup campsites equipped with 50-amp service, cable, water & sewer services, and free wireless internet.
There are also activities and frequent events like pool parties, live bands, and evening concerts to keep visitors entertained throughout their stay.
Family fun nights are themed to offer unique experiences while fishing tournaments offer friendly competition among guests.
For food options, you'll have access to their Breakfast by the Sea restaurant along with a camp store and snack bar.
Address: 10108 Kings Rd, Myrtle Beach, SC 29572
6. Hilton Head National RV Resort
Hilton Head National RV Resort delivers a fantastic camping experience, distinguished by its unique blend of natural beauty, extensive amenities, and proximity to a renowned golf course. Situated on South Carolina's southern coast, the resort sprawls across 97 beautifully landscaped acres adjacent to Hilton Head National Golf Course.
This luxury RV resort is broken into two sections: the General RV area catering to all campers, and the exclusive adults-only Water's Edge area. This layout allows the resort to accommodate a diverse range of visitors, from families seeking fun-filled outings in nature to adults desiring serene relaxation amid picturesque surroundings.
Not surprisingly, there are a number of high-end amenities that can be found here. Adults staying in the Water's Edge section can enjoy leisurely swims in a beach-entry pool or unwind in a hot tub while savoring stunning views of the neighboring golf course. Fire pits at every site and an indoor fireplace add warmth and coziness to cool evenings.
Meanwhile, family-friendly amenities like a swimming pool (with a lazy river feature), splash pad, pickleball courts, and an arcade room ensures that younger guests have plenty of entertainment options during their stay as well. There's also a state-of-the-art exercise facility and miles of walking trails for outdoor enthusiasts.
Address: 36 Hilton Head National Dr, Bluffton, SC 29910
7. Mount Pleasant / Charleston KOA Holiday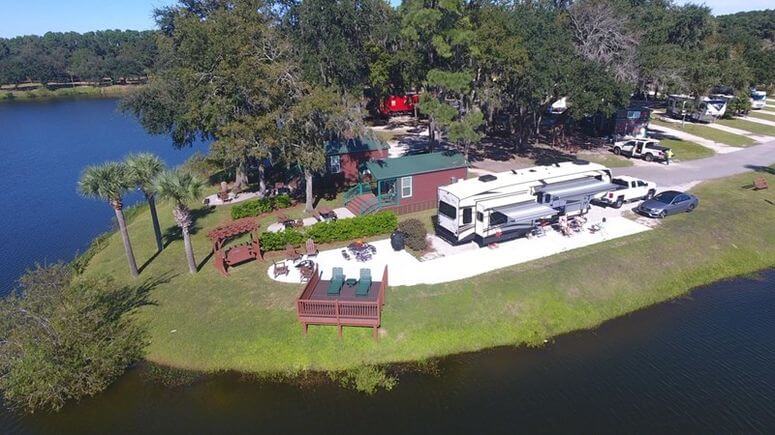 Nestled in the historical surroundings of a former antebellum plantation, Mount Pleasant / Charleston KOA Holiday provides an immersive camping experience that combines natural beauty with modern amenities and rich history.
This luxury RV resort in South Carolina is just 25 minutes from downtown Charleston, offering over 100 campsites with full hookups, Wi-Fi, and cable TV access. It also offers cabin rentals for non-RV travelers.
The resort features a myriad of amenities including a scenic 30-acre fishing lake with dock, boat rentals, fenced dog park, an outdoor swimming pool, bicycle rentals, nature trail, and large playground. Additional features such as yard games and wagon rides to visit Oakland Plantation's oldest house enrich the recreational experience.
Its location allows guests to conveniently explore both natural and historical landmarks. Groves of oak and Spanish moss surround the site adding to its serene atmosphere while nearby attractions like Charleston Harbor, the Wando River, and Isle of Palms provide ample opportunities for aquatic activities and bird wildlife sightings. It's also quite close to historic sites like Charleston's combat submarine museum at Hunley and the "Gone With the Wind" movie set.
Address: 3157 N Hwy 17, Mt Pleasant, SC 29466
8. Travelers Rest / North Greenville KOA
Positioned beautifully between Greenville and Asheville, the Travelers Rest / North Greenville KOA offers a fantastic camping experience that blends modern conveniences with the charm of nature's beauty.
Nestled in the foothills of the Blue Ridge Mountains, this resort is equipped with 44 full-hookup RV campsites and multiple amenities for a luxurious stay including Wi-Fi, cable TV, outdoor furniture, swings, and stone fire pits.
Enhancing its appeal is its picturesque setting by a babbling brook running through the park providing campers an idyllic environment to relax away from everyday hustle.
The grounds also have an outdoor saltwater swimming pool, a fenced dog park, a playground with a climbable fire truck, yard games, and ping pong facilities. There's even a lending library for avid readers!
Additionally, visitors are conveniently able to enjoy various outdoor activities like hiking, biking, fly fishing, tubing and whitewater rafting, and zip-lining.
Address: 2400 US-25, Travelers Rest, SC 29690
9. North Myrtle Beach RV Resort & Dry Dock Marina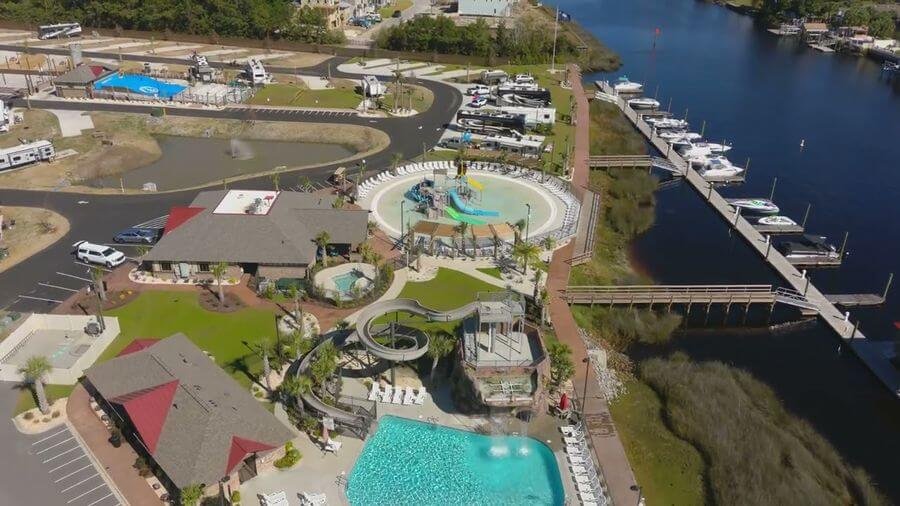 Boasting a prime location near the Intercoastal Waterway in Little River, North Myrtle Beach RV Resort & Dry Dock Marina is known for its numerous amenities and tranquil setting.
This luxury RV resort in South Carolina is nestled 13 miles north of Myrtle Beach, providing guests with a peaceful retreat away from the busy tourist action.
With over 200 campsites equipped with full hookups, oversized concrete pads, and modern bathhouses, it can comfortably accommodate extra-large RVs, boats or yachts. Premium sites offer private covered pavilions, and there are wet slips for watercraft docking and an on-site camp store stocked with essentials if you're just passing through.
As far as entertainment and recreational activities are concerned, this RV park goes above and beyond to ensure a memorable stay for guests.
There's an outdoor swimming pool featuring a tall slide, waterfall, hot tub, splash pad, and a spacious 3,800 square foot swimming area accompanied by a poolside snack bar. There are also courts to play tennis and basketball, and even a spot for cornhole and horseshoe.
Rental services are also available on-site, ranging from golf carts to jet skis to kayaks. There's always something fun to cruise around on!
Address: 260 Old Crane Rd, Little River, SC 29566
10. Hilton Head Island Motorcoach Resort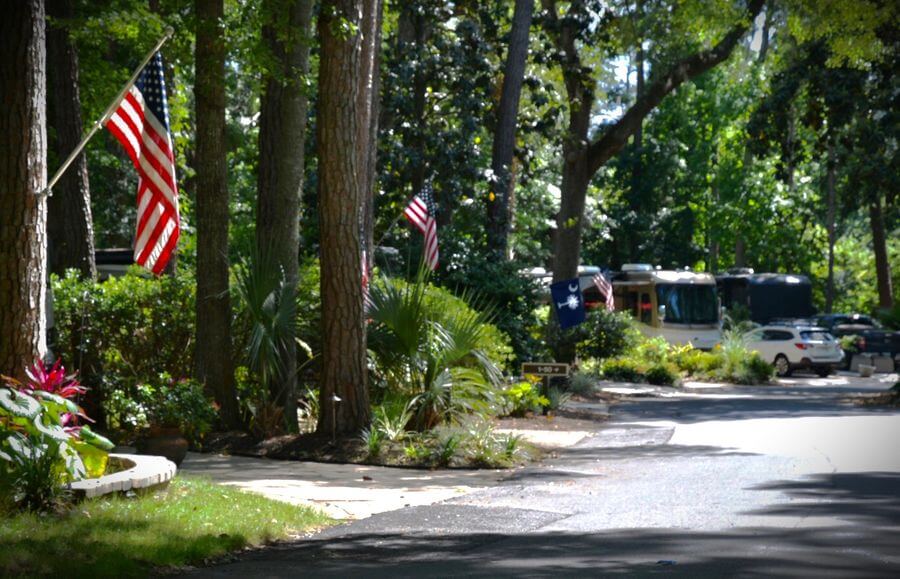 Hilton Head Island Motorcoach Resort captivates guests with its picturesque 50-acre wooded setting, proximity to Atlantic beaches, and accessibility to local attractions. Situated in the heart of Hilton Head Island, this luxurious South Carolina RV resort is a mere mile away from the soothing sounds of Atlantic surf and within walking distance to a variety of shops, restaurants, and attractions.
The property boasts over 400 fully landscaped paved lots that offer scenic lakefront views or private shaded forest sites. Catering specifically to Class A, C, and Super B motorcoaches, the resort provides full hookups including 30 & 50 Amp power along with water & sewer facilities. Additionally, this luxury destination ensures guest connectivity through available cable TV and Wi-Fi services.
The resort's commitment to providing exceptional amenities enhances its allure as one of South Carolina's premier luxury RV resorts. Guests can indulge in recreational activities such as swimming in the large pool or venturing into games at the tennis or pickleball courts. Pet owners will appreciate dog-friendly amenities such as a park for their furry friends, along with paved trails perfect for leisurely strolls. There's also an on-site bike rental (they even deliver the bikes to your site for you) and weekly propane deliveries. On top of all that, mobile RV mechanics and coach detailing services are available so you can keep your rig in perfect condition.
And if you needed any more convincing that this resort is all about luxury, there are marble-tiled baths, modern laundry facilities, and secured gated access.
Address: 133 Arrow Rd, Hilton Head Island, SC 29928
11. Pirateland Family Camping Resort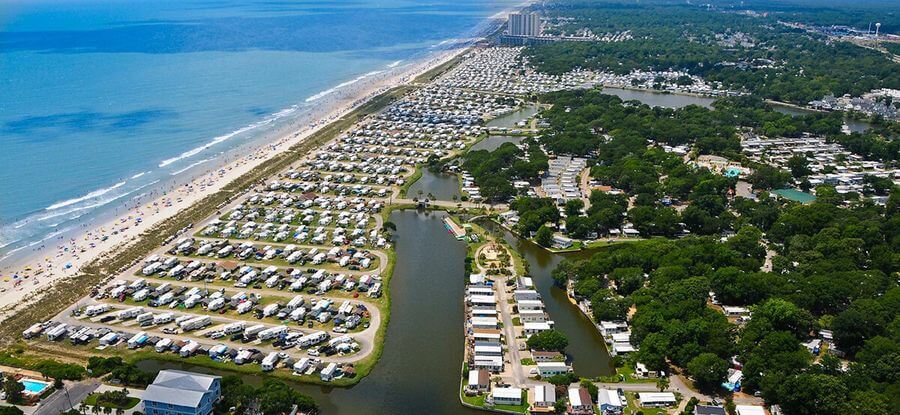 Another notable destination that deserves recognition among the top luxury RV resorts in South Carolina is the Pirateland Family Camping Resort.
Located on Myrtle Beach's oceanfront, this resort presents an intriguing blend of traditional camping charm and modern amenities, establishing a unique ambiance that has kept it memorable for more than half a century.
Pirateland Family Camping Resort prides itself on offering fully equipped campsites, designed to accommodate both RVs and tents effortlessly. The sites are fitted with full hook-ups such as water, sewer, electric (30 and 50 amp), cable services, and free Wi-Fi connectivity. Additionally, each site comes with a picnic table and daily trash pickup service. An on-site store is available if you need to restock on any essential items.
Adding to its allure is the resort's recreation facilities; these include "Pirate's Oasis," an onsite water park featuring a lazy river, and an Olympic-sized pool. For sports lovers, there are basketball courts and children's play areas strategically located within the facility while group activities can be enjoyed in a spacious climate-controlled recreation room.
Address: 5401 S Kings Hwy, Myrtle Beach, SC 29575
12. Santee / Santee Lakes KOA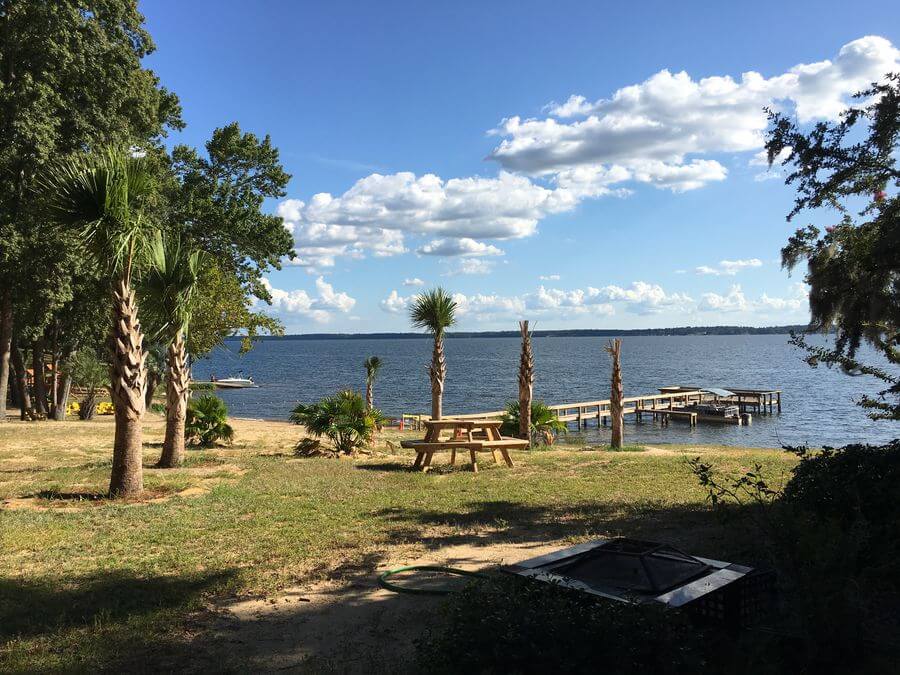 Santee / Santee Lakes KOA offers a breathtaking lakeside setting with comprehensive facilities and amenities, effectively establishing its reputation as one of the finest camping destinations in the region. Situated along Lake Marion's north shore, this luxury RV resort in South Carolina boasts over 120 Pull-Thru RV Sites shaded by native pine, oak, and palmetto trees.
The location's positioning approximately 100 miles from North Carolina and Georgia state lines on I-95 renders it easily accessible to travelers. Moreover, it's close to restaurants, shops, championship golf courses, and an hour's drive from historic Charleston.
The resort features more than 100 RV sites equipped with full hookups and free Wi-Fi access. They can even accommodate units up to 85′ long!
The lakefront sites offer scenic sunset views with amenities like a boat ramp for watercraft launchings, a fishing pier for anglers, and a designated swimming area on the lake. You'll also have access to a fenced dog park, snack bar, miniature golf course, basketball and volleyball courts, and community fire pit areas.
Address: 1268 Gordon Rd, Summerton, SC 29148
13. Spacious Skies Peach Haven
Nestled amidst the rich landscapes of the upstate region, Spacious Skies Peach Haven is definitely a premier destination, offering an impeccable blend of comfort, recreational opportunities, and proximity to renowned local attractions.
The family-friendly RV resort is situated on a sprawling 50-acre property enveloped by farms and rolling green hills, providing a tranquil setting for both relaxation and exploration.
A short distance from the famed Gaffney Peachoid adds an element of novelty to this popular resort. Moreover, the convenient location near Gaffney and Spartanburg ensures easy access off I-85 while also enabling guests to explore these historical cities.
This South Carolina luxury RV resort distinguishes itself through its array of features designed to cater to diverse camping needs. It presents full hook-up sites equipped with water, electric, and sewer connections along with variants like pull-thru, back-in sites that are also big rig friendly. These can accommodate 30-amp and 50-amp connections as well.
Additionally, each site boasts stone fire rings, grills, dining tables with chairs, and are either set on pristine paved areas or within shaded pine groves.
Address: 160 Sarratt School Rd, Gaffney, SC 29341
14. Clemson RV Park At The Grove
Clemson RV Park at The Grove is situated in the historic Pendleton area and a short distance away from Clemson University. Its proximity to the renowned Clemson Tigers football stadium and Lake Hartwell (one of the Southeast's largest lakes) makes it a coveted spot for sports enthusiasts and nature lovers alike.
The park boasts almost 300 fully served campsites offering water, sewer, and power hookups suitable for both 30 and 50 amp. These sites are fully paved and flat to ensure easy accommodation for RVs up to 45 feet.
The resort provides complimentary Wi-Fi connections across all campsites enabling guests to stay connected even while enjoying their outdoor retreat. Recreational facilities include an open-air pavilion which hosts regular events like live music performances, catered dinners, food contests, and movie nights.
Things pick up quite a bit on game days during football season. To accommodate this, the resort offers a shuttle service between the campground and stadium.
Address: 150 Dalton Dr, Pendleton, SC 29670
15. Palmetto Shores RV Resort
Offering an immersive experience in nature without compromising on modern comforts, Palmetto Shores RV Resort is definitely a premier camping destination in the state.
This luxury RV resort in South Carolina is located by the shores of Lake Marion and just off I-95. This makes it easy for guests to enjoy some scenic views and access the water.
With over 90 generously-sized sites that can accommodate large vehicles and slide-outs, this resort prioritizes guest comfort with options of concrete or gravel-paved surfaces, surrounded by beautiful landscaping. Unsurprisingly, each site is equipped with full hookups.
In addition to its state-of-the-art camping facilities, Palmetto Shores offers a wide range of recreational amenities appealing to diverse interests.
Water lovers can enjoy two swimming pools, a lazy river for relaxation, fishing opportunities, and access to private boat ramp and dock slips.
On land, guests can play games like sand bowling and giant chess in outdoor gaming areas along with pickleball courts. And for younger visitors, there is a splash pad playground complete with a zipline.
Address: 5215 Dingle Pond Rd, Summerton, SC 29148
How To Choose A Luxury RV Resort In South Carolina
Location is perhaps the most important thing to consider when choosing a luxury RV resort in South Carolina. If you want the salt air and coastal views, a park near Myrtle Beach or Hilton Head would be a good pick. However, if a serene lake or forest setting is more your style, then you'll want to look into something away from the coast.
Proximity to local attractions is also something to think about. Whether it's golf courses, shopping centers, or historical sites, these can make a big difference when it comes to your entertainment on the trip.
And of course, amenities in the actual RV resort shouldn't be overlooked. For families with children, you may want to choose a resort that provides kid-friendly facilities such as playgrounds or swimming pools. But for those seeking tranquility and relaxation, opt for resorts offering spa services or private fishing areas.
Closing Thoughts
No matter what you're looking for, there are plenty of great luxury RV resorts in South Carolina to choose from. If you're a beachgoer who enjoys the action, there are plenty of options near busier parts in the state. But if you simply want some peace and quiet, you won't have trouble finding a place that fits your needs as well.
We'd love to hear from you if you've visited any of these RV resorts before! Just send us a message or reach out to us on social media.
* All images have been sourced from the resort sites above and full image credit is attributed to them.