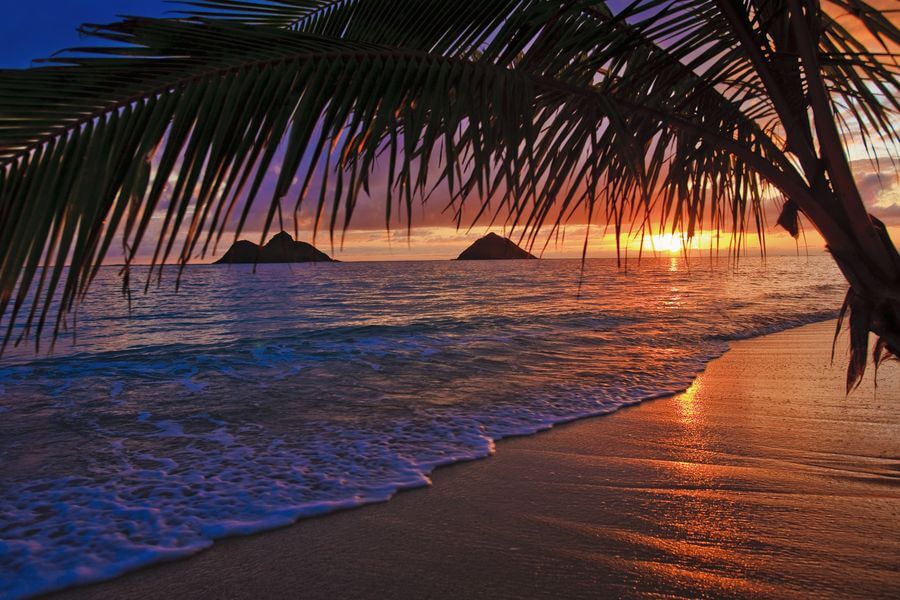 Finding the best places to watch sunsets on Oahu is often at the top of the list for visitors of the island. There's nothing like seeing the colorful spectacle when surrounded by natural Hawaiian beauty!
This list will give you some great sunset spots to check out when you're on Oahu, so you can have the perfect end to your day.
1. Pink Pillbox
You're in for a treat when you do the Pink Pillbox hike. This takes you to an exceptional spot that's renowned as one of the best places to watch sunsets on Oahu. Situated on the west side along the striking Waianae coast, this trail offers a distinctive perspective quite unlike other popular hikes in the area.
This straightforward and manageable hike surrounds you with majestic mountains while overlooking vivid blue waves for a picture-perfect panorama. Given its ideal position on the island, you'll often see the sky with hues of pink and orange before disappearing into the ocean.
2. Koko Crater Trail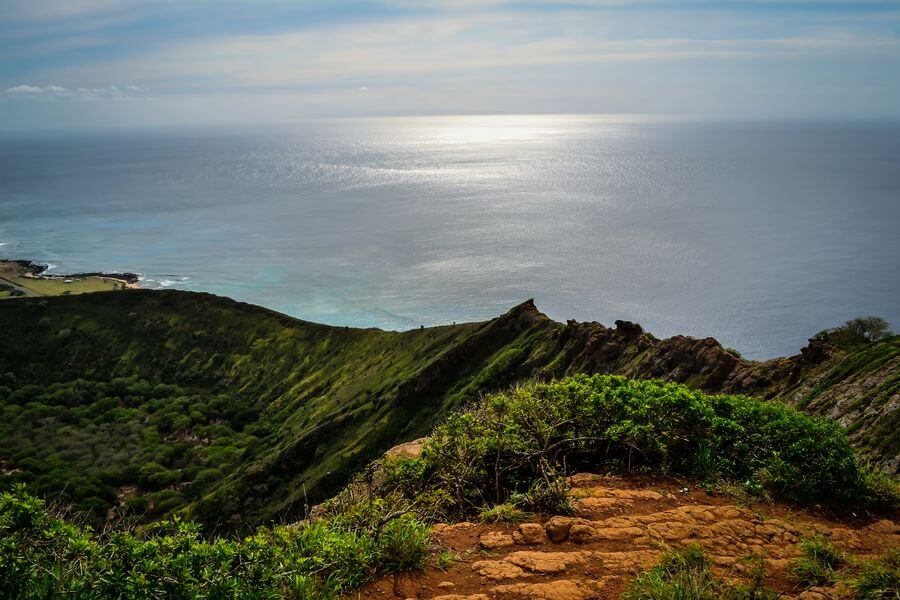 If you're up for a challenge, the Koko Crater Trail offers an unmatched vantage point for soaking in a sunset on Oahu. This strenuous hike tests your endurance as you ascend 1,000 stairs over a mile and a half in order to reach the summit.
As twilight approaches and casts a golden glow over East Honolulu, you'll understand why this adventure was worth every step. Keep in mind that there isn't much shade on this trail, so it's best to give yourself plenty of time before sunset (depending on your fitness level). Don't forget to carry ample water and wear shoes with good traction.
If your descent ends up happening in the dark, make sure to use a reliable headlamp (prioritizing safety should always be the priority). If you're drawn towards pushing your limits while immersing yourself in nature's spectacle of colors at day's end, Koko Crater Trail will stand out as an essential part of your Oahu experience.
3. Sunset Beach Park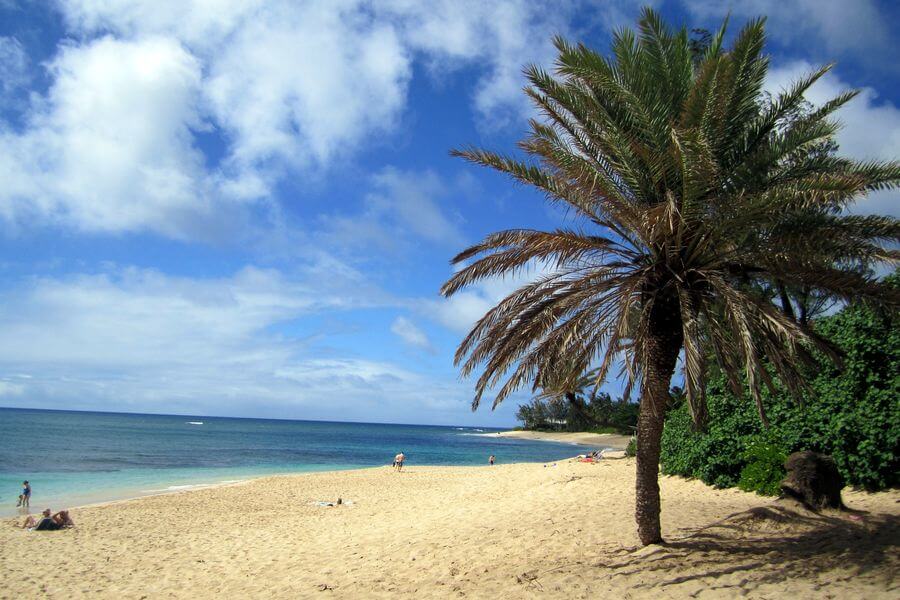 Sunset Beach Park is a hotspot for sunset viewing in Oahu, where golden waves and bent palm trees create the perfect backdrop for an unforgettable evening.
This North Shore gem sits conveniently close to Haleiwa Town, providing you with an array of options for those post-beach hunger pangs or the much-needed snack breaks. If you're hungry, you can grab some fresh poke and local craft beer from plenty of restaurants nearby.
As the day wanes, settle down on one of the many benches or picnic tables dotting the park or lay your beach towel on its sandy stretch to watch surfers dance with the waves under a sky streaked with hues of orange and pink. Iconic palm trees are all around you, offering a picture-perfect opportunity that's hard to resist!
For families visiting, there's also a playground keeping your little ones entertained while you soak in the sunset.
4. Waimea Bay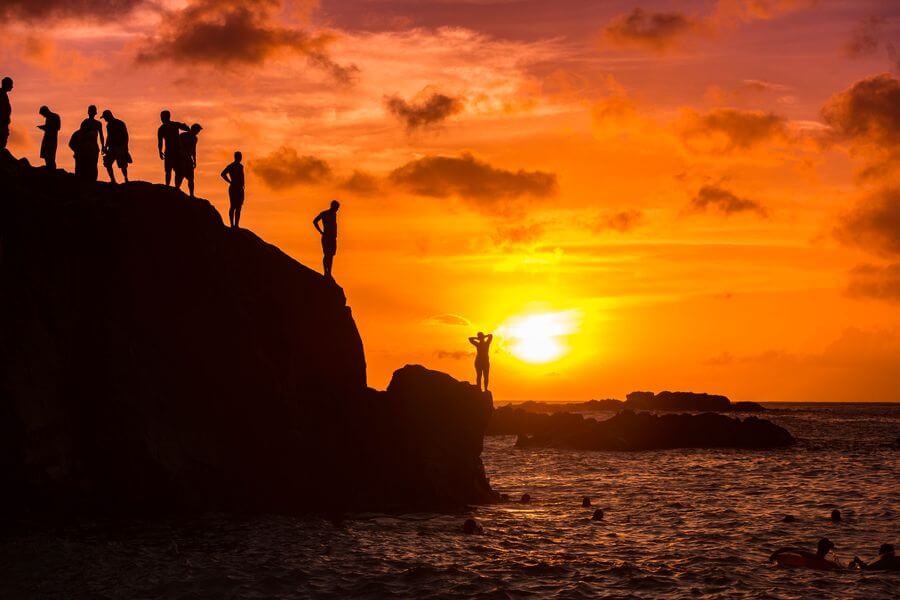 Waimea Bay is a captivating North Shore spot known for its breathtaking landscapes and phenomenal sunsets. An hour's drive from the hustle and bustle of Waikiki, this gem on Kamehameha Highway offers more than just a break from the city.
If you like nature, this area is known for its incredible snorkeling, rock jumping, underwater tunnels, sea turtles, and rock climbing opportunities. Plenty to do before settling down in the evening!
As the day winds down and the amazing colors splash across the sky, you'll understand why this spot is perfect for watching sunsets in Oahu. And don't worry about parking during these golden hours; while spaces may be tight during peak times earlier in the day, they typically free up as evening approaches.
5. Waikiki Beach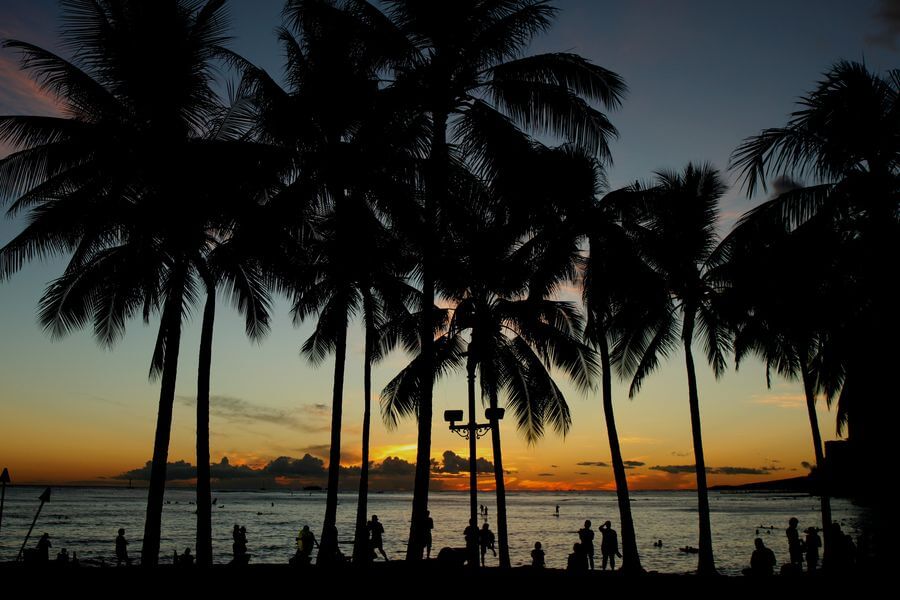 Imagine ending your day lounging on the fine sand of Waikiki Beach, as you're captivated by the mesmerizing spectacle of the Hawaiian sun dipping into the vast Pacific Ocean.
This world-renowned beach in Honolulu is an ideal spot for daytime activities like surfing, sunbathing, swimming, and snorkeling. But it's also recognized as one of the best sunset spots in all of Oahu.
As evening approaches, visitors gather to capture "the green flash," a fleeting optical phenomenon that manifests as a brief green light just as the sun sets. The southwest-facing beach offers varying views depending on the season and your vantage point. Regardless of where you are on this south shore beach, though, you'll witness the sunset in a northwest direction which ensures a beautiful end-of-day spectacle no matter the season.
You can also tie this into your dining plans and visit one of the many restaurants dotting the shoreline, or even do a sunset cruise.
6. Makapu'u Beach Park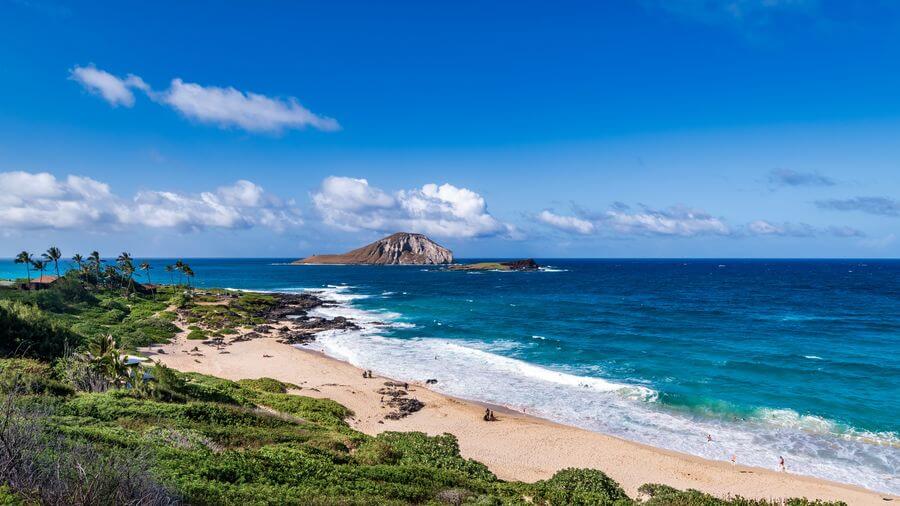 Nestled on Oahu's southeastern tip, Makapu'u Beach Park presents a unique blend of rugged coastline and serene beach lined with swaying palm trees that paint an unforgettable canvas as the sun sets.
Hiking up its popular trails during sunset adds an adventurous twist to your experience as you witness panoramic views from elevated spots. If you're lucky, you might even spot whales frolicking in the orange-glowing waters from this prime vantage point.
And don't forget to check out Makapu'u Lighthouse. The historic landmark is simple, but beautiful.
7. Ala Moana Beach Park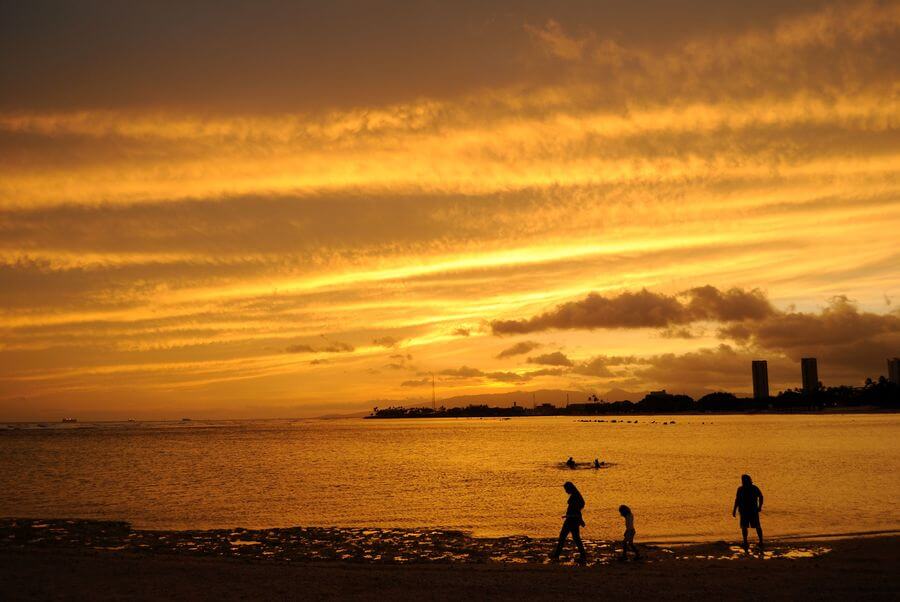 Heading over to Ala Moana Beach Park is a great choice if you're looking for some sunsets on Oahu.
Located just west of downtown Honolulu, this park is recognized as one of the island's most popular and beautiful beaches.
Its wide sandy beach is perfect for sunbathing, swimming, or surfing while the sheltered coves are ideal for snorkeling and diving if you're up for a little extra adventure.
Pro Tip: Magic Island Lagoon usually offers unobstructed views of the sunset, making it a favorite spot among both locals and tourists alike.
There are numerous benches under palm trees where you can sit back and soak in the picturesque view as the sun dips below the horizon. The grassy areas provide a serene setting for picnics or simply lounging around appreciating nature's beauty.
Another advantage of going to Ala Moana is its accessibility. It's within walking distance from Waikiki and many high-rise hotels, making it an excellent choice if you want a quick escape from Honolulu's urban hustle at the end of your day.
8. Kualoa Regional Park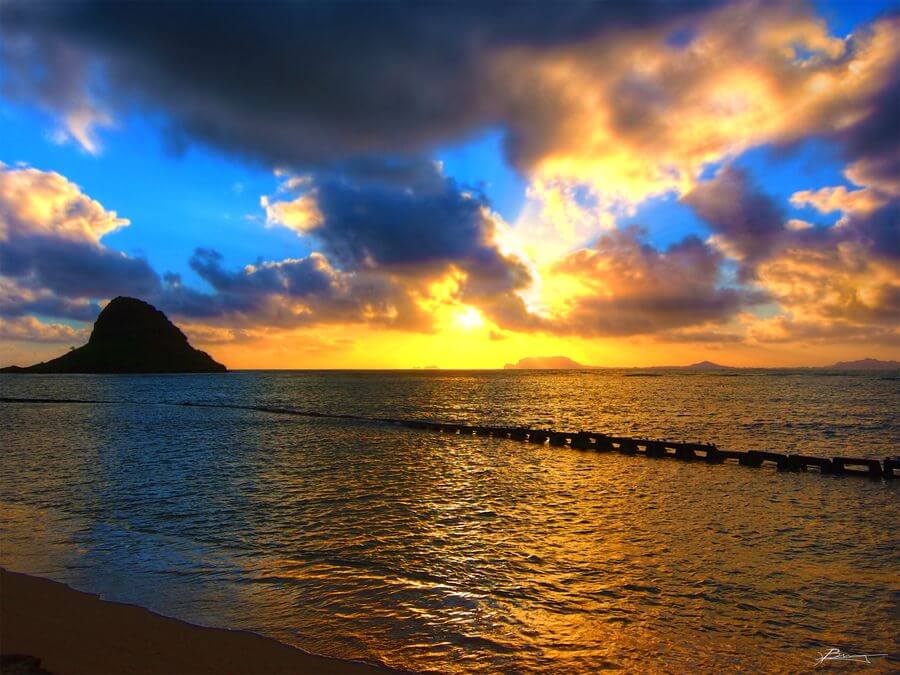 Kualoa Regional Park is an absolute gem renowned for its unrivaled sunset views. Located on the windward coast of Oahu, this park offers a unique spectacle that's hard to match. The sunsets here are breathtakingly beautiful even though it's actually happening on the opposite side of the island!
There's plenty of room for picnics and relaxation with both grassy and sandy areas. Fancy a game? Volleyball and other beach games are popular here as well. You can also enjoy a barbecue where you can grill up some local favorites while soaking in those glorious sunset views.
The majestic mountains surrounding Kaaawa Valley provide an awe-inspiring backdrop. This combination of natural beauty and leisure activities make Kualoa Regional Park one not just for adventure-seekers, but also those seeking tranquility amidst stunning landscapes. It offers an exceptional sunset experience like few other places in Oahu.
9. Shark's Cove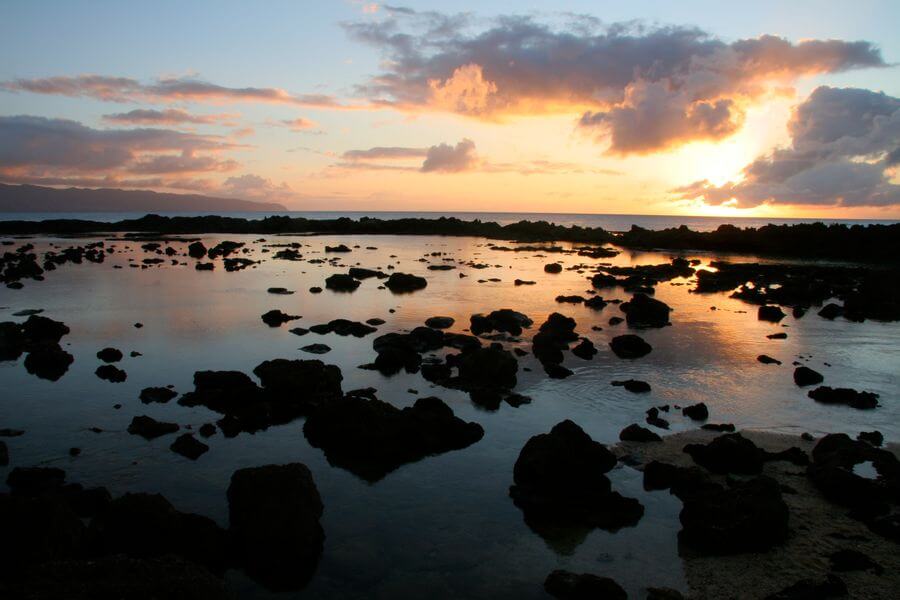 At sunset, Shark's Cove on Oahu's North Shore becomes a picturesque canvas of crimson and orange hues that reflect off the crystal-clear waters. It's a serene ambiance like no other!
And if you're looking for a direct view, this cove has a westward orientation which guarantees breathtaking views year-round.
During the day, it's one of the top snorkeling spots where you can swim alongside vibrant marine life like parrotfish and sea turtles.
Pro Tip: Don't be scared by the name. It got its moniker from the fact that it looks like a shark from the air, not shark-infested waters.
After sundown, as the last snorkelers leave, tranquility sets in making it an ideal spot for peaceful contemplation or intimate conversations under the sky.
Just behind this enchanting cove you can find food trucks serving mouthwatering local dishes for your post-sunset cravings while nearby bars offer refreshing tropical cocktails to cap off your memorable evening.
10. Tantalus Lookout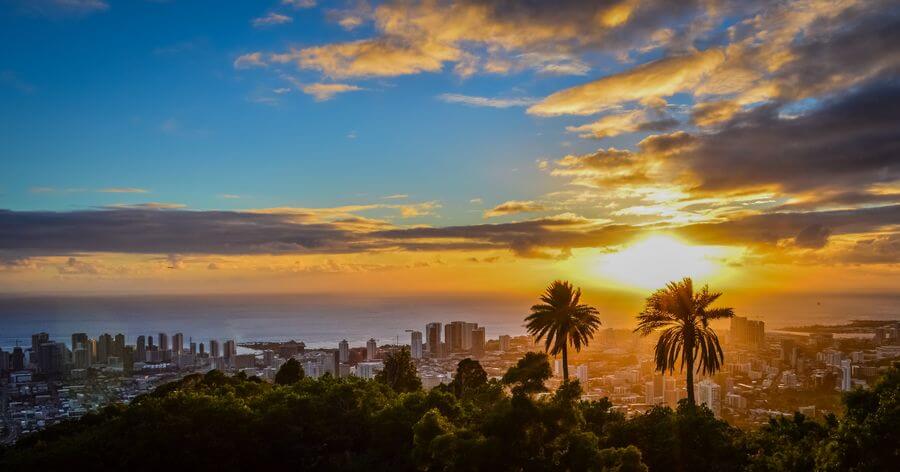 Tucked away just a short drive from Waikiki, Tantalus Lookout serves as the perfect escape from the hustle and bustle of the city. It offers an elevated perspective of Honolulu's scenic landscapes during sundown. Just five miles out of town, you'll navigate your way up a winding road to this oasis. It presents panoramic views of the ocean offset by surrounding mountains, the shimmering Waikiki skyline, downtown Honolulu, and the iconic Diamond Head Crater.
The lookout provides grassy areas perfectly suited for picnics, so don't forget to bring along a blanket and some snacks to enjoy as you watch the sun dip below the horizon. It's a good idea to arrive early since parking can be competitive. Remember, it gets slightly chillier since you're higher up, so make sure to bring a jacket or at least a hoodie. There are even some picnic tables and restrooms for you to use as well. You can even explore some hiking trails if you're up for an adventure before settling down for nature's evening spectacle.
11. Kaena Point State Park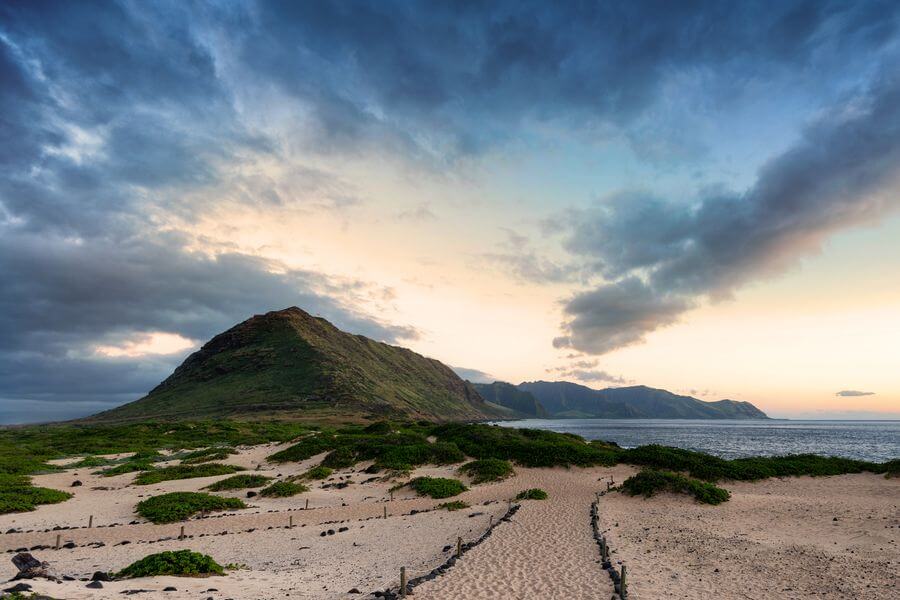 If you're looking for a sunset experience in Oahu that combines the thrill of adventure with mesmerizing natural beauty, Kaena Point State Park should be on your list. Conveniently located near the airport and reachable via the Farrington Highway, this point on western Oahu offers two hiking routes where you can explore and find a place to view the horizon.
Each trail is roughly 5 miles long and takes 2-4 hours to complete, offering captivating views of rocky cliffs, the vast Pacific Ocean, and native flora and fauna along the way. Don't forget to wear sturdy shoes and carry ample water, since certain sections can make them a bit challenging.
As you reach Kaena Point during sunset time, prepare yourself for panoramic views of Oahu's western and northern shores bathed in golden hues. One of our favorite things about this spot is that it's less crowded than other popular sunset viewing points on the island. And depending upon the season, you might even spot albatrosses or whales!
It's worth bringing some snacks so you can enjoy the view and not need to rush back. But remember if you stick around that it will get dark and cooler, so a jacket and flashlight will serve you well.
It's important to get a permit if you plan on using the parking lot after 7pm, because it will get locked.
12. Makua Beach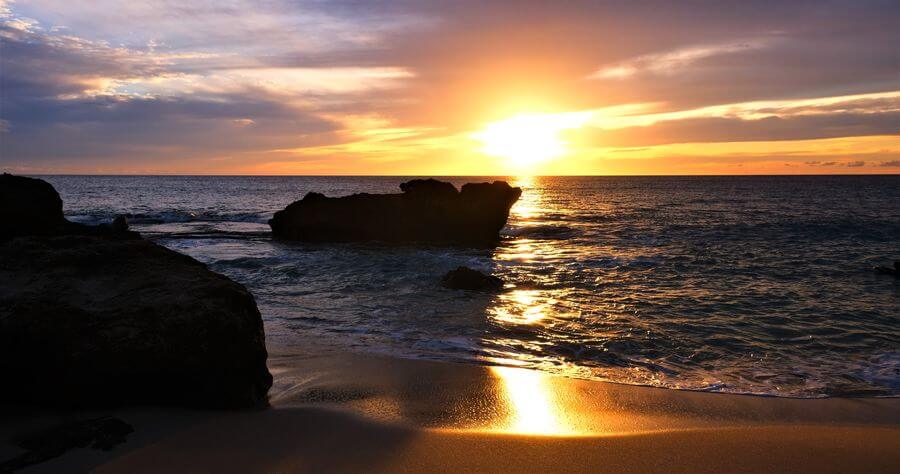 Nestled at the foot of towering cliffs on Oahu's far west side, Makua Beach offers a breathtaking setting that's hard to beat for sunset viewing.
Here, you'll find one of the most scenic beaches on Oahu with crystal clear waters stretching into the horizon and enchanting cliffs offering a sense of seclusion from the bustling world beyond.
Makua Beach is also a haven for wildlife enthusiasts. If you're lucky you could spot turtles bobbing in the waves or dolphins playfully breaching! You might even witness a display of big waves if conditions are right.
And there's a reason why Makua Beach is one of the best places to watch sunsets in Oahu. Its westerly location provides an optimal vantage point for observing unique colors without anything to obstruct your view.
This relaxing area embodies much of what makes Hawaii special, so check it out!
13. Kakaʻako Waterfront Park
Once a landfill, Kakaʻako Waterfront Park has transformed into a serene oasis that's ideal for unwinding while nature puts on an evening show. Just down the street from bustling Ala Moana, this peaceful retreat offers spacious grassy hills perfect for picnicking or simply relaxing under the shade.
You can meander along the long walkway leading to the water where you'll be treated to picture-perfect views of Oahu's coast. While it may lack a sandy beach, its distinct seawall and sizable boulders along the shoreline lend it a unique charm.
If you're up for some activity, try your hand at fishing off the shoreline or join local surfers who flock to its eastern end for ocean access.
And as dusk falls, prepare yourself for some of the most breathtaking sunsets on Oahu. The park gives you a fantastic vantage point where you can watch as hues of gold and crimson paint the sky over tranquil waters.
Locals cherish this spot and tourists find themselves coming back again and again to soak in these magical moments. Trust us, it's worth a look.
14. Diamond Head Lookout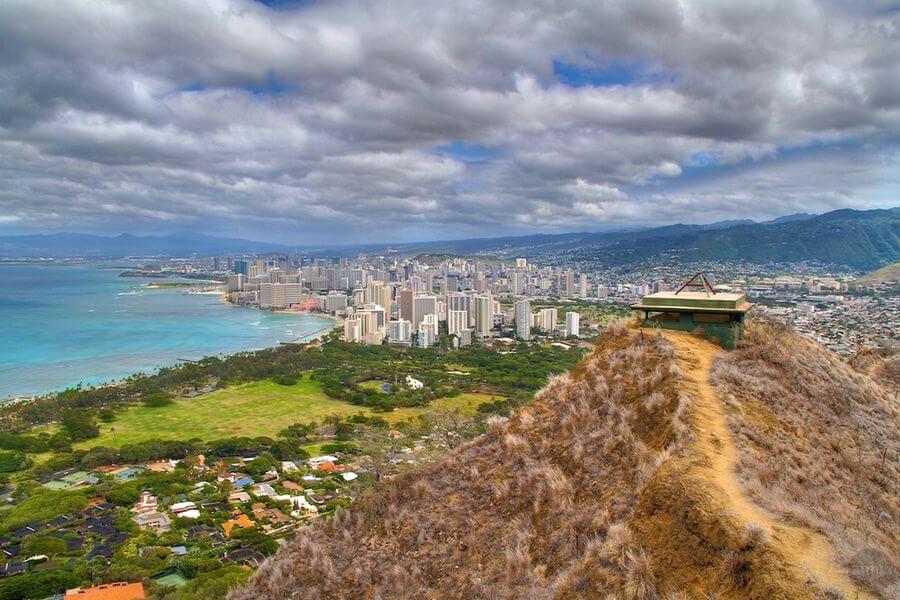 For those who want a more elevated perspective, Diamond Head Lookout is the perfect place to witness a colorful end to the day. This popular hiking trail rewards your effort with sweeping views of Waikiki and Oahu's southern coastline.
Pro Tip: Keep in mind that you'll need to start your descent at a reasonable time, but if you're on foot, lingering a little longer for optimal sunset viewing is perfectly acceptable.
If hiking isn't your thing or you simply don't have the time, you can take a scenic drive uphill along Diamond Head Road to an accessible lookout instead. All you need to do is park and wait for the sunset, it's worth it!
15. Ehukai Pillbox Trail
If you're seeking a short yet rewarding hike that promises captivating views of an Oahu sunset, make your way to Ehukai Pillbox Trail. This two and a half mile round-trip trail is considered by many to be the best North Shore sunset hike on Oʻahu, and it's easy to see why.
As you ascend towards the pillbox, you'll be able to take in mesmerizing views of waves forming and barreling at beaches like Pipeline, Sunset, and Keiki's.
Particularly popular among locals during sunset hours, this spot vividly illuminates the beaches across Pūpūkea with a golden hue – creating a picturesque scene that's nothing short of breathtaking.
It's no wonder that this trail is considered one of the island's prime locations for immersing oneself in Hawaii's natural beauty.
16. Pali Notches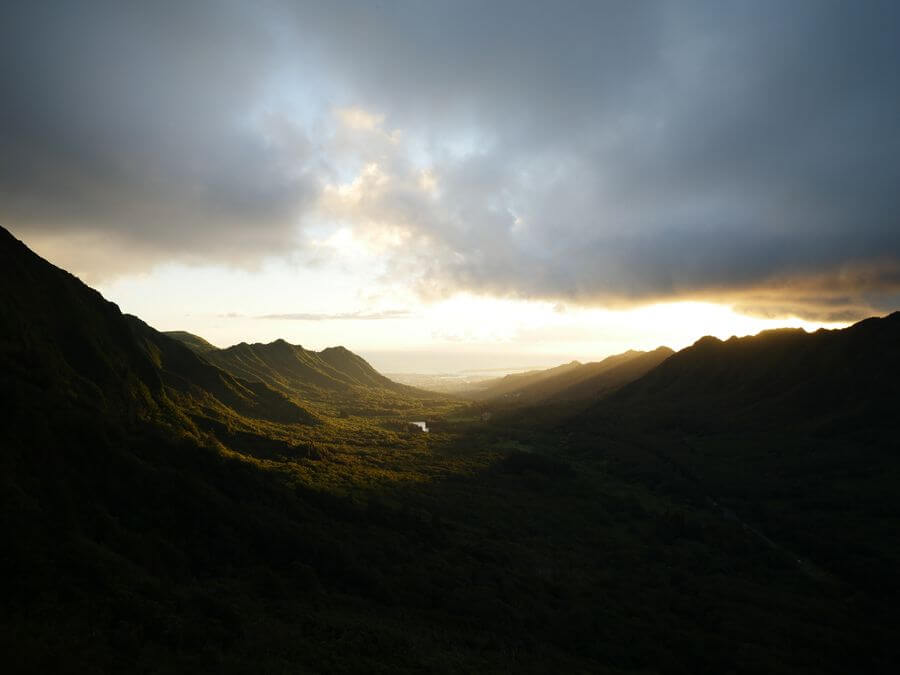 As you ascend Pali Notches towards the lookout, you'll have an opportunity to bask in the radiant glow of a setting sun as it paints Oahu's eastern coastline with shades of orange and pink. The panoramic view from this vantage point offers an expansive look at the island, stretching as far as Kualoa and the Kaneohe Sandbar.
Not only is Pali Notches one of Oahu's easiest lookouts to access, but it's also renowned for its dual sunrise and sunset views – a rarity that makes it a must-visit for those seeking nature's grand spectacle.
If you're up for an adventure, try exploring the higher notches or Pali Puka to witness even more breathtaking vistas.
Remember to be aware of parking restrictions after sunset if you've parked at Nuʻuanu Pali Lookout. Simply checking the signs will help you avoid any headaches later.
17. Lanikai Beach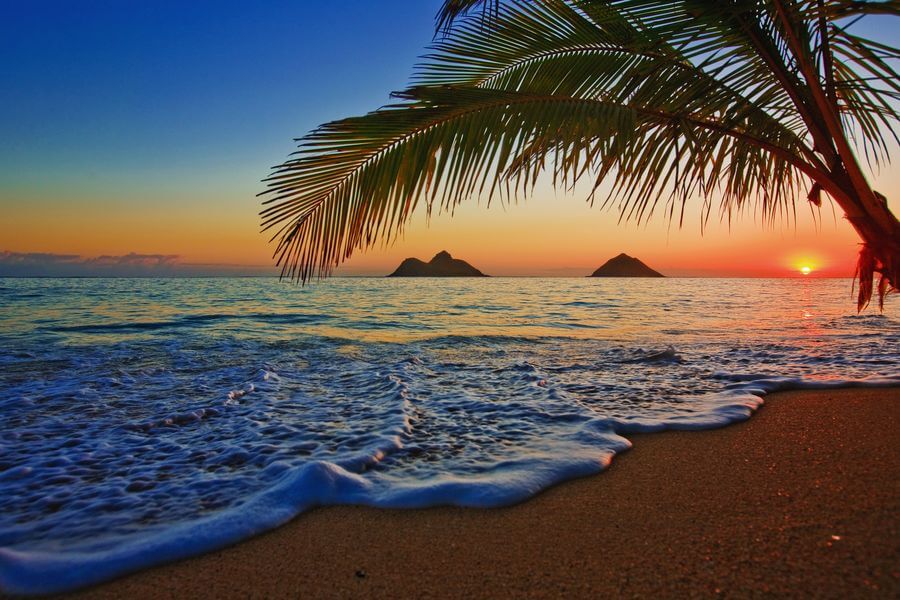 Lanikai Beach is another prime location for witnessing mesmerizing sunsets in Oahu. Lanikai, meaning 'heavenly sea' in Hawaiian, lives up to its name with its crystal clear turquoise waters and fine white sands. Located on the windward side of the island, this beach is a favorite among locals and tourists alike.
At this beach you'll be able to get the perfect view of the sky's changing colors reflected on the shimmering water! So if you're an early bird yearning for tranquility or a photographer seeking that perfect sunrise shot, Lanikai Beach is a great spot.
18. Fort DeRussy Beach Park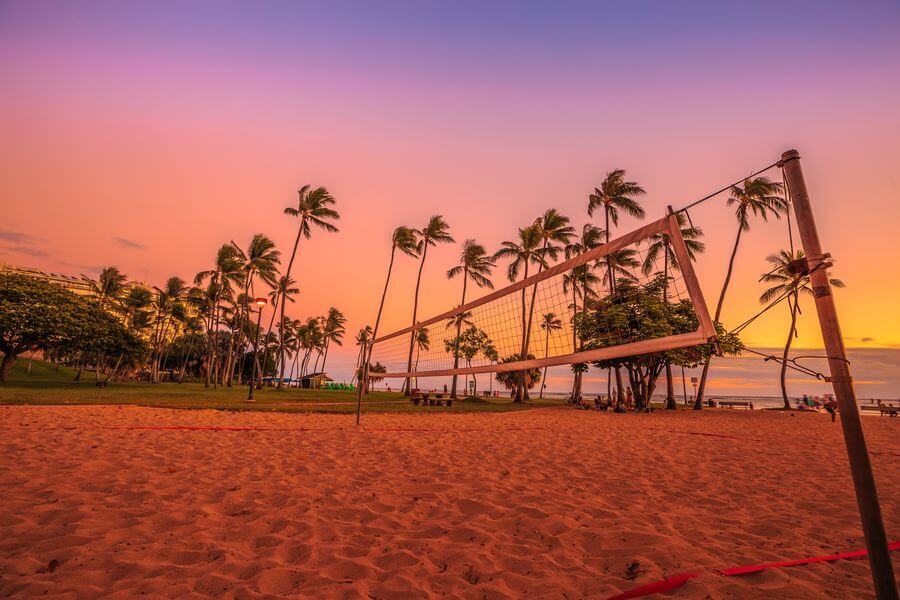 You're going to love the sunset experience at Fort DeRussy Beach Park, where breathtaking views are commonplace.
This place, nestled in the heart of Oahu, offers a spectacle that draws hundreds daily as the sky transforms with shades of orange, pink, and purple when the sun dips below the horizon.
Make sure you plan your visit to arrive at the right time for optimal viewing depending on time of year and weather conditions.
Pro Tip: Because of its popularity, it's a good idea to get there early not only to secure an ideal spot but also to avoid potential crowds.
And don't forget your camera! You'll definitely want to capture these mesmerizing moments as they unfold before your eyes.
19. Ehukai Beach Park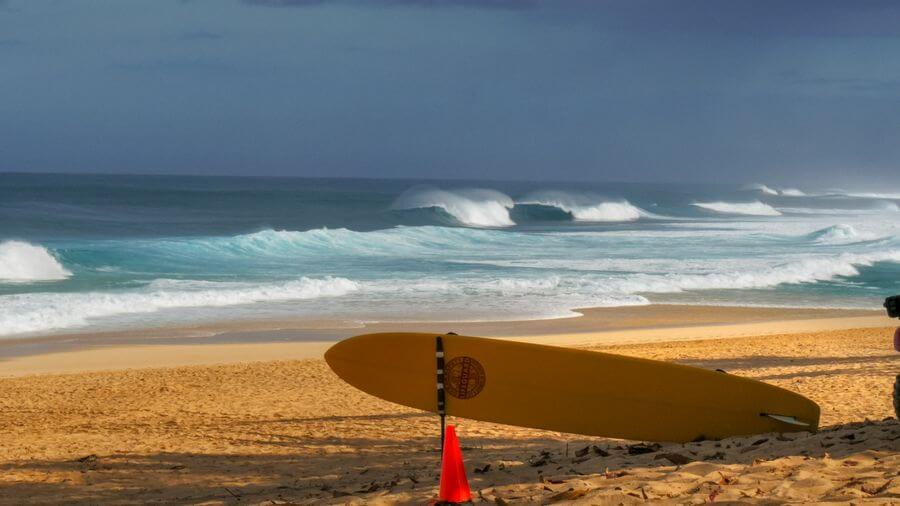 If you're in the area, don't miss out on the unforgettable views at Ehukai Beach Park. This tranquil spot is not only known for its world-class surfing opportunities, but also as one of the best places to watch sunsets in Oahu. Known locally as "Pipeline Beach", it offers a unique glimpse into island life and culture.
You could spend your day riding the waves or swimming and then kicking back on the sandy shore, watching as the sky transforms into a mixture of amazing colors.
The serene atmosphere during this time is nothing short of magical. It's perfect for relaxing after an adventurous day or even if you're simply looking for that perfect Hawaiian sunset photo opportunity.
20. China Walls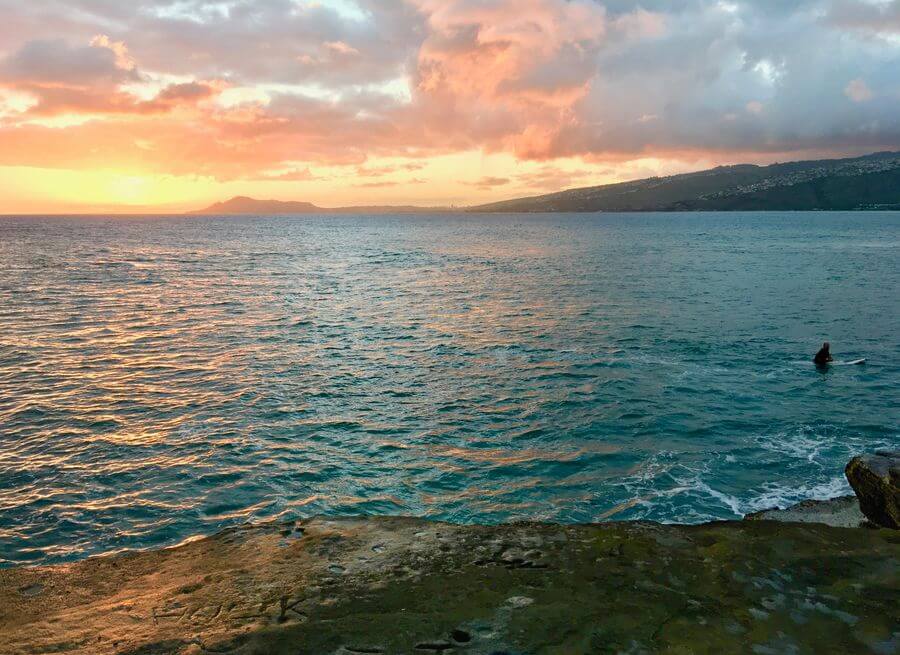 If you're hunting for an unrivaled coastal vista as the day ends, you should definitely consider China Walls.
Nestled about 20 minutes from Waikiki in the Hawaii Kai residential neighborhood, this hidden gem offers panoramic views of Oahu's South Shore that are truly breathtaking during sunset. The lava-rock ledges and cliffs hanging above the ocean provide a unique setting to watch as the sky paints itself in hues of orange, pink, and purple.
On big swell days it can be tons of fun to get there early to watch surfers glide past massive rock walls while waves crash into them. Don't be surprised if you witness daring cliff jumpers making a splash during your visit.
21. Manoa Falls Trail
Manoa Falls Trail, with its lush greenery and cascading waterfall, provides a truly magical backdrop for twilight's golden hour. As you traverse the one-mile trail, you'll be captivated by the breathtaking views of the valley below you. Every step brings you closer to an exceptional sunset viewing experience that is second to none in Oahu.
The rays of the setting sun dance off the waterfall's spray, casting a warm glow on everything around it. It paints such a stunning picture that bringing your camera with you should be a requirement. And as the colors of twilight merge with the natural beauty of Manoa Valley, it creates an ambiance that mirrors true Hawaiian spirit and culture – serene yet vibrantly alive.
22. Royal Hawaiian Beach
Royal Hawaiian Beach, located in the heart of Waikiki and directly in front of the iconic pink Royal Hawaiian Hotel, is not just another beautiful place to watch sunsets in Oahu. It's brimming with activity and tropical charm thanks to its abundant palm trees.
You'll find locals and tourists catching waves all day – a testament to how ideal this spot is for both beginner and intermediate surfers.
But as day turns into evening, everything calms down a bit more and your focus will inevitably shift toward one thing – the sublime sunset. The sun dips lower in the sky, casting dramatic shadows over Diamond Head Crater in an array of fiery oranges, pinks, purples, and reds that reflect off the gently lapping waves.
23. Hanauma Bay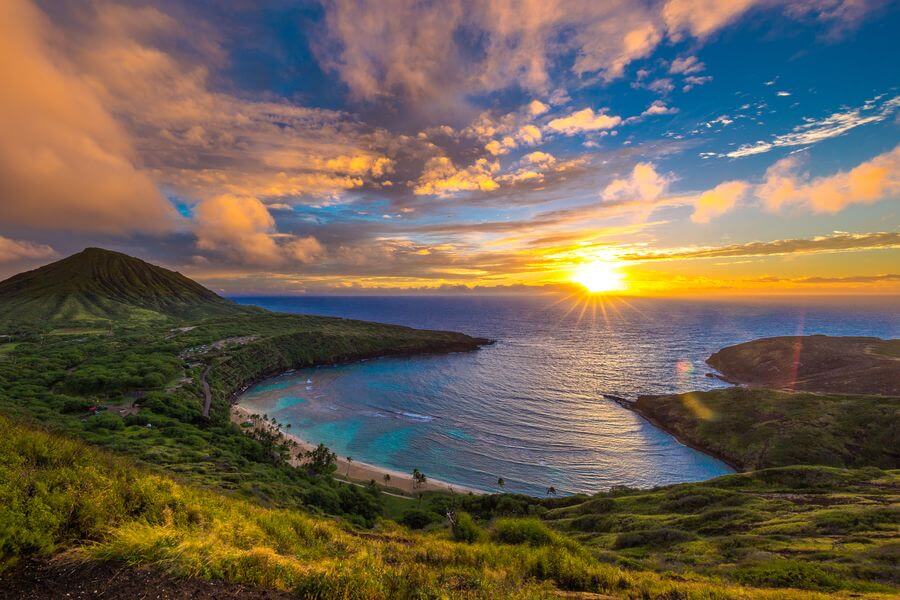 Let's venture a bit eastward to another gem, Hanauma Bay.
As you nestle into this natural amphitheater formed by volcanic activity thousands of years ago, you'll find yourself enveloped in an experience that is nothing short of magical.
Dipped in hues of gold and red as the sun begins its descent, Hanauma Bay offers some of the most picturesque sunsets in all of Oahu.
The sparkling waters reflecting the sunset colors serve as a canvas for vibrant coral reefs teeming with marine life – their silhouettes adding an element of mystique to your view.
You can spend your day snorkeling among colorful fish and turtles or simply unwinding on its pristine beaches before surrendering to this sublime spectacle at dusk.
24. Kailua Beach Park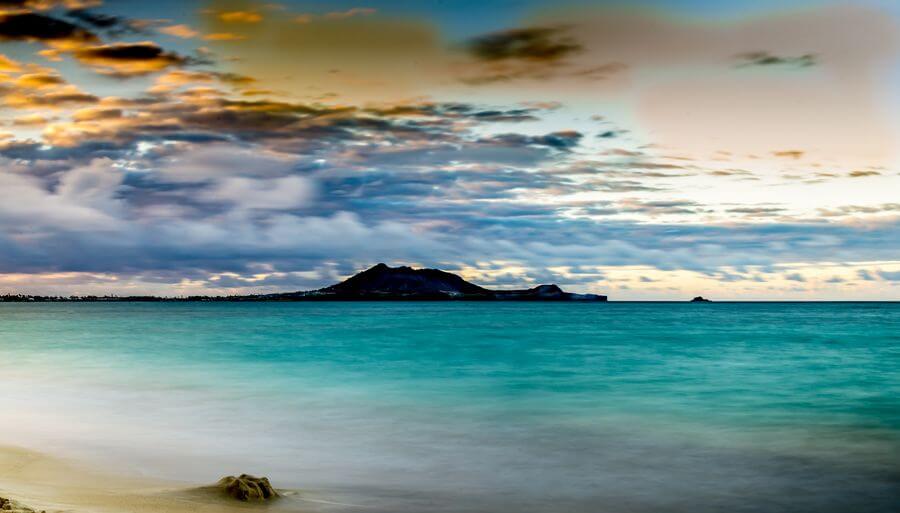 You'll find yourself captivated by the serene beauty of Kailua Beach Park, a haven for those seeking to experience an unforgettable sunset in Oahu. Located on Oahu's windward side, this park boasts a broad stretch of sand that makes it one of the most ideal places for sunset observation.
As the day turns into dusk, you can watch as the sky fills with pink and orange against a backdrop of swaying palm trees, providing an awe-inspiring spectacle that's consistently ranked among Hawaii's top sights. The park is also equipped with several picnic tables and grills, making it perfect for daytime picnics as you await the evening show.
Closing Thoughts
So, you've got your list of the top sunset spots in Oahu. Now, it's time to get out there and witness those awe-inspiring hues for yourself!
Whether you're hiking up Koko Crater Trail or lounging on Waikiki Beach, each location offers a unique perspective of the island's beauty.
Remember though, it's not just about the view. Each spot is steeped in local culture and history. So take your time, immerse yourself fully, and let Oahu's spectacular sunsets leave you spellbound.